Inclusion of desirable and emerging wireless networking solutions as built in features for a laptop allows for mobile computing users to enjoy increased freedom.
Starting Quarter 2, 2008 DELL will be offering mobile broadband modules as build to order options on their laptop product offerings. These modules, supplied by Swedish communications expert Ericsson allow a user to have high speed broadband Internet access and GPS based location, navigation capability right in their laptop without having to use or carry around additional peripherals.
Currently, for a use to achieve GPS functionality, a specialist notebook such as a Panasonic Toughbook purchased which has built in GPS or a dedicated GPS receiver which connects to a computer via a USB cable would be purchased.
Specialist notebooks/laptops are not for everyone and dedicated GPS receivers can be costly , especially if acquired with bundled software or map data. Additionally since these devices are external peripherals, the user must find some way to mount the GPS receiver, wether its on a desk, car window or stuck to the laptop display itself. These are not elegant solutions and may hinder mobility as well as GPS reception. Built in GPS functionality into a laptop is transparent to the user who only need to ensure the device drivers and software is installed and functioning.
The international specification of 3G cellular networks is  now commonplace around the world and many users are taking advantage of its broadband class speeds and using 3G as a wireless broadband solution for their computing needs. Typically a cellular network will offer its customers a branded 3G modem in the form of a PCMCIA/ ExpressCard adapter or a USB dongle, often nicknamed a 'lozenge' by the technology press due to the devices shape. '3' and Vodafone offer the 'lozenge' USB adapter bundled with a data plan and are switching to a more streamlined device however even this new model is still a hindrance to use when plugged into the side of a laptop computer.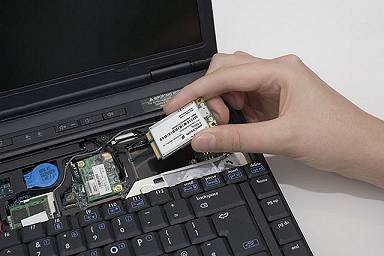 Again, not only are these devices external to the computer and are a hindrance but they are an added cost to the consumer.Even though these modems are subsidised by the provider, the user is required to sign up to a separate data plan specifically for the 3G solution even if they already have subscription to a data/voice plan.
Purchasing a WWAN (wireless wide area network) module such as what DELL/Ericssson are offering improves mobility with no external dongles or adapters to worry about breaking, the solution is transparent to the user who only needs to insert their SIM card into the laptop, saves purchase cost to the user by owning an unlocked [to the cellular provider] 3G modem which installs internally to the laptop and by choosing a model with dual functions such as 3G/GPS [or Wi-Fi and Bluetooth] users get added functionality for their spend.
3G functionality has been available in some laptops for a while now but this has been mainly concentrated on the American market who typically do not use the International 3G standard. This announcement applies to the worldwide 3G/3.5G wireless networks with HSPDA or HSPA, which make up 85% of the worlds wireless networks.
HSPA [High Speed Packet Access] is often called 3.5G wireless and is the worlds most deployed mobile broadband technology according to Ericsson. HSPA is an extension to 3G [WCDMA and GSM] networks and can scale up to 42Mbits down ands 12Mbits up and can operate with any of the existing frequencies that are deployed by 3G networks worldwide who use WCDMA/GSM technology.
The Ericsson Mobile Broadband Module is designed and manufactured by Erisccson and supports HSPA[high speed extension for 3G], EDGE [a high speed extension for 2G], GPRS [often called 2.5G, this is the main international method of wireless access for mobile devices which are not 3G] and GSM [which is standard 2G cellular wireless without any speed enhancements]
For HSPA the adapter will offer 7.2Mbits down and 2Mbits up which is equivalent to an external solution.
In Australia, Telstra offer up to 7.2Mbits via their NextG network using this 3.5G HSPA wireless technology and promise to scale their speeds up to the promised 40Mbits within a number of years. Other providers such as Vodafone and Optus have announced upgrade plans to improve the throughput of their networks.



3.5G network speeds vary from 3.6MBits, to 7.2Mbits, to 14.4Mbits and beyond through to 40Mbits by about 2010 and beyond where Ericsson also projects 71% of mobile connections will be via HSPA and 50% of notebooks will ship with this wireless technology built-in.
Throughput is dependant on a number of conditions such as signal strength, network congestion, network capacity and device support.

Telstra Bigpond claim to have Australia's only 3G 14.4 mbit network and that customers will typically experience 550kbps to 3mbits, which represents the maximum  out of a 3.6mbit 3G with HSPDA device. In dense areas users can acheive 6mbits. While Upstream speeds are  384kbits, 6mbits is the realstic maximum from a 7.2 mbits wireless device due to effiency and overheads. Telstra Bigpond offer 7.2 mbit modems in a variety of form factors as an option to customers.

Vodafone Australia claim that 500kbps to 1500kbps is acheiveable on their network,however recent annoucements to the industry point to an capacity upgrade of their network.
Further Reading
Quick Links for Notebooks with built in or build to order option for 3G wireless - Australian Region.
Dell Inspiron 1525 and XPS M1330 with built in 3G, avalible with Telstra Bigpond Wireless or Vodafone data plans
http://www.dell.com.au/vodafone
http://www1.ap.dell.com/content/topics/topic.aspx/ap/topics/microsite/en/bigpond_broadband?c=au&cs=audhs1&l=en&s=dhs">http://www1.ap.dell.com/content/topics/topic.aspx/ap/topics/microsite/en/bigpond_broadband?c=au&cs=audhs1&l=en&s=dhs
Lenovo Thinkpad with optional WWAN
http://www-07.ibm.com/lenovoinfo/au/thinkpad/vodafone.html

HP nc6400 business notebook
http://www.hp.com.au/broadbandwireless

Toshiba Portege R500 and Tecra M9 with built in 3G avalible with Telstra Bigpond Wireless plan
http://www.toshibanotebook.com.au/index.html
Ericsson Wireless Broadband Modules
http://www.ericsson.com/solutions/mobile_broadband_modules/press.shtml