While Solid State Drives (SSD) have been available as a build-to-order option on notebooks for around a year now, their price and relatively small capacity compared to traditional hard disk drives has meant that these devices have not been a compelling choice for majority of potential customers.
As of April 2008, Apple's Macbook Air notebook with the 64GB SSD and 1.8GHz processor with commands a $1409 AUD premium over the 80GB HDD 1.6Ghz configuration.
Some customers may not see the justification in paying more money for less storage space [SSD are faster and quieter].
The 2133 Mini Note from HP is also available with a SSD  as are products from DELL, although only of 64GB capacity.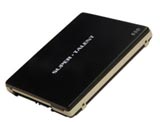 Larger capacity drives comparable to the sizes of traditional 2.5" HDDs shipping in mainstream notebooks such as those in the 120GB-320GB capacity range  would be a more compelling choice for those customers considering a Solid State disk option at time of purchase.
Super Talent Technology Corporation is now shipping a 256GB 2.5" SSD with a SATA interface which they claim is the worlds thinnest 256GB SSD in that form factor with read speeds of up to 65MB/s and write speeds up to 50MB/s.
Well suited for industrial and commercial applications,  the FSD56GC25H is now shipping to Original Equipment Manufacturers (OEMs).
For the benefit of end users and vendors we hope that the technology and engineering used to  develop large capacity SSD drives such as this one is put to further use enhancing SSDs for mainstream and consumer adoption. End user and vendor take up of this technology should improve providing that the price-point for larger capacity drives represents value for money.