Owners of Giga-Byte motherboards, especially socket 775 models that use the Dolby Digital Live feature of the Realtek HD Audio on these boards should revert to an older version of the audio driver such as Release 2.44 to reclaim bass management and Dolby processing features.
Background
Manufactures of hardware components found in the personal computer typically update the software that operates these parts and helps them to function on a regular basis, fixing bugs, improving compatibly, increasing usability and the user experience as well as adding new features, enhancing performance and supporting newer operating systems.
Vendors do not advertise these updates for computer hardware as much as say the updates for your operating system (Windows, Mac, and Linux), Security software such as anti-virus or portable device such as an iPhone for several reasons both technical and business related
Without device drivers, any piece of hardware connected to a PC will not function
It is strongly encouraged that perceptive users keep their device drivers for their hardware up to date, often with the absolute latest version available. Unfortunately, this strategy can have negative effect and today we highlight such an issue with the latest releases of Realtek's HD Audio driver for Windows XP (WDM)
Technical Complexity
Updating a device driver is typically more difficult and riskier for the average user than say a frequent windows update or anti-virus definition update, as there is a possibility of the device failing to function after the update due to failure of the installation or bugs with the latest version of the drivers
However, some vendors such as NVIDIA and AMD have addressed the ease of use issue and now have designed their windows device driver installation routines to be as easy to use and intuitive as possible, with NVIDIA's graphic drivers requiring only one click and a reboot to complete the installation
Reliability
Updates for major operating systems, software and popular portable devices are tested thoroughly by the manufacturer, are only released once such software has passed all of the vendor's quality controls, and stress testing. With the case of Windows operating system, the vendor can submit their device driver to Microsoft's own quality assurance labs or other certified labs to be tested against Microsoft's Windows Hardware Qualification Lab (WHQL) certification program.
WHQL testing ensures the device driver is compliant with the way Windows internally operates and any certain features or unexpected behaviours will not crash the driver. Testing is performed against a extensive checklist of requirements just as with a car inspection and testing is performed on a variety of common hardware and software combinations. Once all aspects of the WHQL compliance process is satisfied, the vendor can declare their driver has passed WHQL testing.
Many organizations such as enterprise and Independent Software Vendors only support such device drivers and will not deploy or support any invalidated or beta software/device drivers into their deployment.
This methodology ensures the customer will have a positive experience with the software update and that the device driver will function correctly in every aspect and be stable.
However, many software vendors frequently ship device drivers that are 'untested' or 'unsupported' and the user bears the risk to try such software.
Typically, this is done by smaller vendors who do not want to spend resources on after-sales support, especially for products with short life cycles, low purchase cost or when a device is not very dependent on its software and software support is given a low priority.
Life Cycle
For consumer electronics and computing, a typical product lifecycle is 12months.
That is, every 12months a new product will be released to replace the one released 12months earlier. Product lifecycles can vary between 6 months for high volume products such as low cost entry-level cell phones to 3 or 5 years for business/enterprise or high cost computer peripherals.
Depending on the region, the market segment and local laws, the vendor may only offer after-sales support in terms of software and firmware updates for the length of the lifecycle, length of the warranty period or duration that a certain version of an operating system or computing platform remains mainstream.
A vendor can either release device drivers that are unstable and untested frequently, or release stable drivers that have been extensively tested and validated infrequently. Unfortunately, both extremes are prevalent and there is no solution to the problem unless the vendor is a 'tier-1' vendor with thousands of developers and engineers on staff who can facilitate releasing quality, stable and validated device drivers on a monthly basis such as what NVIDIA and AMD do with their graphics drivers.
Issue with later builds of Realtek's WDM Audio device driver Windows XP
Realtek's higher end Audio CODECS (the chip found in your computer that outputs sound) are capable of converting the systems audio output into a Dolby Digital AC-3 signal which can be transmitted over a single cable from the PC to a surround sound system or television, eliminating clutter from running three or four separate cables and eliminating cable clutter.
Dolby Digital Live is advertised prominently on the packaging of motherboards, on the motherboards markings themselves, on desktop PCs and on laptops, featuring the Dolby Digital logo. The feature, known as Dolby Digital Live is popular and sought after by home theatre enthusiasts and power users.
Unfortunately, the latest versions of Realtek's device driver for onboard audio disable this feature for CODEC chips that support the feature, presumably due to bug or regression in the device driver or its accompanying configuration files
We have verified that on some Giga-Byte Motherboards equipped with the ALC889A HD Audio CODEC such as the popular EP45-DS3R model which is Dolby Certified and even comes with a Dolby Digital case badge; Dolby Digital, Dolby Headphone, Dolby Virtual Speaker and the Bass Management tab in the audio control panel software is no longer available in the latest version of the driver, which at time of writing is Release 2.47 for Windows XP (WDM).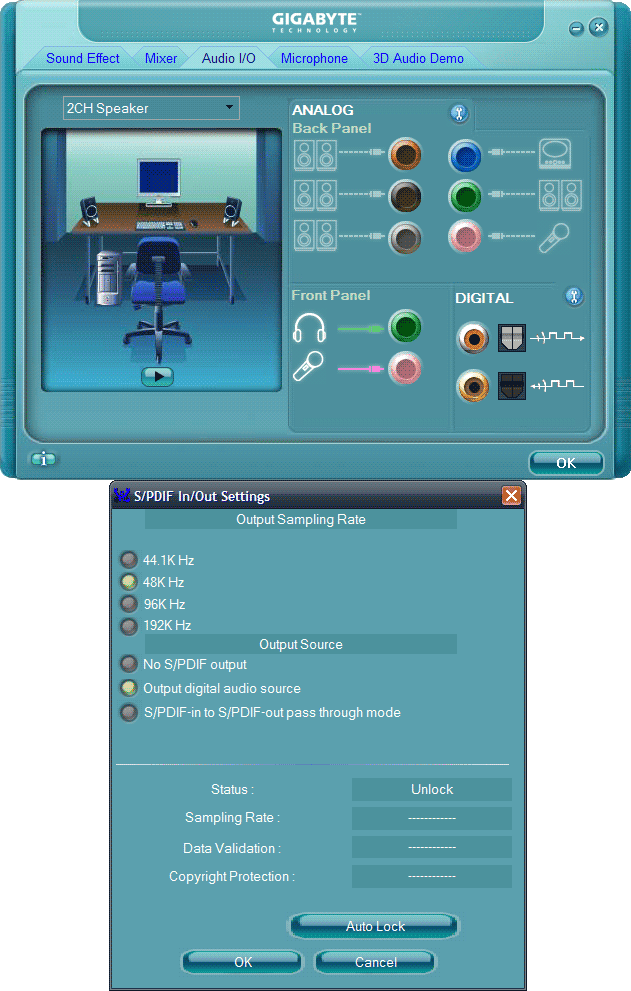 Reverting to an older version, such as R2.44 restores these functions. The drawback of reverting to such older releases is only 48KHz is available as a sample rate for the Digital Audio Out feature where as R2.47 allows for 44KHz to 192KHz selectable by the user.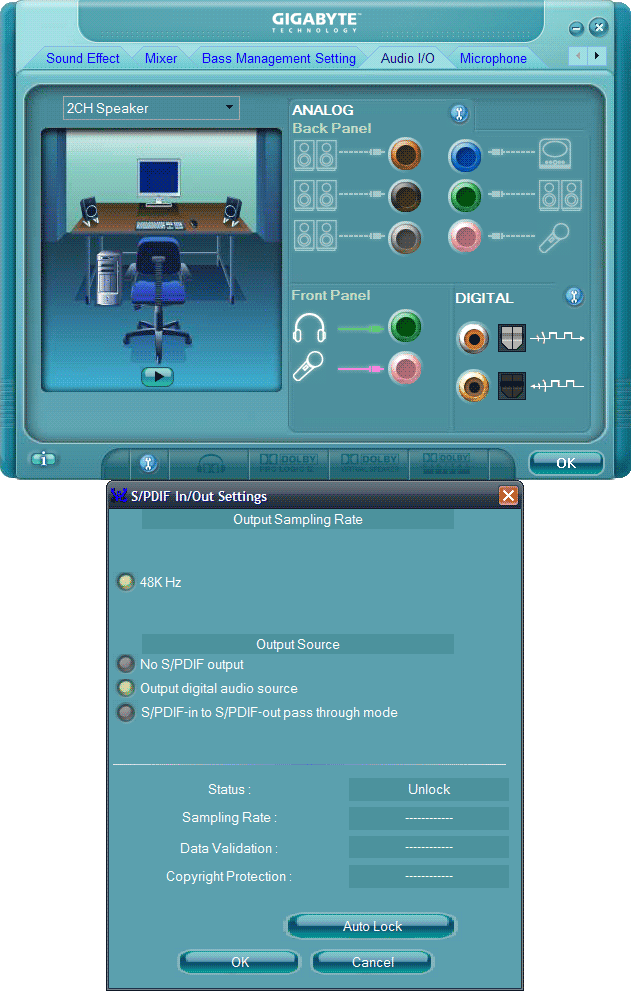 Although these features have disappeared (perhaps unintentionally), Realtek have added additional sample rates for digital audio out, which were not available in older releases.
NitroWare.net suspects that this situation is due to a regression in the driver, possibly due to the additional sample rates (Dolby Digital's sample rate is 48 KHz) or misplacement of the correct configuration information in the device driver installation files (.INF) which tell the device driver what hardware it should configure itself to support.
At this stage, we do not think that the vendor has intentionally disabled these features, although this scenario is possible. Our investigation is continuing.
We have not noticed the same issue under Windows Vista/Windows 7, where both of these operating systems share the same audio driver release. Release 2.47 of the Realtek HD audio driver on these OS does correctly present the Dolby Digital Live feature and the full range of user-selectable sample rates for the SPDIF digital audio out, up to 192 KHz.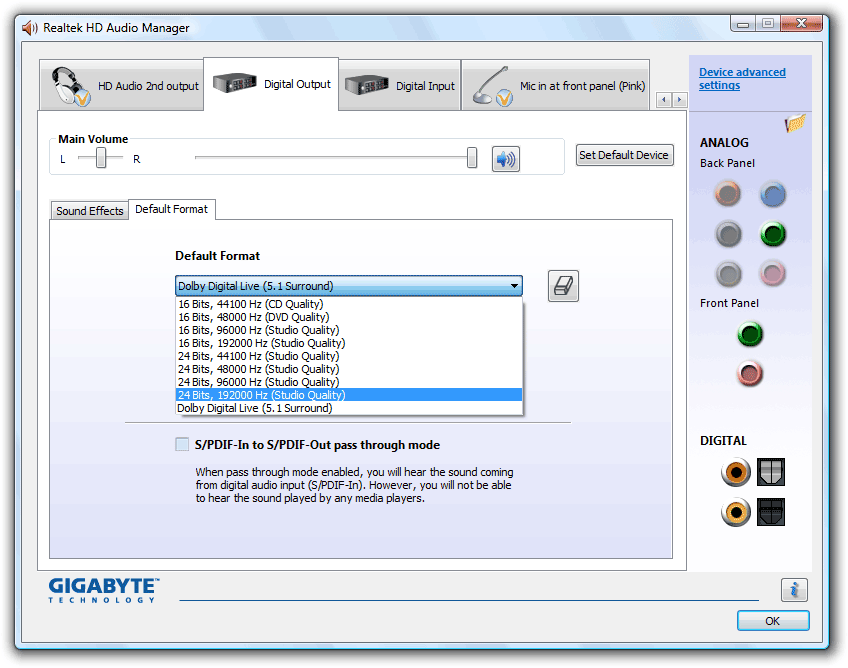 If you have updated your audio driver and noticed these features have disappeared, please revert to an older version of the device driver. Realtek does not have links to older versions of this software on their website so we suggest visiting the vendor of your PC, Motherboard or Laptop and obtaining the older version through their software library on their websites.
We obtained Release 2.44 from the driver section on Gigabyte's website.
We do note however that Realtek publishes universal drivers and support all platforms that contain a Realtek High Definition audio chip through the same unified release of this software.