Cooler master claims its Trigger Mechanical keyboard is the devasting new weapon of choice on the war torn frontlines of gaming...

We preview Cooler Masters's Trigger Mechancial Keyboard, which the manufacturer claims can command the power and strategic advantage of a military platoon and is prepared with a full featured arsenal that incorporates a selection of extremely high durability CHERRY MX Black, Blue, Brown, or Red switches as well as a Numeric Keypad in a traditional 104 key form factor.
We are somewhat old schoolers with keyboards here with mainly traditional 104 keyboard for daily use but we have used the share of keyboards including all the classic hits like the Original Microsoft Natural, several Honeywell/Keytronic types, Microsoft and Logitech Internet keyboards, Gateway Multimedia, Dell angular bundled keyboard, generic keyboards with multimedia or ACPI function keys, modern Microsoft and Logitech wireless types just to name a selection.
One of our team even had a keyboard with a built in battery powered Calculator... Why ?

NitroWare has Logitech's K750 solar keyboard coming for review which has been reviewed well at other publications which we are looking forward to due to it not needing batteries but when it comes to high function, high fashion 'gamer' style keyboards that is where things get weird.

This month we tried out Logitech's K350 soft touch WAVE keyboard which was a reminder of the halcyon days of keyboard innovation in the late 90s and early 2000s when buying a keyboard was a very big deal. Things have seemed to come full circle as of late with a slew of expensive but functional gaming keyboards. This preview is about Cooler Master's attempt at making a straight down the middle conservative gaming keyboard.
Logitech started the gaming keyboard trend with their G series, although popular they are gigantic and expensive keyboards and not appealing to all types of users especially who do not want LCD screens or want something that can fit into a keyboard tray as fitted to a computer desk, something which many large gaming keyboards can not. Logitech's G510 is an example with its 3 columns of function keys and LCD display.

There have been a few models from Razer which have also been large, other vendors have tried their hand too and as of this year most PC component vendors do offer enthusiast oriented keyboards, especially vendors who tend towards the gaming segments.

Cooler-Master's recent keyboards have been somewhat segmented, one of its recent models included premium switches but lacked a numeric keypad (numpad) to save on size.The Numpad is used extensively in gaming so it does not make sense to leave it off. Power users are also habitually used to the numpad and can blindly enter numbers at light speed.

Fortunately, a new keyboard announced today from Cooler-Master seems to have rectified this and combines a traditional 104 keyboard style and form factor with Cherry MX mechanical switches proving you do not need to buy a strange keyboard just to get the mechanism.


The unique features of this product are apart from the switches with this new keyboard are its five Macro keys with optional profile management on the left in a single column which do not take that much width up, making it ideal for keyboard trays.

Like many gaming keyboards released in the last year the trigger builds upon the ability to support up to six keys simultaneous.

Uniquely, multimedia functions included on the Function key row mimic the function keys of a laptop which as Cooler Master describes it can "bring about music that may contribute to a win that is the result of a Zen-like focus or a sustained rage produced by increasing tempo and heated conflict." followed by the Storm Tactics Key which can deactivate the Windows key to "Ensure that this focus remains unbroken"

Although a traditional rectangular 104 keyboard chassis, the CM Trigger does bundle a detachable wrist rest that is rubber coated for comfort and control. Extended use is required to see if the rubber laminates and becomes slippery which is a common problem with rubberised devices.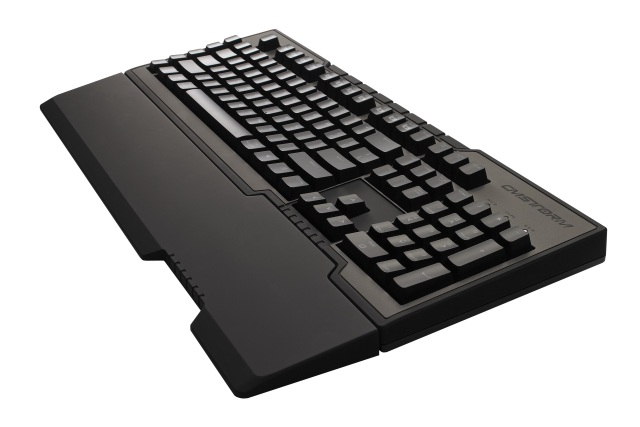 Connectivity includes a Mini-USB port for input, two USB 2.0 A ports for a USB hub as well as a 5V DC barrel input for power. The USB connectors are supposedly gold plated for longevity and claimed conductivity, rounding this up is a braided cable.



The Mini-USB connection is a mistake for a gaming keyboard. the USB Integrators Forum long ago depreciated Mini-USB for the more durable Micro-USB connector. The keyboard is the last thing you want to have randomly disconnect due to a loose connection. Micro-USB features a latch for locking purposes however since a user may frequently lift or tilt their keyboard while moving it this may not be appropriate also. The Mini-USB connection raises some reliability concerns with the engineering of such connection in the keyboard

At this stage we are unsure if the whole keyboard requires a DC 5V input or this is just a power boost for the USB hub. The USB 2.0 ports are not spaced further apart enough for wide USB devices such as some rubberised USB sticks but at least they are not recessed.

The mechanical chassis and USB hub do make the keyboard appear somewhat thicker than generic keyboards, with the included wrist/palm rest this may not be a problem but some users like adjusting the tilt of their keyboard.

At a whopping $130 AUD RRP for what is otherwise 'just' a traditional keyboard with mechanical switches we feel this model could have offered more than it does, perhaps a similar profile, a few dedicated multimedia keys or better connectivity. Available from mid-may, the price does get you a two year warranty however so feel free to hammer away at the mechanical switches.

At $80 or less this hybrid of tradition and function would solve many gamers and enthusiast's input problems and even that price is asking much for a traditional 104 keyboard.

Website http://www.cmstorm.com