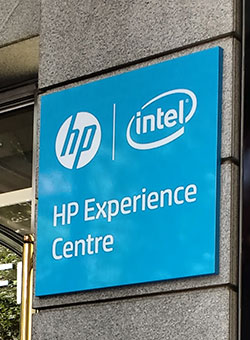 HP have opened a dedicated showroom and meeting space in the heart of Melbourne, Australia to allow customers, end users and partners to experience the entire range of HP PCs, Printers, Peripherals and Heritage as well as the ability to meet, collaborate and do business.
NitroWare toured the new facility and previewed the brand's new sleek Intel 6th Generation Core 'Skylake' based Notebooks, Convertibles, All in One Pcs, Business PCs and Laser Printers which incorporate HP's new design language of designing premium products that are equally suited for the home as they are for business.
In the Printing space HP is touting what they claim is a revolutionary change in print and toner technology called Jet Intelligence, which re-engineers the way toner is formulated for largely the first time in 30 years.
In this article we present our video tour of the facility as well as demonstrations of the new PCs and Printers.
The HP Experience Centre
The HP experience Centre at Level 2, 234 Collins Street Melbourne is part showroom and part business meeting/collaboration space and of which are only three in the world.
The new centre on Melbourne's busy Collins St was formerly a food court and the showroom component itself is larger than the entire previous pilot centre HP occupied in little Collins Street Melbourne. Local business and talent were used in its creation, which is also reflected in the design and décor of some of the meeting rooms on site. Sixteen local Victorian companies built out, designed and deployed the centre over four months, including Melbourne street artists.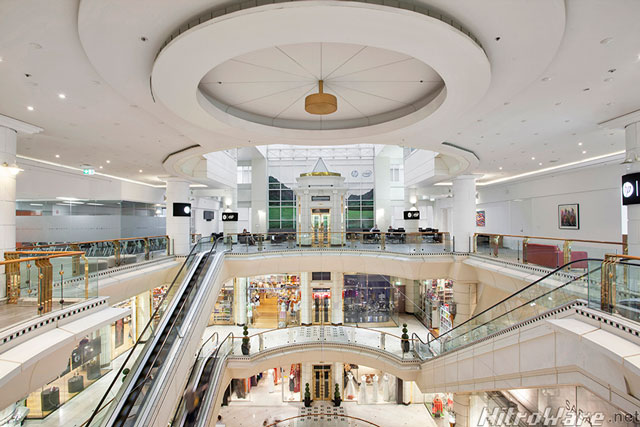 HP do not sell any products on-site however technicians and product specialists are on hand to and there is a drop-in service desk which a technician can perform basic technical support or repairs, however spare parts are not kept on site.
PCs, Printers, Monitors and accessories from HP Inc.'s consumer, professional, business and enterprise lines are on display in the showroom to be experienced and played with. A small, curated sample of historic and iconic HP devices from their museum collection are present such as audio oscilator, tape-server and calculators.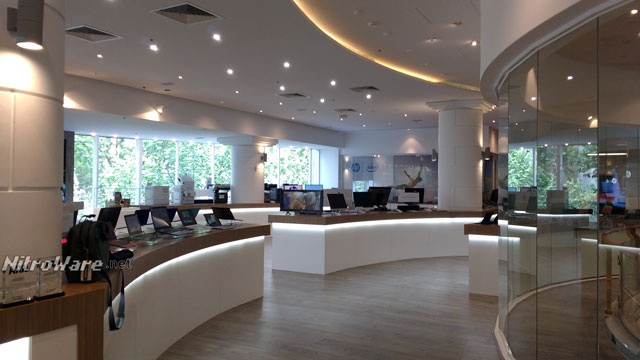 However, HP's server line cannot be 'experienced' at the centre, these are now under the responsibility of HP Inc.'s Sister company who handle Servers and Enterprise Computing as of November the 1st 2015. However, a server cabinet, fully populated with HP Equipment is on site for demonstration purposes adjacent to one of the meeting rooms, however the servers, switches and other enterprise devices themselves are not on display.
For 'business people', the Centre has a 70 seat dedicated training facility, soundproof independent executive board room for twenty people as well as two other meeting rooms. Hot Desks with commercial grade Wi-Fi are provided as work spaces.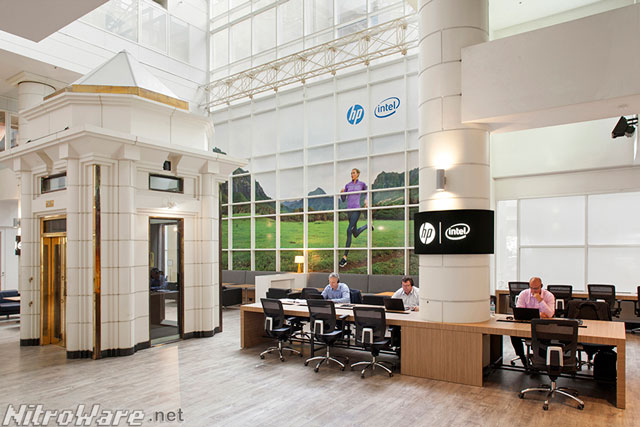 Darren Needham-Walker, marketing lead for HP South Pacific stated that, since February when the new Centre opened, 5000 people came through the centre, untold walk-ins. 400 independent meetings in the boardroom, with some of those customers using the business facilities not even for a HP meeting.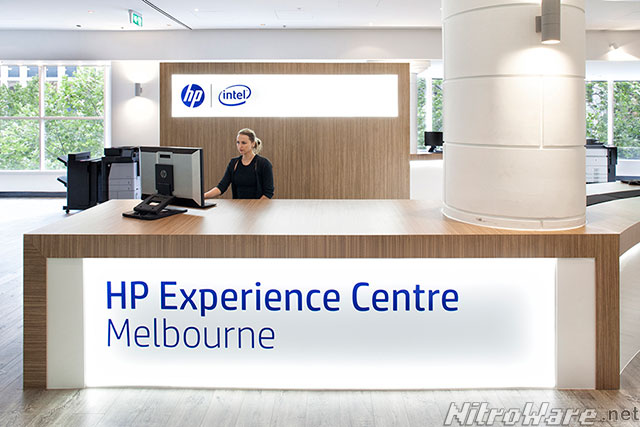 Although operating for most of the year, to co-inside with the launch of the Intel Skylake powered PCs, The event was the first time the centre was shown to the Australian Tech Media in attendance.
For part 1 of our video coverage of HP's Experience centre and new 2015 devices, Mr Needham-Walker gave
NitroWare
a guided tour of the centre's facilities.
For part 2 of our video coverage of HP's Experience centre and new 2015 devices, Paul Burman gave NitroWare a walkaround overview of the product showroom including the HP museum collection. The unique signature of the Envy 34 All in One PC with Curved 1440p panel and GeForce GTX graphics is pictured below.
New HP 6th Gen Intel Skylake PCs - Skylake is here and shipping
The focus of HP's media briefing in Melbourne at their Experience centre was to introduce the new Skylake devices in addition to showing off the facility to the visiting media. The occasion was barely a week after Intel Australia's own grand "celebration" (not a launch, as Skylake launched months prior – LOL?) where Intel's partner OEMs showcased their new Skylake devices largely for the first time in the APAC region.
At Intel's event, a small select of HP 6th Gen/Skylake devices were present with the Star Wars Limited Edition Notebook being given special place in Intel's partner showcase. The notebook was given a late, grand entrance thanks to an honour guard from the Australian detachment of the 501st Legion of Imperial Stormtroopers, complete with the 'wrong' Star Wars theme music being played. Stormtroopers march to the Imperial March not the Star Wars Theme, and if I am being pedantic, HP themselves declare the Star Wars laptop is Imperial/Dark Side themed!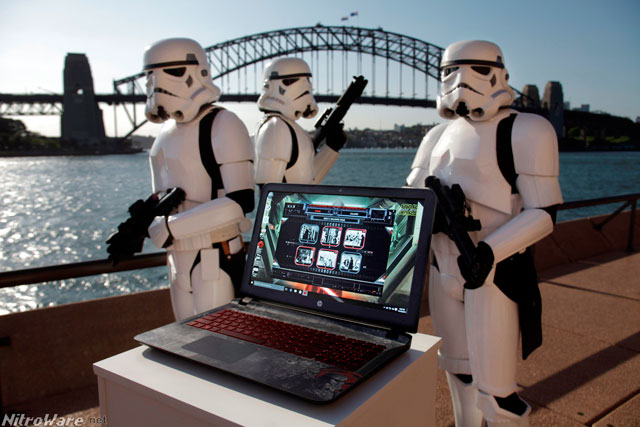 We are not going to detail every HP Skylake device here, as we have several videos linked in this article detailing the key products HP thinks will appeal to you.
One problem HP has had over the years (and to be fair, their direct competitors Lenovo and Dell as well) is product churn. New products every year or sooner which may not be the best designed or well-engineered in their categories and are only just 'good enough' to please a certain market demand at launch time, with little product staying power. The One year warranties on many consumer laptops is proof of this philosophy. OEMs are starting to wake up and smell the roses thanks to devices like those from Apple and Microsoft treading on their turf.
Paul Gracey, director, Personal Systems, HP South Pacific spoke about the changing trends in the workforce and how these are influencing how HP designs and markets its PCs, incorporating four major tenants for their devices: Informed, Productive, Secure and Entertained. Previously devices were segmented for work and home and currently the 'lines' between these devices segments are blurring due to an ever increasingly mobile workforce.
1.5 billion People are mobility workers this year. HP claims they have a single or multiple device, yet multiple personalities on each device, to differentiate work and home life.
HP calls this marketplace transformation for devices between the workforce and workplace, 'work style' and 'one life transformation' for a device that is seamless between work and home multiple times a day.
With Millennials comprising 30% of workforce by 2020, expectations are changing and HP surveyed 7000 people for product design feedback for the 2015 products.
Workers may be using a work device and not happy with its styling and don't want a 'black box' device. On the other hand, HP states they are not trying to pigeon-hole consumer devices in which don't have security and manageability.
This is an interesting statement as the opposite has been de-facto for all the major OEMs for many years now, especially HP.
Enterprises require the following technical features for devices to be suited to their corporate networks
Wired Ethernet, typically Gigabit. Enterprise may use this for a stabile connection purpose or re-imaging of devices
Dual-Band MIMO Wi-Fi. Consumer laptops typically ship with the cheapest Wi-Fi possible, a single antenna, single stream module.
Field Serviceable – components and construction is modular with parts being able to be replaced easily with minimal tools and effort, with full documentation publically available. Consumer devices are increasingly unserviceable.
Advanced Displays, IO and Docking, things like full size IO ports, standard chargers, multiple display outputs, mini or full size docking connections, expansion batteries. High Resolution, Rich Colour displays.
Hardware security and manageability – incorporating intel vPro remote manageability technology or a competitor solution, advanced bios firmware features to allow finite control of settings and devices, finger scanner, smart card readers as well as a trusted platform security module for data encryption
Older, commercial, domain compatible editions of Windows e.g. Win7 Pro/Enterprise or Win 8.1 Pro/Enterprise, Linux.
Many of these features used to be standard on consumer laptops but have been removed in order to reduce cost, reduce or eliminate possibility of user serviceability and to pigeon hole certain type of users to certain types of devices.
HP's Skylake based products for 2015 are supposed to embody this ideal of workstyle and one for all.
The new product line-up centric to the product launch consists of:
Notebooks: Envy 13, Pavilion 15 Gaming, Spectre 12 x2, Spectre 13 x360, Stream 11, Stream 13 and Star Wars Special Edition
Desktops: EliteDesk 800 G2 mini pc, EliteOne 800 G2 All-in-One, Envy 34 Curve All-in-One, ProOne 400 G2
Printers: Color LaserJet MFP M477 and M577
HP 6th Gen Intel Skylake PC preview and Jet Intelligence Laser Printing Technology demonstrated
Spectre x2
"A sexy looking product, really awesome engineering" aimed at the premium 2in1 market made using CNC aluminium. In HP parlance, x2 refers to a touch enabled 2-in-1 convertible PC while x360 refers to a device where the screen can fold back on itself.
Spectre x2 features a stainless steel kickstand Fabric backed keyboard with magnetic attachment to the 8 mm thick tablet portion. This form factor is standard industry wide but HP claim they have added an aluminium layer under the fabric to enhance keyboard rigidity as well as increased key travel to 1.5mm. These are supposed to give a 'proper' keyboard like feel. HP also claims it is serviceable.
Last year NitroWare tested the bigger 15" 5th Gen Broadwell Core-M 5Y10 based Envy X2, and despite there being a 13" version of that machine, both were bulky, unserviceable and the fabric keyboard discouraged lap usage. However the form factor showed promise. By ridding the mechanical HDD and using a smaller screen HP have slimmed last year's design down significantly to where it is on par with MS surface.
The keyboard does seem more rigid with its CNC aluminium base, and the kickstand is the full length of the 'tablet PC part now' so HP have defiantly improved on the previous design, however this too is not fully enterprise ready, shipping with the Win10 Home OS and no Ethernet. The 4GB of non-expandable LPDDR3 memory (not even LPDDR4!) is a downgrade from the Envy X2 we tested with 8GB of DDR3L, however the older design that was a larger form factor. Regardless, MS Surface is available up to 16GB
HP claim 'they' can service the x2, however the end user or administrator will have difficulty attempting such, as our experience with similar devices from other vendor such as the new Surface 4 and older HP Envy X2 require heavy duty suction cups and a great deal of risk to the display panel to dissemble. We cannot classify this as serviceable.
Unique features are TWO USB Type-C, futureproofing the device for future high speed storage and phone/tablet fast charge and transfer.
Product Name
HP Spectre 12-a001dx x2 / Windows 10 Home / 1YR warranty
Microprocessor
6th generation Intel® Core™ m3-6Y30 processor , 0.9GHz, 2.2 GHz Turbo
Memory
On-board 4GB LPDDR3 SDRAM / Memory slot not user accessible
Video Graphics
Intel® HD Graphics 515
Display
12.0-inch diagonal WUXGA+ IPS WLED-backlit IPS touchscreen display (1920x1280)
Hard Drive
128GB solid-state drive (type undisclosed)
Networking
2x2 802.11ac WLAN and Bluetooth, HP lt4114 LTE 4G Module for use on the Verizon LTE network
External Ports

5 MP HP TrueVision HD Webcam (front-facing) / 8 MP (rear-facing)

Intel® RealSense™ 3D Camera (rear-facing)

Integrated dual array digital microphones

Micro SD Card Reader

2 USB type C connectors with SuperSpeed USB 3.0, all supporting sleep and charge

1 Headphone-out/microphone-in combo jack

Sound
Bang & Olufsen with quad speakers
Keyboard
Full-size island-style backlit keyboard
Pointing Device
Touchpad supporting multi-touch gestures without on/off button
Dimensions /Weight

11.81 x 8.23 x 0.52 in / 2.68 lb (tablet and base)

30 cm x 21 cm x 1.3cm / 1.21 KG
Envy 13
HP have finally listened to feedback and delivered a 'traditional' ultra-thin and light Ultrabook with contemporary styling, full size IO ports and high resolution screens. The cornerstone, pun intended of the Envy 13"s chassis is its Infinity hinge which is supposed to lift the chassis up not only for style but to give some "engineering options around cooling, helping put Core i into the chassis".
When we looked at HP's 2015 business Ultrabook line, one of the criticisms we had was the use of microSD and micro HDMI ports, which do not suit a business or road-warrior use case, 'plug anywhere'. Reminiscent of the Thinkpad X1, despite being a consumer oriented premium device the envy ticks almost all the boxes. The memory is a single DIMM which limits performance, is not expandable, no Gigabit Ethernet and the unit ships with Windows 10 Home plus no service manual. Hopefully the improvements with the Envy 13 filter to the Elitebook line. Still got some work to do HP, despite your marketing. Lack of Ethernet is workaround able, as there now are flexible USB 3.0 docks which provide GigE Ethernet as well as additional IO, and the Envy 13 has sufficient USB 3.0 ports unlike Apple Macbook offerings but there apparently is no adapter bundled with the PC.
Product Name
HP ENVY 13-d0110nr / Windows 10 Home / 1YR warranty
Microprocessor
2.3GHz 6th generation Intel Core i5-6200U, 2.8GHz turbo boost, Dual Core
Memory
8GB DDR3L SDRAM (1 DIMM)
Video Graphics
Intel HD Graphics 520
Display
13.3" diagonal QHD+ IPS BrightView WLED-backlit (3200X1800) Matte
Hard Drive
128GB solid-state drive (type undisclosed)
Networking
2x2 802.11ac WLAN and Bluetooth
External Ports

Multi-Format Digital Media Card Reader

3 SuperSpeed USB 3.0

2 Universal Serial Bus (USB) 2.0

1 HDMI

1 Headphone-out/microphone-in combo jack

Front-facing HP TrueVision HD Webcam with integrated dual array digital microphones

HP SimplePass Fingerprint Reader

Sound
Bang & Olufsen with dual speakers
Keyboard
Full-size backlit keyboard
Pointing Device
HP Imagepad with multi-touch gesture support
Dimensions /Weight

0.51 in (H) x 12.85 in (W) x 8.9 in (D), 3.0 lb

1.3 cm (H) x 32.6 cm (W) x 22.6 cm (D), 1.27 KG

Power

45W AC adapter

3-cell 45Whr 3.9Ah lithium-ion polymer battery
Spectre x360
HP Claims spectre is their flagship , but the Spectre x360 here bridges the gap between the ultra-portable and 2in1 convertible 12" Core-M based x2 and the 13" Core i5 based traditional clamshell Ultrabook Envy 13
The x360 offers 6th Gen Core i7, 13.3" 1440p display and 256GB in a 360 degree flexible chassis
Again this one is not fully enterprise ready with Win10 Home, No Ethernet and little serviceability/manageability. The "wow' feature of the x360 is its double silver and rose gold finish which is detailed further in our video coverage of the device. This type of device is not for everyone – and we have seen this with the Lenovo/Thinkpad Yoga, which has been re-invented several times over the past few years for both consumer and business editions.
HP like to boast on the exclusively of the rose gold finish on the x360, but we all know who did rose gold first. Why not do something iconic for a change rather than emulate. It will of course match those who acquired a new iDevice and that is fine. Uniquely the device has Bang and Olufsen speakers in both the tablet and keyboard.
Product Name
HP Spectre 13-4193dx x360 Convertible / Windows 10 Home / 1YR warranty
Microprocessor
2.5GHz 6th generation Intel Core i7-6500U, 3.1 GHz turbo boost, Dual Core
Memory
8GB DDR3L SDRAM (1 DIMM) / Memory slot not user accessible
Video Graphics
Intel HD Graphics 520
Display
13.3" diagonal QHD(38) IPS Radiance Infinity LED-backlit touch screen (2560X1440)
Hard Drive
256GB solid-state drive (type undisclosed)
Networking
2x2 802.11ac WLAN and Bluetooth
External Ports

Multi-Format Digital Media Card Reader

• 3 SuperSpeed USB 3.0, all with USB Boost

• 1 Mini DisplayPort

• 1 HDMI

• 1 Headphone-out/microphone-in combo jack

• Front-facing HP TrueVision Full HD WVA webcam with integrated

dual digital microphones

Sound
Bang & Olufsen with dual speakers
Keyboard
Full-size island-style backlit keyboard
Pointing Device
HP Imagepad with multi-touch gesture support
Dimensions /Weight

12.79 in (W) x 8.6 in (D) x 0.6 in (min H)/0.63 in (max H), 3.17 lb

32.5 cm x 22 cm x 1.5 cm , 1.4KG

Power
45W AC adapter / 3-cell 56WHr 4.96Ah lithium-ion battery / 11 Hrs
Commercial Elite PCs
As we mentioned earlier, HP want to blend consumer and commercial PCs to meet a changing demographic.
"End user wants thinner lighter sexier but the IT manager wants manageability and security, we can't trade one for the other" Paul Gracey said. Additionally durability is a concern for increasing aesthetic devices in a commercial environment.
From our point of view looking at the new products here there is innovation but it could go further. The Elite Desk is a welcome addition and employs the best engineering possible for the form factor.
The universal wireless charging is a welcome feature for the Elite AIO, but few phones support wireless charging and HP should not forget the needs of users with devices that use Apple lightning, Micro USB or USB Type-C for charging.
The Elite All-in-One is a business pc with a "more pleasing aesthetic. Looks good front and back, front of house is important"
Emphasising the brand on the back of a PC was a trick pioneered in the old days with monitors and AIO Pcs such as those from Sony or Apple. The wow feature of the elite is Triple standard wireless charging built in to the PC's stand base. Qi, PMA and A4WP standards. As of 4-NOV-2015, the PMA and A4WP wireless charging alliances have merged under the new name of AirFuel Alliance.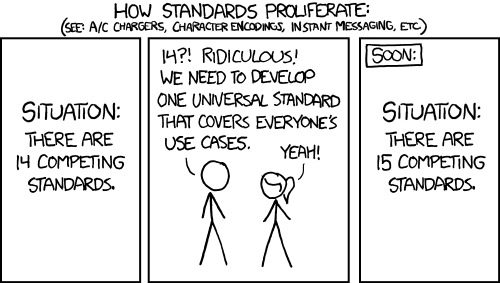 Additionally the Elite AIO is a business PC with Bang and Olufsen speakers plus an amplifier, quite unusual and unheard of for a business PC to have good audio, many business desktops have a 2 to 5 watt single mono full range speaker in the PC Chassis!
Elite Desk is HP's interpretation of a mini PC, of the likes that have come out of Taiwan in recent years such as Intel NUC, Gigabyte BRIX, ASRock and ZOTAC more recently but HP seem to have done it better with more attention to detail, especially regarding magnesium in the tool-less chassis, choice of AMD or Intel as well as future proof IO (USB Type C)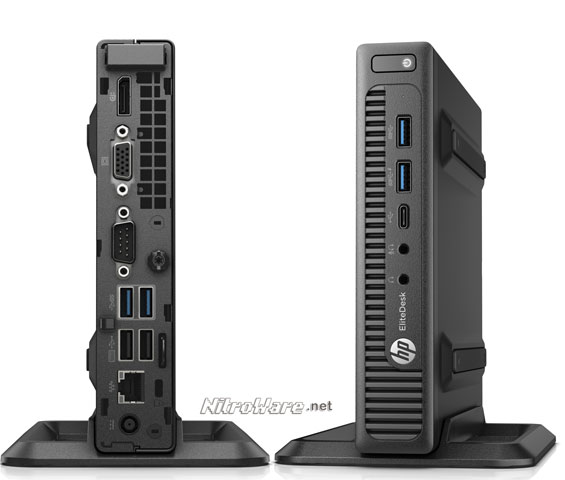 A review of Shuttle's DS57U industrial Mini-PC is coming during November on NitroWare, a competitor to the HP elite desk and it will be interesting to compare to the Shuttle once we get our hands on an Elitedesk sample
New HP Inkjet and Laser Printing Technology
Inkjet Printing
For 2015 there are no relatively major changes in how Inkjet printing works from HP however there are some enhancements to improve ease of use.
The focus being on the A$99 Envy 4520 AIO and the A$119 OfficeJet 4650
Manpal Jagpal, Category Manager, Inkjet Printing Systems, spoke how HP have refined the design to be 'Authentic and minimalist design is a big focus for consumer' and that 'Performant and elegant, consistent IDs' was a design trait for the new printers, with their matt and gloss finish contrasts.
Well, 'so what' from me. I state these are not new features and have been tried by competitors of HP and HP themselves in the past. The Epson TX600 AIO from about 6 years ago also had contrasting matt and gloss finish. For the price of these printers, aesthetics won't be a influencer for the typical consumer to which these printers are aimed at.
What you do need to know about these printers is some interface and experience functions are improved.
Active Ink Balancing is supposed to measures your colour usage and balances and mixes the colours to save ink in an effort to avoid the dreaded 'low colour error' message on the printer.
The 5.5cm touch screen now has full swipe support as well as video help.
An automatic output tray will extend when your printout is ready, manual trays get in the way, can break and can be a nuisance.
One of the more important features are these two models incorporate efforts from HP to REDUCE printing DRM, if colours run out, the printer is not supposed to stop you from scanning, which has been a frustrating feature of several brands for the past few years.
Laser Printing
Compared to the evolutionary inkjets, the 2015 laser jets are supposed to be a revolution in laser printing, which the firm claims is their biggest development since the introduction of laser printing in 1984.
JetIntellgience is claimed by HP to be the most significant reengineering of laser since 1984, "leaps and bounds" innovation. Customers can print faster, more pages per cartridge, smaller machines, less energy, and better security
Tony Sayed, Market Development Manager, Volume Laser, Printing & Personal Systems, HP South Pacific, said that HP was "Reinventing laser printing" and that "70% of the printer tech resides in the HP original toner, we reimaging the chemistry of the toner from the ground up"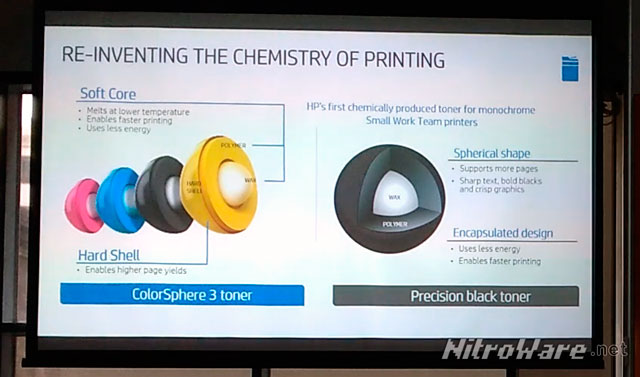 Security is the second major development, featured in the Color Laserjet MFP M477 and M577, rated for 4000 and 75000 pages a month for small workgroups, from A$849.
Mr Sayed cited that according to the Ponemon research Institute:
73% of CISOs expect a security breach this year or within a year, with an average cost of 3.8 Million USD per breach
53% of IT managers believe printers are vulnerable to cyber attack
64% of IT managers think their printers are infected with malware institute)
56% of enterprise companies ignore printers in their endpoint security strategy
Let's think about this for a minute? Why do we need security for a printer? Aren't they a dumb device? In the mid-90s maybe, but modern printers whether consumer or commercial are pretty much a standalone computer, with full document processing, collaboration and imaging functions.
Printer Security can manifest in several ways, being document control – monitoring and control of who can print, what can be printed, how (USB, LAN etc) and when as well as the internal security of the device. The latter is very important when engineering a printer that will be installed in sensitive areas or used to print sensitive documents.
Malicious code can read the device memory to capture what the last documents to be printed or copied in their entirety and send them off to a random location. Malicious Code can also use the printer itself as an entry point into the corporate network, either due to lax security configuration and lockdown of the device or exploiting holes in the device software and using features such as shared folders, collaboration or automatic driver installation as Trojan horses to get onto the corporate network or walk-up devices that the user may be using to print or scan to-from such as USB sticks or phones and tablets.
HP claim they have solved the security problem with "state of the art" security features in their enterprise business machines comprising of
Sure Start technology for device firmware – firmware is protected from corruption by a secondary master copy, something new for printers as these can be more easily bricked by a firmware update or malicious code than a modern PC
Whitelisting of updates and add-on certified safe applications. This is refers to certification of additional applications or modules than be installed to the printer.
Runtime intrusion detection - within the device memory any malware or intrusion, developed with Red Balloon Security and HP Labs. This is the core of the security system on the device.
Security Management – Ability to close ports, protocols or shred files on the device.
These features are available new printers going forward and other older enterprise printers via firmware update.
Performance has also been addressed as demonstrated in our video, emphasis has been placed on first page out speed than pages per minute, with printing 16 single or double sided pages taking between 20 to 40 seconds.
Click below to go directly to the printing presentation and demos section of our video.