Australians pay one and a half times on average up to twice as much as the USA for identical Windows Anytime Upgrade either as a digitally distributed or boxed product. Both distribution methods offer an identical product as all Windows Anytime Upgrade consists of is an upgrade key which will 'unlock' the users currently installed version of Windows 7 to the next higher version as purchased.

Changing the Windows Region from AUS to USA will change the price that is displayed.

Pricing is not the half of it – old stock generate errors that Microsoft are aware of but will be unanticipated to the consumer and Windows 8 offers a much more affordable upgrade path. Users who need to stick with Windows 7 are disadvantaged.
Background
T
o upgrade from Windows 7 Home Premium to Professional the simplest and easiest way is to use Anytime upgrade .Windows Anytime Upgrade is not that a very well-known product but apart from purchasing an unnecessary boxed windows upgrade product, anytime upgrade is the only official and legal method to upgrade between different versions of Windows 7.
Some users tend to ignore Microsoft's EULA and purchase the cheaper 'OEM' System Builder copy of Windows 7, not realising that this version is only licensed for distribution and use with a new PC and unlike Microsoft's retail products can not be transferred between computers. Additionally the OEM copies come with no tech support as all tech support for Microsoft OEM Windows is provided by the PC reseller/manufacturer. Some business have a site license and will pre-load their own disk image onto their client machines but this is not feasible for small business. Even acquiring a small number of volume license copies is prohibitive due to competitive deals for big brand PCs where the operating system is bundled for almost no cost.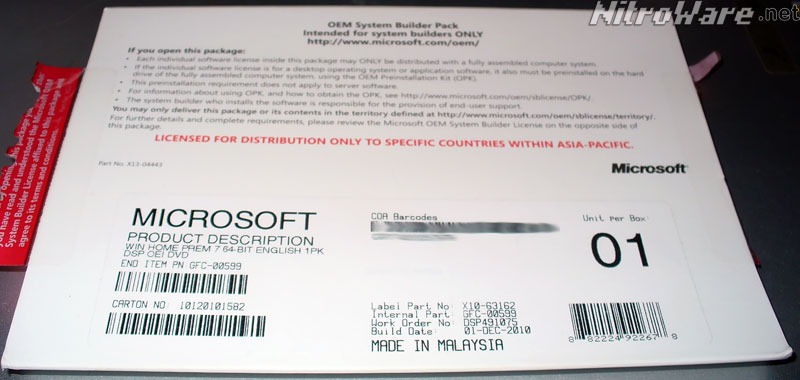 Why do we need to upgrade to Professional edition when many new desktop and laptop PCs ship with Home Premium ? Simple - Home edition of any modern Windows (XP,Vista,7,8) is not supported for Windows server controlled network environments in small business or enterprise. Home Premium does not support Windows Domains or Group Policies. Professional, Ultimate and Enterprise editions of Windows 7 do. A large number of laptops under A$1000 ship with Windows 7 Home Premium including some pure business product lines such as Lenovo ThinkPad.
For a small business planning on implementing a Windows Domain using products such as Windows Small Business Server 2011, clients PCs running Professional or Business Editions of Windows (XP/Vista/7) are required, not Home Premium. If the current trend of Bring Your Own Device (B.Y.O.D) is considered combined with a client who may not realise that Professional Windows is needed, Anytime Upgrade allows BYOD Desktop/Notebook PCs to connect to a Windows Domain network and use centralised management via group policies, Exchange, SharePoint and other network services.
How did we discover the price disparity between Australia and the US? by sheer chance. A reader wishing to do this very deployment with four client machines that wanted to be upgraded from Home Premium to Professional mentioned the high AUS prices to us and even a 30 second eBay search revealed something strange with the US pricing for the same part number of the Microsoft physically boxed product.

Changing the windows region and location settings will tell the Microsoft Store to display US pricing thinking the client machine is USA.
Anytime Upgrade via the Microsoft Store
Australian users who want to take advantage of Anytime Upgrade can follow the link in Windows 7 system properties pane to order online using the Microsoft Store. Assuming the end users system regional settings are correctly set to AUSTRALIA , behind an Australian IP address we saw the following screen after choosing 'buy online' option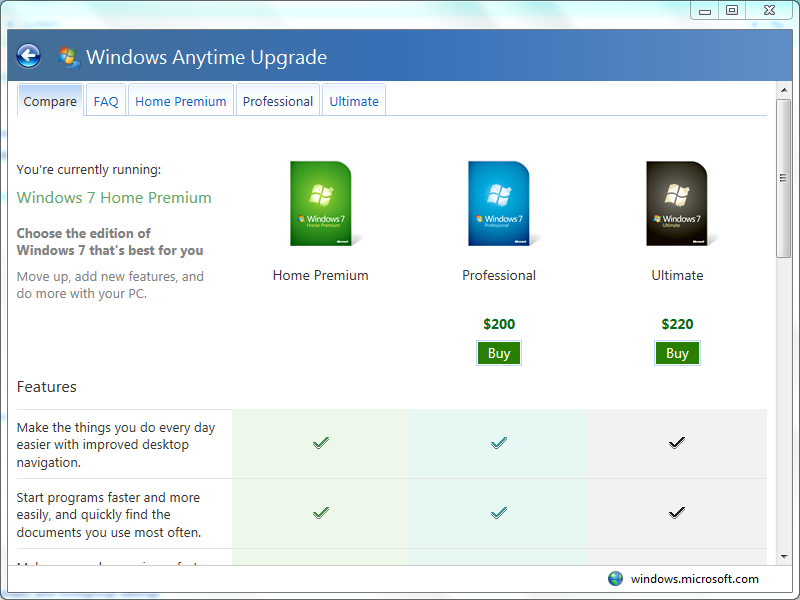 Acting on a tip-off from a client who noticed overseas pricing, especially eBay was much less for the same Microsoft software part number than in Australia, we changed the region settings in windows and unsurprisingly, the pricing displayed was much lower. Lets ignore the Ultimate edition for now as that's more of a premium niche product, however for the professional edition the same digital license is more than half price for US 'residents'. Again all we did was change locale and region in Windows Control Panel
We did not proceed further and try to purchase the upgrade key using the US region pricing. As with most of these things we suspect the region specific pricing is locked to a US residential address. A worst case could be when activating the product, keys will be region locked but that is just hypothesising worst case scenarios.
Why would different region pricing be relevant if your in one country or another ? Lets say you have now moved to the United States from Australia, have changed your system regional settings to reflect the change and feel the need to upgrade your edition of Windows 7 Home Premium to Professional so you can access a business/enterprise network or so that you can remotely manage your PC. You will be able to purchase the digital product at the lower price.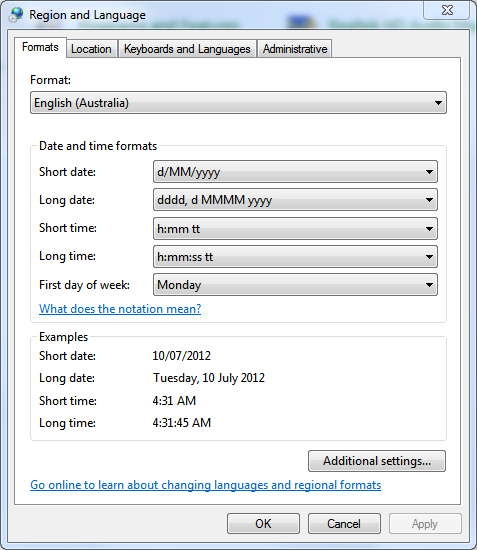 Anytime Upgrade via the IT distribution channel
Boxed product of Windows Anytime upgrade is available through the IT channel or bricks and mortar electronics chains. In Australia for home Premium to professional the package varies in price up to the $200 Microsoft charges for the digitally distributed edition. The lowest price we could find at the time of researching this project was around $150 AUD from the IT Channel. If you are buying multiple copies for BYOD PC then the cost differences does ad up.
The boxed product consists of Microsoft's infamous swivel plastic container, EULA, information sheet and a CD KEY for the anytime upgrade. The material is largely redundant and a cardboard folder would have been sufficient similar to how Office 2010 Unlock keys are sold.
The CD KEY must be retained for future use. When a PC is wiped especially using the OEM recovery process or from a clean install the original OS will be restored and the Anytime upgrade key will need to be used again.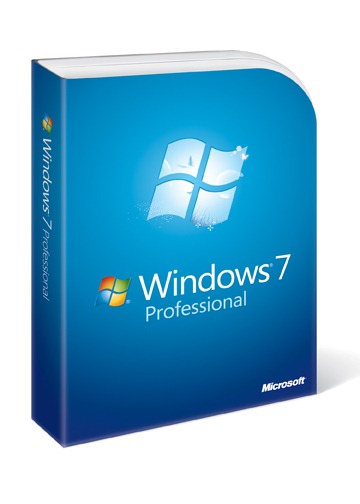 Installing Anytime Upgrade
Price and regional difference is not even half the story.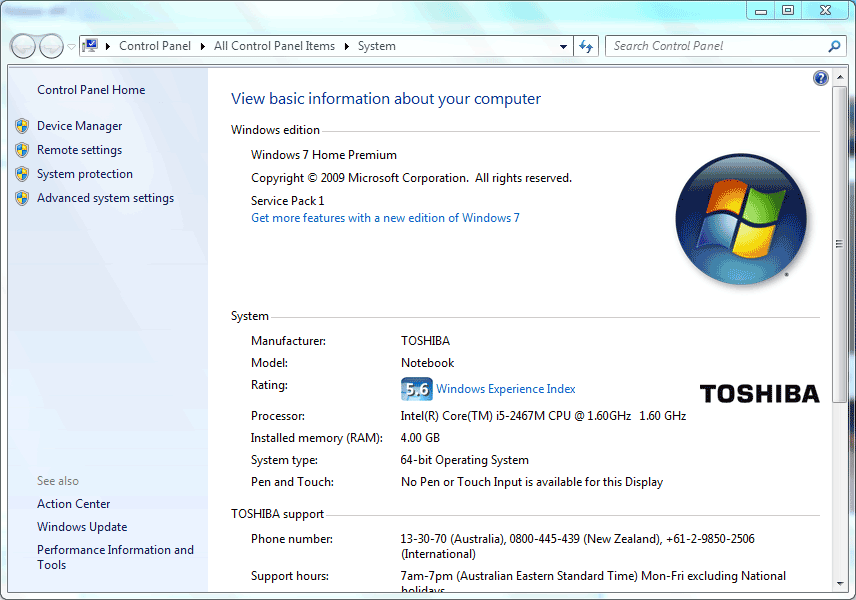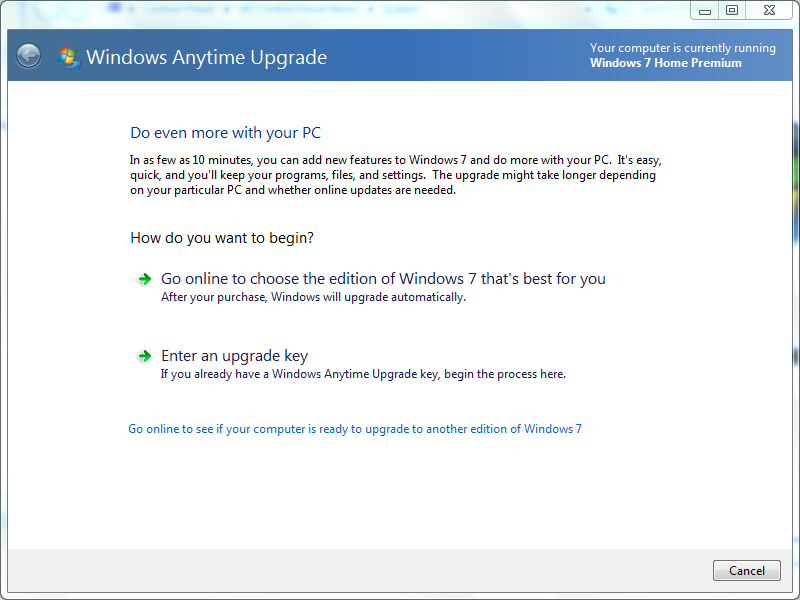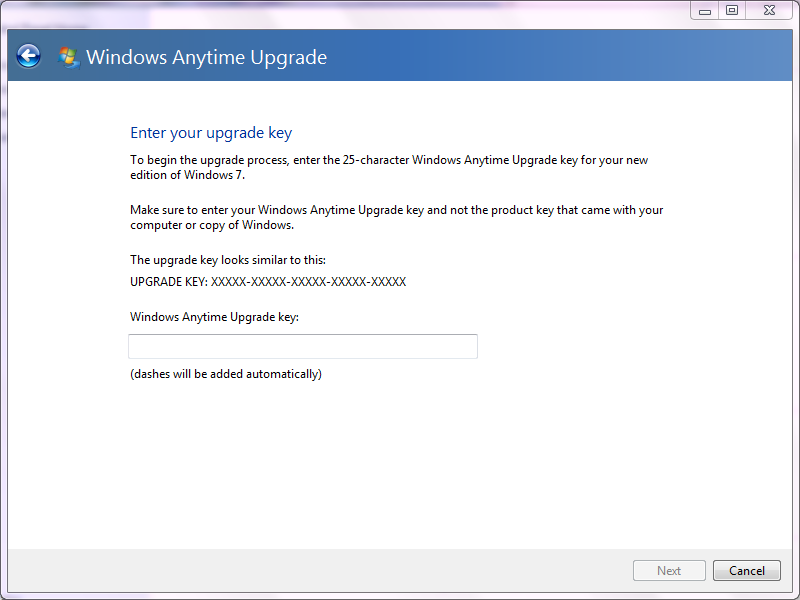 When purchasing around $600 of 'unlock keys' you hope they work and you hope you triple checked that there is anything that could impede the process, especially if they are intended for a big-brand OEM PC. There are documented instances across the web of game key codes not being able to be redeemed/not working but you would assume Microsoft Keys would work just fine.
Armed with four copies of Home Premium to Professional upgrade, two copies of Office 2010 unlock keys and four HP touch screen desktop PCs we proceeded to both unlock office and windows in preparation to join these four PCs onto a newly created Windows Network Domain.
The keys did not work. We were presented with a dialogue box with a red error icon. We did not screen capture this dialogue box however the error message stated :
The key you have entered is not suitable for this edition of Windows – please try another key
Were the keys wee bought not suitable for OEM PCs such as HP? Does HP's disk image lock out these products?

We called Microsoft Tech support to find out, hoping at least they could re-generate the CD Key and we could proceed with our system deployment. The representative we ended up talking to turned out to be pre-sales support and we were later put through to tech support. For those who have not called Microsoft Tech support from Australia after business hours we were received foreign outsourced support with American accents.

One of the questions we were asked was if we had service pack installed on the machine, which we did. A subsequent question was:
Have you restarted the machine?
We answered yes as we did restart the machine before trying the Anytime upgrade process. The question was not specific enough and many IT workers are jaded enough to assume what this question many mean.
After some further checking by the technical support agent we were asked again to restart the system . We were provided with an explanation that the anytime upgrade keys were not fully compatible with Windows 7 SP1 and the error that was displayed was false and the upgrade actually worked.
Restarting the machine after inserting the anytime key would force an 'offline upgrade' rather than an 'online upgrade '. The former would run the upgrade process during the pre-login process while the latter would run the upgrade process instantly after the user entered the key and at completion would prompt for a restart.
Ignoring the false error message as advised we restarted and as advised the upgrade process ran which took ten minutes to complete. Approximately 20 minutes on the phone to Microsoft and the solution was to restart the PC due to a software bug on their end that displayed the wrong status message.
Why wasn't this patched? How many users have purchased this product and thrown it out in frustration at it not working or returned it to their place of purchase? We presume that the anytime keys are so old and unpopular ( Windows 7 dates back to 2009 ) due to their high retail cost of $150-$220 AUD that the keys are stale with the post SP1 world of Windows 7
Expensive software and known issues right out of the box – a match made in heaven?
Conclusion

Where is the price difference going to if shipping, taxes, distribution are not involved with a digital product, foreign servers or Content Delivery Network are likely being contacted by the upgrade process and tech support themselves are outsourced? We do not know.
Windows 8 is literately around the corner and Microsoft have changed their pricing and product structure for the new release. However the low product pricing is based on upgrade pricing and many end users let alone businesses will be using Windows 7 for some time yet.
Anytime upgrade is not that common a product especially in a business sense. Businesses can acquire volume or site licensing to suit their requirements however anytime upgrade solves a problem by allowing an OS upgrade without needing backups or any data loss.
For new PCs, Microsoft is offering a $15 upgrade for from Windows 7 Home Basic, Home Premium, Professional and Ultimate to Windows 8 Pro for a limited period, 2 June 2012 to 31 January 2013. Otherwise for existing PCs, $70 US is charged for the Windows 8 Pro upgrade. Pricing after January is yet to be announced.
We now have:
$200 AUD/$90 USD to upgrade Windows 7 Home Premium to 7 Professional via Windows Anytime Upgrade purchased digitally from Microsoft
$150 AUD to $230 AUD to upgrade Windows 7 Home Premium to 7 Professional via Windows Anytime Upgrade purchased from IT channel or retailer (staticice.com.au and retailer websites June-July 2012)
$69.99 AUD/USD to upgrade an existing Windows 7 PC to Windows 8 Professional until the end of January
$14.99 AUD/USD to upgrade a new Windows 7 PC to Windows 8 Professional until end of January
These prices are multiplied by the number of copies required.
As Windows 8 is a superset and updated version of Windows 7, the Windows 8 Upgrade Program makes the Windows Anytime Upgrade redundant. However, if you intend on sticking with Windows 7 for some time or need the upgrade now rather when Windows 8 launches the cheaper route. It is cheaper to upgrade to Windows 8 but that's exactly what Microsoft want their users to do rather than to stay with the now 'old' Windows 7.
Microsoft has remedied their pricing structure for Windows 8, however this is only a temporary measure until the end of January 13. What happens in February remains to be seen, will Microsoft return to $200 pricing for retail software or will they try to emulate Apple's low cost pricing of Mac OS over a longer period?
In the meantime, Australians are not getting a fair deal for some Windows 7 upgrades, paying up to twice as much as American residents for an identical digitally distributed product cd-key for which there is no legitimate reason to do so. On top of this there is a known issue that requires a call to Microsoft Technical Support to obtain a resolution for. This is not acceptable especially when assisting a client who may not understand or panic when their brand new software does not work, assuming their IT consultant has made a mistake researching software suitable for their need.
Various types of volume or multi pack licenses are available from Microsoft for business deployment however at times a quick solution and minimally disruptive solution is required.
With Microsoft offering standard global pricing exclusive of exchange rates for their WIndows 8 Upgrade promtion and VALVE's STEAM digital distribution service offering worldwide standard pricing there is no excuse for Microsoft to offer different regional pricing for a digital product.
We contacted Microsoft Australia and their PR agencies regarding the regional price difference for Anytime upgrade but no comment was received.
Further Reading
ITnews – Husic calls for public Apple hearing http://www.itnews.com.au/News/309071,husic-calls-for-public-apple-hearing.aspx
CNET Australia – A fair go for tech 5/7/2012 http://www.cnet.com.au/podcasts/pulse/rss.xml
CNET Australia – Australian Price Gouging http://www.cnet.com.au/australian-price-gouging-is-it-what-we-think-it-is-339340654.htm
PC Perspective - Windows 8 Pro Upgrade for $39.99 Through January 31, 2013 http://www.pcper.com/news/General-Tech/Windows-8-Pro-Upgrade-3999-Through-January-31-2013
Microsoft – Windows 8 Upgrade Offer redemption portal https://windowsupgradeoffer.com
Those following Australian IT news may be familar with a government inquiry into Australian prices with a public hearing scheduled to start July 30 ,some of our links do indicate these events. Delimiter AU has commented on Adobe Australia's latest reaction to their participation in the inquiry, as it has been their software and prices that have been subject of much debate in the technology media over the past few months.

Delimiter - Adobe bucks IT price hike inquiry http://delimiter.com.au/2012/07/25/adobe-bucks-it-price-hike-inquiry/

Michelle Starr at CNET AU has provided a summary of Adobe price differences between AUS and USA
CNET AU - Ed Husic: what is Adobe thinking? http://www.cnet.com.au/ed-husic-what-is-adobe-thinking-339340889.htm
Disclosure
Windows Anytime upgrade product was purchased for deployment in a clients project.

Toshiba Z830 Ultrabook loaned by Toshiba Australia