Page 1 of 18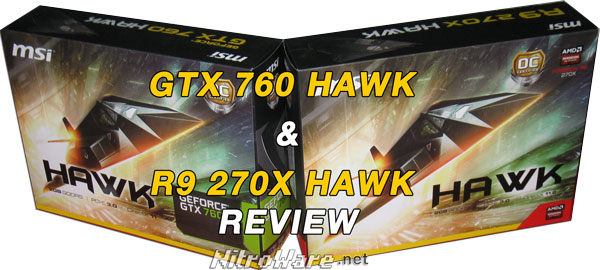 The choice of AMD or NVIDIA graphics is constantly becoming a difficult choice for enthusiasts thanks to an almost level playing field as a result of strong competition between AMD and NVIDIA.
Both brands ave their pros and cons but offer a very similar experience. Choice has become a more personal one, often of brand loyalty than technical.
Add in board partners are constantly releasing custom design graphics cards which squeeze every bit of performance and cooling for both brands equally.
HAWK - MSI's second highest model line (there is Gaming, Hawk and Lightning) offers strong overclocking and tweaking without being too intimidating to the enthusiast who isn't into modding or custom cooling. Their latest version is no exception.
In our fly-off, we were quite impressed with the speed and handling of both the AMD Radeon R9 270X and NVIDIA GeForce GTX 760 based MSI HAWK cards.
Out of the two cards, neither was the outright winner. The winner, however is the consumer. Read on to find out why.
Overview
These cards cater for a more enthusiast audience who are familiar with tweaking their graphics card's clock speeds and voltages It would be fair to call both cards reviewed here heavy duty high performance parts. Both offer full voltage adjustments which are not available on reference cards.
Name
N760 Hawk
R9 270X HAWK
GPU
NVIDIA GeForce GTX 760
AMD Radeon R9 270X
Codename
GK104
Curacao XT
Processors
1152
1280
GPU Base Clock
1111 MHz
1100 MHz
GPU Boost Clock
1176 MHz
1150 MHz
Memory Clock
6008 MHz
5600 MHz
Memory Size
2048 MB GDDR5
2048 MB GDDR5
Memory Bus
256 bits
256 bits
Output
DisplayPort / HDMI / DL-DVI-D / DL-DVI-I
DisplayPort / HDMI / DL-DVI-D / DL-DVI-I
Power Consumption
170 W
161 W
Card Dimension
264x130x40 mm
263x136x38 mm
Form Factor
ATX
ATX
DirectX
11.0
11.2
OpenGL
4.3
4.3
Multi-GPU Technology
3 Way SLI
AMD CrossFire technology
Multi-Display Technology
3-Way Surround
AMD Eyefinity technology
3D Technology
3D Vision
AMD HD3D technology
Power Saving Technology
Y
AMD ZeroCore Power technology
AMD PowerTune technology
HDCP Capable
Y
Y
GPGPU technology
CUDA/PhsyX
OpenCL/AMD APP Acceleration
Power Supply
500W
500W with 12 volt at 30 amps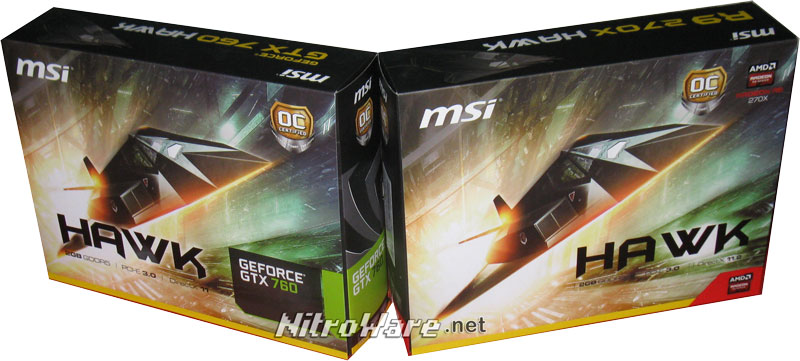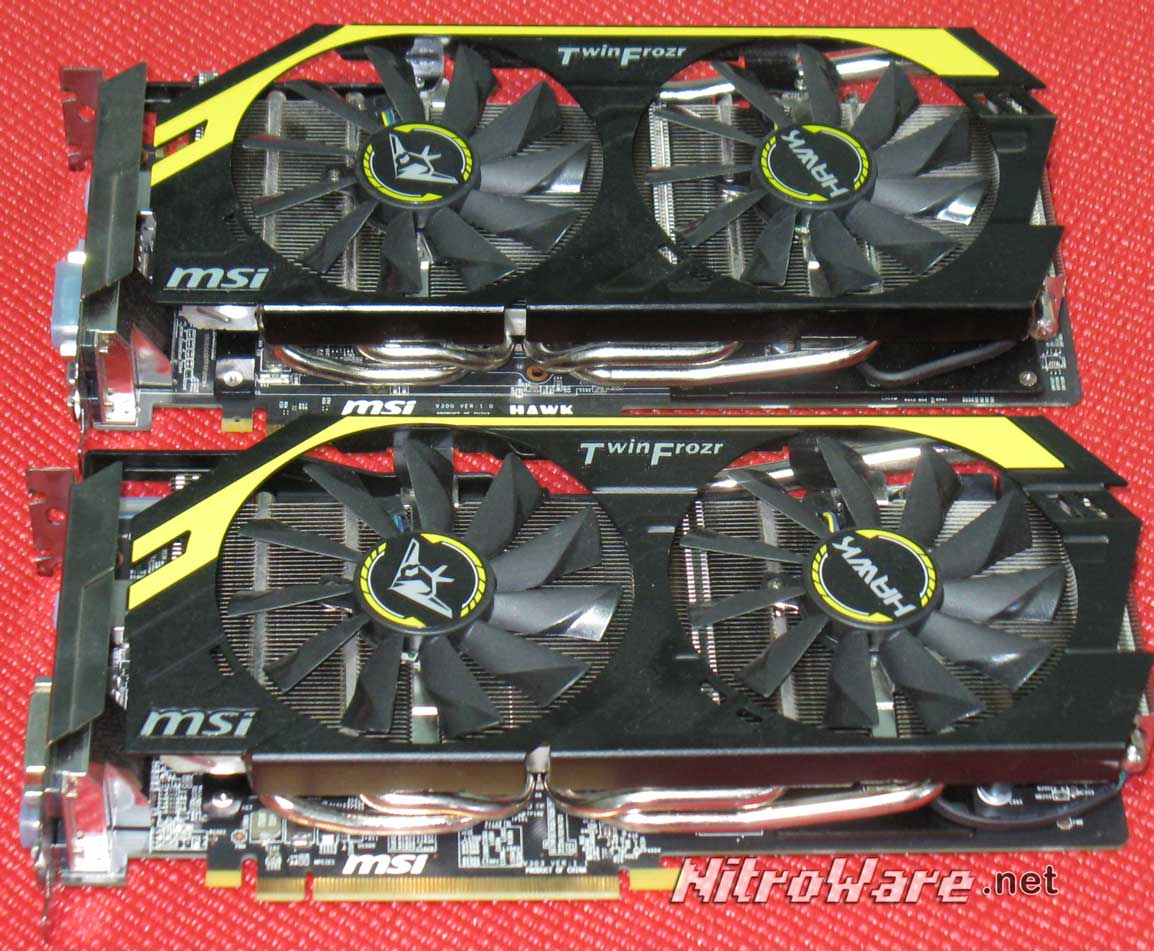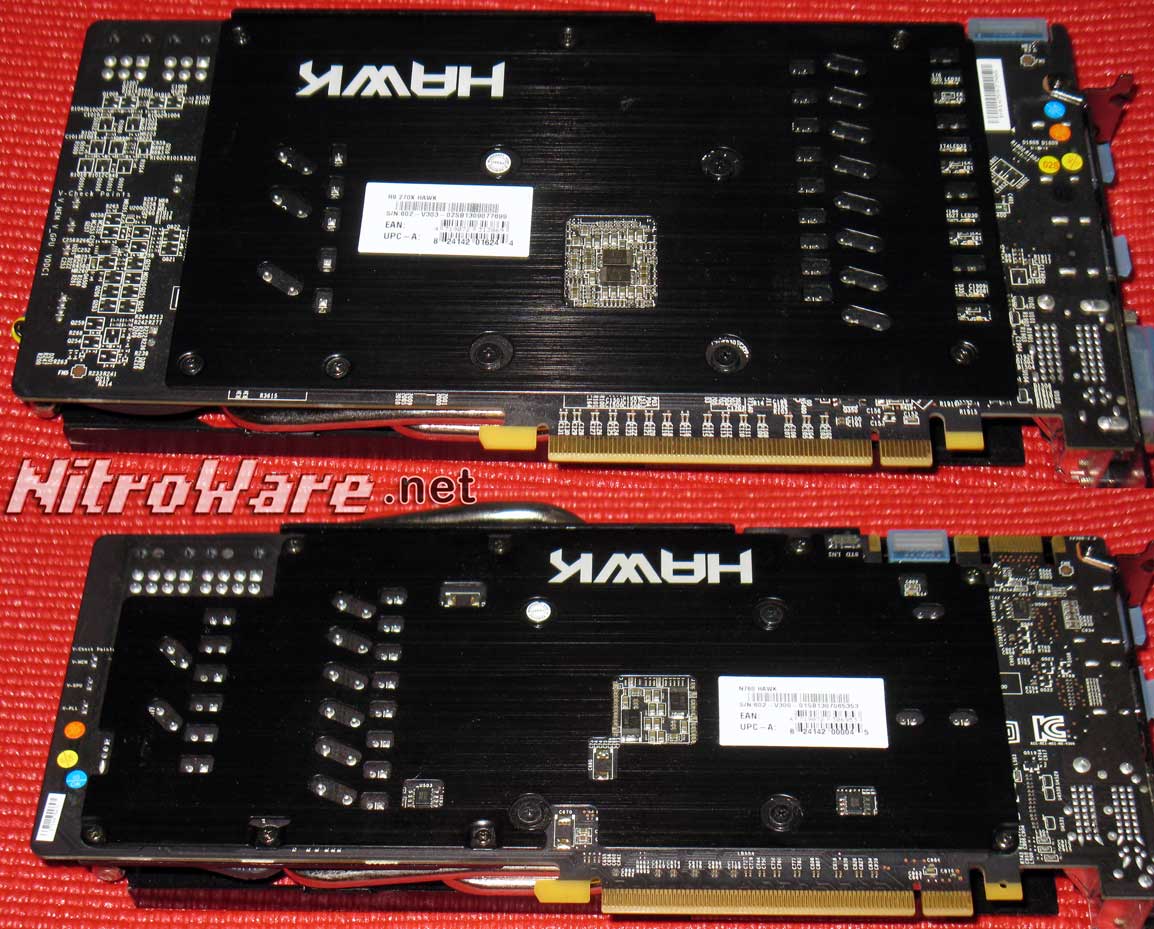 While the cards themselves are fascinating, the actual retail bundle leaves much to be desired. The usual 'throw-away' driver/application/norton anti virus CD, a generic quick start guide and DVI-VGA adapter are bundled.
It would have been beneficial to the enthusiast target buyer to include some extra adapters or cables as ASrock and Sapphire do.
As far as software goes, to utilise the full voltage adjustment features of the HAWK, Afterburner beta 17 is required which was made available after the cards release.