How to troubleshoot invalid Ubisoft Uplay game key codes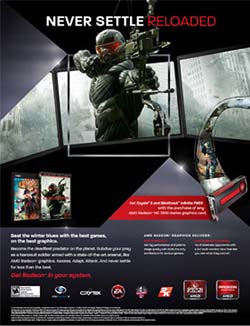 AMD, NVIDIA, OCZ and Samsung bundle codes for free Ubisoft games with their hardware such as Far Cry 3, Assassin's Creed and Far Cry 3: Blood Dragon.
As a result of differences in the way Ubisoft's Uplay digital distribution works compared to EA Origin and Valve Steam, many users have had issues redeeming their codes with the "invalid promo code" error being common.
One of the reasons for this occurring is regions-specific game codes which cannot be redeemed in other regions.
We refer to our experience redeeming Ubisoft game codes through AMD's Never Settle Reloaded promotion and explain how we diagnosed our problem.
U
bisoft Uplay varies to Steam and Origin with one fundamental main difference. You are required to buy your game through the Ubi store and then apply a promo code to your shopping cart which brings the price to $0 if successful. The user then continues through the shopping process presenting their billing details and once the transaction is successful download instructions will be provided.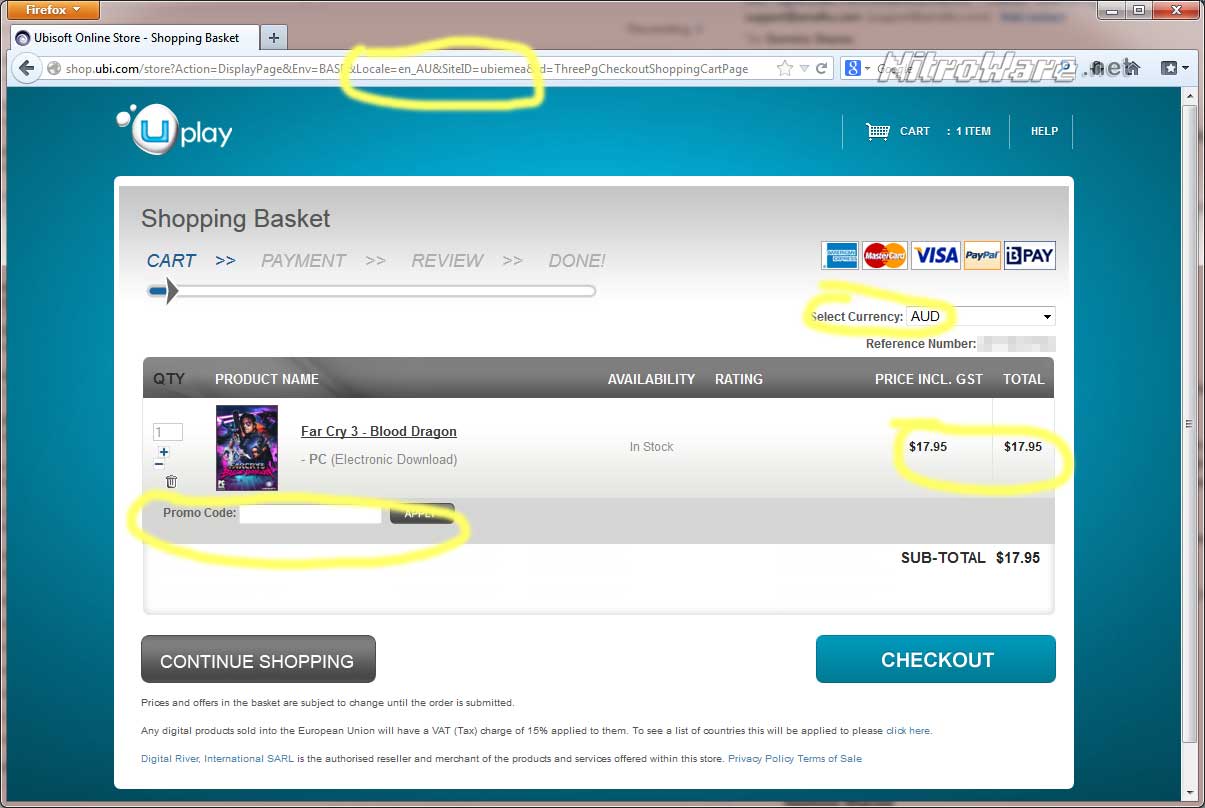 Origin and Steam allow the user to instantly unlock and download the game by entering the code directly into the application, bypassing the need to use the EA or Valve store to redeem the software.
Thanks to AMD's Never Settle Reloaded promotion, users who redeemed a Never Settle bundle also received a free code for the anticipated
Far Cry 3:Blood Dragon
title on May 1.
--------------------------------------------------------------------------------

Far Cry 3 Blood Dragon - Ubishop Download

--------------------------------------------------------------------------------

Step 1: Go to http://shop.ubi.com/fc3bdamd, Log in or create an account

Step 2: Add Far Cry 3 Blood Dragon PC Download (standard edition) to the shopping cart

Step 3: Click on "Click here to redeem link'

Step 4: Enter the game code below and click apply

Step 5: Click the checkout button and fill out the necessary fields.

Step 6: Click on submit order then click on begin download
We received our code on May 2 however it did not work, thanks to the dreaded 'invalid code' error.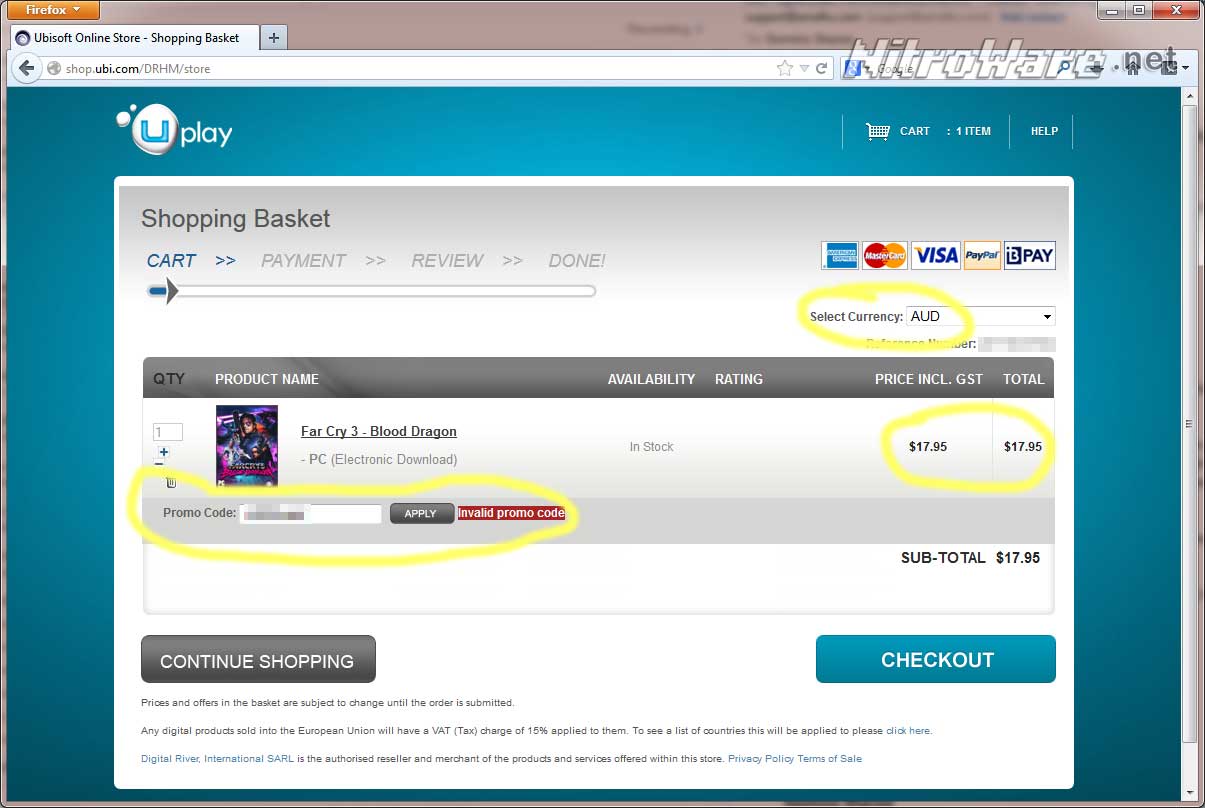 We informally tweeted our frustration with the situation, which an AMD employee noticed and replied that there was an issue with a batch of codes and this was to be resolved.
@nitroware It's not a region locking issue. A small set of the initial batch of codes are bad. We're working to exchange them by email now.

— Robert Hallock (@Thracks) May 2, 2013
AMD subsequently tweeted notifying users to try their invalid codes again and that they then should work.

We have fixed the issue where customers could not redeem their FC3 Blood Dragon code! Your code should now work correctly, give it a try!

— AMD Radeon Graphics (@AMDRadeon) May 2, 2013
In our case, it did not work. We then contacted the official support channel for AMD's game bundle bundle promotions, This email address is being protected from spambots. You need JavaScript enabled to view it. who replied as promised within 2 day with a cut and paste answer regarding the known blood dragon issue and did not address our issue specifically.

A large number of recipients of Ubi game codes that were bundled with AMD, NVIDIA, OCZ and Samsung hardware have been this same issue and similar redemption issues.
We found threads and reports on newegg.com through the product feedback pages, Ubi's own forums (which are EMEA-GB based it seems for the forums we visited) as well as tech sites such as Hexus where users have posted their troubles. We have even seen threads in the Steam forums.
The general consensus within the gaming community is a preference for Steam, Origin and Uplay in that order based on user experience.

Some users were able to engage Ubisoft support via their forums to fix the issue, some did not. We were not satisfied with the quality of the responses however.

Based on the feedback from these forums as well as some hints AMD representatives have made in the tech community regarding the region-specific nature of the digital distribution key codes, we setup a Virtual Private Network to force Ubi Store to detect our visit as from a US IP address instead of an Australian one

We used a free simple VPN application called TunnelBear which allows regions to be selected http://www.tunnelbear.com/


This in turn forced the loading of the Ubi US web store rather than the Ubi EMEA webstore. Ubisoft uses Geographic DNS lookup on the users IP address and present the appropriate regional website rather than reading the operating system locale and region to determine a users location. People who travel,overseas temporarily or have obtained product from other countries will have trouble with this setup.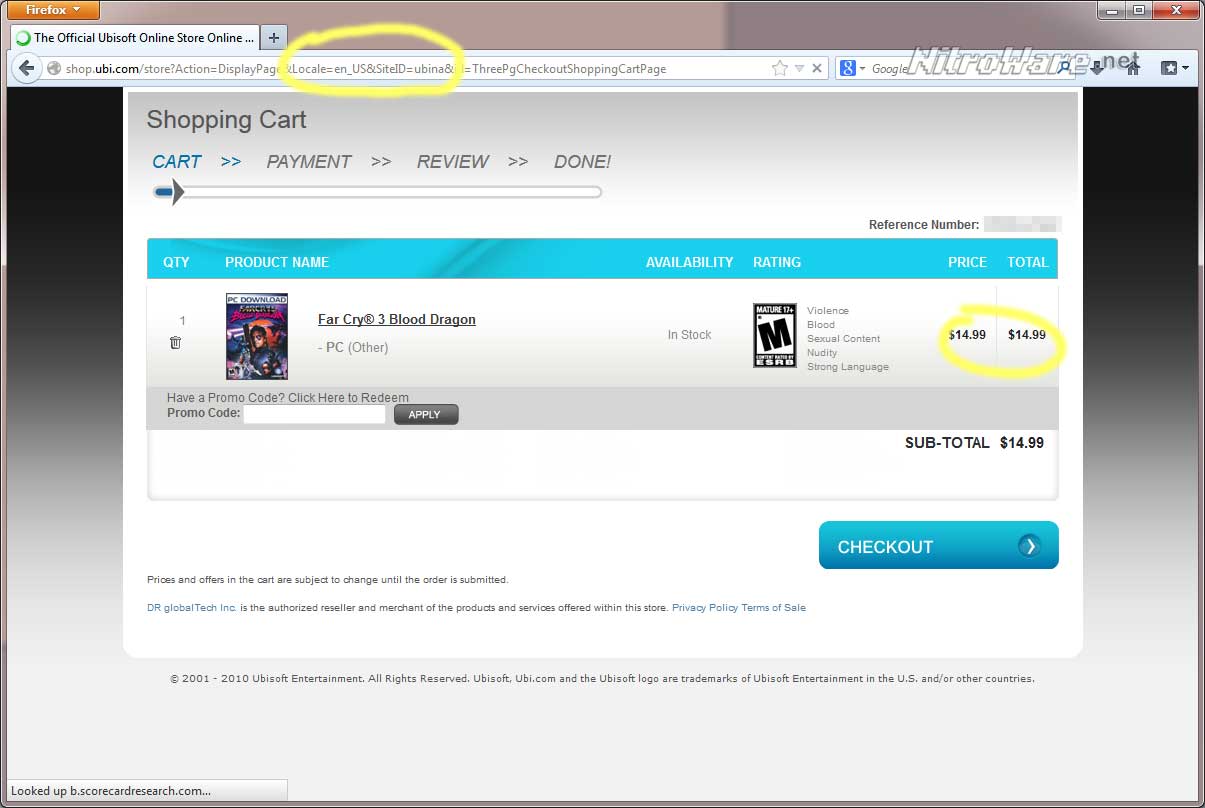 Our codes for Far Cry 3 and Blood Dragon were accepted by the US store, yet the EMEA store that is default for Australians rejected them. We could not proceed with the US store due to the need for a North or South American billing address.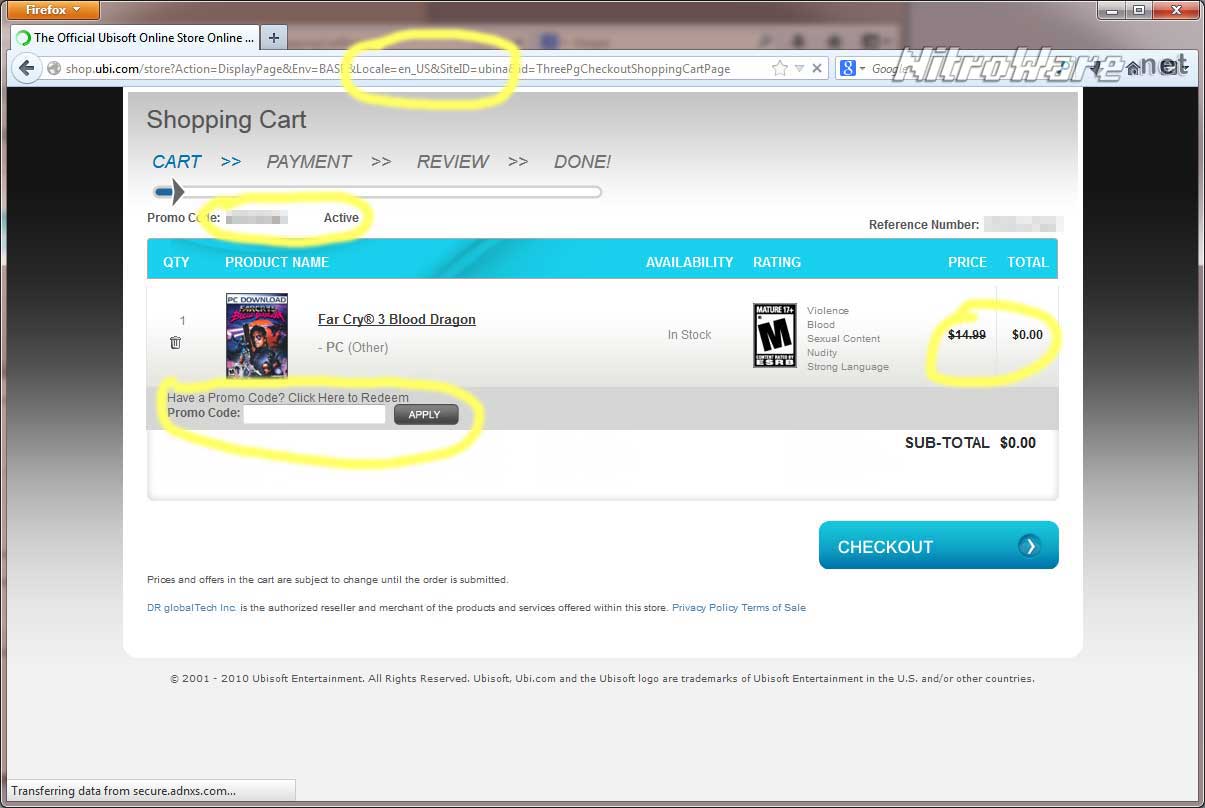 Many end users also noticed that the instructions provided by AMD4U do not match the Ubi Web Store shopping cart form fields exactly. There is a slight difference between the EMEA and US stores, the latter matching the written instructions for redemption that are mailed out.

Our testing proves that some instances of 'invalid promo code' errors are due solely due to region-specific/region-locked game codes rather than bad codes. Ubi's shopping system is unable to distinguish between regional codes.

We also had the same issue with Far Cry 3 as we did with Blood Dragon, however prior game keys we have received through AMD for review and testing or bundled with hardware such as Dirt 2, Dirt 3, Deus Ex: Human Revolution, Sleeping Dogs, Crysis 3 and Bioshock Infinite all redeemed flawlessly through Steam and Origin. The only exception in our case was a issue with Deus Ex where AMD had us try several different keys to find one that worked.

If you experience the invalid code issue, contact both Ubisoft and AMD4U (or the hardware vendor in question) explaining the situation and making sure the game key bundled with the hardware is suitable for your region.
Companies sponsoring game promotions (such as AMD) could do more to ensure keys are inter operable between similar regions eligible for promotions especially when hardware is purchased with eligible sources but not in the conventional way,such as foreign resellers. End users also swap and trade keys with others, swapping duplicate keys received with multiple hardware purchases for games they do not have.

Software publishers such as Ubisoft could adapt their systems to notify the user specifically what the issue with their code is in plain english rather than a generic 'invalid' message. This would require separately identifying wether a key is valid on a global scale and identifying what region a key is suitable for.

Digital Distribution is convenient and has proven successful in the PC Gaming scene but it still has a long way to go with many fragmented systems. A common, open framework would go a long way to improving customer satisfaction and perception. Boxed copies of software are quicker to obtain compared to downloading and DRM compatibility issues aside, can be more reliable. Having said that, popular titles such as SEGA's Total War: Shogun II require Steam to use the game despite shipping on 3 DVDs. EA games also require Origin.

In the the time spent requesting assistance with various issues, the game could have been purchased and partly progressed through if not finished in the same time.

Are teething issues a necessary evil for digital distribution? Maybe. Regardless, with future updates to the Never Settle Bundle promotion slated to bundle Ubisoft's highly anticipated Watch Dogs. Tom Clancy's Splinter Cell:Blacklist and non Ubi titles such as Codemasters GRID 2 and EA Battlefield 4 now is the time to iron out the kinks.

Users should never settle for bugs even if they affect the minority and run-around by tech support, bu there is a bright side to all this. The games, bring on the games!


---
---
Update: 8-May
AMD4U finally got back to us with a fixed Blood Dragon code but not a fixed Far Cry 3 code. We are still waiting on a fixed key.

As with our screenshots, the fixed code was accepted by the Ubi EMEA/AUS Store. However after we finished the registration process, the Ubi Store gave us a download link to "FarCry3_DownloadManager_en.exe"


Far Cry 3 - Blood Dragon

An email has been sent containing the download URLs. When downloading the items, you will be added to our Email Campaign list.

Save file FarCry3_DownloadManager_en.exe to your Desktop. After saving, run the file to install your new software.
Serial Number: ***-****-****-****-****
PC (Electronic Download)
This file actually IS Far Cry 3 not Blood Dragon and is a 8GB download.
Our purchase receipt that the store emails through confirms we redeemed Blood Dragon, and the serial numbers match between the webpage and email receipt.


If we proceed to Log Into Ubisoft Uplay, we have Blood Dragon listed under "my games" correctly and has the correct size of 3GB.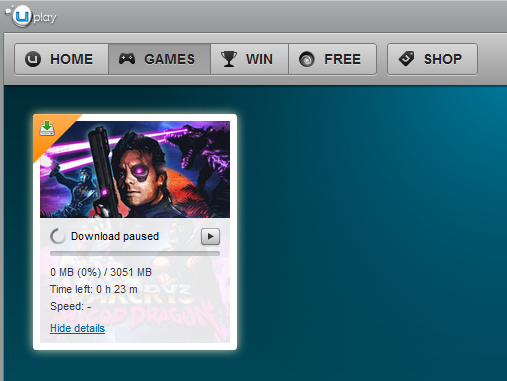 The Far Cry 3 link is a mistake. The link should have been the downloadable installer backup for Blood Dragon or nothing at all, relying on the Uplay service to manage the download.
Ubisoft Store and Ubisoft Uplay has been one of the most buggy digital services we have ever used.

In addition it seems there is no way to re-locate the downloads folder for Uplay and downloads are saved to the system partition. At least the "Far Cry 3" downloader allows a custom location path to be selected. This is important for gamers with small Solid State boot drives.