Big things can be found in small packages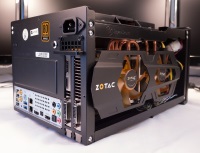 Want a high end CPU, graphics card, large storage and full functionality yet not in a 65 CM tall PC tower case that weighs 20 KG? Well suffer no longer, Zotac the specialist vendor of Mini-ITX motherboards and Small Form Factor PCs as well as a main NVIDIA partner has shown off their concept for a PC that can prove otherwise. The system combines Intel's fastest 3rd generation Core i7 CPU and Zotac's fastest NVIDIA GTX 680 graphics to deliver the best performance possible from a small cube PC let alone a large tower. We preview Zotac's "Inner-Beauty" demo system and analyze the pros and cons that come with such a small system.
Background
Here at NitroWare we have been big fans of the Micro-ATX form factor motherboards as well as Small Form Factor chassis of which we have been through several types and generations. Although not a new concept, the SFF has been around for around ten years now with Micro-ATX being around since around 1998.
We have owned or tested pretty much every brand or generation of Micro-ATX board due to their commonality, being cheaper than standard sized boards hence used in mainstream PC builds.
One of the first Micro-ATX motherboards we ever saw and tested was Intel's RC440BX Desktop board, supporting their Slot-1 Pentium III CPU and 440BX chipset. It integrated gaming class NVIDIA RIVA 128ZX graphics with 8 MB of memory and a Creative Labs Ensoniq ES1373 PCI Sound Card onto he motherboard itself. Additionally high end large capacitors and a very rigid circuit board were used. This now legendary board spearheaded the concept of having quality graphics, audio and fast processing into a Micro-ATX board.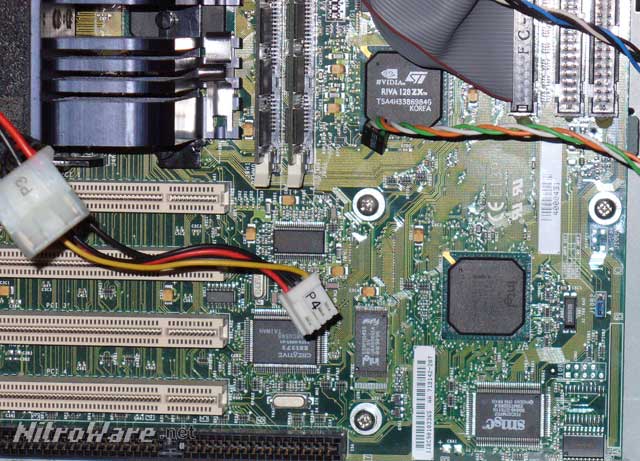 A standard size 'ATX' form factor PC main board has much redundant wasted space in the form of expansion slots. If these expansion options were to be removed from the design then we end up with a tiny circuit board, probably a quarter size of current ATX types and more along the lines of what type of main board is in a notebook/laptop.
ITX form factor offers one expansion slot while Micro-ATX offers four.
Due to their unique size, offering mainstream performance computing in such a small package Micro-ATX and mini ITX form factor are often built up as demonstration PCs for expos or media launches since they are unlike the norm 'black box' large PC tower.
Older boxes such as the 2003's AOpen EZ18 series (AMD Athlon XP, nForce2 platform) or Shuttle's 2007 SG33G5 XPC (Intel Core2, Intel G33 chipset) developed the trend but had many caveats. One of the main ones was they contained almost mainly proprietary parts with regards to the main board, chassis and power supply. They were not standard but standardisation was to come in the following years.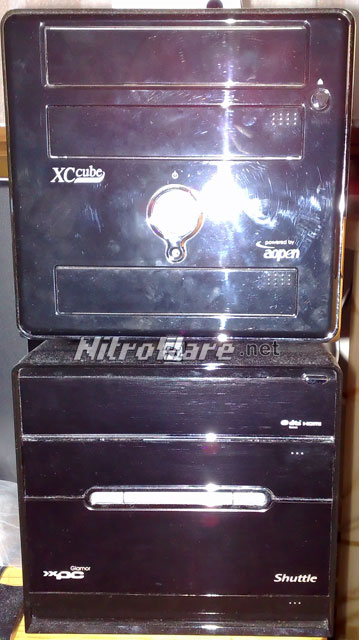 AMD's lackluster 'DTX' form factor set the wheels further in motion as an attempt to standardize small form factor for consumer from their point of view. Intel chose to go with ITX something that VIA Technologies and other third parties championed.
Last year ASUS Australia wowed us with what we last year coined their 'shoebox' system, a Mini-ITX build which contained a AMD A8 APU processor, motherboard and add-in Radeon Graphics card into a Mini-ITX chassis barely higher than an optical drive.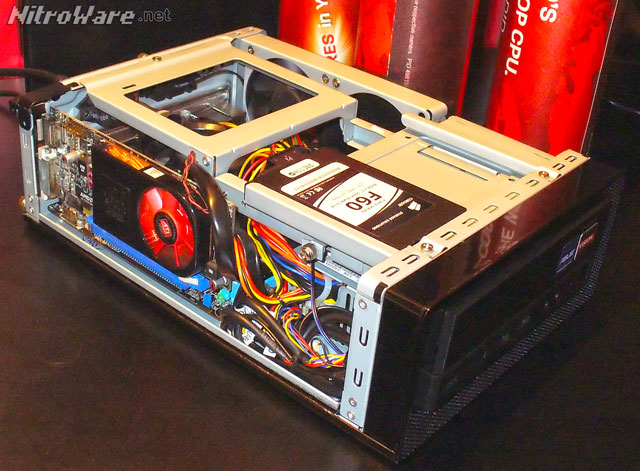 Since then we saw some other interesting compact powerhouses, Z68 small form factor system from Shuttle utilising Mini-ITX chassis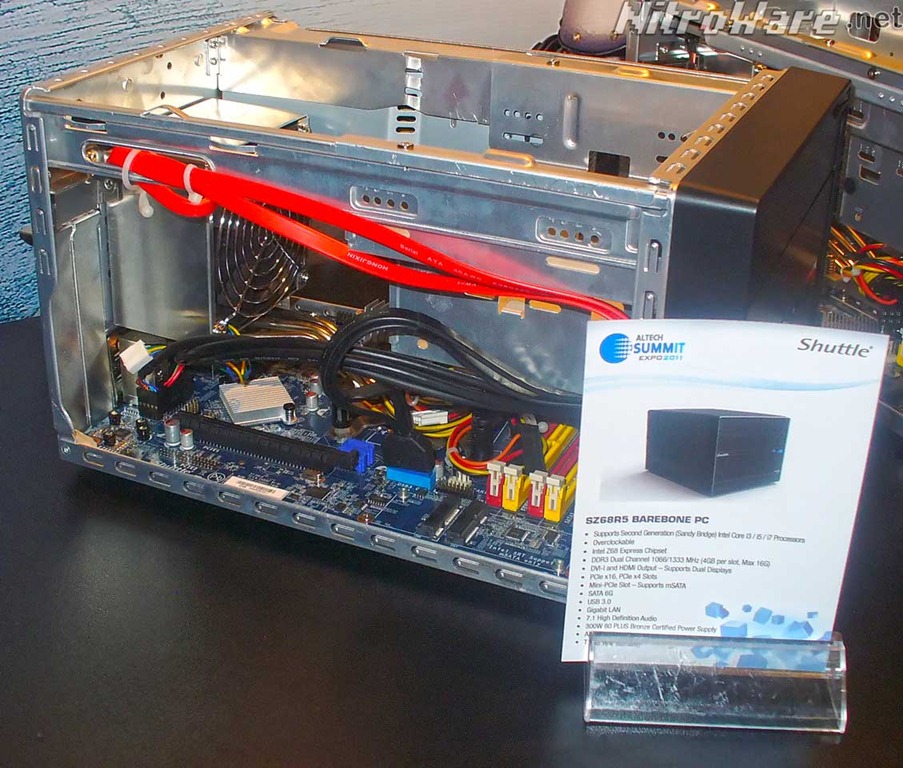 And many main boards, various very high end gaming/overclocking motherboards from ASUS such as their Maximus V Gene, ASRock's Z77 Fatalilty-M and Gigabyte's G1 Sniper M3 plus a slew of entry level mini-ITX boards aimed at a variety of user segments. Even Intel got the bandwagon and released its own line of Micro-ATX Desktop boards for system.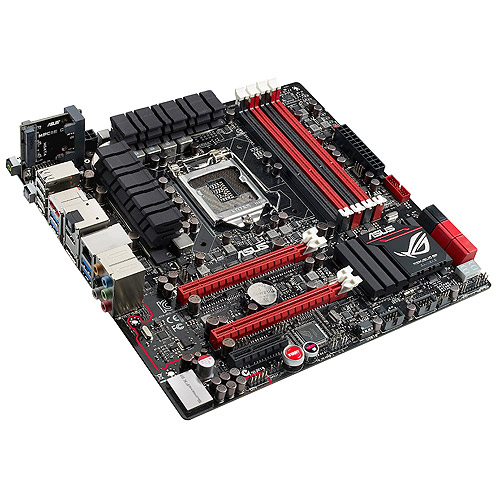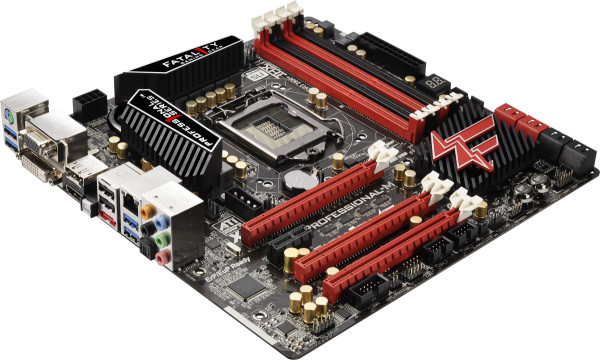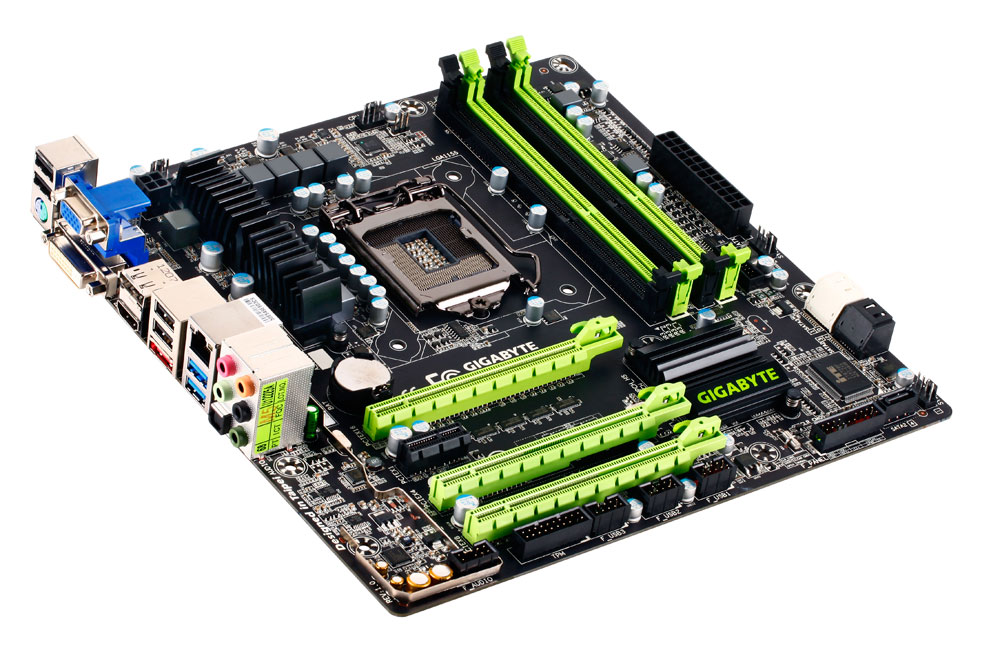 SFF turnkey or bare bones chassis were not forgotten however, the Apple Mac mini, ASRock's '3D' Series of mini PCs brought Intel's latest processors to smaller form factors.
In 2012 we saw these boards and others appear upon the Intel Z77 Chipset launch, recognising user requests and feedback for more of these types of boards.
Zotac has specialised in Feature rich Mini-ITX boards for a number of years and has been known as the go-to vendor for these products.
For the launch of their Z77 Mini-ITX board and subsequent overclock editions of their GTX 680 graphics card (coined with the brand name, AMP!), Zotac produced a very powerful small form factor mini-ITX system build nicknamed "Inner-Beauty" to not only show off their new products but as a concept and example to end users showing what can be achieved with such powerful parts in such a small space. The beauty of the system is what is inside it hence the name.
Since we have not had a chance to test this system in person yet, we did do our own analysis of t build and specs and discussed the project with Zotac themselves and various component vendors
Key Components and Features
Intel Core i7-3770 CPU 3.4GHz base speed, 3.9 GHz Turbo Speed
ZOTAC Z77-ITX WiFi Motherboard
2x2GB Kingston HyperX DDR3-2133 Memory
ZOTAC GeForce GTX 680 AMP! Edition Graphics Card
Western Digital VelociRaptor 600GB Hard Disk Drive
Antec Kuehler 920 Liquid Cooler
SilverStone SG08 Small Form Factor Chassis
SilverStone 80PLUS Bronze PSU (Included with chassis)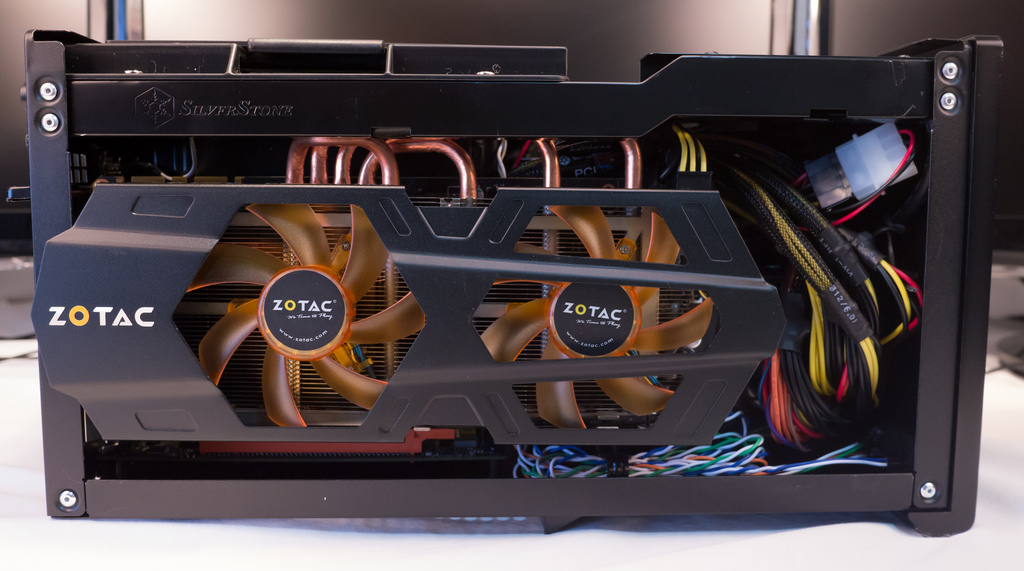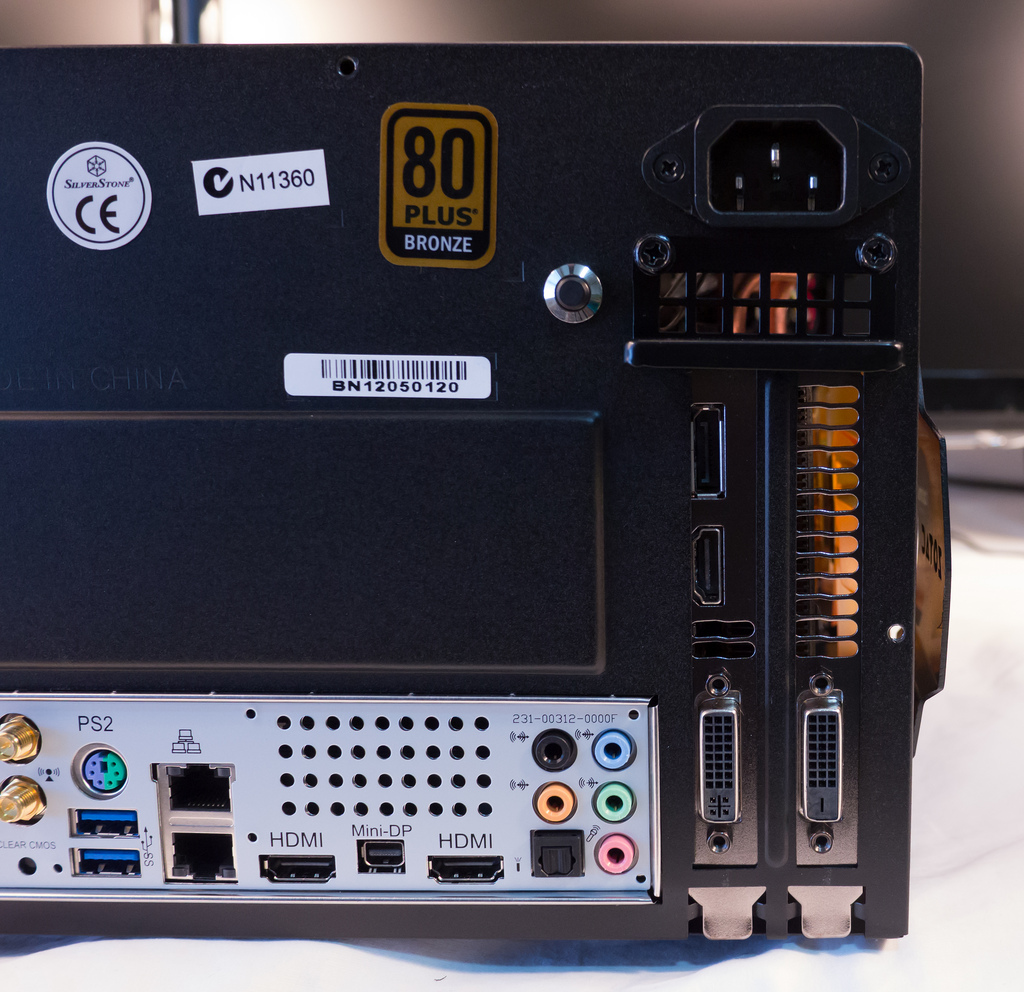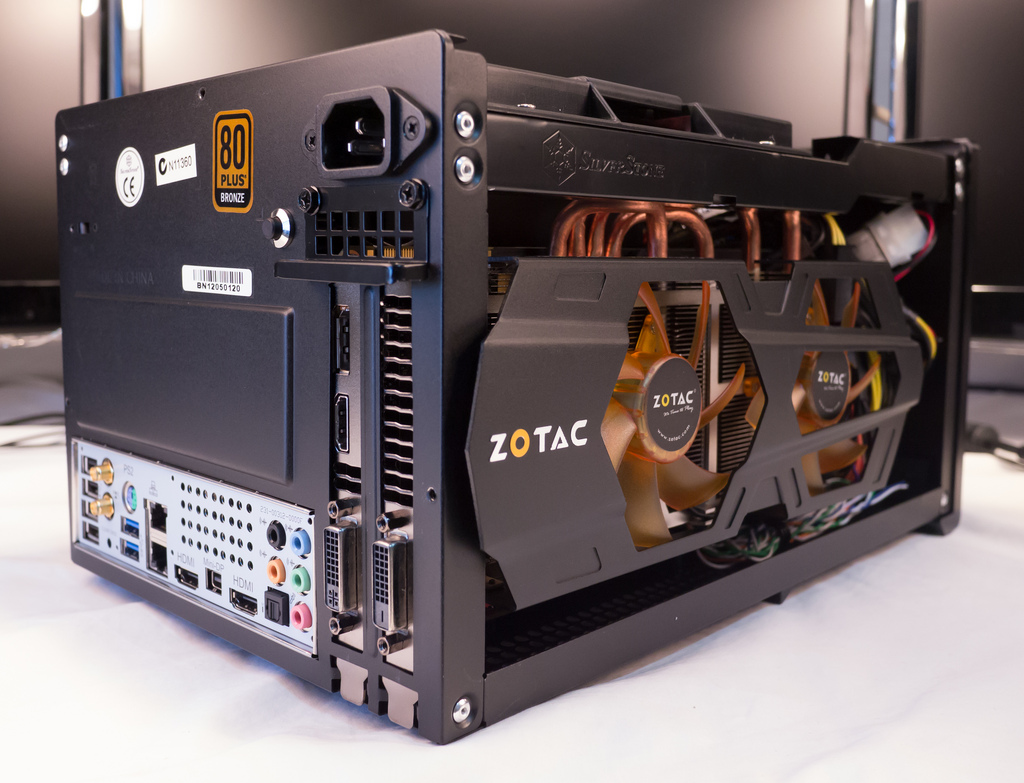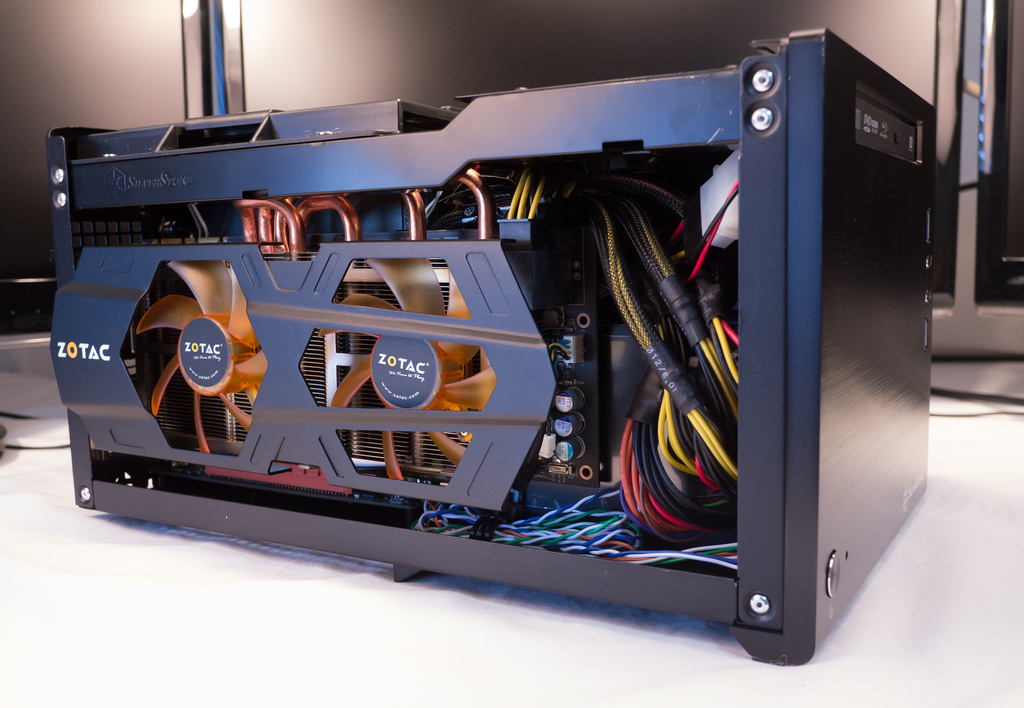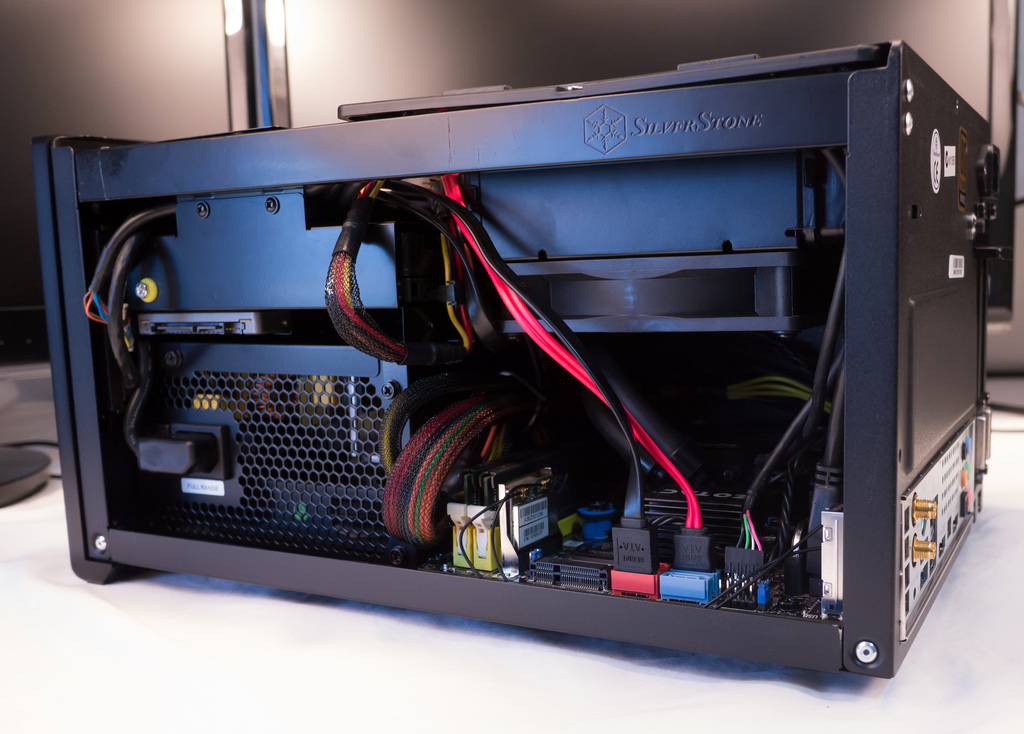 CPU
The 3rd generation Core i7-3770 "Ivy Bridge" CPU is not the unlocked Enthusiast K variety, this is not necessarily a bad thing as the non K part is cheaper and gains extra security and Virtualization features over the 3770K. To users who do not and will not overclock this is a good trade-off.
The Just released 3770 is the fastest mainstream/consumer quad core CPU that Intel currently sells. What we mean by this is that Intel's higher brand, their six-core 3900 series CPUs are aimed at the extreme enthusiast and workstation market, which is a niche.
Even for a high end gaming system with a NVIDIA GTX 680 graphics card, the CPU is a fine choice. The low TDP of of Intel's 2nd Generation Core CPU and even lower TDP of Intel's 3rd generation Core CPU allow the faster chips to be installed into smaller mini-ITX style main boards. Some mini-ITX main boards have power or electrical caveats preventing high speed CPUs to be used especially with such boards for AMD CPUs.
For this purpose Intel do offer low power versions of their part numbers however these run at slower clock speeds.
http://ark.intel.com/products/65719/Intel-Core-i7-3770-Processor-%288M-Cache-up-to-390-GHz%29
Lowest street price $320 AUD via Staticice.com.au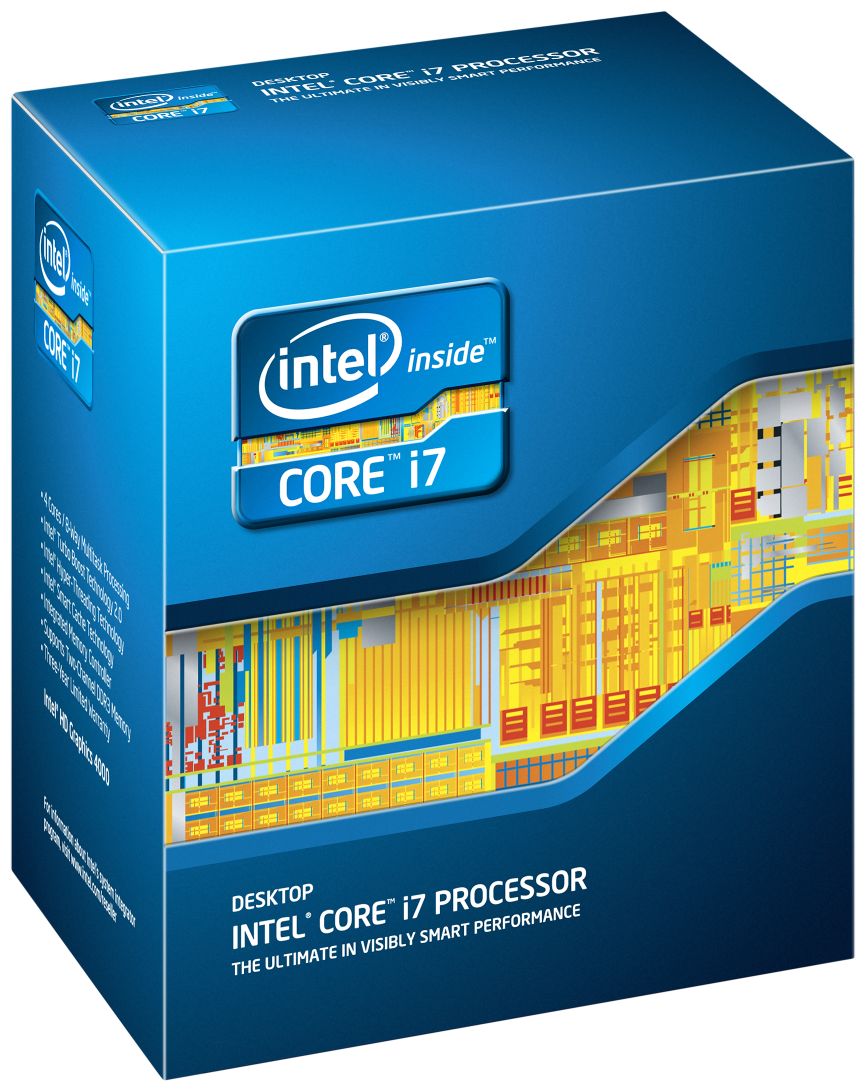 Motherboard
Zotac Z77-ITX WiFi motherboard has the abililty to drive three digital displays when its Z77 chipset is combined with the installation of the 3rd generation Intel Core CPU.
Uniquely similar to the ASRock Z68 Professional Fatality motherboard, Zotac's Z77 includes Two full size HDMI ports and a mini-DisplayPort connector to facilitate this. The onboard HD 4000 graphics can co-exist with an add-in graphics card.
The motherboard has Dual Ethernet to boot, something reserved for full sized motherboards such as Gigabyte's older EP45-DS3R, ASRock Z68 Professional Fatality or Intel's DX79SI desktop board.
Some newer full size boards such as ASUS P8Z77-V Pro only feature one Ethernet port as the mainstream performance segment does not require two ports. Dual Ethernet ports has little practicality to the typical user however some users may appreciate it
Dual Antenna Wi-Fi complements the wired Ethernet. Fortunately this board doesn't skimp on the Wi-Fi and it is easily accessible for upgrades which is good to see. The ASUS P8Z77-V pro bundles a basic single band Wi-Fi adapter as do many Notebook PCs.
Four USB 3.0 ports is expected of a Z77 board, provided by the Z77 chipset itself. mSATA slot is available should you want to install a small SSD as a boot drive or for the Intel Smart Response/Rapid Start technology.
Since only two memory DIMM are available, RAM must be selected carefully. In our experience 8 GB to 16 GB is the sweet spot for a daily use high performance PC however if you have some older memory you wish to recycle 4GB is fine too, just do not open excessive web browser tabs.
Zotac motherboards are usually straight forward and simple without the complexity or frills of ASUS motherboards, a removeable BIOS chip allows for recovery.
3rd Generation Intel Core family ready
LGA1155 socket (2nd Generation Intel Core family compatible)
ZOTAC Z77-ITX WiFi
Intel Z77 Express
2 x DDR3-1600 DIMM slots (2133 MHz OC) (up to 16GB)
2 x HDMI & 1 x mini-DisplayPort outputs
2 x SATA 6.0 Gb/s, 2 x SATA 3.0 Gb/s & RAID 0, 1, 0+1 & 5 support
4 x USB 3.0 (2 on back panel, 2 via pin header)
8 x USB 2.0 (4 on back panel, 4 via pin header)
Dual Gigabit Ethernet
Overclocking capable
Source: Zotac
Memory
Kingston have dozens of models of memory kits in each release they put out. Zotac were unable advise us which specific memory kit they used so we have to give you a guesstimate here based on what we know and what Kingston Australia has told us.
Kingston Australia advised us that one the the most current 2133 kits they have available which is also low profile is their quad channel kit model KHX2133C11D3K4/8GX HyperX Genesis 8GB 2133MHz DDR3 Non-ECC CL11 DIMM @ 1.65v (Kit of 4) XMP which is intended for X79 chipset. However this does not suit us as it is four modules and mini-ITX motherboards have two slots only. The Kingston 8GB 2133 kit is avalible from $100 AUD via staticice.com.au.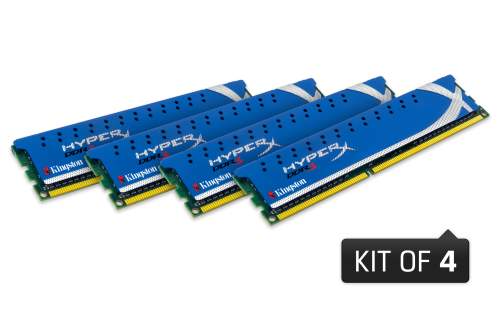 For low profile RAM We can choose an alternative brand such as Gskill 8 GB 2133 MHz kit which sells for around $100 AU or Corsair Vengeance LP series. Standard Corsair Vengeance, Dominator RAM are quite tall. Kingston HyperX T1 RAM is also too tall for many SFF chassis.
Kingston do have an older 4GB 2133 DDR3 Memory KIT Model KHX2133C9AD3X2K/4GX in their HyperX Genesis series which is low profile however this RAM kit is end of life as it was one of their earliest 2133 examples. We have successfully tested and used this memory in a number of systems at stable running including AMD A75 and 990FX, Intel Z68 and Z77. The Genesis kit we tested also has two XMP profiles, Optimised 9-11-9 @ 2133 MHz and Extreme 9-9-9 @ 1866MHz. Multiple timing profiles are typical of Kingston HyperX memory. The newer Corsair Vengeance models we have seen tested as their red 1866 MHz models only have the one XMP profile.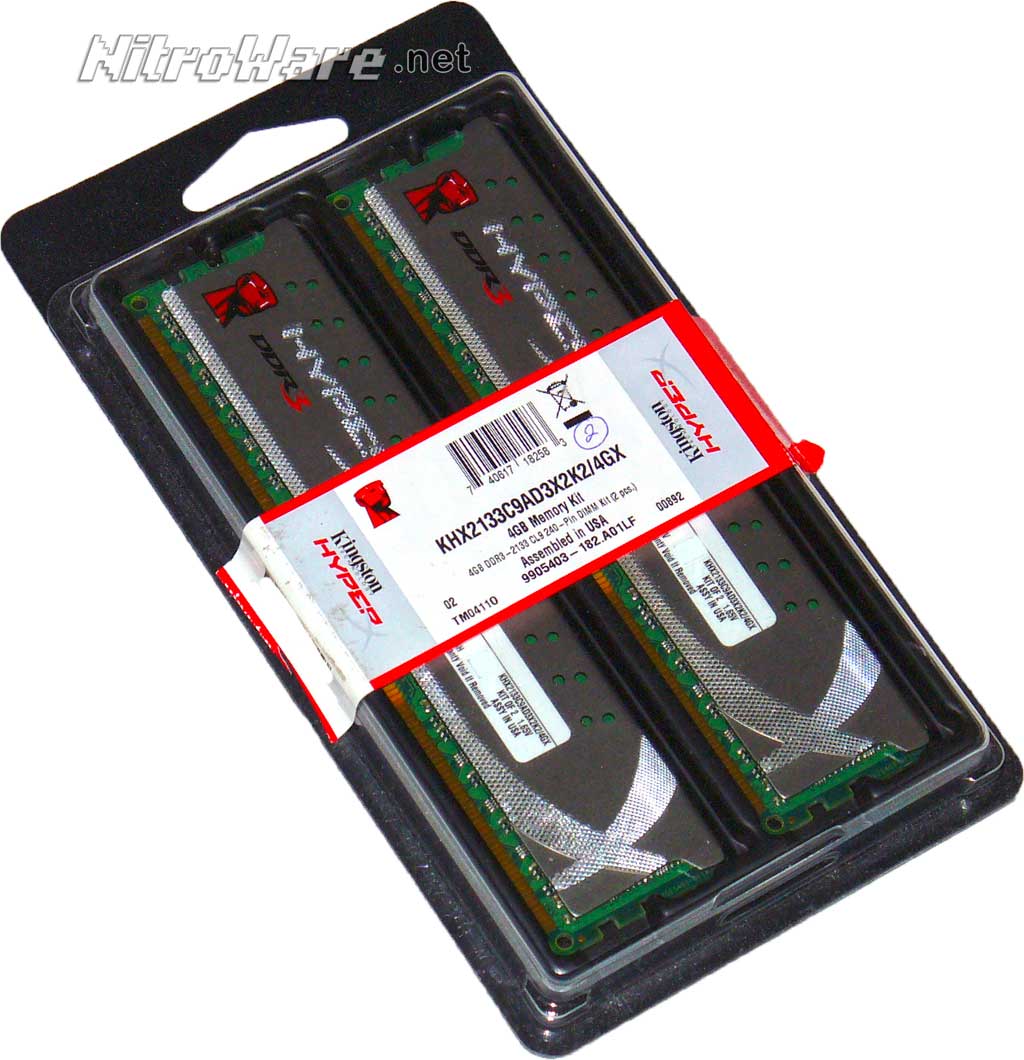 Graphics
For graphics Zotac used their just announced GTX 680 AMP! Edition which offers a factory overclock over the reference card plus a non reference cooler that stands out from the crowd.
The AMP! Edition is clocked at a base clock of 1110 MHz and a Boost clock of 1176 MHz, up from the default reference clocks of 1006 MHz and 1058 MHz respectively. Video Memory is still 2 GB however boosted to 6608 MHz up from 6008 MHz.
A 4 GB GTX 680 was announced however at the lower default clocks.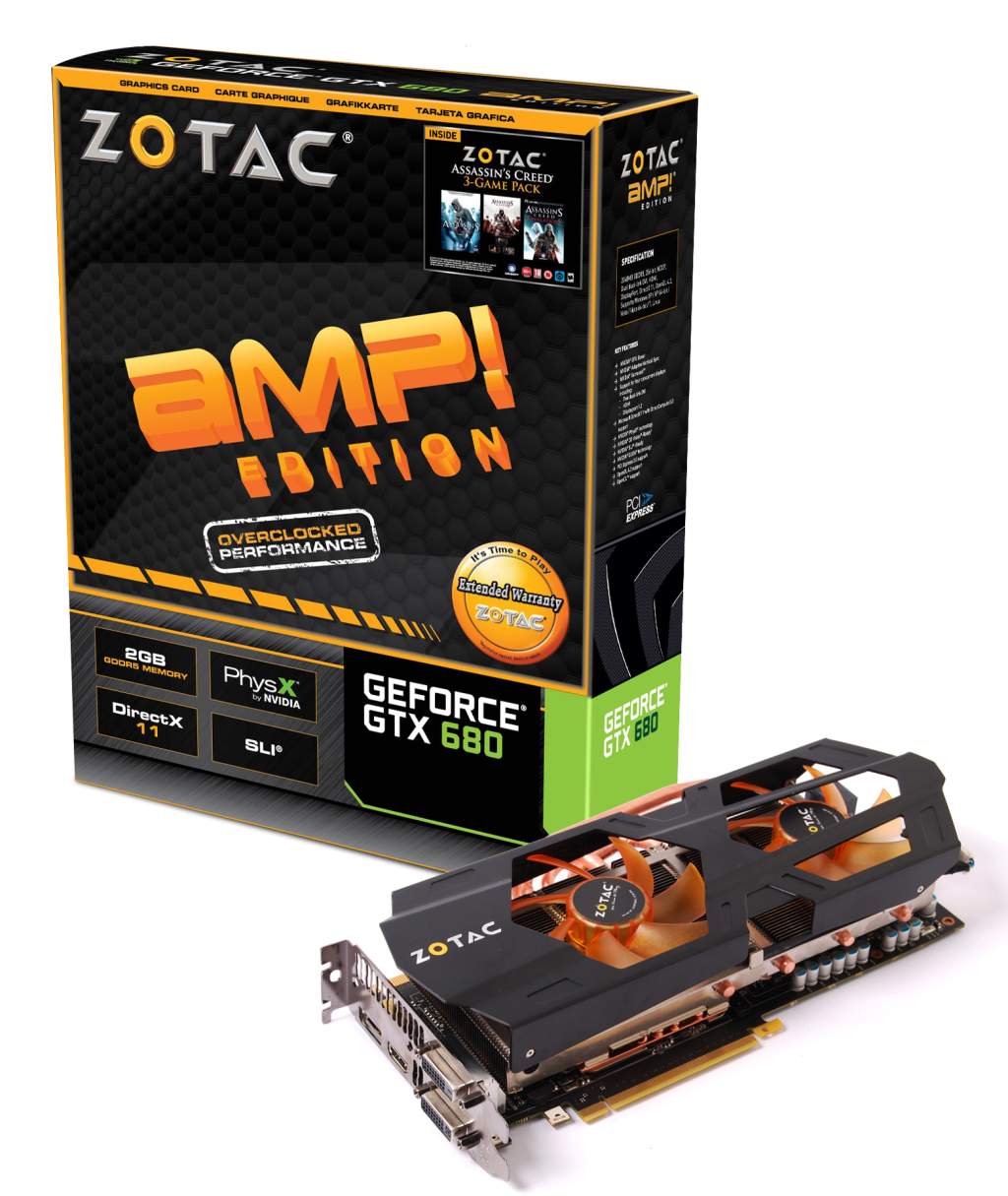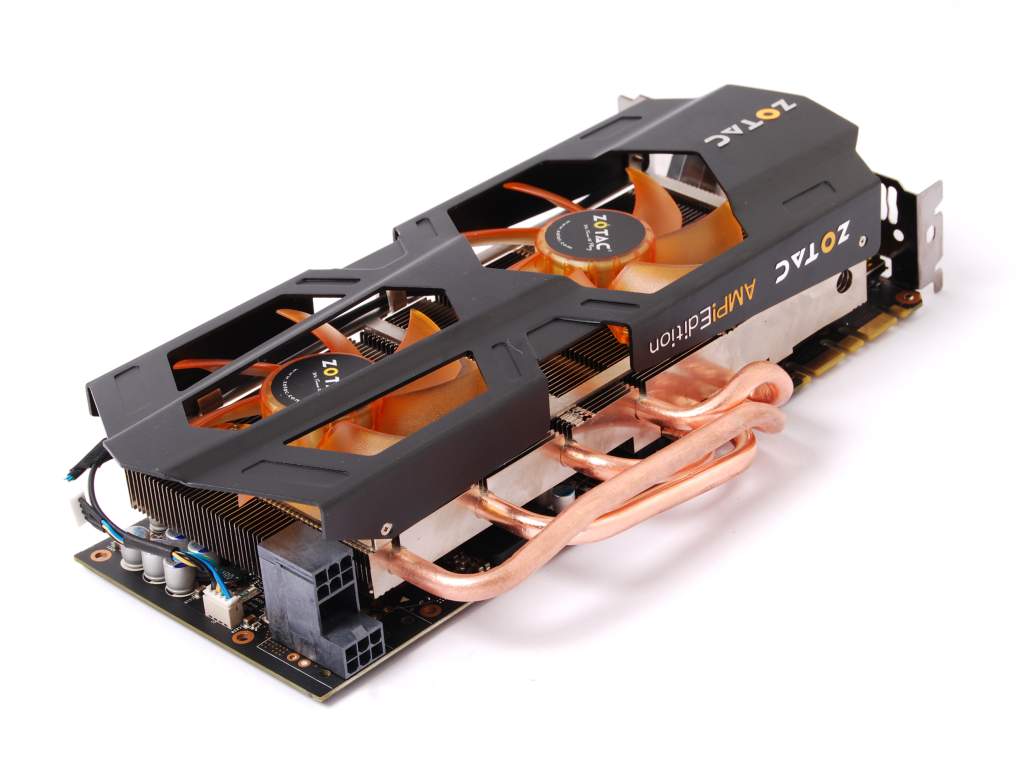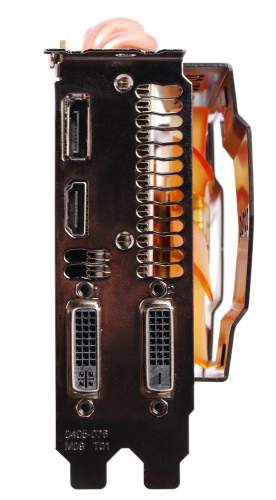 Unfortunately Zotac's Promotional requirements overrode their common sense and their fastest graphics card does not fit into their chosen chassis as it is a two and a half slot tall card. You cannot put the lid on this build.
This might not be a issue to some people but it is an electrical hazard, and dust magnet.
As a bonus, The Intel Integrated HD 4000 graphics can run alongside the add-in GTX680, three independent displays plus four from the graphics card, seven displays from a SFF is remarkable.
Shuttle did offer a XPC small form factor system with sixteen display support however they used a Matrox graphics card to achieve this so not a special feature in its own right.
Pity about the cooler size but the card and its cooler does look impressive.
Storage
A WD Raptor 600 GB is used in this build however since this drive uses its mounting bracket as a heat sink airflow and cooling are important.
WD VelociRaptor drives offer an unmatched combination of high performance and high reliability, perfect for workstations, high-end video and photo editing, low-end servers and performance enthusiasts' systems
Leveraging enterprise-class mechanics to provide 24x7 durability under high-performance workloads, the new WD VelociRaptor 1 TB hard drive is geared for creative professionals who demand the ultimate SATA drive. Creative pros use write-intensive applications that manage large, dynamic files; for example, video editing and digital content creation and management, which ultimately put a strain on storage devices that utilize write-challenged NAND memory for performance enhancement.
Source: Western Digital
We would have gone with a solid state boot drive and something like Seagate's Barracuda 7200.14 3000 GB drive or WD 2 TB Black for storage instead of the Raptor as the chosen chassis for this project supports two 2.5" SSD and one 3.5" HDD.
WD still believes in the Raptor, marketing it heavily to its target market of enthusiasts and hardcore gamers such as at regional LAN party events despite the march of Solid State Drives. This is something we have seen ourselves in the Australian gaming scene with some suprise.
WD believes so strongly in this brand that is recently updated its model lineup in May 2012, upping platter size to 500 GB from 300 GB, now offering 250 GB, 500 GB and 1 TB Raptors over the 300 and 600 GB Models.
In a statement to NitroWare, Darwin Kauffman, vice president and general manager of WD's enterprise storage stated
"WD is committed to providing customers with the best performing and most reliable SATA hard drives and our WD VelociRaptor family of drives underscores that promise. With ever-increasing demand for greater capacity, the new 1 TB WD VelociRaptor drive delivers the ultimate combination of speed and storage for the power user."
Ultimate combination of speed and storage for the power user we agree with but some of the claims we have reported are nullified by the ever decreasing price of NAND Flash in solid state drives.
The Raptor does offer a more stable platform to store your data on than a SSD however as no consumer SSD is as stable as reliable as a traditional hard drive. This is due to SSD firmware engineering issues that many enthusiasts and technology media are well aware of.
For 2012 a refreshed Raptor line which includes the 1TB model adds some feature updates in addition to the higher capacity
SATA 6 Gb/s interface and 64 MB cache
Advanced Format Technology, up to 1 TB.
Workstation class Reliability and design
Consumes less idle power and uses similar active power as the previous generation WD VelociRaptor while offering greater capacity and performance.
Rotary Acceleration Feed Forward (RAFF™) - Optimizes operation and performance when the drives are used in vibration-prone, multi-drive chassis.
NoTouch™ ramp load technology - The recording head never touches the disk media - less wear and better drive protection
Updated WD VelociRaptor is halogen-free design for the environment.
Since it is a high end offering a five year warranty is offered which is fortunate or even expected given the cost of these drives as well as warranty length reductions on cheaper consumer level drives.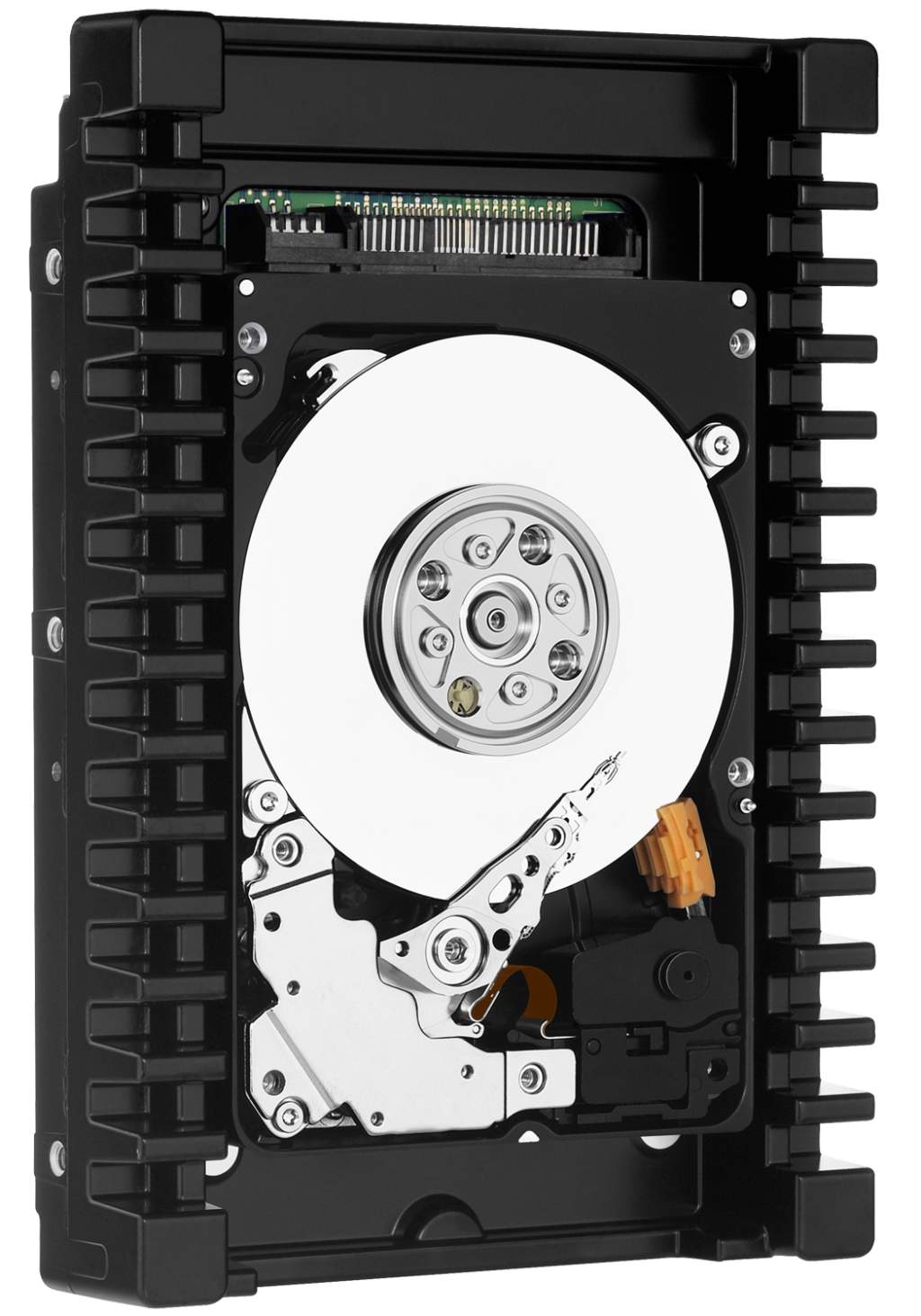 WD6000HLHX 600 GB $226 AUD and up via staticice.com.au
WD1000DHTZ 1000 GB $350 AUD and up via staticice.com.au
Since we have yet to test the new 1TB Raptor, If you want to learn about the performance and behavior of this new drive we recommend PC Perspective's review.
With solid state at just over $1/Gigabyte currently, the 1TB Raptor fills a void in the market between he 400-500 GB SSD and the ultra expensive just released 1 TB 2.5" OCZ Octane SSD at around $1000 and other vendors are sure to release their own competitors to the OCZ product.
Cooling
Antec's Kuehler 920 Liquid Cooler is a popular OEM variant of Asetek's closed loop Liquid Cooling Solutions.
http://www.antec.com/product.php?id=705235&pid=58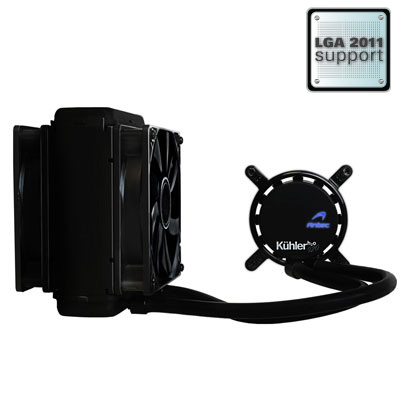 AMD, Antec, Corsair, Intel and more recently Thermaltake sell tailored variants of the same Dual fan and 120mm Radiator liquid cooling.
Antec's version is bundled with control software and a software adjustable LED light as does the AMD unit. Intel's is fixed to blue and is software-less while Corsair elected to use their own control bus interface and hardware controls for he speed.
Performance of these kits is debatable in enthusiast circles with the general consensus being they are more like a premium air-cooler in overall behaviour rather than a very high end liquid cooling setup such as those offered by Swiftech.
We have AMD's clone of the Antec 920 in house as part of our test equipment and we would agree with this observation. These coolers can offer decent,controlled acoustics for hot CPUs at idle speeds but once the fans ramp up on load, the dual 56 dB Evercool brand sourced fans are simply too loud.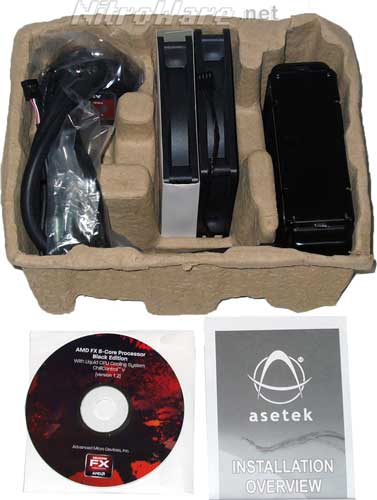 There are alternative fans available to improve these kits such as Noctua as reviewed by Rage3D or disconnect one of the two fans at the expense of temperature.
For something like a Small Form Factor PC, a closed-loop liquid setup will help get the heat out of the case. Shuttle has tried this in the past with large heat pipe based radiators.
Expect to pay AUD $130 and up for an Antec Kuehler 920, via staticice.com.au
Chassis
Silverstone SG08B, Mini-DTX, Mini-ITX Case with 80 Plus Bronze Certified 600W PSU,USB 3.0 x 2, Slim ODD, 1x 180mm fan, 2x 2.5", 1x 3.5"
http://www.silverstonetek.com/product.php?pid=317&area=en
Material - 10mm Aluminum Front Panel, SECC Body. 600w 80Plus Bronze and USB 3.0 x 2
Supported M/B - Mini-DTX, Mini-ITX
Supports Expansion Cards Up to 12.2 Inches
External Drive Bay - 1x Slim Optical
Internal Drive Bay - 1x 3.5", 2x 2.5"
Included PSU - Single Rail 600W with 80PLUS Bronze Certification
Cooling System - 1x 180mm Air Penetrator 700/1200RPM Fan Included, 18/34 dBA. VGA Fan Duct on Side Panel, PSU Intake Vents at the Bottom
Front I/O - 2x USB3.0, 1x Audio, 1x MIC
CPU Cooler Limitation - 117mm
Case Dimension - 222 mm (w) x 190 mm (h) x 351 mm (d)
Source: Silverstone
SilverStone SG08 Small Form Factor Chassis is a slightly larger take on what has seen as the classicial cube style small form factor with the intention of fitting a larger performance class graphics card as well as a higher capacity power supply to run everything.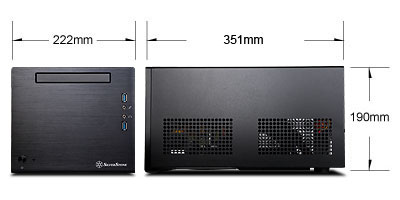 Oddly enough the spec lists mini-DTX which was an AMD proposed spec of which much has not been heard of late.
As the SG08 Chassis is designed for a dual slot VGA card up to 12.2 inches and 400 Watts including the GTX 580, it is vented and ducted to manage airflow to such cards. However with special non reference cards such as the GTX680 AMP! Edition with larger coolers may conflict with the Case lid and or duct. Purchasers of exotic non reference cards may be aware of this caveat however and have their Dremel Tools at the ready.
SG08 requires a slim optical drive, as such ensure he correct power cable is available as slim notebook optical drives use a reduced size SATA connector. A PSU of 600 Watts is supposed that is custom tailored for the chassis as well as the components that can be fitted. a GTX 580 and 680 work correctly in this chassis.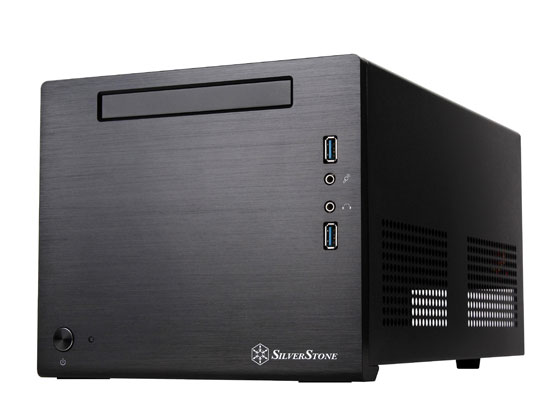 The SG08 doesn't come cheap, starting at $222 AUD for the SG08 including the 80PLUS bronze PSU. At least it has a stylish minimalist look where as some traditional SFFs have a quirky look about them.
Conclusion
Although this is a Zotac inspired concept system and NitroWare tries to be fair and unbiased, the same principles used for this system build can be applied to ASUS, Gigabyte, Intel or other brands of hardware.
Unless you plan on more than two video cards or need ten SATA ports for your 20 TB disk array these days there is little need for a full size ATX motherboard as we no longer use add in cards for network sound and USB. ASUS, Gigabyte, Intel and even Zotac offer full-feature Micro-ATX and mini-ITX than can be substituted.
To build a system similar to what Zotac have demonstrated will set you back under $2000 AUD once all the components and operating system are considered. The expensive part being the Graphics card. Expensive but you do get the fastest consumer mainstream PC money can buy. All the parts are off the shelf so repairs should be straight forward.
The brand name box-sellers are taking note of the small form factor revolution and companies such as Alienware have started pushing their X51 compact gaming PC as a new alternative and HP are pushing their all-in-one Mac style Z series Workstation as a compact alternative to the traditional tower workstation.
Zotac have demonstrated that "Inner-Beauty" can be achieved with their hardware and although needs a little polish, it can work. If you prefer another brand of hardware components that choice is yours to make.