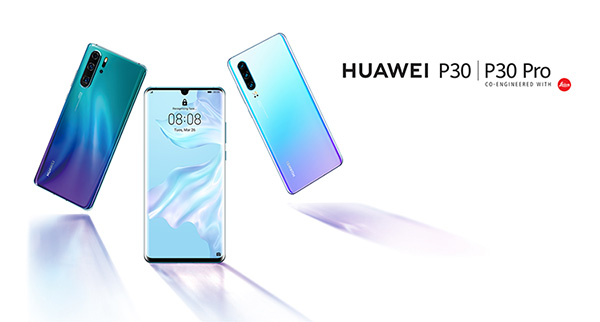 NitroWare.net was given an exclusive hands-on preview of the Huawei P30 and P30 Pro phones before their worldwide unveil in Paris on March 26.This time around, Huawei has outdone itself again with their hardware evolution and technical prowess with attention to in product engineering and silicon design. P30 continues the trend set the past few years with each of the previous P series devices.
Although my first impressions are based on very limited time with the P30 and despite it including some innovative and industry leading features which I will go into detail further in this review, I don't think the P30 is a slam dunk over its competitors especially the Samsung S10 series but don't write it off just yet.
Our preview experience was intended to give us some hands on time with the new camera system as well as having a look and feel of the device. We were not able to run any benchmarks or do any in depth analysis or testing of the device due to conditions of the preview and the available time. Huawei is not fully 'at fault' here, it just reality that one of the main uses of a modern smartphone in western society is photos and videos. We are all reliant on our phone camera it so it would be pointless to deny a primary use of a modern smartphone.
Huawei themselves are advertising the phone with the following words "REWRITE THE RULES OF PHOTOGRAPHY, Brighter, wider and closer. See the world from new perspectives. Discover the unseen surprises and turn them into your treasured memories. The HUAWEI P30 is pushing the envelope of smartphone photography."
READ ON to see my sample photos taken with the P30 Pro against the P10 Plus and the moto g6+ in a variety of photographic scenarios as well as my thoughts on the new Huawei flagship that many commentators are raving about...
We talk about the future of networking with the chief technical and engineering officer of a newly minted enterprise networking giant
.
The 'new' Extreme Networks is the ultimate culmination of the enterprise networking divisions of several well established and significant telephony and networking brand names, mainly Extreme Networks, Brocade and Avaya with the ultimate goal to create a combined company aiming to be number 3 in the enterprise networking sector and a combined revenue of US $1bil.
To update users and partners on the new company and changes to products and support, Extreme did the typical world tour but with a difference.
Unusually for a large tech vendor, Chief Technical and Engineering Officer, Eric Broockman made himself available to said users and partners as a gesture of new company's intention. The co-title 'Engineering officer' is unique, as a Chief Technical Officer is not necessarily an engineer or responsible for engineering. Eric told us that a typical day started with a small amount of 'CTO' work and the rest of the day was overseeing engineering and in this role he has been able to leverage his vast experience with other networking hardware vendors.
We sat down with Eric and chatted about future of networking from a wireless, wired and software perspective. Eric had some very interesting viewpoints on industry trends thanks to his unique position in the industry both as a CTO and a long time veteran of several networking and tech firms, even as a hairbrush salesman.
You do not need to be intimately familiar with Extreme/Brocade/Avaya products or enterprise networking to watch this interview but an understanding of networking topics and standards would be helpful.
Many of the topics discussed such as Wi-Fi AX, 2.5/5/10Gbit Ethernet, Virtualization and Open Source Networking/Security software are of interest to enthusiasts, power users and professionals.
00:25 Eric Broockman's technical and industry background
03:15 Combining the specialisations of Extreme, Brocade, Avaya and Zebra into the New Extreme Networks
05:20 Campus and Data center Networks explained
06:25 802.11ax Wi-Fi explained - Increasing density and improving reliability
09:25 Hardware versus Software in the Networking Industry and the ubiquitous 'single pane of glass' management concept
10:45 Free and open source software such as pfSense
13:50 Virtualisation - A new concept for Enterprise Networking devices such as Switches and Access Points
17:15 Lowering cost and increasing adoption of upcoming Ethernet Standards such as Nbase-T
20:20 Future Trends and where the Networking industry is going
Read on for our comments on the new company, the aquisitions involved as well as more detail on the future and emerging trends discussed.