How to troubleshoot invalid Ubisoft Uplay game key codes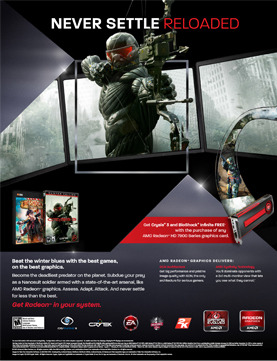 AMD, NVIDIA, OCZ and Samsung bundle codes for free Ubisoft games with their hardware such as Far Cry 3, Assassin's Creed and Far Cry 3: Blood Dragon.
As a result of differences in the way Ubisoft's Uplay digital distribution works compared to EA Origin and Valve Steam, many users have had issues redeeming their codes with the "invalid promo code" error being common.
One of the reasons for this occurring is regions-specific game codes which cannot be redeemed in other regions.
We refer to our experience redeeming Ubisoft game codes through AMD's Never Settle Reloaded promotion and explain how we diagnosed our problem.
Read more...
With the June 4 launch date of Intel's Haswell CPUs at Computex a matter of weeks away, we can now reveal the launch model lineup and theoretical graphics performance. Although core architecture of Haswell graphics has been known for some time, what has been kept under wraps was how each class of graphics would be segmented and which parts are aimed at which markets.

Haswell will offer optional higher performing graphics in its Desktop, Mobile and Ultrabook segments across the board compared to Ivy Bridge which offered a single class of graphics in mainstream mobile. Haswell is claimed to have a up to 3x improvement on graphics performance alone however raw numbers are not the complete story.

Intel has also though to sees eye-to-eye with its competition by giving its new graphics a brand name to make it as identifiable as AMD Radeon, NVIDIA GeForce and Qualcomm Adreno. That name is Intel Iris.

Read more...

We will be live tweeting and posting from CeBIT AUSTRALIA 2012 on 22 to 24 May 2012 !

We expect some major announcements, first looks and new products from a variety of Tier 1 hardware vendors, some of which we have managed to obtain exclusives for.

Dell, Fujitsu, HP, Lenovo and Samsung will be announcing and demonstrating their new product line-ups for 2012 to support new generation computing platforms that have just launched such as AMD's Trinity APU and Intel's 'Ivy Bridge' 3rd Generation Core Processor. Some of these product updates are hush hush so we cant talk about them just yet and we will be bringing you these exclusive unveils as soon as possibly allowed.

Sennheiser is announcing some new gaming headsets and sound cards while Western Digital will be demonstrating Thunderbolt connectivity. Will D-Link and other network vendors have any good N900 or 802.11ac routers ? We will find out.

The National Broadband Network (NBN) Truck may give us a practical glimpse into how the consumer will access the NBN via the Customer Premises Equipment (CPE) and what end user speeds will be possible. Spotify, the popular cloud music streaming service has also taken the opportunity to launch in Australia at this time.

Our hardware centric coverage this year is supported by Blackberry Australia and Toshiba Ultrabook

Follow us on Twitter @nitroware

We look at a rather unique external hard disk enclosure that promises to be technically advanced as well as eco-friendly called Bytepac.

This cardboard product does not mean we have to skimp on capacity or performance however, we paired the BytePac kit with Seagate's new power efficient yet speedy Barracuda 3TB drive.

We also discuss the pros and cons of external drive enclosures.

Read more...

Big things can be found in small packages

Want a high end CPU, graphics card, large storage and full functionality yet not in a 65 CM tall PC tower case that weighs 20 KG? Well suffer no longer, Zotac the specialist vendor of Mini-ITX motherboards and Small Form Factor PCs as well as a main NVIDIA partner has shown off their concept for a PC that can prove otherwise. The system combines Intel's fastest 3rd generation Core i7 CPU and Zotac's fastest NVIDIA GTX 680 graphics to deliver the best performance possible from a small cube PC let alone a large tower. We preview Zotac's "Inner-Beauty" demo system and analyze the pros and cons that come with such a small system.

Read more...

The AMD Radeon HD7970 is marketed as the 'World's fastest single-GPU graphics Card' and many reviews have compared it against the GTX580 which is its competitor. What about everyone else? Not everyone owns a GTX580 and many users have older cards, some in SLI or Crossfire who are quite happy with their setups. Not all gamers play at 2560x1600 or higher either.

When a user upgrades their CPU and Motherboard, they will likely keep their old cards especially if they support DirectX 11. To find out how the HD7970 fares against such older cards we compared it pair of NVIDIA GTX460s in SLI

This review combines the best gaming platform Intel has to offer - the i7-3690X CPU and DX79SI motherboard with the best graphics technology AMD has to offer, the Radeon HD7970 to create one of the fastest systems on the market. Can a single Radeon HD7970 from 2011-12 beat two mid end GeForce GTX 460 in SLI from 2010? The results we found were quite interesting.

Read more...

AMD have made some bold claims about their 'Fusion' architecture, especially their A-Series 2011 mainstream computing product range. The industry leader went as far to make some very big claims by declaring their A-series APU as the company's most important product in their history and a computing game changer as it saw the future of computing being visually and graphically rich.

This raises several questions: Is AMD's new mainstream computing solution - their A-Series 'Fusion' APU, hero or hype? How relevant is graphics performance with modern software especially integrated graphics? Which 2011 mainstream PC is a better choice for the consumer - AMD or Intel?

To answer these questions we put AMD's A6-3650 APU and its competitor - Intel's 2nd Generation Core i3-2100 CPU through their paces with the full spectrum of tests ranging from everyday audio/video applications, to industry standard benchmarks, popular 3D games, Professional Digital Content Creation software and Web browsing.

To show the relevance of graphics performance in a mainstream computer in 2011 we also included two other systems. A high-speed Intel Core 2 Duo system fitted with a High Performance graphics card from NVIDIA to show the boost powerful graphics can give an older CPU in everyday applications and a low-speed Intel Core 2 Duo system with older Integrated Graphics to show how far 'integrated' graphics has changed in just a few years.

Read more...

295 Watts of power drive this luxurious 5.1 system. Coupled with a passive radiator the massive 10" sub woofer driver provides a room-filling 120W of deep bass. A multifunctional 2.5" LCD display wired controller provides all the control any user needs.

We review a powerful 5.1 speaker system aimed at gamers and multimedia use that might be considered overkill for many users.

Read on to see what we thought of this massive speaker system.

Read more...

Are you are finding that your inkjet printer ink is being used up quicker than you like? There is valid explanation for this. The ink is going down the drain, literarily. This is not neccessarily a bad thing however. Read on to learn how the ink in your printer is used in your inkjet printer.

Read more...

This is the missing manual you have been looking for…

This article relates to Modern RAID controller cards made by LSI 3ware that do not work with Microsoft Windows 2008 R2 or Windows 7 out of the box. This article will explain and illustrate the process to enable these cards to work correctly with these operating systems by installing a required firmware update to the RAID card. This article is aimed towards IT professionals

Read more...

When things do not work as expected it is often due to standards not being followed. Hardware or software can often be non-compliant. If you cannot hear any audio via your front audio ports and you have a relatively modern system there is a easy fix for the problem.

Read more...

If your computer contains a Realtek High Definition Audio system from Realtek semiconductor, you can enable a free feature to dedicate the front audio ports of the system chassis as a dedicated headset connection for applications such as voice communication and enhance your Voice-over-IP experience.

Part 1 - Configuring the headset feature avalible with Realtek High Defintion Audio

Read more...

We evaluate aigo's McLaren MP4-22 2GB USB disk and determine whether it lives up to its namesake.

Since aigo's announcement to Sponsor the Vodafone McLaren Mercedes F1 Racing Team, keen computing users and motor racing enthusiasts have waited for a branded USB storage product to complement this sponsorship, aigo has finally delivered.

Read more...

Lian-Li finally announces a much anticipated computer chassis that offers the best in design, expandability and acoustic/thermal performance - are Lian-Li's 'TYR' product the 'holy grail' of computer chassis or just another case in a jungle that is the computer chassis industry. Read on to find out.

Read more...

With ultra fast hard disk drives now available, is the asking price for SSD technology justified?

We report on the Solid State Drive market and Mtron's presence at CeBIT, one of the major players in this market as well as head to head benchmarks of SSD versus HDD.

Read more...

Expensive toys for the gadget and car lover or the start of an In-Car navigation and tele-matics revolution?

Read more...

Or so the vendor claims… The real test will be if this product is intuitive enough to be used without referring to any instructions or documentation.

Read more...

IEEE-1394 Users who have installed XP Service Pack 3 may notice a change in functionality in their operating system especially if a FireWire hub is being used.

Symptoms of this problem are that the '1394 Network Connection' icon and the '1394 Net Adapter' driver will no longer be visible once SP3 is installed.

In this article we go through the steps required to recover this functionality

Read more...

We at NitroWare offer our own build of Firefox , known as Firefox Community Edition which contains additional features and fixes for FREE download.

Read more...

Our event coverage of AMD's Australian market launch event for Athlon 64, Athlon 64-FX and Athlon 64 Mobile processors and platforms.

Read more...

Australians pay one and a half times on average up to twice as much as the USA for identical Windows Anytime Upgrade either as a digitally distributed or boxed product. Both distribution methods offer an identical product as all Windows Anytime Upgrade consists of is an upgrade key which will 'unlock' the users currently installed version of Windows 7 to the next higher version as purchased.

Changing the Windows Region from AUS to USA will change the price that is displayed.

Pricing is not the half of it – old stock generate errors that Microsoft are aware of but will be unanticipated to the consumer and Windows 8 offers a much more affordable upgrade path. Users who need to stick with Windows 7 are disadvantaged.

Read more...

We investigate how the CPU influcences the performance of Sapphire's Radeon HD7950 OC graphics card by testing it with AMD A6-3650 APU and AMD FX-6100 CPU against the combination Intel's i7-3960X and AMD's Radeon HD7970. What we found was with our test suite AMD A6 and AMD FX offered better performance per dollar than Intel's flagship i7.

Read more...

Cooler master claims its Trigger Mechanical keyboard is the devasting new weapon of choice on the war torn frontlines of gaming...

We preview Cooler Masters's Trigger Mechancial Keyboard, which the manufacturer claims can command the power and strategic advantage of a military platoon and is prepared with a full featured arsenal that incorporates a selection of extremely high durability CHERRY MX Black, Blue, Brown, or Red switches as well as a Numeric Keypad in a traditional 104 key form factor.

Read more...

Trial a gives a glimpse into future Intel high end CPUs

Intel announced today their 'Performance Tuning Protection Plan' that would offer a limited, one time warranty replacement for selected Unlocked/Extreme class CPUs that are damaged during overclocking if the owner pays an additional fee of $20 to $35. For enthusiasts or ultra-gamers that tweak and play with their system settings this might seem like a gift from above however there is more to this programme than Intel reaching out to help enthusiasts…

This replacement programme may be partly driven by business and technical pursuits rather than pure good will towards overclockers. The company already affords that to those users through its product design, hardware and software. We explain why in this editorial.

Read more...

Intel have to have shaken the skeleton in their closest by offering a cut price version of their Extreme branded X79 Desktop board that sells for $100 less than the widely reviewed DX79SI. The DX79TO is one of the cheapest premium X79 boards on the market yet still retains the 8 memory DIMM/64GB memory support in the standard ATX dimensions.

We preview the DX79TO Desktop Board from Intel - A reduced cost version of Intel's flagship DX79SI Motherboard for Intel 2nd generation Core i7-3000 series and socket LGA-2011 and explain why you should consider a cheaper X79 motherboard.

Read more...

We Aussies do things differently 'down under'. Instead of hunting for spooks, ghouls, goblins or vampires this Halloween we went hunting for production series Intel X79 chipset motherboards from ASUS, ASRock, and Gigabyte in Sydney, Australia and what a haul of sweet tech bounty we ended up with.

A NitroWare.net exclusive.
Read more...

Are you are finding that your inkjet printer ink is being used up quicker than you like? There is valid explanation for this. The ink is going down the drain, literarily.

Part 1 of our article series showed how a modern printer can fail due to excess ink wastage from heavy or non optimal use.

In Part 2 of our article series we compare our earlier example to a similar printer of specification and age that been has operated more efficiently and highlight the differences between these cases and the overall designs of these examples of moderns printers.

Read more...

Choosing a Computer case is near impossible these days due to the multitude of brands, shapes, styles, finishes and colours available. The high end of the market is covered with very good enthusiast or niche cases but what about the bottom of the spectrum? Can a half decent case that works properly be found at an affordable price? We think we found one, Read on to find out more.

Read more...

Owners of Giga-Byte motherboards, especially socket 775 models that use the Dolby Digital Live feature of the Realtek HD Audio on these boards should revert to an older version of the audio driver such as Release 2.44 to reclaim bass management and Dolby processing features.

Read more...

If your computer contains a Realtek High Definition Audio system from Realtek semiconductor, you can enable a free feature to dedicate the front audio ports of the system chassis as a dedicated headset connection for applications such as voice communication and enhance your Voice-over-IP experience.

Part 2 - Configuring an IP soft phone to use a headset

Read more...

Recent releases of 'must have' smart phones and heavy marketing of 3G connected devices in the mass media such as USB modems, smart phones, PC cards and notebook PCs with build in 3G connectivity is pushing mobile broadband to the masses, however promises made can be perceived as hype and marketing lies by some especially those who have experienced some legacy types of wireless cellular or networking.

Does 3G Mobile Broadband live up to the hype?  To find out, NitroWare.net reviews a high performance 3G Gateway-Modem/Router that is advertised to deliver megabit speeds equivalent to wired broadband.

Read more...

Creative Labs Pty Ltd [Australia] have announced availability of their HN-605 Noise-Cancelling headphones which are available now from major Australian retailers for a RRP $69.95 incl GST.

Read more...

ZOTAC, a NVIDIA add-in-board partner now provides five years warranty on newly purchased graphic cards in Australia on the provision of 'no physical damage' yet does not assure customers that they will be looked after if there is capacitor failure.

Read more...

Specialist Data Recovery firm educates trade show visitors the real dangers of failing Hard Disc Drives/Digital storage with real-world samples and best practice to avoid data loss.

Read more...

Vendor claims their maps have the human touch.

Read more...

You are considering a computer or main board that has dual Ethernet ports onboard. You know what to use one of these ports for, to connect to your LAN or broadband modem, but what use is the other port in a home or office environment.

This article will cover several useful scenarios for using this pair of Ethernet ports in a home or small office environment , as well as give a brief history on how the industry got to including one and then two Ethernet ports built into the main boards of new PCs, a feature often overlooked but in these modern times is quite necessary.

Read more...

The following steps will resolve General Protection Faults (crashing) when trying to playback DivX files or when browsing video folders in Windows Explorer with the new DivX CODEC version 6.5.

Read more...

The specified power output of ATX Power Supplies can vary between particular makes and models. 

A 300 Watt PSU from Vendor A may not have the same output as a same unit from Vendor B.

To make choosing a power supply for a particular installation easier, This article provides a quick reference of the labeled currents of many popular and common ATX Power Supplies.

Read more...
TWITTER @NItroWare
Coming Soon

Homeplug AV/Powerline Adapters finally reach Ethernet speeds. We discuss how Powerline solves some of the problems Wireless Networking presents.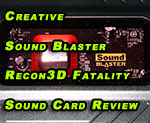 The Recon3D is a new affordable PCI Express sound card for gaming using Creative's next generation of audio DSP technology.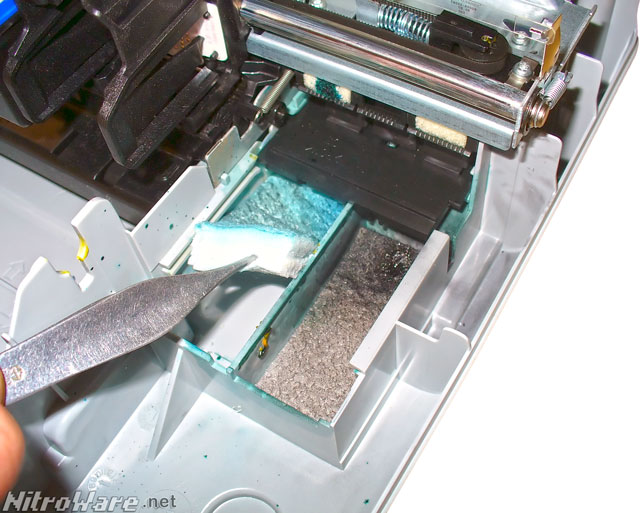 Where did all my printer ink go? Part 3 - HP
HP F370 All in One Printer Scanner Copier tear down and analysis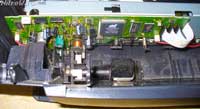 Where did all my printer ink go? Part 4 - DELL
Dell Photo All In One Printer 922 tear down and analysis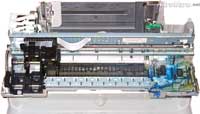 Where did all my printer ink go? Part 5 - Canon
Canon PIXMA iP-1600 Bubblejet Printer tear down and analysis