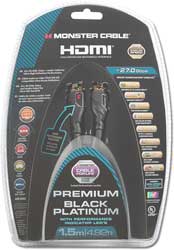 No two cables are the same, mechanically or electrically. What is undeniable with copper cables is the requirement of higher specification cable assemblies to meet higher bandwidth requirements. Anyone who thinks otherwise is grossly misinformed. This is the case with many types of cables whether they be coaxial cables for RF signals, twisted pair copper for data or telephony transmission.

2014 signaled the arrival of HDMI 2.0 for consumers with displays from Panasonic and Graphics cards from NVIDIA, but what about cables?

Thanks to an opportunity from Monster Cable, we were able to compare the bandwidth handling capability of several HDMI cables ranging in price using professional equipment, testing whether these cables can handle the minimum 18 Gigabit/s data rate required to support formats under HDMI 2.0.

The cheapest and cheap cables we tested failed at 18 Gigabit/s, meaning if used with HDMI 2.0 devices and very high resolution, colour depth and refresh supported under HDMI 2.0, pixelation,jitter and other issues are possible.

Read on to see a video of the HDMI cable Eye Pattern and Bit Error Rate tests as well as Q&A with Monster Cable.
There has been ten years of debate on the interwebs - over premium HDMI cables are necessary to transport a digital signal, since 'digital' is 'digital'. We will not be adding fuel to the fire that a specific cable can improve picture or sound quality other than stating the scientific obvious, that premium cables are necessary in circumstances of high or very high (edge case) bandwidth or over long cable runs. The typical use case of a babbling power user who claims cable a is no different to cable b may does not utilize the full bandwidth capacity of the cable therefore will not come across any issues with the limitations of a given cable at reasonable consumer distances.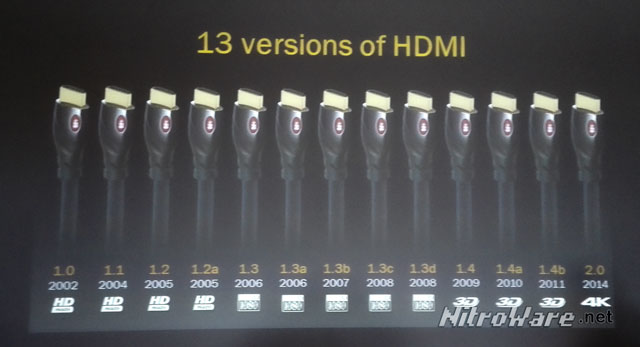 While typical bandwidth uses (versus maximum) for a HDMI cable works just fine on many cheap "$5" High Speed HDMI cables, we come to a turning point for HDMI 2.0 Compliance. Some existing HDMI High speed cables may handle the new 18 Gbps rating for HDMI 2.0 but it all depends on the quality. Cheaper cables may be only tested at shorter lengths or minimum requirements.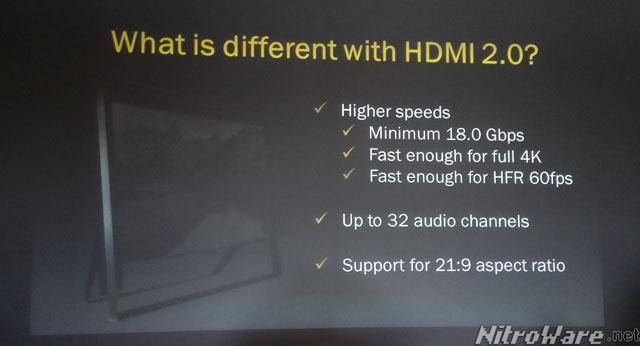 Monster seem to have learn from customer feedback and the realities of the industry that any company can no longer claim their cable may deliver better picture or sound than another cable, and that a company can only claim actual technical merits for its products. What Monster is trying to push with their new HDMI product offering is they claim their cable series is the 'one cable you will ever need' and they guarantee their product will never be obsolete. It can deliver its advertised bandwidth, exceeding HDMI specs or they will replace it at any time in the future should the cable prove obsolete.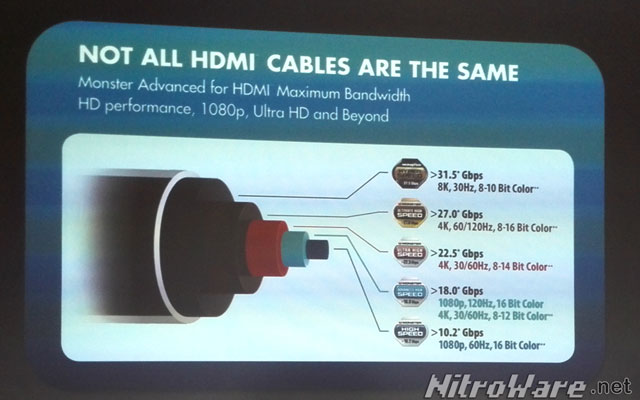 To prove this, Monster Cable demonstrated their cable testing station to NitroWare at a media briefing event in Sydney, comprising of several clock generator devices to replicate the aggregate 18 Gbps bitrate in a HDMI 2.0 Signal , which is then fed though a HDMI cable of choice (cable under test) to a Tektronix Digital Signal Analyzer which provides a graphical representation of the quality of the clock signals using an industry standard eye diagram. We did not notice any 'funny business' in the test rig itself or the test procedures.
A Dell Laptop connected to the test jig serves as an auxiliary display as well as a test controller and results analysis/statistics station, which only only provided analysis and control for the Eye pattern test in software but also for the bit error rate test
The test comprised of a A-B comparison of Monster Cable's Premium Black 27.7 Gbps high bandwidth HDMI 2.0 cable versus a selection of locally sourced/branded HDMI cables.
Without prior knowledge we brought our own used $5 HDMI 1.4 High Speed cable sourced from a Sydney Electronics supplier to the media briefing and proposed to have our cable tested on the measurement jig (for fairness) After some convincing, the staff from Monster Cable USA and their AUS distributor had no qualms, being ultra confident in their product.Our own cable failed testing at 18 Gbps, with high of noise/errors at this bandwidth as shown in our video.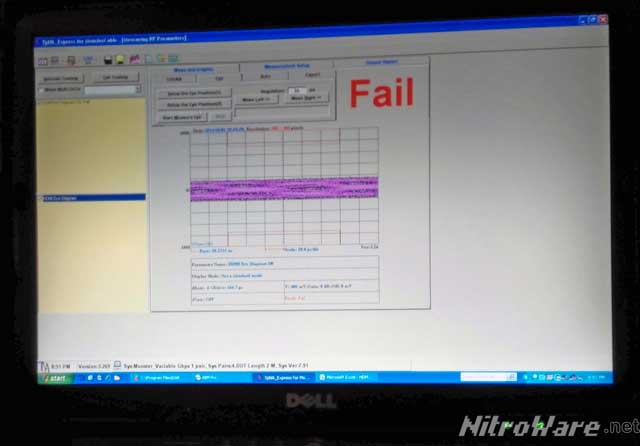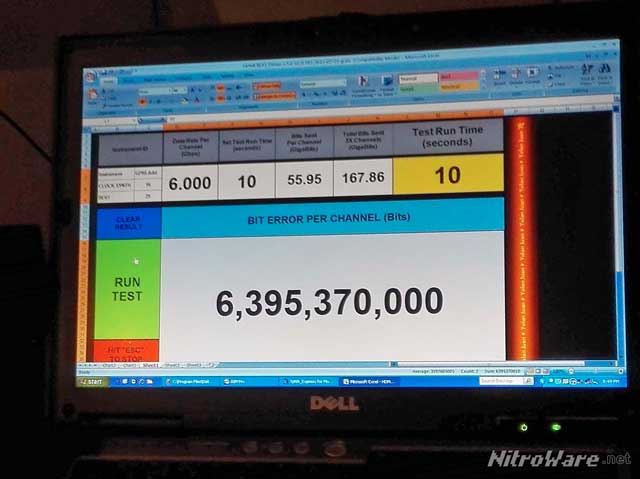 Our video of the HDMI 2.0 Eye Pattern and Bit Error Rate test, including equipment description as well as an interview with Monster cable is below.
The moral of the story is regardless of the vendor you chose to source your HDMI cables from, there is claimed performance and actual performance. While a cable might be fine at legacy 'High Speed' it is not guaranteed to, or might it be tested handle higher bandwidths it may not be designed or able to handle a higher bandwidth. You get what you pay for.

Several resellers at the moment such as US based monoprice are offering cheap HDMI 2.0 cables, there are nothing wrong with budget cables and we recommend these to our readers. However, while these cables may work fine at HDMI 2.0 18Gbps speeds but for use at this speed one can only take their word for it. Only a quality (parts and labour) guarantee not a bandwidth guarantee may be offered for such products. If you are a discerning user such as a PC user using high refresh rates or 3D or an owner of 'beautique' video gear such as a 5K+ RED camera, such bandwidth guarantee may be desired.

At time of test, HDMI 2.0 display availability is very limited and is the restrictive factor in independent objective testing. Display output devices can consist of NVIDIA's GTX 970 and 980 Desktop and Notebook Graphics chips plus further to be released parts from NVIDIA themselves and their competitors.

Special features of the Premium Black cable line include their cable guarantee, a LED indicator to visually show the data rate the HDMI signal is operating at (up to 4K), 27 Gbps bandwidth excess of the standard 18 Gbps, strong grip plugs and PCB termination in the HDMI plugs for better durability. Prices vary per length with 4 foot model retailing for US$80 at amazon.com.