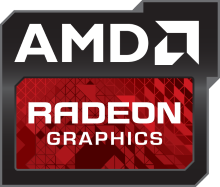 2013 has been one of the busiest years for PC gaming /enthusiast computing on record. We have seen quarterly announcements, promotions and initiatives from AMD and NVIDIA, competition has never been more fierce. Today, the latest iteration of AMD's game bundle program goes into effect where you can finally choose your games, embodying the message and meaning behind the program name, Never Settle.

The program has been praised and controversial at the same time, with a major issue being devalued and duplicate game titles. This update goes some way to improving the situation for keen gamers who keep their game libraries up to date. It does not satisfy everyone though.
We review AMD-ATI game bundle history over the past decade and discuss what AMD could have done differently with Never Settle Forever.

Updated 11-September: The first update to Never Settle Forever has been announced being Deep Silver's Saints Row 4 and Australian specific avalibility.
We have had Never Settle: Reloaded, Level Up and now Never Settle: Forever. What is next? Never Ever Settle, Live free and Never Settle, Never Settle 6.0, Never Settle: Returns, Never Settle: Rises, Never Settle: Infinite, Never Settle: Infinity, Never Settle: [Be] Invincible?
AMD Radeon Game Bundle History
ATI and AMD had a legacy of bundling Triple AAA games with their graphics cards over the past ten years. Here is a brief history of their past attempts with their flagship products.

2003 - Radeon 9800 XT (R360)
Valve Half-Life 2.

A few brands also shipped the HL2 coupon with R350 based 9800 Pros during but the launch of the XT refresh in late 2003 heralded the introduction of the bundle.
2007 - Radeon HD 2900XT (R600)
VALVE 'Black Box' - Episode Two, Portal, and Team Fortress 2
2009 - HD 5800 (Evergreen)
Aliens v Predator and/or DiRT 2
2011 - HD 6800 (Northern Islands), 2012 - HD 7900 (Southern Islands)
DiRT 3, Deus Ex: Human Revolution
2012 November - Never Settle
Far Cry 3, Hitman Absolution, Sleeping Dogs (HD 7970 bundle)
2013 February - Never Settle Reloaded
Crysis 3, Bioshock Infinite (HD 7970 bundle)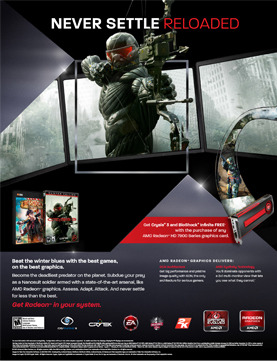 2013 May - Never Settle Level Up
Crysis 3, Bioshock Infinite, Tomb Raider, Blood Dragon (HD 7970 bundle)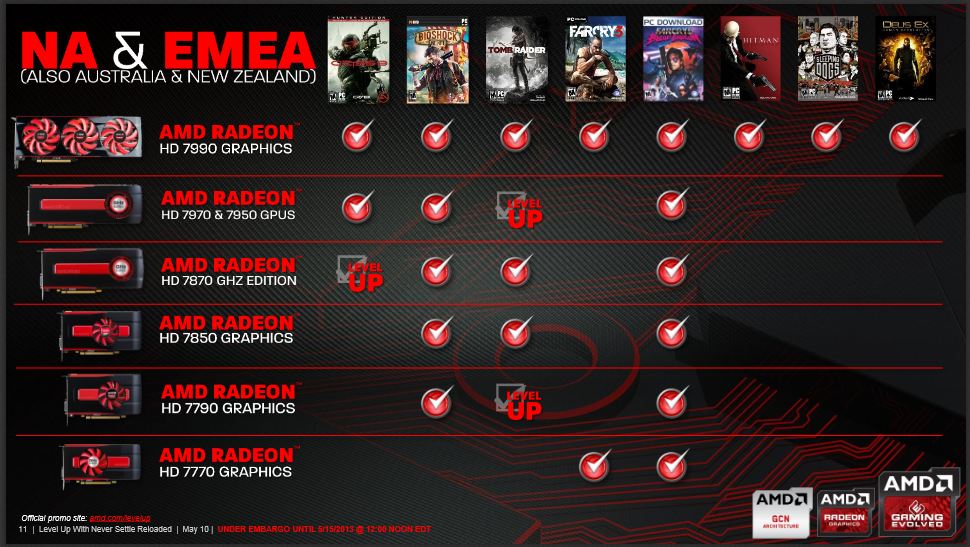 2013 August - Never Settle Forever
Three titles of a users choice from the Gaming Evolved/Never Settle catalogue.(HD 7970 bundle)
2013 September - Never Settle Forever Update
AMD has delivered on its promise to frequently add new games to the program until the end of the year and has done so by adding Deep Silver's Saints Row 4 to the program, avalible for gold tier users (7900) class. This title is actually a suprise as not only is it a popular and recent title but here has been no previous clue to it on any AMD Gaming Evolved materials.

In conjuction with the title update, revised Australian pricing had been announced for Radeon gold tier cards as of :
AUD $949 HD 7990
AUD $479 HD 7970 GHz Edition
AUD $419 HD 7970
AUD $319 HD 7950
Of course these are merely RRPs and during 2013 7970GE cards have been under $410 on sale several times. 7990s sell for around $899 additionally since the $949 price cut was applied recently. For those 'confused' by the Australian exchange rate, $949 equates to $882 US dollars which even at the revised price does not completely solve all issues with the product.

At the original time of the NSF annoucement, 7990 was bundled with a fixed set of 8 Gaming Evolved titles but the dual GPU product is being switched over to Radeon Rewards.
Never Settle Forever
Like the Never Settle promotions in general, NSF applies to the mid to high performance Radeon product mix. 7750/7770 non GE is not included.

In short, you can now choose which games you want to redeem from the greater catalogue of Never Settle Titles. However, Crysis 3 and Bioshock Infinite are not available as they are either exhausted, their licences expired or tied to current Never Settle: Reloaded game bundle stock in e-tail/retail/channel.
It would have been good to offer older titles in the promotion such as Dirt 2 or even Battlefield 3 but these are beyond the scope of the program. Sim City is bundled with AMD APUs yet has not been included for discrete cards
Desktop PC with AMD Radeon HD 8700 series

AMD Radeon HD 7790
AMD Radeon HD 7770 GHz Edition

Desktop PC with AMD Radeon HD 8800 Series

AMD Radeon HD 7800 Series

Desktop PC with AMD Radeon HD 8900 Series

AMD Radeon HD 7970 GHz Edition
AMD Radeon HD 7970
AMD Radeon HD 7950

Never Settle Forever Tiers and Catalogue

RADEON REWARDS
BRONZE – 1 GAME

RADEON REWARDS
SILVER – 2 GAMES

RADEON REWARDS
GOLD – 3 GAMES

DiRT Showdown

DiRT Showdown

DiRT Showdown

DiRT 3

DiRT 3

DiRT 3

Far Cry 3 Blood Dragon

Far Cry 3 Blood Dragon

Far Cry 3 Blood Dragon

Far Cry 3

Far Cry 3

Far Cry 3

Sniper Elite v2

Sniper Elite v2

Sniper Elite v2

Deus Ex Human Revolution

Deus Ex Human Revolution

Deus Ex Human Revolution

Sleeping Dogs

Sleeping Dogs

Sleeping Dogs

Hitman Absolution

Hitman Absolution

DMC Devil May Cry

DMC Devil May Cry

Tomb Raider

Saints Row 4
Introducing Radeon Rewards, the new AMD game redemption portal
AMD have created a user portal for users to store and track their keys called 'Radeon Rewards', versus the old single use redeem and email me my keys redemption form on amd4u.com/radeonrewards.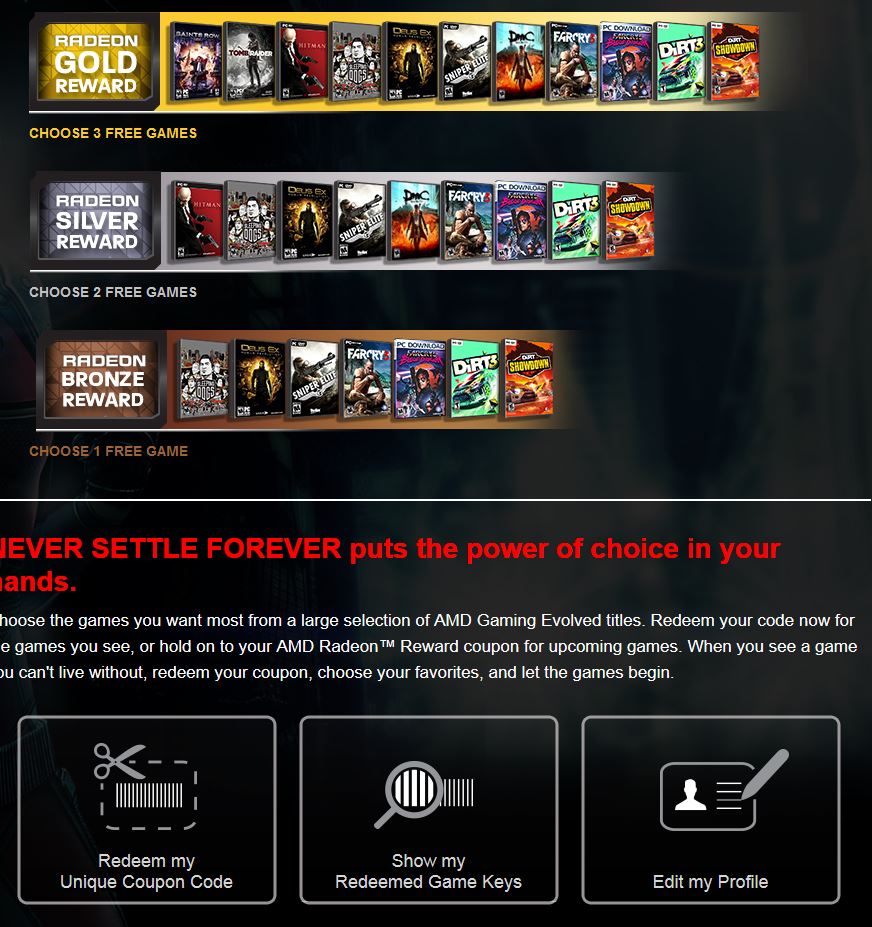 Logging into the new 'Radeon Rewards' portal, we can see that like the current/former AMD4U redemption system, one AMD coupon code equals multiple game keys and as such must be redeemed in one go.
Previous versions of never settle would redeem multiple game codes via email in exchange for a master AMD code.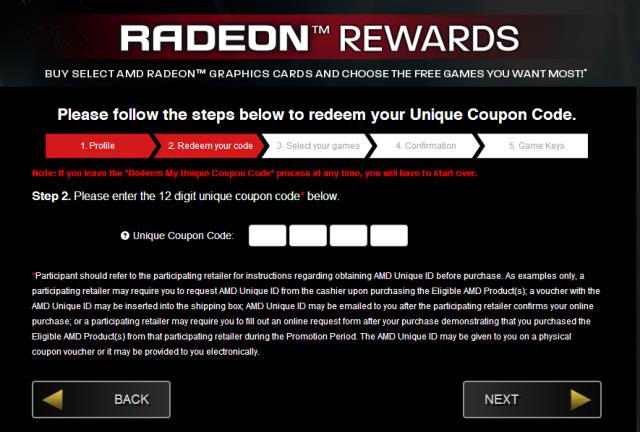 What would have been optimal was to issue one AMD coupon code valid for only one game key. However this would allow enable users to trade and sell these codes for market value(contrary to the terms and conditions of the promotion), given they would be valid for any game available for redemption in the AMD4U/Never Settle Forever system.
This would be counterproductive to AMD and the game publishers' efforts to minimise cost and maximise exposure for the catalogue of bundled games. End users would hoard or trade these keys even against the terms and conditions of the promotion.
End users have been trading and selling keys, some even buying graphics cards when on sale just to leverage the bundle. Additionally, an expiry date of December 31, 2012 gives us a short window to wait for new games to be added to the catalogue.
AMD's solution does not address code region locking either, an issue we reported on previously. http://www.nitroware.net/reviews/278-amd-never-settle-ubisoft-uplay
Our proposed version of Radeon Rewards/Never Settle
What AMD could have done was still issue one master code, redeem that code into a game count. For example: 'You have 1-n games remaining to claim'. This way, any security issues are minimised and user choice is preserved.
The way things are now is that end users can trade AMD master codes anyway so this proposed solution is no worse than what exists.. Modification to the system would be required as the new 'Radeon Rewards' is a slight modification of the previous system.
For example, a 7990 code would give you 8 game credits, a 7970 code would give you 3 credits and a 7790 code 1 credit within the system.
The only down side to this approach is lost publicity for the catalogue of bundled games. This can be rectified with increased co-marketing between AMD and he game studios/publishers.
One approach is random graphics card branding which is what NVIDIA used to do. Remember the NVIDIA GeForce 6600GT and its Doom 3 heat sink skins, or GT200 series with Batman skins?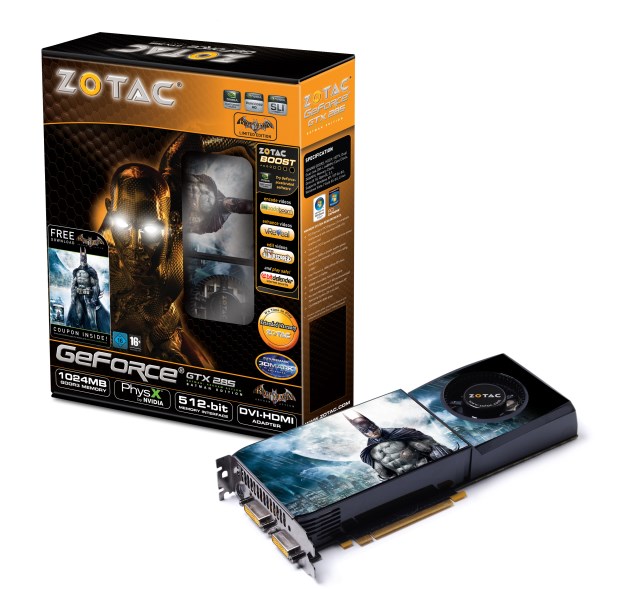 Produce each graphics cards box and heat sink with a random skin for a specific never settle game. The artwork would also be replicated on the card' heat sink cover. This would have some enthusiast/gamer appeal as some end users would like a 'Bioshock' liveried card or a 'Blood Dragon' card, or a Crysis card. The mix should be completely random, rather than special editions.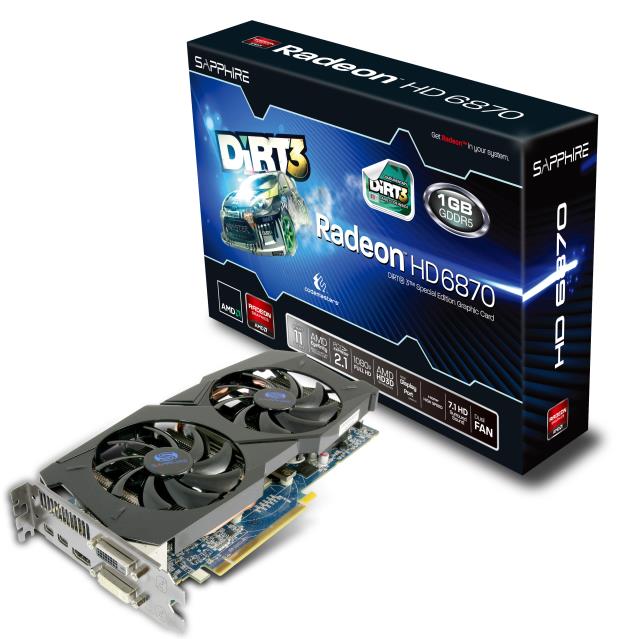 Randomising the game advertising on the box helps promote the various games, especially when cheaper cards are sold to non-gamers.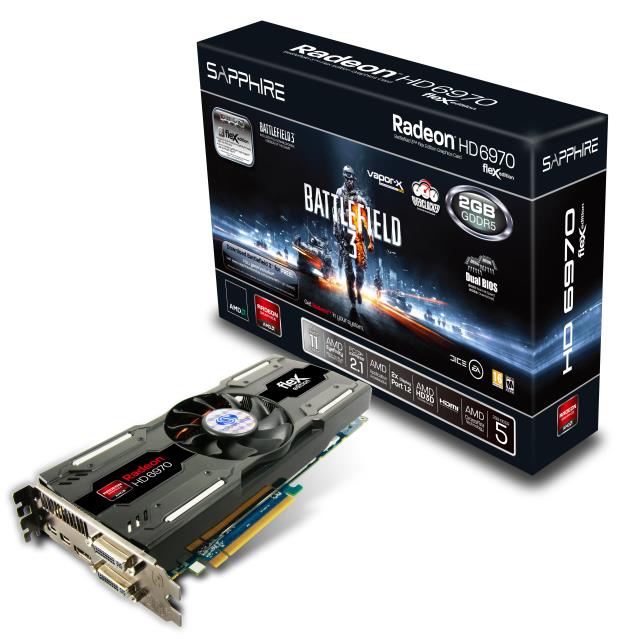 There can an added licensing cost to licence the game trademarks but this can be offset by marketing benefit. Since AMD had the power to create Never Settle; they could also make this approach work.
Verdict
AMD have tried to fix the shortcomings with previous Never Settle Bundle and what they have done with Never Settle Forever is a step in the right direction, a compromise between business needs and consumer benefits. The previous Never Settle Reloaded bundle ran way longer than it needed to, resulting in severe perceived devaluing of the bundled games, especially Bioshock.
The term Never Settle implies an end user should have the power to choose what they want, to 'Never Settle' and for the time being this is exactly what AMD have delivered.
We will see upcoming AAA titles added to the program over the next quarter, especially when new graphics hardware launches. Whether they will actually be the titles that were rumoured to be added remains to be seen.
Never Settle had boosted PC gaming for everyone concerned including competitors such as NVIDIA and INTEL.

Never Settle Forever will be available from participating retailers once existing stocks are extinguished. We recently have heard increasing complaints from readers through our chat, various forums and twitter of resellers not honouring the bundle program. Resellers are not automatically issued game codes via AMD/Channel distributors. Only participating resellers, typically more well known higher volume stores offer the bundle. Resellers who want to participate must communicate with and order stock authorised distributors of AMD products

AMD Australia notified us that particpating resellers and distributors as of September 2013 comprise of:

Reselllers
Umart, Computer Alliance, Gamedude, MSY, CPL, J&W, IIbuy, IJK, ARC, LDS, Centrecom, Scorptech, PCCG, Mwave, Playtech, PBTech, Austin, PLE and NetPlus plus others.

Distributors

Synnex (AU/NZ), Altech, PB Tech, Dove, Rectron and Achieva Technology.