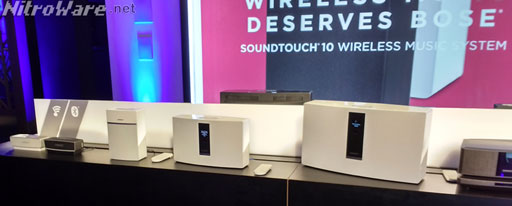 Bose's 2015 SoundTouch speakers offer internet music streaming connectivity, precision audio design and ease of use. With the compact SoundTouch 10, Bose is trying to appeal to an audience who may be new to the brand. Does Bose's efforts warrant your hard earned money? We discuss this in a preview of these new speakers.
Ease of use and convenience is key in a saturated device market
Overview
At an exclusive high end launch event complete with live band, Bose Australia introduced its 2015 line of wireless speakers as well as new offerings in its earphone and headphone line-up to media and VIPs. I will be honest that when first presented with their new SoundTouch 10 wireless speaker during the demo session, a compact unit designed for small rooms such as bedside table or office desks, I groaned inside my head with 'here we go again', remembering the dozens of premium designed wireless speakers NitroWare has sampled over the past years from a variety of vendors such as Creative Labs, JBL and others.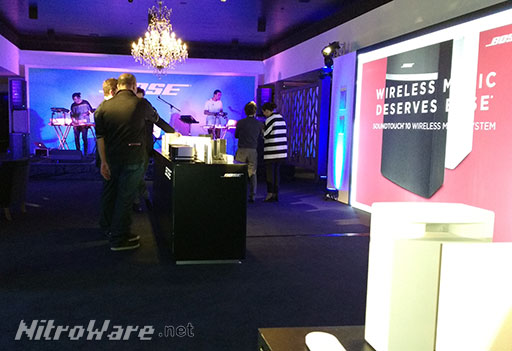 However once what was unique and relevant with the new speakers was explained, I was able to accept the new product concept and in fact liked the twist Bose as put on it. The main question we have to product reps at the various launch events we attend where devices from a saturated/flooded market segment are concerned is how the product is different to the competition and what is its unique features and benefits. If this question is not answered satisfactorily by the vendor then as an evaluator, we know the product (and vendor) in question is not worth the valuable time and money of our readers.
In a nutshell, what sets the Bose SoundTouch line-up apart from other wireless speakers is self-contained network audio streaming functions within the speaker as well as 6 easy to use pre-set buttons which we have not seen on other devices. These two key features are what sets the new Bose speakers apart from competition and provide a very easy and convenient way to switch between your favourite music sources without having to fumble with the controller of your choosing whether it is a PC, phone or tablet although that option is available if you want it.
Rather than just build a 'better sounding' speaker, Bose looked at how end-users use such devices and improved their design and functionality from the use case point of view, which is what was desperately needed in this market segment. As mentioned previously, there are hundreds of Bluetooth/Wi-Fi speakers on the market most of which only act as a sink, which means they can receive audio from a transmitting device such as PC or Phone/Tablet via Bluetooth and Wi-Fi and offer limited controls such as volume or transport (previous/next) and speakerphone functions if you are lucky. Many of these products are good products and from a speaker point of view, with well-designed acoustic chambers, stylish cabinets and well-tuned Active Equaliser/DSP circuitry to optimise the incoming sound for the particular speaker's unique characteristics. They may sound good, but what about ease of use?
One has to navigate the often cumbersome UI of the particular transmitting device's audio player software, and/or tie up that device to perform audio streaming duty specifically with the tethered speaker.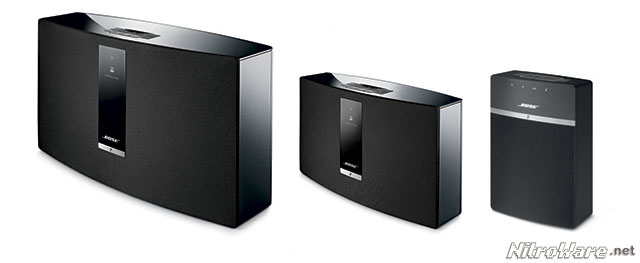 Design and Features
The SoundTouch speaker can deliver audio by at least three methods. A traditional analogue 3.5mm auxiliary jack, direct Bluetooth streaming from a controller such as a PC or Phone/Tablet or standalone mode directly from the Internet or a Network Device Via Wi-Fi or Wired Connection to deliver services such as Pandora or Spotify, plus your own music library.
We also have three ways to control the audio source. Directly on the speaker cabinet with dedicated keys to select between Bluetooth and Aux Input plus six pre-set keys, these controlled mirrored onto the bundled Infrared remote control and thirdly the same controls mirrored onto an application for your PC, Phone or Tablet. You can use Bose's App or controls built into enabled apps such as Spotify.
The usability and flexibility of the SoundTouch 10, 20/30 Series III are its pros, but these products are not perfect, especially that they are 'lifestyle' products rather than meant for the audiophile or ultra-enthusiast who needs the latest and greatest, with all knobs and dials.
The entry model, the SoundTouch 10 meant for small rooms and desks is a monaural speaker, however Bose claims that overcome perceived loudness and fidelity of such a 'small' speaker enclosure, they developed a 'transducer' that for its size (2.5 inches) is "the loudest and with the highest excursion in Bose's history." and which they believed was "better than any in its class that they have tested" Bose's spokespersons were careful to classify the significance of this transducer to avoid associations with competitor technology. The SoundTouch 10 uses a typical bass port in the cabinet and is a MONO speaker due to its size and marketing.
The SoundTouch 20 pairs two full range transducers with a bass port while the 30 foregoes the full range driver setup and opts for two 'twiddlers' for mid/highs and a woofer coupled to Bose's proven Waveguide technology for bass frequencies, which can be found in some of their older/existing consumer lifestyle audio products as well as some Bose Audio enabled cars such as from Mazda and Nissan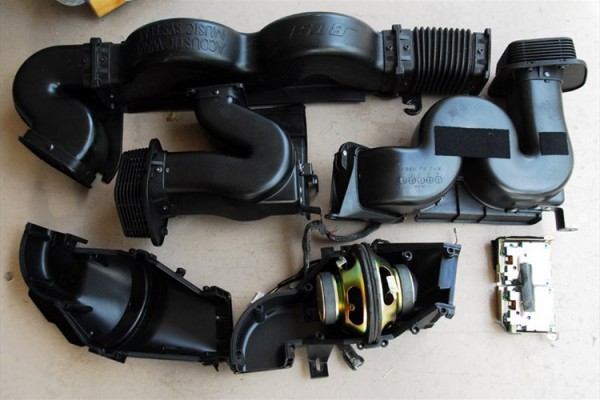 A waveguide is an engineered acoustic chamber that is designed to enhance high and low frequency sounds without the use of high powered or exotic speaker drivers.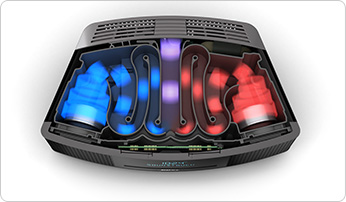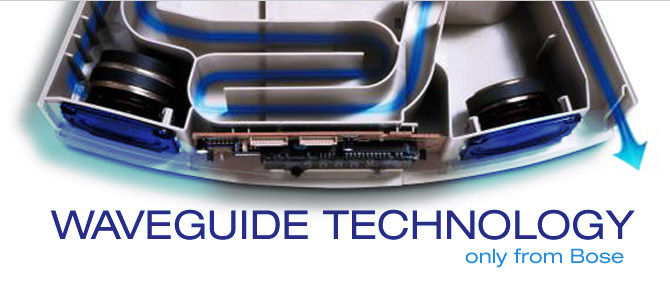 The 20 and 30 add a clear and crisp monochrome OLED display to display the current audio source, however a quirk with the firmware is the display disappears when the volume is adjusted. Additionally with the samples we saw at the Bose event, only the artist was displayed on the OLED E.g. "Michael Jackson" or "Niles Rogers", it would be nice to see Artist - Track displayed plus the volume simultaneously. There seems to be enough pixels on the display to accommodate this, however this is just a subjective observation on our part. The 20 and 30 also add a wired Ethernet jack for those not wanting to connect to their network infrastructure via Wi-Fi.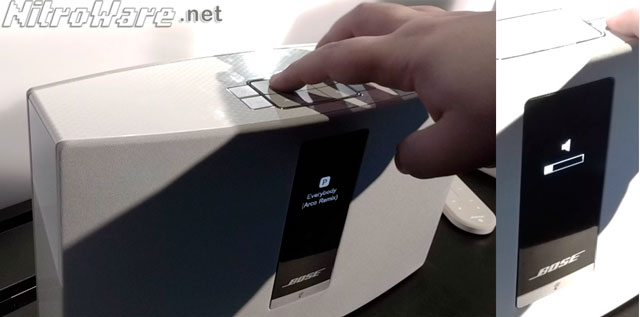 All three models have weight to them and are mains powered using a built in power supply and figure-8 mains cord. There is no provision for battery power as these are not designed or intended to be portable speakers on any level. Active Equalisation using DSP technology is used in these products to enhance bass and treble.
The SoundTouch 10 has dedicated LEDs are available to signal the different states, versus other speakers which offer a combination Bluetooth/power LED, whereas the 20 and 30 use the OLED screen for this purpose.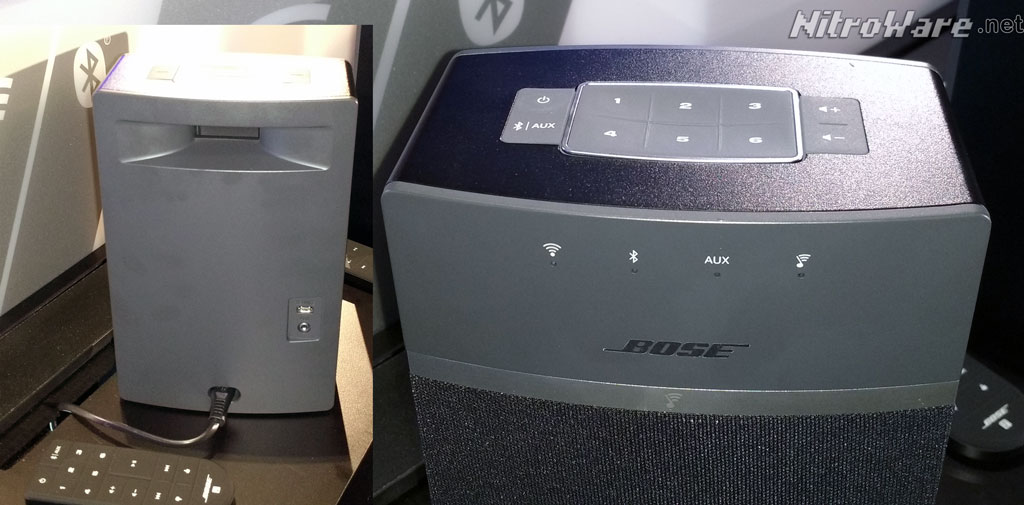 The SoundTouch series do not use One-Touch WPS (Wi-Fi Protected Setup) button to perform the one time setup to get the speaker onto the Wi-Fi network. Instead a PC or Mac is used via USB cable to perform the initial setup, configuring network settings, user account and updates.
Alternatively, a phone/tablet can be used via temporary Wi-Fi mode, either way any controller device is required to setup the device in the first place, i.e. audio sources/pre-sets
Software support is a key part of all three speakers. They can not only stream audio directly off a network without a transmitting device, but can also change sources/tracks/stations using hardware controls on the speaker, IR remote or phone/tablet PC. Through the Bose SoundTouch App, Spotify, Pandora, iHeartRadio and Deezer can be added as radio station sources. The system's six presets can be personalised to playlists, artist or radio station. The App additionally supports multiple speakers. iTunes library and DLNA is supported allowing the speakers to connect to music libraries connected via popular routers, NAS and PCs.
Additional software features will be delivered early next year. Full search and control of Spotify via Bose SoundTouch App and Spotify's own app will be available giving users a choice of applications. Bose or Spotify's, 'Spotify Connect'. Customers will be able to order a SoundTouch speaker from Bose.com pre-loaded with their preferred music sources direct from the factory, 'ReadySet'. Older SoundTouch speakers will receive a firmware update to update their streaming software.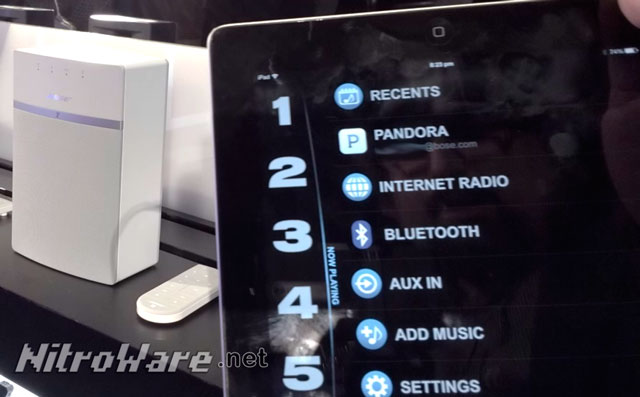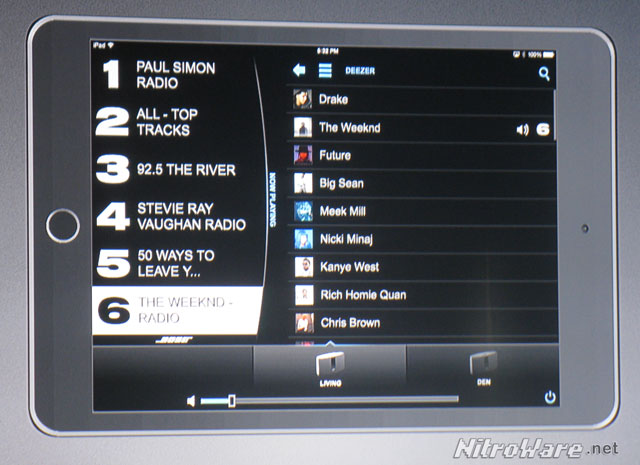 Specifications and Internals
If you are new or only vaguely familiar with Bose 'lifestyle' Speakers, the company is very hush about their raw performance and specs.
Instead, Bose like to talk about their technology and designs, they also don't do interviews on record with the media (at least BOSE Australia). Things like amplifier power, frequency range, Distortion, SPL are not disclosed in the marketing materials for their lifestyle products. However, they do disclose enough design related information that one with technical knowledge of audio products can deduce certain typical performance specifications.
Power output can be vaguely guesstimated from the speaker's power consumption and dimensions.
Regardless, these technical specs are typically not in the wheelhouse of some media publications who cover Bose lifestyle audio products or the target market for those devices. To bring our readers the facts and technical info; to make up for lack of on-record interviews and our usual video content, we convinced Bose's handlers at the Bose SoundTouch Australia launch event to give us some one on one time with Bose Australia's training manager who was able to add some 'flavour and colour' to some of the technical and design aspects of these speakers.
| Model | AUD RRP | AUD Street | USD Street | EUR Street | Size | Weight | Power Consumption |
| --- | --- | --- | --- | --- | --- | --- | --- |
| SoundTouch 10 | A$ 299 | A$ 269 | US$ 199 | EUR 175 | 21 cm H x 14 W x 9 D | 1.9 KG | 30 Watts |
| SoundTouch 20 Series III | A$ 499 | A$ 438 | US$ 349 | EUR 385 | 19 cm H x 31 W x 10 D | 3.2 KG | 90 Watts |
| SoundTouch 30 Series III | A$ 799 | A$ 672 | US$ 499 | EUR 549 | 25 cm H x 44 W x 18 D | 8.4 KG | 150 Watts |
AUS prices include 10% Sales Tax. Sources: staticice.com.au, jbhifi.com.au, staticice.com, amazon.com, newegg.com, geizhals.at as of 26-OCT-2015.
Yes, these is all the specs Bose disclose, really.
SoundTouch 10
We managed to source an exploded diagram of the SoundTouch 10 from Bose, which was not initially provided to media who demoed these products at Bose's event. We have annotated the diagram, labeling the component parts of the speaker and this virtual teardown should suffice until we review the Speaker in-depth at a later time.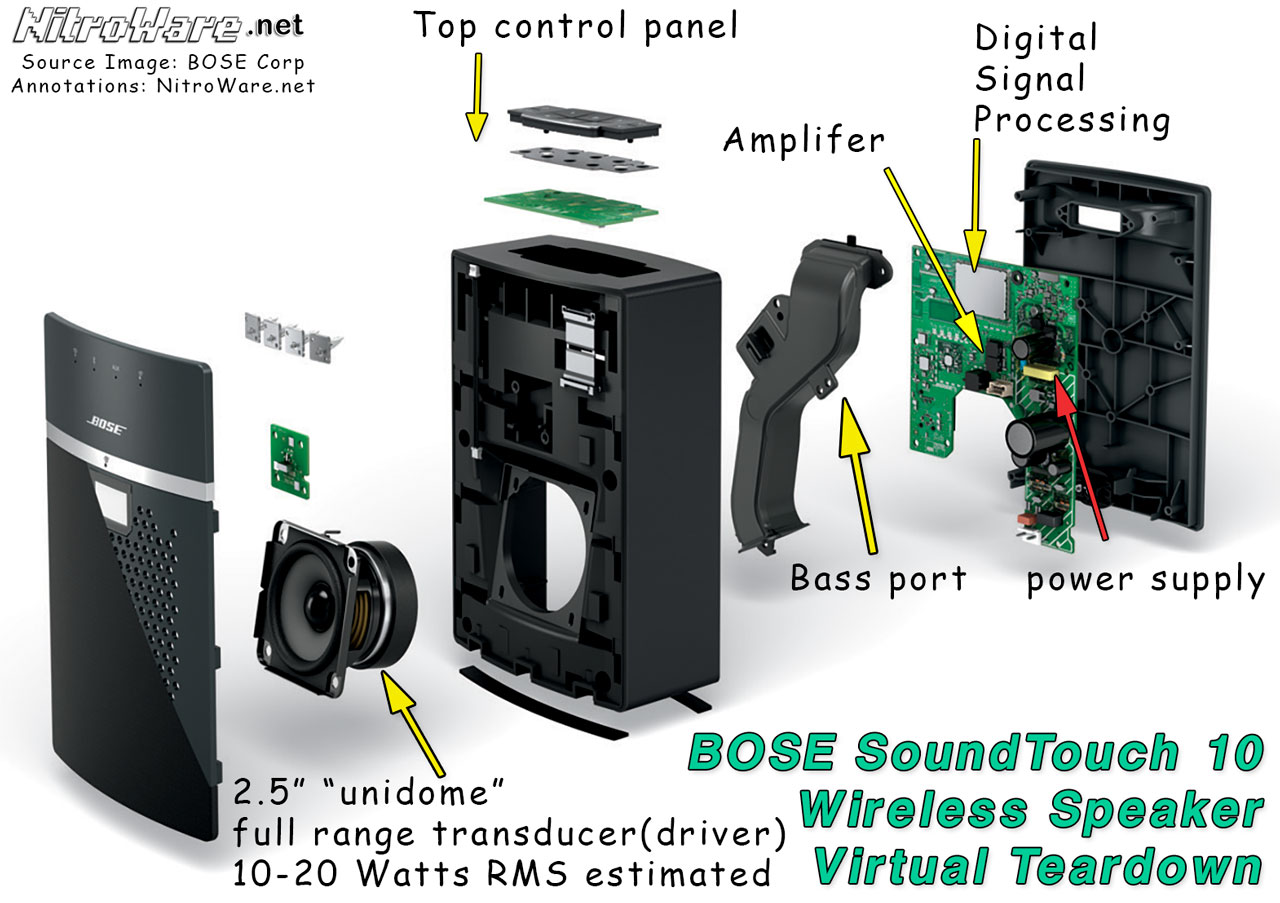 The 10 is an all new 'affordable' entry into the Bose ecosystem, using a new compact form factor and the 2.5" driver/transducer in order to deliver optimum sound performance for size, while the 20 and 30 remain and carry forward the traditional and recognised Bose look and sound.
Below recording is intended to give an indication as to how the Soundtouch 10 sounds in a quiet room and is not intended to reflect the fidelity or frequency range of the device.
SoundTouch 20/30 Series III
Some Bose consumer products use full range drivers (Bose call them transducers) such as on the SoundTouch 20, while some use split system of high/mid and low frequency drivers such as on the SoundTouch 30. Bose use what they term 'Twiddlers' (combination of Tweeters and Mid-Range Drivers for high and mid frequencies) coupled with a woofer and a waveguide to deliver enhanced stereo Sound across the entire frequency range, low to high.
The third edition of the 20/30 adds a new wireless radio, specifically Wi-Fi 5GHz and Bluetooth Support to unify the SoundTouch product range. Bluetooth comes at the expense of AirPlay, which is not available in the latest model.
We struggled to find any other differences, either advertised or not. The thing with speakers is a good design is timeless and only the digital systems or software need updating over time.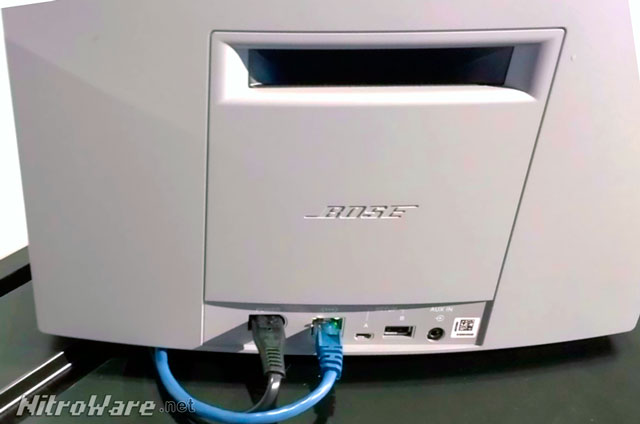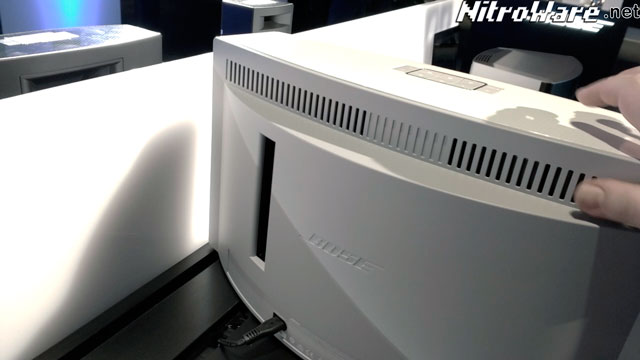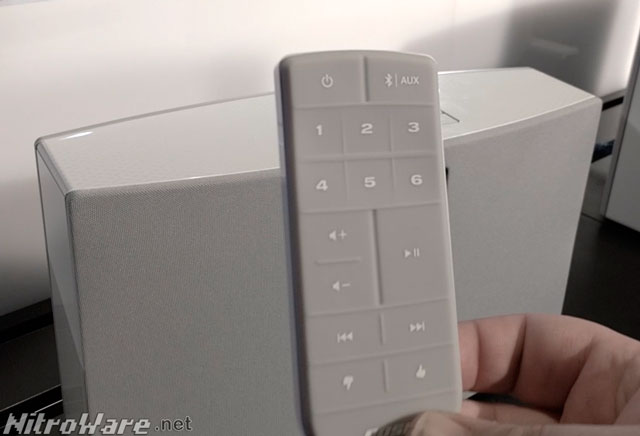 Verdict
Bose's SoundTouch speakers solve a usability problem, to make network streaming or wireless speakers easier to use and fit better into someone's daily life. Looking at the three speakers launched, we like the hard key pre-sets which remind us of 'old' radios with their dedicated radio pre-set push button and ease of us.
We would have liked the entry model to be stereo and those of competing brands at similar and lower prices are great sounding Bluetooth speakers, however Bose claims their design is better and it was too hard to make a working stereo array in the given cabinet size.
We would also have liked the optional AptX audio CODEC for Bluetooth to be supported also. AptX can offers higher bandwidth and wider frequency range over the built in SBC CODEC that is part of the Bluetooth Audio streaming profile. Bose claims that there is little merit for AptX given these speakers will mainly be used to stream internet radio and other lossy audio sources.
Could the SoundTouch 10 also benefited from an Ethernet jack and an OLED display? Yes, these are not expensive to implement at the price point or technically however utility would be questionable for the users who would consider the entry level such as first time Bose owners. With the built in standalone streaming capability, a screen would have been ideal and enhance the value proposition.
Bose is not for everyone, it is a lifestyle brand and we know quite well many of our enthusiast readers groan at their mere mention of the brand. Of you all we ask is to consider the merits of the device objectively.
As a hardware reviewer, geek and audio/visual enthusiast, I am looking forward to seeing inside these Bose speakers to see what makes them tick. I am not in the market for a wireless speaker, if I was I would personally be skipping the SoundTouch 10 as I am personally biased to wanting a Stereophonic experience first and foremost and second, a display for the asking price. But I can see how the SoundTouch 10 will integrate well into living rooms, offices and dens, especially for first time Bose owners.
Other brands have made Internet Radios/Streaming Devices and wireless speakers separately, now if only they all put 1 and 1 together to make 3 as Bose have done.
Bose is still riding the coattails of its multi decade legacy and heritage yet trying to appeal to a new, younger audience with the introduction of products such as their newer QuietComfort Noise Cancelling headphones and SoundSport earphones. In an ever increasingly competitive market the firm must adapt to stay relevant to increasingly savvy consumers. This doesn't mean just taking influencers and bloggers on-board, many of whom unknowingly or knowingly tout the company line anyway, but relaxing grip on some outdated ideals such as specification blackout or adapting technology into new products and markets.
The firm seems too afraid of consumers using performance metrics as a benchmark when shopping, so has stayed out of that debate where possible, relying on consumers recognising their brand heritage or promoting their brand advantage where possible as we previously described. The latter, their own 'better sound through research' mantra can be proven by any competent evaluator by looking at the product internals and design as well as published academic papers. There is no doubt of Bose products from an audio engineering side, but as shown with the 2015 line-up, very minor updates to existing products are made out to be breakthroughs,.
Despite being personally disappointed that Bose designed a mono speaker as an entry device. The Soundtouch 10 (and 20/30 Series III) are good, well designed and engineered speakers. But should you buy them? That depends if you care about 'speeds and feeds' or not. If you do, there are many better value and speced wireless speakers on the market. If you don't, the Soundtouch 2015 line is well 'polished' and has great connectivity features, but you pay for this privilege.
Panasonic offer a slightly up-spec competitor to the SoundTouch 10 in their Mono ALL-2 Wireless Speaker at A$349 http://www.panasonic.com/au/consumer/home-entertainment/wireless-speaker-systems/sc-all2.html offering the following over the SoundTouch 10: A larger driver (80mm v 65mm) with 40W RMS power, LED clock, Ethernet port, WPS wireless pairing, FLAC lossless audio support, yet still with six preset keys and Spotify certfication. Are these features worth an extra $50 over the Bose? I'd say so, but Bose will claim they sound better and have strong brand advantage and recognition with consumers . Each to their own.
Pros - SoundTouch 10
Comprehensive Network Audio Streaming functions, supporting popular sources like Spotify and Pandora
Innovative pre-set controls on speaker, IR remote and controller device
Precision engineered and designed chassis
Multi-Platform software support including Windows PC/MAC/NAS support using iTunes or DLNA
Mains powered - not a 'toy' battery operated product.
Dual band Wi-Fi
Possibility of additional features added via firmware update E.g. Clock related functions
Comprehensive online help/support, especially for third party devices such as Routers and Network Attached Storage devices
Cons - SoundTouch 10
Mono
Lack of disclosure of typical performance specifications
No LED or OLED display on entry SoundTouch 10
Airplay support superseded - older versions only.
AptX Bluetooth and FLAC lossless Audio CODEC not supported
Full Spotify functionality not available until 2016