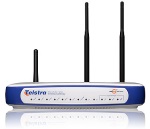 We preview the Telstra Turbo 7 Wireless Gateway by Netcomm on Telstra's NextG Wireless 3.5G Network - one of the first all in one 3G Gateway/Modem/Routers to integrate HSPA based 7.2Mbps 3.5G wireless connectivity within the unit itself.
'The Internet is a serious business' - The arrival of a true 3G Wireless Gateway allows users to never be placed in a situation again where they are forced offline due to circumstances beyond their control.
With wireless Internet speeds approaching those of traditional wired technologies such as DSL or Cable, it is no surprise that equipment vendors and service providers are embracing wireless network technologies such as 3G cellular networks and WiMAX. In 2008, users have many new and very useable ways to access the Internet on the go, especially via high-speed 3G and 3.5G cellular networks based on the standards
It is possible to access the Internet wether it's the world wide web, e-mail or instant messaging on the go via a cell-phone, an add-on device such as a 3G Modem connected to a computer via USB or a built in wireless cellular module built into a laptop computer.
Another emerging method has been the concept of a 3G Router. A 3G router is like the common ADSL or Cable Gateway device a user may be familiar with except instead of a Cable or DSL modem, the device integrate a wireless 3G radio to communicate over the cellular telephone network using worldwide standards established by the 3GSM congress such as UMTS and WCDMA, with standard 2G or 2.5G cellular networks as a fallback option.
These devices have been available from established vendors such as Netgear, D-Link and Billion Electric of late however these offerings are restricted in several ways.
The user was required to install their cellular PC card into the router to facilitate the 3G access, in affect requiring two purchases, being of the cellular PCMCIA or Cardbus add-in card wether via subscription or outright purchase as well as the 3G router itself.
In addition throughput is limited using this combination of devices as the latest speeds offered by the 3G networks are not supported. The 3G Gateways themselves were offered at a relatively high cost considering that the cellular radio component was not included in these devices.
NitroWare.net recently had the opportunity to test a revolution in this concept being one of the first 3G Gateways available which not only have a built in cellular radio supporting the fastest 3.5G speeds of up to 7.2 Megabits per second but also have a fast processor as well as 802.11G 'Wi-Fi' Wireless Networking.
Netcomm Limited, a well known and long established Australian based vendor of networking products have produced the Telstra Turbo 7 Series Wireless Gateway in conjunction with Telstra who have Australia's largest and fastest nationwide 3.5G 'NextG' wireless broadband cellular network.

The device is intended as an alternative or backup to fixed-line Internet access, especially in scenarios where a fixed line of any type is not possible or unavailable such as Trade Shows, events, site visits or certain geographical areas where broadband is unavailable due to technical or commercial constraints and a user would like to Internet enable their network.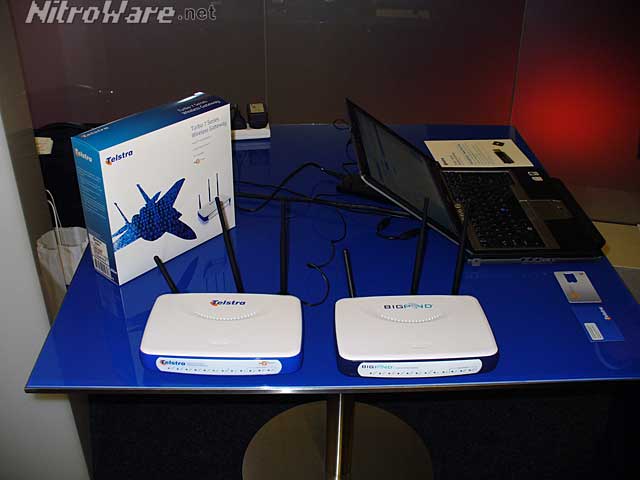 Features
The 3G9W and 3G9WT Wireless Gateways use feature the full range of features expected of a broadband gateway device such as a 4 port Ethernet switch, 802.11g wireless access point with full WPA2 security and RADIUS authentication, Routing and NAT, Stateful Inspection Firewall, VPN Pass-through and UPnP.
The Gateway runs Linux as an operating system and components such as the CPU, Networking and Cellular are supplied by Broadcom and Sierra Wireless and we will be covering these aspects in more detail in our upcoming review.
The wireless cellular radio portion of the device supports 3 and 3.5G cellular networks using the worldwide bands of 850/1900/2100MHz WCDMA . For 2 and 2.5G networks 850MHz/900MHz/1800MHz/1900MHz for GSM, GPRS and EDGE. The maximum 3G wireless speeds supported are 7.2Mbits down and 3Mbits up
A wireless card is not required for this gateway; the user simply inserts the SIM card provided by Telstra and runs the setup application from the bundled USB drive or CD where a easy to use setup wizard will guide the user through the entire setup process to get the device online. No other intervention such as accessing the Gateway's configuration pages is necessary.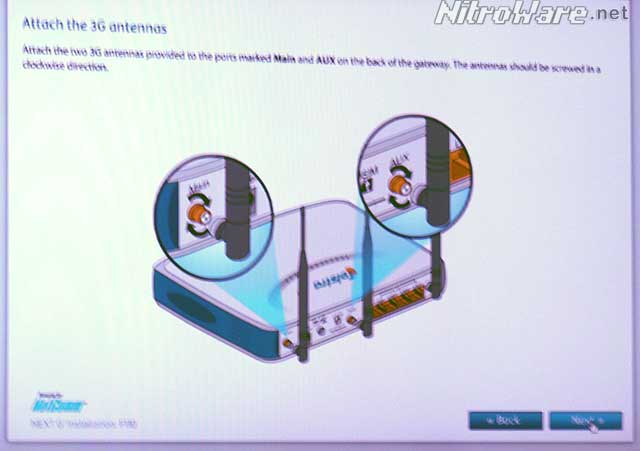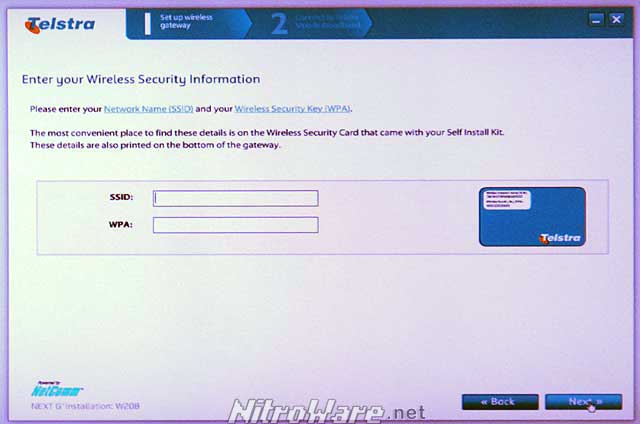 Performance
At a media event to launch this product line, Telstra stated that this Wireless Gateway delivers 550kbps to 3Mbps with 6 Mbps bursts in downstream and 300kbps to 1Mbps with 1.3Mbps bursts in upstream transmissions.
We tested these claims on a demonstration system by setting up the Gateway ourselves using the provided setup wizard via the bundled USB drive and we ensured that the test system was not configured in such a way that would deliver misleading results
Our basic tests of the Gateway and the NextG wireless broadband network consisted of browsing to some well known web sites of our choosing and downloading some files from the popular file mirror web site majorgeeks.com. We selected Australian ISP Internode as a download source for the Thunderbird Mail application and observed 115KB/s by the end of the download and the 6.44 Megabyte file was downloaded in 57 seconds.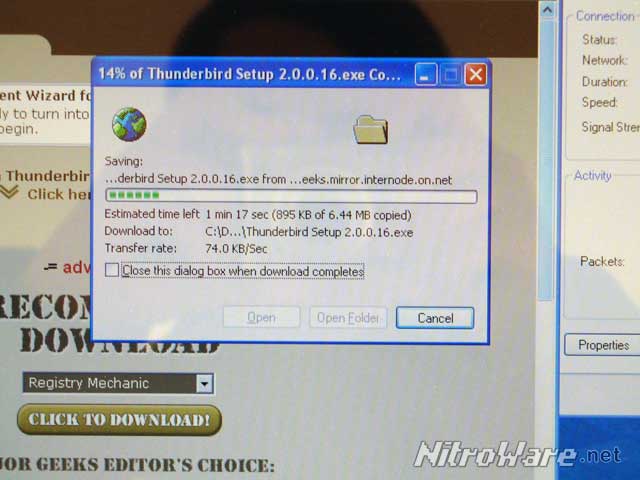 Internode's mirror of the major geeks file repository is well capable of sustaining 1-2MB/s under congestion so the source is not a bottleneck. The test laptop was connected to the 3G wireless gateway over the 802.11g 54mbit wireless connection. Latency was not tested.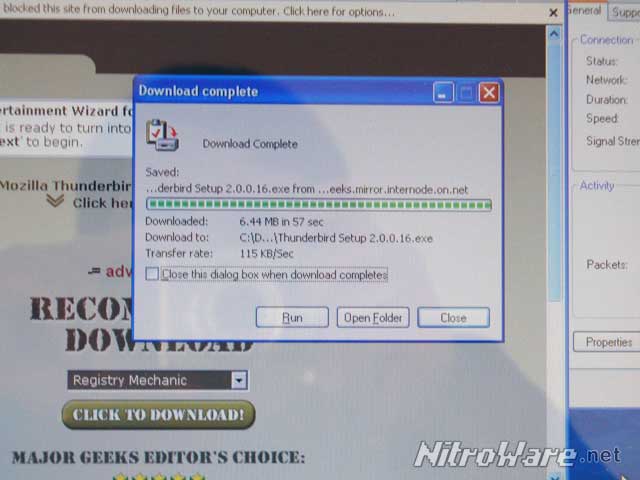 Wireless networking has large amounts of overhead and these rates represent the maximum user achievable transfer speeds out of the maximum link speed supported by the device which is 7.2 Mbps and 2Mbps respectively.
Our initial testing resulted in download speeds similar to a 1.5Mbps wired broadband connection. What makes the result impressive is that the testing location was deep within the 4th floor of a skyscraper surrounded by dozens of sources of wireless interference such as Wireless hotspots, cell phones, computers and displays within Telstra's media centre.
Price and Availability
The Telstra branded Turbo 7 Wireless Gateway model 3G9WT by Netcomm is available from Telstra outlets directly for $529 AUD outright or on a plan. A version aimed as Bigpond users will be made available however details were not available at press time
Verdict
Although style wise design of this wireless gateway was based on an existing cabinet design from Netcomm, We were impressed with the devices feature set, both internal and external as well as the bundled software which made setup amongst the easiest we have seen so far for a piece of consumer networking. Our initial testing showed that the claimed performance matched the vendor's claims and was very useable, equivalent to a wired broadband.
The only drawbacks with this device are the target market, price and availability. The device is intended for specific scenarios such s providing wireless Internet access to a computer network and is not intended as a personal Internet access solution and is priced accordingly. While the device offers full wireless connectivity for Internet and network access it still requires a power source and at this time this is a plug pack for the mains, it is still reliant on AC power. A battery pack and car adapter will be made available soon as supported accessories, and only then can the full potential of the device be seen.
Such scenarios where personal Internet access for a single user is only required are better served by pairing a USB adapter or cell phone with a laptop, using laptop with a built in 3G wireless module or accessing the Internet on a cell phone.
In an upcoming review we will put the Turbo 7 Wireless Gateway through its paces to see what performance 7.2Mbps 3G Wireless Broadband is really capable of under ideal conditions. This gateway is well suited for the task with its dual high gain 3G cellular antennas unlike PC cards or USB adapters whose antenna and wireless radios which have limited sensitivity and range.
Further Reading
NitroWare.net - DELL laptops now available with built-in GPS and 3.5G HSPDA wireless broadband connectivity
Telstra Corporation – Telstra Turbo 7 Series Wireless Gateway