Page 1 of 10
It's all about the private cloud...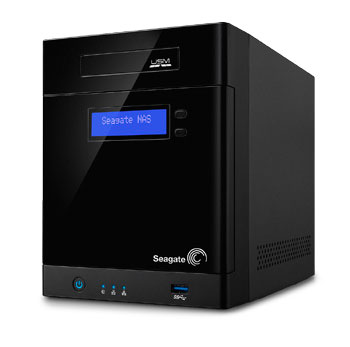 Seagate is relatively unknown for Network Attached Storage and have tried to add their own twist via unique features for their consumer and business oriented models. However, like competing devices, NAS are heavily reliant on hardware specifications to perform as advertised. We review Seagate's 16 TB model for Business and explain why processing power and fast interfaces like USB 3.0 matter for a storage device
Overview
Originally launched in early 2013 as an update to their similar 'Blackarmor' line of NAS ( typically long-life cycle devices) Seagate's business storage line of 1,2 and 4 Bay Devices are their second attempt to enter the branded storage market along the lines of what Apple, Cisco and Western Digital have done in previous years.
Seagate claim this unit is for Business with up to 50 employees or prosumers who need a 'business grade' central storage,backup and media streaming solution for Home, Small office with remote access.
Seagate makes some basic claim on the box (and in the marketing material) on what the device will do :
Create your own private cloud - Stay connected to your files from anywhere in the world and create a shared space for collaboration

PC and MAC Computer Backup - Business Grade Backup software for full system, automatic backup and restore for PCs Time machine for MAC

Easy Off-site backup without the tapes - The integrated USM (Universal Storage Module) slot allows you to transfer files at blazing speeds to and from a USM drive

Government Grade Data Security - Hardware encryption protects files stored on the NAS without slowing down your business
Does Private Cloud work ? - Yes, via the Global access feature which uses the "Tappin" brand cloud service to access the drive as well as iOS and Android mobile apps.
Does Business Grade Backup work? - Partially, the 'Business Grade' bundled Acronis backup software is outdated and does not support GPT Partitions or Windows 8
Does Easy Off-site backup work? - Partially, the USM(2.5" SATA) slot provides an easy interface however it is extremely slow to the point of where one can say it does not work. THhs issue is acknowledge by Seagate in their online support documentation
Does Government Grade Security work ? - Electronic Data security, Yes. the chipset implements hardware encryption and supports 'smartcard' like encryption keys on a USB drive. Resetting the NAS will not grant access to any encrypted or authenticated data. Physical security? No. The drive locks and their keys are cheap and easily breakable. 'Without Slowdowns?' , no, there are bottlenecks within the system that restrict performance.
Not off to a good start so far...