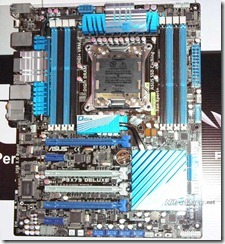 We Aussies do things differently 'down under'. Instead of hunting for spooks, ghouls, goblins or vampires this Halloween we went hunting for production series Intel X79 chipset motherboards from ASUS, ASRock, and Gigabyte in Sydney, Australia and what a haul of sweet tech bounty we ended up with.
A NitroWare.net exclusive.
ASUS
Version 1.0 of ASUS's P9X79 Deluxe motherboard for LGA2011 socket. With vague rumours that ASUS may be sticking an old socket on a new motherboard, keen fans have forgotten the mass market mainstream/premium board that many power users or enthusiasts will use rather than the R.O.G. series. Of note with this particular board is the slot layout which will prevent any PCI-E x1 slots to be used if three x16 graphics cards installed, evolution of ASUS Bluetooth overclock and installed as well as the large number of on-board devices as represented by most of the on-board controllers accompanied by an adjacent timing Crystals for the SATA, USB and Bluetooth features.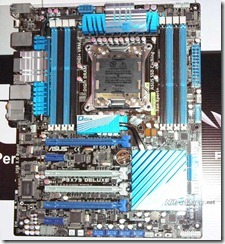 Think you've seen this board before? Think again. its the Z68 version of the iconic ASUS ROG gene board,a microATX motherboard designed for the enthusiast market.. The setup we caught puts the motherboard in a new perspective as if one does not notice the unused space in the chassis, the bulk of the CPU cooler and add in cards can confuse one to believe the motherboard is a full size edition. The giant CPU cooler is actually an Antec unit.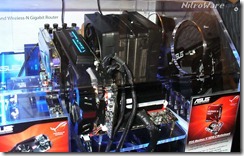 Something that has been lingering and simmering in online audio communities for the last few months has been ASUS's attempt at a standalone desktop audio DAC/Headphone amplifier. Once the domain of niche brands such as Cambridge audio or M-Audio, we hope the essence one will bring audiophile style (we dare to stay grade) audio to those who don't want to go as far of a niche brand.
Special features? well it has digital input switching, gold plated connectors including the USB port (This one will bring the audio nutters out of the woodwork for sure…), built in power supply (the debates of the merit of a built in supply versus external will also be interesting to see) plus optional bit perfect playback.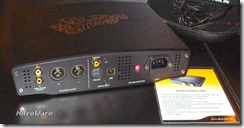 Note that if you think having bit perfect lossless audio will be the be all to end all, think again. A typical PC will consist of sounds of many different sample rates. If we disable the up mixing feature on this DAC every time a different sample rate is played we will need to adjust the setting, just the same with prosumer audio cards of yore such as those based on IC Ensemble/VIA Envy chipsets . The essence one doesn't look that bad either.
Not everything needs to be about desktops, the ASUS U36 13" Notebook allows the end user of have their cake and eat it too. Thin chassis and power. There are a number of 'ultra thin' laptops which have been released this from Apple who (custom Intel Processor), Razer (who also use an OEM only Intel Processor) and Dell to deliver thin chassis. Thin chassis can compensate for size, significantly. Unfortunately we do not know much about this unit what we can tell is the status LEDs may be obstructed by the closed lid – we need to know if the notebook is charging or not or running versus standby with the lid closed !
1.6KG , 8 cell battery for 10hrs use. Mag alloy LCD cover and 'nanometer' coated palm rest for 'easy cleaning'.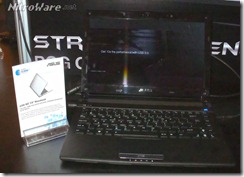 ASRock
Asrock's X79 line-up features some unique models. A micro ATX Extreme 4m model for starters of which not much as been said in the rumour mills over micro ATX format boards.
DDR3-2400 (OC) up to 32GB, 3 PCIE 3.0 x16 mechanical slots with AMD Quad CrossFireX and NVIDIA Quad SLI. Quad graphics in a microATX format, amazing on paper but in practise? We will know very soon.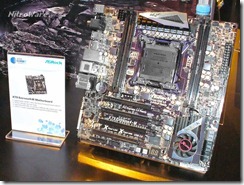 ASRock X79 Extreme4 features DDR3-2400 (OC) up to 32GB, 3 PCIE 3.0 mechanical x16 slots with AMD 3-way CrossFireX and NVIDIA 3-Way SLI.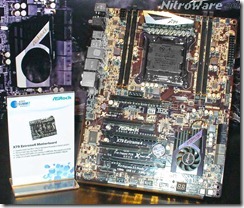 ASRock X79 Extreme7 features 12+2 phase power system, DDR3-2400+ (OC) up to 48GB, 5 PCIE 3.0 mechanical x16 slots with AMD 3-way CrossFireX and NVIDIA 3-Way SLI support
Curiously their Extreme7 has SIX DIMM slots instead of four or eight complementing the X79 platform's quad channel memory. The six slot format is a compromise layout to save space and has its origins with four slot X58 motherboards, where the middle two DIMMs formed the third (or in this case fourth) memory channel. The six slot layout allows for the increased 48GB of memory support, unprecedented for a consumer PC platform and something which with the previous 1st Generation Core i7 and its X58 chipset only allowed for 24GB with a single socket and 48GB with dual socket boards if un-buffered non ECC memory was used.
All there models including the Extreme7 use a fan to cool the Intel X79 PCH. No. We don't like fans in this format as they just collect dust and stop working if not become very noisy after a short period of time. To best of our knowledge no other vendor is using fans as default cooling. We sought comment from ASRock on this design decision but a response was not available at press time.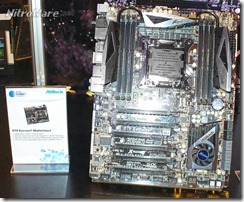 Creative
Here we have the final retail versions of Creative's new Sound Blaster Recon3D PCI express sound cards, which take over from the X-Fi 2 line. Although whispers are available online for these products as they had been officially announced, this is a first glimpse of the final retail packaging. A special array microphone is bundled for clear voice chat during gaming. Australian availability for standard Record3D and Fatalilty Professional Record3D will be before the holidays.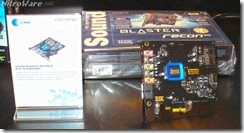 We examined the cards and the press images that have been published do not give the elegance and simplicity of the new design of the Recon3D PCB justice, very void of components. We wish the capacitors were of a higher spec however. The fatality has a metal EMI shield – it is not plastic.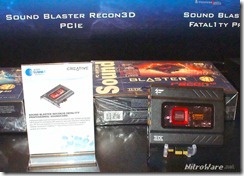 An external USB version of the Recon3D has been developed to enable the PC, Mac, XBOX and PS3 to enable the same enhanced audio capabilities which will be released alongside the two add in cards.
FSP
FSP brought their custom in house designed power supply tester to demo the load capability and efficiency of their new enthusiast class retail power supplies which are branded 'Aurum'. The naming unfortunately lends to a few to 'umms'… but the naming isn't as obscure as you might think. The Aurum brand name, latin for gold reflects the power supply's 80 PLUS gold certfication and this motif is showcased in the products design and packaging. FSP's executives flew in from Taiwan to ensure media and resellers were accurately educated about power supply technology and the do's and dont's of selecting the appropriate power supply for a PC system .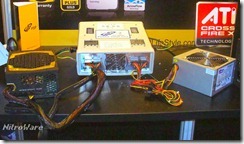 FSP aims to take its OEM/ODM experience and expertise and apply this knowledge to retail enthusiast power supplies. Enthusiast power supplies are a hard sell and even harder to correctly test or review, which is why NitroWare.net does not perform performance testing of power supplies. We leave this to other media who specialise in this type of testing. We either do things properly or not at all.
FSP aim to bring unique features and design ideas to their products as this is the way to differentiate their product from everyone else. Although reviewers such as Hardware Secrets, Kit Guru, SPCR and whoever else wants to put their hand up claiming to be a power supply specialist are able to differentiate and analyse competitive products, to the end user the purchaser of these power supplies will have very little if no way to decide on a premium power supply apart from three factors.
Brand recognition, price, and results of independent reviews.
Brand recognition? Many 'name brand' hardware vendors do not manufacture or design the internal design of their own power supplies. Even famed Antec now proudly admit they use industry respected Delta Electronics as their manufacturing partner for their power supplies.
Price? You get what you pay for with power supplies. The labels on cheaper power supplies are often misleading and inaccurate. Cheaper power supplies also skimp on essential connectors even if they are labelled for higher wattages. Many adaptors to convert 5.25 to SATA or 5.25 to PCIE power are dangerous and not a good idea as the poor quality connectors in these adaptors can break and lead to damaging your hard disk or graphics card.
Independent Reviews ? No one single power supply review is an accurate and scientifically correct method of testing power supply performance. What matters is wether a particular power supply is able to reliability drive a real world PC load at good temperatures without any crashes or shutdowns. Additionally the bundled cabling has to be of good quality using name brand connectors and better than aver if not heavy duty wiring . What is a real world load you may ask? well If a power supply has 10 connectors for drives and 4 connectors for graphics cards ,there should be no problems when all of these connectors are in use. Additionally the the power supply should not run excessively hot under load. Two numbers are used when talking about power supplies, 25c and 50c.
Cheaper, poorly designed power supplies have restricted internal spaces for airflow as they are designed for cost not elegance as are the fans. A penny saved is a penny earned. Temperature not only affects the performance of the power supply but also reliability.
We wish FSP luck, they certainly have the industry recognition, engineering expertise from producing power supplies for Brand Name Tier 1 PC makers and the manufacturing capability to produce o retail products. They just may succussed. Other hardware vendors have been successful moving from OEM/ODM production to retail such as PC Partner spinning off two retail arms ZOTAC and SAPPHIRE to market and sell retail performance oriented graphics cards, mothers , barebones systems and accessories. Handset manufacturer HTC also moved from OEM/ODM to retail around the time Google introduced its Android operating system.
Brand recognition for FSP and end user trust may be poor at the moment but so was the case for many other technology brands at one point or another. Some forget even mighty NVIDIA corporation is a relatively new player in the industry arriving on the scene in the mid 90s from scratch.
Gigabyte
Here is something you won't find elsewhere. The final 1.0 revision of the desirable G1.Sniper 2 with full manufacturers specifications for the motherboards. Why is this interesting? Officially all written specifications for motherboards based on Intel's X79 'Patsburg' are under wraps until launch. Note the only Intel specification mentioned is that Smart Response is supported like the Z68 chipset. Anything else such as PCI express lanes and storage ports.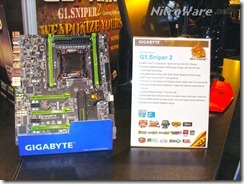 What we can tell you about storage is that the different coloured SATA ports are a clue to the number of SATA ports the motherboard will support.
To use this board, you need a deep case as the board is wider than the ATX standard layout. Do not bother if you have a standard generic mid tower ATX case, it simply will not fit and even if it does components will be damaged or connectors blocked. This is the ideal board for gamers and enthusiasts who want a premium board but don't want or need the upmost overclocking and tweaking features.
Another eureka moment. Gigabyte's flagship X79-UD7 version 1.0. We bring you the final production version of this motherboard complete with revised power delivery circuits. With support for quad graphics card and ridiculous power capability fed by TWO 8pin sockets, this is the board to go with if money is not an object and you want your friends to go orange with envy. If two 8pin EPS power sockets wasn't enough, there are another two SATA power connectors on the front edge of the board.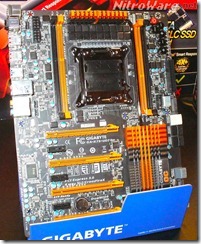 Power delivery is the focus of this board with the final version switching to a fully digital voltage regulator module design. Staying with analogue power stages in the configuration intended for the UD7 would have just been too much and a digital system is more worthy of a board of this stature and price point.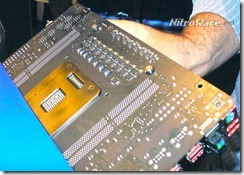 Specification wise, again colours and labelling mean everything for the on-board SATA ports.
The UD7 gains a full set of control switches in the top right of the motherboard, not the best place. Think about it, with the board fully configured and connected the switches will be shadowed by the power cables making access difficult. This becomes more of an issue when the board is fitted to a chassis and drive bay conflicts and cable management come into play.
Again like with the G1 Killer, you will need a good case with a deep motherboard tray and possibly strong power supply to run this board, not for the faint hearted.
Intel
This one was one that got away though, the illusive illusive and scary 'extreme' motherboard also known as Intel DX79SI, so scary that its LED eyes embedded deeply within its silkscreen skull glow brightly in anger and scared our trusty camera !@#$less. We caught its cousins the elder DX58SO2 and DH67GDB3 however. No problem, it didn't escape too far as our 'mate' Elric Phares at Motherboards.org managed to catch and trap this one, captive until Novemeber 15's launch date.
Shuttle
Shuttle have steadily been polishing and strengthen its product line-up for the last few generations of their XPC barebones chassis.
We were pleased to see four memory DIMM on their 2011 mainstream models which are powered by Intel Sandy Bridge and 6-Series chipset. Front USB 3.0 ports arrives with the yet to be released SZ68R5 XPC. This model apart from the obvious Intel Z68 chipset features two mini expansion slots. One slot is a standard mini PCI-E slot for things like Wireless cards or TV tuners while the second is a mSATA slot reserved for the Intel Smart Response Technology featured in the Z68 chipset.
Although the specification sheet mentions a PCI-e x4 slot, this slot was not installed in the demo sample for an unexplained reason likely due to the chassis being a pre-production unit. There are some slight design changes to the fascia of this small form factor PC culminate in a more rigid and sturdy front port cover backed with metal.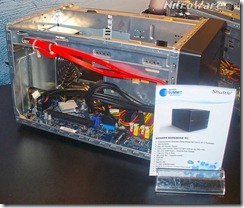 Shuttle has thought outside the square, err cube with their SH61R4 XPC system featuring something not seen on integrated graphics at all, Dual DVI sockets.
This system is intended for the business and corporate market who will use two DVI monitors for productivity. Very few brand name systems or motherboards on the market feature Dual DVI ports. Intel has a small number of business/enterprise oriented desktop boards with the same on-board port arrangement as this Shuttle, one DVI-I and one DVI-D port. ASRock has dual HDMI ports on their Z68 Fatality Professional Gen3 motherboard where two converter cables are needed to run two DVI monitors with this board and many OEMs ship graphics cards that sue a splitter cable or a custom graphics card to enable dual DVI ports.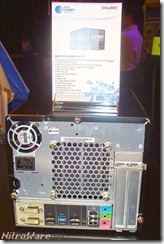 Shutle also have a variant of their H61 barebones equivalent to the new concept ultra SFFs such as the Mac Mini, Zotac ZBOX, ASRock Vision 3D and other clone devices from Saphhire, ASUS.
Their XH61 supports 65W 2nd gen Core CPUs, two full size DDR3 slots, 1 PCI-E x1 slot, ideal for a TV tuner in micro ITX format. This system needs to be seen in person to appreciate its size.
Power is provided by a standard 90 watt notebook charger meaning no reliance on custom and hard to find spares.
Shuttle have also addressed a concerned we have had for ages. For the last ten years Shuttle have relied on their own custom form factor for the motherboards in their barebones systems, however they finally switched to the industry standard MINI ITX 170mm x 170mm form factor allowing users to upgrade the motherboard and repair the system out of warranty affordability and easily. Even though they have let go of the reigns of their properitary hardware ecosystem, a three year warranty is now provided in Australia at least. All the boxes are now ticked.
NitroWare.net reported from Australian IT distributor Altech Computers' SummIT expo.