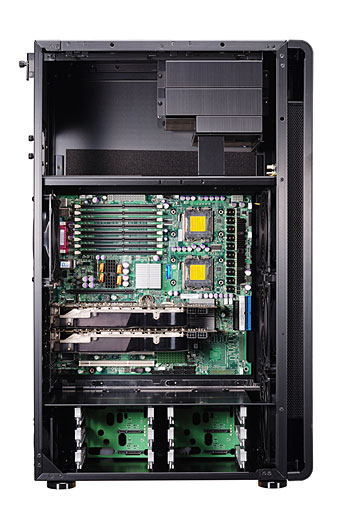 Lian-Li finally announces a much anticipated computer chassis that offers the best in design, expandability and acoustic/thermal performance - are Lian-Li's 'TYR' product the 'holy grail' of computer chassis or just another case in a jungle that is the computer chassis industry. Read on to find out.
Early impressions of this chassis left us unsure but the final product certainly does not disappoint
Without a chassis, or case, a computer would not be a practical computing solution - it would just be a random collection of circuit boards and a spaghetti of wires and cables which is not only difficult to use from an ergonomic perspective but can be damaging to furniture, risk the reliability of the system components from mishandling and poor thermal management and prove to be a electrical safety and potential for Radio Frequency interference is maximised.
For a small small percentage of users the above criteria don't apply and they choose to run their computers without a chassis, those being the 'hardcore' enthusiasts who like to push the limits of their hardware by means of modification or over-clocking; engineers/technicians or reviewers.
The rest of us go down the 'normal' path and purchase a computer in a typical chassis for the optimal computing experience, as has been the case for the last twenty years.
In more recent times, when a consumer wishes to purchase a new computer depending on their intentions, knowledge and finances they can choose one of a number of paths when deciding on the style of computer:
The user will accept whatever chassis is offered to them by the system builder, which are often cheap, flimsy and tacky looking generic cases around the $30 price-point, and the user will accept this as they would be grateful to be able to purchase a computer let alone choose the styling of the chassis
The user may just be aware that different styles of chassis exist and select an alternate style, or ask for a recommendation from a friend, family member or at the point of sale
The user is savvy enough to research what different chassis and form factors are available and will either go for a D-I-Y computer system or go for an innovative, unique computing solution such as a Mac from Apple, a Small Form Factor PC from Shuttle or a premium chassis from Lian-Li or one of a number of competing chassis vendors; at the expensive of a higher purchase price.
We have said this many times, in 2008 there is no excuse to not selecting a chassis that is aesthetically and ergonomically pleasing to the consumer, there are thousands of choices and many are reasonably priced and easily available.
Many power users and enthusiasts have known about Lian-Li's premium computer chassis for a number of years now and have held the brand in high regard, comments such as 'the Rolls-Royce of computer chassis' have often been mentioned in online communities.
The brand's engineering, quality and attention to detail have led to Lian-Li being the aspired to by many computer enthusiasts, however the high cost of these chassis have forced many users to choose 'second best', and indeed here at NitroWare.net we have been concerned about the cost of these chassis in general over recent years and we could only recommend these chassis to users who could truely afford to purchase them, the choice for many between a chassis and say a CPU or graphics card or even an entire computer is an easy one for some. For a lay person, the reasoning of 'why should I pay $500 for an empty metal case when I can buy an entire PC for that amount' is one that is important and valid to them, but in these cases such a demographic would not be the one to market a third party computer chassis to anyway.
While premium cases [such as from Lian-LI and their competitors) are still in the up there in the hundreds of dollars range, Lian-Li have gone to great lengths to innovate and evolve their product lines to offer more value for money and many of their chassis have 'grown up' and are much more distinctive than Lian-Li's classic cases such as the PC-20 or the PC-7A.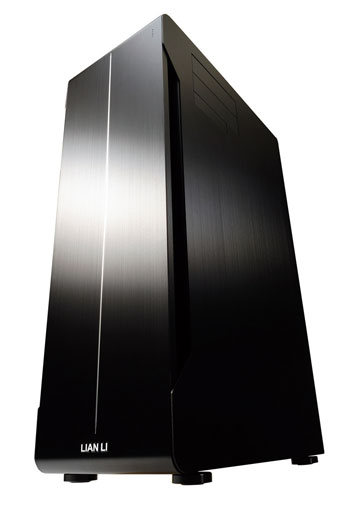 Today, as part of their 2008 lineup, Lian-Li have formally announced the 'Tyr' (for Theatre) PC-X2000 chassis. This chassis has been speculated on and discussed in a number of online discussion forums for a number of months now with discussion regarding the purpose and target market for the case.
While the product has been on display at a number of recent trade shows ( see our Lian-LI @ CeBIT coverage ) and some images floating around enthusiast sites, some enthusiasts were in disbelief that such a monolith of a case was intended for the hybrid role of a Enthusiast-Home Theatre PC segment with an emphasis on style and silence just due to Due to its shape and size but further details reveal and confirm a number of features that solidify this chassis's ergonomics and silencing features.
The hybrid role exists due to the fact that many owners of high performance computers would like to play modern games or high definition content on their large television, which is often in the living room. The immersive multimedia experience requires the computer itself to be silent to not distract from the experience and for the chassis to blend in with other living room or audio/visual equipment.
The X2000 fulfils the hybrid enthusiast and gaming role by being designed to hold the largest of desktop or workstation main boards , enthusiast-gaming class graphics cards and a hard disk array in a stylish silent chassis that has efficient thermal management.
To support these components, every aspect of the chassis from the main-board tray to the hard disk mountings to the drive bays incorporates silencing and anti vibration devices. Uniquely, the bays for Optical Disk Drives have been rotated 90 degrees to operate from the left or right,instead of the front leaving the front bezel there purely for aesthetic and thermal management purposes. This feature also allows for a clean front panel to allow the chassis to blend in with other devices in a living room setup as well as provide good airflow.
Verdict
In our Lian-Li @ CeBIT coverage we asked the question of is Lian-Li's 'Armorsuit' series chassis the ultimate PC chassis, and upon further analysis we declared it was not as no chassis is perfect or ever will be perfect. There will always be compromises and tradeoffs with a chassis designed for universal industry standards.
The exception to the rule is if the computer components themselves are proprietary and designed to suit an optimally designed chassis as Apple has done with their Mac Pro workstation chassis.
Our early impressions of the Lian-Li 'Tyr' PC-X2000 Home Theatre System chassis lead us to believe that especially emphasis on all fronts such as design, thermal management and expandability, this particular chassis is as close as it gets to perfection, even more so than chassis such as Cooler-Masters Cosmos-S chassis which was designed with input from renowned UK tech site Hexus.
Having said that, the tradeoff with this particular chassis is its full height, users should measure their workspace or home theatre to ensure fit and airflow.
This case is best suited for users:
Who want a chassis which can accept the biggest of motherboards and graphics cards and manage acoustic and thermal performance
Who are looking for a simplistic, elegant, sophisticated looking chassis without any traces of 'gamer' or 'sci-fi' design
You have the adequate space and room to place this case
Wont be hindered by the side facing drive bays wether by ergonomics or conflict with furniture or other equipment such as monitors
If you meet the above criteria we recommend you strongly consider this case as it is one of the best overall solutions we have seen in the market to-date. Premium or Enthusiast Chassis from competitors concentrate on one aspect such as expandability, cooling, aesthetics or build quality/materials at the expense of other design traits. Compromise is minimised with the Lian-Li 'Tyr' Chassis.
If you like this case but feel it is too tall and or don't need the SATA drive backplane , wait for its smaller brother the PC-X500 which features the same design but is shorter due to the hard drives being relocated from the lower thermal zone to the upper thermal zone.
For users who want a home theatre chassis in a desktop solution such as a stack-able or rack 43"cm component design this chassis isn't for you, and there are desktop style chassis from Lian-Li or competitors.
Price and availability of the PC-X2000 chassis were not available at time of launch. A two year warranty applies.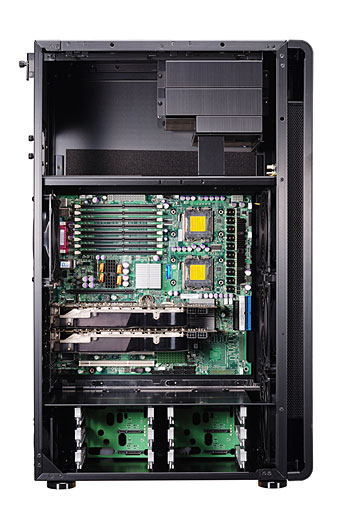 Specifications
External Drives : 2x 5.25" Optical Device Drives and one 3.5" drive
Internal Drives : The 6x hot swap RAID SATA HDD bays with SATA backplane for RAID 0/1.
Cooling : Three thermal zones, Easily removable front panel which covers 3x 140mm silent intake fans, protected by the removable and washable nylon dust cover; holes in motherboard tray for better CPU cooling, water cooling support, 1x 140mm silent exhaust fan for the motherboard heat zone, 2x 80mm exhaust fans for the HDD bay heat zone, vented expansion card brackets. Front face dedicated for ergonomics and airflow.
Input/Output : Front Panel includes 4x USB 2.0 ports, 1x Firewire (IEEE1394), 1x E-SATA, and HD AC97 Audio ports
Expansion : Extended ATX, ATX, and Micro-ATX motherboards, 8x PCI slots, Support Bracket for long graphics cards, support for 2x PSU's (220mm long supported)
Construction and Acoustics : Brushed and Anodised Aluminium, filed and brushed finish to reduce sharp edges, 2mm thick aluminium alloy side panels anti-vibration couplings, anti-vibration and insulated rubber strips for Power Supply mounting , case mounted on rubber pads
Dimensions : 230 x 430 x 680 millimetres ( W, D, H)
Further Reading
NitroWare.net - Lian-Li @ CeBIT
http://www.nitroware.net/index.php/editorials/66-events/106-cebit08lianli.html
Lian-Li Tyr X2000 microsite
http://www.lian-li.com/v2/en/microsite4/x2000.html
Hexus - Cooler-Master Cosmos-S Review
http://www.hexus.net/content/item.php?item=11939