'worlds biggest' display does not seem that big..
 
NitroWare.net reports on very large plasma display panel, projectors and toughbooks from the Panasonic Stand at CeBIT Australia 2008
Panasonic Australia have used CeBIT in recent years to showcase their 'big' products, especially those specific for Business and Enterprise use.
In 2006 Panasonic had a Blu-Ray Disc Player demonstration before the introduction of Blu-Ray into Australia and in 2007 they launched their 'worlds biggest' 103 inch Plasma line in the Australian market.
In 2008 they continued this trend by demonstrating their improved 103 inch display, 10,000 Lumens Digital Projector and the usual Tough book laptop displays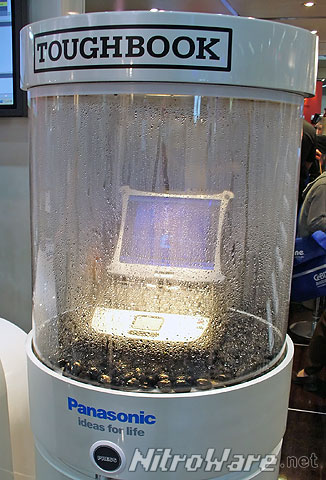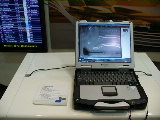 Panasonic  CF-30 Mk2 Intel Centrino 'toughbook', featuring Core 2 Duo L7500 1.6GHz CPU, Mil-spec mag alloy casing, internal GPS and  3G HSDPA Wireless WAN module, allowing users to pop their the SIM card from their mobile phone into their toughbook and utilise high speed wireless access via their cell provider's network. Weight is 4KG
Panasonic 103 inch Professional Plasma TH-103PF10WK
To truly grasp the size of this panel, compare its size to the onlooker who is side on to the unit in our photo.
What is the price of this 220KG monster? The older 103FP9 had a $70,000 US MSRP but we have seen the 103FP10 advertised for $63,000 NZD, discounted from $89,000 NZD !
This type of product is not something that a price for can be easily obtained!
The 103PF10 notably improves contrast over the 103PF9.  Who would use, need or can afford such a display – the target market is enterprise, public venues or events which need large format displays.
NitroWare.net has noticed some adoption of these large format displays in public venues such as cinema foyers in Sydney
New this year was the 10,000 Lumens DLP Projector, model PT-DW10000E
intended for the Commercial/Large venue segment such as theatres conferences and classrooms
The projector was able to reproduce detail and bright colour in the demonstration loop, however we did notice some variance in the black level leading to a slightly washed out picture which can be noticed in our photo. Wether this was due to the exhibition setup, poor calibration or the relatively short throw of the project to the screen we are not sure of.
Panasonic claim the project is smallest in this class, but when the project is viewed in ceiling mount configuration, its overall size could be compared to a small combustion engine.
Dimensions (W x H x D) 578 x 320 x 643 mm
In addition, this projector has specific power requirements
Power consumption 220-240 V, 15 A, 50 / 60 Hz 1,450 W (25 W in standby mode with fan stopped)
( PT-DW10000E specifications - Panasonic )