Page 1 of 6

You are considering a computer or main board that has dual Ethernet ports onboard. You know what to use one of these ports for, to connect to your LAN or broadband modem, but what use is the other port in a home or office environment.
This article will cover several useful scenarios for using this pair of Ethernet ports in a home or small office environment , as well as give a brief history on how the industry got to including one and then two Ethernet ports built into the main boards of new PCs, a feature often overlooked but in these modern times is quite necessary.
Background - A brief history of onboard networking for the PC
The Onboard or Integrated Ethernet Port (also known as LAN on Motherboard) has been a welcome addition to the personal computer.
In past times the system integrator, technician or end user was expected to install a costly add in card into their computer if network connectivity or broadband Ethernet was desired. More recently, the components necessary for networking have decreased in physical size and the cost has lowered to such a level that this once expensive (up to $100 AUD) Ethernet connection now included for 'free' in every new PC or main-board sold.
Apple Computer have had a number of milestones in regards to onboard Ethernet, standard 100Mbit and later 1000Mbit Ethernet. Their iMac G3 Line from 1998 onwards included a 100MBit Ethernet port in the machine as standard - right out of the box.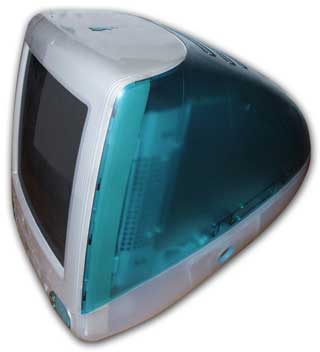 While DELL and HP in their business lines and even SGI in their visual workstation series had been soldering Ethernet Controllers from Intel or 3Com onto their desktop computer main-boards since the late 90s, the components used are identical to the add-in card solution, so the inclusion of these parts can be likened to a Intel or 3Com Network Card being 'glued' onto the computer's main board but for less cost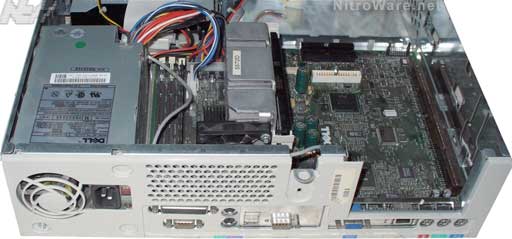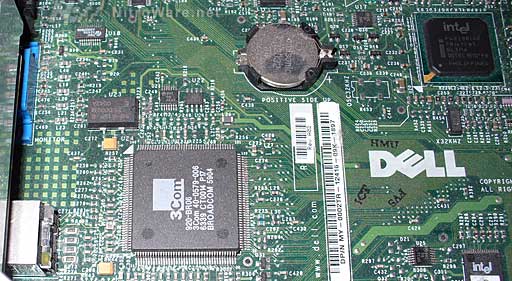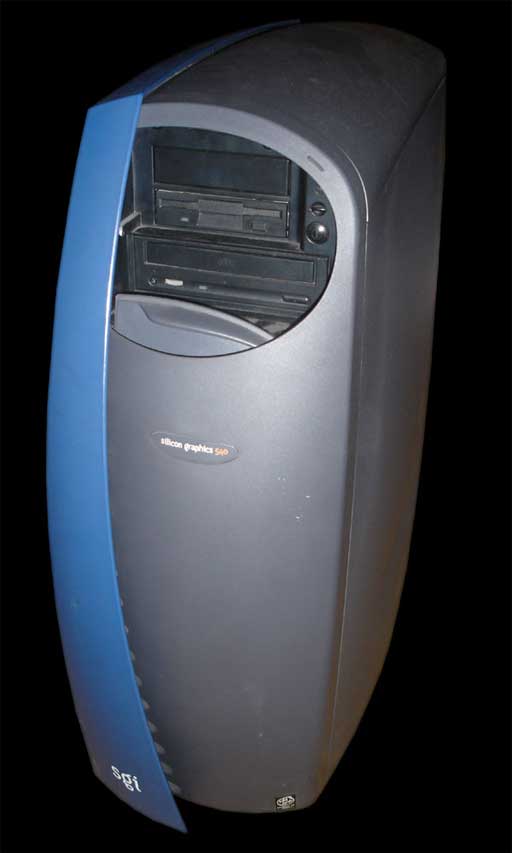 Not all offerings initially offered Ethernet out of the box however, it was still build to order item, at significant cost, especially for a premium enterprise grade card, costing up to $100
Integrated Ethernet began to be commonplace around 2001-2002 with the introduction of highly integrated chipset especially those incorporating DDR SDRAM support such as VIA Technologies's 'ProSavage' P4M266 chipset for Pentium 4 or SiS Technologies 735 chipset for the AMD Athlon Processor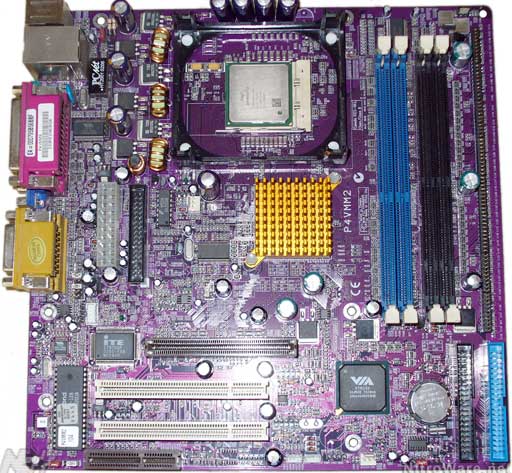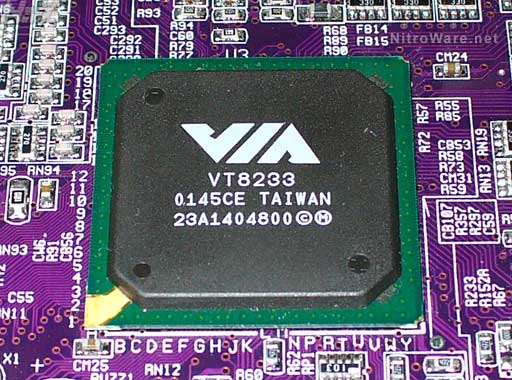 On the road to widespread availability, there was some innovation made to include industry standard,enterprise class 100TX networking on motherboard instead of the chipset vendor's own solution.
Both VIA and NVIDIA integrated licensed versions of 3Com's popular 920 Ethernet Controller within their chipset south bridges, therefore offering value for money enterprise class networking to customers.
VIA offered the 8233C south bridge (Integrating 3Com LAN) which could be used with their Intel and AMD Chipset Platforms and NVIDIA offered dual networking with their nForce2 MCP2-T South bridge that is part of their nForce2 chipset platform for AMD processors
VIA offered a choice, either VIA Networking or 3Com Networking with the 8233C
http://www.via.com.tw/en/products/chipsets/p4-series/p4m266/
NVIDIA offered a choice between NVIDIA networking or dual networking, with one NVIDIA controller and one 3Com controller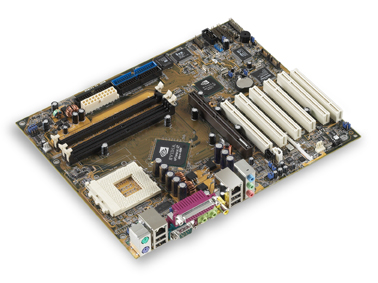 This 3Com 920 Controller had been used in millions of 3Com Etherlink III Network cards, Xircom Mobile Adapters and included either as an add-in card or on the motherboard in OEM PCs such as from Dell and PC. These parts were also considered top of their class for performance and manageability and were heavily deployed in enterprise and corporate networks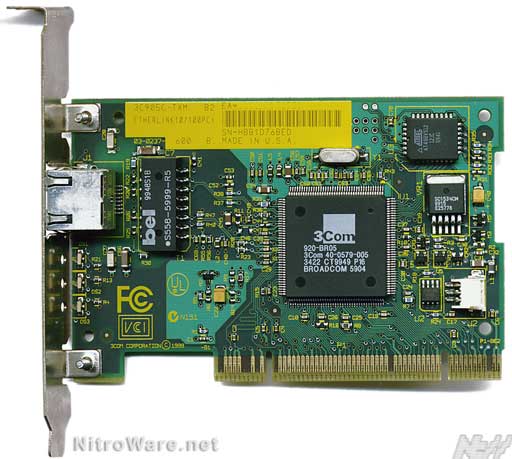 The VIA and NVIDIA initiatives were new to the industry and the reasoning behind these was straightforward:
Offer Enterprise class networking built into the chipset, eliminating the need for an add-in card
Offer Enterprise class networking for a fraction of the price of buying the equivalent network card
Users of integrated LAN to get online quickly using the operating system's out of the box 3Com drivers
Enterprise users can purchase products with integrated networking that they know has assured that compatibility and reliability, rather than solutions that are untested on their corporate networks. Standardised Networking can also streamline software and driver support for their disk images
In the case of the NVIDIA solution, offer the best of both worlds to the customer. Enterprise grade 3Com solution with all their manageability features and the NVIDIA solution, which they promoted as being an elegant (and potentially superior) solution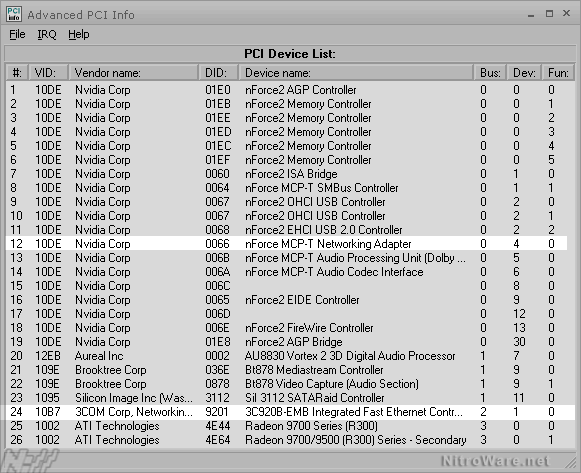 3Com Networking in the System Chipset did not last very long and in hindsight, while a novel and worthwhile idea at the time, it was not a success. Later chipset from vendors concerned dropped the 3Com option and offered only their own in-house integrated Ethernet solution, which is satisfactory for the large majority of users and applications. The only issues that can arise with utilising a chipset vendor's own networking solution rather than a standardised brand or model is driver support, and some newer or more exotic parts may require additional effort from the end user to get these connections going.
That is not the the half of it however...
In 2000, Apple released their Power Macintosh G4 (Gigabit Edition) which was one of if not the first widely available mainstream desktop computer with built-in Gigabit Ethernet. It was not until 4 years later that gigabit became mainstream both component and adoption wise
New packaging methods such as Plastic Ball Grid Array (PBGA) integrated circuit packaging, such as in the lead in photograph to this article and lower die process enabled vendors to upgrade the onboard Ethernet to 1000MBit Gigabit Ethernet (GBe) in 2003-2004, such as paired with system chipset like Intel's very popular and successful 865 'Springdale' chipset for the Pentium 4 process family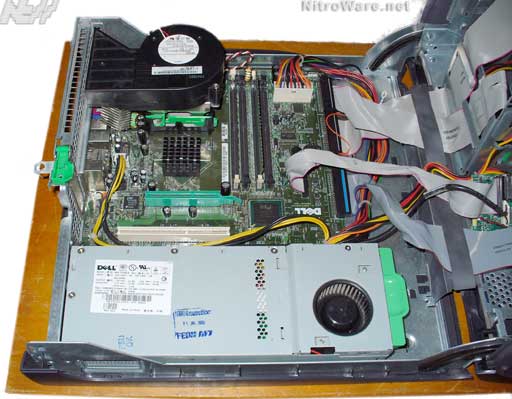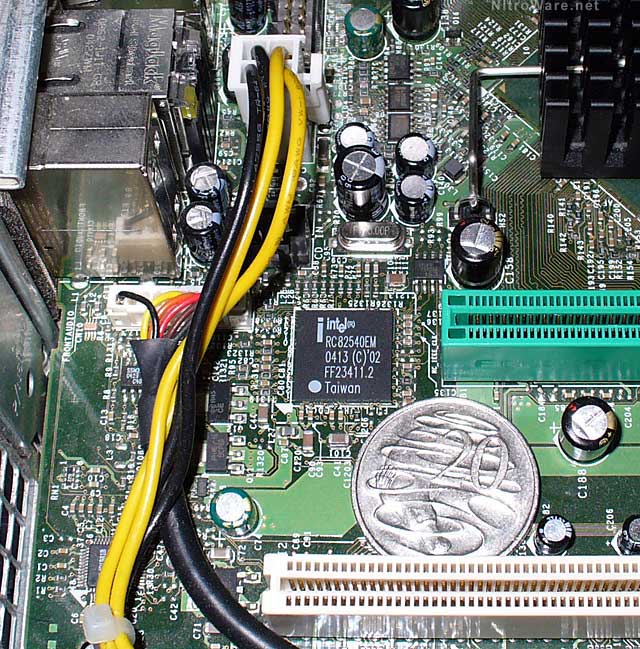 Size reduction of these parts overt the years has been quite profound. Early Gigabit LAN add in cards used general purposes processors with firmware and RAM rather than a discrete ASIC as with modern parts.
Just after this milestone of cheap, integrated Gigabit for mainstream, the next evolution in integrated networking in mainstream computing was the inclusion of dual onboard networking, in either dual 100Mbit , 100 and 1000Mbit or dual 1000Mbit depending on the solution and the target market, with dual gigabit becoming quite commonplace .
It was not until Apple's Intel Based Mac Pro workstation of 2006 (which incorporated dual Gigabit Ethernet ports) as well as late model single or multi CPU main-boards from vendors such as Supermicro and Tyan that attention was given to including two ports, although this feature is still skewed towards this feature towards power users with an emphasis on digital home, enthusiasts, gamers and enterprise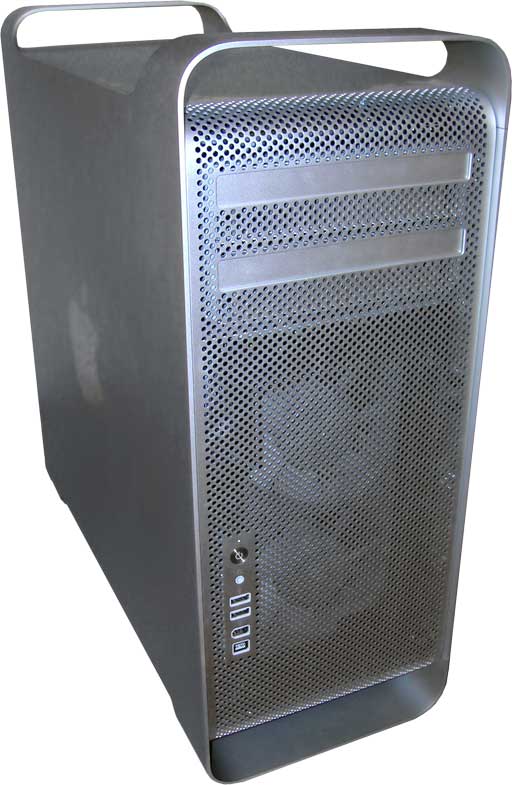 As of 2008, NVIDIA is one of the few vendors left actively promoting the benefit of dual Ethernet ports integrated onto the motherboard, and offers device drivers and software to take advantage of this feature.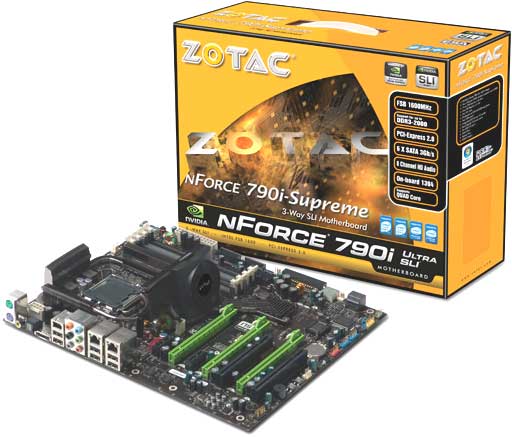 In contrast, Intel Corp who for the last few years now have been offering main board products aimed at power users, enthusiasts and gamers, only provide a single ethernet port on these products, even on the flagship 'Skull Trail' dual CPU Enthusiast class main boards
Compared to NVIDIA corp's Enthusiast class offerings, Intel Corp's three current enthusiast boards, the X38 Bonetrail, the X48 Bonetrail 2 and the 5400 Skulltrail, do not offer dual integrated gigabit