IEEE-1394 Users who have installed XP Service Pack 3 may notice a change in functionality in their operating system especially if a FireWire hub is being used.

Symptoms of this problem are that the '1394 Network Connection' icon and the '1394 Net Adapter' driver will no longer be visible once SP3 is installed.
In this article we go through the steps required to recover this functionality
These instructions are applicable for the final (release to manufacturing) build of Windows XP Service Pack 3, build number 5512.
The remedy presented here is completely unofficial and is in no way supported or endorsed by Microsoft Corporation.
Symptoms
Upon upgrading to Windows XP Service Pack 3 (final build 5512), the '1394 Net Adapter' device in device manager and the '1394 Connection' icon are no longer visible; You are no longer able to access resources networked by IEEE 1394 FireWire under SP3
The '1394 Connection' Icon in the Network Connections window is no longer visible
The '1394 Net Adapter' networking device driver in device manager is no longer visible
Pre-Requisites
Your IEEE 1394 FireWire card (the card) installed into the system
The card enumerated and functioning correctly within the Operating System (OS), such as 'OHCI Compliant IEEE 1394 Host Controller' is visible in device manager
You must be logged into Windows as an Administrator
To the best knowledge of the user, the 1394 drivers and registry entries are correct and functional.
Problem Description
Due to progressive patches and improvement to the way IEEE-1394/FireWire connections and cable detection is handled since the release of Windows XP Service Pack 2, the default behaviour of 1394 connections has changed and reports the accurate status of the connection.
IEEE-1394 users with FireWire hubs, especially those users who have a Sound Blaster Audigy card with a built in FireWire hub, may notice this change in functionality and be concerned once the user notices that their '1394 Connection' has now disappeared.
This behaviour should be no cause for alarm.
Previous versions of Windows XP, starting from the original 2001 gold release through to SP2 tended to incorrectly report the status of the 1394 connection and would report a connection as 'connected' if a hub was connected to a 1394 controller.
This was the case even if no peer was connected to the 1394 hub.
This scenario has been improved with Windows XP Service Pack 3.
For a 1394 connection [via a hub] the link status will correctly be reported as connected if a 1394 partner/peer is connected to the hub, contrary to the behaviour of earlier patches.
Solution
To activate your 1394 Connection within Windows XP Service Pack 3 for configuration or test purposes, unplug and re-plug the cable connection between the 1394 controller and the 1394 hub.
The 1394 Network Connection should be detected and enumerated correctly with both the '1394 Net Adapter' and '1394 Connection' being enabled.
The alternate method is to immediately plug the 1394 network partner into the hub and the 1394 network connection will be automatically enabled.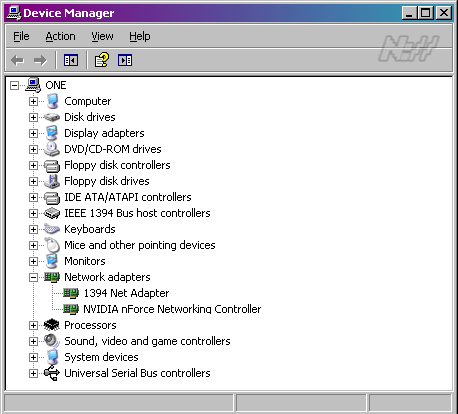 Conculsion
NitroWare.net is pleased to report that IEEE-1394 Networking or IP over IEEE-1394 is fully functional in the final release to manufacturing build of Windows Service Pack 3.
Due to our editorial policy of maintaining quality and accurate content, the previously published article regarding this scenario has been discontinued and replaced.
Post in the comments below if you have any queries or issues. Registration is required to post comments.