Page 5 of 6
Modern Hard Disk Drives – IBM Deskstar 75GXP
We have left the best example to last
IBM's infamous Deskstar 75GXP.
In particular, a 45GB example from November 2000 model DTLA-307045.
Most industry commentators would agree this drive was as popular in death as it was when it an active product, and irreversibly damaged the reputation of the IBM storage division, later Hitachi Global Storage technology from the consumer's and system builders point of view.
The nickname 'Deathstar' has stuck over the years.
This 3.5" form factor 7200RPM ATA/100 Hard Disk Drive introduced a number of revolutionary features to the world of computing
15 Gigabyte capacity Glass platters instead of Aluminium coated with a magnetic coating called 'pixie dust'. These glass platters were toted as being more stable and retained their form at the high rotational speeds.
High transfer rates and large capacity buffer to the competition
Capacities from 15GB to a whopping 75GB, gigantic (and expensive) in the year 2000. It would take until 2003 until 80GB Hard Disk Drive capacity became popular for mainstream use.
With positive and glowing reviews the drive went on to be a sales success and adopted widely by all types of users however unfortunately a higher than typical rate of failure occurred with this series of drives (and their successor the 60GXP series).
Outrage resulted especially on various on-line community discussion boards as well as consumer advocacy which resulted in a major class action lawsuit in the USA and an investigate report by a major US computing magazine.
Some system builders and users vowed never to use 'IBM' (later Hitachi) disk drives again due to the higher than usual failure rates.
The typical symptoms would be excessive dwelling, where the failing drive would get stuck while it tries keeps retrying to read a particular location on the disk itself.
Other symptoms included breakage of a short ribbon cable on the bottom of the disk drive connecting the spindle motor to the main circuit board, which would be broken by tools, poor handling or catching on the computer system chassis however we note this was more of a problem with the D-I-Y/enthusiast community.
A more critical failure was that of the 'pixie dust' which would disintegrate and fall into the chassis of the Hard Disk Drive, and so with it the users data!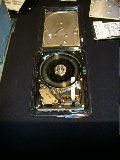 This effect can be seen in our photos, with the remains of the magnetic coating now present on a piece paper inserted into the drive chassis, exposing the clear glass platter.
It could be said this type of failure gives new meaning to "your data is now a pile of dust'.
The main issue, that of excessive dwelling was somewhat fixed by a firmware update meant for IBM supplied OEM disk drives that were used in IBM branded computers.
This update specifically addressed the excessive dwelling however we think it came too late to change the situation at hand. This update was not documented or advertised widely as it was meant to fix a specific issue that not all users would encounter.
Additionally since these disk drives were made available only via the Original Equipment Manufacturer or IT Distribution channel and not retail as is typically the case with hard disks there was no direct need to supply a fix for an issue that would be handled by official warranty process or changes to manufacturing of the devices. The OEM or system builder would be responsible, the first point of contact for support or warranty issues.
NitroWare.net has found that PC chassis that is sufficiently cooled helps prolong the life of these drives and avoids failure.
In 2008, these drives are now old, significantly slower than contemporary hard drives, (about a 1/3 of the performance) and their age, nearly ten years for the older examples represents a potential risk to data simply due to wear and tear and old age of drive especially if it heavily used.
If you still use one of these drives, we recommend replacing it as soon as possible for specifically the reason that the drives are now old and your data is worth more than a $100 Hard Disk Drive. You don't have to dispose of the drive if it is still operational, and with the firmware update it can keep running – just do not rely on using an older drive as the only storage medium for essential files.
While the IBM Deskstar is long gone from the market, Data recovery firms still see these drives from time to time and users still lament about their failure. This is not the end of the story and the IBM Deskstar is, was not and will never be the 'worst drive' in history, nor will any other drive no matter of what their failure record is.
There have been other drives over the years since those drives that have experienced some higher than normal failure rates at specific points in time, such as the Seagate Momentus 5400.2 just to name one example.
There never will be a 'worst drive ever' as the technology used in magnetic hard drives is inherently flawed and can not be relied upon for long term archival storage.
A user, administrator or system builder will know whether a particular Hard Disk Drive will go the distance if survives the first six months of a drive. This period of time is the most risky period of owning a brand new Hard Disk Drive.