Page 1 of 17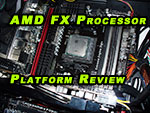 We investigate how the CPU influcences the performance of Sapphire's Radeon HD7950 OC graphics card by testing it with AMD A6-3650 APU and AMD FX-6100 CPU against the combination Intel's i7-3960X and AMD's Radeon HD7970. What we found was with our test suite AMD A6 and AMD FX offered better performance per dollar than Intel's flagship i7.
Introduction
Now that AMD's rapid fire succession of performance Radeon 7000 series cards is over and pricing, availability has started to settle it is time to look at the bigger picture. Some of these cards specially the 7900 are quite powerful and as such need strong systems to make the most out of them with some software.
Not every power user or gamer out there interested in these new cards will have the best CPU. In this review we investigate how much CPU power is needed to feed the new Radeon HD7950 and what performance differences can be expected with different priced CPUs and Platforms from AMD and Intel with a standard benchmark suite.
Our review of the HD7950 is a little different, as we will examine CPU scaling with this card. To achieve this, we took Sapphire's Radeon HD7950OC 3GB graphics card and tested it in two different contemporary AMD systems:
AMD A6-3650 Quad Core APU with AMD A75 chipset and Gigabyte motherboard. We disabled the integrated Radeon graphics, when disabled we save about $30 and 30 watts of power. AMD A6 "Llano" is an updated version of the Phenom II quad core CPU.
AMD FX-6100 six-core, three module, six core processor with AMD 990FX chipset and Gigabyte Motherboard. The clock speed of this processor is moderate compared to other models in the AMD FX family, but at this price point, it competes directly on price with Intel's i5 quad core non-turbo processors. The FX-6100 is unlocked so enterprising users can overclock all the way past 4GHz if they wish; Intel i5 processors under $200 are locked.
Intel Six-core Core i7-3960X CPU with Intel X79 chipset and Intel Motherboard. We compare the AMD/HD7950 combos to the Intel system and standard reference AMD Radeon HD 7970. The combination of Intel CPU and Motherboard represents the flagship Intel Enthusiast/Desktop machine currently on sale.
The results we gained from these tests showed that modern software relies more on GPU performance than CPU while older software was more dependent on raw CPU speed.
The question is how low can you go? The answer we found is that for older games, which are largely CPU bound, we can lose half of the game performance by using a weaker CPU versus the best desktop CPU on the market currently. In newer games, which are largely GPU bound such as modern DirectX 11 titles, which offload processing to the graphics hardware, we can get very good performance per dollar results with cheaper CPU and the more expensive CPUs some advantage.
We used Intel's excellent Sandy Bridge-E enthusiast platform to evaluate the HD7970 which was a match made in heaven as we can balance high GPU with high CPU performance without bottlenecks thanks to the Intel Sandy Bridge-E and X79's chipset.
The average buyer of a HD7950 is unlikely to pair the card with an AMD APU; however it is still usable we demonstrate the results.
By including the AMD Bulldozer processor in our review of the Sapphire HD7950 OC we can demonstrate perfectly any CPU penalty in games which do not take advantage of multi-threading and rely on ultimate clock speed to deliver large gains in performance. This processor family actually does relatively well in multi-threading contrary to media review status quo as like other previous AMD architectures it descends from a server processor
For reference, we included our results of the HD7970 with the Intel i7-3960X to show what the maximum performance that the AMD HD7970 graphics card can achieve with a single Intel CPU
Additionally, we can make price/performance comparisons between the AMD and Intel systems to show which CPU is the best bang for buck for those users deciding on a CPU or new Radeon 7900.
We address something that is important this review of Sapphire's Radeon HD7950 OC, how much CPU power do you actually need to drive such a powerful graphics card, let alone a HD7970.
Will the cheaper extreme segment offering, HD7950 be suitable for people with cheaper CPUs or will the money be better spent on a smaller GPU or other components?