Is Lian-Li's P-Series 'Armorsuit' PC case the ultimate in PC chassis design?
NitroWare.net
reports on Lian-Li's booth at CeBIT Australia with hands-on previews of the new 'Armorsuit' gaming case, A series storage case with SATA hot-swap bays as well as Lian-Li 's upcoming ATX power supply line-up.
It has is common knowledge to PC hardware enthusiasts, LAN party gamers and the computer hardware press corps that if one wanted the ultimate in PC Case/chassis for a D-I-Y computer system, the choice would be Lian-Li. The clean-cut, minimalist look of the typical Lian-Li Aluminium chassis was respected and appreciated by enthusiasts, and the prestige of owning one of these cases (not to mention the high purchase price) earned the LAN party gamer respect.
Those Visitors to CeBIT this year who had any knowledge or interest in the Lian-Li brand of cases this year where therefore to quench their thirst for quality PC chassis by inspecting Lian-Li's entire line up of products for 2008 as well as preview their up-coming power supply line-up, a rare opportunity.
CeBIT Australia is typically an I.C.T business trade show whose primary focus is not solely on direct to consumer/enthusiast products or mainstream PC Hardware/software but the event does give niche vendors of PC hardware the opportunity to expand their distribution and availability portfolio into new regions or existing ones, which is what Lian-Li aimed to achieve this year as their products have been available in Australia for a number of years now, but at a relatively high cost.
For instance at time of going to press, the Lian-Li V2110A/B is available for $517 AUD including delivery from a computer retailer who specialises in Lian-Li products, quite a large sum for what some users may classify as 'just a bunch of folded metal' when there are chassis that get the job done for 1/5 the price just not as elegant of a solution
For 2008, Lian-Li has expanded into a wide variety of case styles and applications and rather than the classic Lian-Li tower enthusiasts have come to know over the last eight years. Value Silent, Value Space, Performance, Gaming, Storage, Home Theatre PC, cube cases and aluminium server towers adorn the line-up in both silent and regular variants in silver and black finishes with solid or mesh front fascia.
Silver castors (wheels) are now available on the V series chassis, and Serial ATA hot-swap bays with backplane are available on the A series Storage line and X series Home Theater PC tower. Options for water cooling pipes and fittings as well as silencing case panels are also now available.
HDD hot swap backplanes which typically found in name brand servers or workstations such as the Apple Mac Pro reduces the time taken to install or replace hard drives, improves airflow and reduces stress on connectors and screw threads as well as reducing possibly of ESD (static) or physical damage on hard drives.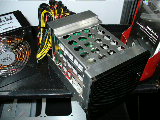 Lian-Li EX-H33 SATA hot swap HDD mounting kit
, which allows a SATA backplane and hot swap set to be fitted within existing 5.25 drive bays. Availability: June 2008.
The
PC-A7010/A7110
feature 7 hot swap bays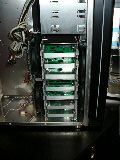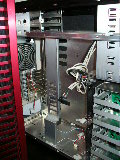 NitroWare.net notes that the A7xxx series is 59 centiermetres high which is just shy of the 63CM height of a classic full tower so users should measure their workspace to ensure said cases actually fit with adequate airflow.
The recently introduced
'Armorsuit'
gaming brand (P series) fills a void in Lian-Li's line-up for a true gaming/enthusiast case, competing against the likes of the Antec 900, Cooler Master Stacker and Thermaltake.
The 'Armorsuit' cases are available in three models, the 49 centimetre high
P60
featuring 9 external drive bays, the
63
centimetre high
P80
featuring 12 external drive bays and the
P80R
which is the P80 anodised in red and featuring laser cut ATI CROSSFIRE branding on the case lid.
This branding would be useless for a NVIDIA GeForce Enthusiast who would be better off supporting the 'green team' with the NVIDIA branded Antec 900 or Cooler Master Stacker CM830…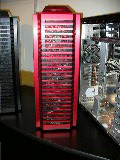 Both P series (not to be confused with the Antec P180/P182 cases) feature a lockable front door with integrating cooling, The P80 gaining E-ATX form factor support for oversized motherboards or professional workstation boards.
Gaming platforms such as the Intel Skull trail or systems including four graphics cards would appreciate the extra depth within the chassis, ensuring that any enthusiast or professional class
Since the cases are meant for gamer/enthusiast use they do not include retention brackets for full length add-in boards such as Storage Adapters, Video editing boards or professional graphics solutions . The cases do however have a retention mechanism to keep long graphics cards in the 8" to 12" form factor aligned correctly, helping to prevent warping of the graphics card's printed circuit board, broken/dry joints in BGA package integrated circuits and fine cracks in the circuit traces on the printed circuit board.
These cases have a unique feature in that they contain more card slot openings (10) than slots on the standard ATX form factor (7). This allows the user to install expansion brackets such as USB or FireWire brackets in the chassis without wasting critical slots, especially critical on new main boards which typically feature one to three PCI slots
The Power supply can be in installed at the top of bottom of the chassis providing flexibility for cable routing, cooling or installation of water cooling system.
As the chassis is intending for the gaming segment, hotswap hard disks is not an issue and the 'Armorsuit' features traditional hard disk bays fixed with thumbscrews.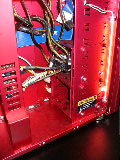 One of our affiliate websites recently reviewed the
Armorsuit P80R
case but this review was more of a preview and did not contain photos of a motherboard and system components fitted to this chassis.
We did one better and made sure to see how roomy the case really is in built-up configuration.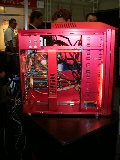 The
P80R Crossfire edition
case posed no problem for the fitted Gigabyte motherboard and Crossfire Radeon graphics cards; in fact we would say it is too big for the majority of motherboard and graphics card combinations
Front panel connectivity includes 2 x 2 USB sockets and eSATA, with eSATA becoming prevalent on premium PC chassis.
We were impressed with the attention to detail on the case especially with regards to the front of the unit, the bezel/fascia and front port section.
As Lian-Li cases are typically Aluminium construction, even the flip door for the front panel sockets is aluminium.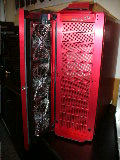 The front door of the chassis is lockable and features devices that ensure the door locks and latches smoothly and securely thanks to the use of a latch mechanism, gearing and rubber seals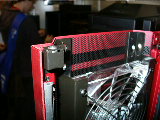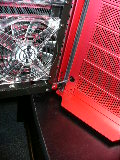 These cases do contain some sharp edges so caution is advised. We also note that the applied colour, 'ATI Corporate RED' seemed more towards a pink rather than than the company's tradtional red hue likely due to the anodising process required to apply colour to the brushed aluminium.
Power Supplies

Lian-Li had samples of their soon to be introduced power supply line in 450, 550 and 750 watt configurations. Interestingly, these samples also listed the 1hr peak overload capacity. Typically vendors may list a peak capacity but it is rarer for the overload time limit to be listed.
Readers may ask, why a Lian-Li supply over a reputable competitor? Well for the time being you'd be right and we would have to say that there isn't a reason for the time being to choose a Lian Li supply over a competitors unit other than price or cable Length. With custom designed chasses such as Lian-Li, cable length becomes an issue and can vary between power supply vendors
Due to the early preview nature of these supplies we were unable to obtain more details regarding these units at press time, however one of these units was powering Lian-Li's demonstration Crossfire system which was running
Crysis
so these power supplies are somewhat ready.
We will have additional information regarding these power supplies within coming weeks.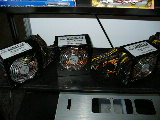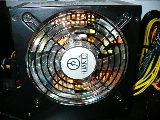 Custom XBOX360 case

Lian-Li has been showcasing its
XB-01 Aluminium XBOX360 Custom Case
at trade shows throughout this year and as of June 2008 we can report it is a production model and is included in Lian-Li's 2008 Product catalogue.
Verdict
Our coverage initially posed the question is the Lian-Li Armorsuit PC80R PC case the ultimate PC chassis. After having hands on preview of these cases we will have to say no, it is not.
Perhaps if the product line received a hot swap HDD feature and unstacked USB ports and more emphasis on silence (silence is also relevant to the gaming segment, to prevent drown out of in game sounds and communication) we would be more impressed and convinced of the cases capabilities.
Additionally, 63CM high cases are full tower ATX form factor and only suitable for those users who have a workspace which can accommodate such a large case. For LAN gamers, transporting such a bulky case even if it is lightweight aluminium would be a difficult task.
We are pleased to report that Lian-Li heading in the right direction though, with many innovative and unique designs that depart from their traditional mid tower designs such as the PC-7A which looks rather dated as it is based on older design. It seems they have been listening to the user community and press feedback for design inspiration.
We are not sure however that power supplies (which would likely be out-sourced from an original device manufacturer anyway) is the best path for this firm and that customers might be better serviced with effort and resources invested into making Lian-Li cases cheaper or adding additional value oriented products.
Perhaps a partnership with an existing reputable power supply vendor may have turned out similar products.
Having a power supply with gold anodised heat sinks poses no benefit other than to a user looking directly through the cooling fan on the power supply [at the heat sinks].
The complete and running Crossfire P80R system which we previewed as running an Asian Language edition of the popular
Crysis
game, playable by visitors.
We appreicate Lian-Li doing this as it gave visitors to the exhbition a chance to see or play the game in a optimal way, the company could have set up a video, rolling game demo or benchmark but went to the effort of setting up an interesting demonstration system, useful especially for those visitors who may not have had the chance to try the game themselves beforehand due to having insufficent system requirements on their computer or not being aware of the title.