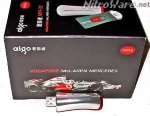 We evaluate aigo's McLaren MP4-22 2GB USB disk and determine whether it lives up to its namesake.
Since aigo's announcement to Sponsor the Vodafone McLaren Mercedes F1 Racing Team, keen computing users and motor racing enthusiasts have waited for a branded USB storage product to complement this sponsorship, aigo has finally delivered.

Exclusive Review
Manufacturer
aigo
Product
Vodafone McLaren Mercedes U Disk
Supplier
Westwell
Model
MP4-22 2GB
Price
$59.95 AUD RRP as tested
Background
The sport of motor racing is one which is widely regarded to be embodying the pinnacle of technological achievement. The usage of computing technology, especially within the top classes of the sport is not a new concept and has been used successfully over the past twenty years.
Through the 2000s the majority of the major leading hardware and software vendors have directly sponsored and supported the top teams as a tool to showcase their innovation, leadership and technical prowess. Computing, IT and technology vendors have finally taken the plunge to be directly involved in this somewhat expensive but remarkable sport.
Without computing, motor racing especially classes such as Formula 1 would not be possible in this current day and age. Computing is used to tune and diagnose cars, monitor race progress, simulate races, calculate aerodynamic efficiency and fluid dynamics, produce parts through rapid prototyping and designing the cars from a 'blank sheet' using Computer Aided Design and Manufacture.
Major vendors who have sponsored Motor Racing of late have included Acer, Aigo, AMD, Canon, Compaq, Computer Associates, HP, Intel, Fujitsu, Microsoft, Motorola, Nokia, Nortel, Oracle, Philips, SAP, SanDisk and Siemens amongst many others.
Some of these companies have offered consumer oriented products which represent the high level of innovation, engineering, design and style that is ever present in classes of motor racing such as Formula 1.
Acer offer their range of Licensed Ferrari branded Notebooks and Monitors, SanDisk have their Ducati styled USB drive and now aigo, a Chinese manufacturer of Digital Media Players who sponsors the Vodafone McLaren Mercedes Racing team has unveiled their own line of USB drives which have been styled to resemble the unique styling and 'silver arrows' livery of the McLaren Formula 1 team and their cars.

Product Bundle
NitroWare.net evaluated this USB disk prior to mass availability in Australia/New Zealand and as such the included documentation may vary in retail.
Aigo have tried to emulate the packaging for designer watches by styling the product packaging in the form of a black gift-box, emblazoned with aigo and Vodafone McLaren Mercedes branding as well as the device feature and specification list. The gift box is thick enough to protect the contents from shipping damage. The box art and marketing text make mention of 'MP4-22'. The MP4-22 was the model for McLaren's successful 2007 Formula 1 Racing car, as driven by World Champion Fernando Alonso who is also depicted on the box.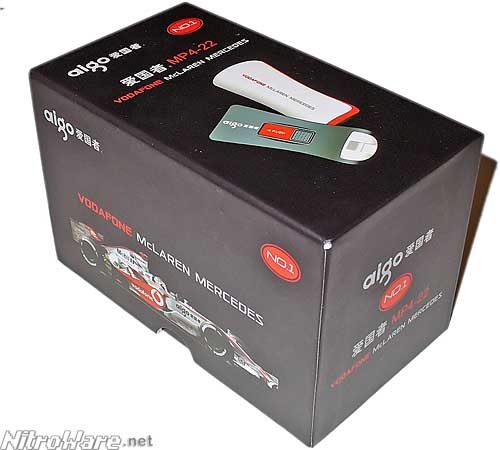 Some Typographical errors were noticed in the marketing text on the box.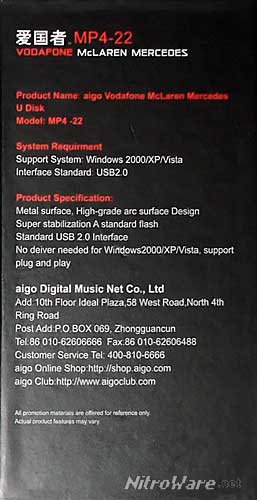 The USB disk is held in an upper faux suede and plastic holder with plastic wrap protecting the polished aluminium finish of the USB disk. The product documentation, nylon neck strap/lanyard with quick release clip and USB extension cable are contained below the tray and take up only a fraction of the available space.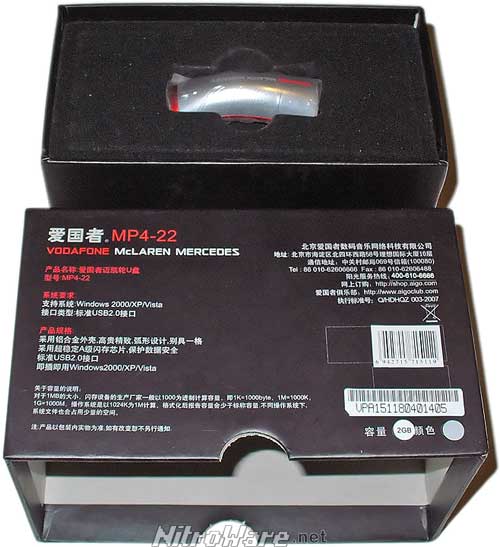 For a premium product, the bundle is sparse and only contains the bare essentials, being the mentioned lanyard and extension cable. Device Drivers for legacy systems such as Windows 98 are not provided. In 2008 support for legacy operating systems at least where USB Mass Storage devices are concerned is no longer necessary as Windows Me and above, Mac OS 9.x, Linux with Kernel 2.4.2 and Consumer Electronics devices with USB ports all natively support USB Mass Storage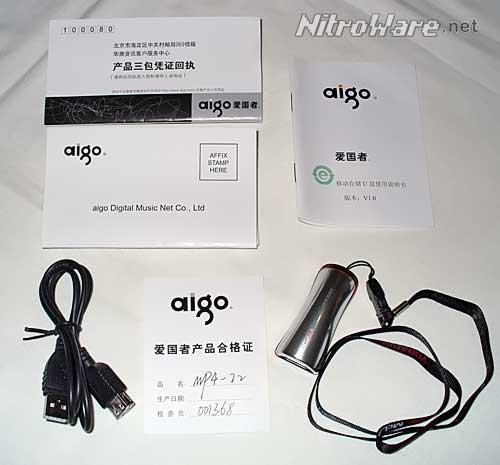 No bonus application software such as recovery utilities or games is included however the USB disk contains a selection of professional photographs totaling 2MB relating to the McLaren Formula 1 Team.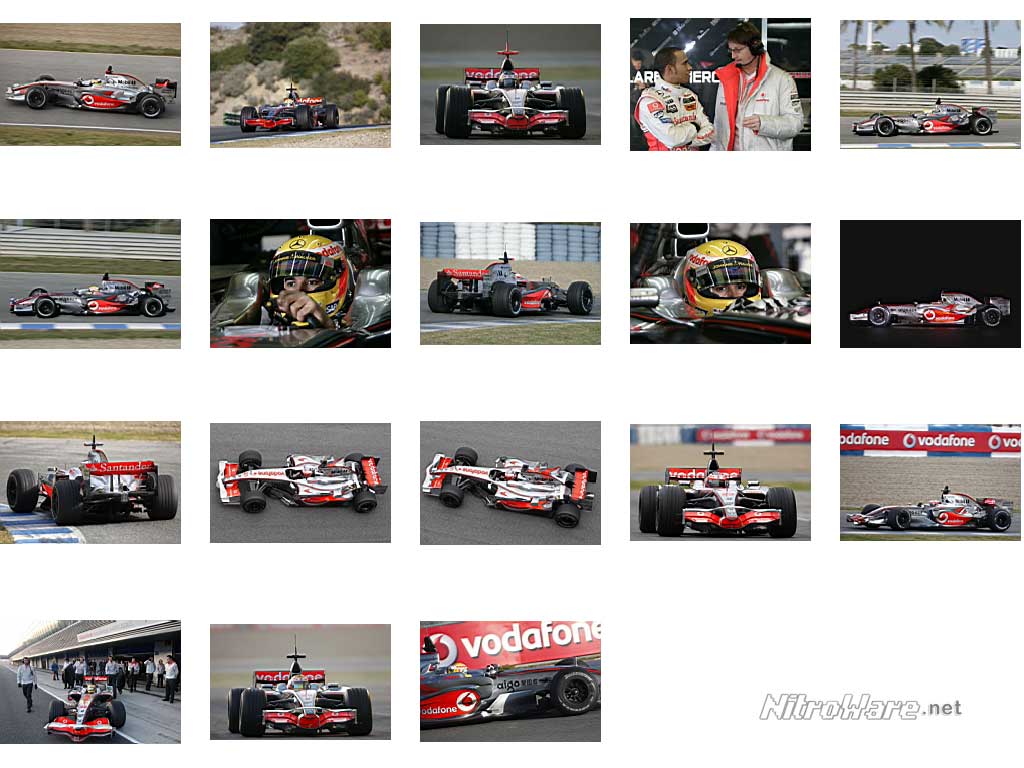 The provided documentation is mostly in Chinese and what English portion is present is at the rear of the booklets, containing some marketing text and describing the safe ejection procedure for the disk in the Windows Operating System. The documents makes a note of that the disk is X-Ray protected which may put some readers minds at rest concerning the longevity of their data when traveling. For purposes of this review this claim is not tested.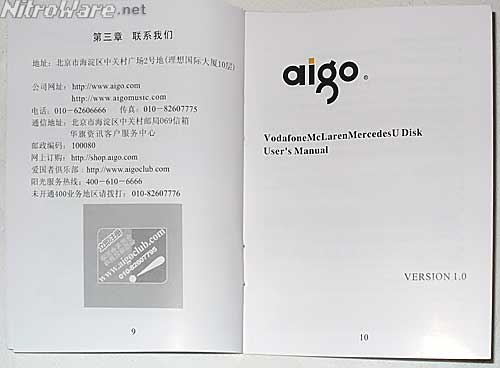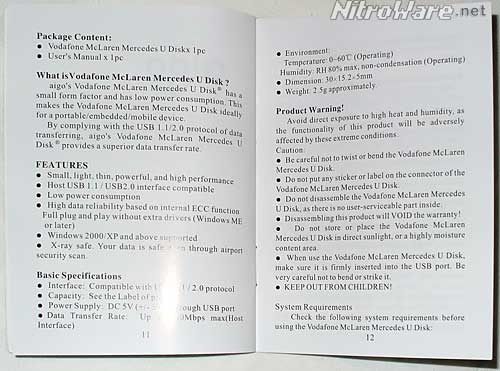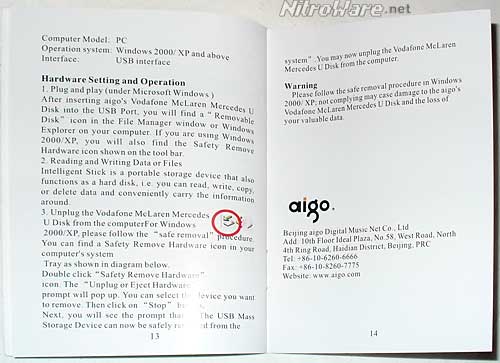 Design and Features
The design of the USB disk itself is quite unique in that it resembles the silhouette of the monocoque chassis of F1 racer and with almost a chameleon like trait, its overall design and shape varies depending on the angle of view. Apart from the SanDisk Ducati USB disk (which is shaped after a MotoGP racing bike) or novelty USB drives to the best of our knowledge and research there is nothing else like it, the entire disk is bent like a banana with the USB connector 90degrees, giving the disk an ergonomic property when being held by ones fingers.
Aigo call their creation an 'arc' design.
The silver aluminium skin of the USB disk is highly polished to a mirror like finish and surrounded by a red aluminium band and a rubber base. A chrome finished loop for the lanyard makes up the tail of the disk. Branding is present on the top and bottom.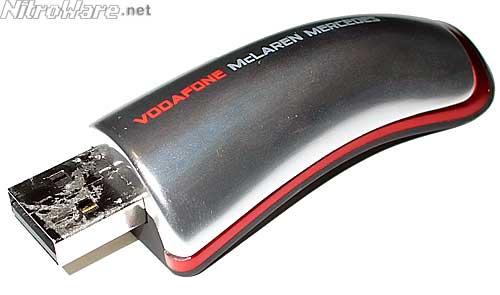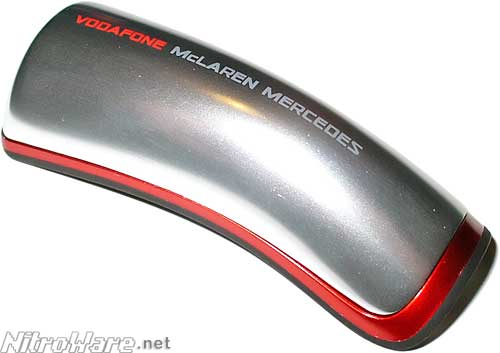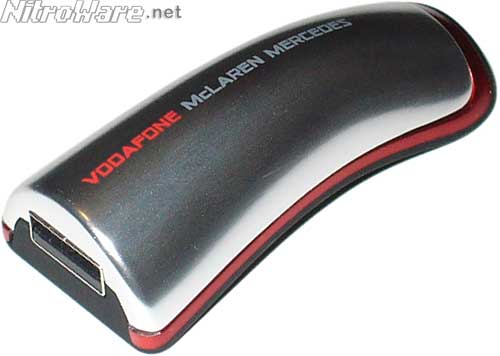 By default the USB plug is in the retracted position and the user needs to manually extend or retract the USB connector. The Push button to actuate this was solid and weighted and some force is required to extend and retract the USB connector. During testing the connector on our review unit remained tight. The plug itself uses gold contacts for longevity.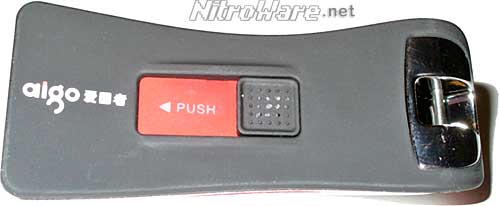 Given the nature of this device, it would have been good to see some form of spring loaded mechanism to extend and retract the connector but such a feature may prove unreliable over time and add to an already expensive and large device.
The Base of the drive, resembling the under chassis is in black rubber to give non slip properties when holding or inserting/removing the disk.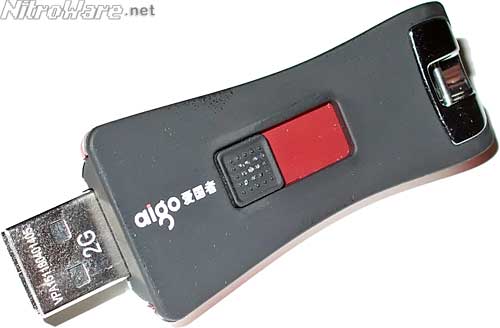 This is no sleek drive by a long shot. It requires two stacked USB ports in height and in some installations may conflict with an adjacent plug or prevent a notebook computer from being placed flat on a surface. This trait is also present with other large format USB devices and our testing indicated that the chassis of the McLaren disk was designed with enough attention for it to fit within most rear USB ports and some front ports without hassle. Users will need to use the bundled 85CM long fully USB compliant extension cable to use the disk in some scenarios.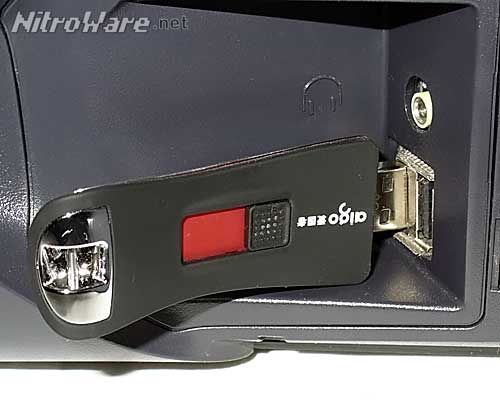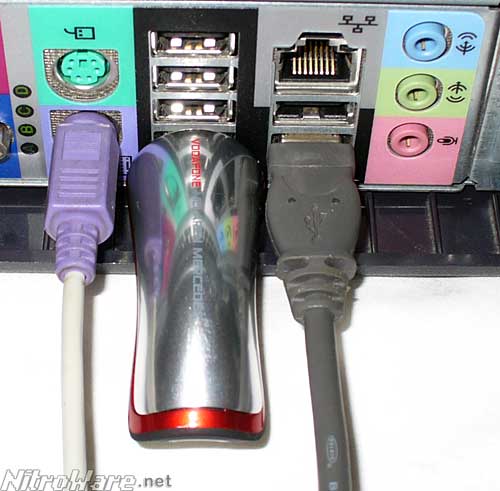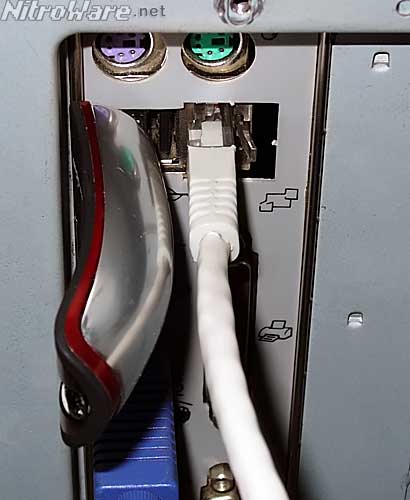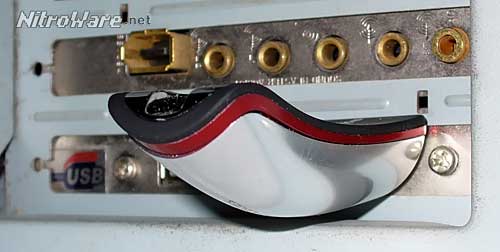 This extension cable is of a generic variety and does not complement the design of the McLaren U disk. Perhaps aigo should take a page from the Belkin N1 USB Wireless adapter's book whose design of the stand/cradle matches the USB device.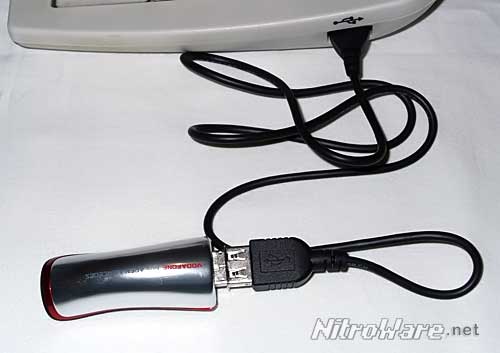 The disk has no access light whatsoever which we feel helps the user to know that the drive is not being accessed so that the drive can be removed. The upper text branding or the lower red aluminium band or even the rear chrome lanyard hoop could have benefited from a red 'brake light' such as on the SanDisk Ducati USB disk.
This product contains reference to corporate branding and advertising in the form racing team sponsors Vodafone and Mercedes-Benz, while the package claims these are provided for reference only we cannot help to ignore any possible licensing or cross promotion arrangements and feel that this branding makes the product resemble a promotional item rather than a premium product. If the product was simply branded 'McLaren' just as with other premium products bearing the mark then it becomes easier to justify the asking price from the purchasers point of view.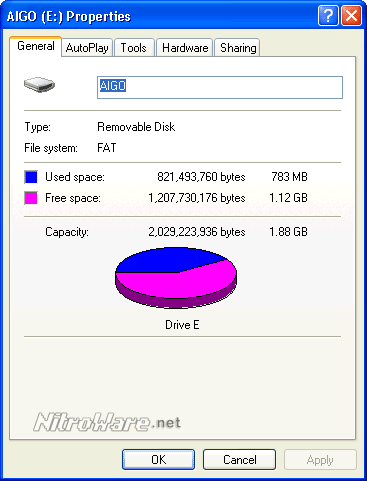 Performance and Benchmarks
Performance
While USB disks, drives, sticks or keys, whatever terminology you prefer are now ubiquitous and are the portable storage of choice thanks to their compact size, large capacity and convenience the actual level of read/write performance between different USB storage devices which use Flash Memory varies significantly.
Some manufacturers do not want the consumer/user to be aware of the actual performance level of their products due to fear of such products being ignored and to proceed with using cheaper components, especially for entry level or value products.
While it is common practice and acceptable for a given manufacturer to have a wide range of product with varying performance from average to high performance, this does not excuse a vendor from not disclosing performance information for these products.
In addition, some mainstream technology publications will not reveal performance levels due to ignorance, lack of knowledge and desire to satisfy sponsors and advertisers, leaving readers in the dark about the true nature of a product they are considering for purchase.
The performance of USB Flash drives can be classifying in several ways.
Read and Write throughput in Megabytes per Second
A multiple of 1x CD-ROM read rate, such as 80X or 150X
Input/Output Operations per second
Whether the controller chip in the device uses single or dual channels to access the flash memory storage
The technology used within the flash memory storage chips themselves, being Single-level cell (SLC) and Multi-level cell (MLC). Cheaper devices use the slower but higher capacity memory chips based on MLC design versus the smaller capacity but faster SLC design with the difference being how much data cab be stored within each memory cell in the memory chip.
Typically, throughput in MB/s is the most common way to describe the performance of flash memory storage such as USB drives or flash memory cards for cameras and media players. Flash memory cards such as Secure Digital (SD) have their own formalised method of describing the performance for a card consisting of classes but this will not be covered in this particular review.
The aigo McLaren USB disk does possess any specific performance related data on its packaging or documentation. The only hint to performance is a brief notion of 'high performance' in the product documentation and marketing text.

Our testing has revealed that this disk is capable of Reading at 15MB/s maximum and Writing at 5MB/s maximum which is equivalent to 100X, a satisfactory and acceptable level of performance. However other USB sticks with the same throughput speeds can be had for a quarter of the price.
For a product inspired by a successful and winning racing team, we expected that the device would at least be dual channel and capable of class leading performance in the range between 20-30MB/s reads and 10-20MB/s writes, such as the 'Rally' USB drive from OCZ, Corsair's Flash Voyager series and even SanDisk's Ducati Extreme USB disk which is capable of this level of throughput and is a direct competitor to the aigo McLaren product in the field of motor racing branded computer products
To benchmark the device and to determine its performance we used some standard benchmark tools that are widely used by technology media and vendors to determine these metrics.
Our result and testing methodology should be reproducible by our readers and other publications. We test using real world platforms consisting of disk images represent of an average user, that is a fully configured operating system with a selection of installed applications and utilities such as system utilities, internet and productivity applications. We do not test using a fresh, bare bones operating system installation.
A typical user should be able to experience their purchase by installing it using the prescribed manner and it should just work, without any unnecessary reformatting or complex configuration.
We tested this USB disk on chipset's from three of major vendors of system chipset's with USB 2.0 controllers; Intel, NVIDIA and VIA Technologies under Windows XP with Service Pack 3.
The performance of a USB storage device is dependant on the controller and flash memory within the device (such as this USB disk), the USB 2.0 controller within the system and its device drivers. While the system CPU does play a part in determining the percentage of CPU utilisation used to access the device since USB uses a polling technique in its operation, transfer rates should be within a margin of error regardless if the system containing the USB 2.0 controller is an elderly Intel Pentium III or the latest Quad Core systems from Intel or AMD.

Benchmarks
Test Systems
| Chipset | Platform | CPU | Main board | Chipset | USB 2.0 Controller |
| --- | --- | --- | --- | --- | --- |
| INTEL | Dell Optiplex GX270 | Intel Pentium 4 HT 3GHz | Dell Custom | Intel 865G | ICH5 |
| NVIDIA | White box | AMD Athlon XP 2GHz | Soltek 75FRN2-L | NVIDIA nForce2 Ultra 400 | MCP2 |
| VIA | White box | AMD Duron 1.3GHz | Gigabyte 7VA | VIA KT400 | VT8235 |
These three test systems provide a good cross section of typical machines which include USB 2.0 that are present in the field . Chipset from SiS or USB 1.1 performance was not tested.
Transfer Rate Test - ATTO32 benchmark
| Chipset | Maximum Read (MB/s) | Maximum Write (MB/s) |
| --- | --- | --- |
| INTEL | 15.87 | 4.69 |
| NVIDIA | 15.83 | 4.65 |
| VIA | 15.60 | 4.58 |
| Average | 15.77 | 4.64 |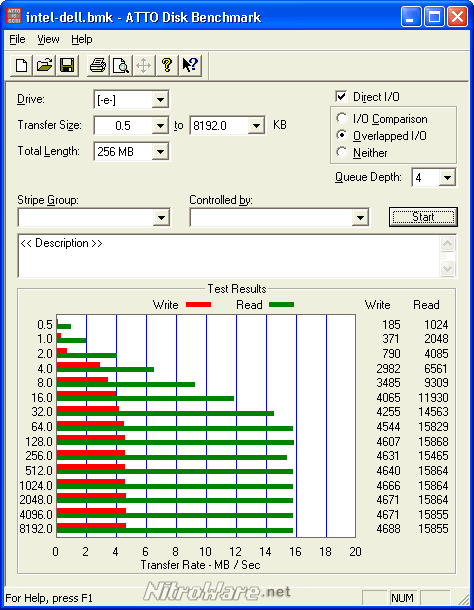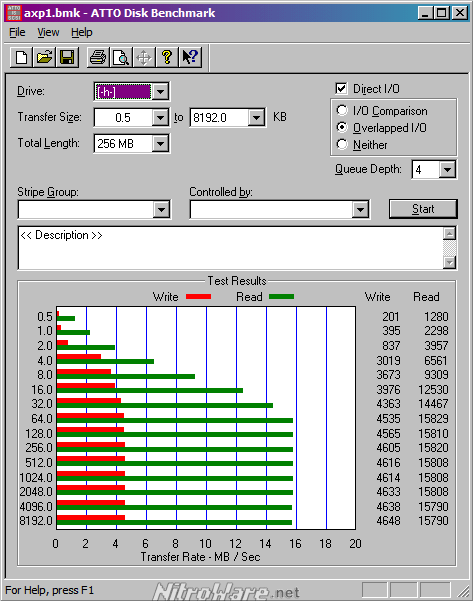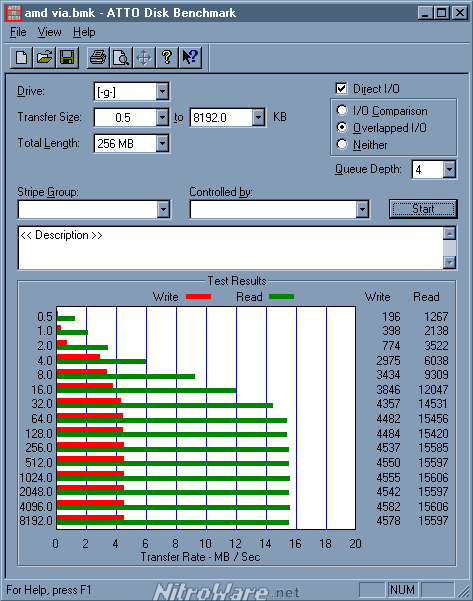 Transfer rate test - HD Tach 3 Benchmark
| Chipset | Random Access (ms) | CPU Utilisation % (-/+2%) | Average Read (MB/s) | Burst Speed (MB/s) |
| --- | --- | --- | --- | --- |
| INTEL | 0.9 | 8.0 | 15.3 | 15.4 |
| NVIDIA | 0.8 | 5.0 | 15.5 | 15.7 |
| VIA | 1.2 | 8.0 | 15.4 | 15.7 |
| Average | 1.0 | 7.0 | 15.4 | 15.6 |
Transfer rate test - HD Tune 2.55 Benchmark
| Chipset | Access Time (ms) | CPU Usage (%) | Average Read (MB/s) | Burst Speed (MB/s) |
| --- | --- | --- | --- | --- |
| INTEL | 0.9 | 6.0 | 14.5 | 13.1 |
| NVIDIA | 0.8 | 9.9 | 14.8 | 13.8 |
| VIA | 0.9 | 13.4 | 14.7 | 13.6 |
| Average | 0.9 | 9.8 | 14.7 | 13.5 |
Transfer rate test - Flash Memory Toolkit 1.2 Benchmark (KB/s)
| Chipset | 1MB Write | 1MB Read | 2MB Write | 2MB Read | 3MB Write | 3MB Read | 4MB Write | 4MB Read | 5MB Write | 5MB Read |
| --- | --- | --- | --- | --- | --- | --- | --- | --- | --- | --- |
| INTEL | 3241 | 13944 | 3519 | 14406 | 3809 | 14565 | 3932 | 14646 | 4070 | 14761 |
| NVIDIA | 3689 | 14170 | 4030 | 14837 | 4204 | 15023 | 4299 | 15062 | 4341 | 15010 |
| VIA | 3066 | 14091 | 3138 | 14430 | 3532 | 14608 | 3744 | 14651 | 3860 | 14758 |
| Average | 3332 | 14068 | 3562 | 14558 | 3848 | 14732 | 3992 | 14786 | 4090 | 14843 |
Operations per second test - IOMETER benchmark
Maximum IO Operations test pattern - 512 size with 67% Reads
| CHIPSET | IOps | MBps |
| --- | --- | --- |
| INTEL | 21.38 | 0.03 |
| NVIDIA | 20.68 | 0.01 |
| VIA | 22.07 | 0.04 |
| Average | 21.38 | 0.03 |
Default test pattern 2048 size with 67% Reads
| CHIPSET | IOps | MBps |
| --- | --- | --- |
| INTEL | 21.14 | 0.04 |
| NVIDIA | 21.82 | 0.04 |
| VIA | 22.07 | 0.04 |
| Average | 21.68 | 0.04 |
Maximum Throughput test pattern - 65536 size with 100% Reads
| CHIPSET | IOps | MBps |
| --- | --- | --- |
| INTEL | 222.43 | 13.90 |
| NVIDIA | 216.08 | 13.51 |
| VIA | 216.28 | 13.52 |
| Average | 218.27 | 13.64 |
What do all these benchmarks mean?
We use several similar benchmarks to verify that the results of a particular test gives are consistent with other similar tests. Unless the user or test is familiar with a single benchmarking or testing tool, the results of a single test program should not be taken alone as these different tests may report different results.
Different benchmark tools may utilise different test algorithms, methods and may be more or less affected by peculiarities in the test system such as installed hardware or software, how much time the processor is spending running the test , programs that are running in the background.
Our tests over three of the four major PC hardware [chipset] platforms using several popular benchmarking tools used in the industry to test storage devices conclude that our review unit was easily capable of reading data at 15MB/s (100x) and writing data at 4.5MB/s (30x) with large size files.
In comparison, a CD can be read between 3.6MB/s (24x) to 7.8MB/s (52x) depending on capability of the CD-ROM drive.
Flash Memory devices such as USB sticks/keys or Cards perform at their best with large file sizes and perform poorly with small file sizes. This is normal behaviour and the scope of which and which brands perform better with small file sizes will be covered in the future. Additionally, the characteristics of flash storage device change once the user loads some files onto the device and we tested with approximately of 800MB of assorted files consisting of application installers, device drivers , photos and media files such as video and audio.
The IO meter scores measure the number of operations per second. In essence this test can measure the efficiency of a storage or networking device. This test is useful for comparing storage devices or networking with similar specifications to see which device/test system is faster due to a more powerful design or better software.
Support and Warranty
At time of going to press, the provided Internet Links within the product documentation lead to Chinese language only web sites with no indication of the particular MP4-22 USB disk product.
aigo Digital Music Net Co Ltd provides a one year warranty if the user mails in the included warranty card with proof of purchase.
Since this method is not applicable to certain geographical regions, the relevant local aigo agent should handle warranty claims and in the case of Australia and New Zealand, aigo's ANZ agent Westwell offer a locally supported 12 month product replacement warranty as well as local technical support.
Considering the significance of the product in terms of branding and the price, the one year warranty is below par and competitors in the flash memory segment with some vendors offer up to 10 years or lifetime warranty solid state flash memory storage often with easy web based RMA procedures on devices. We strongly feel this specific McLaren branded product should have been offered with a longer warranty given the asking price and heritage, significance and reputation of the brand represented.
Price and Availability
Australia/New Zealand
aigo's ANZ agent, Westwell state that the McLaren USB disk will be available in 1GB at a RRP of $49.95 and 2GB at $59.95
The product should be available from October 2008 through major retailers which specifics to be determined as well as computing resellers via the IT distribution channel.
Global
For our international readers, information regarding global availability of this product was not available at press time and we will update this article accordingly once we receive this information.
Verdict
For the role of a high speed USB disk there is scope for improvement in performance especially for its price point. This device offers satisfactory performance that is expected of a 'name brand' USB mass storage disk. If you are after a very high performance speed USB disk then we suggest considering an alternative product.
However, we were quite impressed by the style and design of this product. If you are after a uniquely designed USB drive that will be the envy of your peers or are searching for the ideal gift for a motor racing or automotive enthusiast this product would be ideal. We recommend this product mainly for this purpose.
The Vodafone McLaren Mercedes U-Disk has a unique, innovative design and attempts to represent the prestige and tradition of the Vodafone McLaren Mercedes team however the user pays a high price for an otherwise inexpensive disk drive
IOMETER - These results were obtained using Iometer version 2006.07.27 Copyright date by Intel Corporation. Intel does not endorse any Iometer results.Protected brand names and marks are used for reference purposes and in good faith.