Page 1 of 6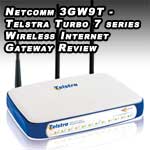 Recent releases of 'must have' smart phones and heavy marketing of 3G connected devices in the mass media such as USB modems, smart phones, PC cards and notebook PCs with build in 3G connectivity is pushing mobile broadband to the masses, however promises made can be perceived as hype and marketing lies by some especially those who have experienced some legacy types of wireless cellular or networking.
Does 3G Mobile Broadband live up to the hype? To find out, NitroWare.net reviews a high performance 3G Gateway-Modem/Router that is advertised to deliver megabit speeds equivalent to wired broadband.
Review
Manufacturer
NetComm Australia
Product
Telstra Turbo 7 Series Wireless Gateway - Wireless Internet Gateway with Integrated HSPA 3.5G HSPA Mobile Broadband, Wi-Fi and Ethernet
Supplier
Telstra
Model
3G9WT
Price
Varies: $529 AUD RRP as tested [Oct 2008-Feb 2009]
Rebates may be available through Telstra depending on data plan or contract.
Background
T
he Telstra 3G9WT Internet Gateway is intended as a fully mobile internet access point allowing a user to deploy Wired or Wi-Fi connected Internet access wherever there is a 2G or 3G mobile reception in a single integrated unit without the need for external hardware. Telstra Corporation, Australia's major Telco provider and ISP and networking vendor NetComm Australia has made claims that the performance of this Gateway unit (and the 3G Network it was 'designed' for) are of high performance, quality, uniqueness and equal to the worlds best technology in the field.
The purpose of this review is to independently evaluate the performance of this 3G Gateway in terms of Internet throughput as well as to analyse the features, design and overall package for the unit.
The unit covered in this review is mainly intended and marketed towards Professional, Business and Enterprise customers. A similar model with minor variations in feature, bundle and branded for Telstra's retail ISP arm Bigpond is available for consumers at different price point and plans. This model will not be covered in this review.
NitroWare.net published a first-impression report of the Telstra/NetComm 3G Gateway offerings. We suggest readers view this article before reading this review if you are unfamiliar with the product/technology covered in this review.
Product Bundle
The review unit NitroWare.net received came from a batch of media evaluation/demonstration units but to the best of our knowledge the product reviewed here is indicative of retail units available for purchase.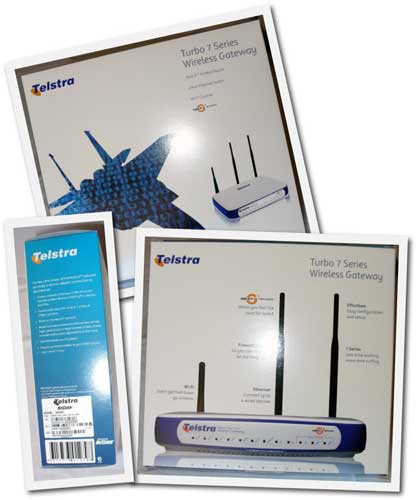 Since the 3G9WT is marketed towards specific segments of users who do not require detailed instructions or 'self install kits' and as an integrated device requires very little setup and configuration the product bundle is sparse as is the case with other Routers/Gateways available in retail or distribution channel.
Packaging is comprised of 'eco friendly' folded laminated card with an over sleeve with the sales and marketing information. While the packaging is highly recyclable, it does not provide adequate retention and protection of the accessories especially for extended mobile use, which is what the product was designed for in the first place – a mobile internet access point.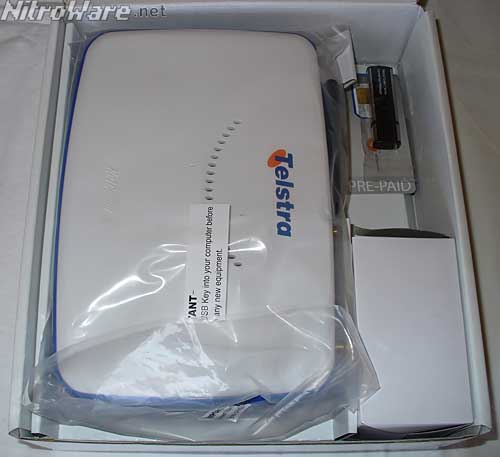 The Gateway ships with the unit itself, two 18CM removable 3G antenna, Power adapter, a read me first card, a small card containing the SSID and WPA security key, 1.5 metre Ethernet patch cable and a 256MB USB stick containing the configuration utility, status utility and electronic documentation for Windows and Mac Platforms. We were quite pleased by the omission of a CD and inclusion of a USB stick which has a RED activity led and performs at typical USB2.0 speeds of 10MB/s. A larger size than 256 would have been preferable but not necessary. Crucially, the USB stick is fully writ able to as the configuration software does write data to the disk and the user is also free to add their own files to the disk.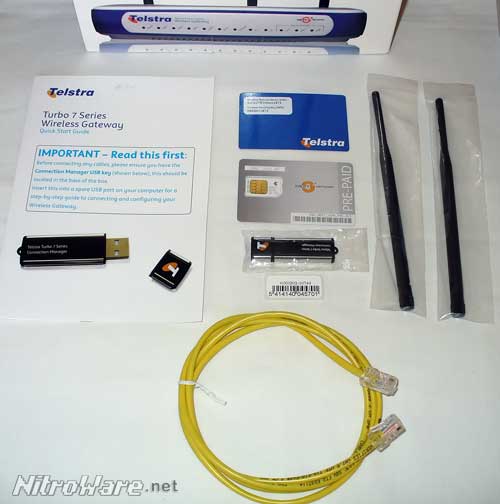 A 12V DC Car Power Adaptor can be used as an optional accessory, however we at NitroWare.net feel that this item should have been included in the product bundle to enhance usability and value since the product is intended for use as a mobility solution. The cost of the item, a common 1A-2A part as found with many cheap mobile phone accessory packs is negligible. While users can supply their own compliant adapter, a bundled, supported adapter provides the user with less of a headache when dealing with technical support or Warranty RMA process.
The gateway comes with a generic switch-mode power supply of 12V DC and 1.5A specification using a large barrel plug as standard on such devices. This particular supply emits faint but audible RF noise while operating which may be annoying to some users especially if they are close to the power supply.
One thing that annoys us as reviewers and some of our clients is design and choice of power packs for consumer and even some business/enterprise gears. The transformer housing can often be too wide, too long, too fat, inefficient, proprietary plugs or the cables can be too short. It is such a minor item than is overlooked by at the logistic stage of manufacturing. It is often minor aspects such as cable type/length, housing design or annoyances with the configuration of a device that prevent a product from being completely hassle-free and as part of the review process this is something we look for.
Disposed power packs was such a problem in china that their government mandated a single standard connector be introduced, and we are sure many of our readers both consumer and business can sympathise with the scenario of having a large collection of different power packs or having to do 'workarounds' with cables, power boards and positioning to get the power cord for their device to reach or fit.
We test fit into a widened Australian power board of an older style against two of the main types of 230VAC IEC plugs as used to power computers and printers. This is a worst case test as many power boards on the market are now widened to accept one or more power packs
We also measure cable length coming out of the plug pack as the device may not always be close to the power outlet
What we are looking for is primarily does a particular power pack conflict with the adjacent socket and secondarily does the plug-pack overhang over the power switch although we recognise not all power boards use power switches, but we replicate the worst case scenario.
In the case of this Mobile broadband gateway, the idea is that a user should be able to quickly and easily setup the unit and get online. If a user has to spend a great length of time reorganising power cables or arranging a workaround to get power to the unit, especially in locations where existing wiring cannot be changed or additional devices must be powered this defeats the purpose of the device and does not lead to a effortless use of the product.
The adapter bundled with our review unit passed one of our two power socket fit tests which is acceptable. Measured cable length was approximate 1.6 metres. This is the bottom of what we would classify as acceptable, especially for a product with a $500 AUD RRP. If the device is at different height to the power outlet, the plug pack cable length may be prohibitive.
The same applies for the bundled Ethernet patch cable, however that part is cheaply and easily replaced by the end user if needed.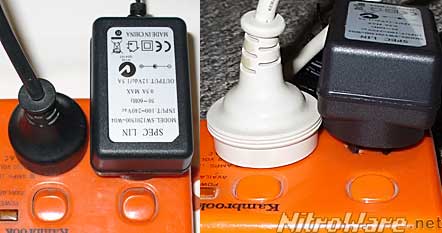 The read me first card is a single folded sheet in colour and English only. It follows Telstra's typical style motif and as such is very readable, legible and concise. Compared to other manufacturers who provide a small printed booklet which typically do not mention more than just how to connect cables or put the CD into the host PC.