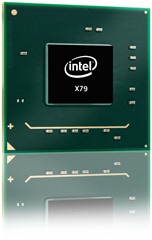 Intel have to have shaken the skeleton in their closest by offering a cut price version of their Extreme branded X79 Desktop board that sells for $100 less than the widely reviewed DX79SI. The DX79TO is one of the cheapest premium X79 boards on the market yet still retains the 8 memory DIMM/64GB memory support in the standard ATX dimensions.
We preview the DX79TO Desktop Board from Intel - A reduced cost version of Intel's flagship DX79SI Motherboard for Intel 2nd generation Core i7-3000 series and socket LGA-2011 and explain why you should consider a cheaper X79 motherboard.
What many do not realise that both AMD and Intel segment their processor products according to price. Both firms offer different computing experiences at the $60, $120, $180, $220, $330, $600 and $1000 price points. Processors are supposed to be compared according to performance per dollar or equivalent speed not overall speed.
The recent launch of Intel's 2nd Generation i7 'Sandy Bridge-E' series CPU and the X79 chipset is an example of the higher priced Enthusiast/Workstation/Entry server oriented product. These launch CPUs sell art the $600 and $1000 price points with motherboards typically in the $300-$400 range. Clearly these prices are intended at well off enthusiasts or early adopters who can afford the technology. These users do not constitute the entire performance computing market.
Sometimes, a cheaper motherboard may offset the cost of an expensive motherboard or vice versa but not always. For this 2011 enthusiast platform this was not the case as a cheaper entry level quad core CPU not due till next year and majority of motherboards priced highly despite the X79 chipset itself being cheaper than its X58 predecessor . At least that's how things seemed at first.
Rumours around the trade press indicated Intel was to launch two motherboards initially however when launch time arrived on Nov 15 yet only one board appeared, the DX79SI which was exclusively sampled to media as part of Intel's review kit for their platform. Vendors typically will only sample their high end product especially at launch and de-emphasise any cheaper variants. What Happened? was the other board cancelled? delayed? hiding? Well the DX79SI, SI for 'Siler' had a number of clues as to where its sibling was hiding in a number of unpopulated solder pads for optional ports.
Sifting through reseller and distributor lists we found the answer, which was staring us right in the face really. What was left behind was the DX79TO which deletes the redundant and unnecessary features to save a whopping $100. This is significant when it comes to the history of PC ATX motherboards where we have such a major price difference with two different variations of the same motherboard.
So, what is the DX79TO, TO for 'Thorsby' missing for it to receive such a price cut? Well quite simply, features that are rarely used or redundant in the current prosumer/enthusiast computing market. Although a comparison chart is available, it is not complete, accurate and does not tell the full story about difference between both boards.
Core functions
Both boards are of the same design with some removed features on the TO version.
The SI has a larger heat sink on its chipset with the TO lacks. We do not like how the SI has mesh in its heat sink anyway as this is a cosmetic feature that could have been done away with by designing the heat sink more elegantly.
As the SI board is aimed at the more extreme users and the TO is a more mass market/cheaper edition, Intel have installed a Trusted Platform Module (Security) device on the DX79TO so that system builders, OEMs and business/enterprise can build workstations with hardware security. Enthusiast end users do not want this feature so it is removed from the SI.
Consumer infrared, a feature for Home Theatre PCs to allow a simple and cheap ay to support a IR receiver for a remote control is removed also.
Memory
This part we are not sure of and requires consultation from Intel. Some documents such as technical guide, product overview and user manual specify that both boards support up to DDR3-2400 Memory with XMP support. Yet some references especially marketing overview pages refer to only the SI having this memory support and the TO restricted to '1600+' memory. Based on our experience with Intel desktop boards the specs can change at the last minute and are often updated during life cycle or via firmware updates so we believe both boards support the 2400 maximum memory speed.
Higher speed memory such as 2000MHz and higher is not only more affordable now (starting at $99 AUD for 8GB 2133 kits of high latency memory) but vendors are offering standard 1.5V and or standard size memory (such as Kingston's HyperX Genesis 2133MHz model with 9-11-9 timings) to allow these high speed RAM to be used much more easily in enthusiast class systems without the RAM blocking the CPU cooling due to excessive height. Having the high speed memory feature is very desirable especially on a platform such as this
Intel X79 chipset has support for the new XMP 1.3 memory standard which allows for more accurate and precise memory control.
Both the SI and TO support all eight memory DIMM slots in the standard ATX form factor and dimensions allowing both boards to be compatible with any standard ATX chassis produced in the last ten years. the DX79TO is one of the cheapest boards on the market with this number of memory slots. Intel has been able to reroute and optimise some of the circuitry on the board to make this happen. Other motherboard vendors are using the E-ATX form factor or an overhang on the front of their motherboards to accommodate all their parts which makes installation into a standard ATX chassis difficult or impossible.
Audio
8 channel Audio? Gone. the DX79TO has only 6 channel audio jacks installed on the board. This is no big loss unless you require 8 channel analogue line out which in that case you would either have a very rare 7.1 speaker set or an amplifier that does not have a digital input. The other consequence of this audio is that if the rear 6channel audio is in use, the rear mic or line in cannot be used. We have the front audio ports which have a mic input or re-taskable jacks however. Both the DX79TO and SI use the Same Realtek 892 HD Audio chip so this is an acceptable loss.
Unfortunately, SPDIF Digital out is missing also which may be a bigger loss itself than the additional two analogue channels. All modern graphics cards have 8 channel audio however which can suffice but not for users who are not using HDMI for their audio needs.

A gaming sound card can be used however this adds additional cost $100 to the system build but some users may think this is a worthy spend considering the alternative.
All Intel have done here is deleted the 8 port audio jack and replaced it with a 6 port audio jack module, the audio system is unchanged as are the solder pads and mount points for the 8 port jacks. This actually does not have much cost when we look at the bill of materials for the product as well as the manufacturing cost. It is simply an artificial means to restrict the features on a cut down product that may have made he difference between a user choosing the cheaper of a $200 or $300 board.
Since the DX79TO already is lacking its third PCI Express 16x slot and networking, there is already enough sufficient feature differences between the two boards to not warrant the audio as well.
It is understandable why Intel did what they did but it is definitely a debatable topic in technical circles.
Networking
2nd Intel Gigabit LAN? Gone. Dual on-board gigabit LAN is a niche feature for power users who wish to setup Ethernet teaming/bonding, use two separate subnets or bridge the two on-board gigabit boards to create a two port gigabit bridge in lieu of a dedicated switch. One gigabit LAN is sufficient for the majority of X79 customers.
The DX79TO does not bundle the Wi-Fi/Bluetooth model that is included with not only the DX79SI but other 2011 Premium Desktop boards. This saves significant cost. The technical specifics of the module are MSI manufactured Wi-Fi 802.11N 1T1R + Bluetooth 2.1 connected via USB.
Graphics
Third PCI Express 16x slot? Gone. Those who would like the capability to run three cgraphics cards in Crossfire or SLI can go with the more expensive SO board which supports the following configurations for graphics.
Two or three graphics cards : 2x16 lane + 1x8 lane setup
Four graphics cards : 1x16 lane + 3x8 lane or 1x16 lane + 2x8 lane + 2x4 lane setup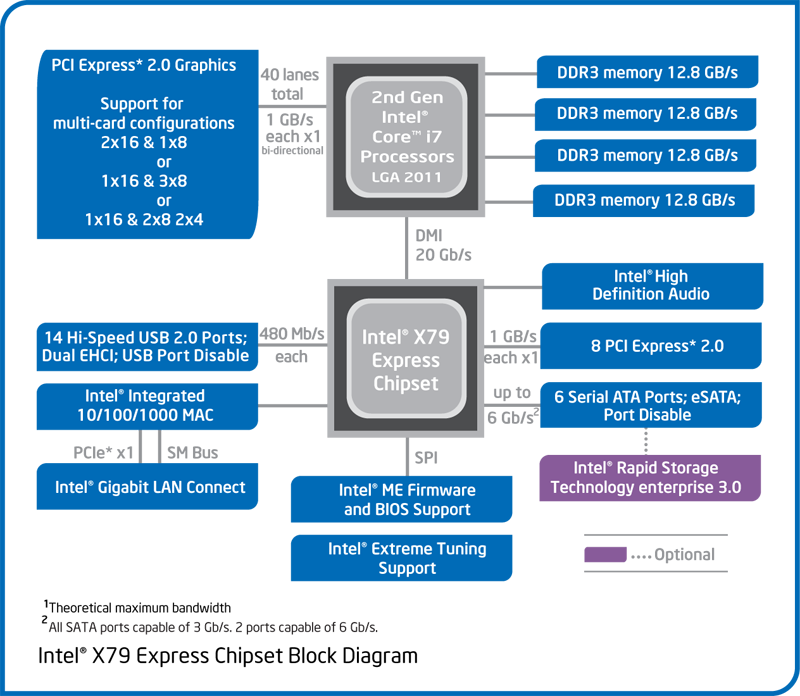 The TO only has the two 2x 16 slots for graphics cards which with two large enthusiast class graphics cards such as NVIDIA GTX560 or AMD HD6900 will provide more than enough performance except for the most hard-core enthusiast user who would be more suited to the SI's three native 16x slots or a third party board especially since both boards lack a debatable supplementary power socket to help power these slots.
USB and Firewire
DX79SI has the standard USB3 layout of two rear USB3 ports and two front USB3 ports however the front USB3 ports are deleted from the DX79TO. Wether the USB system actually supports two or four ports depends on the chip being used. Intel are using the NEC/Renesas 727200 family USB3.
Strangely both boards have two IEEE-1394 Firewire ports. Many users would have liked this feature to be deleted completely at least on the cheaper board saving $10 and in lieu retain the USB3 front ports or 8channel audio function. Firewire is typically retained as a means to connect hard/optical drives, Video cameras, security dongles, industrial equipment and debugging tools
Bundle and accessories
Apart from a temperature sensor probe, the bundles for both boards are very similar. We have not seen a temperate sensor probe/cable included with a motherboard for many years. Strangely we are unsure why a premium/extreme board like the both these versions bundle no SATA cables. Cheaper media series boards such as the DH67BL from 2011 do bundle two 'red' SATA cables with the bulk version.
DX79TO
Bulk
DX79TO Retail
DX79SI Bulk
DX79SI Retail
Wireless Module
Y
Y
SATA Cables
0
4
0
4
Intel Extreme Mouse Pad
Y
Y
Card with error codes
Y
Y
Thermal probe cable
Y
2-Way SLI bridge
Y
Y
Y
Y
3-Way SLI Bridge
Y
Y
Documentation, Software DVD, IO Shield
Y
Y
Y
Y
Support
Both Intel X79 boards are supported in the same manner by Intel with a three year warranty for BOTH the retailed boxed version or the bulk version.
Since these boards are the same design but vary slightly in features they use the same BIOS so performance should be near identical. Users of the cheaper board will not miss out on any features or updates either. Technical support should be available in a large number of regions where Intel has a branch office.
Pricing and Availability
Our sources say shipments of both the DX79TO and its bigger brother the excellent DX79SI should be landing in Australia on November 24. Pricing for the DX79TO is around $220 AUD lowest street price with the DX79SI another $100.
Verdict
Intel have done what other motherboard vendors dare not do, remove unnecessary features. At first they removed legacy ports and now are 'trimming the fat' in order to entice new users to their more expensive enthusiast platform.
if only the likes of the tier 1 vendors such as ASUS and Gigabyte would follow suit and remove features instead of adding unnecessary gimmicks. Abit started this trend almost ten years ago with their MAX boards which lacked legacy ports and it has taken this long for things to come full circle.
There are a few oddities between the boards such as one model having features the other should have and vice versa but this more a subjective than objective issue.
If you are keen on upgrading to sandy bridge-E or especially if you are planning to build or purchase a new system, strongly consider the DX79TO (and the DX79SI) as they give you the full X79 platform experience without some rarely used features that were becoming irrelevant. Both boards are unique in that they offer the full 8 memory slots in the standard ATX form factor.
Further Reading
http://ark.intel.com/compare/55800,55799
http://www.intel.com/content/www/us/en/motherboards/desktop-motherboards/desktop-board-dx79si.html
http://www.intel.com/support/motherboards/desktop/dx79to/sb/CS-032859.htm
http://www.intel.com/content/www/us/en/motherboards/desktop-motherboards/desktop-board-dx79to.html
http://www.intel.com/support/motherboards/desktop/dx79si/sb/CS-032858.htm