Page 2 of 6
Bioshock Infinite Benchmark Performance
Bioshock is part of AMD"s Never Settle Game bundle program as well as their Gaming Evolved Optimisation and developer relations program. As such any title under this banner is usually highly polished with some shiny graphics eye candy added in to showcase the latest in hardware with innovative uses of DirectX 11 such as 3D effect, lighting and Physics.
Since it is also a relatively new and highly acclaimed title and it is based on the mature Unreal Engine 3, Intel have also been discussing how well the title runs on 4th generation Core CPUs with the Iris Pro graphics and their driver will have been optimised for Unreal Engine 3 and Bioshock itself.
The benchmark itself is not even that great. It takes some scenes from the game and flies the camera through them with the minimal of AI. A separate benchmark script is provided with the game with the ability to choose graphic pre-sets for the run.
We tested Bioshock by running the benchmark at different resolutions and details, taking the results and presenting them as-is on a frame by frame basis (showing frame times and smoothness) and a summary chart showing the total minimum, average and maximum frame rate for every test. The latter is a visual representation of how performance scales between Intel graphics, NVIDIA graphics and the different generations of Intel Architecture.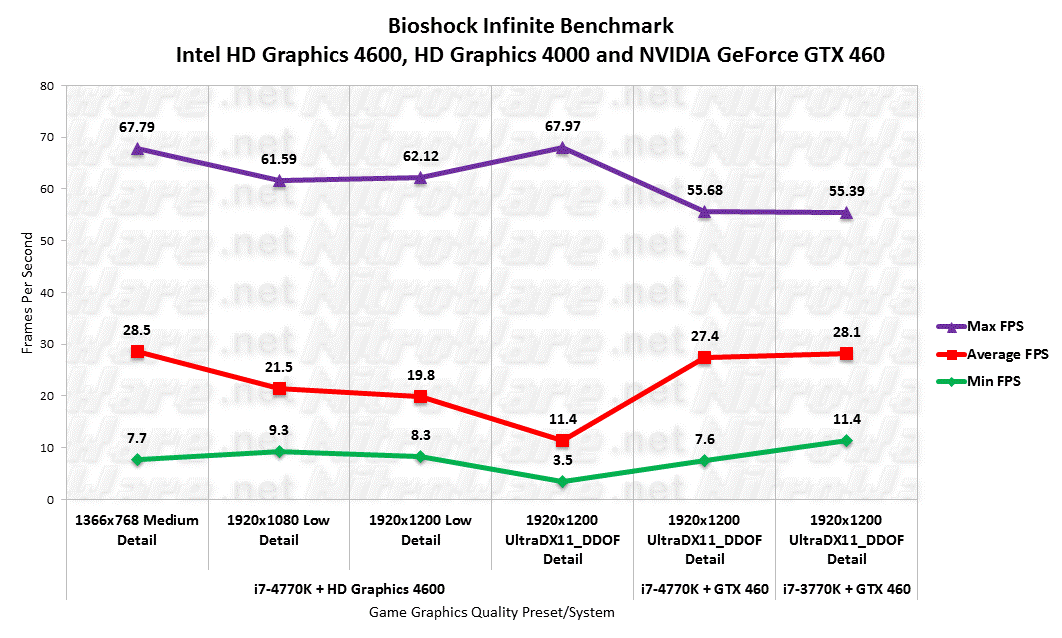 The bigger difference between our minimum, average and max frame rates, the worse the overall experience is. If we consider average frame rates only, 1366x768 resolution is the only one that passes the 'playable average frame rate' test with 28 frames per second. This corresponds with some Intel's messaging of 720p.
Let us compare 1920x1200 with Ultra+ Detail and no Anti-Aliasing using the HD Graphics 4600 GPU and a now three year old mid-range performance gaming GPU, NVIDIA's GTX460.
We presume the GPU has a worse max frame rate due to the different graphics driver and graphics/video memory architecture versus the solutions, however the GPU is 2.5x faster than the integrated GPU. Given the size, cost and power consumption of the GPU that's not bad. Lowering the settings should improve things.
We did no test every combination as this would be complex to analyse and we were pressed for time. The above chart concisely shows the entire gamut of performance scaling top to bottom.
Ivy bridge is faster than Haswell with the same components because ASUStek are masters at optimising their PCB design and BIOS settings. Additionally, Haswell's design makes some compromises for lower power and the software does not take advantage of the new instructions in haswell. Some design changes in the CPU do have a tendency to reduce performance in some circumstances additionally. Although 'only' four frames difference, Ivy Bridge is actually 1.5 times faster at minimum frame rate!

We have not been able to test Haswell after our brief evaluation under embargo before launch so we have not been able to re-test our scenarios to see if updated drivers help.
As we explained, Bioshock's built in benchmark is not the ideal test case so let us try something else that is closer to home.