Page 3 of 6
DIRT 3 Benchmark Performance

Like Bioshock, Dirt 3 was also a member of AMD bundling and Gaming Evolved. However over time, NVIDIA improved their drivers to better quality and performance with the game.
Testing DIRT3 is straightforward. The built-in benchmark runs a race at the Aspen track with Random Opponent AI. The finishing over and winner will vary benchmark to benchmark. As with a typical benchmark, we tested with V-Sync disabled however, for this scenario, we did not enable anti-aliasing to improve performance.
Infrequently, the AI driving the player or opponent cars will crash out, stalling the benchmark. The leader board varies race to race.
The average and minimum frame rate reported which we plot for each of the detail pre-sets we tested, giving an overall picture how the game performance scales depending on the game detail, resolution and hardware used.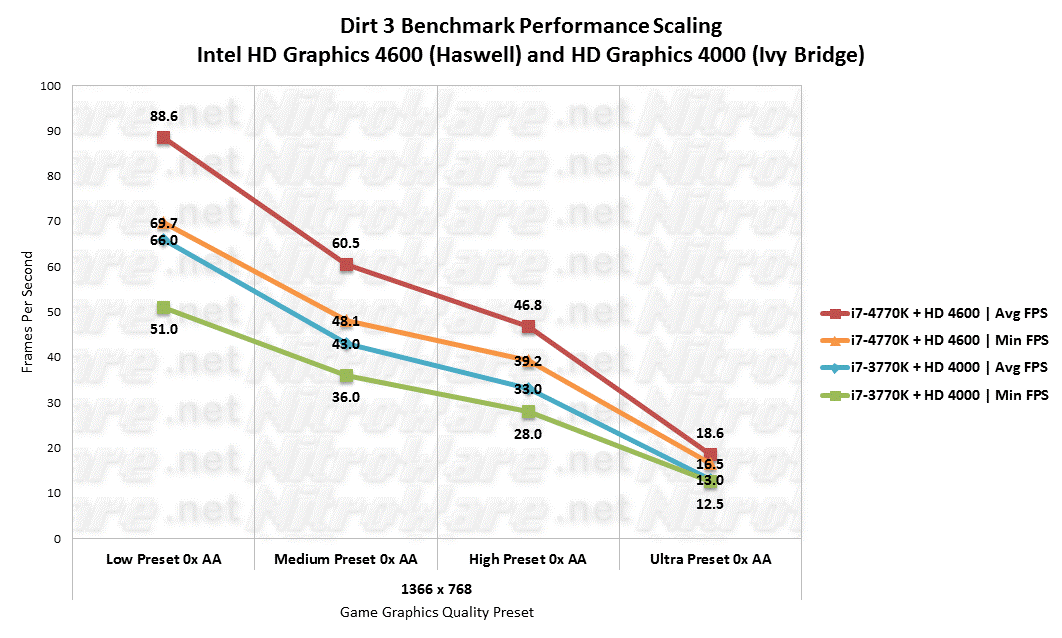 Fortunately, we have a more complete performance picture for Dirt3 as we completed some of the testing for a project prior to Haswell.
Codemasters titles run better on Intel than Bioshock due to their commitment to optimise for COdemasers's popular racing titles built on the EGO engine.
Ideally, we want to see a linear plot between the lowest resolution/detail combination and the highest. From an ideal plot, we can infer there are no bugs or bottlenecks in the graphics hardware or software that it can scale well.
Scaling wise both Intel HD4000 and 4600 plot and scale similarly across tests. Gamers can enjoy smooth playable frame rates art 13x7 High preset but not Ultra
In comparison, HD4600's minimum frame rate is higher than HD4000's average frame rate! Dirt 3 is internal metering does not report maximum frame rates and for consistency we do not want to use fraps or an external solution for this title.
While performance increasing by one tier is impressive comparing the generations of Intel graphics, their basic architecture, the building blocks of the chips logic are the same so performance for the GT2 parts can be attributed to clock speeds, optimisations and the increased number of Execution Units (or 'cores')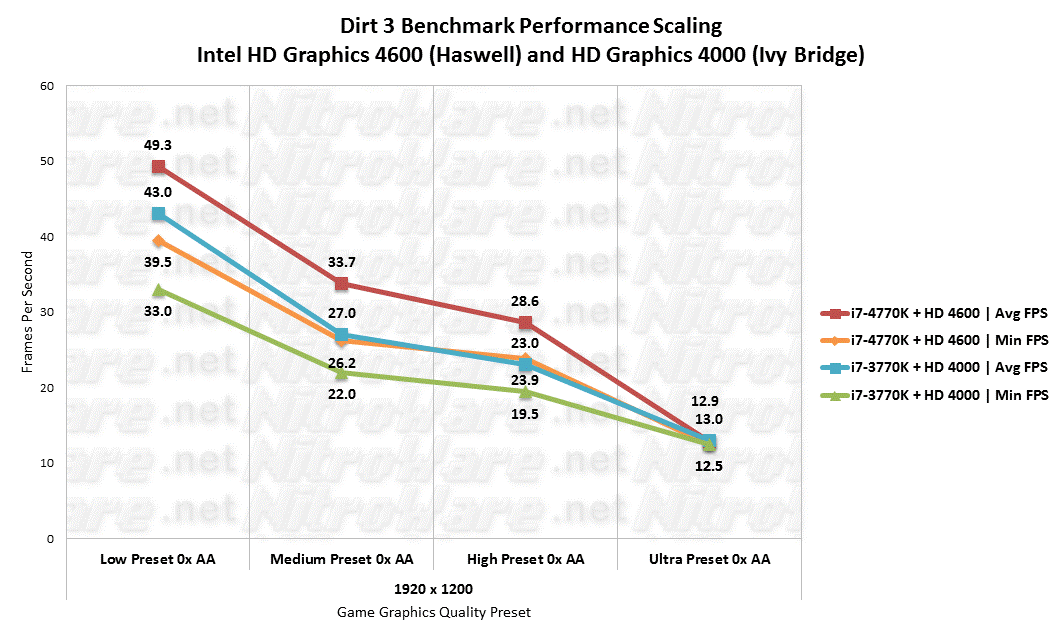 Cranking up a few notches to 1920x1200 resolutions, Our numbers at low detail are more compressed and despite sharing the same driver version, we can see the effect of the overall platform on the numbers. Ivy Bridge beats Haswell, however overall, Haswell's minimum frame rate manages to beat of Ivy Bridges Minimum frame rate but there is not much in it.
1920x1200 Medium preset seems the best balance of quality and performance. 1080p gamers should have higher numbers naturally but 1080p to 1200p is not a significant reduction in pixels, both screen resolutions are in the 2.x MP range. 2.07 MP versus 2.3MP or only an increase of 11%.
GRID 2
Intel went to Codemasters for DIRT2 (DIRT3 does not have the Intel Logo), F1 2012, and GRID 2.
F1 2012 and Intel have an infamous relationship
A free GRID 2 t-shirt and game coupon was bundled with the fourth gen core i7-4770K processor in selected markets.
At the Intel 4th Gen Core Launch in Sydney, Australia on 12 June 2013, Gregory Bryant Vice President, Sales and Marketing Group General Manager, Intel Asia-Pacific Region hosts a demo of GRID 2's built-in benchmark running on an Iris Pro equipped laptop.
GRID 2's settings were 1366x768, Ultra Preset Details and CMAA enabled. LG TV (3840x2160) were used for the launch keynote demonstrations.
See Part1 of our Haswell review series covers worst-case performance with both NVIDIA GeForce and Intel HD Graphics. http://www.nitroware.net/reviews/281-haswell1
I have run Codemasters benchmarks enough times that I vouch for the Intel demo as presented. Not only was it run in windowed mode, but the random AI element is evident in the demo.