Page 6 of 9
1080p Resolution Gaming - Stock and Overclocked Performance
Gaming benchmarks are 1080p only based on the positioning and pricing of the card as well as to simplify testing. Some of our test pre-sets already reach or exceed 2GB at 1080p let alone 1440p so we are at the sweet spot of GPU utilisation already.
Some real world testing at 1440p naturally worked fine, e.g World of Warships (capped to 75 FPS by default) and some of the 3DMark tests are 1440p internally scaled down to 1080p resolution. Additionally, both AMD and NVIDIA have come to advertise their line of cards as suitable for 1080p, 1440p and 4K respectively going from low to high.
NVIDIA advertised the GTX 1050 as a 1080p 60 Frames per Second card to the media, however, that statement is subject to interpretation - Not quite.
DiRT Rally
DIRT RALLY is quite popular with the serious sim-racer crowd, and we still get 60 FPS using the in-game benchmark at ULTRA. Codemaster's EGO engine has always scaled well and given good performance on various classes of hardware.
Dirt Rally runs amazingly well on the GTX 1050. Our medium preset uses 1.3GB of video memory and high uses 2.7GB. Despite the video memory being congested and having to stream/swap from main memory, overclocking gives us 10 FPS and a whopping 30 over the GTX 950. For only 640 CUDA cores the GP107 does not struggle when it is faced with a memory limit, although obviously more native memory will be faster than using the system memory for additional game assets.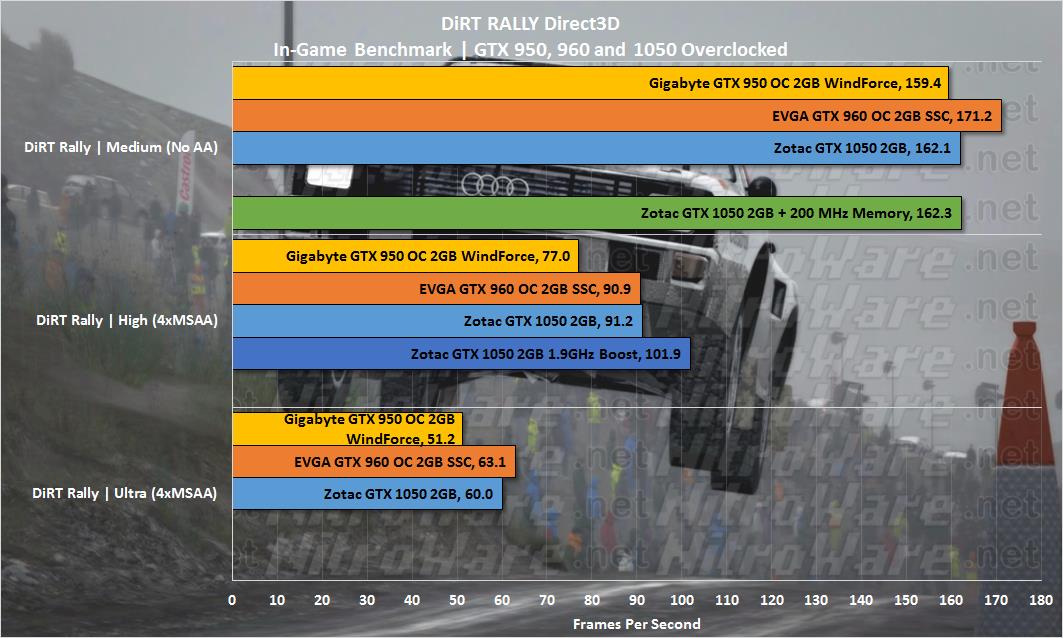 Ashes of the Singularity
Ashes Of The Singularity provides a difficult scenario for smaller cards but scaling from 60 to 35 FPS is fine, of course, the GTX 960 is still ahead but the point of this evaluation is value for money. In actual Ashes, gameplay frame rates should be much higher due to fewer units on screen.
Ashes of the Singularity is deliberately a hard GPU test so it is not surprising that the powerful GPU wins out here. The same with Rise of the Tomb Raider, with a strong DirectX 12 implementation and the ability to fully utilise the power of even high-end cards.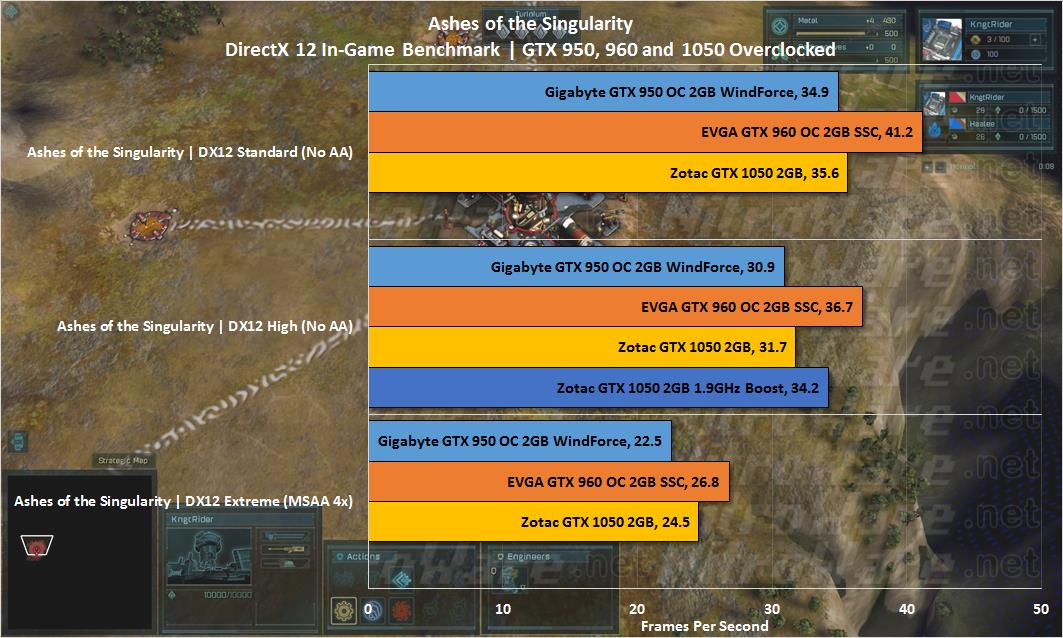 Rise of the Tomb Raider
In DirectX 12 mode, Rise of the Tomb Raider benchmark runs very well given the settings and scales reasonably, still playable even at Very High settings. The caveat here is probably FXAA anti-aliasing,especially at 35 FPS there won't be much left for 4x MSAA besides the game looks fine as is.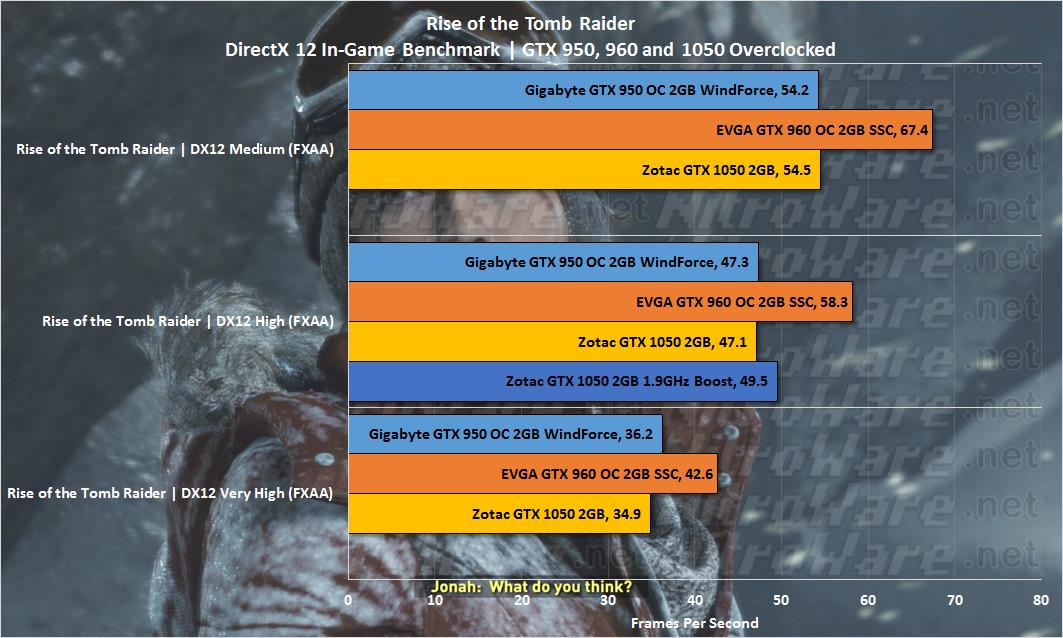 Tomb Raider has a very significant place in gaming during 2016. Not only was it one of the first DirectX 12 triple A titles out, where if you set it it can use almost 8GB of video memory but the PC version has 'given birth' to an also significant milestone with the PlayStation 4 Pro edition of the game. Released at the time this review has gone to press, Tomb Raider on PS4 Pro introduces graphical settings on a console for the first time. Players can choose from 4K resolution 30 Frames per Second mode, 1080p resolution 60 FPS or enhanced visuals mode which bumps up the graphics quality and effects at the native rendered resolution of the game, such as Anisotropic filtering of textures. The development work put into the PC version has enabled this, as well as consoles now using almost off the shelf PC GPUs.
PS4 PRO offers 4.2 TeraFLOPs of GPU compute power while the GTX 1050 ~2 TFLOPS depending on the model. The console can use this power to enable various ingenious modes of upscaling 3D scenes to 4K resolution.
The cheap NVIDIA GTX 1050 almost is able to offer the best of all three worlds. While the PS4 users must choose which graphic option they want, 1050 offers above 30 FPS at Very High Details, almost 50 at High and almost 60 at Medium at a cheaper price. This does not solve the console divide or fragmentation of games however...
Grand Theft Auto V
I rely on GTA V a lot for GPU benchmarking, both due to it's and GTA Online's popularity with gamers as well as the game technical merits. The built-in benchmark gives several averages of different game scenes to provide a realistic representation of game performance and actually playing the game and metering it that way provides a real-world example of performance.
Given GTA V has not been out that long on the PC (April 2015) - not all evaluators have experienced the game on a wide variety of hardware, however, some have done large round ups of GPU performance.
With the release date, my experience with GTA 5 was higher end cards, 960 and higher.From my point of view, I was surprised how well the game ran on 1050 even when presented with over-used video memory. A $US 110 GPU is able to deliver a better than console experience in GTA V in frame rate and quality. Even our 4x MSAA case which uses 2.8GB of VRAM provided smoothly playable frame rate. Notice how even the GTX 960 hit a wall at 44 FPS just like our GTX 1050 but with the GTX 950 behind? It would be interesting if we had a working 4GB 1050 to see if it could overtake the 2GB 960 in this and the other VRAM limited tests.
The well engineered GTA V is the star of our show, with its no wait streaming technology able to stream the entire game world without any lag or wait.
GTA V at Normal Preset uses 1.3GB, High 2.2GB and Very High 2.8GB. Not only does 1050 exceed 60FPS out of the box but over clocked. we can play High preset at 93 FPS, a whopping 15 FPS over the 950 or 20% faster. One doesn't NEED ultra settings for GTA V, it looks great at normal to high settings.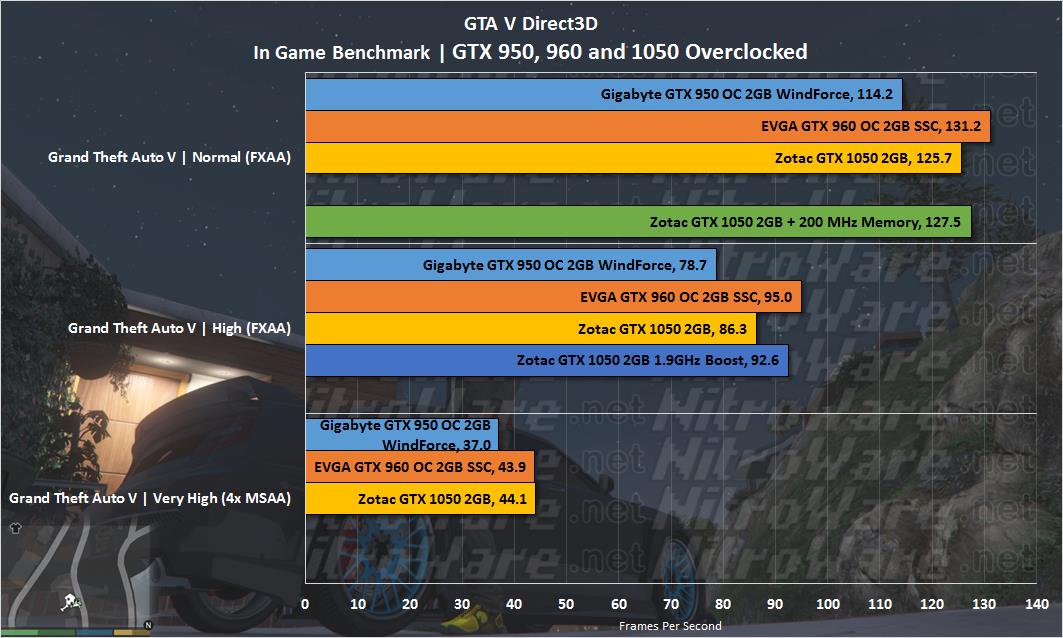 Doom
Last but not least...
Of course, I had to include DOOM in a 2016 GPU review. iD software'spromise of a 60Hz shooter is delivered by all the cards tested here, with a catch. We tested with v-sync off which some gamers will not like, plus the game ships with adaptive v-sync on to provide the best frame-rate experience.
There is not much more about the stellar Doom that has not been said. We get 5FPS increase overclocking but the test case we use is it a bit of a wash in an attempt to keep settings consistent and close to the end user experience. I left 8x TSAA on as that is the default setting, and according to iD Software, this Anti-Aliasing uses GPU Compute. Otherwise, set the preset to medium, and turned V-Sync off for benchmark purposes. Doom was run using the OpenGL path, not Vulkan. Medium settings with TSAA uses about 2GB of VRAM.
Above 60 FPS is still great, not only does the card meet iD's promise of a 60Hz game, but the card is $110!.
Since Doom is the game of the year I have included further FPS detail to show that the overclock increase is no fluke and we do see an improvement on min and max not just Avg, therefore this results in a much smoother rate with V-Sync on (Doom uses adaptive as default to keep the refresh at 60 Hz and avoid drops to 30 Hz)
The recently added Arcade mode in Doom Update 4 lets me jump right into a map of my choosing very quickly and still have a barrage of goons to battle though. Arcade Mode not only lets testers have an easier time but the actual game mechanic is fast, furious and brutal. Ideal if you want to smash 10 minutes fighting everything Hell can throw at you. The campaign would have required more backtracking and staged release of the various enemies and bosses.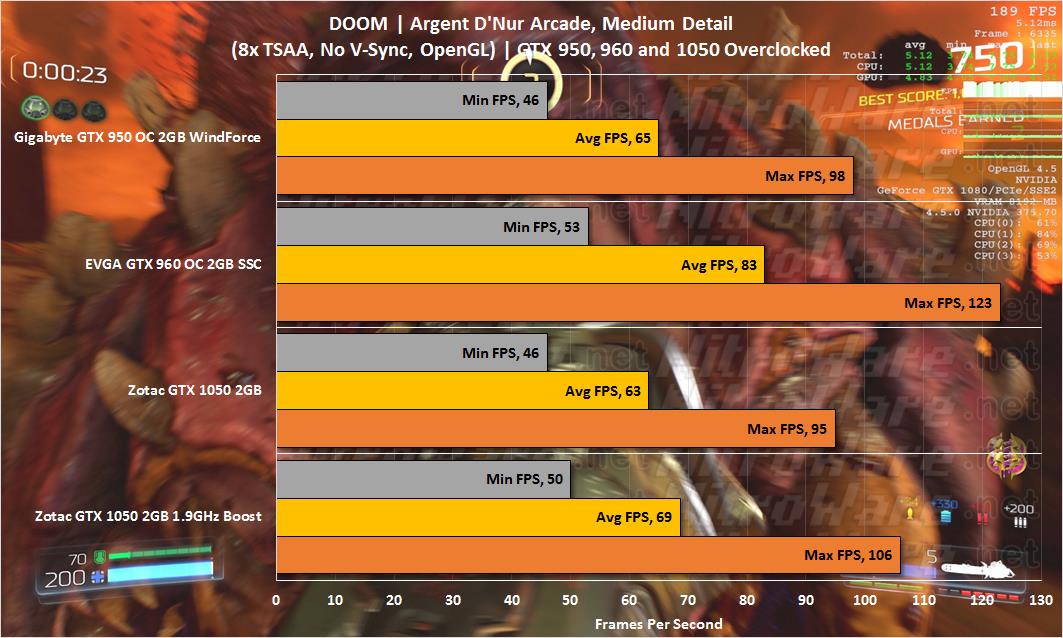 I kept Doom on OpenGL rather than use Vulkan despite using DirectX 12 for other game tests in this review. From my testing I am not yet satisfied that Vulkan with Doom is fully mature in providing a performance benefit across a wide range of different systems low and high end. Further testing is needed.