Page 4 of 11
Specifications and Testing
To compare the MX500 I selected a number of new and old SSDs from different vendors, however I was unable to do a proper apples versus apples comparison as I only had mixed capacities on hand. For some SSD models, performance and endurance vary between capacities so in that regard it is not entirely fair to compare different brand SSDs of different capacities against each other. The MX500 is an exclusion to this rule as it offers the same performance and endurance regardless of the capacity.
My rationale choosing the drives to compare against the MX500 is as follows
A smaller now very old but high end Intel Client drive from 2012 with Synchronous MLC Flash and the popular at the time SandForce Controller to give users a base comparison as many would upgrade old SSD to newer and larger drive
The MX500's predecessor the MX300, to see evolutionary improvement
And the market favourite and comparator to BOTH MX300 and MX500, Samsung 850 EVO to see the competitor
Make
Intel
Crucial
Crucial
Samsung
Model
520 Series
MX300
MX500
850 EVO
Size
240 GB
750 GB
1024 GB
500 GB
Controller
SandForce
SF2281VB1
Marvell
88SS1074
Silicon Motion
SM2258H
Samsung MGX
Layout
16 x 128 Gigabit
Intel 25nm MLC NAND
8 x 384 Gigabit (Dual Die)
Micron 32-layer 3D TLC NAND
16 x 512 Gigabit (Dual Die) Micron 64-layer 3D TLC NAND
4 x 128 Gigabit (Quad Die)
Samsung 32-layer TLC V-NAND
Year
Early 2012
2016
Dec 2017
Dec 2014
Sequential read/write Performance
550/520 MBs
530/510 MBs
560/510 MBs
540/520/420 MBs
Random read/write Performance
50K/80K IOPS
92K/83K IOPS
95K/90K IOPS
90K/80K IOPS
Endurance
36.5TB Total Bytes Written (TBW)
Or 20GB/day/5 years
5-Year warranty
220TB Total Bytes Written (TBW)
Or 120GB/day/5 years
3-Year warranty
360TB Total Bytes Written (TBW)
Or 197GB/day/5 years
5-Year warranty
150TB Total Bytes Written (TBW)
Or 82GB/day/5 years
5-Year Warranty
To some users, SSD after sales support is a sore point especially to those who have experienced bad SSDs in the past. OCZ's original vertex series as well as other SandForce based drives suffered bios compatibly issues and some of these drives just died overnight. More recently we had the slowdown issue with the Samsung 840 series and here and there motherboards get fixes for various M.2 format PCIE based SSDs.
For the MX500 generation, Crucial bumped the endurance rating and warranty to 5 YEARS from 3 and it has the highest endurance of the drives tested, including over the 850 EVO. I had to dig to find the endurance rating for the old Intel drive as years ago it was not standard procedure to specifically declare endurance in this manner. 36TB may sound ridiculous for a non value drive however our sample has 50TB Total Bytes Written on it with full health.
I only have first hand experience with Intel SSD warranty procedures and anecdotal for Samsung. However, I have purchased dozens of Samsung 850 EVO and PRO since the series was released and so far have had no issues. I have heard reports Samsung is very strict on enforcing their TBW number for consumer drive returns. Samsung advises of their Australian hotline number for warranty service.
For Australian users who do not wish to return their drive to their reseller, returning a drive to Intel for warranty involves sending it to Malaysia at no cost to the user other than packing materials with a return drive arriving approx 2 weeks later. Intel covers DHL express shipping both ways. The replacement drives supplied, in my case they appeared to be new drives in bulk packaging were warrantied for the remainder of the original drive warranty. Setup varies for different regions, for USA region I have told by users who have done so, CPU returns require a credit card for assurity and possible paid shipping.
Crucial USA and Europe provide online RMA process and devices must be shipped at user's expense. for Asia and Australia, Crucial refers to returning to reseller except if purchased from crucial.com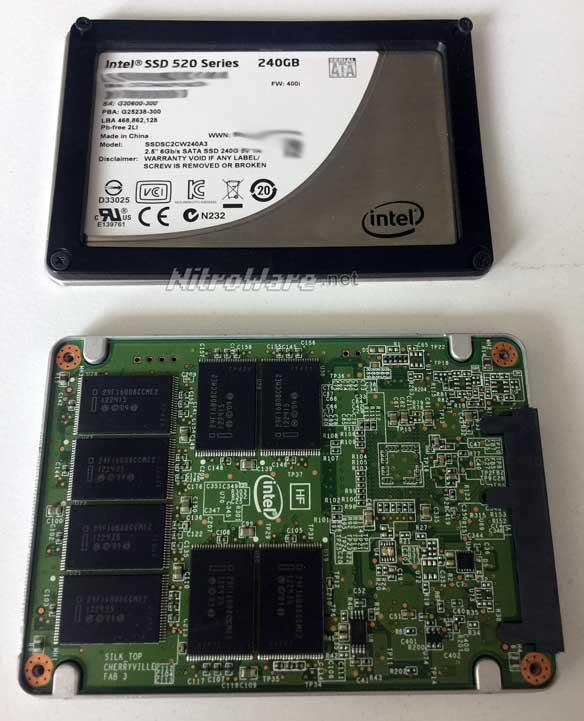 Test Setup
Intel 4th Gen Core i5-4460 @ 3.2 GHz CPU
MSI Z97 Gaming 7 Motherboard
16GB DDR3 1333 Memory
Windows 10 Pro version 1709 Fall Creators Update patched to Jan-2018 Operating System
Intel Rapid Storage Technology driver 14.8.16.1063 Storage Drivers
Acronis True Image for Crucial v20.0.597 Cloning Software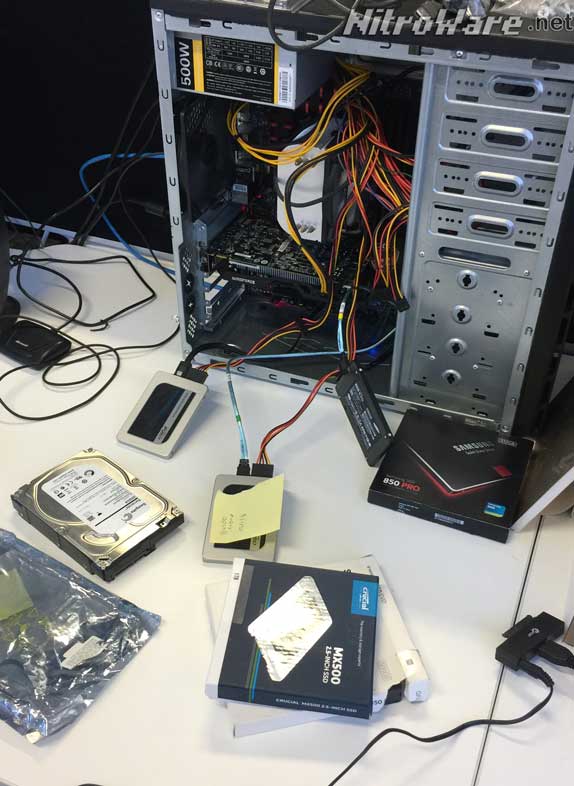 How We Tested
Several scenarios were used as 'baselines' for the benchmarking processes
I made an image of a fairly well used SSD that contained 370GB of data including several games such as the free editions of Forza Motorsport from the Microsoft Store, World of Warships, Warcraft III and creativity apps such as Adobe Creative Suite.
This image represents our 'heavy load' scenario, SSDs drop performance once the drive starts to fill up. This image works just fine for synthetic testing but we can't use it for Bapco SYSmark which needs a clean virgin OS install nor can we use it to determine performance of a freshly erased/empty drive
The 2nd scenario is a 80GB disk image of a fresh installation of updated Windows 10, with all drivers and basic tools installed to allow us to operate the disk such as 7zip and Acronis True Image. On this clean disk image, Bapco SYSmark was installed which in itself is a large install consisting of modified versions of commercial software such as Google Chrome, Adobe Creative Suite, Microsoft Office and OCR. Other benchmark tools for this review were also present, totaling 80 GB disk image
Since our Intel SSD is only 240GB it is not present in the 370GB disk image test only the 2nd 80GB scenario with the fresh install of Windows 10.

When and were possible I erased the drives using the vendor toolbox utility between imaging.