Page 7 of 7
Conclusion
Support and Warranty
Since the speakers are an imported product supported by a local agent for Australia/New Zealand there is not much to speak of regarding support and warranty as all enquires are handled through the local agent. This is no different to other brands where there is no direct local presence by a manufacturer in a particular region. However due to the design and construction of these speakers, knowledge users with electronics skills and experience can upgrade or repair the unit out of warranty or have a repair workshop service the unit.
Due to the size and weight of the speaker and cost of shipping, sending the product back to the reseller or agent may not be possible for some owners.
Price and Availability
Australia and New Zealand
A$699 RRP at time of review (late 2008). Street prices will vary significantly.
Global
Availably of the specific unit we tested on a global basis is somewhat confusing. The unit we tested is called the 'S550' and more specifically S550B is printed on the information panel on the sub woofer At time of the review the S550 was newly introduced to Australia/New Zealand. However as part of our research we found the product is sold as the 'S5.1' overseas and additionally, in two styles. One style being the black/silver unit we reviewed and another with a completely different design and housing using wood grain, controls and LCD integrated into the sub woofer as well as a standard size and design remote control.
Some of the online references, reviews and user discussion refer to the the latter so care must be taken when shopping for this product. The speaker actually dates back to 2007 based on the information in the speaker documentation and build dates inside the speakers.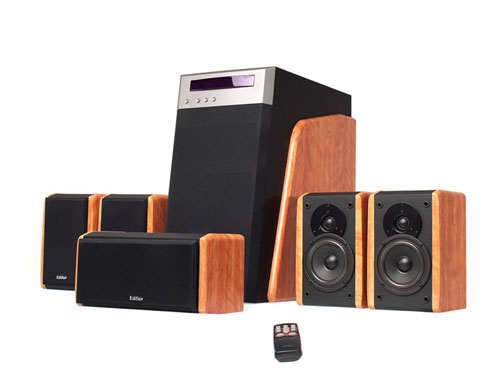 This review references the Australian/New Zealand sold domestic model called the 'S550' , labelled S550 and in black with silver highlights.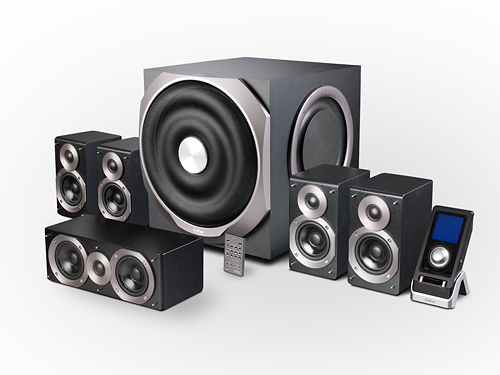 Competitors/Alternative Products
Logitech Z680 / S5500
Creative Inspire T/GigaWorks S750
Kiplisch ProMedia 5.1
Verdict
Elegant, functional and powerful 5.1 speaker system for the most discerning of enthusiasts, however more expensive and not as polished or feature rich as competition systems such as the Logitech S5500 which contains Dolby Digital decoding, THX certification and a cheaper price.
Conflicting specifications between the product documentation and the sales documentation.
Might be too large and bulky for some setups.
We had some issues with magnetic shielding even though the product is claimed to be shielded.
Quoted Signal to Noise Ratio and Total Harmonic distortion figures are worse than dedicated Home Theatre setups of similar price.
Excellent innovative sub woofer design and home theatre like 2-way satellite speakers.
Manufacturer fully discloses all performance specifications and components used
We quite enjoyed the performance of this speaker especially of the triple driver 10" sub woofer, however the Logitech S5500 and some home theatre in a box setups are a better buy for the price. If the S550 contained the full Dolby Digital and Digital Input functionality, for a very similar or the same price it would be a stronger recommendation from us.
Although designed with some flair, elegance and true knowledge of audio engineering, product needs more 'polish' and more value for money.
This speaker is ideal for those users who would like a large and powerful yet classy 5.1 speaker to complement their high end PC that is equally suited to music as it is to music and games, however our main issue with the product is the price and lack of digital inputs and decoding. Recommended.
Disclosure
Edifier Speaker review unit loaned by Audion Multimedia Australia
Sound Blaster Audigy sound card samples supplied by Creative Labs Australia