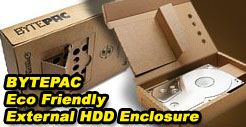 We look at a rather unique external hard disk enclosure that promises to be technically advanced as well as eco-friendly called Bytepac.
This cardboard product does not mean we have to skimp on capacity or performance however, we paired the BytePac kit with Seagate's new power efficient yet speedy Barracuda 3TB drive.
We also discuss the pros and cons of external drive enclosures.
Background
I dislike external disk enclosures, especially generic types suited for 3.5" drives. Why? The majority of them are buggy, highly cost-reduced, poor build quality, lack any sort of industrial design and most importantly have a tendency damage drives which can result in data loss. If a $20 external enclosure dies that is fair enough and we can cheaply replace that but if the failure damages installed HDD and priceless data then that is not on especially if a minor flaw in the enclosure is to blame.
Enclosures from HDD manufactures often have strong industrial design, good reliability and there is after sales support and warranty however these are not suitable to the D.I.Y. market who are after an enclosure to install their drive into rather than a sealed external hard drive.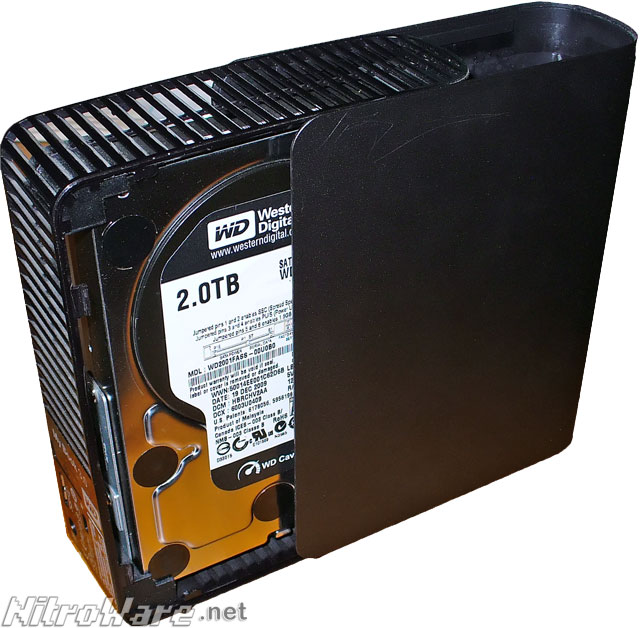 Some aspects to keep in mind form a technical point of view with generic enclosures:
Cheap external enclosures (cases) may use badly installed internal cables to connect drive power and data which may eventually break or short circuit, damaging the cases controller, power supply or the HDD itself.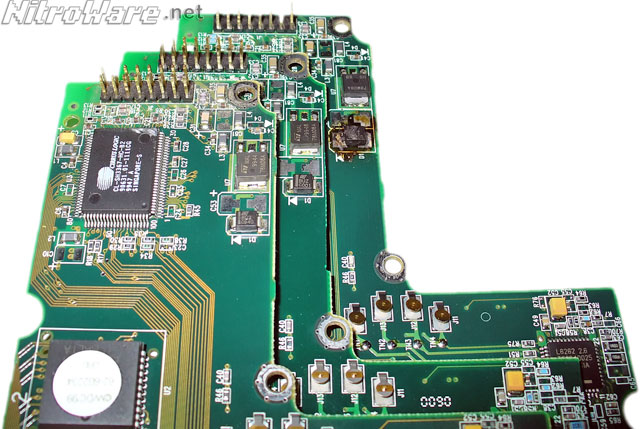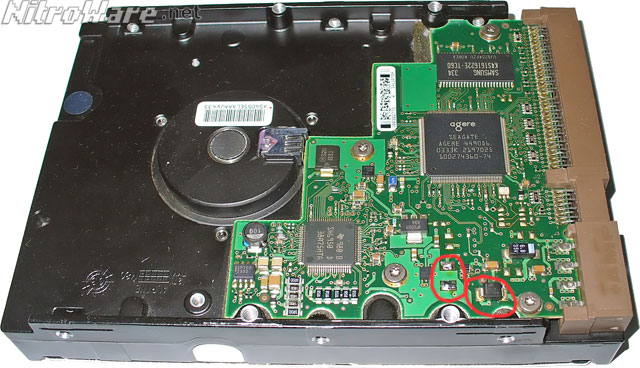 The controller chips used in the cases are often no name themselves with compatibility issues with particular drives especially large capacity drives.
Generic External enclosures often have poor fit and finish, proving difficult to install the HDD and the top cover of the enclosure and are held together using smallest screws possible.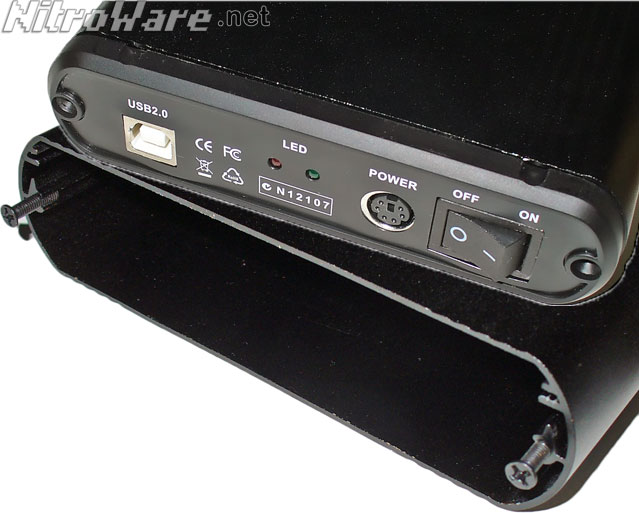 Generic External enclosures are mainly manufactured by faceless companies who rely on the distribution channel and point of sale for any technical or warranty issues.

Thermal and Power management is not a main concern for generic enclosures due to the cost and effort to implement or engineer. Some enclosures still ship with inefficient bulky power supplies

Generic cases can be poor value for money with some types, up to half the cost of a name brand external HDD

If the electronics fails, this is a non replaceable part rendering the rest of the case a paperweight, especially the bulky and inefficient power supplies which use a 5-pin DIN connector and supply 5 volts and 12 volts separately rather than the modern 12V only energy efficient compact sized power supplies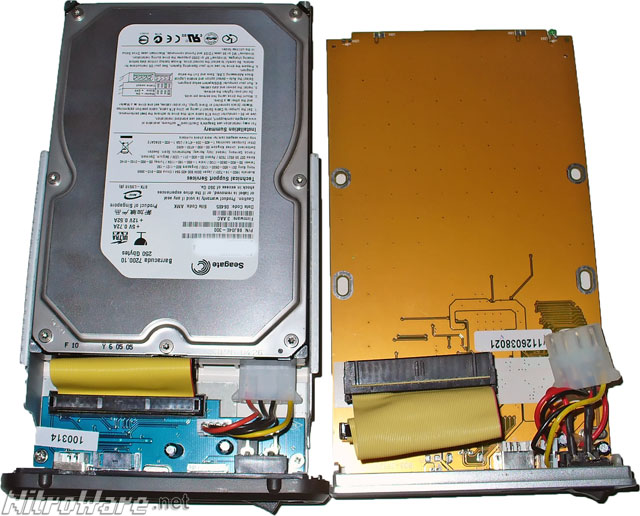 How do we solve such issues? There are several methods. Buy a modular type enclosure which separates the electronics and the enclosure, the Bytepac kit we are looking at and the Seagate line of GoFlex drives are examples of this; or buy a brand name enclosure from a HDD or NAS vendor such as Western Digital which typically have excellent engineering.
Overview
The BytePac kit we are looking at in this review takes a different,innovative approach to an external HDD enclosure.
Firstly the enclosure itself is basically a cleverly engineered cardboard box designed to hold a 3.5" or 2.5" HDD securely. Convar Inc have elected for cardboard instead of metal or plastic to the eco friendly properties of cardboard as well as the cost aspects. Need more cases? You can buy them in multiple packs which double as storage containers for your hard drives.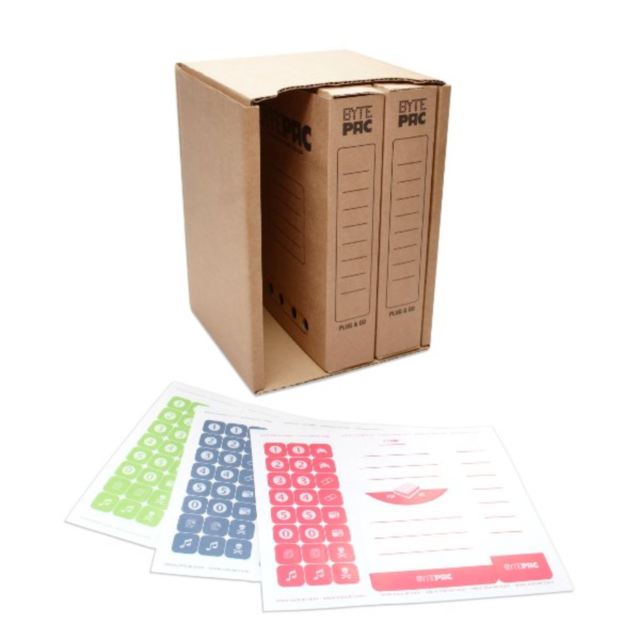 Secondly, the electronics that connect the HDD itself to the host PC are completely independent to the enclosure. The electronics are integrated 'downstream' from the enclosure as two adapters that connect into the interface cable. The idea is if there is an electronics failure, the commodity part can be easily and simply replaced. IN theory that is a great idea but in practice the components we tested are proprietary in nature and not common to the industry.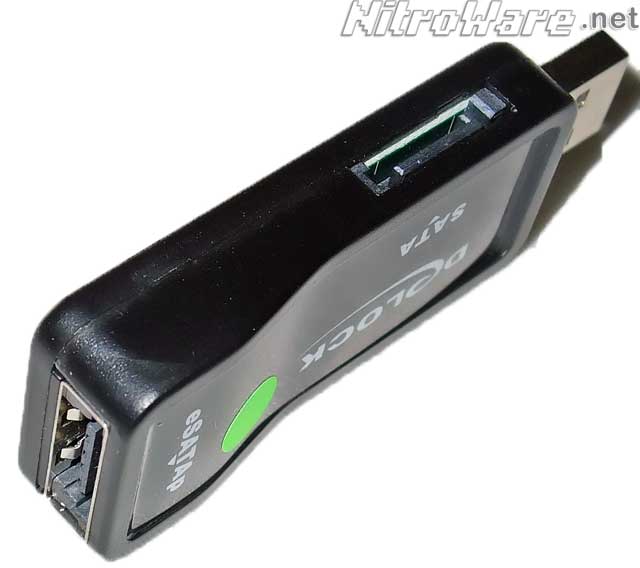 Thirdly, this modular design allows nearly infinite interface possibility which would not be possible had the SATA-USB circuit be inside the enclosure. With Convar using eSATA as the backbone for the BytePac kit, various types of adapters can be made available to convert SATA to USB2, USB3 or Thunderbolt without having to change the design of the kit itself. There is also an Optional IDE adapter to fit into the cable chain.
As a 'bonus', the kit supports eSATAp, powered ESATA of which both variants are supported by the kit, 5V and 12V. With the appropriate motherboard, 2.5 or 3.5" drives can be powered by the host system over eSATAp without a power supply. However we have not seen a widely available motherboard or laptop that supports eSATAp 12V, however 5v is very common as all laptops that have a eSATA/USB combo port or some Top Tier motherboards have such a port.
If you do not have eSATAp or are using a 3.5" drive, the BytePac Kit includes a power injector to connect the also included 12V Power Supply just as any other external HDD.

The Gigabyte 990FXA-UD7 motherboard we used for this test supported eSATAp on its two eSATA ports.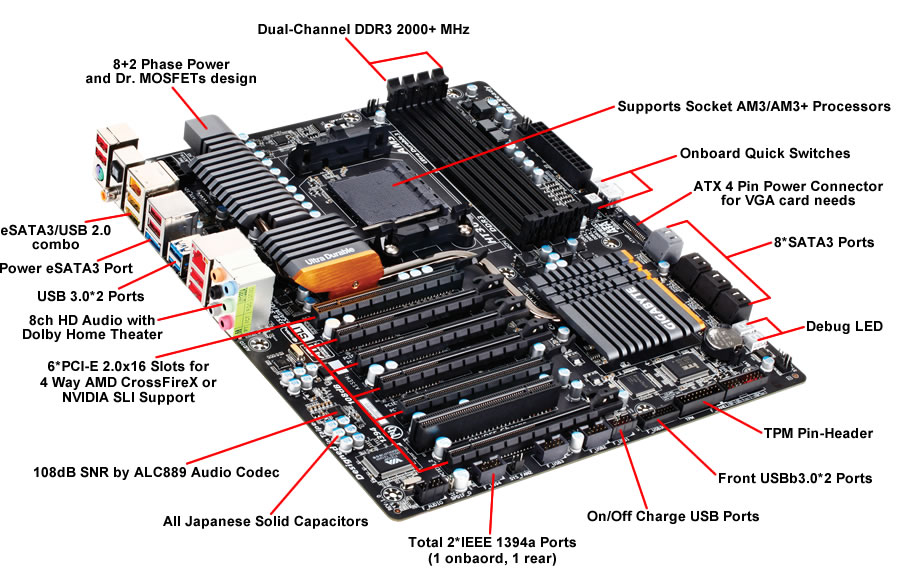 We could only get our test 2.5" Hitachi SATA HDD to power up correctly one of the ports.

eSATAp has limited appeal and utility unless you are lucky enough to have a PC with eSATAp 12V support and even then it would need to support up to ~20 Watts maximum over the cable to properly power a 3.5" 7200RPM HDD.
eSATA's main utility is to provide a easy way to natively connect a SATA HDD to a PC or to provide a high speed backup medium to a laptop, however USB 3 makes some uses of ESATA rather redundant. BytePac does offer a USB3 version of their kit which we think is more useful however we were not sampled this variant.
The BytePac enclosure kit offers a smartly engineered flexible drive connection system that is eco-friendly at the same time.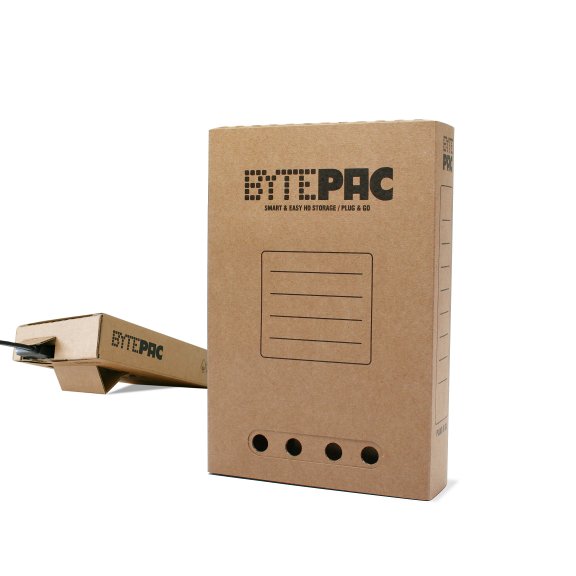 Features and Specifications
Although Convar stated we were supplied with an AUS edition of the BytePac kit for this review, what we actually received was the standard USB 2.0 Europe Edition supplied with a AC Travel adapter. Such a bundle is not really suited for sale in Australia for legal reasons and the Travel Adapter did not fit the Plug pack transformer securely which we found was not safe to use especially considering the testing we were doing.
Since the BytePac kit is not available in Australia yet, we can classify this kit as an evaluation sample and overlook this aspect which we are sure will be rectified when this product goes on sale in regions outside europe with the appropriate region specific power supply.
The BytePac kit as supplied to us for this review consisted of the following:
A double-duty shipping/storage box. The shipping carton doubles as the product box to save on redundant packing materials. An appreciated touch. THe shipping carton can hold Three Bytepac Enclosures
Two BytePac cardboard 3.5" HDD enclosures.
One cardboard 3.5 to 2.5" reducing adapter to fit into one of the 3.5" boxes
eSATA/SATA to USB 2.0 Interface Kit including compact 12V power supply supporting 24 watts 100-250V, packed into one of the enclosures.
Two ID sticker sets, red and green for each of the cardboard boxes/enclosures
Setup chart and advertising material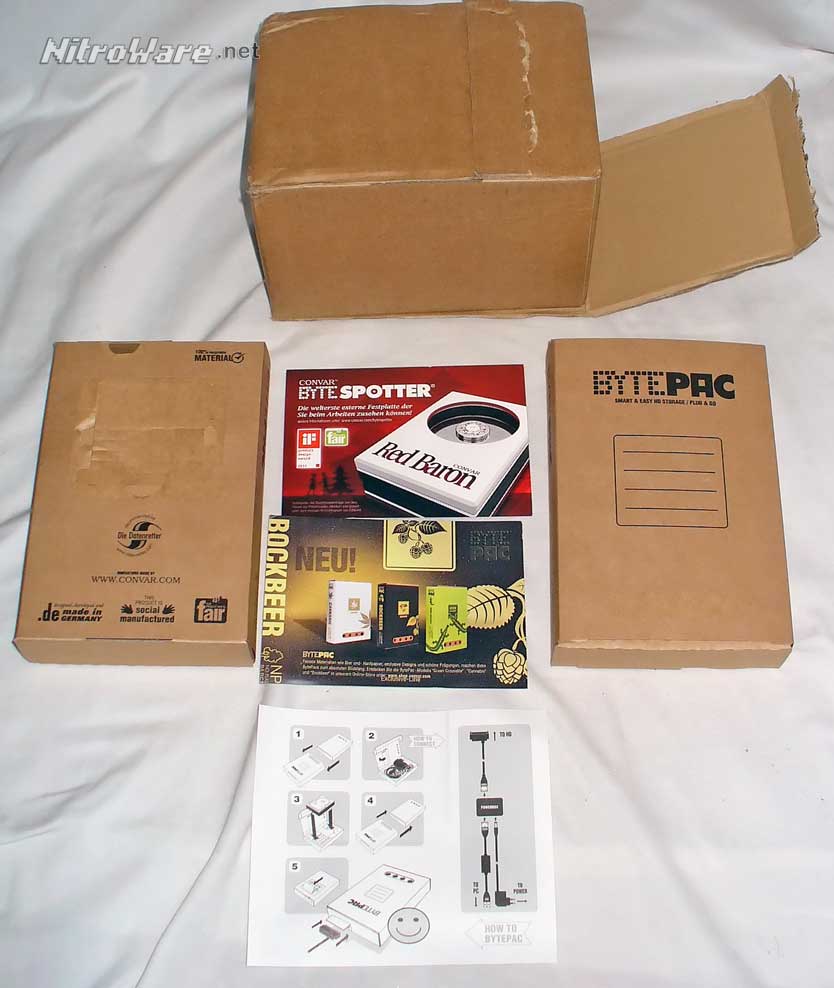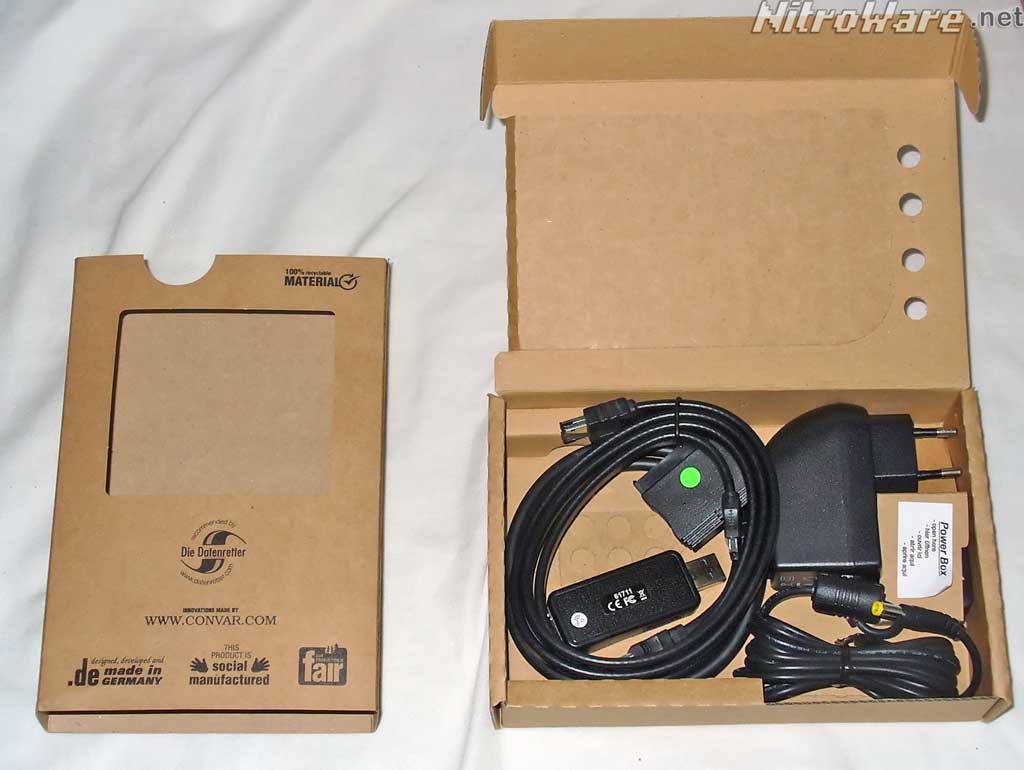 Upon receiving our review unit we noticed that the Interface kit was slightly different to the description of the product and other review samples. Our sample replaced a single piece with two pieces. The eSATA to USB cable was replaced with a separate cable and converter dongle. Although functionally the same, the setup guide was inaccurate, the cable set becomes more bulky/messy and an additional point of failure is added.
The setup is more confusing for those who are not too familiar with SATA or eSATA.
We were advised that this was due to a stock shortage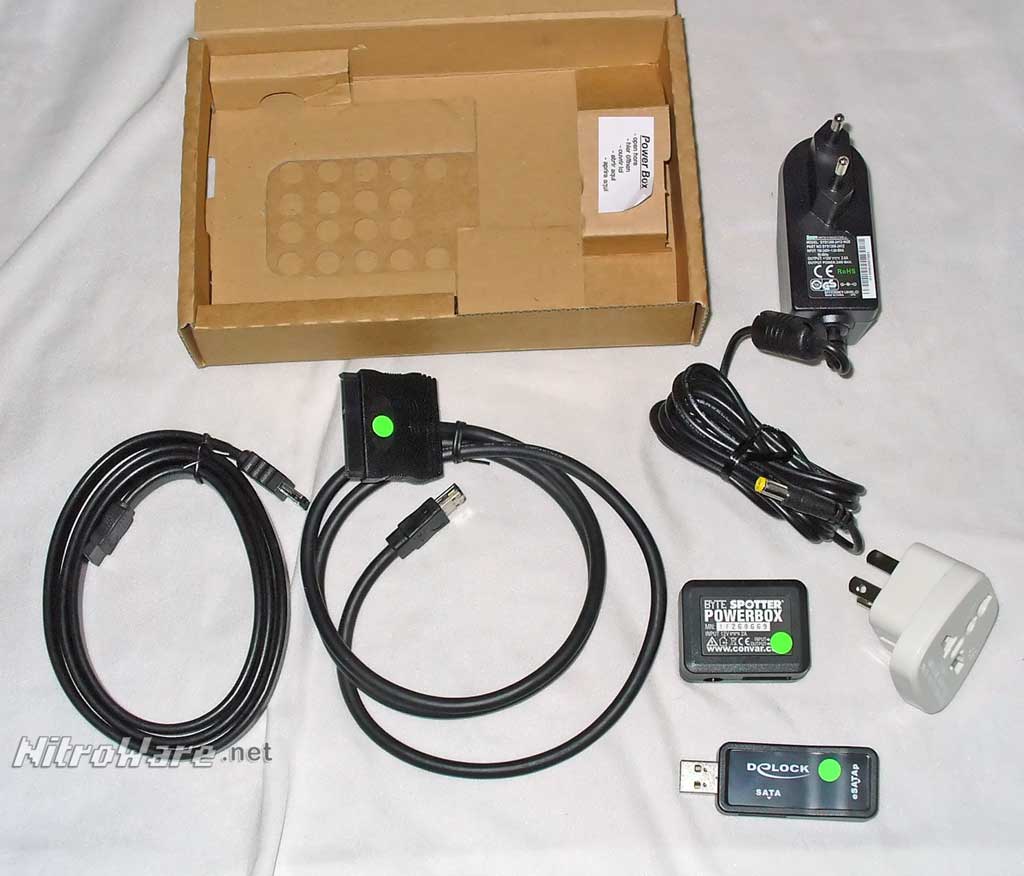 The HDD end of the cable set is a standard SATA block connector and the enclosures have a flap allowing access to the SATA port on the drive. Take care with the SATA port on the HDD as these can break off if pressured.
The interface for our sample comprised of :
Combo SATA/Power to eSATAp 5+12V capable interface cable.
Power box with three connections. eSATAp 5+12V, 12V DC IN, un powered eSATA
eSATA to SATA cable
eSATAp 5V or SATA to USB 2.0 dongle adapter
The Interface for the regular Bytepac is supposed to be:
Combo SATA/Power to eSATAp 5+12V capable interface cable.
Power box with three connections. eSATAp 5+12V, 12V DC IN, un powered eSATA
eSATAp 5V to USB 2.0 cable
You may receive either due to stock availability. THe end result is the same but the means varies.
To connect a 3.5" drive to your PC, the following steps are followed with our sample
The SATA to eSATAp cable connects the HDD to the Power Box which has the 12V DC Plug pack connected to it to power the HDD
The Power box is then connected to the PC via USB 2.0 Using the eSATA to SATA cable and the SATA to USB converter dongle.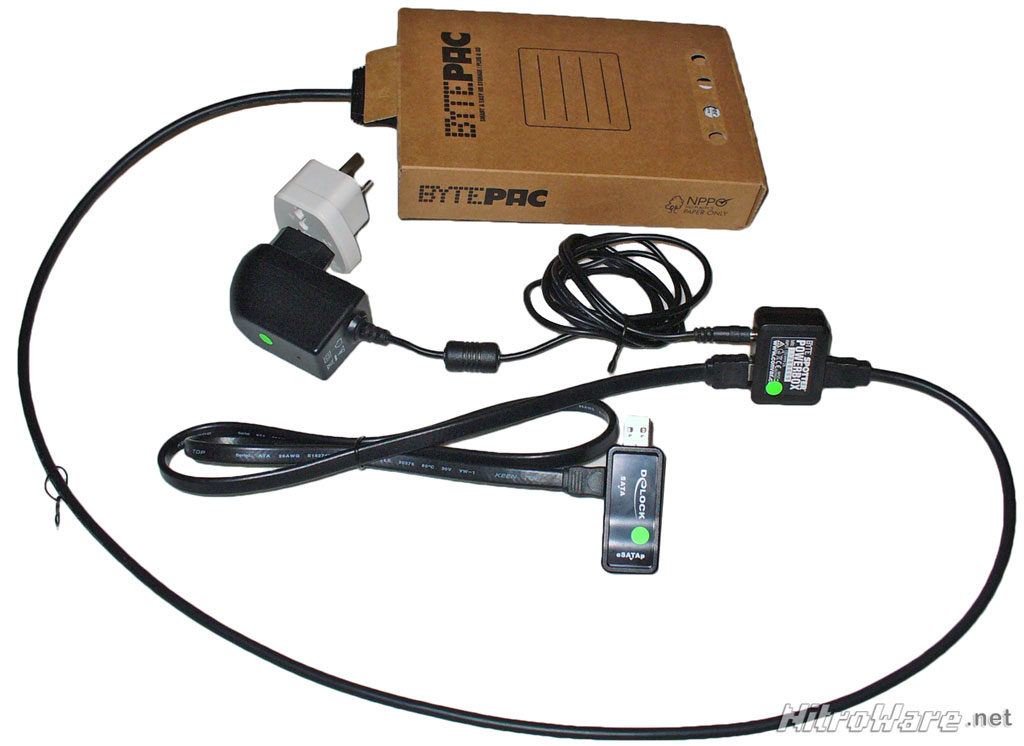 To connect to 3.5" HDD to the PC via eSATA using the DC Plug pack as you would with any other eSATA enclosure is not possible due to a eSATA to eSATA cable bizarrely not being included. In such cases, do not use the Power Box. Use the standard SATA to eSATA cable and the PC's PSU for power
To connect a 2.5 drive to the system via either eSATAp or USB is a piece of cake with our sample. Simply connect the SATA to eSATAp cable to your 2.5HDD and the other end to your eSATAp port on your PC. If you do not have a eSATAp port, attach the USB converter directly to eSATAp. Use the 2.5" converter inside the enclosure also.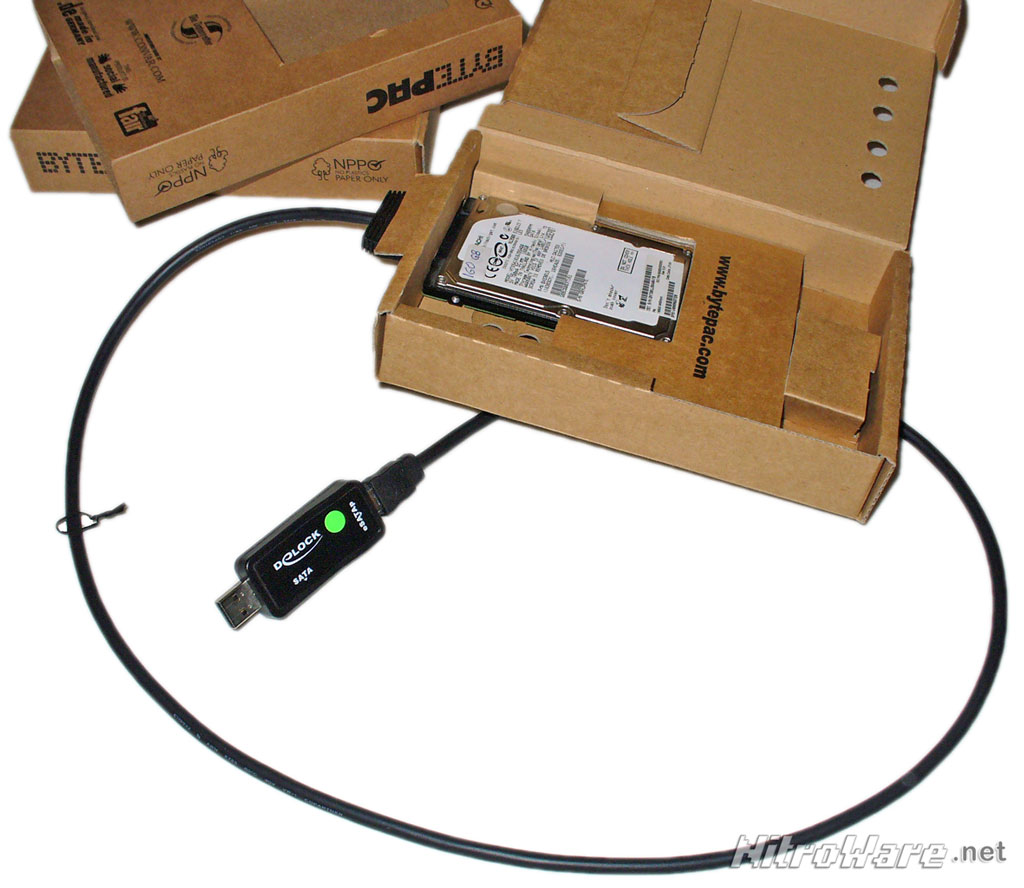 We tested two different 2.5" 5400RPM HDDs, one from 2007 and one from 2011 and both ran properly off eSATAp and USB despite their labeled 1A current requirement.
Connecting the 2.5" drive via USB loses some performance versus ESATA but not much for an older drive. Higher loss is afforded to the newer drives. This is all moot with the USB 3.0 kit.
Sound complicated? Well it is. That is the expense of having flexibility. The normal kit is a little simpler in that you only have 2 cables and a power box. Any other combinations require BYO cables. There is a little more shunting possible with our sample.
It makes more sense visually but even then its in the real of techi-nerds or a 'set up once and not change' scenario.
The enclosures themselves are cleverly engineered from folded compressed cardboard, the same material some PC components come in or some office stationary.
The enclosures come pre-folded into shape and the user simply has to open the enclosure, fit their hard disk, fit the 2.5 reducer if a 2.5" is being used fold down the spring and close up the enclosure.
There is a small cardboard stand on the bottom of the enclosure which we found did not do its job as it often collapsed with a heavy hard disk.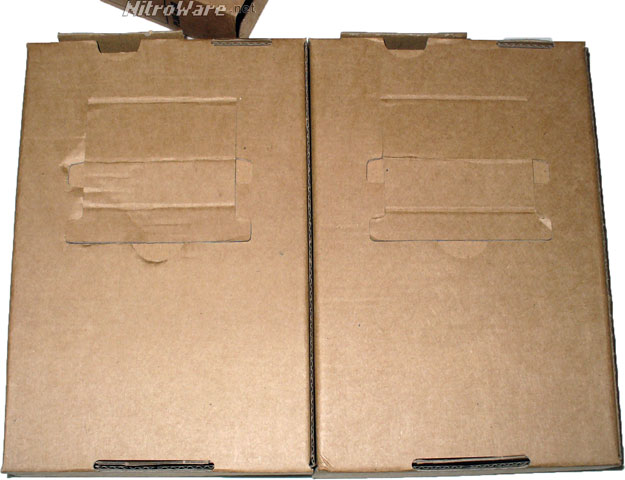 A flap on the end of the enclosure covers the SATA ports and vent holes are punched in the top and bottom to try to keep your drive cool.
As for thermal management, cardboard isn't the best for this and there is an additional fire aspect. The cardboard will burn above 200 degrees and for this reason many data-centeres do not allow cardboard to be brought into the facility as it is a fire hazard.

Convar advised us that their cardboard used in the Bytepac is fire resistant up to 230° C. I really do not want to debate the pros of cons of using cardboard versus an alloy or steel as a hard disk enclosure in the event of a fire it is just a can of worms. I will say this however, if you are worrying if your external HDD will burn or not then you need to look at your backup strategy. Keeping all your backups in the one place whether they are HDDs in cardboard Bytepac boxes, CDs, Tapes, USB keys is not a good idea.
A optional flexible paper sleeve holds the enclosure closed and allows for ID tags to be attached or interchanged between drives, which can be both confusing and handy at the same time.
We tested the enclosure on its side and found this worked quite well.
The sturdiness of the enclosure is acceptable but after some repetitive use we did see signs of wear and tear such as corners starting to fray. The included cardboard adapter was not cut correctly to size which we enlarged with a sharp knife.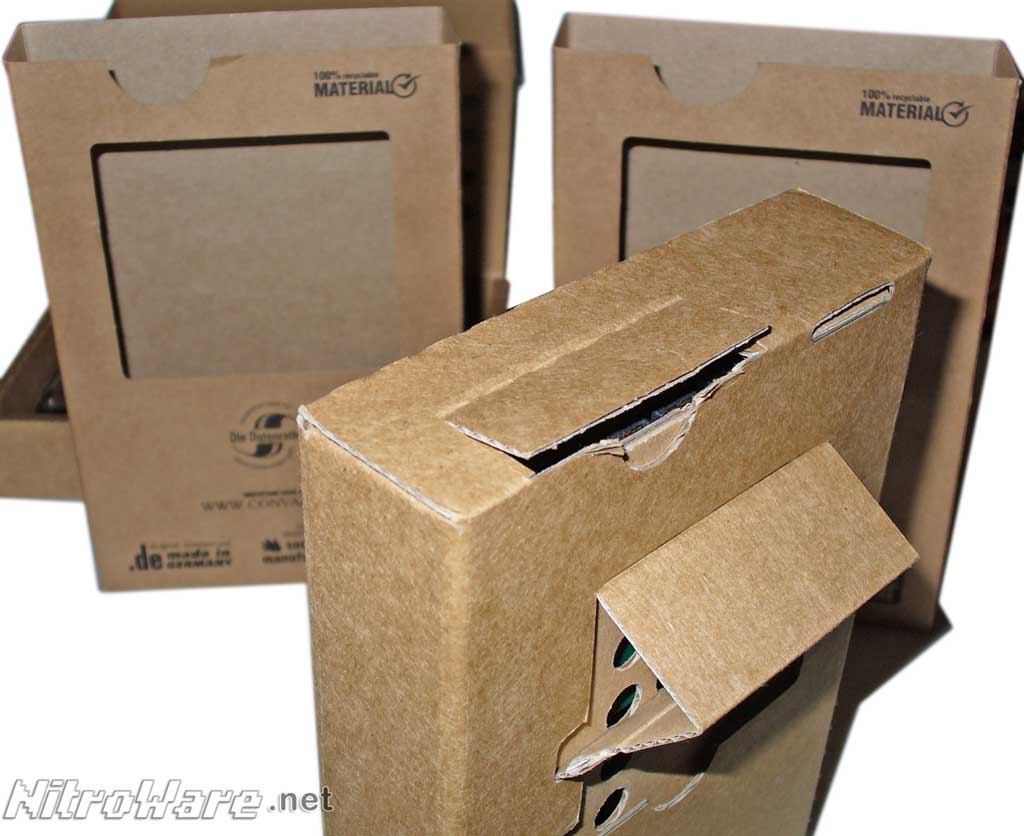 The idea of a double purpose sturdy drive storage box and external enclosure is a worth while one and if you want the interface can be used as you like separate to the enclosures.
Test Specifications and Methodology
Test System
Due to availability of test equipment we needed to use several test beds to perform our evaluation as our primary test beds did not feature a powered eSATA port and had an un powered eSATA port.
The eSATA port we used was powered by the Marvell chipset and Microsoft Driver. For this reason our benchmark scores vary to when the same drive is tested using the AMD SATA chipset and AMD driver.
Performance and eSATA tests were conducted on the AMD FX system while Temperature tests were conducted on the AMD A6 system
To test our HDDs and the Bytepac, we installed a HDD inside the Bytepac case and placed it alongside the chassis of the test system. For temperatures we used AIDA 64 stress test to run the drive for 5 mins, let the drive cool for 5 minutes and repeat.
Processor
AMD A6-3650 APU Quad Core 2.6GHz
AMD FX-6100 Black Edition Six-Core 3.3GHz
Motherboard
Gigabyte A75M-UD2H, BIOS version F5
Gigabyte 990FXA-UD7, BIOS version F8a
Memory
4 GB - 2x 2GB Kingston HyperX Genesis DDR3-2133 CL9 @ DDR3-1866 CL9
Cooling
Arctic Cooling Freezer 7 Pro v2. Heat Sink-Fan
AMD FX Liquid Cooling Solution
Graphics
Integrated Radeon 6530D
Gigabyte NVIDIA GTX460OC 1GB
System Drive
KINGSTON HyperX SH100S3120G 120GB SATA 6Gbit/s Solid State Drive
Test Drives

Hitachi Travelstar 5K160 2.5" 160GB

Samsung Spinpoint HD502HJ 3.5" 500GB

Seagate Barracuda ST3000DM001 3.5" 3000GB

WD Passport WDL1200XMS 120GB 2.5" External USB 2.0

WD My Book 3.0 2000GB 3.5" External USB 3.0

Case
Cooler Master CM STORM Enforcer Mid Tower
Power
FSP 'Aurum Series' AU-750M 750 Watts Power Supply
Display
DELL Ultrasharp U2412M 24" LED backlit LCD Monitor
Operating System
MICROSOFT Windows 7 Ultimate Service Pack 1 64bit with latest updates as of May 2012.
AMD Bulldozer Hotfixes KB2645594 and KB2646060
Graphics Driver
AMD Catalyst 12.4
Storage Driver
AMD SATA 1.2.1.327 for AMD chipset
Microsoft SATA AHCI for Marvell chipset
Seagate Barracuda 3000GB
For this review, we will only be touching on the transfer rates and not focusing on I/O rates. In this day and age an SSD or drivers such as the new 1TB WD Raptor 3.5" for desktops or Seagate Momentus XT 2.5" can offer a high I/O rate in comparison to a standard 3.5" 7200RPM drive.
For our tests we evaluated as a secondary storage drive first and foremost.
IF you are interested in more In-depth IO rates or drive to drive comparisons of this particular drive we suggest reading the reviews of our colleagues at Anandtech, PC Perspective and Tech-Report.
We are also publishing a First-Look at the Seagate drive itself, its competitors and legacy which will including more drive centric information.
Seagate ST3000DM001 does not use the least power of any 3.5" traditional hard disk, but it is one of the most power efficient for it's performance. Although at time of writing Hitachi have just released a consumer mainstream 4TB 7200RPM drive this uses 800GB platters x 5 rather than Seagate's 1000GB x3 for their 3TB model, increasing weight heat and reducing reliability.
With 3TB and 7200RPM, this drive is not Seagate's best 3.5" drive as they offer a Barracuda XT series which we will not be looking at in this article.
The drive heads up the family of 2012 mainstream/performance Barracuda drives and is intended as a 'best fit' for Desktops, All-in-Ones, Home Servers, PC gaming rigs, Desktop RAID (which is actually interesting as Hitachi and Seagate validate RAID for their consumer drives) DAS and NAS devices.

Key Features
1TB-per-disk technology
Up to 3TB with 7200-RPM performance
SATA 6Gb/s interface
AccuTrac servo technology, designed track widths of 75 nanometers
OptiCache technology up to 45% performance over previous generation
SmartAlign technology for simple migration to the Advanced Format 4K Sectors
DiscWizard software assists users install their 3TB drive in Windows even on older PCs which do not fully support 3TB drives
2012 Seagate 3.5" Barracuda Lineup - 7200RPM SATA 6Gb/s NCQ Interface
http://www.seagate.com/internal-hard-drives/desktop-hard-drives/barracuda/specs
Spec
3TB
2TB
1.5TB
1TB
750GB
500GB
320GB
250GB
Model
ST3000DM001
ST2000DM001
ST1500DM003
ST1000DM003
ST750DM003
ST500DM002
ST320DM000
ST250DM000
Cache
64 MB
16 MB
Avg Seek Read
< 8.5 ms
< 11 ms
Avg Seek Write
< 9.5 ms
< 12 ms
Average Read Write
156 MB/s
125 MB/s
Max Sustained Read
210 MB/s
144 MB/s
Heads/Disks
6/3
6/3
4/2
2/1
2/1
2/1
2/1
1/1
Start/Stop Cycles
50,000
Load Cycles
300,000
Power On Hours
2400
Startup Power
2 A
Typical Power
8 W
6.7 W
5.9 W
6.19 W
Average Idle2 Power
5.4 W
4.5 W
3.36 W
Average Idle Power
4.6 W
Standby Power
0.75 W
0.63 W
0.79 W
Sleep Power
0.75 W
0.63 W
0.79 W
Height
26.11 mm
20.17 mm
19.98 mm
Weight
626 g
535 g
400 g
415 g
Opticache
Y
N
AccuTrac
Y
N
SmartAlign
Y
Performance and Benchmarks
PC Mark 7 Storage Benchmark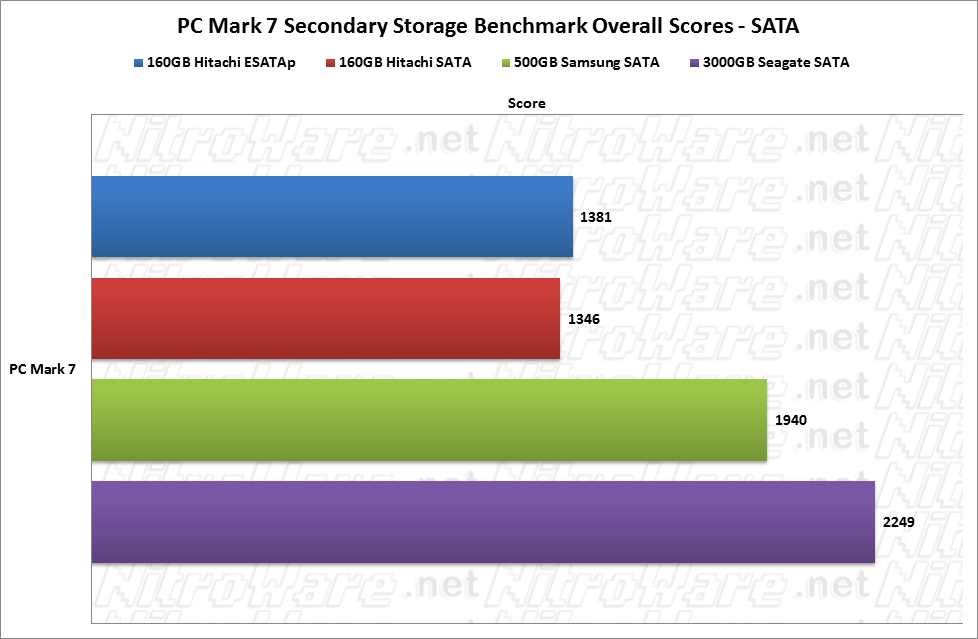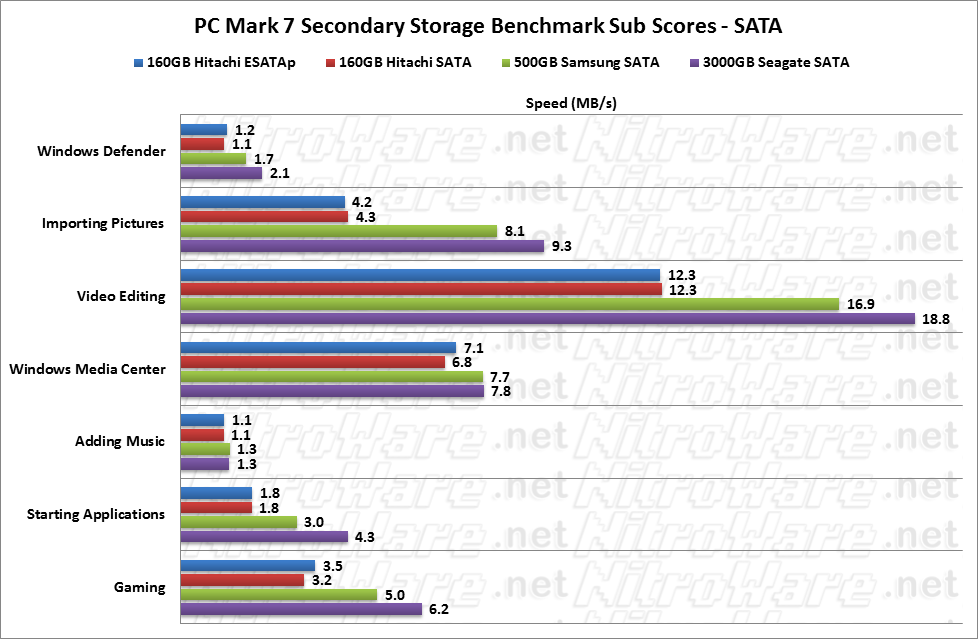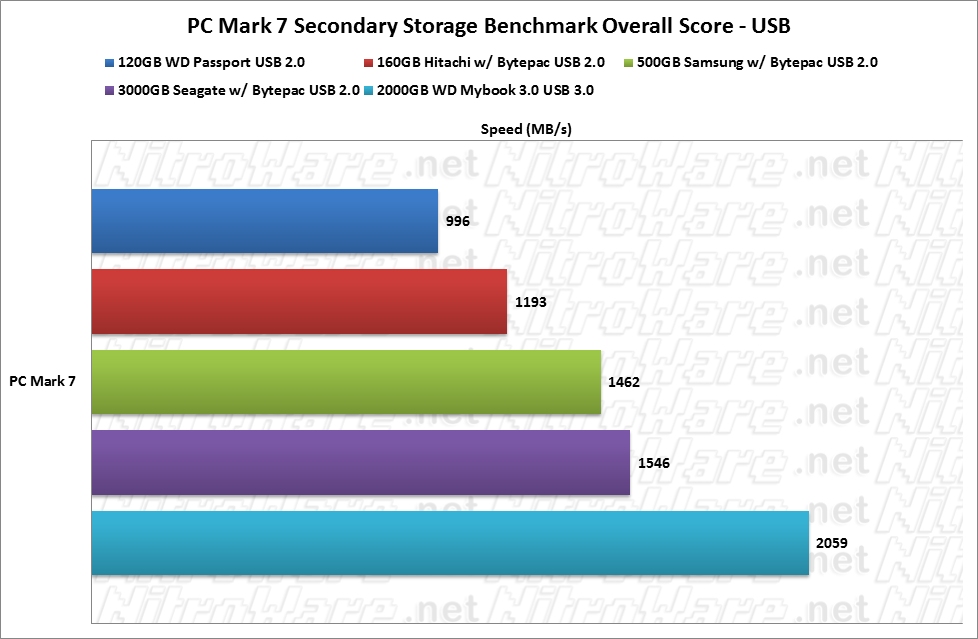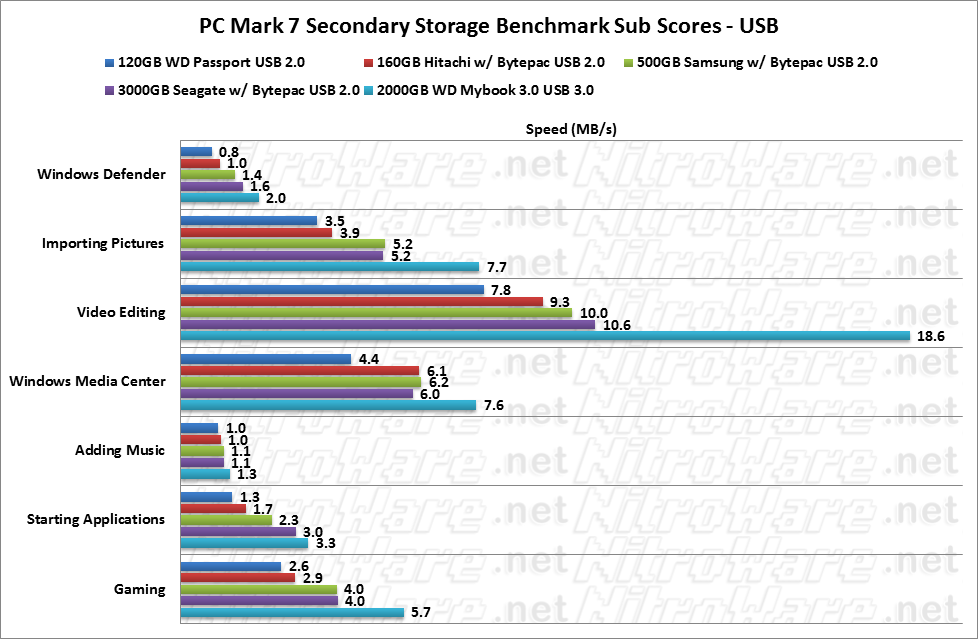 ATTO Disk Benchmark
eSATA/SATA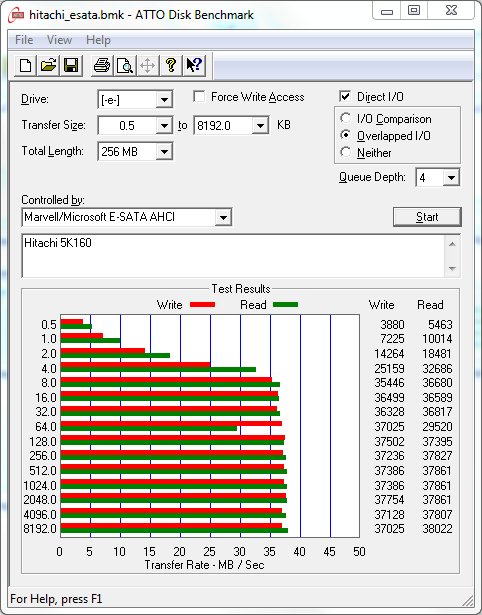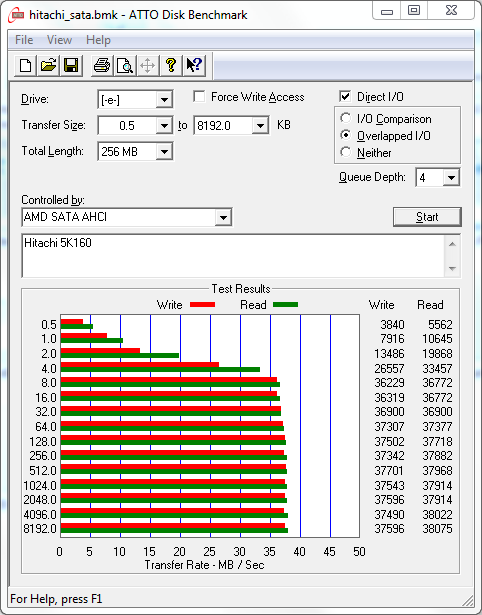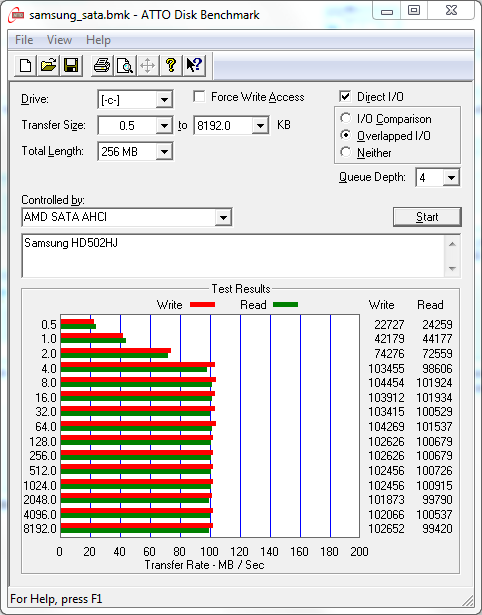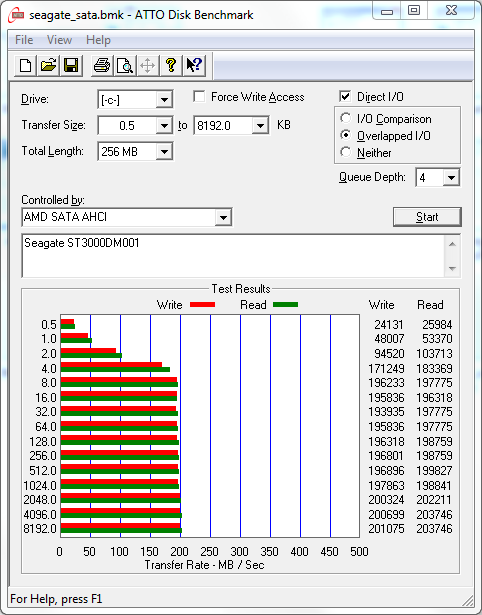 USB 2.0/USB 3.0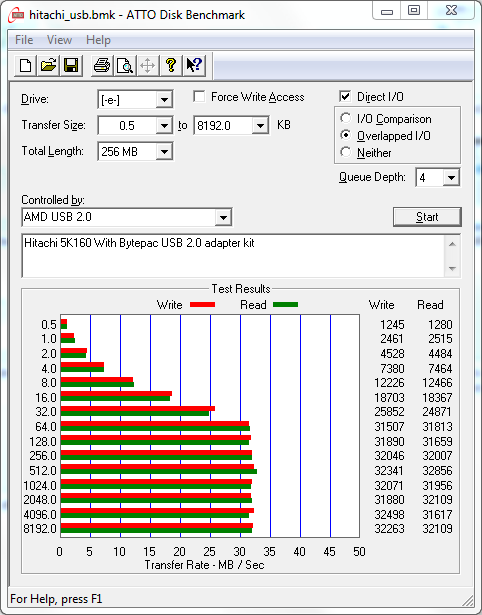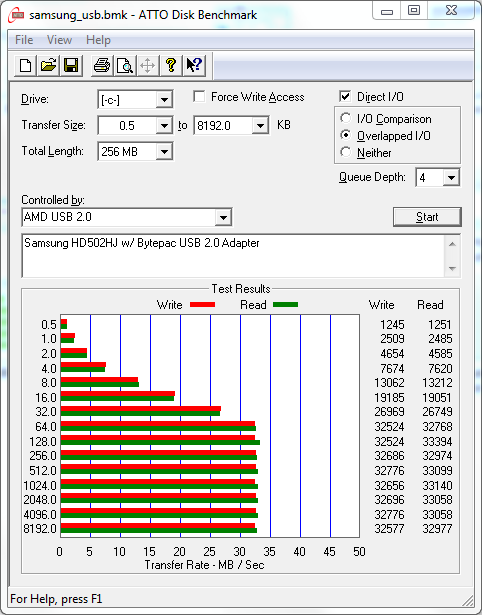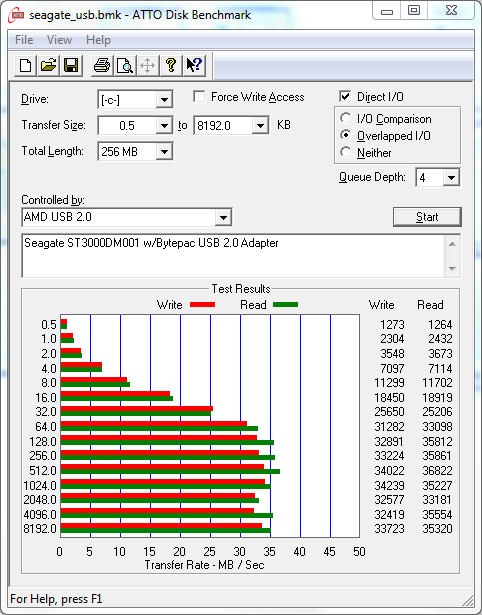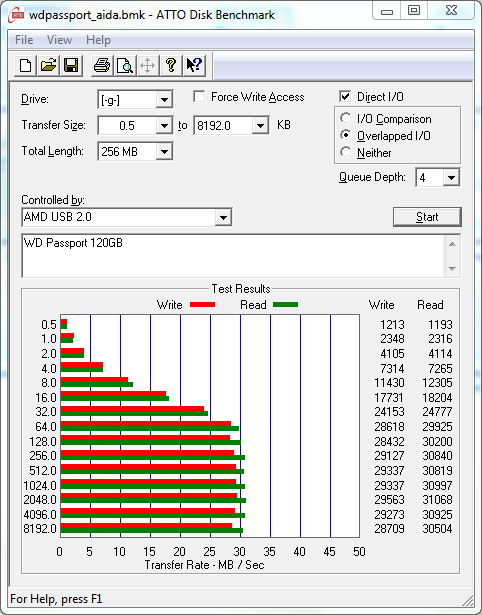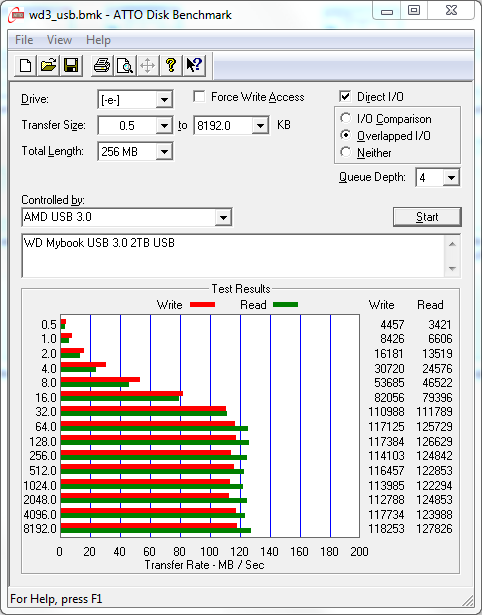 AIDA 64 Disk Benchmark
SATA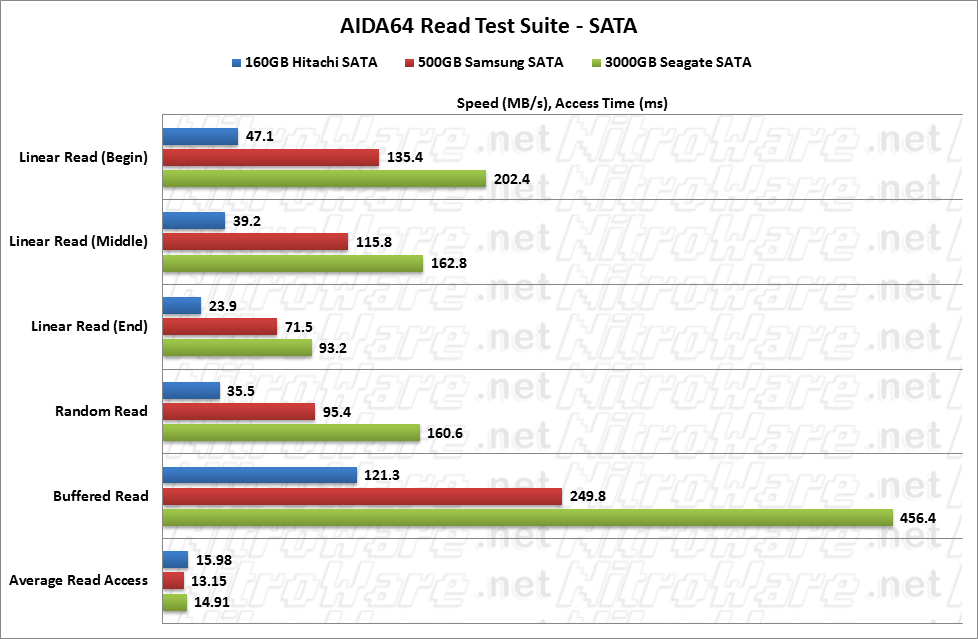 USB 2.0/USB 3.0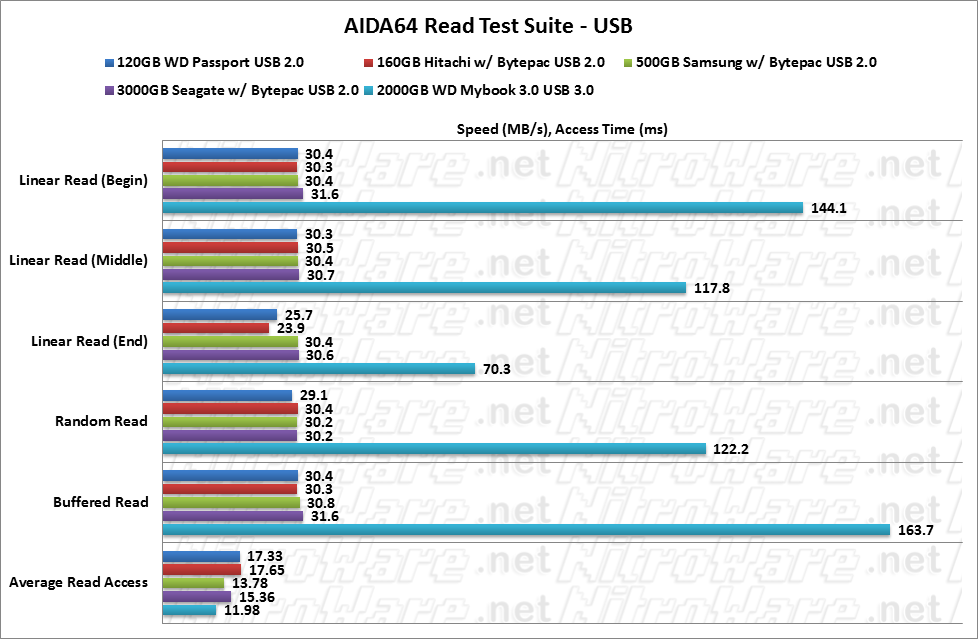 When connected via the USB adapter, the Bytepac kit doesn't callow the connected HDD to sleep when idle, which would reduce wear on the drive and reduce temperatures.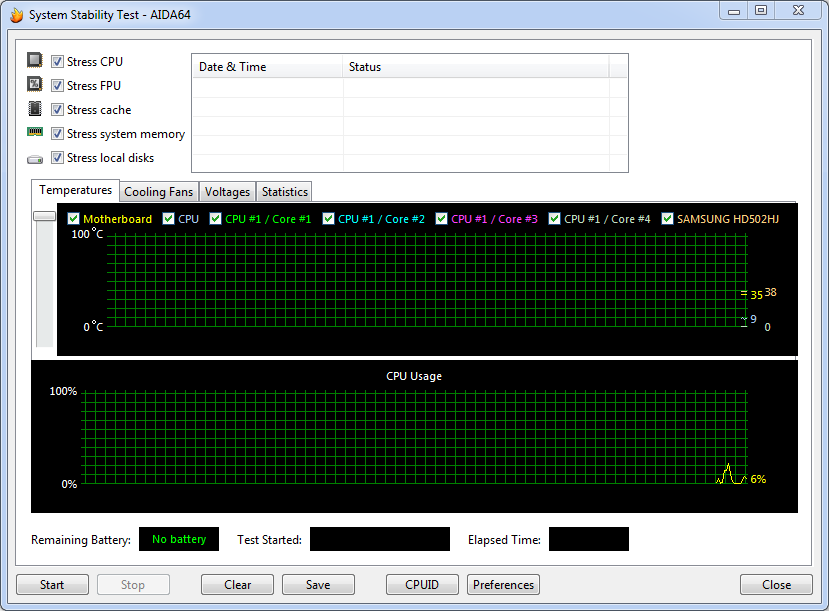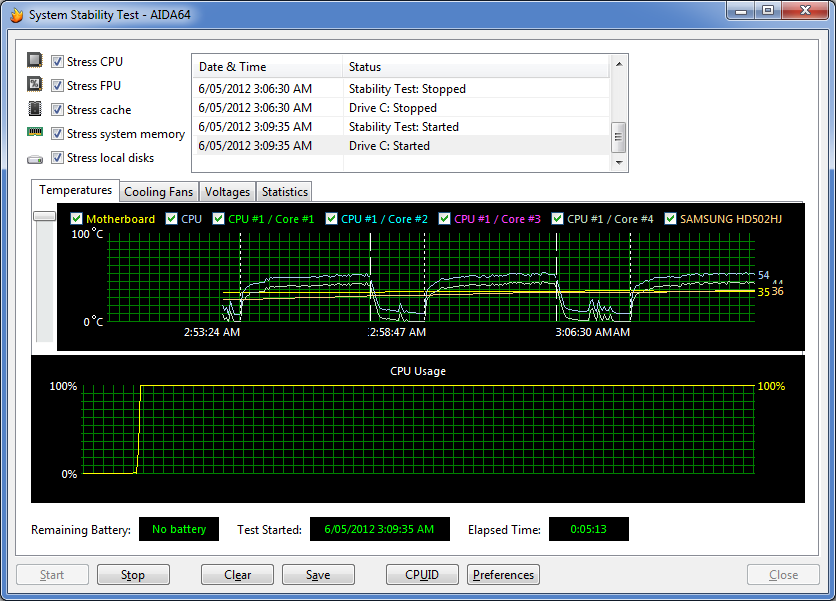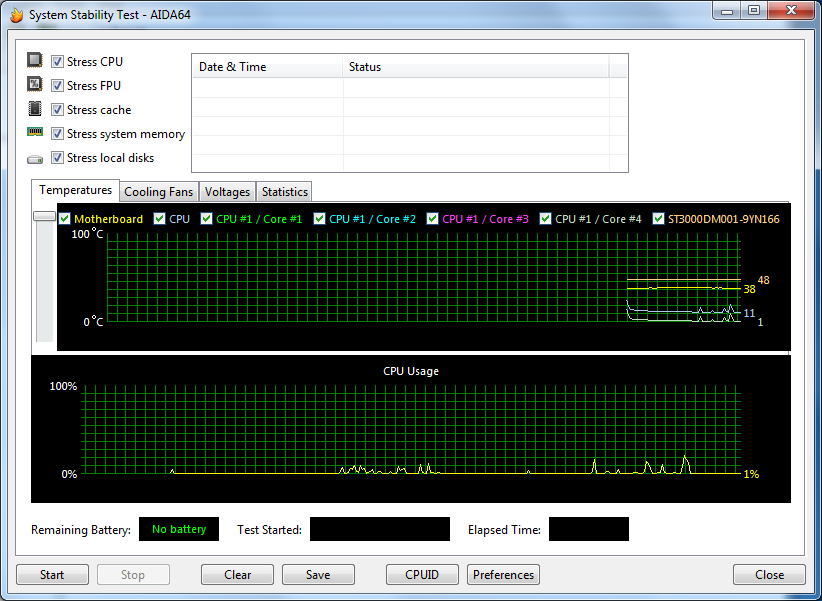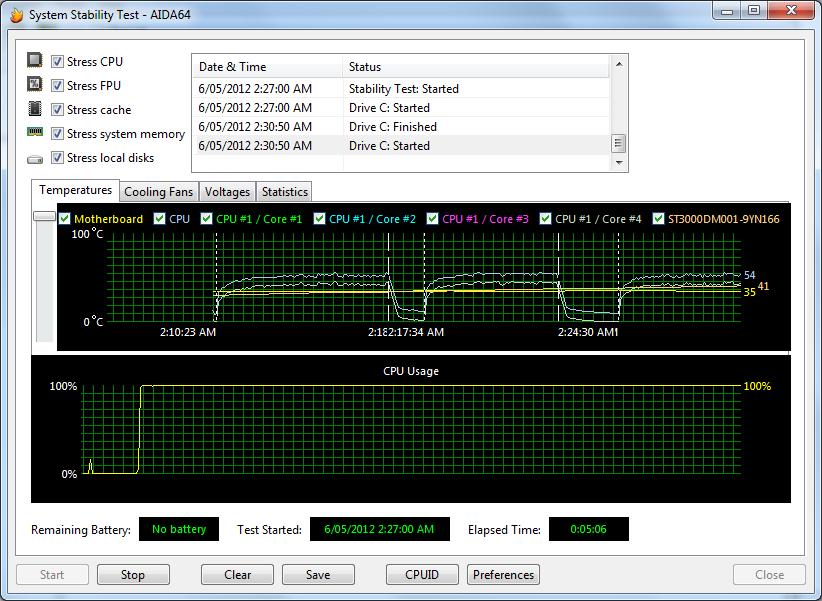 Verdict
Pricing and Availability
BytePac Kit
The Bytepac kit is not yet available in Australia yet however it is available online via Amazon or Bytepac directly
http://bytepac.com/wheretobuy.php?language=1
Convar offers a 5 year warranty on the electronics, a warranty longer than new hard drives themselves but none stated for the cardboard. The firm claims the flap can be opened and closed 10,000 times.
Pricing of product at time of publishing from Amazon and Manufacturers 30 GBP/40 EUR for a three-pack including power adapter and 14 EUR for three additional boxes
Seagate Barracuda 3TB ST3000DM001
Bare drive: $210 AUD and up via staticice.com.au as of May-22-2012, $180 USD via newegg.com
Seagate mainstream drives ship with 2 year warranty.
Competitors
BytePac Kit
None are aware of, possibly plastic SATA dock devices
Seagate Barracuda 3TB
Hitachi 7K3000 7200RPM
Western Digital Caviar Green 3TB
Conclusion
BytePac Kit
We think this kit is great for several groups of people
Users who would like a convenient and safe storage solution for 2.5" or 3.5" HDDs which may be archived such as on a bookshelf or drawer which can be connected to a PC when required
IT Pros/enthusiasts/DIY ers who want a modular connection system to enable external HDDs for SATA, ESATA or USB interfaces as well as a safe cardboard casing for loose HDDs they may wish to connect to their PC for storage or testing purposes.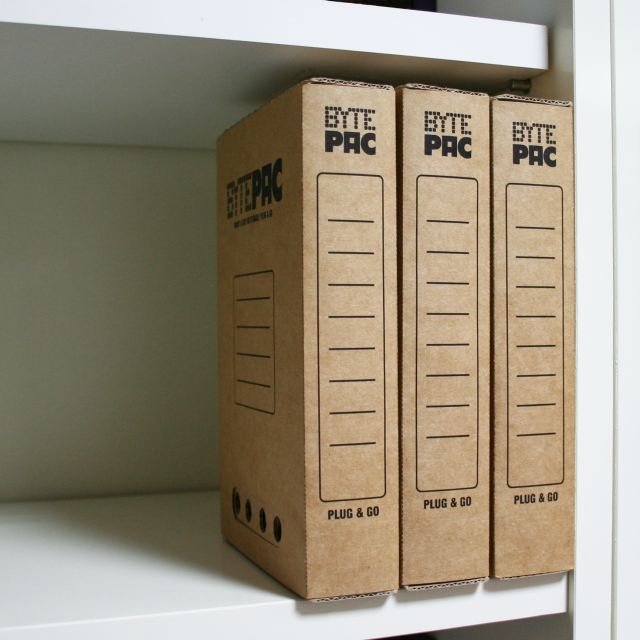 Price wise, in GBP and EUR the price is very reasonable for a three pack given the 5 year warranty however converted to AUD/USD on price alone the kit is too expensive. Given the price of cardboard, somewhere in the $30,$40 price range would be ideal and competitive to traditional external USB enclosures.
This product is marketed as a green and eco friendly alternative which it is as the housing and all the electronic pieces are generic and replaceable.
We found the kit to be useful to externally attach hard disks to the desktop PC safely using power provided from the PC via eSATA or a standard SATA power plug or he included external 12V power supply. Notebooks with a combo eSATA+USB port will greatly benefit from this device as external drives can be bootable as system drives.
The downsides to the product as we tested are:
The version we tested is USB 2.0 instead of USB 3.0, however a USB 3.0 version is available.
Product contents did not match the instructions
Included universal power adapter was a loose fit on the 12V power supply, which we felt was unusable
More expensive than generic external enclosures
Limited worldwide availability
eSATA to eSATA connection cable not included with our sample, limiting flexibility to either using powered eSATA if available, USB. If users want to connect to eSATA or internal SATA they need to supply their own cable. An oversight.
Seagate Barracuda 3TB
We can't fault this drive apart from the price, one can have two 2TB drives of the same model for a few dollars more than the 3TB drive. the 3T model needs to be setup in a special way on a modern PC to enable the full 3TB capacity, however Seagate and motherboard vendors provide tools to unlock the full capacity on older systems.
Also the Barracuda despite its excellent transfer speeds still is no SSD. THe most fussiest user would be happy with the 7200.14 as a storage drive especially if transferring data across a Gigabit or USB 3.0 connection.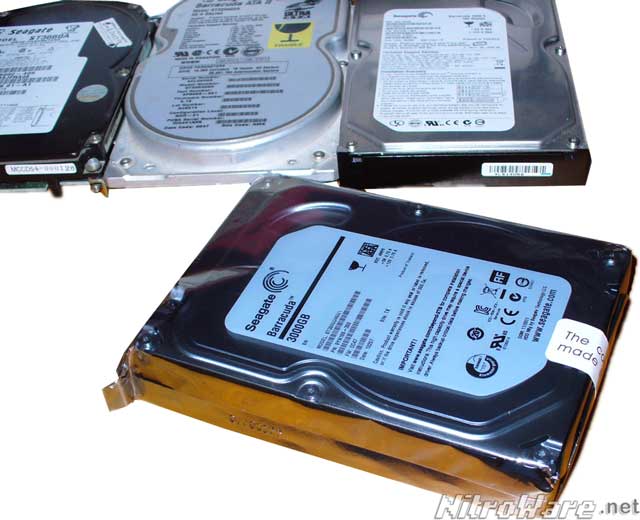 Disclosure
Some hardware and software used in this review was loaned or sampled by their vendors for evaluation. We disclose these firms as follows:
AMD Australia
Convar Deutschland
Cooler master Australia
FSP Group Inc
Gigabyte Technology Australia
Kingston Australia
Seagate Australia
Rackcorp Managed Services
Western Digital Australia
Readers may enquire about review product arrangements or any other aspect in the comments below.