Page 2 of 9
What's new with TITAN X - Architecture and Features
Maxwell GM200 GPU Architecture
GM200 carries over the same DirectX 12 Feature level 12.1 micro-architecture used in GM204 (GTX 980/970) and GM206 GTX 960
This time around, the compute clusters have been scaled up to meet the performance requirements, otherwise the arch is unchanged, including retention of double-precision instruction throughput being 1/32 the rate of single-precision.
Understanding the logical and physical blocks that make up a modern programmable GPU can be difficult and confusing which is why we prefer to explain this concept with an annotated diagram.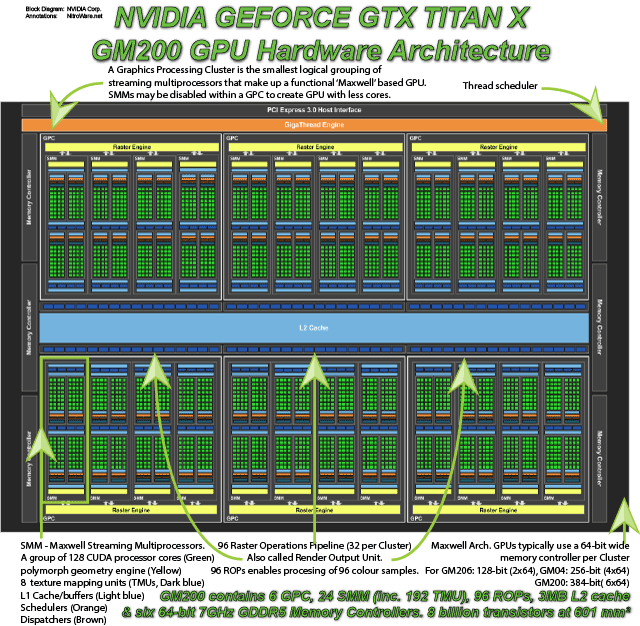 This describes the compute units only. missing are auxiliary circuits and microprocessors that manage power, displays and video decoding/encoding.
The chip itself is on the verge of being the largest practically manufacturable GPUs in large quantities. NVIDIA has shipped large chips before in the 550-575mm2 range but at 600, the rocket that is GM200/TITAN X has reached new heights. Intel's Xeon Phi 'Knights Corner' and 18-Core E5 Xeon CPUs size up between 650 and 700mm2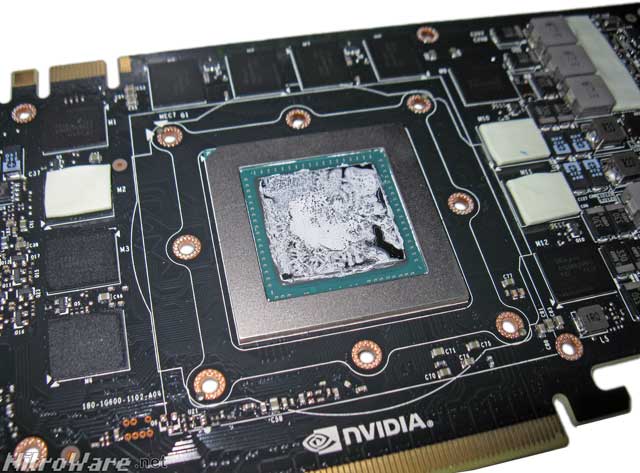 The larger size means more transistors, 8 bilion compared to 7.1 billion for the previous flagship GK110 NVIDIA chip. More transistors means more heat. How NVIDIA managed to keep power and temperature in check is thanks to tuning of their GPU Boost technology and insistence on efficiency and performance per watt.
Double Precision Floating Point Math Computation Performance and 12 GB of memory
End users in HPC, Research and Science fields who need this level of precision are expected to buy an older Titan or a professional series Quadro or Tesla NVIDIA card. NVIDIA cites two reasons for this change, that they would like to keep their professional Tesla and consumer GeForce product lines separate, which older TITAN was somewhat cannibalising plus adding double precision hardware support to the shader compute cores would have taken up too much die area which could have been used for other purposes such as enhancing single precision performance/rendering.
While this may seem nefarious considering some cash strapped students have relied on TITAN in the past as an affordable High Speed Double Precision compute device, In a way, NVIDIA's fortunes in its professional segment actually help the consumer segment by helping keeping prices in check and encourage consumer oriented development. A healthy NVIDIA with solid revenues from its professional products is a good thing for everyone, even pushing their competition AMD to produce better products and Intel to produce more powerful many-core Xeon Phi chips. A weak market overall can inhibit innovation and encourages rebranding and clearing of inventories of slow moving products.
Double Precision the biggest change to TITAN for 2015, but its large 12GB frame buffer is not a new concept, Quadro K6000 featured 12GB and some Tesla boards also feature large frame buffers but it is a first for a gaming graphics card. 12GB is just about right as a future proof size, roughly supporting three 4K/Ultra HD displays and future proofing for Multiple 5K and higher. A note on this however is since Maxwell does not support DisplayPort 1.3, two of TITAN X's 'DisplayPort 1.2 connectors are needed to drive a single 5K display, of which the board only has three in total.
The memory itself is nothing unique and follows NVIDIA's standards. The 3072 cores means more memory controllers and more bandwidth, so it is great to see the return of awesome memory bandwidth (plus compression) to a GeForce. SK hynix does offer the same memory in a double density, so we may be seeing 24 GB GeForce cards in the future.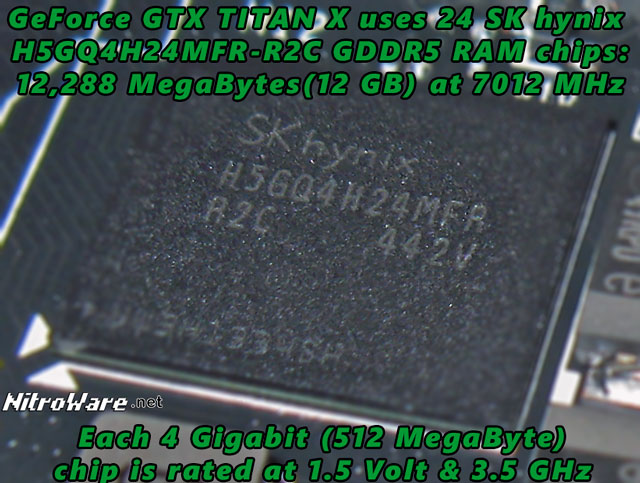 Cooling System
Carried over is TITAN's famous silver heatsink cover and vapour chamber based cooling system. To uniquely identify the TITAN X, it's aluminium cover is painted black. The black shroud is the only real tell-tale to compare a Titan X to other NVIDIA cards,even the previous TITAN Black is still silver while the GTX 980 has its unique finned backplate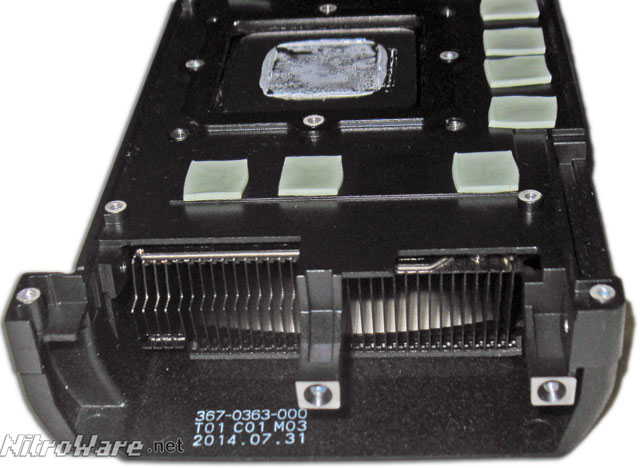 Speaking of that backplate, it's gone. It had several purposes on GTX 980. To heatsink the back of the card, to protect the backside components and as an aesthetic cover to stealth the 'ugly' backside components of the card. We received conflicting information on why it was removed. One area of NVIDIA contact said it was purely to maximise airflow in 3 and 4 way SLI configurations, another said end users were forgetting to removing the detachable airflow vent from the backplate of their GTX 980s. The truth is somewhere in the middle and for a flagship card it would have been nice to see a backplate especially as there is 6GB of memory on the backside of the card.

Cooling wise NVIDIA actually does not have to do anything radical to the cooling solution as the thermal envelope of the generational cards has not changed much. What we call NVIDIA's 'silver' cooler was originally designed for and capable of cooling above 250 watts, with only fan speeds varying to suit particular sizes of GPUs. On Titan X the cooler needs to handle 275 watts when it is set to its maximum 110% power limit. We have had 250 Watt high end NVIDIA Kepler cards before so thermal envelopes of those boards are known, and if we add the efficiency of the Maxwell architecture to the mix we gain a bit more headroom as performance makes up for some power savings.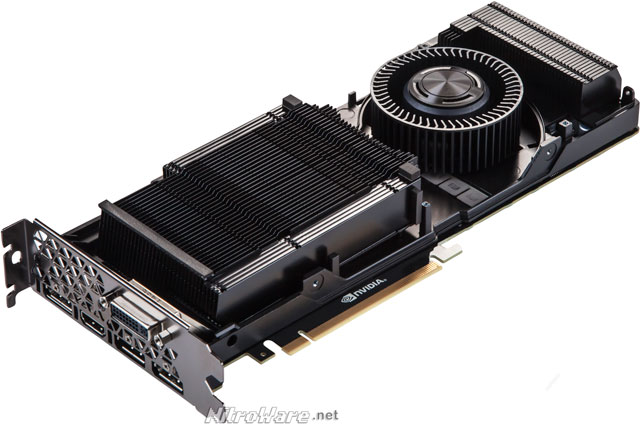 Board Aesthetics and Visual Look.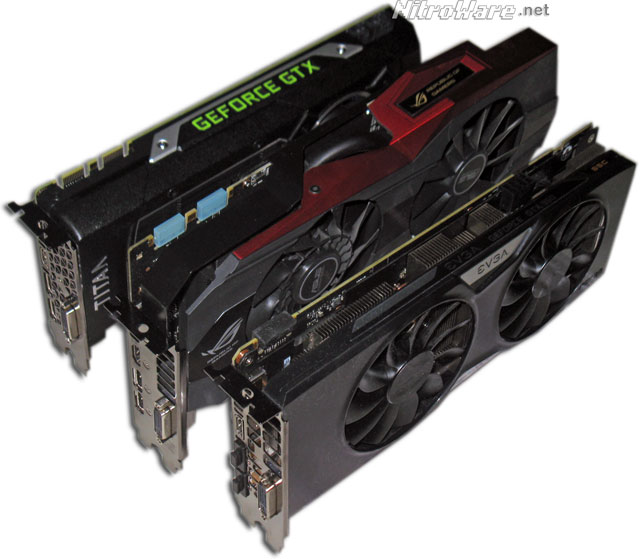 Look is only really an issue to some users, especially enthusiasts have the desire to show off their hardware especially with a case window, as the side LED of the card still says GEFORCE GTX in backlit green LED as do its siblings, a minor point but flagship aesthetics for a flagship price is also an excuse used at times.
It is a far point that buying the best gaming graphics card, you should be able to show it off and it should look the part especially for the price, where as a board for scientific computing is not about look.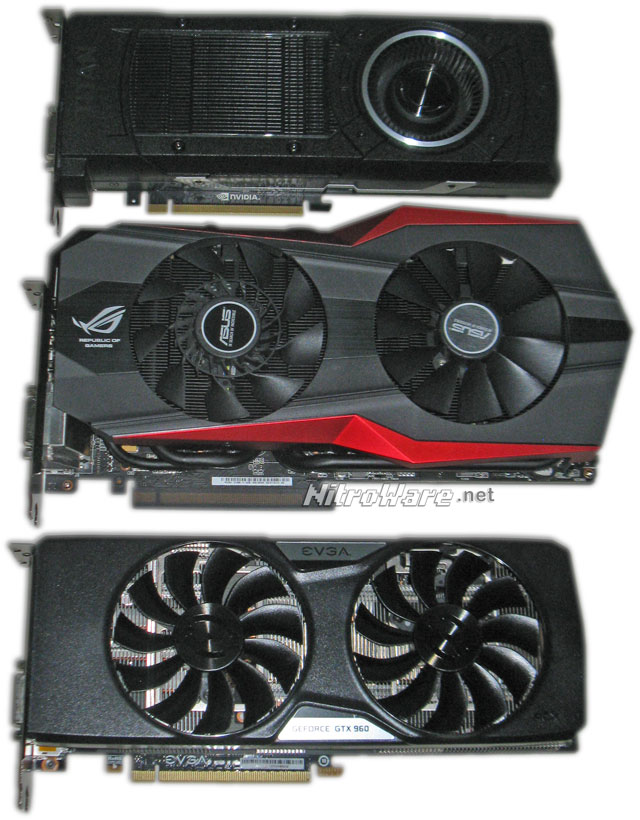 The card has no other aesthetic or LED features, however media samples did ship in same style of collectors 'shoebox' that the GTX 980 shipped in and this time it seems NVIDIA have adopted this packaging as a retail box as it features the full product specs and certification on the bottom. The box sets the card apart form others on a shelf but its of course up to Add-In-Board partners to decide whether to use it. Some users would be happy if these expensive cards just shipped in brown cardboard though. The ASUS ROG GTX 980 we used in this review however, is basically padding.. The bigger the box,well you can figure the rest out.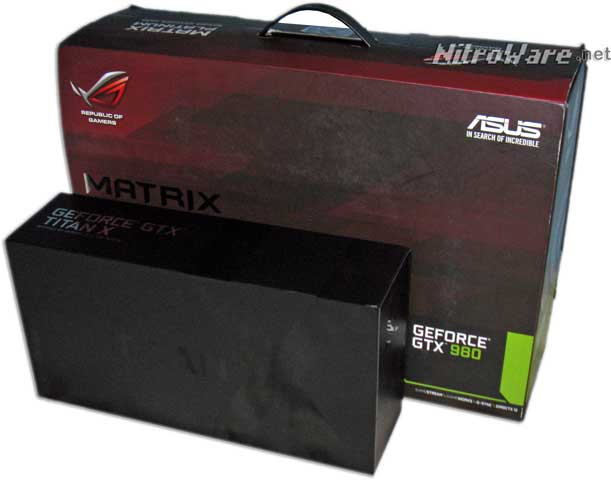 Compared to older cards such we have shown however it does look the part. Personally the black feels slightly 'cheap' to me and reminds me of the reference coolers of cheaper cards such as the 480, 660 and 680 but I am growing to like it especially as its metal not plastic. TITAN X's Quadro sibling, the new M6000 certainly looks the part with its green highlights.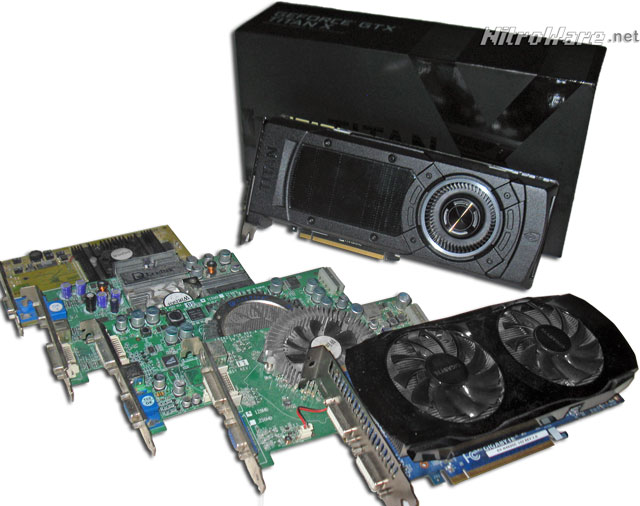 Reference Card Design and Optimisation
Reference cards often get a bad rap by end users and despite 'silver' series GeForces running well, some enthusiasts call them out based on their manufacturing/design origin, component selection and and a number of unpublishable terms based on armchair assumptions. Unfairly, reference cards often get compared to over the top engineered partner cards with massive number of power supply phases or claims about component supply. Things such as capacitor life span, type and style of inductors used ('diamond','winged','alloy') and heatpipes that have been chromed or painted amongst other design decisions that are borderline aesthetic.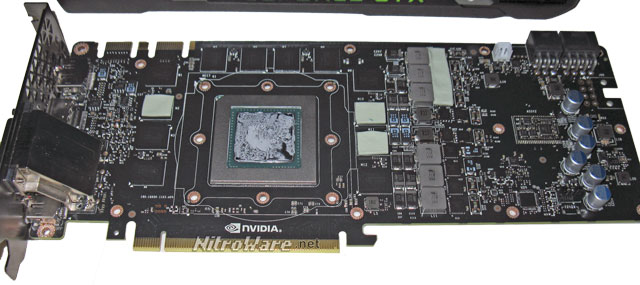 The main complaints about reference cards really are cooling and coil whine. Cooling we touched on earlier, and TITAN X's Vapour Chamber cooler will keep the GPU at its max boost temperature of 83-85cc under heavy load before switching off GPU Boost (throttling down to base clock). This in itself isn't a bad thing or dangerous despite the number sounding scary.
After-market GeForce cards will offer lower load temperatures such as the ROG Matrix GTX 980 we used in this review, 10c cooler but you pay for the privilege in cost, size and weight. Remember, TITAN X like NVIDIA's other single GPU cards are all 10.5" long with side mounted power sockets, meaning they will fit in the majority of ATX compliant towers without having to remove any drive bays.
With large graphics cards, Coil whine is mainly an issue during extremely high frame rates, especially when benchmarking not so demanding titles with v-sync off. Various add-in-board partners claim that their careful selection of coils/inductors avoids this issue. NVIDIA claim they to use components (Polarised caps and Moulded Inductors)to reduce coil whine. The TITAN X does have these components on the PCB but so does the GTX TITAN and GTX 980.
In our testing experience with TITAN X, coil whine was very minor when testing very high frame rates with V-Sync off but the test PC's fans and pump were much louder and noticeable than the graphics card.
A good spot to test for coil whine is the results page at the end of JUST CAUSE 2's benchmark run. It renders at 2000 FPS with v-sync off and provides a stable frequency coil whine.
Power for the card is handled by a 6-phase power supply for the GPU itself with over-voltage support and an additional 2-phase supply for the memory. The adjustable power limit in software is only 110% or 275 watts, where NVIDIA claims any higher would breech their acoustic specifications.
The layout of the Capacitors, Inductors and Voltage Regulators on the card itself has been optimised to be more symmetrical on TITAN X compared to both the TITAN and GTX 980, this helps ensure these components receive equal and even cooling and airflow. The power supply system has been updated and upgraded. We were able to confirm the changed components.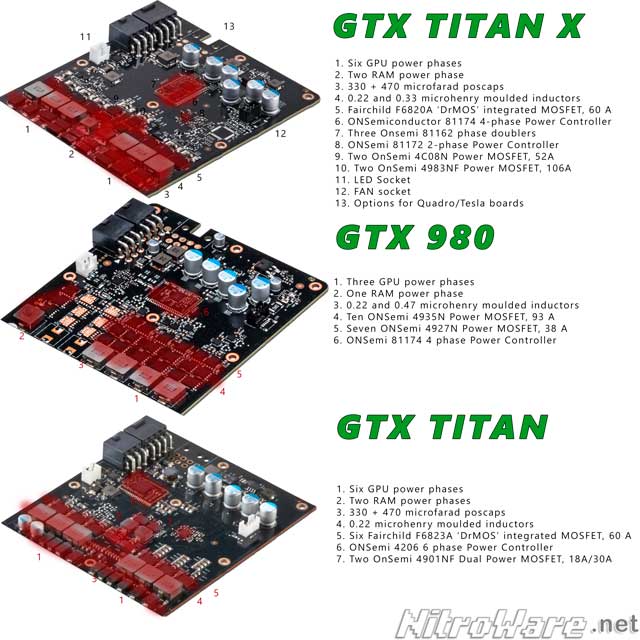 Software Features
NVIDIA is bringing some new features via software too as the TITAN X is suited for VR with its performance and 12 GB memory. These are mostly related to Virtual Reality support (VR Direct)and Voxel Global Illumination (VXGI)
VR Direct was announced with GTX 980, and most of the software stack can be back-ported for other cards, where performance permits. A single card may perform a warp on the last rendered scene to save re-rendering the scene upon movement of the players head when using a VR headset. For performance purposes, This can be combined with two card SLI which combines alternate frame rendering,where frames for each eye are processed independently on each GPU left and right with the time warping feature.
VR Direct is being evaluated by Epic Games, Crytek, VALVE and Occulus with public drivers to be available in coming months.
Voxel Based Global Illumination, where Voxels and Tessellation work together to build up a lighting structure to enable global illumination for a 3D Scene has evolved from NVIDIA's original Apollo 11 tech demo as seen below, into actual in-game content.
Developers can now utilise VXGI with Unreal Engine 4 and based on the Apollo 11 demo and user samples we cant wait to see VXGI used in commercial game titles.