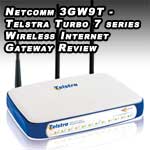 Recent releases of 'must have' smart phones and heavy marketing of 3G connected devices in the mass media such as USB modems, smart phones, PC cards and notebook PCs with build in 3G connectivity is pushing mobile broadband to the masses, however promises made can be perceived as hype and marketing lies by some especially those who have experienced some legacy types of wireless cellular or networking.
Does 3G Mobile Broadband live up to the hype? To find out, NitroWare.net reviews a high performance 3G Gateway-Modem/Router that is advertised to deliver megabit speeds equivalent to wired broadband.
Review
Manufacturer
NetComm Australia
Product
Telstra Turbo 7 Series Wireless Gateway - Wireless Internet Gateway with Integrated HSPA 3.5G HSPA Mobile Broadband, Wi-Fi and Ethernet
Supplier
Telstra
Model
3G9WT
Price
Varies: $529 AUD RRP as tested [Oct 2008-Feb 2009]
Rebates may be available through Telstra depending on data plan or contract.
Background
T
he Telstra 3G9WT Internet Gateway is intended as a fully mobile internet access point allowing a user to deploy Wired or Wi-Fi connected Internet access wherever there is a 2G or 3G mobile reception in a single integrated unit without the need for external hardware. Telstra Corporation, Australia's major Telco provider and ISP and networking vendor NetComm Australia has made claims that the performance of this Gateway unit (and the 3G Network it was 'designed' for) are of high performance, quality, uniqueness and equal to the worlds best technology in the field.
The purpose of this review is to independently evaluate the performance of this 3G Gateway in terms of Internet throughput as well as to analyse the features, design and overall package for the unit.
The unit covered in this review is mainly intended and marketed towards Professional, Business and Enterprise customers. A similar model with minor variations in feature, bundle and branded for Telstra's retail ISP arm Bigpond is available for consumers at different price point and plans. This model will not be covered in this review.
NitroWare.net published a first-impression report of the Telstra/NetComm 3G Gateway offerings. We suggest readers view this article before reading this review if you are unfamiliar with the product/technology covered in this review.
Product Bundle
The review unit NitroWare.net received came from a batch of media evaluation/demonstration units but to the best of our knowledge the product reviewed here is indicative of retail units available for purchase.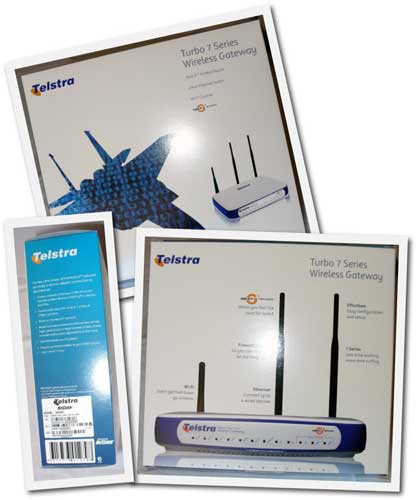 Since the 3G9WT is marketed towards specific segments of users who do not require detailed instructions or 'self install kits' and as an integrated device requires very little setup and configuration the product bundle is sparse as is the case with other Routers/Gateways available in retail or distribution channel.
Packaging is comprised of 'eco friendly' folded laminated card with an over sleeve with the sales and marketing information. While the packaging is highly recyclable, it does not provide adequate retention and protection of the accessories especially for extended mobile use, which is what the product was designed for in the first place – a mobile internet access point.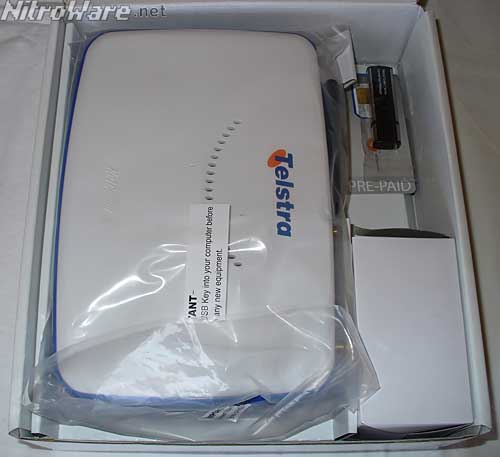 The Gateway ships with the unit itself, two 18CM removable 3G antenna, Power adapter, a read me first card, a small card containing the SSID and WPA security key, 1.5 metre Ethernet patch cable and a 256MB USB stick containing the configuration utility, status utility and electronic documentation for Windows and Mac Platforms. We were quite pleased by the omission of a CD and inclusion of a USB stick which has a RED activity led and performs at typical USB2.0 speeds of 10MB/s. A larger size than 256 would have been preferable but not necessary. Crucially, the USB stick is fully writ able to as the configuration software does write data to the disk and the user is also free to add their own files to the disk.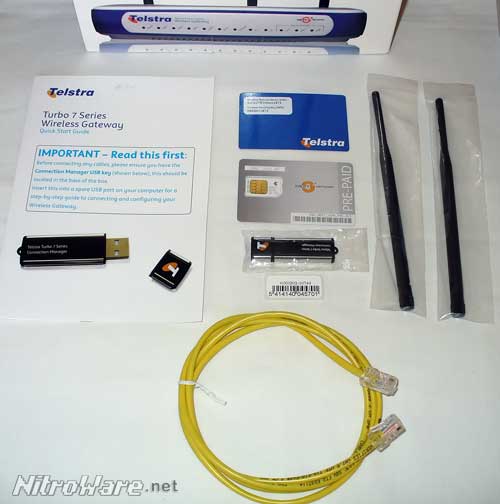 A 12V DC Car Power Adaptor can be used as an optional accessory, however we at NitroWare.net feel that this item should have been included in the product bundle to enhance usability and value since the product is intended for use as a mobility solution. The cost of the item, a common 1A-2A part as found with many cheap mobile phone accessory packs is negligible. While users can supply their own compliant adapter, a bundled, supported adapter provides the user with less of a headache when dealing with technical support or Warranty RMA process.
The gateway comes with a generic switch-mode power supply of 12V DC and 1.5A specification using a large barrel plug as standard on such devices. This particular supply emits faint but audible RF noise while operating which may be annoying to some users especially if they are close to the power supply.
One thing that annoys us as reviewers and some of our clients is design and choice of power packs for consumer and even some business/enterprise gears. The transformer housing can often be too wide, too long, too fat, inefficient, proprietary plugs or the cables can be too short. It is such a minor item than is overlooked by at the logistic stage of manufacturing. It is often minor aspects such as cable type/length, housing design or annoyances with the configuration of a device that prevent a product from being completely hassle-free and as part of the review process this is something we look for.
Disposed power packs was such a problem in china that their government mandated a single standard connector be introduced, and we are sure many of our readers both consumer and business can sympathise with the scenario of having a large collection of different power packs or having to do 'workarounds' with cables, power boards and positioning to get the power cord for their device to reach or fit.
We test fit into a widened Australian power board of an older style against two of the main types of 230VAC IEC plugs as used to power computers and printers. This is a worst case test as many power boards on the market are now widened to accept one or more power packs
We also measure cable length coming out of the plug pack as the device may not always be close to the power outlet
What we are looking for is primarily does a particular power pack conflict with the adjacent socket and secondarily does the plug-pack overhang over the power switch although we recognise not all power boards use power switches, but we replicate the worst case scenario.
In the case of this Mobile broadband gateway, the idea is that a user should be able to quickly and easily setup the unit and get online. If a user has to spend a great length of time reorganising power cables or arranging a workaround to get power to the unit, especially in locations where existing wiring cannot be changed or additional devices must be powered this defeats the purpose of the device and does not lead to a effortless use of the product.
The adapter bundled with our review unit passed one of our two power socket fit tests which is acceptable. Measured cable length was approximate 1.6 metres. This is the bottom of what we would classify as acceptable, especially for a product with a $500 AUD RRP. If the device is at different height to the power outlet, the plug pack cable length may be prohibitive.
The same applies for the bundled Ethernet patch cable, however that part is cheaply and easily replaced by the end user if needed.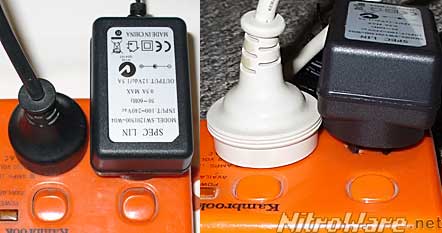 The read me first card is a single folded sheet in colour and English only. It follows Telstra's typical style motif and as such is very readable, legible and concise. Compared to other manufacturers who provide a small printed booklet which typically do not mention more than just how to connect cables or put the CD into the host PC.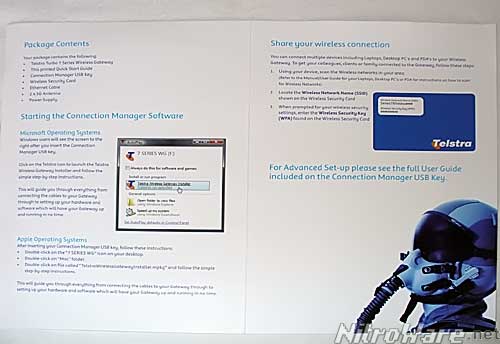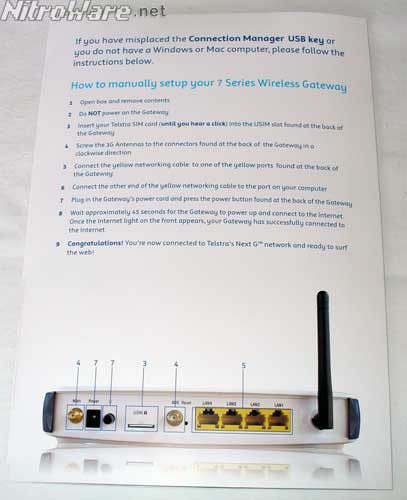 Design and Features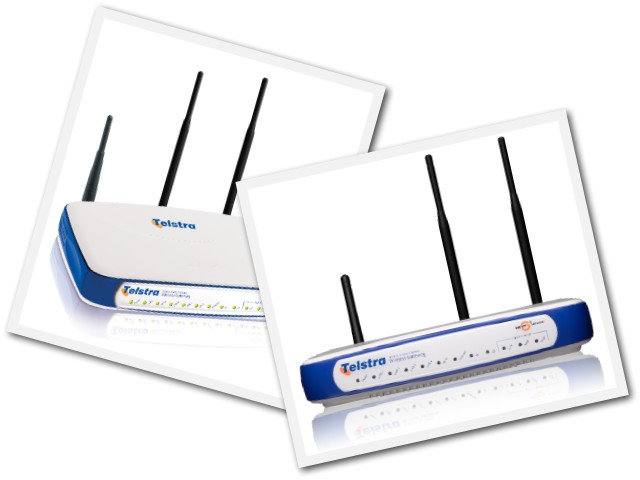 Aesthetically, the Gateway is enclosed in NetComm's standard broadband casing as applied to their other models but re coloured blue and logos applied to suit their customer, Telstra to which this specific model is exclusive to.
Vertical orientation of the unit on its end s not possible as the design of the casing, as well as placement of the Wi-Fi and Cellular antenna prevent the unit from being stood up in a vertical position.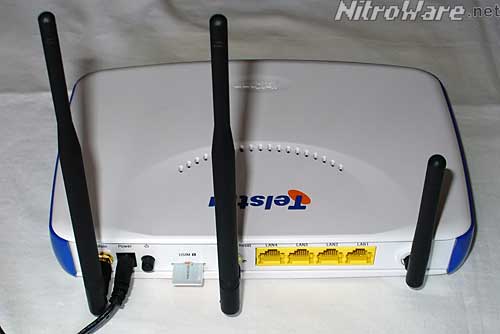 The unit can be operated with the antenna parallel to the cabinet however there are no wall hooks or bracket available for the unit. In Lieu of the vertical orientation of this we would have liked to see large wall hooks included on the base of the unit as is the case with broadband product from ASUS or Siemens or the Wall bracket accessory for Linksys units.. This design aspect can also increase the clearance height of the base and encourage better cooling to the base of the unit, which is somewhat needed as the Wi-Fi module is located in the underside of the unit and it can get quite warm after extended operation.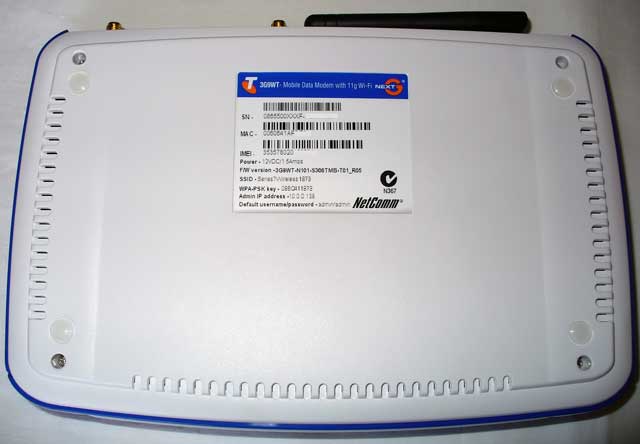 It should be noted that this unit should not be placed on surfaces which may be affected by heat sources. The Gateway does feature a temperature sensor in the 3G Module and the user is able monitor its temperature through the Gateway's Web Interface. We observed this temperature reading to range between 50 degrees and 70 degrees Centigrade. It is worth noting that this is not an industrial or weather proof unit and is intended for indoors use under normal operating conditions.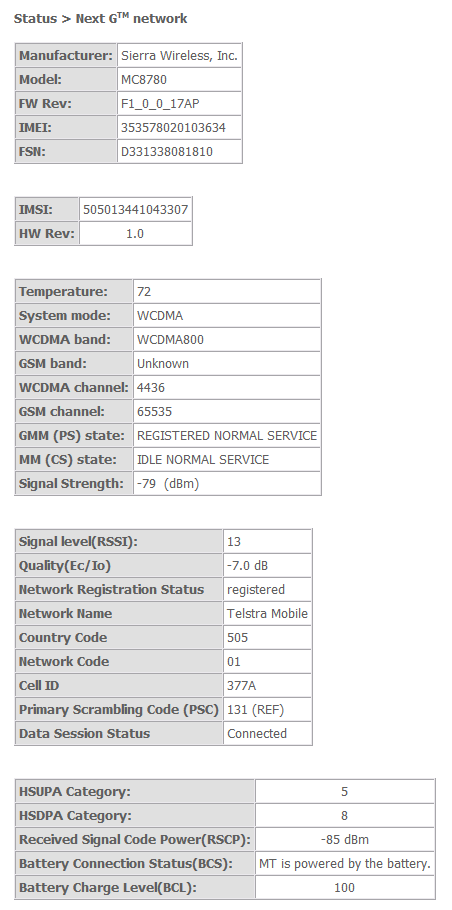 The front panel of the gateway comprises of generic status LEDS which only indicate in a single colour, unlike other makes which feature bi or tri colour LED to indicate different states. NetComm have used different flash LED flash codes to signify status and this worked satisfactory. The way status is displayed is more of personal preference where some users prefer different colours others flashing sequences.
What we did take notice to was that the captions for each status led were not illuminated and could have been made larger. The single sequential row of status LED's can make diagnosis tricky especially over indirect means of communication. This is not solely a fault of NetComm's as products of other manufacturers also suffer from this design trait through the industry.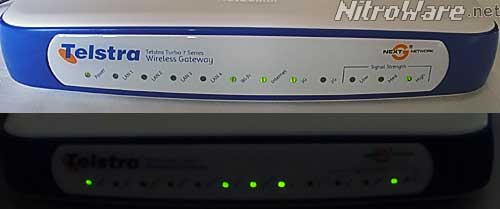 The start up sequence consists of a status check of all LED and then progressively each of the modules become ready. As with other broadband or ADSL Gateways the ethernet and Wi-Fi features can be used regardless if the 3G is offline or no SIM is inserted.
The read me card in the package claims 45 seconds start up time. We measured around 60 seconds from power on to the Internet LED being activated, indicating that a successful 3G internet session has been established. Either way this is very swift and painless and is in fact quicker than the time it takes some ADSL links to synchronise. The Wi-Fi Access point is ready soon after as soon as its LED is activated during boot. Resetting the device takes around two minutes.
Software
The gateway does not need any software to be installed but the manufacturer and supplier recommend the user use the provided setup wizard to configure the gateway and enable wired or wireless connectivity. While other vendors such as D-Link and Netgear do include desktop-based setup wizards, the wizard including with this unit was fair easier to use both logically and in regards to UI design. This particular model uses a USB key therefore if Wi-Fi is selected the user only needs to enter their WPA security key once and it saved on the USB stick for future use if the wizard needs to be re-run at a later date.
This feature only works with the included wizard and not the 'Windows Connect Now' feature including in Windows XP and above, however the user can still use WCN if they wish but we do not recommend it.
A basic utility showing 2G/3G mode, signal strength , SIM status, IP addresses and connection status is included. This program contains features designed for other mobile broadband products in the Telstra lineup which are not functional for this gateway or the included data plan/SIM.
The utility is easy to read and understand for novices. Advanced users will want to install this utility anyway since it reports the WAN IP Address , Signal Strength and cellular mode.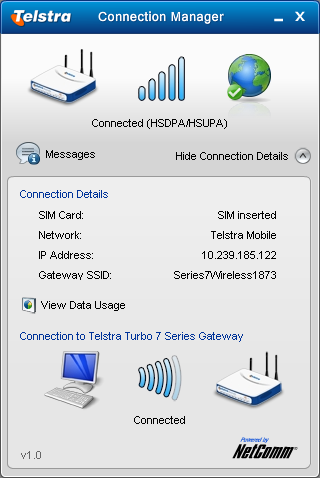 We found the utility bundled with Vodafone's 3G USB modem less obtrusive on the desktop and more featured packed, Eg. that software supports automatic fail-over between Wi-Fi and 3G, although that device is a USB modem and not a standalone gateway.
We were satisfied with the Telstra/NetComm utility though.An update to version 1.1 did not deliver any significant or noticeable features to the utility however the included read me did mention the updated was necessary if the device firmware was updated. Both v1.0 and v1.1 seemed to work fine either way.
The 250MB USB key contains 30MB of files for Windows 32 and 64bit, Mac OSX 10.4.11 and higher, 8MB colour illustrated user guide in PDF as well as Flash and Windows installer updates.

Security
This device uses the less secure WPA(1) encryption standard for best compatibility with different operating systems such as Windows XP which defaults to WPA1, older Wi-Fi adapters and other Wi-Fi Access points, ease of configuration and use. However the default WPA encryption key for the unit is printed on the base of the unit and in plain text on the USB key. The default user name and password to access the gateway web interface are also printed on the unit.

Since this product is designed to be mobile and would likely be in a user accessible location, if these authentication methods are not changed, third parties can easily access the unit. Not printing the key on the unit would be enough of a step. The USB key which would contain the WPA key in plain text would likely be kept in more secure location and not as much a problem.
As with other broadband routers which use Broadcom's platform, full WPA2-AES and RADIUS authentication is provided for the Wi-Fi Network.
The Gateway has a stateful inspection (SPI) firewall but no fine customisable settings are provided for it.
The GSM cellular system typically has good security, incorporating encryption and PIN codes. However this particular product has a caveat when it comes to security for the SIM card. PIN codes are supported in a different way to a traditional GSM/3G Cell phone.
On a cell phone the user has three tries to enter their SIM, once extinguished the SIM is temporarily blocked until the service provider unblocks it. Cell phones can operate with a SIM that has security enabled or disabled, by requesting the user to enter their PIN.
On this device, the PIN function is simply there to unlock SIM cards which have e PIN code security enabled, rather than to protect the device when it is used !
The SIM must be first unlocked using the PIN feature and SIM security changed to disabled inn the gateway before it can be used. IE, the gateway only supports operation with SIM cards which have SIM security disabled. Since this security is now permanently disabled, it needs to be re-enabled manually through the gateway if the SIM is to have security reactivated before removal.
Once the now security disabled SIM is in the gateway, a hostile user can steal the the SIM from the rear slot without any tools. It may be some time before the theft is discovered however at least that SIM can be blocked from further use by the service provider.
This procedure is not much different to opening a door with a key and leaving the key hanging on the door knob.
Since this device does not require any authentication by default to access the internet or to operate it (at least on the Wired Ethernet side, Wi-Fi requires the WPA security key), the device can be a easy target for thieves who only need to unplug the power and now posses an unlimited, portable way to access the internet, temporarily at least.While the wireless is secured, that doesn't stop the security being disabled, the reset button will reset the device to the default settings which are printed on the unit. ! Meaning the only thing stopping the device from being used by a thief is physical security.
A security loop in the device would make theft much more difficult, something which this product lacks. By preventing physical access to the device (or other broadband devices) many security flaws are made void.
As mentioned, the service provider can block the SIM and since there is no personal data stored in the device the theft would be limited to the cost of the gateway itself.
UPnP (Universal Plug and Play)
In a nutshell, UPnP is an automated process that allows various consumer networked devices to discover each other over a local area network or over the internet without the need for the user to manually configure their broadband or network access device.
While the technology has its flaws (which not will be covered in the scope of this article), it does work and delivers the goal of it is supposed to. However with the 3G9WT unit we were unable to get UPnP to fully work as expected.
UPnP aware applications, such as Windows Live Messenger from Microsoft and the official BitTorrent client, uTorrent, were able to function but failed to completely configure the gateway to correctly expose these applications to the internet.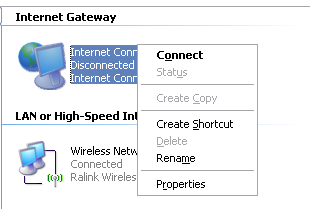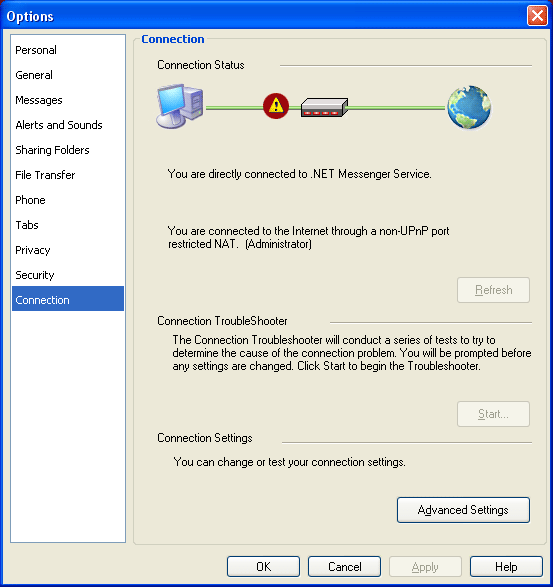 We suspected that this was due to the way Telstra and NetComm have configured the device to deliver status updates to a desktop utility. A newer release of this desktop utility did not improve the situation neither did a firmware update to the device. Third Party tools confirmed that the UPnP issue was not an operating system issue or glitch.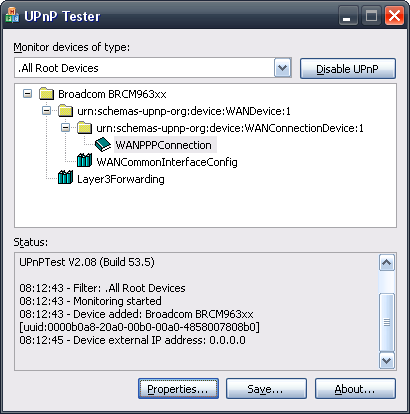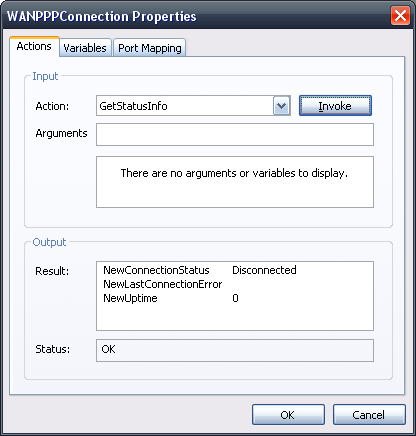 We later discovered that manually configuring the device's firewall to allow incoming traffic, such as hosting a mail, web, FTP or Terminal server behind the gateway did not work either. These services which had firewall rules configured for them to forward incoming traffic to them were not responding when connected to the 3G Gateway. We knew that these services were not faulty as we could port-foward these services through our broadband services.. If the UPnP feature had issues, at least the firewall rules should have worked.
It turned out that the issue was not due to the Gateway, but the SIM card and Data plan supplied as part of the review kit and the same kit was supplied to other Australian media.
Since the supplied SIM did not support a fixed WAN IP address or incoming traffic we could not independently verify that the port forwarding worked, or if the UPnP issue would have been solved if incoming traffic on the wireless service was enabled.
It is possible that some customers may receive SIM/Data plans in the same configuration as there are many combinations or variations of data plans .
This was an oversight that should have been noticed by both vendors during their planning processes earlier - supply/sell a device with a firewall/NAT feature to a user but not let them actually use the port forwarding feature is just not acceptable.
We should have caught this earlier too, by the time we did it was too late to update our findings. The majority of consumer broadband routers ship in a configuration where by default all outgoing traffic (Eg., the user requests a web page) is allowed and all incoming traffic (Eg., an external user tries to connect to a web server behind the users internet connection) is denied, and this was the case with the 3G9WT as well.
Due to this security aspect the issue of why we couldn't connect to port forwarded services comprised of two layers. The first being to configure the port forwarding rules to allow incoming traffic and to see if and why they are working or not working and secondary determine why they were not working once properly setup and diagnosed.
UPnP aware applications such as Live Messenger and uTorrent DID WORK, at good speeds too regardless of the connectivity problem, as previous described only manually forwarded services did not work.
The Gateway passed Microsoft's Internet Gateway Device online test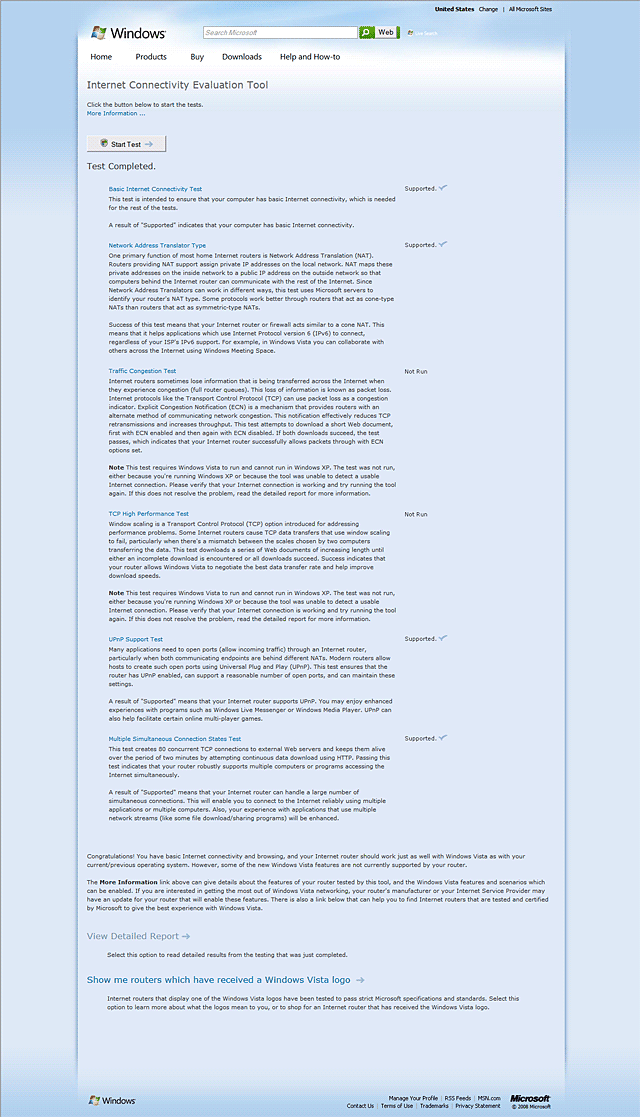 Networking and Firmware
This gateway contains an internal 3G modem in lieu of a cable or ADSL modem. It does not feature either a WAN or USB port.
A typical 3G enabled broadband router with a USB port or a router with a USB port flashed with a firmware that supports 3G USB modems offers a more flexible solution than the 3GW9T at expense of reception and performance.
Web configuration pages, SSH and Telnet access to a command line interface (CLI) are supported. The firmware is taken from the Broadcom reference platform and this is not a bad thing as it gives the user the full gamut of possible configuration options and nothing is removed or disabled. The pages relevant to ADSL have been removed and replaced with 3G/Cellular Specific pages. The 3G modem can be configured via the CLI.if desired.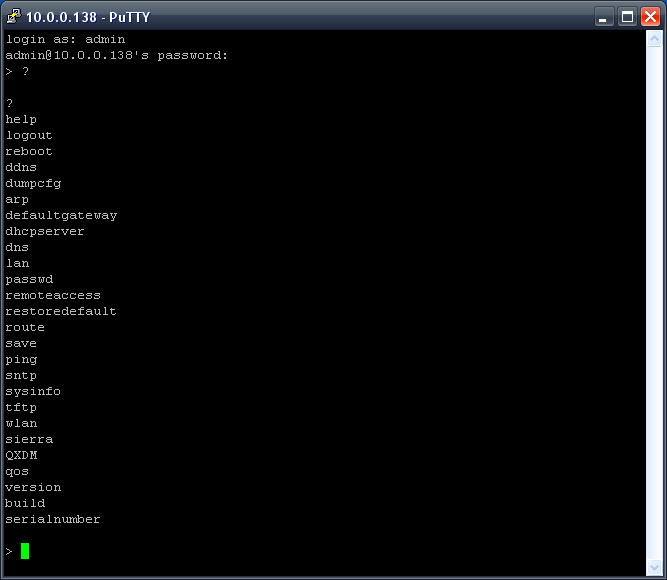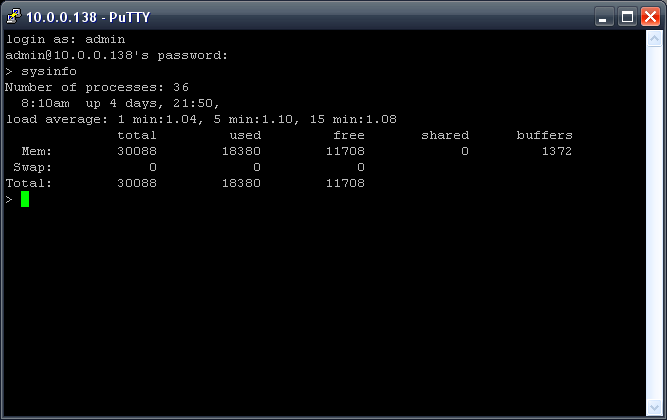 The networking suite is the standard fare.SPI Firewall, NAT, DHCP,Port forward and trigger, DMZ, Wireless Distribution (Bridging), Scheduling, Routing, Dynamic DNS host name using dyndns.org or TZO and diagnostics.The only parental control mechanism avalible is time of day scheduling.
The standout features of the web interface and indeed the CLI is that there is no indication of cellular link speed at all. The user is presented with the signal strength as well as a category code. A look up chart in the manual compares strength and category code, unfortunately this table has not been replicated in the web interface or CLI.
The NextG diagnosis page provides some advanced information regarding the status of the cellular connection as well as the temperate of the 3G Modem.
Virtual Private Network end point is not supported however ports can be forwarded to allow pass through of VPN traffic. A firmware update allows of Additional DHCP features required for ethernet phones or network boot.
3G9WT web interface options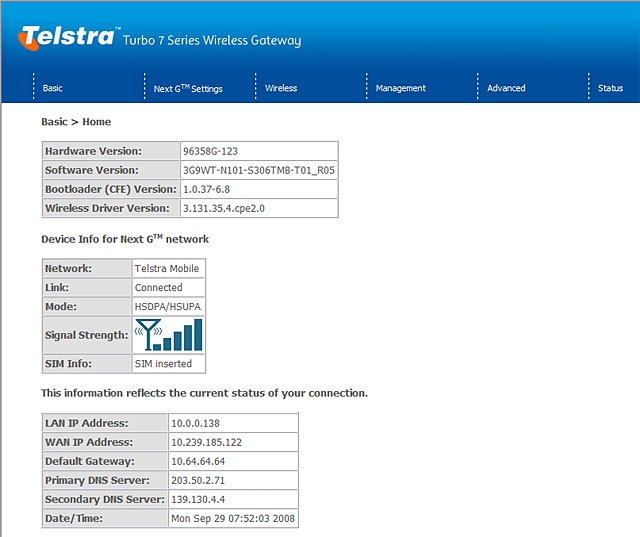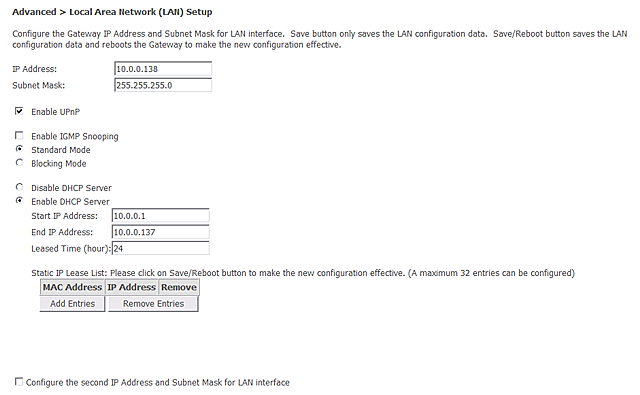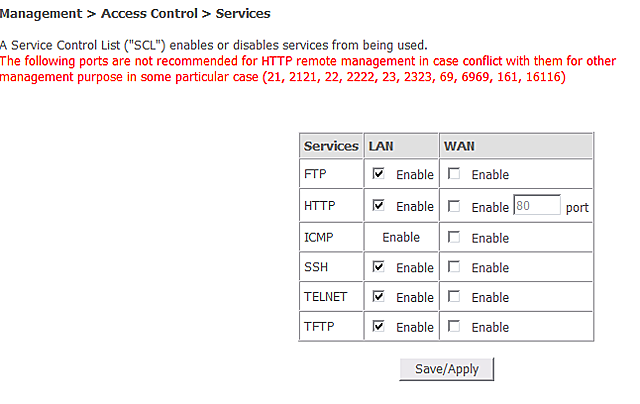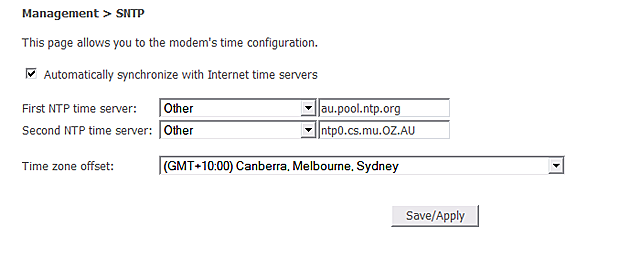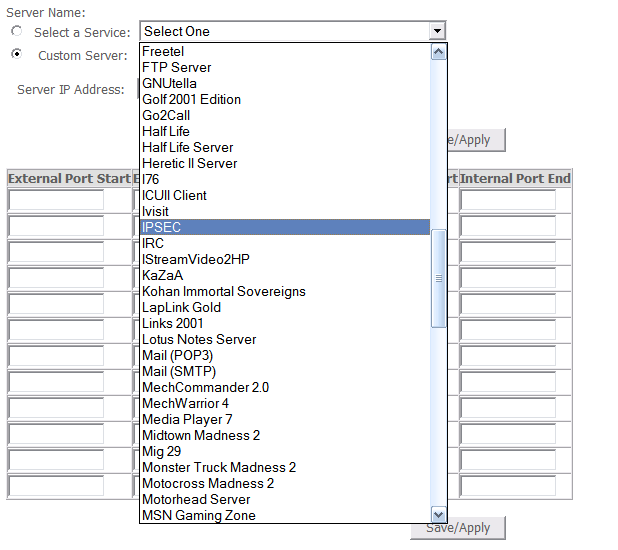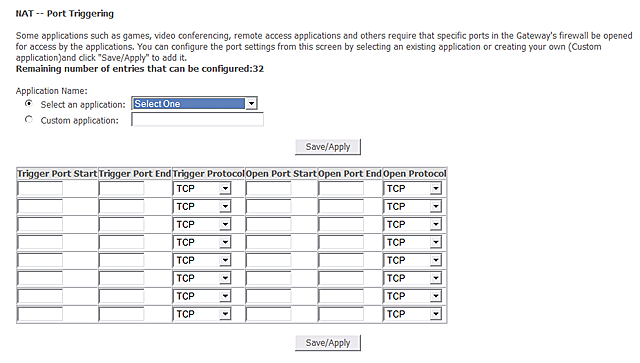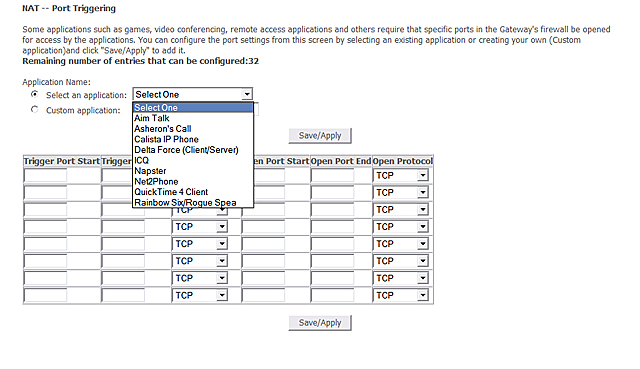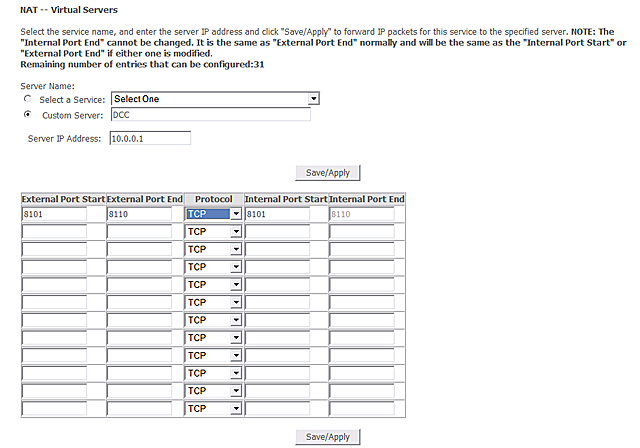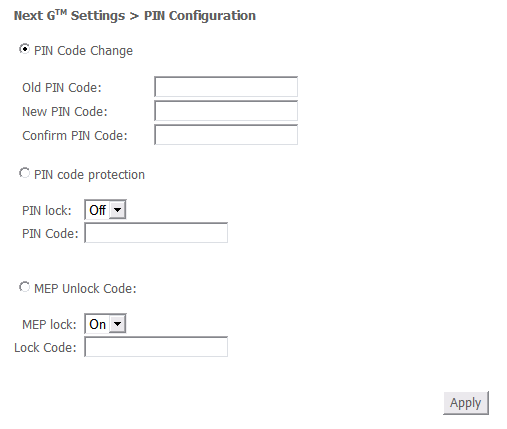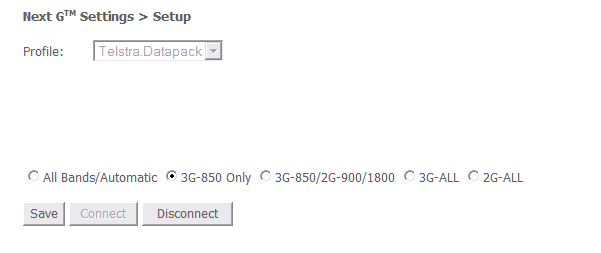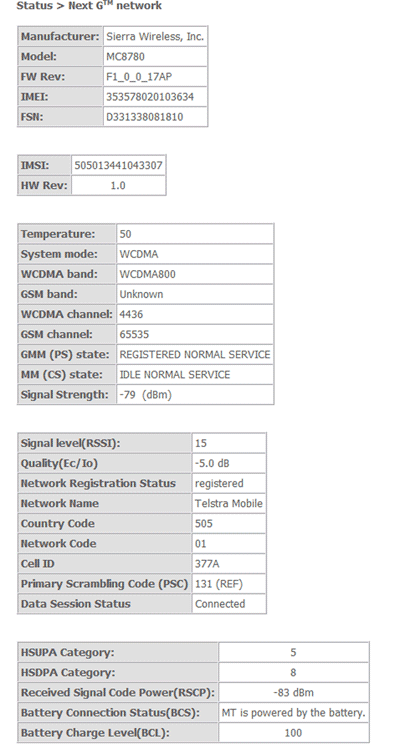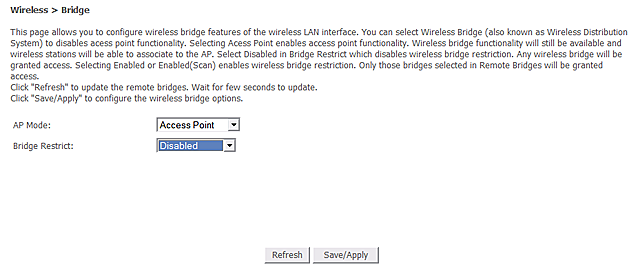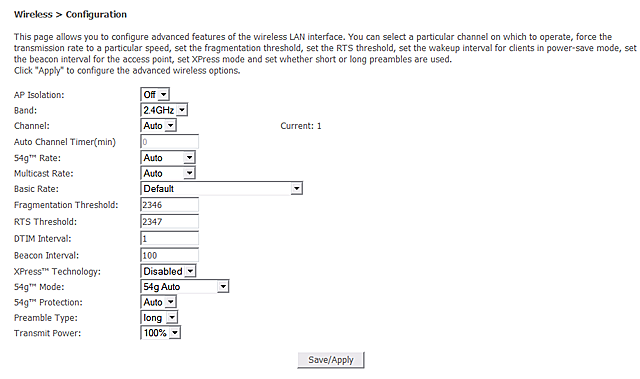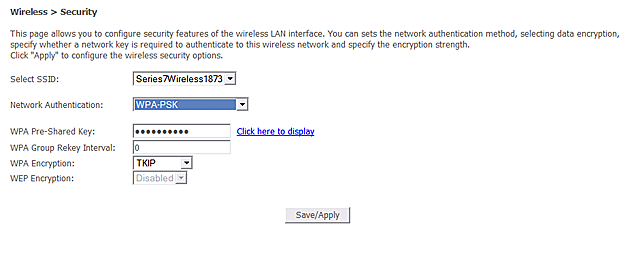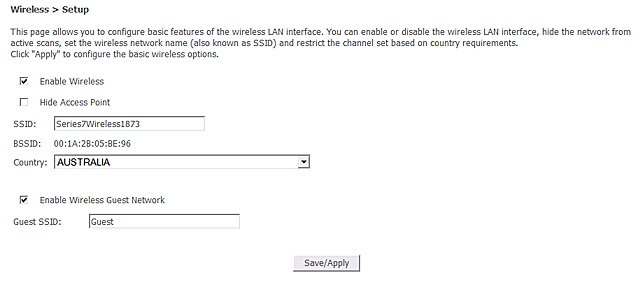 Internals
We try to report and analyse on product internals construction, design and component choice where possible. This demonstrates the Research and Development, Engineering , Quality put into a device and sometimes profit aspirations of a vendor and or their selected Original Device Manufacture of choice.
The design and construction of the cabinet and circuit board of this device is satisfactory but could be improved, especially for its price-point.
The cabinet is secured by four exposed screws and is comprised of four pieces which make up the cabinet and allows the colour of the side pieces to be changed for different models or customers. Other broadband devices we have analysed typically use a two piece cabinet. Some additional ventilation holes would have been ideal
We noticed some residue from the manufacturing process remaining on the bottom side of the circuit board, likely flux or lacquer. Typically such residue is cleaned up during the assembly process to ensure that the circuit board with all the components soldered into place is not damaged by contaminants.
Semiconductor component selection is satisfactory. Fast DDR RAM is used and all the major components such as the memories used are acquired from major semiconductor companies.
The capacitors used are generic and not of the low ESR type. While the 'great capacitor scandal' of the early 2000s is over, that doesn't preclude generic capacitors from failing, especially since some may been sitting in inventory for years which we have noticed on some devices.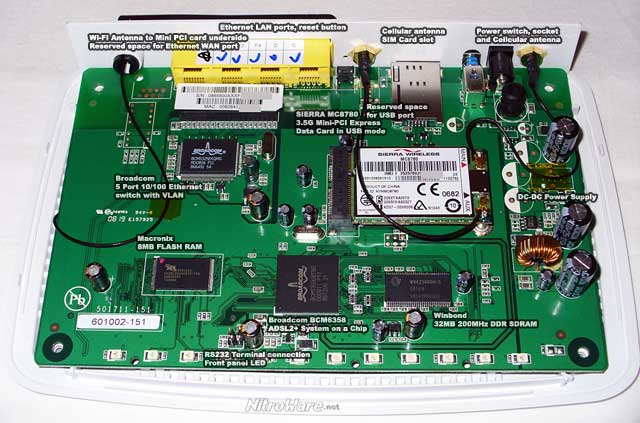 The Printed Circuit board (PCB) has been designed for multiple applications and features Solder pads for optional components that make up feature of other models are included. Due to conflicts with the rear cabinet plate as shown in our photos, keen 'modders' who may be interested in enhancing the unit by populating these features themselves may find this task difficult due to the rear face . See our captioned photo for illustration.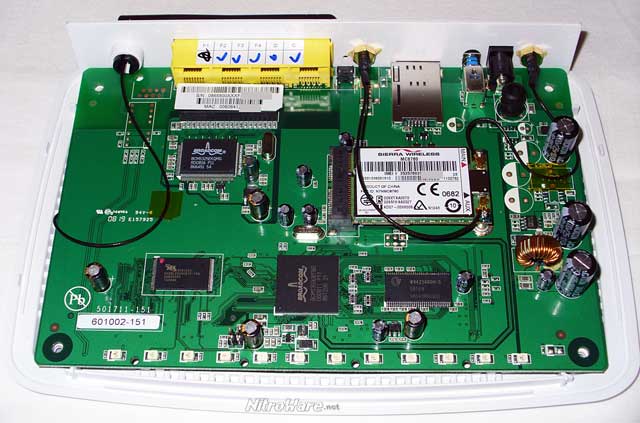 The main CPU used in the unit, Broadcom BCM 6358 is one of Broadcom's higher end parts for Integrated Access Devices (or broadband gateways). It is a single chip device containing a MIPS32 compatible CPU running at 300MHz, runs LINUX operating system and supports PCI, PCI Express, Card bus USB 2.0 buses for expansion, ADSL2+ transceiver, Ethernet and VoIP. It is used by NetComm, Netgear, D-Link and others in their higher end ADSL2+ Gateways, especially ones which feature Wireless-N, VoIP or USB ports as the extra CPU speed can be beneficial in higher end devices.
In this application, NetComm has not used the ADSL functionality of the chip and have supplemented it with a 3G modem in mini PCI Express format. Sierra support USB for their 3G Modem and it runs at full speed USB mode which is 12MBit/s according to the Gateway's system log and therefore can only communicate at a maximum of approximate 1MB/s. This handles the 7.2Mbps 3G configuration easily but may prove a bottleneck if the 3G Modem is upgraded to a faster unit.
The Gateway's operating system indicates the BCM6358 platform is used however the chip markings indicate 6359, for which there is little to no information.
Broadcom's press relations department did not respond to our enquiries at press time, and without a data sheet or source of information we speculate that the chip is a pin compatible revision, possibly with ADSL disabled, improved for use with third party modems or allows different PCI buses to be used at once.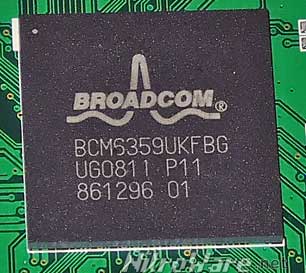 The 3G modem, Sierra Wireless MC8780 is a high end yet but common part. It is a standard mini PCI Express form factor card, just as Ericsson is doing with their competitor product.and the form factor means it equally can work in a notebook PC or a broadband device.
This Sierra card supports quad band GSM + EDGE, triple band WCDMA 3G and as such the Gateway can be used world-wide, excluding the WCDMA900 band which is being introduced by some service providers, is not a supported frequency. The 3G9WT does not implement the optional GPS support that is built into the Sierra Card. Since this gateway is a truly portable device, having a GPS built in would be handy for mapping, keeping a record of locations or good areas of cellular strength. Not a necessary feature but a desirable one for some.
NitroWare.net enquired with the Australian agent for the Sierra Wireless 3G products, M2Mconnectivity who confirmed to us that the MC8780 model can not be upgraded to faster speeds by a software patch and could not operate faster than its already current speed of 7.2Mbps/2Mbps. An updated model, the MC8790 is available which is software upgrade-able to 6Mbps uplink speed.
Indeed if a consumer had this piece of kit, whether in a gateway/modem product or a laptop, provided they are in a good signal coverage area they will be able to transfer files at speeds equal to exceeding the best domestic ADSL2+ broadband connection, in which upstream speeds max out at around 2-3Mbps if the DSL service has the optional Annex M technology enabled. Even then, for the Australian market Annex M technology is not as common and the typical ADSL2+ service only have 1Mbps upstream link speeds.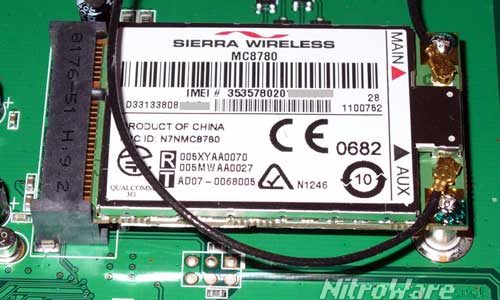 To facilitate 802.11g Wireless-G "Wi-Fi" NetComm added wa ireless card using the the older mini PCI form factor since the mini PCI express slot is occupied by the 3G Modem.
The Wireless card is the very common, popular and reliable reference design Broadcom BCM4318 B/G Wireless card and uses a single 2.4GHz antenna. Since the device isn't advertised or marketed as being a high performance or feature Wi-Fi access point, the wireless solution chosen is sufficient for the task at hand.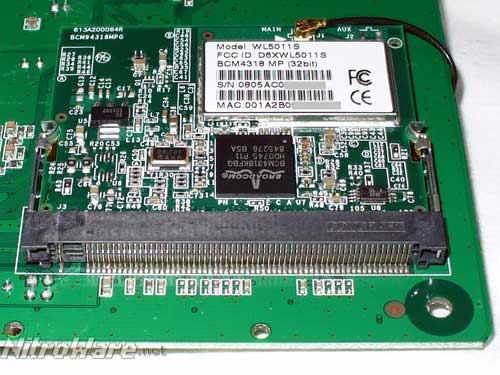 Note: While the 3G and Wi-Fi modules are replaceable, we refer to this as a beneficial design aspect or a feature desirable to hobbyists/advanced users who whish to modify the device rather than something the end user can replace or upgrade themselves and this is not supported by the manufacturer.
Performance and Benchmarks
Test Systems and Methodology
Since this review focuses on a standalone Internet Gateway and its suitable Broadband Internet Service. The product is not reliant on the performance of client-connected computers so performance should be consistent regardless of the specification.
Client PCs used to benchmark performance and throughput comprised of mainly white-box and DELL systems with Intel Pentium 4 or AMD Athlon processors running Windows XP SP3.
For testing the performance and connectivity of the Wireless-G LAN, we used the following Wireless-G PCI desktop adapters in our test machines with the latest drivers available at time of testing
Netgear WG311T PCI Wireless Adapter– Atheros AR5001X chipset
D-Link DWL-G510 PCI Wireless Adapter – Ralink RT61 chipset
To test the performance of this Internet Gateway and the 3G Broadband Internet Connection that the device utilises, we used the following tools for synthetic and real-world benchmarking
http://www.speedtest.net/
http://www.ozspeedtest.com/
IPerf network benchmark tool with Networkworld magazine's test script
The Iperf settings to test TCP/IP throughput used were as follows:
(client) iperf -c <client IP address> -w 128k -i .5 -r -t 90 (server) iperf -s -w 128k
File Upload and Download tests from local network and internet sources via FTP, 2MB Digital camera Photo JPEG file used, Windows command line FTP client. Either FileZilla FTP server for Windows or Unix/Linux FTP Server on the
Latency tests using the PING tool
The average of three passes are taken and used, which we represent in our tabular results and charts.
When testing the 3G Internet connection, best effort was made to ensure that the internet connection was running in the highest possible speed band and signal strength, being 3.5G HSPA of theoretical maximum 7.2Mbit/s down and 2Mbit/s up, however at times the connection would fallback to slower 3G speeds of 3.6MBit/s down.
When testing the Wireless-G (Wi-Fi) Network connection, we used the default Wi-Fi Security settings in the Gateway being WPA-PSK Security using TKIP Encryption. This setting matches the default Wi-Fi Settings in Windows XP SP3.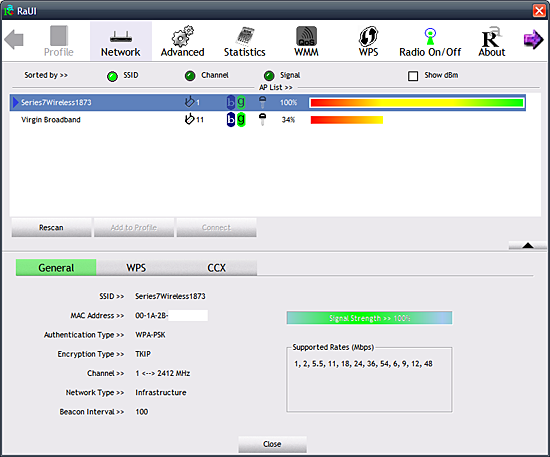 Benchmarks
3G Internet performance benchmarks - Wired and Wireless Connection
This particular Gateway has been branded and configured by default to only operate on the Telstra Network [who are major Australian telecom provider] . The operation modes for best performance are 3G UMTS or 3.5G HSPA modes on either the 850MHz WCDMA band or the 2100MHz WCDMA band.
WCDMA 850 with HSPA offers the best performance, up to 5MBit/s of actual throughput out of 7.2Mbit/s theoretical maximum.
Our test unit seemed rather sensitive and due to the specifics of the units firmware the user is only able to forcibly select what frequency band they wish for the cellular modem in the Gateway to operate at, as such whether the unit operates in 3G or 3.5G is depending on signal strength, location and the weather, literally.
Signal Strength and the capability of the cell site to the user is critical for mobile broadband users to achieve good throughput and latency without dropouts.
We endeavoured to ensure that our 3G performance testing was performed under optimal conditions so we tested performance at several locations within the Sydney Metropolitan area and the Sydney Central Business District.
From our testing we recorded the best throughput possible with maximum signal strength and conditions as well as typical scenarios where medium strength and throughput is achieved with the possible 3G Modes and Frequency bands that the unit supports for a 3G Mobile broadband Connection.
The 2G/2.5G GPRS connection mode, which is to be used in locations where there is no 3G reception, was not performance tested.
---
Sydney Suburban location connected to Telstra 'NextG' Network in 3G UMTS mode on 850 MHz Band with full signal strength.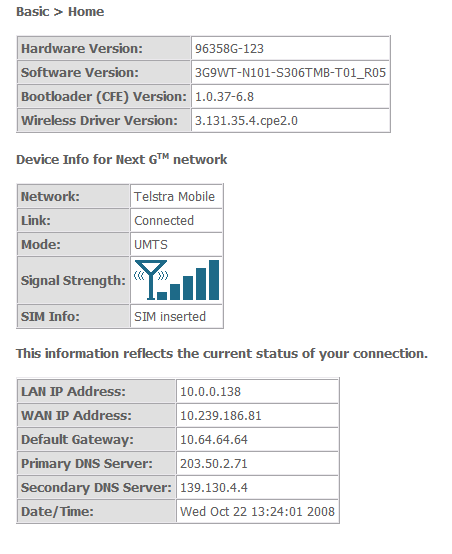 Throughput - FTP transfer
| Photo JPEG Test 2MB | Wi-Fi to TPG ISP ISP (KB/s) | Wi-Fi to NitroWare.net FTP (KB/s) |
| --- | --- | --- |
| FTP Download Avg. | 232.8 | 140.7 |
| FTP Upload Avg. | 111.2 | 55.6 |
speedtest.net online throughput test
| Sydney Bigpond mirror | Time (s) | Line Speed (kbps) | Download Speed (KB/s) |
| --- | --- | --- | --- |
| 70KB | 0.38 | 1530 | 191 |
| 600KB | 4.42 | 1104 | 138 |
| 9MB | 87.13 | 868 | 108 |
| Sydney Optus Mirror | Time (s) | Line Speed (kbps) | Download Speed (KB/s) |
| 3MB | 20.39 | 1201 | 150 |
Latency - Internet sites
PING latency test
Approximate round trip times
in milliseconds: Average ms
URL
Wired Ethernet
Wi-Fi 54g
google.com
321
330
iinet.net.au
163
303
maps.google.com.au [Akami content servers]
280
256
NitroWare.net
445
549
pipenetworks.com
289
117
trailers.apple.com [Akami content servers]
97
248
webcentral.com.au
144
156
---
Sydney Suburban location connected to shared 3-Telstra Network in 3.5G HSPA mode on 2100MHz band with full signal strength
| Photo JPEG Test 2MB | Wired to TPG ISP FTP (KB/s) | Wi-Fi to TPG ISP FTP (KB/s) | Wired to NitroWare.net FTP (KB/s) |
| --- | --- | --- | --- |
| FTP Download Avg. | 265.2 | 243.5 | 163.6 |
| FTP Upload Avg. | 121.3 | 45.2 | 38.1 |
---
Sydney Suburban location connected to Telstra 'NextG' Network in 3.5G HSPA mode on 850MHz band with full signal strength


Sydney CBD location connected to Telstra 'NextG' Network in 3.5G HSPA mode on 850MHz band with full signal strength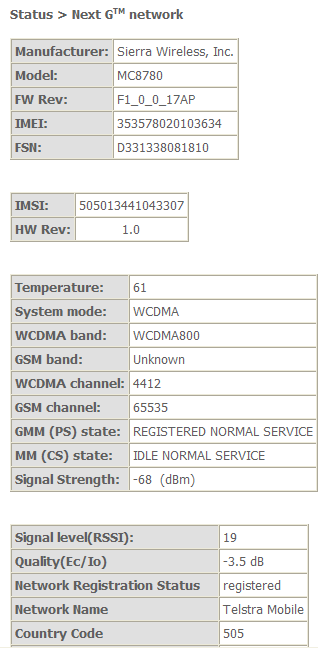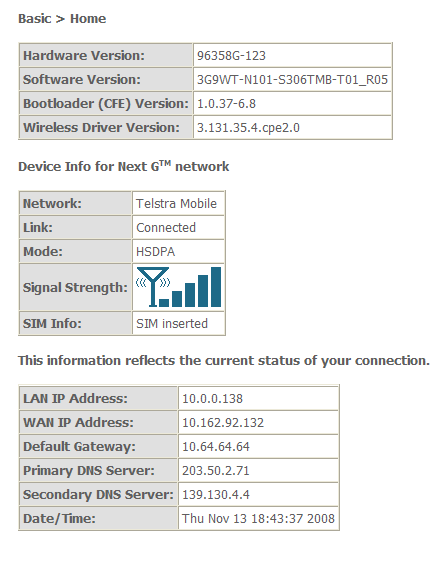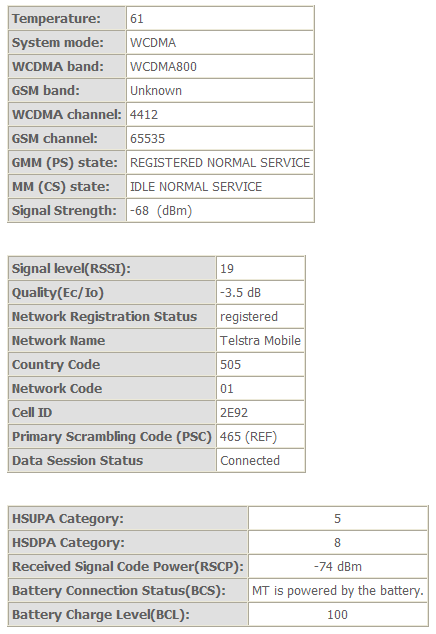 | Photo JPEG Test 2MB | Wired to TPG ISP FTP (KB/s) | Wired to NitroWare.net FTP (KB/s) |
| --- | --- | --- |
| FTP Download Avg. | 382.3 | 172.2 |
| FTP Upload Avg. | 130.8 | 49.4 |
| Bigpond mirror | Time (s) | Line Speed (kbps) | Download Speed (KB/s) |
| --- | --- | --- | --- |
| 3MB | 33.56 | 730 | 91 |
| TPG Mirror | | | |
| 3MB | 8.22 | 2980 | 373 |
---
Wireless-G (Wi-Fi) Local Area Network performance
Since this Gateway features only standard Wi-Fi functionality and is it advertised as a high peed wireless device, we conducted minimal Wi-Fi testing only to confirm that the performance is satisfactory. We tested at a range of five meters.
| Test | Wireless to Wired (KB/s) | Wireless to Wireless (KB/s) |
| --- | --- | --- |
| FTP Download Avg. | 2777.3 | 1329.0 |
| FTP Upload Avg. | 1650.3 | 1158.0 |
| | Wireless to Wired (Mbit/s) | Wireless to Wireless (Mbit/s) |
| Iperf Avg. | 24.9 | 12.5 |
What do all these benchmarks mean?
3G Mobile Broadband, like Wi-Fi has large transmission overheads meaning that the advertised speed on the box, whether it is 7.2Mbps, 2Mbps, or 300Mbps are link speeds and not throughput speeds. For each real piece of data a user wants to transmit such as a document or photo, there is significant overhead on top of that file size due to the hardware and software needing to compensate for errors in the data stream through the air and having to retransmit that data as well as keeping track of information related to which access points or base stations the user is roaming between.
An analogy would be of a road that is sign posted with a 100KPH speed limit in rush hour but due to the congestion of all the cars trying to progress not one car is able to achieve the signposted speed due to the congestion and restrictions imposed upon each vehicle. Along with the 'box' and marketing specifications of 7.2mbps down and 2mbps up, Telstra do advertise real-world achievable speeds of "550kbps to 3mbps downlink with 6mbps bursts and uplink speeds of 300kbps to 1mbps with 1.3mbps bursts".
We easily achieved these 'real-world' speeds in several of our tests and exceeded them on several occasions, with the maximum downlink speed we achieved in the 400KB/s range with uploads in the 100KB/s range repeatedly and consistently provided the gateway connected in the optimal 3.5G HSPA mode. 3G yielded slower speeds as expected.
This speed is equivalent to a 4mbps/1mbps DSL or Cable broadband service, which is impressive considering it is using the public cellular network. We were able to replicate the promised speeds advocated by Telstra and of what we expected to see.
Early previews of 14mbps and 21mbps 3.5G HSPA products seen by NitroWare.net indicate that performance for connections which these link speeds are excess of 5mbps so this also affirms the results we achieved.
Unfortunately these maximum speeds are only possible if you like in an area [of Australia] with good 3G signal strength and is enabled for 3.5G HSPA and Telstra do advocate that the higher speeds are only available in specific areas such as Central Business Districts or Metropolitan areas or otherwise. Users should check whether the area they wish to use is 3.5G HSPA enabled.
While throughput can be very good, we found the latency to internet sites via Wired or Wi-Fi connection to be average which is to be expected for wireless networking. Some readers may see the latency results as poor but one must consider the factors at play, that wireless whether its WAN or LAN will always have high latencies, the distance of hundreds of metres or kilometres the cellular signal needs to travel, physical obstacles and the weather.
The mixed nature of 3G Internet is what leads to the inconsistency in some our results. We found it challenging to replicate the same result on a consistent basis especially when the signal strength(speed) or 3G mode changes on the fly
Support and Warranty
Speed: 7.2Mbps/1.9Mbps*
SMS: No
Voice: No
Next G network: Yes
HSDPA/HSUPA: HSUPA
International Roaming: Full
Form Factor: Desktop Router
Windows 2000: Yes
Windows XP: Yes
Vista 32 bit driver: Yes
Vista 64 bit driver: Yes
Vista GUI: Yes
Macintosh driver: Yes
Macintosh driver OS Version: Mac OS x 10.4.11 or later
Macintosh GUI: Yes
Source: Telstra Business website
Broadband devices that are sold under an ISP's banner are usually supported by both parties, the manufacturer and the ISP. The ISP provides basic support nd the manufacturer provides firmware updates, often without much fanfare
The device is sold by Telstra through Telstra's retail or sales channels therefore warranty claims are through point of sales.
The PDF user guide is easy to read, in an A4 format and even contains an appendix describing each of the available commands for use via the Gateway's command line interface accessed by Telnet or SSH.
Firmware updates are one of the most, if not the most important aspect of a modern piece of networking or broadband hardware. Like your PC, the firmware contains the essential operating system, device drivers and software to operate the device.
Only one firmware update has been issued for the 3G9W since launch, introducing some additional networking features.. Applying this update is a two stage process and is done from the operating system rather than in the gateway itself. The first stage updates the Gateway firmware and the second stage updates the 3G Modem firmware. This process takes a long time, 15mins compared to other routers.
Our success with this firmware did not go smoothly however, once the flashing process was complete, the gateway would no longer boot successfully with the SIM inserted. Investigation revealed that the firmware update introduced an incompatibility with Telstra USIM cards of a certain series, of which was supplied to media for review.
The firmware installation instructions have since been have updated to warn to not apply the firmware if the SIM card has a certain ID code as it is incompatible.
The gateway uses the Linux operating system covered by a GPL license. NetComm do not offer the source code for free download unlike other manufacturers and charge a shipping fee for the code.
"This product may include software code that is subject to the GNU General Public License ("GPL") or GNU Lesser General Public License ("LGPL"). This code is subject to the copyrights of one or more authors and is distributed without any warranty. A copy of this software can be obtained by contacting NetComm Limited on +61 2 9424 2059. A postage and handling fee of AUD$10.00 will be applicable. "
Source: http://www.netcomm.com.au/workarea/listers/3g9wt_firwmware
NetComm's competition offer the GPL source for their products for free download via HTTP or FTP so it seems they do not share the same concerns NetComm has for not providing the sources for download.
Price and Availability
Australia
A Telstra Bigpond branded version of this Gateway is available for use with Bigpond plans at a cheaper price [not reviewed]
Global
The product we reviewed is exclusive to Australian Tel co Telstra and is branded and customised for the company. To use the device with another service provider requires it to be unlocked at cost to accept other SIM cards.
An unbranded generic version of this gateway called the 3G9W may be available in markets other than Australia
Billion
Billion Electric have some unique 3G offerings to date, such as ADSL Gateway with automatic fall over to a USB connected 3G USB Modem if wired DSL connectivity is lost.
Models and Price Vary. USB 3G Modem required.
http://au.billion.com/product/3g.php
D-Link
Requires a USB 3G Modem.
Street price $145 AUD and up plus cost of 3G USB modem, typically $150 AUD
Linksys
Requires a PCMCIA 3G Modem
Street price $180 AUD and up plus cost of 3G USB modem, typically $150 AUD
Both these firms offer a simple domestic broadband routers with Ethernet or Wi-Fi that have been enabled for 3G Mobile Broadband by the means of a PC Card slot or a USB port. An external user supplied modem in either form factor is required to use 3G Internet.
Netgear
MBR621 3G Mobile Broadband Modem
This unit has an integrated modem and SIM slot but is simply a modem with an ethernet bridge. Unlike the unit we reviewed it is not a fully integrated gateway-router solution
Street price $430 AUD and up
MBR624GU 3G Mobile Broadband Wireless Router
This unit is simply a 3G/USB enabled domestic broadband router with Ethernet and Wi-Fi and requires an external 3G USB modem to enable 3G Mobile Broadband access. it also features a lower specification CPU than the 3G9WT.
Street price $120 AUD and up plus user supplied 3G USB modem.
Prices as per May 2009 from staticice.com.au
Verdict
The Netcomm-Telstra 3G9WT Turbo 7 Wireless Internet Gateway is indeed able to deliver internet access at megabit broadband speeds. As a broadband router it also has the reliability, features and performance that professionals or business would demand or expect.
We recommend this product for users who are looking for an all in one device that performs as a mobile internet hotspot, or who are unable to be serviced by wired broadband and desire a standalone device which will deliver Wireless Internet and LAN capability for their network or devices.
3 Stars out of 5.
Pros
High 3G real-world throughput and reliability, at or nea maximum capability of the Telstra NextG 3.5G Cellular network.
Fast boot time
Quick and Easy connection and Wi-Fi setup process
USB stick instead of setup CD
Proven full ADSL grade linux based Gateway-router platform with a fast CPU and reliable industry standard replaceable 3G and Wi-Fi Modules
High level of configuration in terms of network security and routing
Dual external 3G Antenna
Electronic documentation
Uses the common 12V/1.5A power supply specification.
Inclusion in device firmware/web interface of advanced network settings applicable to business
Cons
Signal Strength and connected mode seems sensitive especially in strong 3G reception areas
Lack of flexibility - no feature or port for fail-over to or from 3G for an existing network.
Device can be insecure and not theft proof , critical for a portable,mobile device.
No external indication of 3.5G/HSPA nor the ability to manually force 3.5G HSPA within the gateway settings
Possible Isuse with the UPnP
Somewhat cumbersome two-stage firmware update process
The firmware is largely based on reference firmware from the chipset vendor
Exclusive to a single service provider (Telstra Australia)
No indication of connected link speed at all – Signal strength and Frequency band only
Local Area Network connectivity average, 10/100 Mbit/s Ethernet Switch, 54MBit/s Wi-Fi, single 2dBi Wi-Fi antenna
Desktop utility software is basic compared to other brands
Packaging not suited for the 'mobile' nature of the device
Unit and required data plan, contract are expensive, excess usage charges of 25 cents per 1MB above allocated quota.
3G Modem card can not be upgraded via a firmware update to higher speeds.
Some Telstra data plans do not allow incoming traffic or allocate non private class IP addresses. The Data Plan/SIM supplied supplied to media for review did not allow full feature set of gateway to be evaluated..
Disclosure
Gateway Review unit and Telstra 'NextG' SIM loaned by NetComm Australia
Thanks M2Mconnectivity for providing us with some technical assistance regarding Sierra Wireless data cards discussed in this review