Page 12 of 16
Web Benchmarks
Internet web browsing, web based games and applications are one of if not the most important computing tasks some users as our lives are on the internet. With the web becoming more graphically rich thanks we have included HTML in our benchmarks to show the effect graphics acceleration can have on some of these sites and applications
This review is not about comparing web browsers so we have only used IE9 as is the best match for Windows 7's Graphics and compute APIs such as Direct2D, Direct3D and Media Foundation as well as makes excellent use of GPU acceleration for graphics and video. IE additionally has market share for the time being.
The latest versions of Firefox, Chrome, Safari and Opera in 2011 also have good HTML5 support and GPU acceleration.
Web Browser benchmark - Peacekeeper
Futuremark's Peacekeeper benchmark is a web-based benchmark intended as a browser neutral test to test the overall performance of a web browser in real world conditions, i.e. over the internet and not on the local PC. To demonstrate the difference GPU acceleration makes in Internet Explorer 9 we enabled and disabled the switch for hardware acceleration in IE9 advanced settings.
The Intel Core i3-2100's integrated HD2000 graphics operates at a dynamic frequency and has higher raw CPU speed especially in applications optimised or better suited to the Intel architecture. With a base frequency of 850MHz and maximum frequency of 1.1GHz which is very high for a GPU regardless of type, 'speed' can make up for the lack of 'power' in the HD2000 graphics especially where 2D or non-gaming graphics is concerned. The AMD A8 would narrow the gap to the i3-2100 in this test. AMD does support turbo for the CPU and GPU on certain model A-Series parts but the A6-3650 is not one of these and the i3-2100 does not support Intel Turbo 2.0 for its CPU cores either - only it's GPU.
GPU hardware acceleration for the IE9 web browser gives us a 2X speed up over software only rendering
Intel 'Sandy bridge' almost doubles the scores BOTH test systems with GPUs fitted achieve, showing the test is both CPU and 2D graphics bound. However, the peacekeeper test overall is not representative of real-world web browsing.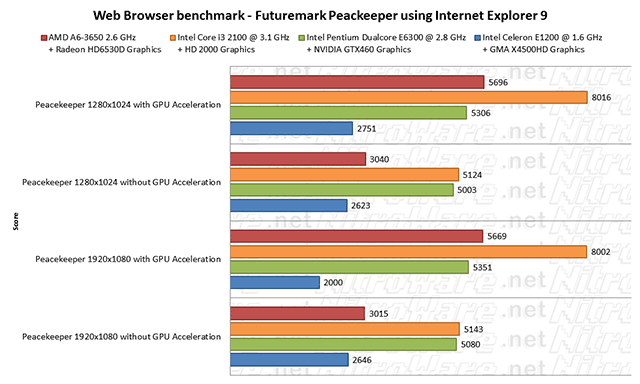 HTML5 Web benchmarks - WebVizBench
WebVizBench [http://www.webvizbench.com] is a graphically rich website that provides both a real time useable demonstration and a benchmark of what a future media and graphically rich website built using HTML5 would be like. This test is extremely texture, photo and video heavy and the GPU is used to spin merge and mix various media components in the website, which is a futuristic Music interface.
We have seen similar interfaces implemented on portable music players and very high-end audiophile grades music systems and feel that such a website that may represent a music collection is not far off.
As the test is 3D and graphics heavy, our NVIDIA GTX460 system wins outright when GPU acceleration is enabled, yet the fastest CPU out of the four wins when GPU acceleration is disabled. As for AMD A6 versus INTEL I3, again the higher clocked and soft-ware optimised Intel CPU and graphics which can speed up to meet demand wins out. We expected the AMD A6 to beat the Intel in this test but were surprised and impressed by Intel.
AMD A8 would possibly beat the Intel i3 outright, as the gap is smaller, taking the performance difference of AMD A6 v A8 intro consideration. The difference between AMD and NVIDIA graphics is as expected.
GPU hardware acceleration for the IE9 web browser gives us a 2X speed up over software only rendering
This benchmark is one of the most visually attractive benchmarks we have ever seen and is sure to impress the casual user especially if demonstrated on a recent PC preferably with decent graphics capability.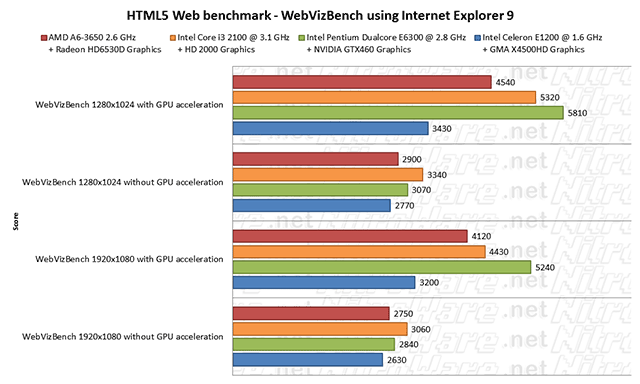 HTML5 Web benchmarks – IE Testdrive
Microsoft has a large number of test cases, demos and benchmarks on their testdrive website to demonstrate the capabilities of their IE9 and upcoming IE10 web browser as well as ANY other HTML5 or GPU accelerated web browser which at time of writing is all the major competing web browsers.
We have grouped our tests based on the performance metric reported to consolidate our results for easy reading. There were a number of tests from the test drive site we would have liked to include but did not make the final cut such as 'Speed Reading' which is a very impressive test on older versus newer hardware
Flickr explorer represents a mosaic of images from Flickr's website. The reported frame rate is when the images are zoomed
FishIE Tank, informally known as 'Fish mark' simply measures the number of fish in a simple 2D scene. Several hardware and software vendors use this test. We set the number of fish to draw to 1000 fish, the maximum to represent the worst-case graphically rich website or web based game.
Paintball draws a fixed series of tests using the 'CSS3' web style framework, the latest version of the styling framework used on Internet websites. A total time and score is presented. We reported the score.
HTML5 fishbowl is an alternate fishy test with a feature to automatically determine the maximum number of fish at 60FPS. We manually observed the frame rates reported and reported the most consistent frame reported.
Particle Accelerator is science oriented demonstration akin to what a student may experience on the web now or in the future
Fireflies' benchmark uses HTML5 to draw 'fireflies' which are made of particles, as well as gradients and blending.
Galactic is another science oriented demonstration rendering our solar system in 3D with animated orbits for each planet. The frame rate in this test varies significantly and we recorded the score for when the camera passes the sun.
We tested with and without GPU hardware acceleration and presented both sets of results for two resolutions in charts with the same scale. Without even looking at the series values visually, we can see the GPU speeds up these HTML5 web demo 5-10 times.
The battle between AMD and INTEL is a bit more competitive in this test as AMD can show its power in some tests while Intel can show is speed in others. Note that without GPU acceleration enabled in IE9, the best CPU wins as the GPU has a minimal role in assisting the tests. At the higher resolutions, AMD's Radeon graphics is able to flex its muscle.