Page 5 of 16
Intel 2011 Mainstream Platform | Core i3-2100 CPU and Asrock Z68 Motherboard
Intel's 2nd generation Core i3 is the low end of the performance computer processor line-up for 2011, which retails for under $A150. It is intended for customers who want good performance but at an entry-level price. As such, the i3-2100 has no features disabled (Cheaper Intel processors such as the Pentium and Celeron have many disabled features which affect graphics and power performance) and is a dual core processor running at 3.1GHz.
Intel's desktop Core i3 line-up is all dual core processors with hyper threading under A$150. The i5 product line comprises mainstream the quad core processors under A$250 and their i7 processors offering four cores plus four virtual hyper threading cores and very high performance under A$300.
Intel's Pentium and Celeron Processors bring up the cheapest end of the price spectrum ranging from A$50 to $100
We have noticed that some non-tech savvy purchasers find the Intel naming scheme confusing as they assume the number in the product name implies a technical function such as number of cores.
However, the model numbering does correctly indicate the relative level of performance between product classes and product models. However a concern is Intel have released too many models of their modern CPUs, each model differing by as little as 100MHz, a difference that with modern hardware or software is not noticeable in real world use. Larger differences in CPU clock speed are noticeable in real world conditions.
Just as AMD had rebranded its products to be 'vision' oriented in mid 2010, for 2011 Intel is using the slogans 'Visibly Smart' and referring to their built in graphics as 'built in visuals' Marketing aside this is actually a more accurate description of their capability of their products as computing is a visual experience. AMD and INTEL's 'current brand attitude is both appropriate and accurate given the paradigm shift to graphically rich computing.
CPU - Central Processing Unit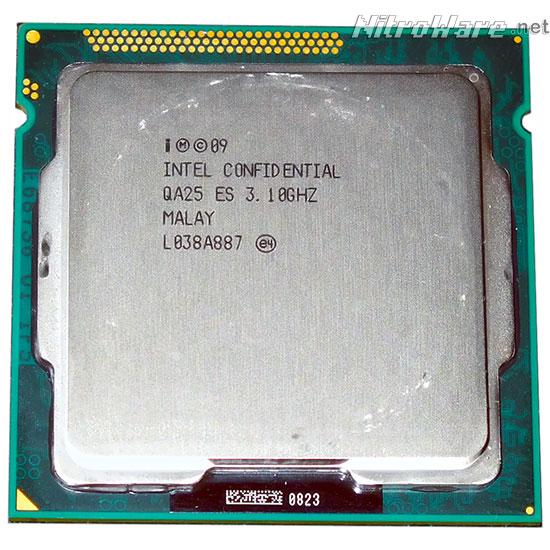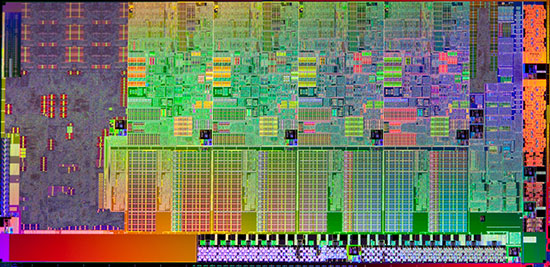 Motherboard
Asrock's 'Fatality' branded Z68 Professional Gen3 motherboard is one of their flagship motherboards aimed at the enthusiast and particular the gaming market. It offers a large number of advanced features yet keeps the size, complexity, cost and frills to a minimum to allow those keen users to obtain an advanced motherboard at a reasonable price, from a street price of A$250. Other manufacturers such as ASUS (Republic of Gamers), Gigabyte (Killer), EVGA (FTW), MSI (Big Bang) have their own gaming/premium motherboard lines however looking at their product line-ups these competitors have tended to go towards cramming as much into their product as possible and as such the price of such premium motherboards can reach A$500 for some types.
The major headline features of this motherboard are:
Branding and endorsement from a successful professional gamer (Jonathan "Fatality" Wendel) . Although new to Asrock who have been trying hard to market this collaboration world wide, this branding has been and is associated with other computer hardware vendors.
Support for 2012's Intel "Ivy Bridge" CPUs. Motherboards released in 2nd half of 2011 for INTEL CPUs have endorsement from their vendors that they are upgradeable to the 2012 INTEL CPUs
Two true PCI Express 3.0 slots for support of next years graphics cards which will support this standard. Many future proof motherboards only have one PCIE 3.0 slot and there is currently a three way cat fight between Gigabyte, MSI and ASrock as to the merits of each others PCI Express 3.0 implementation. The Fatality Z68 board incorporates chips from NXP Semiconductor to properly support this feature.
Six USB 3.0 Super Speed ports. Most USB3 enabled motherboards have two or four, six is uncommon except on expensive boards. Four ports are on he back of the motherboard with two routed to the front. The Asrock board has three USB3 Controller chips from asmedia to facilitate these six ports however four of the six ports are connected through a PCIE switch chip which may restrict total bandwidth if all USB3 ports are in use. This is something to investigate for the future, however six usb3 ports is a very welcome addition
High resolution 500Hz mouse port for smother and more responsive mouse use. This a gaming oriented feature to allow better mouse control in games and possible some mouse sensitive apps. however mice are a subjective topic and increased sample rate may be best utilised only by newer high end mouse. We did not test this feature other than to verify the 500Hz mode activated using the popular 5 button Microsoft IntelliMouse Optical mouse.
Support for older Intel 775 CPU coolers in addition to the current 1155/1156 type that is bundled with the 'Sandy Bridge' CPU. This allows enthusiasts to recycle their older third party CPU cooler. We trial fitted an older Intel OEM CPU cooler suitable for 100W LGA 775 CPUs easily.
Otherwise this board is a dressed up version of what is otherwise a standard high end performance oriented motherboard. The accessory bundle is excellent with full set of cables and accessories such as a USB3 front port set and as other reviewers have reported the printed user manual is too thick due to it being a multilingual document. Full fan control of all headers is available through Asrock's application software.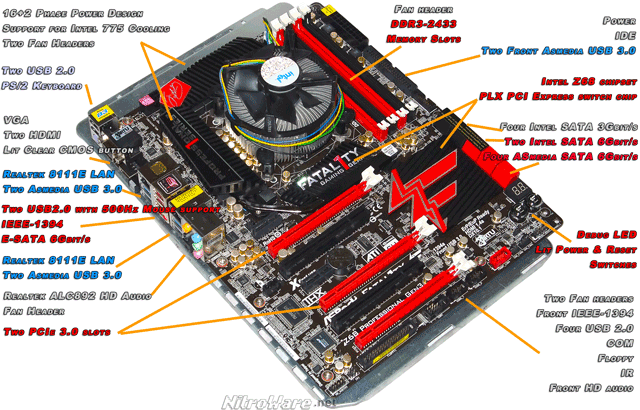 Asrock do sell similar boards without the branding/colour scheme and with a more conservative set of features and ports which may or may not be more appealing to some users, these boards are branded 'extreme' rather than 'professional' and their features reflect this naming.
This motherboard is branded professional rather than extreme as it is missing or shortcuts on a number of areas. We mentioned the unique display outputs which kills two birds with one stone adding desired high end feature and solving technical issues as to how to integrate two digital display outputs.
Where this product cuts corners is with the audio system and bundled software.
The motherboard is only branded THX TruStudio and not TruStudio Pro for audio. The base level THX software only ads minor and not very useful audio equalisation and environments while TruStudio Pro adds a gaming oriented audio driver supporting EAX 5 audio effects for games. One would think a gaming oriented motherboard would come with gaming audio. Perhaps Asrock though that this market would add their own sound card and as such on-board wasn't much a focus.
The software bundle also only includes a trial version of Cyberlink Media Espresso 6.5, a GPU accelerated video encoder of which we used the full version for this review. For a flagship motherboard of $250-$350 price and a board promoting the merits of the Intel Quick Sync video conversion technology in both marketing materials and feature wise in hardware, a 15 day trial does not provide much if any benefit to the purchaser as they could download the trial version from the internet anyway.
Finally, no fully automatic fan control is available for any fan headers, otherwise known as 'auto PWM control'. The fan control extends to a selectable pre-set speed and a temperature limit to which the fans will adhere to. Some users may get annoyed at the fact the fans will not run at their absolute slowest speed automatically but we figured that this is intentional as the 'gamer' market may be overclocking and would prefer thermal performance over silence or whose loud music or game sounds would drown out the fans. Every desktop motherboard AMD and INTEL since 2004 has fully automatic 'PWM' fan control so there no excuse for leaving this out.
Overall this a extremely future proof and interesting motherboard with the three features needed for the next three years of computing being PCI Express 3.0 and USB 3.0. This board could be back from the future however claiming something is future proof no matter how good can be wishful thinking at times and history in the computer hardware industry has proved so.
We can compare this motherboard to the Gigabyte AMD board we evaluated as both have similar integrated graphics features and both have equivalent overclocking features for the enthusiast market. Difference being the price point and included features. Performance of this Asrock board at default speeds should be within margin of error with other Intel 6-series motherboards and not significantly faster.
Memory
All models of Intel's 'Sandy Bridge' 2nd Generation Core support DDR3-1333 as the fastest memory officially supported. Any faster memories than this are achieved through each particular motherboard's own capabilities.
When the first generation Core i5/i7 first launched in 2008, technology limitations with the first generation integrated memory controller that was built into the CPU made it difficult for performance or enthusiasts to use the fastest memory available. With this memory controller have a voltage limitation, memory manufacturers innovated and produced high speed low voltage memory kits for overcome this problem.
As with our AMD 2011 system, we used the Kingston HyperX Plug n Play memory with our Z68 based 2011 Intel system.
Since we are focusing on mainstream computing in this review, we used a specific memory product from KINGSTON which is designed to automatically enable the best memory speed on 2011 PCs without any tweaking of settings or overclocking. Kingston's HyperX Plug and Play DDR3 memory kit model number KHX1600C9D3P1K2 will automatically setup the system to use DDR3-1600 mode regardless of the CPU's capabilities. The version we used is a 8GB kit comprising of two 4GB DDR3-1600 modules with CL9 latency at 1.5 volts . This kit supports DDR3-1866 at CL11 officially however this is not the default mode. Kingston sell a variant of this product which sets up 1866 speed by default.
In comparison, most cheaper DDR3-1600 available on the market such as from Corsair, G-Skill and even those from Kingston themselves only support DDR3-1600 or higher via overclocking. The user needs to set the appropriate speed and increase the memory voltage to 1.65 or 1.7 volts in the system BIOS in those cases. Kingston is not the only vendor with 1.5V high speed memory and many vendors such as Corsair and Gskill are bringing 1.5V affordable memories to market however to the best of our knowledge this the only kit whose main feature is to ensure maximum speed is enabled without user intervention.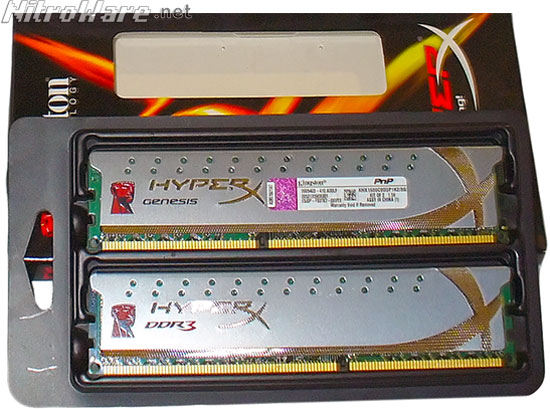 Kingston's' marketing material describes how they claim that this memory kit was initially designed and intended for 'Sandy bridge' however since the memory uses standard specifications it will work fine in any DDR3 motherboard.
As with the AMD system, the Intel i3 CPU and Asrock Z68 motherboard automatically detected and setup itself to run the memory at its DDR3-1600 speed without any tweaking or adjustment. Since this kit runs at 1.5V high speeds do not require any overclocking or places strains on the CPU's memory controller.
Graphics
Intel's 2011 line-up features Intel's first true graphics integrated into the CPU itself. In 2010 Intel relocated the graphics core from the system chipset to within the CPU package but not part of the CPU itself. Although this has technical benefits, it is not a true integrated design like the 2011 Intel 2nd generation or AMD A-series which offers thermal and performance benefits.
Intel HD2000 and HD3000 Graphics are an update and refresh of Intel's first generation HD graphics. Most of the updates focus on video and media handling rather than 3D performance however.
http://software.intel.com/en-us/articles/quick-reference-guide-to-intel-processor-graphics/
Two HDMI video outputs and a VGA output on-board with Lucid Virtu support to allow switching between on-board and add-in graphics for which the Asrock board includes a full license not a trial. The on-board outputs is unique feature benefits users who want to connect two HDMI displays to their PC with the minimum of adapters or two DVI screens with simple adapter cables. The tight fit of the two HDMI sockets will restrict the combinations of displays users can connect as well. If you need the 2011 quartet of sockets (DVI, Display Port, HDMI, VGA) purchase another model Asrock board such as their 'extreme' line or another brand completely.
We tested the Lucid Virtu feature briefly using a GTX460 with the Dell 2412 monitor connected to the on-board Intel graphics and this feature worked well with with Aliens v Predator, Dirt 2 and graphics tests such as MSI Kombustor. We will cover Lucid Virtu in-depth in a following review
Intel CPUs with 'built in visuals' also have hardware acceleration for video playback(Clear Video) and conversion(Quick Sync) as well as 3D playback for Blu-Ray over HDMI like AMD and NVIDIA's current products. Each vendor claims they have the superior solution however. As things stand Intel's Quick Sync video engine is the fastest consumer video converter on the market.
There are no controls in the system BIOS to adjust the on-board graphics which is fixed to 256MB minimum video memory or enable/disable on-board multi monitor. This size will be a problem with DirectX9 or older games which do not properly support on-board graphics which use shared dynamic memory. One example is GTA4 and our benchmarks show the effect this has.
Interfaces, Expansion and Storage
The Intel platform relies on third party USB 3.0 ports of which the make variers between different vendors. For the Fatality board, Asrock are using a controller from asmedia. Since windows 7 does not support USB 3 natively this doesn't not make much difference as all current USB 3 require a driver to be installed, yes there are minor differences to each vendors USB 3 however from an end-user point of view they should all be the same.
Strangely for a gaming/enthusiast board, this board has support for legacy ports such as Floppy and Serial. Why ? I can see no reason why a power user/gamer would need these ports. Even if we consider a very old gaming controller such as a wheel or HOTAS that use serial or old games on floppy disk these might not be supported for newer operating systems anyway. developers or IT pros need these ports to configure various network equipment, printers or electronic devices not gamers. The PCB space could have been saved and used to further optimise the motherboard.
The two main PCI Express 16x slots are updateable to PCIE 3.0 when a future Intel CPU is installed. This will allow users to use upcoming AMD and NVIDIA graphics cards which will support this standard and use the capabilities of these future graphics cards to near their maximum. As there are a number of claims in the industry about support, we visually verified the motherboard to ensure the correct circuitry was present to support this feature.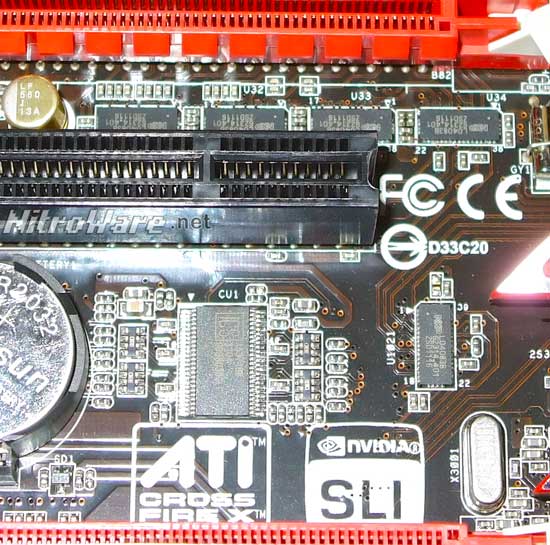 With SATA ports, again the Intel system is slightly behind with four of the whopping eleven on-board SATA ports adhering to the faster 6gbit/s standard. This is a limitation of the current Intel 6-series chipset only featuring two SATA-6 ports, where using wishing to use more than two HDDs or RAID on this standard required to use the additional ports providing using a third party chipset. On this motherboard the additional SATA ports are provided by two asmedia 106x chipsets. We tested this ports for general functionality such as booting HDD and ODD and they worked well. Z68 chipset adds a caching feature when paired with an Intel SSD but we did not test this feature as it is optional.
Should a user wish to use Windows XP, both the asmedia SATA and USB3 as well as the Intel devices all work well and are supported under Windows XP.
Power and Cooling
As with our AMD system, the smallest power supply we were able to get the Intel 2nd generation platform running well with was a 300W unit with 24pin power with SATA plugs. Since we were not focusing on add in graphics, power wouldn't be a problem. However we do not recommend that users use a power supply this small especially with the Asrock board as this contains a number of additional devices such as dual LAN, eleven SATA ports, six USB, additional PCI Express circuitry and a powerful voltage regulation system for the CPU. This is just for reference to show that 2nd generation Core i3 as well as a high end Z68 motherboard does not need a lot of power nor is power hungry.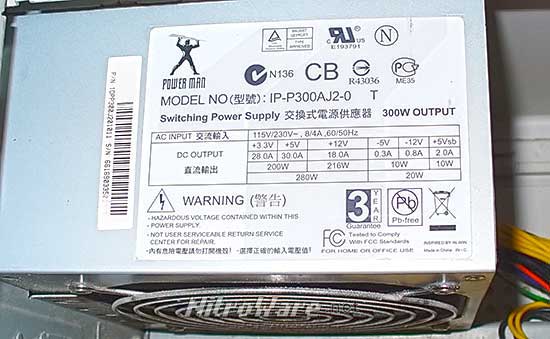 Typically, we used an Antec Smart power 2 500W power supply to operate the i3 and this is what we used to measure power consumption on all systems.
Sandy Bridge is manufactured on a 32 nanometre process. Going by the bundled factory heat sinks that come with retail CPU the thermal performance is significantly improved. We did not receive a factory cooler with the Sandy Bridge i3 which was a media review sample. If we had used a Intel factory 775 cooler this is not what the end user will be using on their new CPU unless last resort. Since users typically upgrade their coolers and not downgrade use used Arctic-Cooling Freezer 7 Pro cooler for the INTEL system which is comparable in price and specification to the Cooler-Master cooler that we fitted to our AMD system.
Due to the nature of the fan control system on the Asrock board we were not able to get the Freezer 7 Pro's fan as slow as we would liked which affects the acoustic performance of the system however typical and idle temperatures were maintained