Page 2 of 18
Design and Features
MSI's HAWK brand embodies several key features:
"OC Certified" Factory burn in testing
MSI claims its 24 hour overclock testing at 45 degrees ambient helps to ensure stability for the end user. When first announced for their over-clocking oriented motherboards, this claim drew some criticism as it was seen as a gimmick especially at the temperature mentioned
Our point of view is ANY testing of each individual item is welcome, as for some brands only a sample of production are subjected to thorough tests.
Twin BIOS
MSI's higher end cards ship with two BIOS profiles with a hard switch. The 2nd position is labelled 'LN2' which we feel is misleading as while the temps are high during extreme overclock, air is still usable.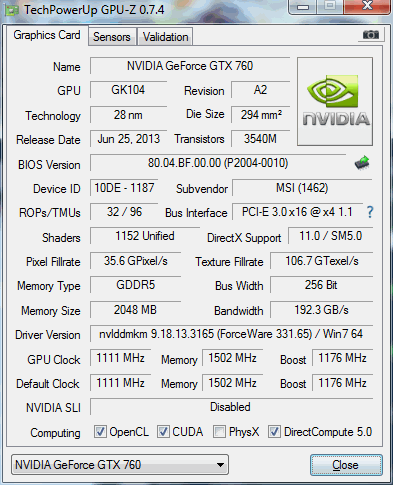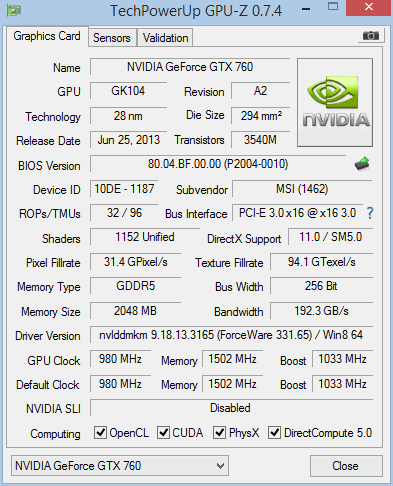 Why is LN2 mode slower on the NVIDIA card? To encourage higher boost speeds thanks to the enhanced power and cooling systems. Under LN2 mode, power limit is unlocked, up to 185%.
On NVIDIA Kepler based cards, the Boost speed resembles a sliding window. You are guaranteed to get a boost speed of say 1176 MHz out of the box, but the card can go even higher, to the high 1100s and low 1200 MHz range provided limits are not reached. We call this overboost.
This system is unlike Intel's turbo boost technology which has fixed ratios which define how fast the CPU can run in different conditions.
Although NVIDIA have briefly commented in the press about Project Greenlight, NVIDIA's APAC office told us that they 'could not find any information' on Greenlight and seemed unfamiliar with the concept, despite their executives previously discussing this with tech press.
Things are a bit more straight forward with Radeon overclocking.
R9 270X HAWK Default: Base 1150 MHz Memory 1400 MHz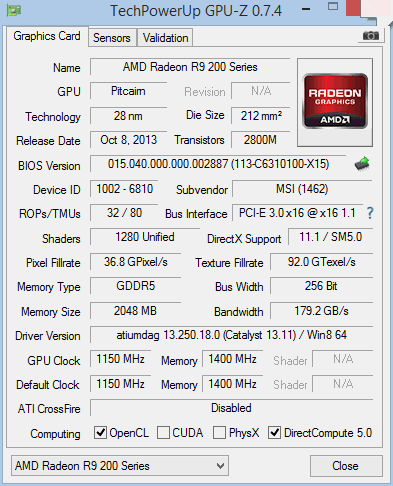 Enhanced Power
This is where things get interesting. the GTX 760 HAWK's power design can output up to 200 amps using 6 phases for the GPU and 2 for the memory, up from 150A and 4+1 phases for the reference card.
TWO 8-pin connectors are fitted, which in theory can supply the card 375 watts of power if the card's power circuitry could handle this.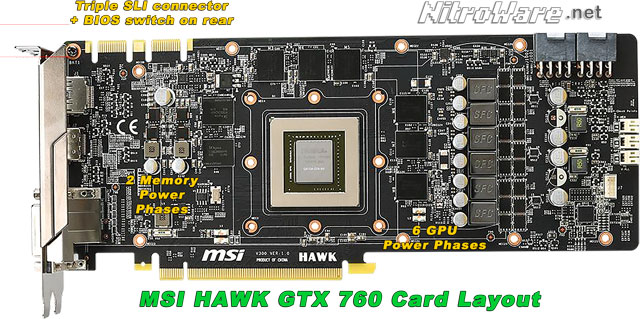 At first we thought this was a gimmick and with the BIOS in normal mode the card with can not stretch its legs with a 111% power limit. LN2 mode enables 185% power, removing this constraint.
While power draw is very high at 185%, 370 watts in Furmark at 1.3 volts and overclocked, the two 8 pin overall do not have to be used if you do not want to. MSI bundle two 6pin to 8pin adapters and the card runs just fine with just two 6 pin power without adapters. Both cards are 160/170 watts out of the box well within the scope of a PSU with two 6 pin connectors.
For the R9 270X, the cards taller form factor was used for more power phases, supplying the GPU up to 320 amps current using 8 phases, 2 memory phases, 1 for Phase Lock Loop and 1 for PCI express bus.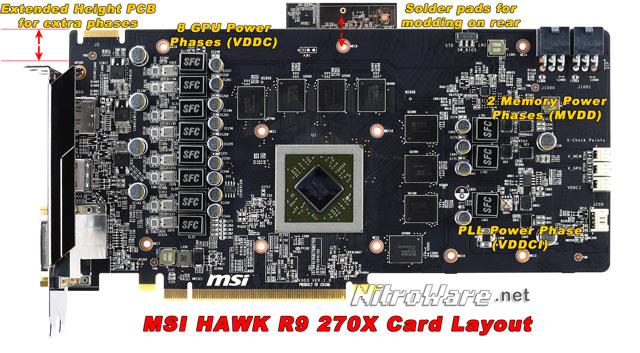 Although a stronger power system on paper, the 270X only uses two 6 pin connectors. It's added height is not a problem for roomy 'gaming' towers but please check your case clearance for this card, especially if you have fans in your case lid.
The 270X does have one nice feature the 760 does not, a carry over from the older 7870 HAWK. A cool set of LEDs indicate the number of active power phases.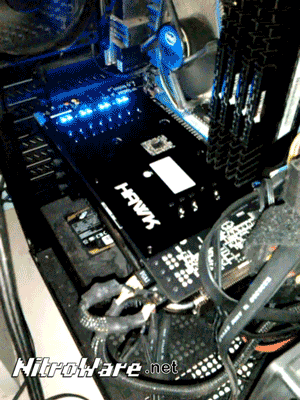 Both cards use a 8 layer PCB.
Advanced Thermal Design
Both cards built upon MSI's popular and proven Twin Frozr tech and implement dual PWM 'propeller blade' fans, dust removal, nickel plated copper parts including 8mm 'superpipes' and dual 'form in one' back and front heatsinks.
Some brands such as Gigabyte do not provide two monitored fans on their GPU so it pays to check the GPU you are buying have two true PWM fans.
In our subjective testing the fans stayed quiet and provided good cooling. MSI claim their 760 HAWK is 16.48dB quieter and 10c cooler; and their 270X 20.64 dB idle, 21.35dB load plus 6c coooler than reference.
MSI claim arched and rounded edges, grooved blades, small arc and gloss coating contribute to 20% more airflow.

The dust removal technology comprises of running the fans in reverse during boot up only. This is evident on the 270X as the phase LEDs are off when the fans are reversed.
The nickel plating aids aesthetics, helps to prevent corrosion of exposed parts and a slightly smoother thermal interface surface.
The dual form in one heatsinks provide cooling, rigidity and protection to the cards. One problem associated with all longer graphics cards is warping and sagging of the PCB. Some brands fit a small metal edge bracket but this is often insufficient.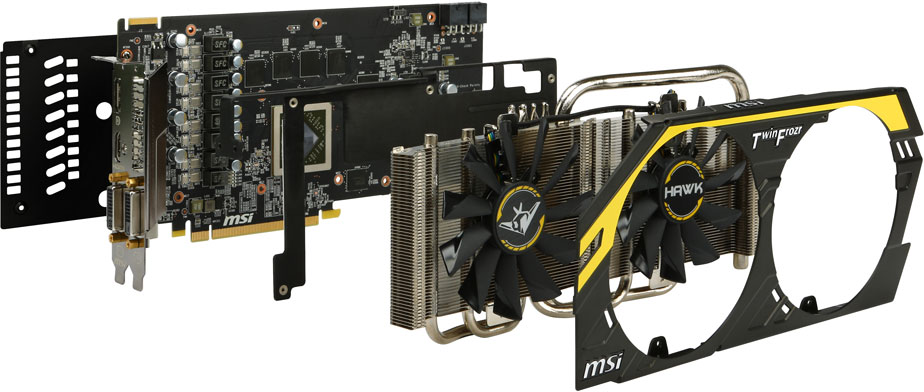 When a PCB warps, traces or solder connections can break (Dry joints), cooling fan bearings can wear quicker and the board can be difficult to install on occasion.
There are two main ways to prevent PCB sagging:
Affix an equal length heatsink to the PCB, attached at multiple points. The current GeForce GTX reference heatsink does this, and the reference PCB has multiple screw holes however some brands chose to save money and only attach the heat-sink using 4 screws around the GPU, putting all the weight on the PCB under the GPU itself.

Use a front and back full size bracket to brace the PCB. This what MSI have done here. Not only is the PCB 'dead straight' and very easy to fit but it also looks good too and provides protection to the PCB for those who are constantly removing their GPU.
"Practice what you preach" is often law in tech, while MSI put ffort into their thermal solution, the production and Q.A lines didn't get the memo.
For those who are interested in the quality of the factory thermal paste, see for yourself.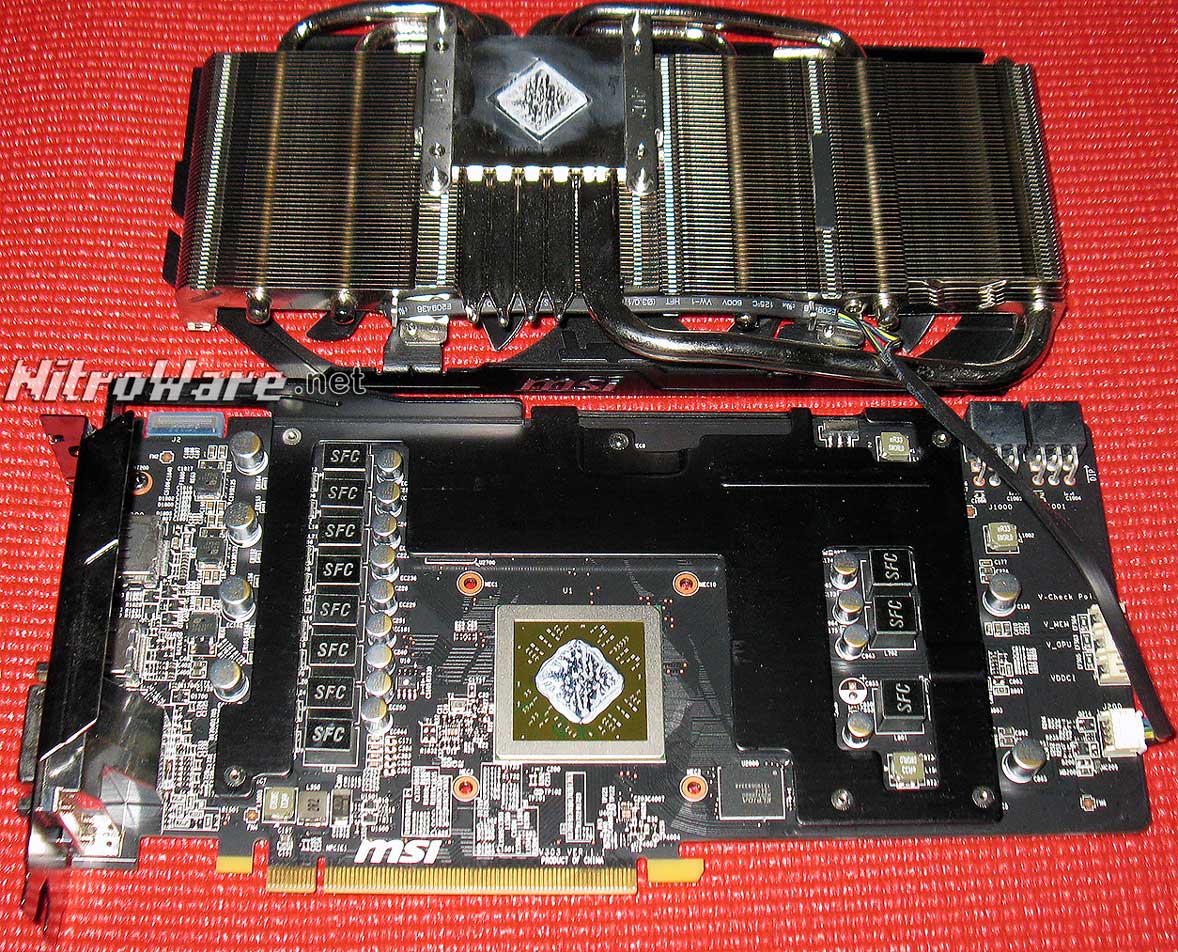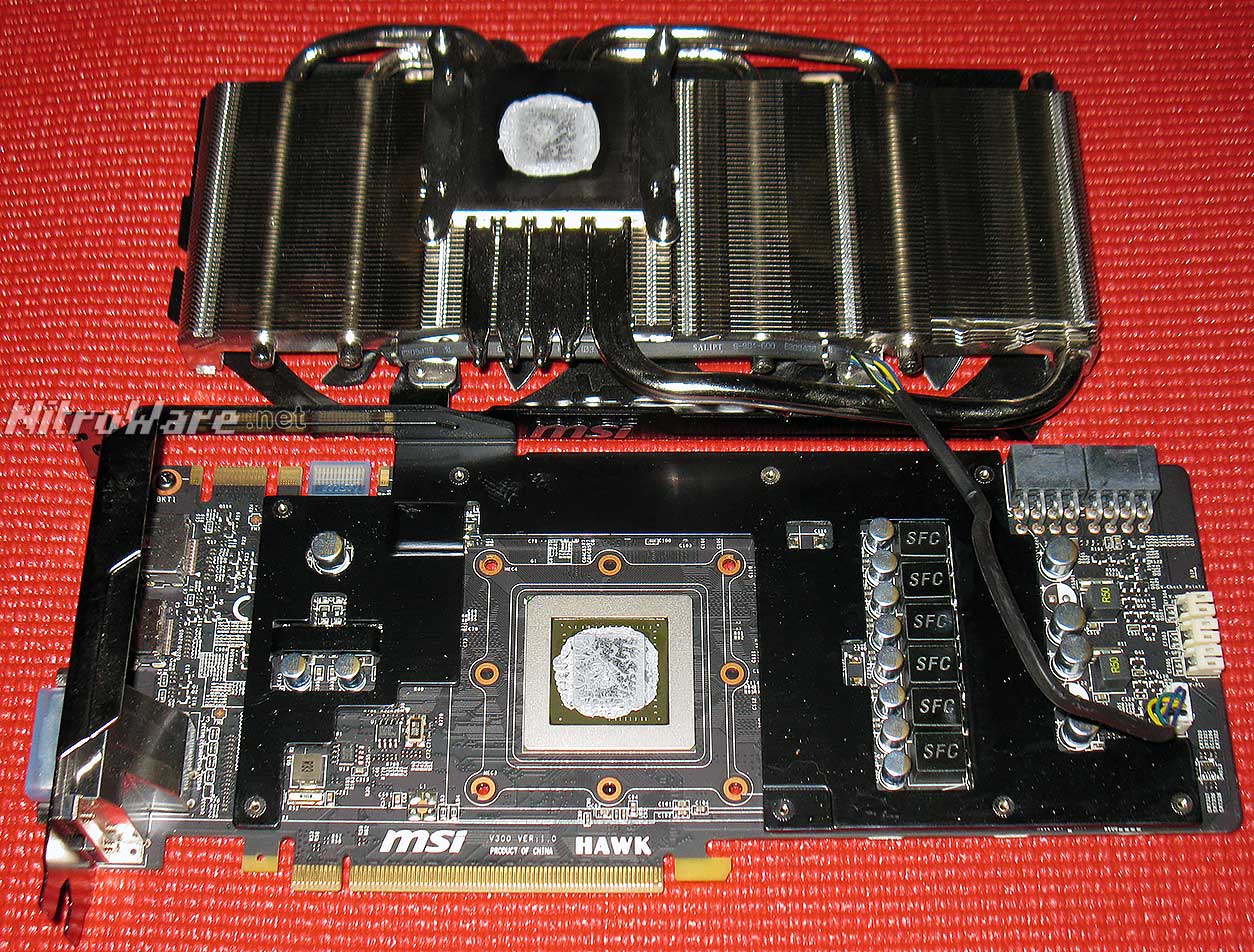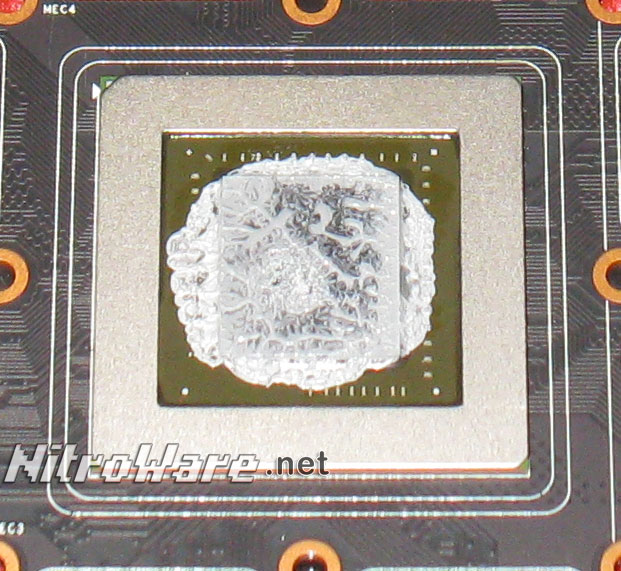 Military Class components
One of MSI's biggest marketing bullet points over the years has been its "Military class" branding now up to 4th generation.
All this really is, is MSI using components that have been subjected to tests under the MIL-STD 810G umbrella which describes "tailoring design and test criteria to the specific environmental conditions an equipment item is likely to encounter during its service life"(Wikipedia)
The specific tests MSI claims the components in its products have been put through are just definitions of test facilities and methodologies.
No commercial organisation or agency certifies compliance and it is up to the vendor to tailor the test methods to suit their products.
In the cause of their GPU and Motherboards, MSI claims their electronic components used have been tested against MIL-STD 810G 500 series environmental tests. In the documentation we have seen, there are no claims the entire product is engineered against these specs.
A copy of the test report was not provided with the GPUs, but from time to time a component test report is made available by MSI online.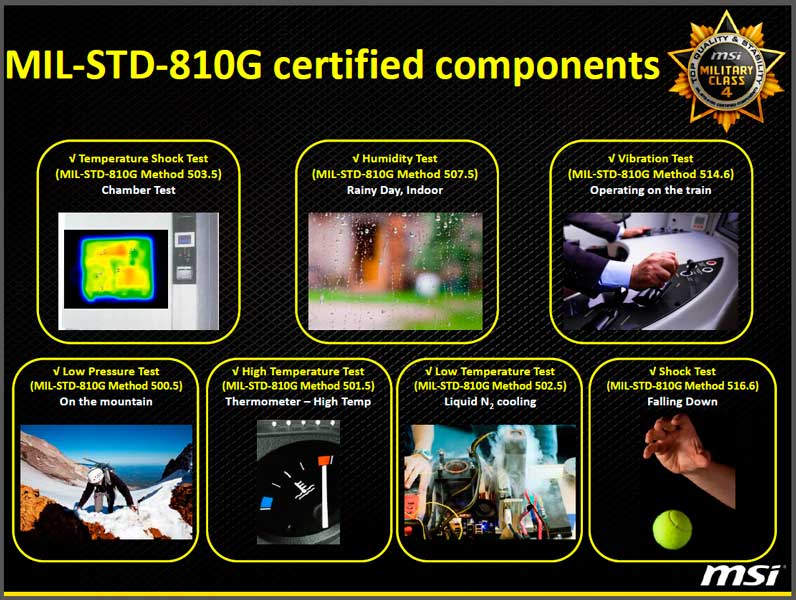 While it is helpful to have 'tested' components rather than ones just picked from a catalogue and installed, this is not a deal breaking feature.
OC Kits
MSI claims by providing independent core voltage, memory and aux adjustments (not found on reference or vanilla 'OC' cards), the HAWK is not subject to Greenlight limitations but this is not the complete story.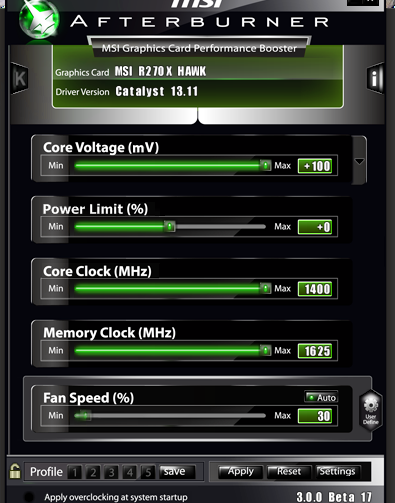 100% power is linked to a 80 c limit to optimise thermals but using MSI's afterburner software power and temp can be adjusted independently if desired.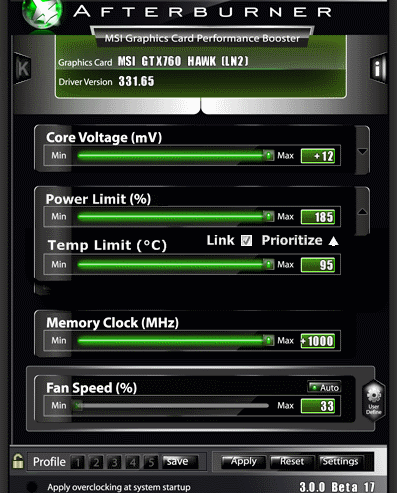 NVIDIA enforce limitations on their add in board partners to ensure their overclocked cards give a good experience and are stable.
OC-KIT also includes Voltage check points comprising a 2 pin standard keyed socket and cables which can take multimeter probes.
OC-KIT helps enforce the secondary reference methodology in electronics where you use a secondary measurement device (in our case a multimeter) to confirm a particular reading and rule out any bias in the measurement device.