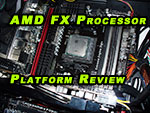 We investigate how the CPU influcences the performance of Sapphire's Radeon HD7950 OC graphics card by testing it with AMD A6-3650 APU and AMD FX-6100 CPU against the combination Intel's i7-3960X and AMD's Radeon HD7970. What we found was with our test suite AMD A6 and AMD FX offered better performance per dollar than Intel's flagship i7.
Introduction
Now that AMD's rapid fire succession of performance Radeon 7000 series cards is over and pricing, availability has started to settle it is time to look at the bigger picture. Some of these cards specially the 7900 are quite powerful and as such need strong systems to make the most out of them with some software.
Not every power user or gamer out there interested in these new cards will have the best CPU. In this review we investigate how much CPU power is needed to feed the new Radeon HD7950 and what performance differences can be expected with different priced CPUs and Platforms from AMD and Intel with a standard benchmark suite.
Our review of the HD7950 is a little different, as we will examine CPU scaling with this card. To achieve this, we took Sapphire's Radeon HD7950OC 3GB graphics card and tested it in two different contemporary AMD systems:
AMD A6-3650 Quad Core APU with AMD A75 chipset and Gigabyte motherboard. We disabled the integrated Radeon graphics, when disabled we save about $30 and 30 watts of power. AMD A6 "Llano" is an updated version of the Phenom II quad core CPU.
AMD FX-6100 six-core, three module, six core processor with AMD 990FX chipset and Gigabyte Motherboard. The clock speed of this processor is moderate compared to other models in the AMD FX family, but at this price point, it competes directly on price with Intel's i5 quad core non-turbo processors. The FX-6100 is unlocked so enterprising users can overclock all the way past 4GHz if they wish; Intel i5 processors under $200 are locked.
Intel Six-core Core i7-3960X CPU with Intel X79 chipset and Intel Motherboard. We compare the AMD/HD7950 combos to the Intel system and standard reference AMD Radeon HD 7970. The combination of Intel CPU and Motherboard represents the flagship Intel Enthusiast/Desktop machine currently on sale.
The results we gained from these tests showed that modern software relies more on GPU performance than CPU while older software was more dependent on raw CPU speed.
The question is how low can you go? The answer we found is that for older games, which are largely CPU bound, we can lose half of the game performance by using a weaker CPU versus the best desktop CPU on the market currently. In newer games, which are largely GPU bound such as modern DirectX 11 titles, which offload processing to the graphics hardware, we can get very good performance per dollar results with cheaper CPU and the more expensive CPUs some advantage.
We used Intel's excellent Sandy Bridge-E enthusiast platform to evaluate the HD7970 which was a match made in heaven as we can balance high GPU with high CPU performance without bottlenecks thanks to the Intel Sandy Bridge-E and X79's chipset.
The average buyer of a HD7950 is unlikely to pair the card with an AMD APU; however it is still usable we demonstrate the results.
By including the AMD Bulldozer processor in our review of the Sapphire HD7950 OC we can demonstrate perfectly any CPU penalty in games which do not take advantage of multi-threading and rely on ultimate clock speed to deliver large gains in performance. This processor family actually does relatively well in multi-threading contrary to media review status quo as like other previous AMD architectures it descends from a server processor
For reference, we included our results of the HD7970 with the Intel i7-3960X to show what the maximum performance that the AMD HD7970 graphics card can achieve with a single Intel CPU
Additionally, we can make price/performance comparisons between the AMD and Intel systems to show which CPU is the best bang for buck for those users deciding on a CPU or new Radeon 7900.
We address something that is important this review of Sapphire's Radeon HD7950 OC, how much CPU power do you actually need to drive such a powerful graphics card, let alone a HD7970.
Will the cheaper extreme segment offering, HD7950 be suitable for people with cheaper CPUs or will the money be better spent on a smaller GPU or other components?
The graphics contender - Sapphire AMD Radeon HD7950 OC
This card has Sapphire's own 'dual extractor' Dual-X cooling solution; this oversized plastic shroud on the card has the tendency to conflict with cables or may prevent the card from being installed in certain cases. There is quite a bit of overhang at the front of the card. The shroud is a result of marketing needs to 'style' the card as well as to house the large cooling fans.
We tested the Overclock model, which comes with 900MHz core, and 1250MHz memory clock speeds. Overclocking is no problem for 7950 or 7970 and users can go further if they want. The 28nm GPU and the cooling solution can take it.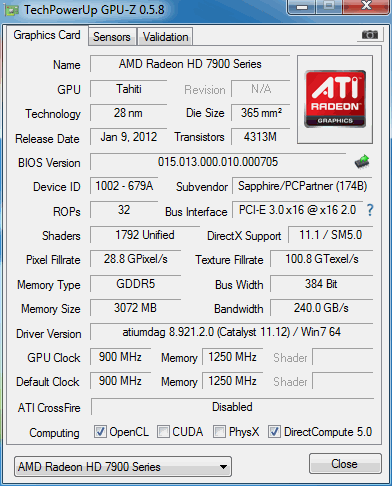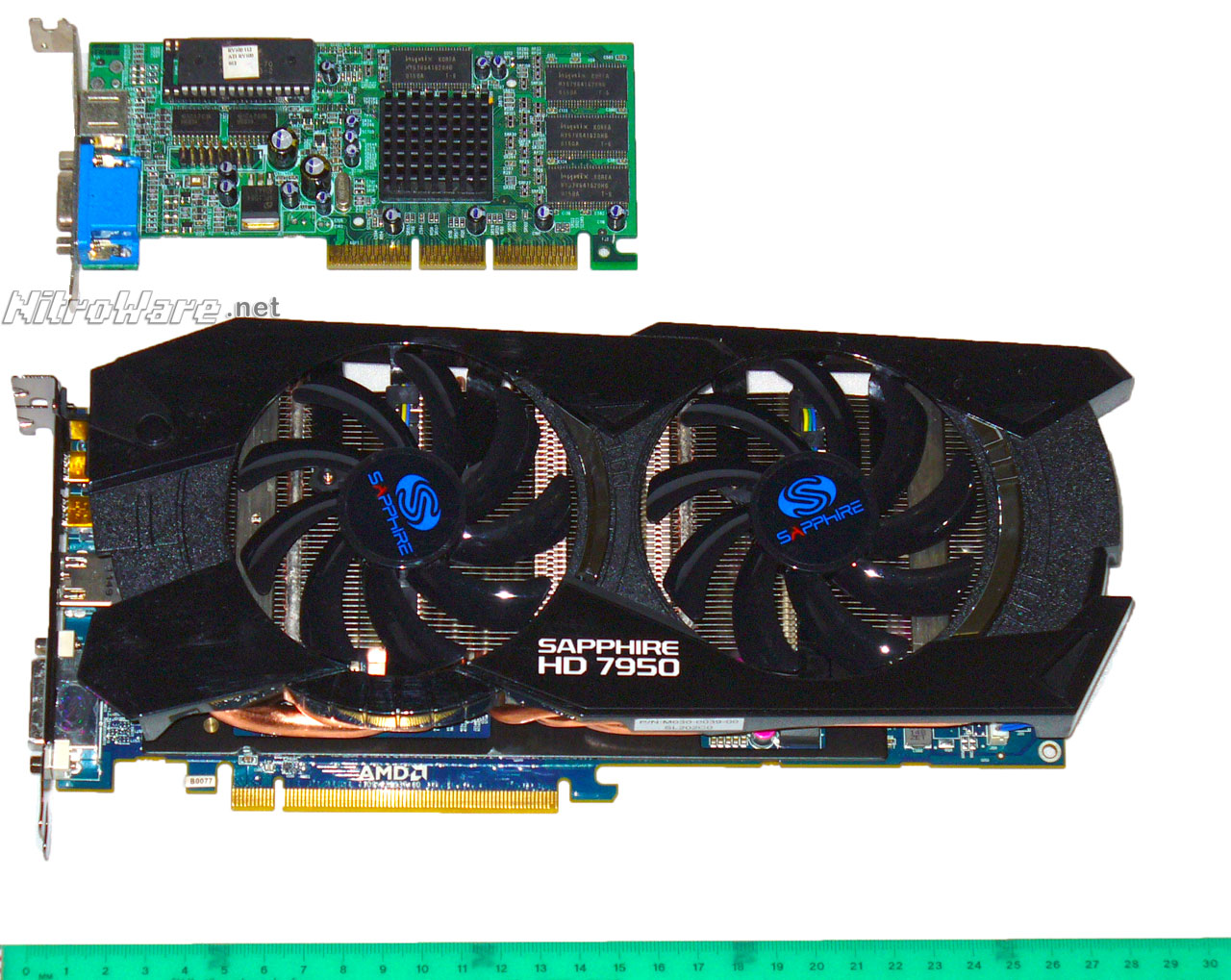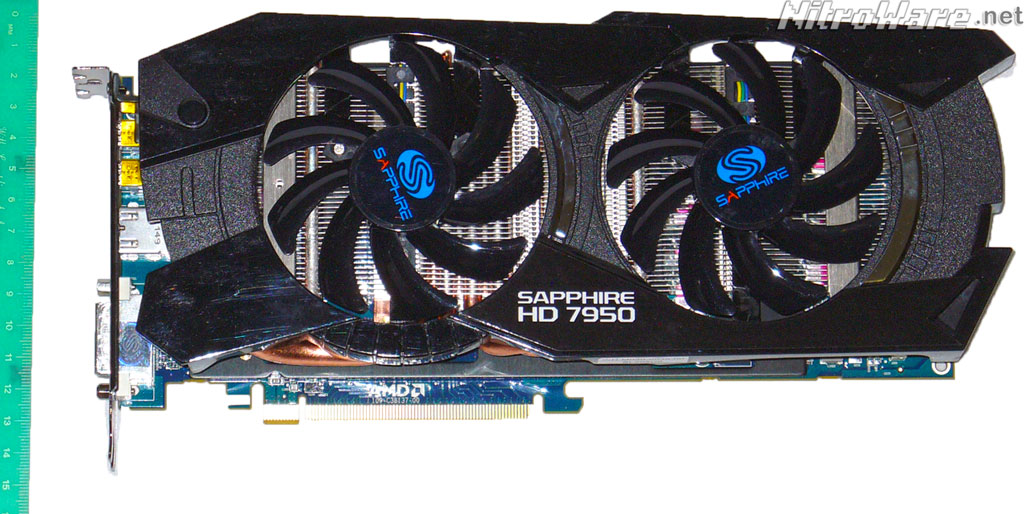 The Sapphire 7950OC can easily be overclocked to HD7970 speeds being 925MHz core and 1275MHz memory clock. Since there are a number of compute cores disabled overclocking isn't enough to turn a 7950 into a 7970. From the limited testing we did, overclocking the already overclocked Sapphire HD7950 gave us scores that were between the 7950 and the 7970, which I am now dubbing as a 'HD7960'.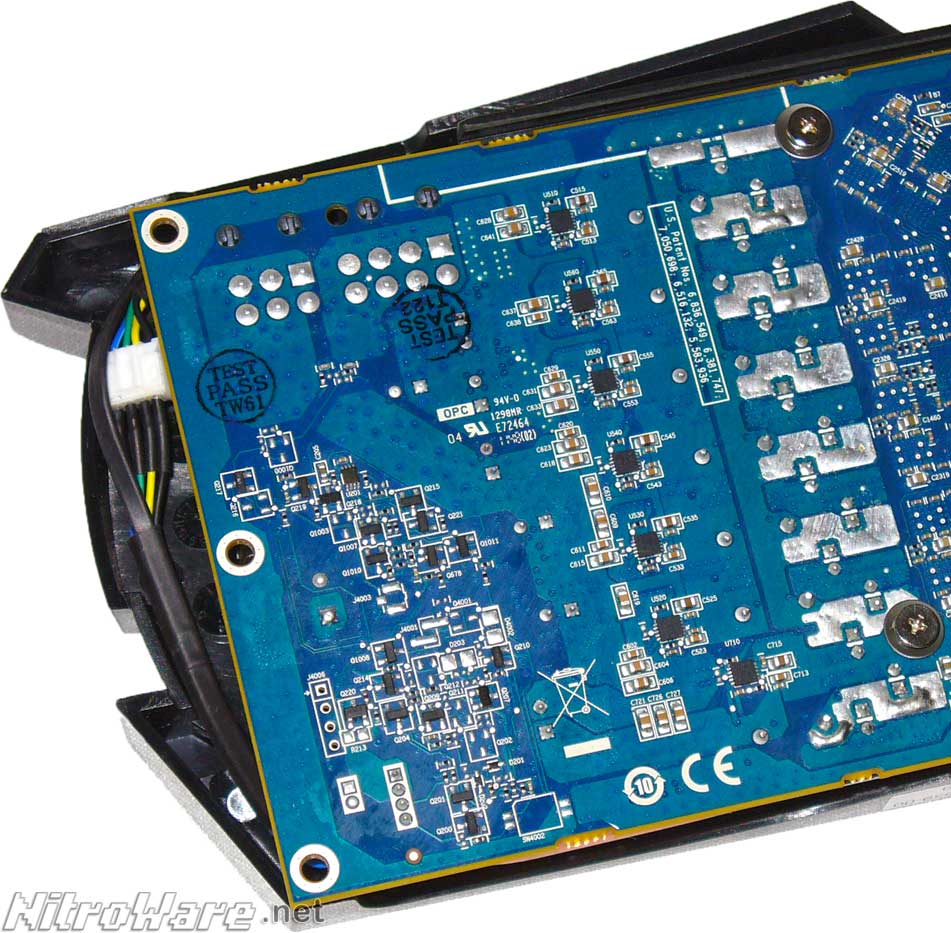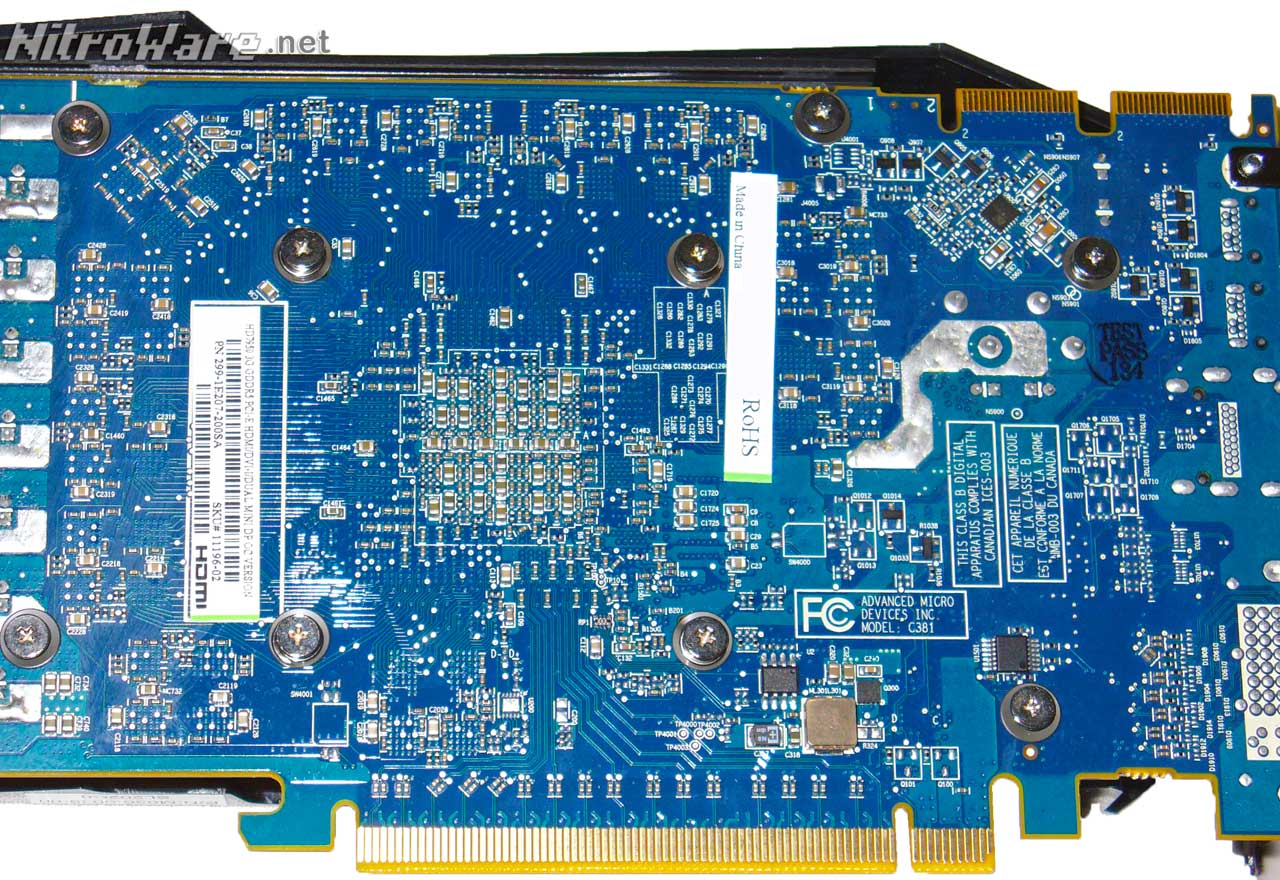 We tested overclocking using AMD overdrive as well as Sapphire's own TRIXX utility, which is based on the GPU-Z software. The software performed well and offered all the functions needed such as fan control and profile mapping with a reasonable UI.
I have a major gripe with the card itself. Cards with Non-reference coolers such as this one use elaborate heat pipe and heat sink coolers rather than elongated vapour chambers as found on the AMD reference card.

The latter are fastened to the graphics card at every corner of the PCB giving the circuit board reinforcement, preventing any breakage.
Non-reference coolers are heavy with most of their weight placed onto the centre of the card leaving the rear unsupported and no brackets are provided to stiffen the PCB. The PCB sags/warps due to not having a 'chassis' and may fail in the future
There is a reinforcing plate on the card but it is probably meant as a heat sink with structural support a bonus feature.

A warped circuit board will eventually fail as some solder balls on the many chips or other electrical connections will break and the card fails. This is not a cheap graphics card so these quality issues matter. Users who claim that they will upgrade in three years do not have a valid claim. NVIDIA users know this issue well, having to bake their graphics cards in the oven to reflow the solder to try to fix their cards.
Vendors can solve this problem by using all he provided screw holes in the circuit board to mount their heat sink and not just half of them in the centre. They will reduce their RMA rates too.
I have seen a number of non-reference cards in my time where the PCB has sagged or warped and this was one of the worst.
Having said that, Sapphires Dual-X cooling system does an excellent job of maintaining 70c load temperature and 30-40 idle temperate. The fans are quiet too and if they are too loud for you full fan control is available. Given the thermal performance and providing it fit your case, I can overlook the sagging PCB.
Great bundle of accessories: Mini-DisplayPort to DisplayPort, HDMI to DVI, HDMI Cable, DVI to VGA Dongle, a pair of power adapters comprising of single 5.25 power plugs to 6pin PCI-E Power. These will all come in handy for a multi-monitor or Eyefinity setup, saving the user having to run out and buy adapters.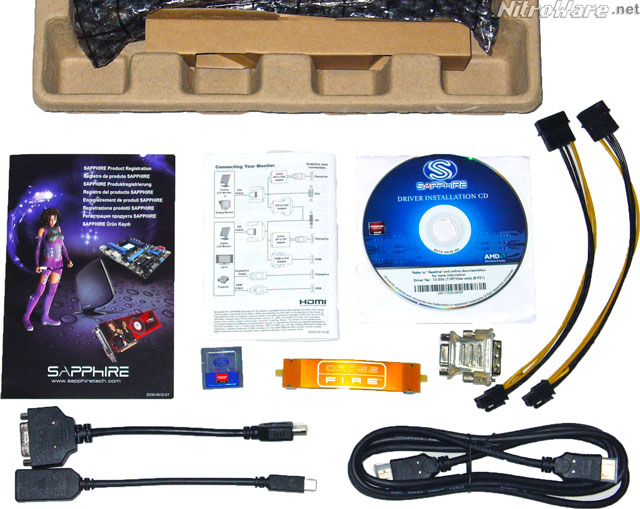 The power adapters are of a newer, proper design meant for use with strong power supplies. These are not the old rubbish Y splitters that were bundled with older cards, as late as a NVIDIA GTX460
The driver CD bundles the HD7900 series launch driver version 8.921 for Windows 7, Vista and XP. At time of testing this graphic card AMD only offered Windows 7 64-bit drivers for download for the HD7900 series.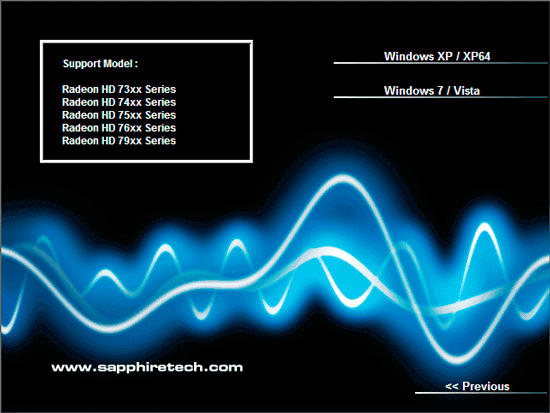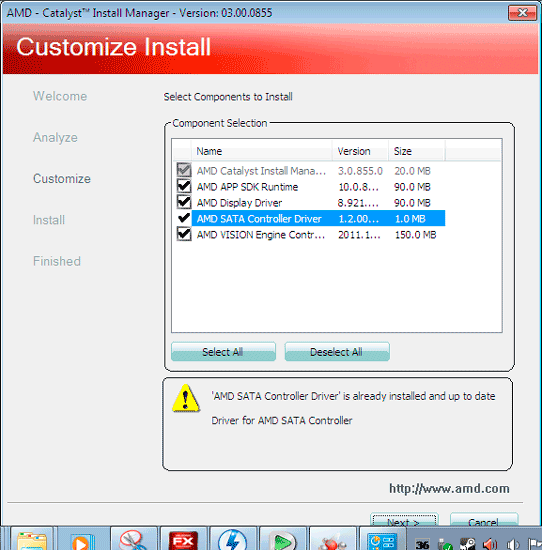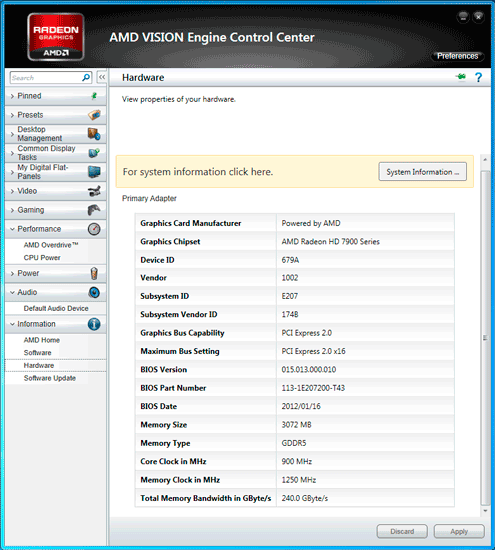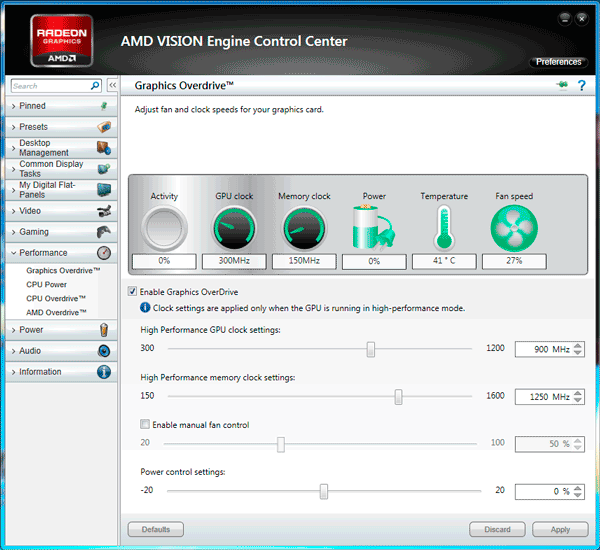 AMD's own drivers for the HD7900 are still unfinished with regards to enabling the full capability of the HD7900 series cards but that is not Sapphire's fault. Drivers are a monthly evolution so all features will be activated and improvements delivered, eventually.
No game is bundled with this expensive graphics card.
The packaging is efficient and environmentally friendly being pure cardboard. I do not like the artwork Sapphire has chosen for the HD7900 series but that is subjective opinion.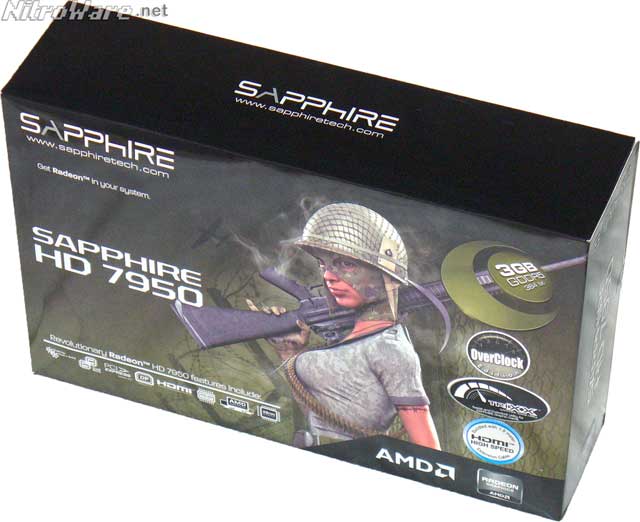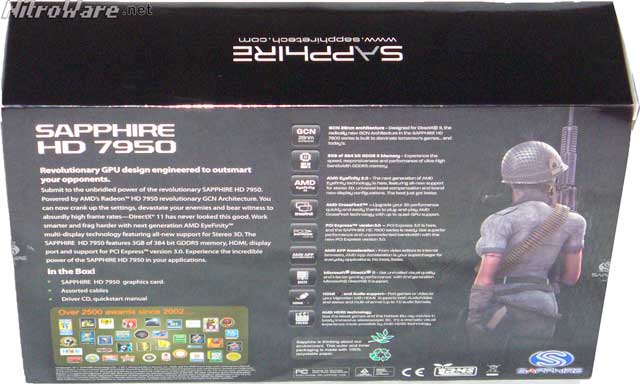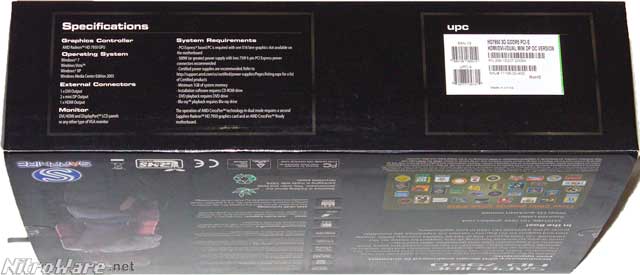 The computing platforms - a GPU is useless without its PC
AMD A6-3650 APU
We used our AMD A6-3650 test system for this system again with a minor change from the last time we looked at this system. In that review, we focused on a mainstream context and used DDR3-1600 RAM.
For coverage of the AMD A6 'Llano' 2.6 GHz APU and Gigabyte A75M-UD2H Motherboard see our review. For this test we simply updated the motherboard bios and disabled the integrated Radeon 6530D graphics, resulting in a cooler running CPU at load and drawing less power. However at idle due to ATI's power saving features in its GPU, even with the new Radeon 7950 fitted we noticed no increase in power draw at idle between the integrated Radeon and the add in Radeon – both came in at 45 watts idle at the desktop with all power saving feature enabled. See our AMD A6 APU review for more information.Mainstream Computing Showdown - AMD A6 APU v Intel 2nd Gen Core i3 CPU
AMD FX-6100 Black Edition CPU
Enough has been said about the FX-8100 'bulldozer' series in other reviews but not much about its younger sibling the FX-6000 series. The 6000 series has two main features differentiating it from the 8000, the first being only 6 cores (3 cores, 6 modules) and the second a 95 watt TDP versus 125W for the faster parts.
Since this is both a binned 95-watt part AND unlocked, it is attractive to enthusiasts and overclockers as there is some headroom available to boost speeds. Unfortunately on the FX-6100 the base clock is low which hurts the performance of the part in heavy multi-threading. The FX-6100, 8150 and even the FX-4100 focus on high base clocks.
The low base clocks are a result of the 95W TDP requirement for this mid end part.
Launching as the middle tier of the AMD-FX line in October 2011 at under $200AUD, as of May 2012 can be found as low as $140 the part is an extremely cheap but highly depreciating way to get six 'cores ' for the AM3 platform if you do not want the older Phenom II X6 parts.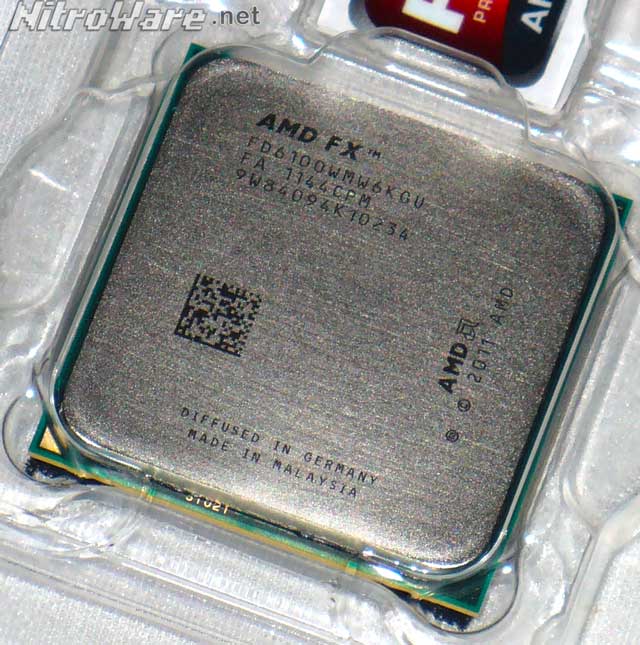 AMD FX Processor Product Models at Launch
| Processor Model | CPU Base | CPU Turbo Core | CPU Max Turbo | TDP | Cores | L2 Cache | L3 Cache | Max DDR3 | PKG | NB |
| --- | --- | --- | --- | --- | --- | --- | --- | --- | --- | --- |
| FX-8150* | 3.6GHz | 3.9GHz | 4.2GHz | 125W | 8 | 8MB | 8MB | 1886 | AM3+ | 2.2GHz |
| FX-8120 | 3.1GHz | 3.4GHz | 4.0GHz | 125W | 8 | 8MB | 8MB | 1866 | AM3+ | 2.2GHz |
| FX-6100 | 3.3GHz | 3.6GHz | 3.9GHz | 95W | 6 | 6MB | 8MB | 1866 | AM3+ | 2.0GHz |
*In select markets AMD will offer a water cooling option with the AMD FX-8150 processor
Source:AMD
This part is marketed as a performance oriented processor aimed at Intel i5 price point. Due to its low base clocks that hurt its performance and made it a less appealing version compared to its FX-8000 class siblings, AMD did not sample this part to media and many other review sites purchased their own FX-6100 CPUs to be able to publish reviews. We purchased our chip in Sydney at $170 in February. The FX-6100 was quickly supplemented by a more competitive FX-6200 part, which offered a higher base clock.
At $170, the part lingered on its value merits competing with Intel's i5 quad core parts such as the 2400 that do not have hyper-threading. At $140, the part makes more sense and offers a better value proposition against Intel.
The FX series are all unlocked , meaning the CPU can be overclocked using the multiplier settings and as such are co named "Black Edition" Strangely, the FX-6100 ships in a white box instead of a black box, yet carries 'Black Edition' branding in small text. When we purchased this CPU, we thought we had received a locked AMD FX CPU, which was proven wrong upon examining the box.
Dear AMD, please follow your own enthusiast branding, Thanks.
The CPU is bundled in eco-friendly cardboard including warranty papers, Heat sink Fan and Sticker.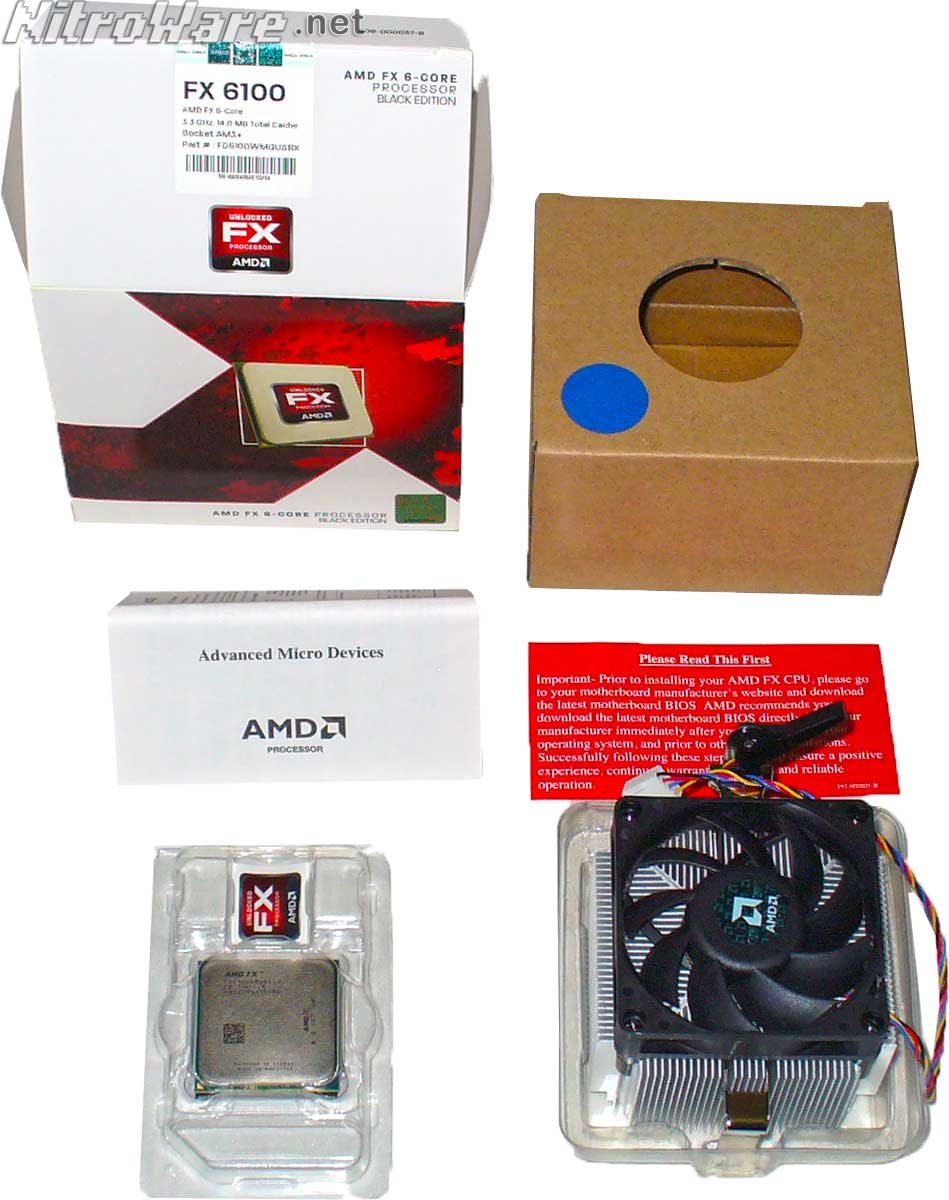 The Heat sink fan is an all-aluminium solution without any copper base or slug, the same type bundled with other 32nm AMD APU and cheaper 45nm Athlon/Phenom II CPUs but inferior to the heat pipe coolers bundled with the Phenom II Black Editions. Why AMD? This is an enthusiast CPU, Intel have started not offering Cooling solutions with their products.
This is fine for users who will not overclock but this CPU is marketed to the enthusiast segment who knows what they are doing.
Intel Core i7-3960X
We have included the benchmark scores from our AMD Radeon HD7970 review to fill in the Intel i7/HD7970 angle for this review. The system specs were covered in that review. AMD Radeon HD7970 versus NVIDIA GeForce GTX460 SLI Performance Review
AMD 990FX Motherboard
New for this review is our coverage of the AMD 9-seres platform and chipset. Originally we had intended to use the ASUS Crosshair V Formula motherboard which is ASUS's AMD entry in its Republic of Gamers enthusiast brand and AMD's preferred reference motherboard for the AMD FX processor however two faulty boards in a row meant we had to switch to the alternative flagship AMD motherboard, Gigabyte's 990FXA-UD7 motherboard.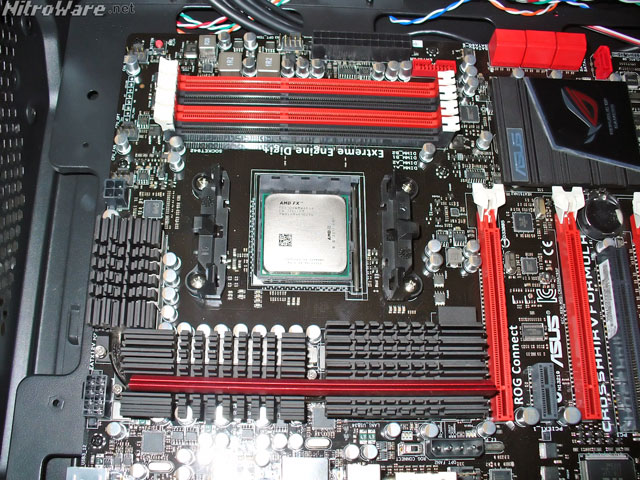 The special features of 990FXA-UD7 motherboard are use of the enthusiast oriented 990FX chipset support supports Quad-SLI and Crossfire, on-board control switches, debug and status LED, Eight SATA plus two eSATA both powered, USB 3.0, IEEE-1394 and heat-pipe cooling for the VRM.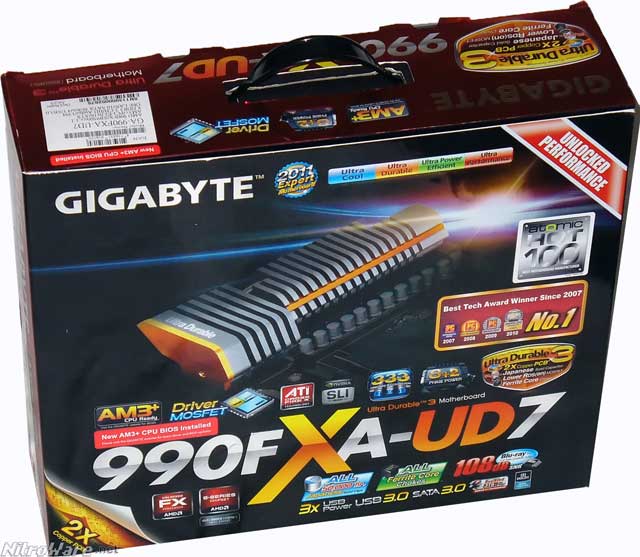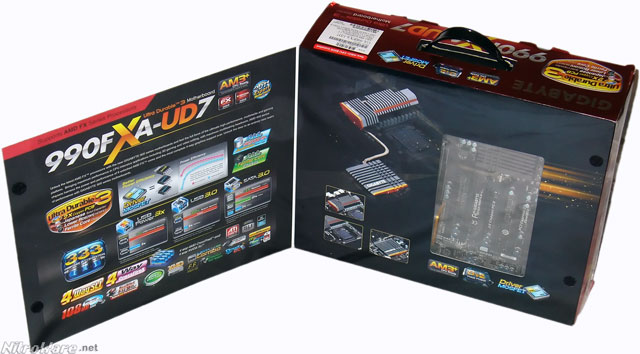 Unlike the ASUS board, Gigabyte's flagship is finished in a matt black with gold accents, a classy livery but often hard to identify particular ports.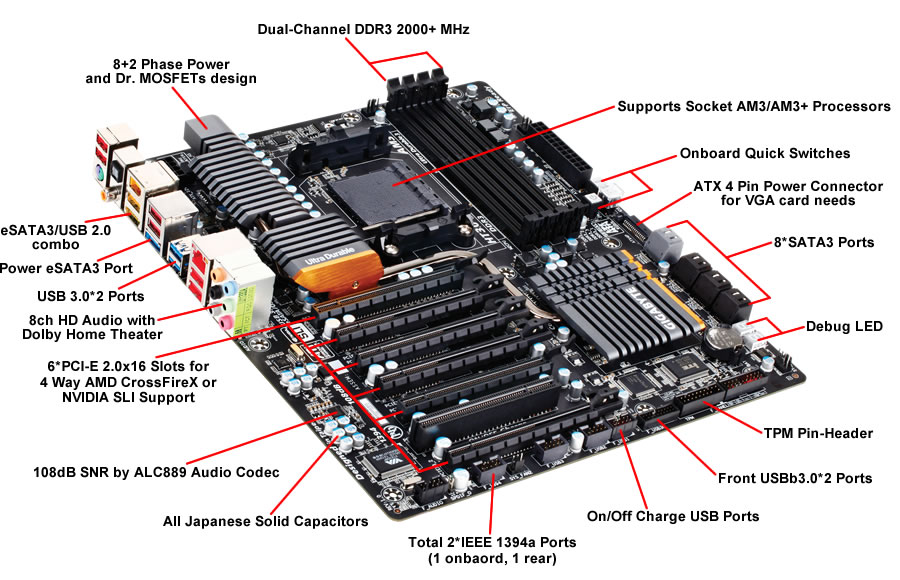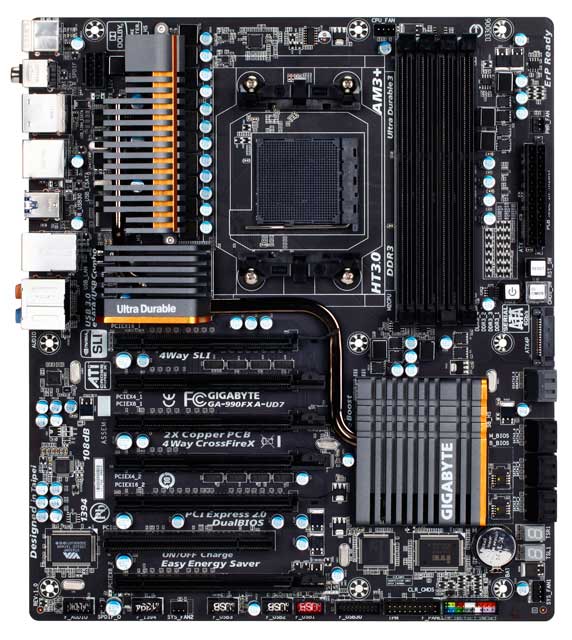 AMD 9-Series Chipset Product Models
| Motherboard | PCIe Config | PCIe GEN | SATA 6G | USB 2.0 | USB 3.0 | RAID | Socket |
| --- | --- | --- | --- | --- | --- | --- | --- |
| 990FX + SB950 | 2x16 or 4x8 | 2 | 6 | 12 | External | 0,1,5,10 | AM3+ |
| 990X + SB950 | 2x8 | 2 | 6 | 12 | External | 0,1,5,10 | AM3+ |
| 970 + SB950 | 1x16 | 2 | 6 | 12 | External | 0,1,5,10 | AM3+ |
Source: AMD
Memory
For this review which is performance oriented we fitted Kingston's flagship HyperX Genesis DDR3-2133 4GB memory kit. We wanted speed not capacity for this review. This is Kingston's standard profile memory and not the oversized T1 modules.
AMD platforms do not like 2133 speed very much due limitations of multipliers and memory controller so we ran this memory at 1866 speed using two profiles. The memory has built in XMP Profile 2 marked 'Extreme –Aggressive' as well as the BIOS's own DDR3-1866 profile, which is less aggressive than the memories profile.
Although compatible with AMD, XMP memory from any vendor is primarily intended for Intel and setup for Intel and we found using the BIOS profile for DDR3-1866 which sets up 9-11-9 latency timings was more stable under very memory intensive workloads than the memories own 1866 profile of 9-9-9. Whenever had to do this on an Intel system and could run the ram at full speed on Intel 2nd gen Core 'Sandy Bridge' systems.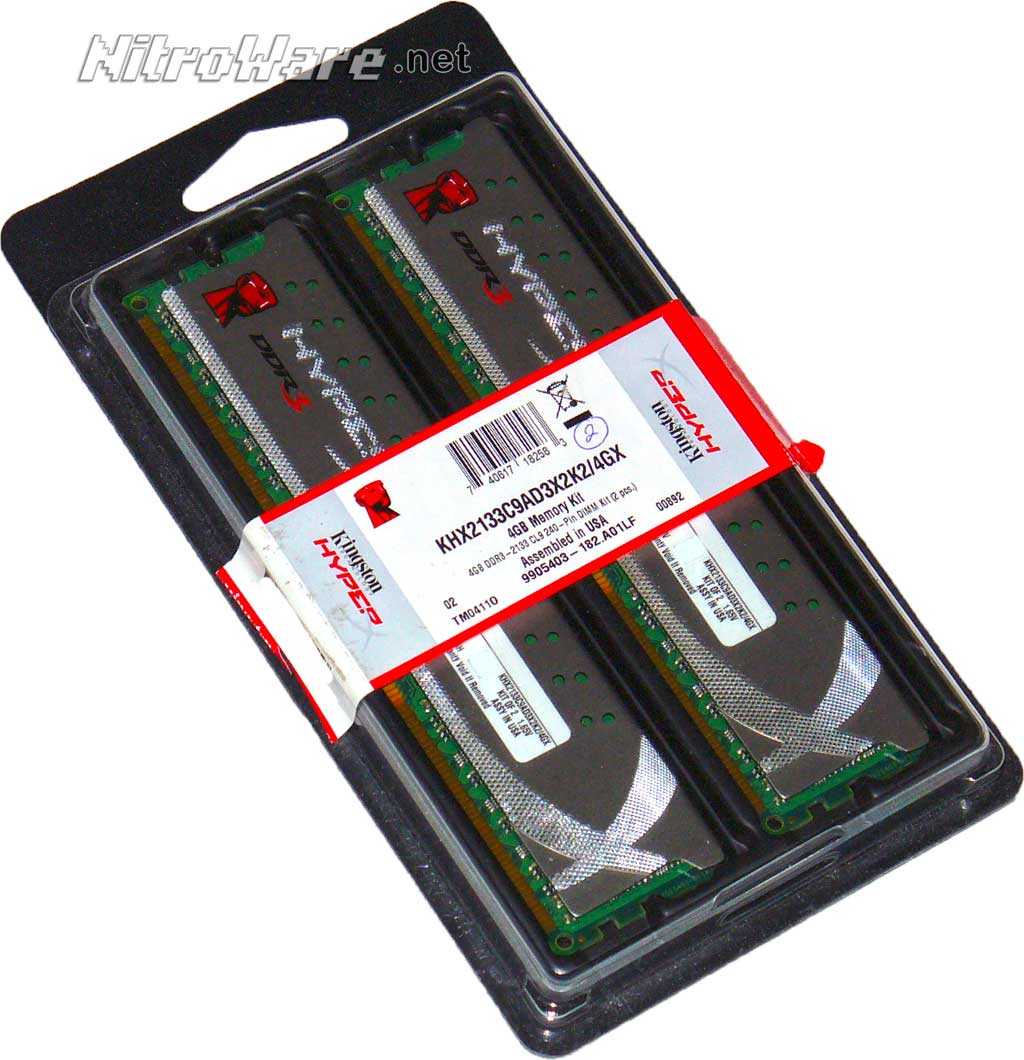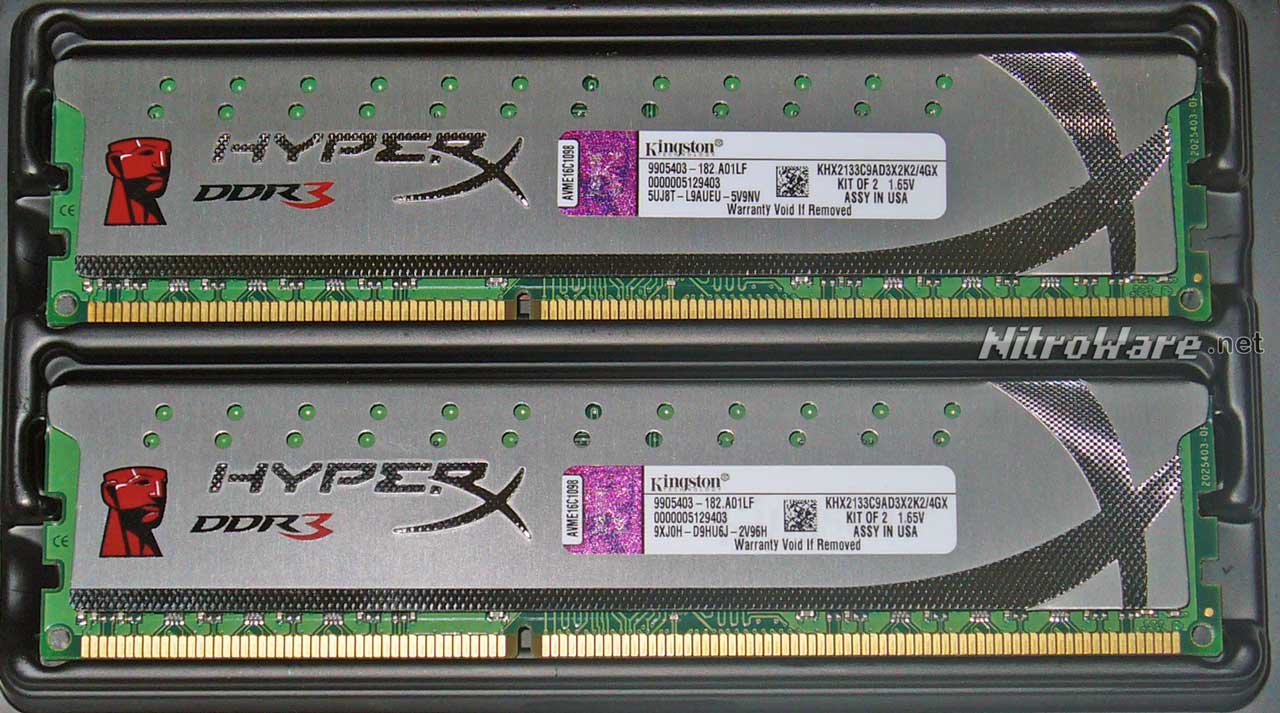 Chassis
We changed a number of other components. Since we are testing the HD7950 graphics card we put the AMD A6 APU and Gigabyte A75M-UD2H motherboard in an appropriate chassis from Coolermaster, their CM Storm which is a budget model designed for gamers. The HD7950 miraculously fit the case without having to remove the drive bay cage. We could also use the USB 3.0 ports as well. A 'bonus' feature of this chassis is support for liquid cooling radiators both in the back wall and the top with provision for a twin fan radiator in the top of the case.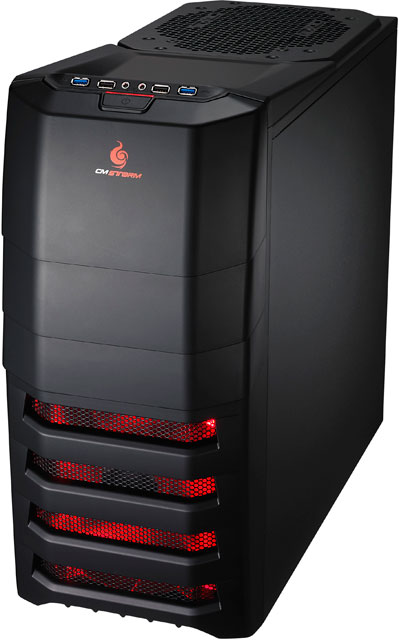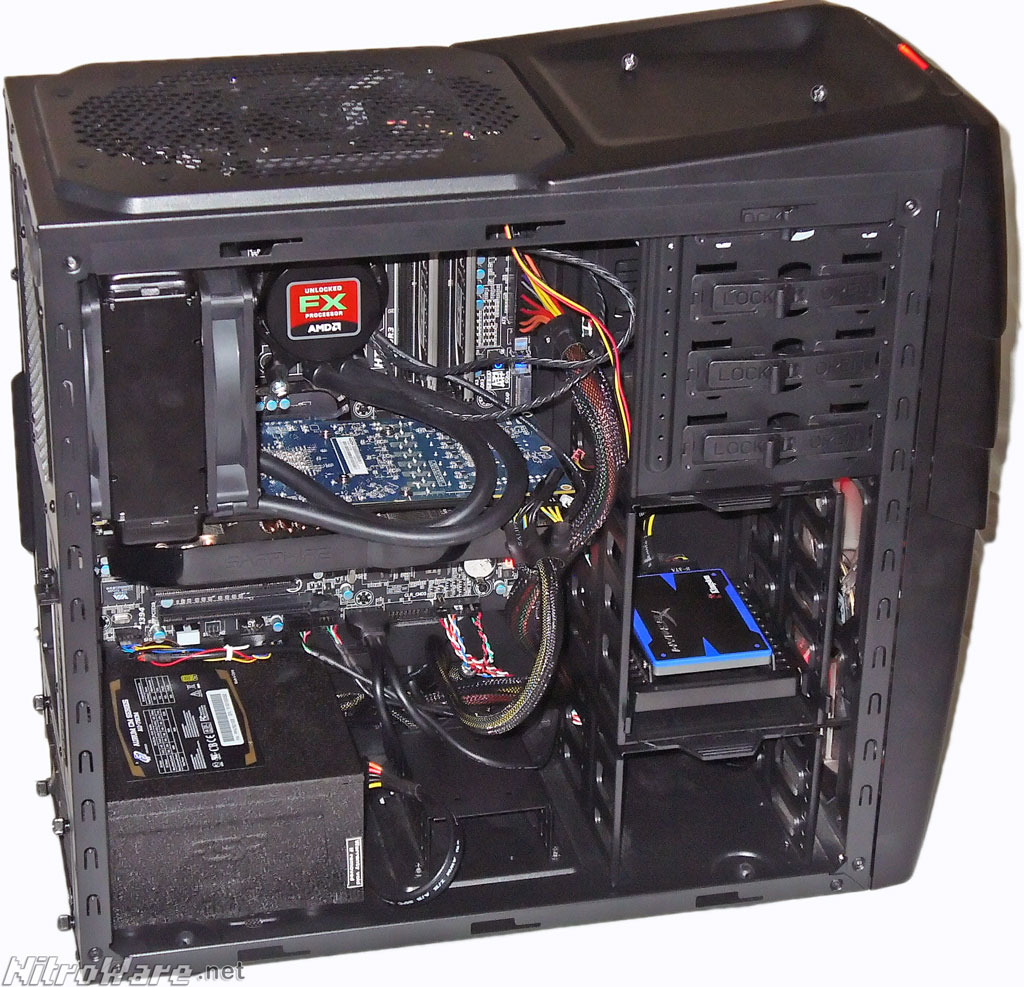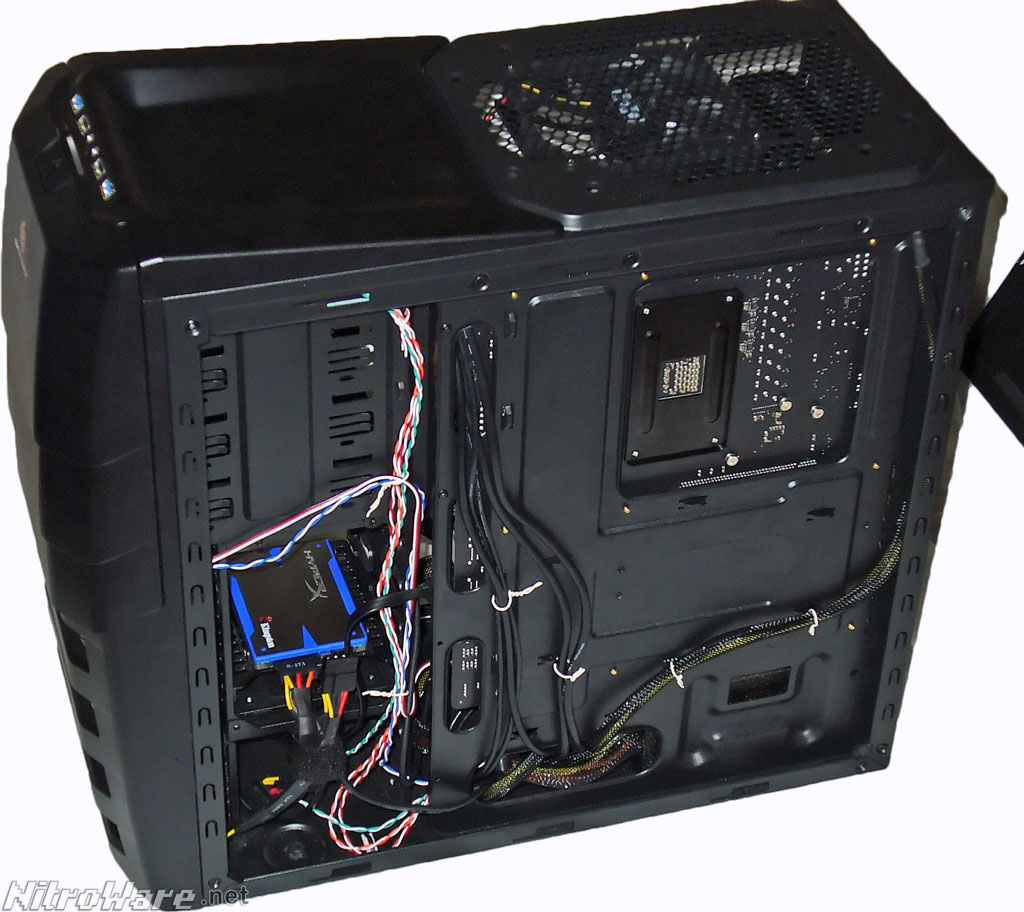 Power
To power the system we used FSP's AU-750M 'Aurum Series' 80GOLD power supply which will drive any two current flagship graphics cards at high efficiency. This new PSU is aimed at the enthusiast market and is triple certified; Intel validated/certified for 'Sandy Bridge', AMD Crossfire and NVIDIA SLI. The flat modular cabling on this power supply made it tricky to write up the system in a permanent manner as there are only four modular cables branches to the power supply like older Antec Smart power supplies. For the purposes of connecting two large Graphics cards with 80+ GOLD efficiency at a low price, this is a good buy coming out significantly cheaper than other Gold rated Power supplies. Two 8pin EPS power connectors are available for those who have an enthusiast motherboard that can take two plugs. This feature is not available on other power supplies at similar price points, less than A$ 150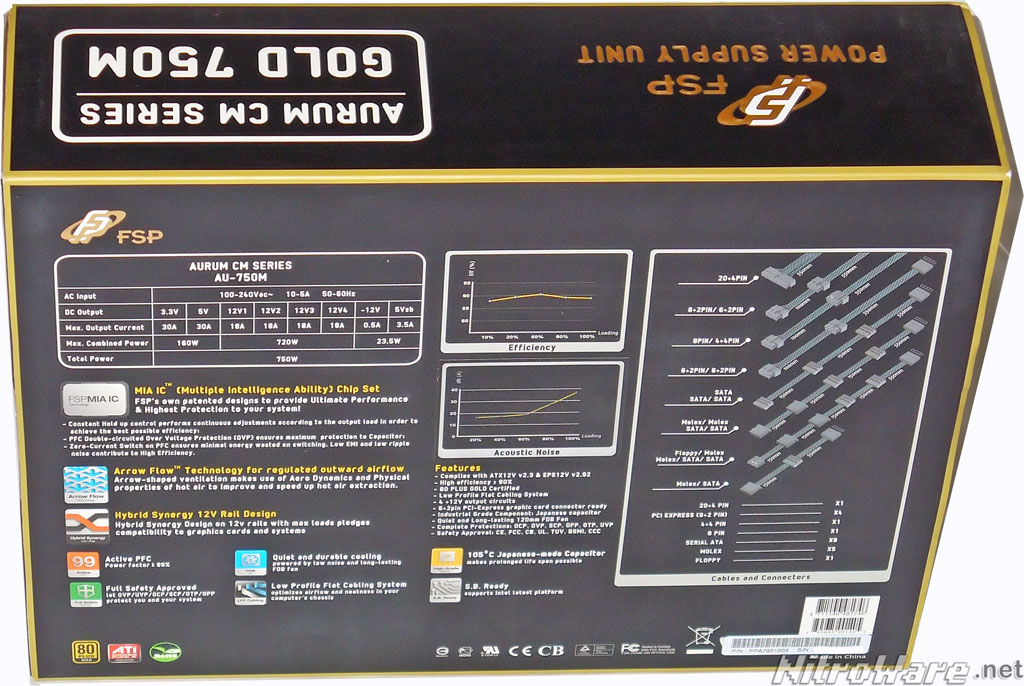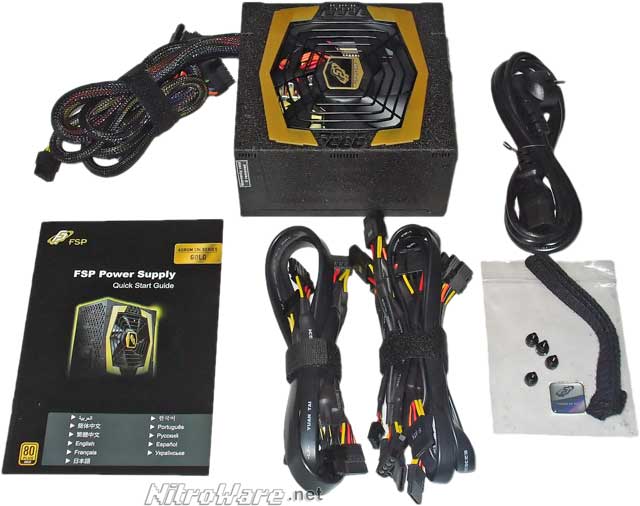 Cooling
APU FM1 platform: cooling we used Arctic Cooling's Freezer 7 Pro v2 air cooler for testing convenience which to be honest is overkill for the AMD APU as it is designed for 130W TDP CPUs.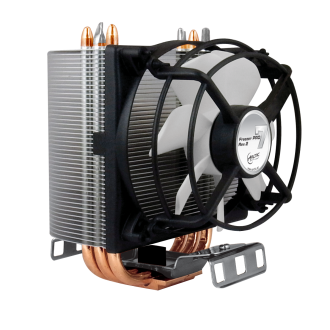 FX AM3 platform: we used the AMD FX liquid cooler, which is intended to be bundled with certain versions of AMD's flagship FX-8150 CPU. This made for AMD version of Asetek's dual fan 120MM liquid cooler features a variable colour LED in the pump cap and fan control/monitoring via USB.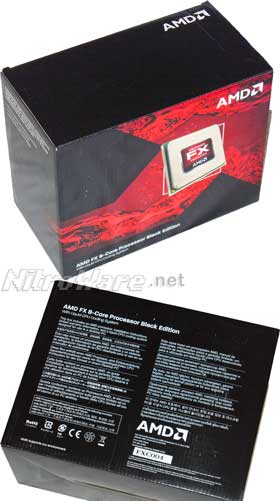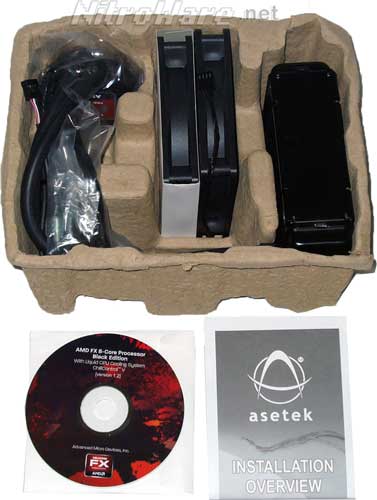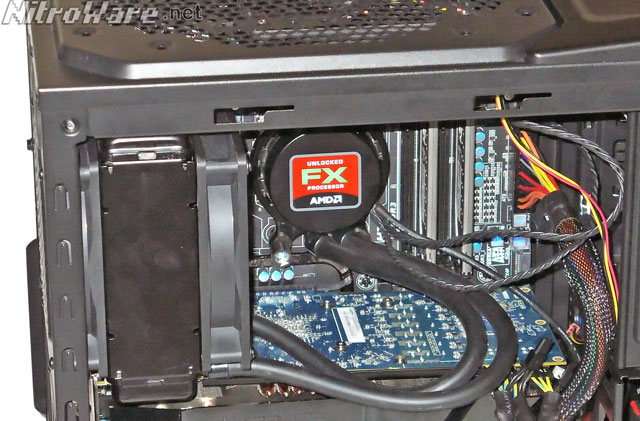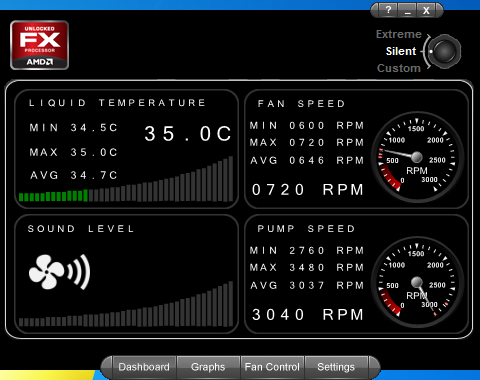 Storage
For storage again went with the performance motif by using Kingston's HyperX SSD 120GB instead of a mechanical hard disk. 120GB is just large enough for a complement of games
All our systems would boot to desktop using this SSD within ~15 seconds. Connecting an external HDD will slow this down significantly.
We experienced no stability issues with the HyperX drive combined with any of the three new motherboards we tested. The SSD was running the latest version 332 firmware that corrects some Blue screen issues with the Sandforce SF-2281 Controller chip.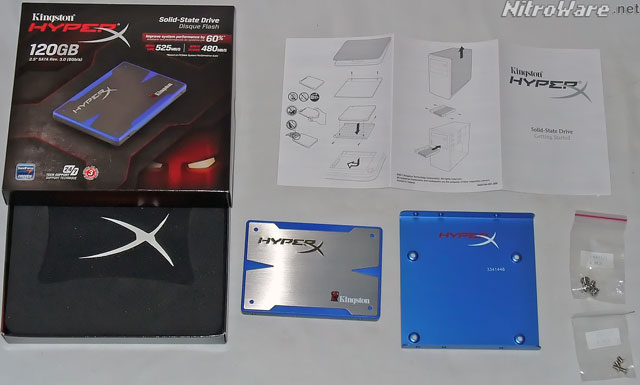 Test Specifications
Hardware
Processor

AMD A6-3650 APU Quad Core 2.6GHz

AMD FX-6100 Black Edition Six-Core 3.3GHz

Motherboard

Gigabyte A75M-UD2H, BIOS version F5

Gigabyte 990FXA-UD7, BIOS version F8a

Memory

4 GB - 2x 2GB Kingston HyperX Genesis DDR3-2133 CL9 @ DDR3-1866 CL9

Cooling

Arctic Cooling Freezer 7 Pro v2. Heat sink-Fan

AMD FX Liquid Cooling Solution

Graphics

AMD HD7950 3GB – Sapphire Radeon HD7950 OC Edition @ 900/1250MHz.
Video Bios Version 015.13.000.010.000705

Hard Disk Drive

KINGSTON HyperX SH100S3120G 120GB SATA 6Gbit/s Solid State Drive

Optical Drive

None

Case

Cooler Master CM STORM Enforcer Mid Tower

Power

FSP 'Aurum Series' AU-750M 750 Watts Power Supply

Display

DELL Ultrasharp U2412M 24" LED backlit LCD Monitor

Operating System

MICROSOFT Windows 7 Ultimate Service Pack 1 64bit with latest updates as of Mar 2012 + AMD Bulldozer Hotfixes KB2645594 and KB2646060

Graphics Driver

AMD HD7900 'RC11' Driver 8.921.2

Storage Driver

AMD SATA 1.2.1.321
Processor

Intel 2nd Generation Core i7-3960X 3.3GHz Six-Core

Motherboard

INTEL Extreme Series Desktop Board DX79SI
SIX7910J.86A.0380.2011.1128.1456 BIOS

Memory

8 GB - 4x 2GB GEIL Value RAM DDR3-1333 CL9

Cooling

INTEL ATS1000 Liquid Cooling Solution

Graphics

AMD HD7970 3GB - AMD Radeon HD7970 Reference Card @ 925/1375MHz.
Video Bios Version 015.12.000.004

Hard Disk Drive

KINGSTON HyperX SH100S3120G 120GB SATA 6Gbit/s Solid State Drive

Optical Drive

None

Case

ANTEC P280 Performance Medium Tower

Power

ANTEC HCP-850 High Current Pro 850 Watts Power Supply

Display

DELL Ultrasharp U2412M 24" LED backlit LCD Monitor

Operating System

MICROSOFT Windows 7 Ultimate Service Pack 1 64bit. Latest updates as of Feb 2012.

Graphics Driver

AMD HD7970 Press Driver [Based on Catalyst 11.12]

Storage Driver

INTEL Rapid Storage Technology Enterprise 3.0.0.3020
Software
All software was updated to their latest versions at time of test. For games, we list our settings below.
All game, web and professional graphics benchmarks conducted at 1920x1200 resolutions. V-sync was disabled where possible.
Software

Version

Test Settings

Cyberlink MediaEspresso

6.5.2119_41281

Both Hardware Encoding and Decoding Enabled for GPU, disabled for CPU
big_buck_bunny_1080p_h264.mov

Dirt2 / Dirt 3

1.1 / 1.2

1920x1200, Ultra Pre-set, 4x MSAA

Trackmania Nations Forever

2.11.26

1920x1200, VHQ Pre-set, 4x AA 16x AF

HAWX 2

Benchmark v1.04

1920x1200, Maximum details, 4x AA With Tessellation. DirectX11 Mode.

Grand Theft Auto IV

Title Update 7

1920x1200, Maximum details, 16x AFX, Detail distances 50,50,100, Settings Override switch used to launch game

Just Cause 2

Demo 1.0.0.2

1920x1200, Maximum Details on NVIDIA, Maximum Details on AMD, 4x AA, 16x AF.

Deus Ex Human Revolution

1.3.643.1

1920x1200, MLAA, 16x AF, Soft Shadows, High SSAO, High DOF, Triple Buffering, Post Processing, Tessellation

Alien V Predator

Aliens vs. Predator D3D11 Benchmark V1.03

Texture Quality 3, Shadow Quality 3, Anisotropic 16, SSAO 1, Tessellation 1, Advanced Shadows 1, MSAA 4

Lost Planet 2

Benchmark

1920x1200, Maximum Details Including Motion Blur, 4x AA. DirectX 11 Mode.

Resident Evil 5

Benchmark 1.0.0.29

1920x1200, Maximum Details Including Motion Blur, 4x AA. DirectX 10 mode

Street Fighter IV

Benchmark 1.0.0.1

1920x1200, Maximum Details except Ink,4x AA, 16x AF

World In Conflict

Demo 1.0

1920x1200, Maximum Details, 4x AA, 16x AF. DirectX 10 Mode

SPEC viewperf

SPECviewperf 11

1920x1200 , 4x AA
Overall System Performance Benchmarks
Red System – AMD A6-3650 APU and Gigabyte A75M-UD2H Motherboard
Green System – AMD FX-6100 CPU and Gigabyte 990FXA-UD7 Motherboard
Blue System – Intel Core i7-3960X CPU and Intel DX79SI Motherboard
Futuremark's PCMark tests are engineered to represent typical use-case scenarios such as media encoding, graphics, gaming and web browsing.
PCMark vantage is able to make the best use of Bulldozer's design proving very competitive to Intel. The GPU proves more limiting in PCMark 7
PerformanceTest 7 and Geekbench, a cross platform Windows and Mac synthetic CPU benchmark shows how much the 12 thread Intel i7 can run away in some scenarios, 2X. Remember it is more expensive. However, the AMD FX-6100 is able to show 1.5X over the quad core AMD A6.
Larger memory cache plus L3 cache on the AMD FX platform elevates the memory performance on AMD FX however the processor score barely budges. Windows Experience Index is a true benchmark it is not a guesstimate score, the benchmark runs in the background. To see the actual CPU benchmark, the test can be run from the command line.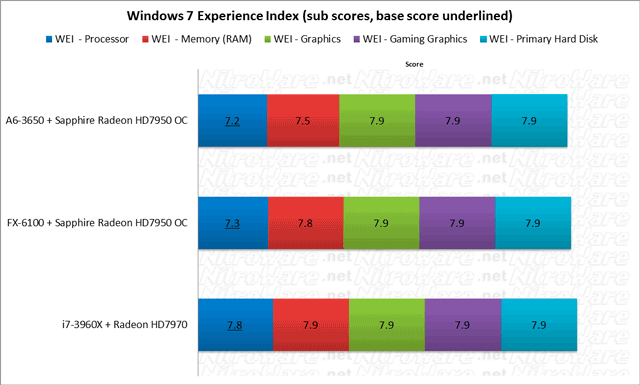 Although we really want to focus on graphics performance scaling in this review, we have included some CPU only benchmarks so we can get an indication or baseline if you will of the platform performance independant of the graphics solution.
These tests represent real-world use cases, software installation are tasks users perform everyday and are depenandant on multiple factors, Multi or Single threaded performance, Memory bandwidth (especially when data is cached), disk system.

The AMD A6 and FX are too closely matched in Acrobat and iTunes installation, so close that a typical user may not notice the difference between the platforms. It is worth noting these programs use third party installation routines.

Things change when we look at Live Essentials which uses a propertiary Microsoft installation system which unpacks individual installation packages to disk and the software itself comprises of several applications. Multi-threading benefits installation of Live with a large jump from the quad core AMD A6 to both the hex core AMD FX and Intel i7 systems. Intel's hyper threading and massive memory bandwidth using quad channels versus dual for AMD does not as much as cores, 18 seconds between both AMD systems versus 6 seconds between AMD FX and Intel i7.

Price for performance the Intel CPU platform which costs three times as much as the AMD can only deliver a 2X performance boost at best if not a small improvement.
SuperPI is a synthetic benchmark tool used to determine system single threaded performance and system stabilty by calculating Pi to a set number of decimal places. AMD Bulldozer exchanges single threaded performance for multi threaded performance which is the architectures main downside. This is well reported and there is not much more we can say on the matter with Intel being 2.5X as fast in this math calculation task. At three times the price the Intel i7 does deliver a value proposition.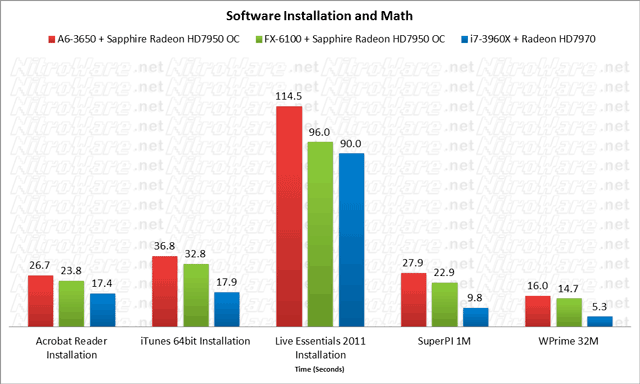 Archiving programs scale well with additional thread counts as shown in our archiving tests. Both 7-Zip and WinRAR include benchmark tests that calculate the archiving throughput possible on a system excluding the disk. We can see healthy gains in throughput performance when we set up the core count between AMD CPUx, 1.5X increase for two extra cores. With six dedicated cores plus hyperthreading and quad channel memory Intel is able to almost double the throughput of the six core AMD FX system.
Things are tighter with the Fritz Chess Benchmark where we see AMD Bulldozer gain 1.25X only over AMD Llano, higher clockspeeds on Llano should be able to close this gap.
Fritz Chess Benchmark is an AI simulation of Chess Software, as with archiving Intel's threading and memory setup nets 2X increase.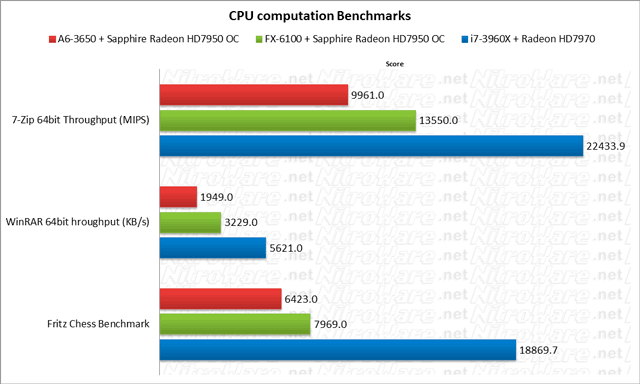 Power and Temperature Benchmarks
Power consumption is where the HD7900 excels and where AMD CPUs are supposed to excel. First off, we note that the HD7950 is setup to be a 225W card maximum – it only needs two 6-pin connectors ensuring compatibility with most gaming hardware made in the last five years. At idle the 7950 and 7970 should behave similar but at maximum load, the 7970 will draw more power
When we consider the CPUs, all three support the C6 power state, which allows for core slowdown and shutdown.
The AMD A6 APU has a 100W TDP however; we disabled the integrated graphics resulting in what can be estimated to be between 75-80 watts for the CPU and Integrated Northbridge alone. Idle speed is 800MHz
The 95-watt AMD FX-6100 system is at a slight power disadvantage, as its motherboard chipset is comprised of two chips whereas the AMD A6 and Intel i7 use a single piece chipset.
The FX series is set to idle at 1400MHz while The Intel i7 has a 130W TDP and idles at 1200MHz.
We also note that the Red system was using air cooling for the CPU while the green and blue used liquid cooling with only the front intake fan for the case enabled.
The large delta for our Intel Blue system is due to the two GeForce 'Fermi' GTX460 cards used versus our single HD7950OC graphics card.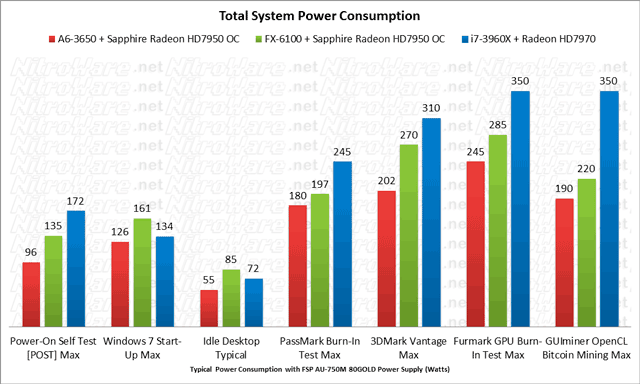 GPU maximum Thermal Dissipation such as 150 W, 225W, 300W are typically set by their vendors using the most demanding application, which in recent years has been Furmark. NVIDIA has said on record it sets its GPU TDP using Furmark however AMD has not, despite this, many reviews use Furmark as do we.
We also ran Bitcoin mining overnight as a heat soak and stability test and GPU temperate did not rise above mid 60s
The reference HD7970 we previously tested ran hotter under load however, that has a different design cooler, more cores and higher clocks.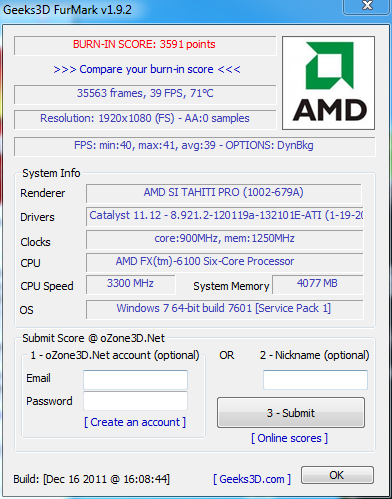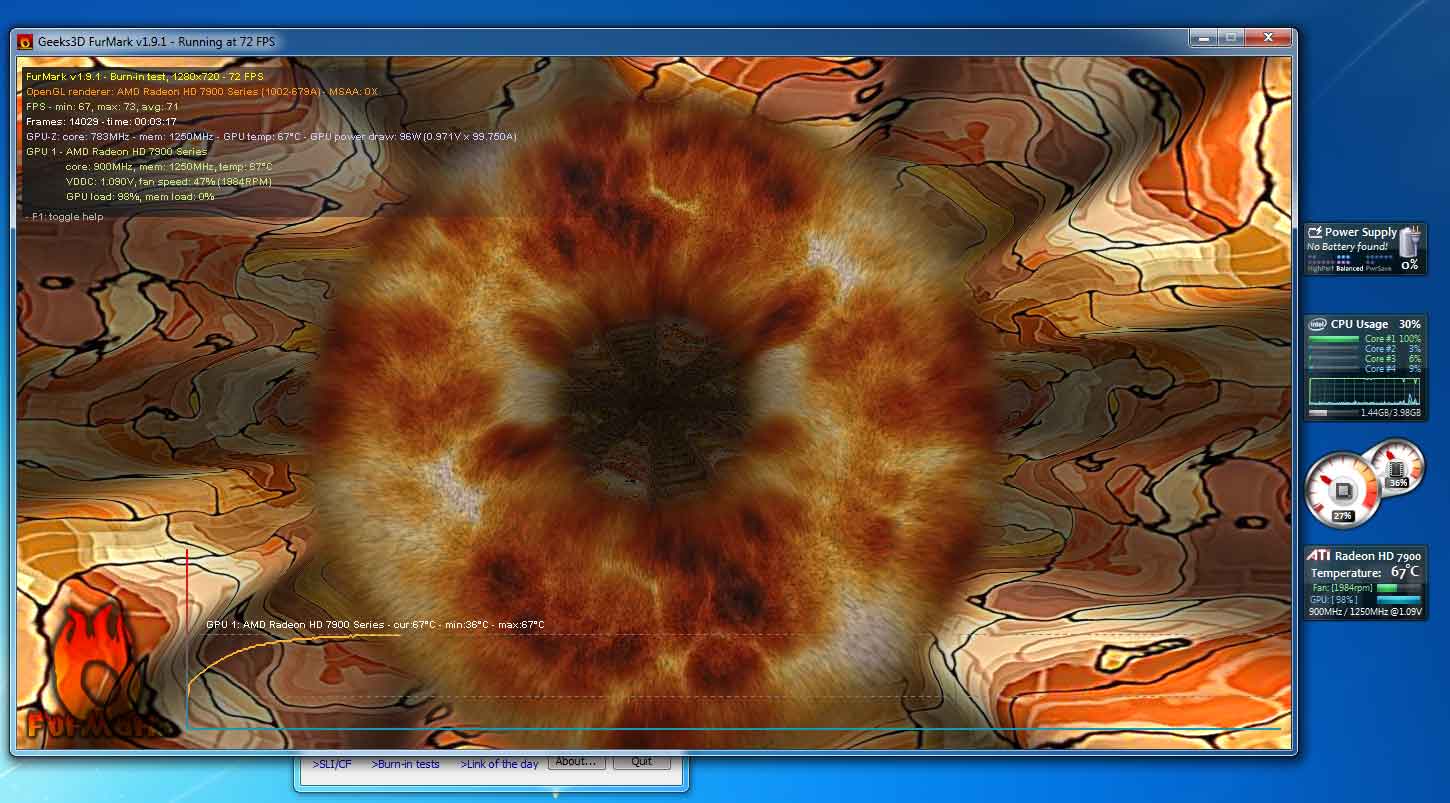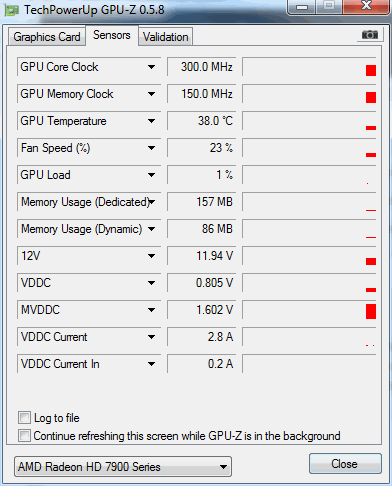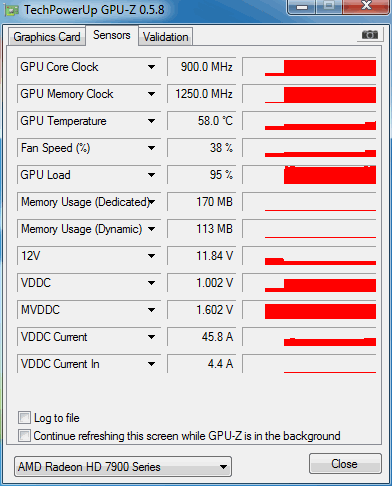 Zerocore was tested for correct functionality with both fans stopping when the 7950 entered long idle state.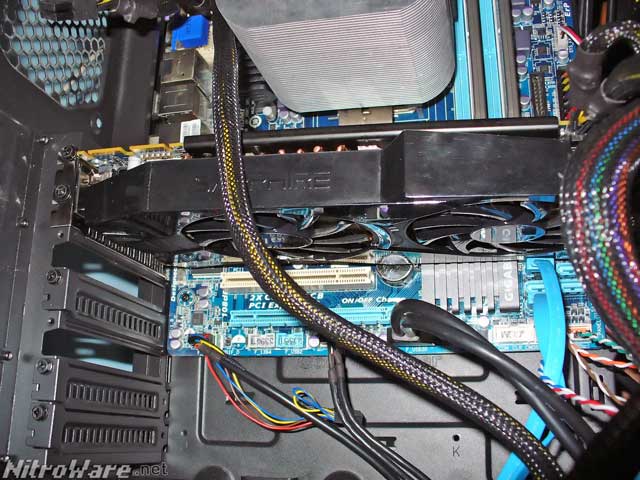 Video Acceleration Benchmarks
The state of video acceleration is unchanged from our previous HD7970 review. AMD's VCE technology is still unsupported as of the second driver drop for the HD7900 series. We speculate that the third or fourth driver drops should enable VCE. When this happens, expect a flurry of marketing and press publicity. Strangely, the 7950 still delivers excellent results in Windows Movie Maker compared to the integrated graphics in the AMD A6 APU that we tested previously.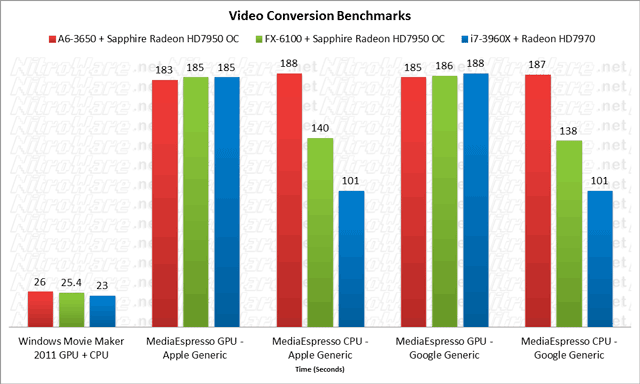 Since we are covering CPU scaling as a secondary angle in this story, we have run the CPU only video encoding tasks. The results are this simple. Intel is twice as fast as AMD for CPU-only video encoding; however the i7-3960X is ten times the price. Compared to the AMD A6 APU, the FX-6100 does not deliver a significant increase in performance.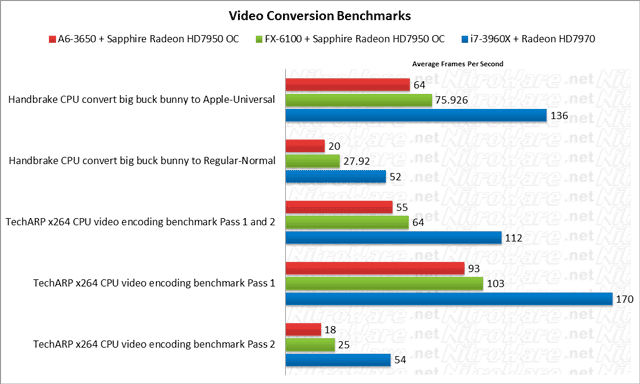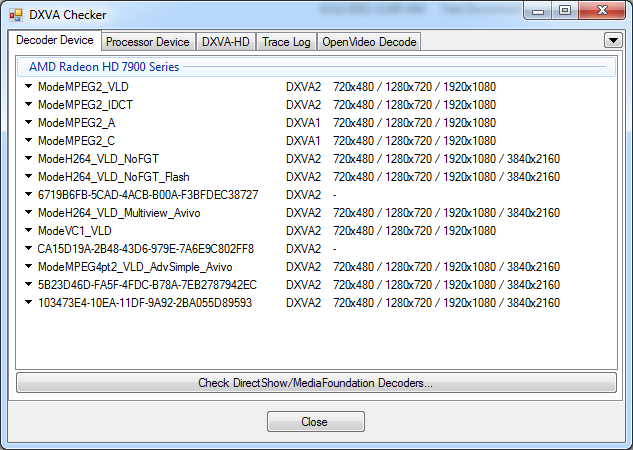 GPU Computing Benchmarks
HD7950 varies from HD7970 by its clock speeds and core count. Other aspects are unchanged including ROPs. 1792 cores for 7950 and 2048 cores for 7970.
In terms of raw graphics throughput this results in little theoretical difference 28.8Gpixel/s for Sapphire 7950 OC edition versus 29.6 for Reference 7970 in Pixel fill rate and 100.8 Gtexel/s versus 118.4 Gtxel/s for Texture fill rate.
Where the added cores come into play is compute functions such as graphics shaders or GPU computing.
No surprises with our synthetic GPU computing testing however CPU.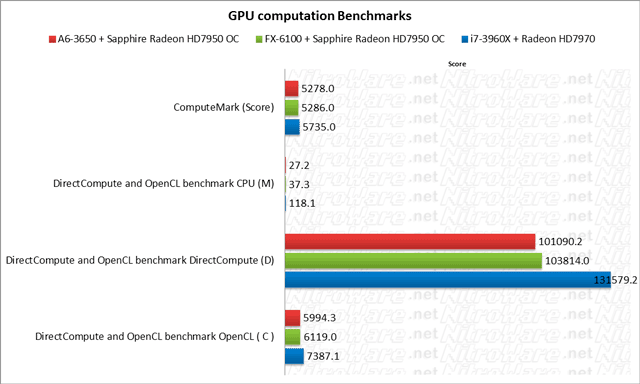 Unlike our launch review for HD7970 where software support was non-existent, we now have GPU computing applications working on the Graphics Core Next Architecture. To bench-test Bitcoin Mining (And the GPUs compute capability) we ran the latest version of cgminer overnight using the default settings, mining as part of a pool. 7950OC is capable of 400Mhash/s is in this configuration. Future software updates, driver tweaks and overclocking can improve this. The temperate of the GPU did not ever rise over 67 degrees and no errors were present.
Bitcoin enthusiasts have told us that the 7970 currently can achieve 550Mhash/s
Two 7950OC cards further overclocked in crossfire should be able to obtain 1000Mhash/s with reasonable power consumption
We emphasis the cited performance was achieved at HD7950 launch time (March) and performance should l have increased since.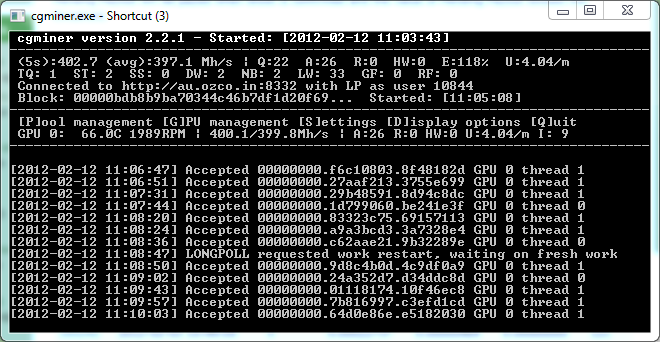 3D Performance Benchmarks
Comparing the delta between the Intel i7 and AMD FX system shows us which Futuremark tests are CPU or GPU oriented.
Driving and Racing Game Benchmarks
In a single monitor full HD scenario, Dirt 2 and 3 run well on moderate systems such as Core2 DUO fitted with an appropriate medium performance gaming graphics card. In benchmark mode, the much more expensive Intel platform gives a worse performance per dollar rating than both AMD systems.
For Trackmania Nations, we have an interesting scenario. Considering average frames per second both AMD systems do not hit the magic desired number of 60 FPS and that is with an overclock version of the HD7950 graphics card. The Intel i7/7970 combo almost achieves double the performance.
Do the AMD platforms offer enough performance for Trackmania? At 5 and 10fps loss, yes they do especially for the low price of the CPU/Motherboard platforms.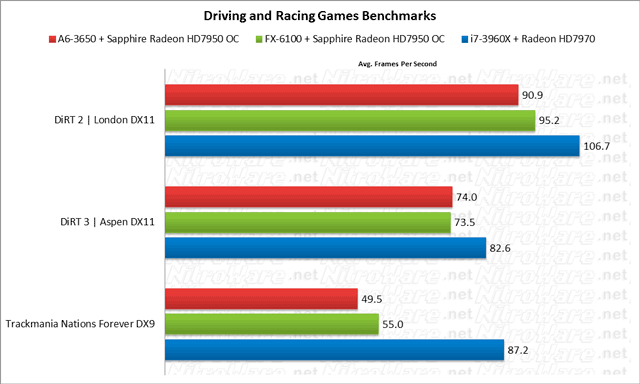 Flight and Open World Game Benchmarks
HAWX 2 is commonly used to demonstrate tessellation performance, with the same GPU and software, the FX 6100 platform offers a 10FPS increase yet the A6 and FX-6100 are similarly priced.
GTA4 is a CPU and GPU frame buffer heavy title that is heavily multithreaded to take advantage of game console hardware. As it is an older console port title DirectX 9 title the windows port it is not very optimised for newer hardware. We hit the CPU wall with AMD systems yet the Intel i7 doubles the performance. Hyper threading helps in this title.
Things are not as dire with the Vista/Windows 7 only Just Cause 2 Demo Benchmark with steps of 10FPS and 20FPS between each platform. All three platforms deliver sufficient average frames per second however; both AMD systems still deliver the best performance per dollar.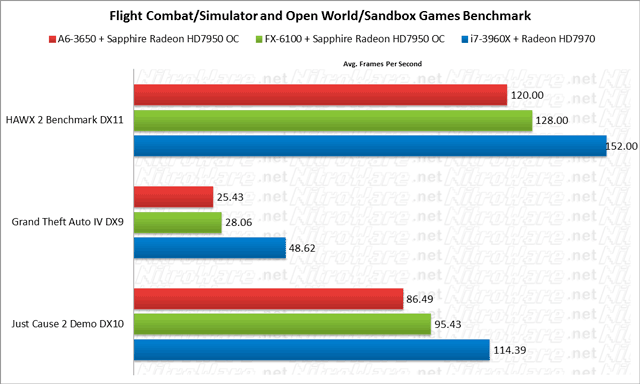 First Person Game Benchmarks
Both Deus Ex: Human Revolution and Alien Versus Predator make up our standard test suite however; both are AMD Gaming Evolved logoed titles, meaning they are much optimised for both AMD CPUs and AMD GPUs.
Both titles tend to be GPU limited as well as evident with our benchmark scores. The Intel i7's higher IPC and multithreading is able to deliver more performance from Deux Ex however for AvP the GPU proves our limitation as we are only using one card.
Note that these results were obtained using early drivers and performance may have changed since our tests.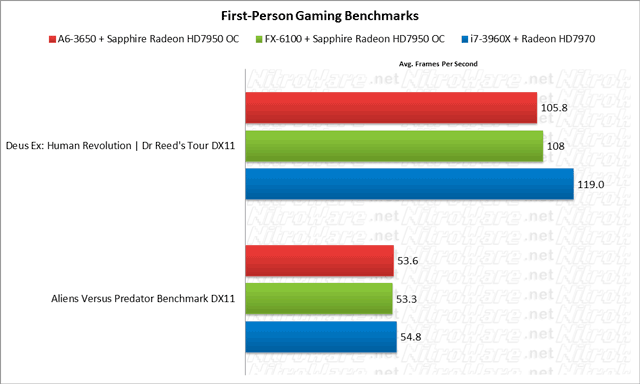 Third Person Game Benchmarks
Lost Planet 2 and Resident Evil 5 use different versions of the same game technology and demonstrate Intel i7 is able to deliver up to 1.5x the performance in CPU bound scenarios at $999 it still does not deliver a compelling performance per dollar metric despite achieve move than 2x in the Resident Evil 5 Fixed Test. The Fixed test demonstrates the raw performance rendering a fixed scene, real gameplay that is quite variable hence the Variable test which shows a more reasonable result for the AMD systems.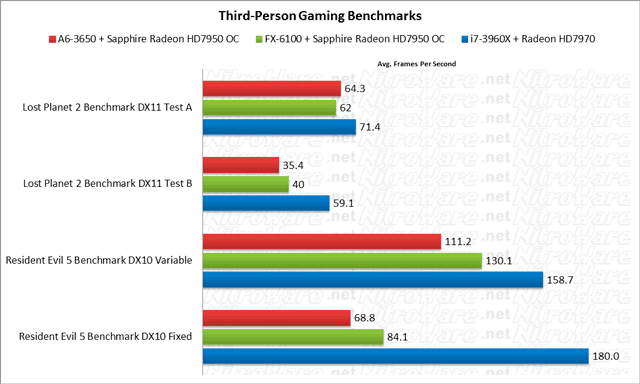 Arcade and Strategy Game Benchmarks
Street Fighter IV benchmark is still used by many reviews however hated by some users for being an old or irrelevant benchmark based on the fact the original Street Fighter IV cabinet used what is now seen as old or weak hardware.
As a fast action game where performance is critical, all platforms deliver the necessary performance.
This benchmark does not deliver arcade quality performance on older, entry level or integrated graphics
World in Conflict's benchmark is very dynamic, while 49 or 56 FPS might sound 'good enough' for this title when there is a heavy battle such as in the benchmark the FPS will drop considerably yet will shoot up in the less demanding portions of the test such as bomber flyovers.
The significantly higher Intel i7 score does mean we will have a much smoother gameplay experience across a number of different scenarios in this game however again Intel has the worst Performance per Dollar with its $999 CPU and $300 Motherboard.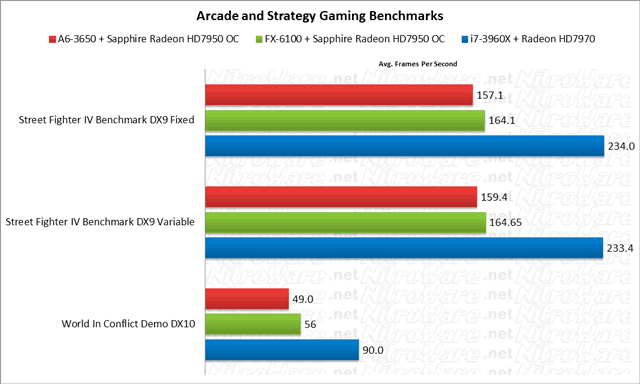 HTML5 and Visual Web Performance Benchmarks
The graphics in our HTML/Web benchmarks are GPU accelerated however, the CPU and subsystems still plays a key part in the web browsing experience.
Futuremark Peacekeeper is an overall web browser benchmark and since both AMD systems tested used the same GPU both deliver he same result within margin of error, the CPU is the bottleneck.
WebVizBench is a visually rich web benchmark and this is where we can see differences in the platforms. The superior AMD FX CPU crawls ahead of the AMD A6 but with a higher base clock speed would have delivered a much more competitive result against Intel.
At three times the price of the AMD platform, the Intel platform should deliver higher performance in these tests; it does not even achieve 2X.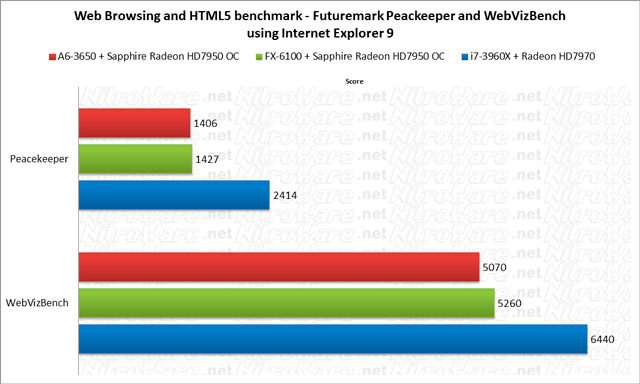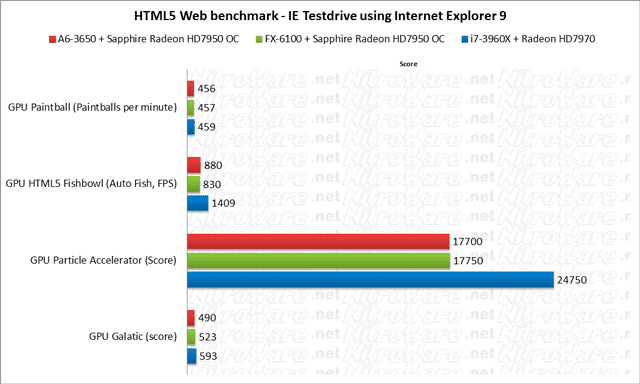 Professional Graphics Benchmarks
SPEC viewperf 11 and Cinebench R11.5
SPECviewperf is a sampling of professional 3D Modelling and engineering software, which typically are validated for workstations using high end CPU and Professional editions gaming GPU
The most well-known of these applications are CATIA, Lightwave, Maya and SolidWorks.
CATIA and MAYA dos not run away on the Intel system yet SolidWorks does showing it can take more advantage of the I7's better processing capacity and 12 threads.
Note that the AMD A6 has a higher score, although within margin of error the A6's CPU is based on the Phenom II architecture, which has a higher IPC than the newer Bulldozer architecture, which depends on a higher clock speed to allow its architecture to deliver performance gains.
As we mentioned prior, the low base clock of 3.3GHz is the FX-6100's main problem.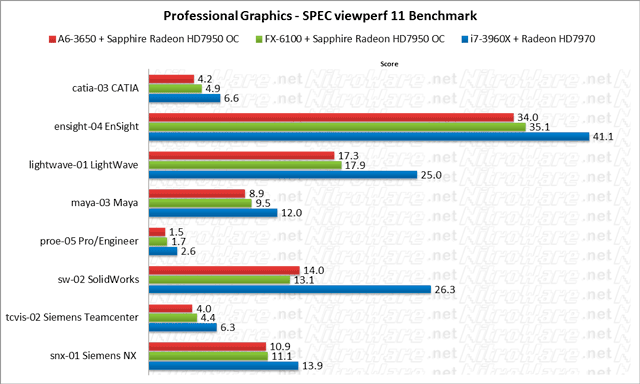 Cinebench contains two modes, a multi-threaded CPU benchmark which scales linearly with the addition of CPU cores as well as an OpenGL graphics test of a fixed scene.
The first score is our multi-core scores with the second the single core score. A multiplier represents the performance scaling a particular CPU's multithreading setup achieves.
The Quad core AMD A6 delivers almost a 4X speedup in multi core mode, almost 100% efficient.
The Three module, six core AMD FX-6100 delivers 4.23, which depending on how you consider the CPU architecture. From a broad view, this is a disappointing score. Additionally the benchmark is not fully optimised for this CPU.
The six core, twelve thread Intel i7-3960x delivers a 6.76x speedup over a single core, like the AMD A6 a near 100% efficient score. Hyper threading on Intel CPUs uses the existing CPU pipelines in a two-stage manner to process additional threads, on particular CPUs the Hyper threading feature delivers a free speedup but this is software dependant.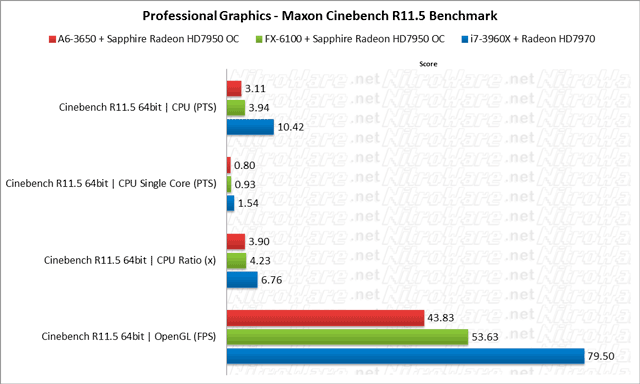 Photoshop CS5
Photoshop CS5 is GPU accelerated for texture manipulation and rendering however, the image filters themselves are still CPU bound. The quicker the test finishes the better.
In the heavily multithreaded and optimised Adobe Creative Suite things look much better for the AMD FX-6100 and all three CPUs exhibit a linear performance delta between them.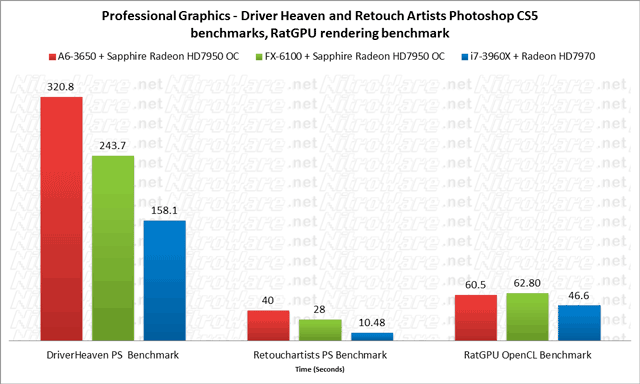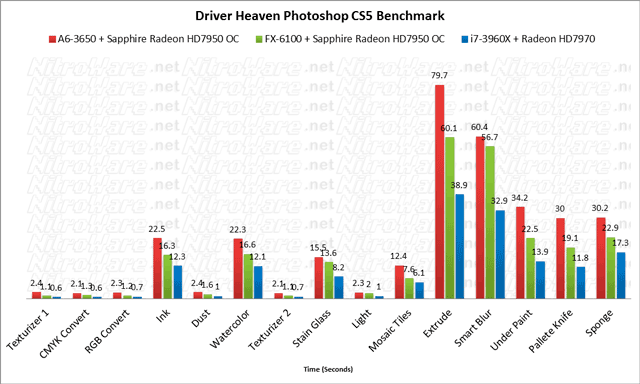 Conclusion
Street prices were taken on Week 4, May 2012 from staticice.com.au, based on the lowest price
Availability is based on static ice and channel distribution.
| Part | Lowest Street Price |
| --- | --- |
| AMD A6-3650 APU | 132 |
| AMD FX-6100 CPU | 139 |
| AMD Radeon HD7970 graphics card | 498 |
| Antec P280 chassis | 129 |
| Arctic Cooling Freezer 7 Pro v2 Heat Sink | 30 |
| Coolermaster CM STORM Enforcer Chassis | 91 |
| FSP AU-750M Power Supply | 135 |
| Gigabyte 990FXA-UD7 Motherboard | 254 |
| Gigabyte A75M-UD2H Motherboard | 109 |
| Intel DX79SI Motherboard | 305 |
| Intel i7-3960X CPU | 999 |
| Kingston 8GB DDR3-2133 C11 Memory | 99 |
| Kingston 120GB HyperX SSD | 175 |
| Sapphire Radeon HD7950OC graphics card | 469 |
The AMD FX Liquid Cooler is a region specific product. There are clones with better availability such as the Antec Kulher 920 or others
Newer products have superseded the Artic Cooling Heat sink and Kingston 4 GB 2133 C9 Memory Kit
Verdict
Although we did not test the HD7950 in the Intel i7 extreme/X79 platform, for GPU-limited and GPU computing tasks the Sapphire HD7950 delivered excellent performance for its price point compared to the price/performance compared to the more expensive HD7970 flagship card.
The only issues with this particular Sapphire HD7950OC card is the fan shroud might conflict with some chassis as the shroud is larger than the actual card. The shroud also blocks one of the two crossfire connectors.
The cards length (280mm) and power requirements (two 6-pin connector) mean that it is useable in a wider variety of the systems than the HD7970.
The aftermarket cooling solution ran quietly and did not spin up excessively during our testing. At very high loads, the graphics card did not exceed 67c for an extended test period.
The extensive bundle easies multi monitor setup considerably although I would have liked to see a 2-metre DisplayPort cable included and perhaps a longer HDMI cable instead of the 1.8m cable.
For around A $500, an included game would have been nice even if it were one of the existing AMD GAME channel/vendor promotional titles such as Deus Ex, Dirt 3, and Dragon Age II.
Since the HD7950 was released, AMD announced a triple pack of games Dirt Showdown, Nexuiz and Deus Ex: Human Revolution with DLC as a sweetener to convince end users to choose an AMD Radeon card over the similarly priced NVIDIA GeForce 600 series cards. We are confirming which specific cards are eligible with AMD and will update accordingly
Pricing was an issue with the HD79,78 and 77 series cards due to initial shipments and availability, however since we tested the HD7950 at launch in March prices and availability have settled and increased especially in light of new competition from NVIDIA
This pricing of the HD7950 also makes crossfire economical for those who run multi monitors – the extra performance can be made use of in Eyefinity. HD7970 is still only for the upper 10% who have large monitors in Eyefinity or who want to crank the AA settings to max, which is not necessary at higher resolutions.
I was a little sceptical of this Sapphire card at first due to its non-reference design. This card might not be the best solution for Crossfire users with adjacent graphics slots (such as Intel Desktop Board DX79SI) due to the airflow of the non-reference cooler
The HD7950 is a more sensible choice for money conscious majority gamers and enthusiasts than the HD7970. Performance improvements and the VCE technology to be enabled in future drivers enhancing the value for money.
Some applications in our standard test suite exhibit a 2X performance increase on Intel's flagship platform versus AMD mid enthusiast or mainstream hardware.
We have established the performance of the HD 7950/70 with different CPUs but which CPU is best suited to the HD7950?
At time of testing, out of the three platforms in our test the Intel X79 platform was the best match for HD7900 as it was able to extract the most performance from the GPU with our test setup.
If you cannot afford that setup, the delta between Intel and AMD for software that is GPU limited is not significant enough to justify the 10x price increase. Cheaper Intel systems such as the i7-3820 or 2600K/3770K will be choices that are more reasonable than the 3960X which is intended for extreme end of the market.
If you NEED application performance and cost is not as much a priority, the Intel platforms offer the best performance at the cost of value.
If you are an enthusiast and you want to push a cheaper, more value for money platform, AMD's FX series are unlocked and can be safely overclocked. There are limitations to both AMD Products regarding their single threaded performance and performance scaling for the clock speeds they run at but these aspects have been covered in-depth in many reviews.
A much more interesting test would have been to run the new i7-3820 against the two AMD CPUs we tested with a 7950 also but this was not possible in time for our evaluation. The gap would certainly have narrowed.
The AMD platforms tested deliver only enough performance to drive the HD7950 in our standard test suite and we have not even begun to scratch the surface concerning other usage scenarios with these systems or overclocking
If you are not going to be satisfied unless you have the absolute bleeding edge performance you are going to need the Intel X79 system and that is what works best with the HD7900.
Would I buy or recommend this product myself? Despite minor design aspects that could be improved the card is a shorter, less power hungry alternative to the HD7970 with a quiet running fan so the answer is a YES.
Further Reading
http://www.tweaktown.com/reviews/4540/amd_radeon_hd_7950_3gb_video_card_overclocked/index.html
http://www.tweaktown.com/reviews/4543/sapphire_radeon_hd_7950_3gb_oc_video_card_in_crossfire/index.html
http://www.hardwaresecrets.com/article/AMD-Radeon-HD-7950-Video-Card-Review/1479
http://www.eteknix.com/reviews/graphics/sapphire-radeon-hd-7950-oc-graphics-card-video-review
http://www.eteknix.com/reviews/graphics/sapphire-radeon-hd-7950-oc-3gb-overclocked-further
http://www.motherboards.org/review/sapphire-amd-hd-7950-oc-video-card-review
http://www.tweaktown.com/reviews/4610/sapphire_radeon_hd_7950_3gb_video_card_tested_with_catalyst_12_2/index.html