Page 18 of 20
Professional Graphics Benchmarks
SPECviewperf 11 is a suite of professional CAD/CAM/Engineering suites to test performance using real world production applications.
Ideally these applications are supposed to be used on certified professional graphics card such as NVIDIA Quadro and AMD FirePro but budget conscious users or students may use commodity hardware. They are also system intensive tests.

Intel has also been playing with supporting certified apps from Adobe and such industrial applications but we have not anything specific yet at launch time. Intel HD Graphics 4600 would not run the CATIA test; the low score in ensight can be seen as a failure but did admirably in every other test.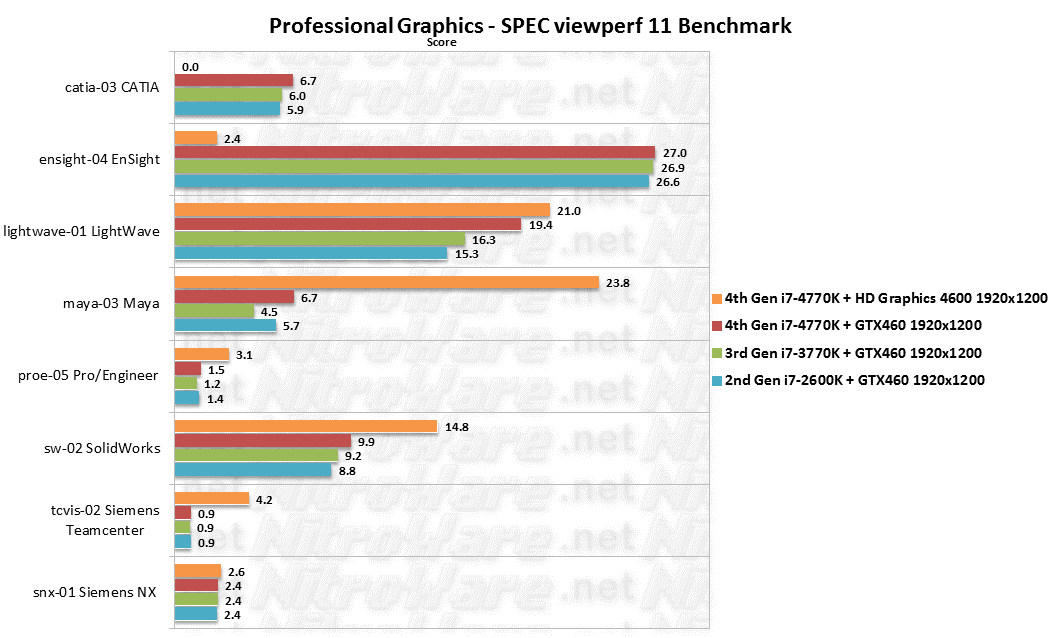 For Photoshop CS 5 we use both Driver Heaven's and Retouch Artists benchmarks as they measure different aspects.
Driverheaven focuses on filters, which in CS5 are CPU bound while Retouch Artists focuses on image manipulation which is more GPU centric, and is a shorter test as well. Shorter tests are more sensitive to Turbo Boost speeds.
Photoshop CS5 uses OpenGL to manipulate the image canvas and speedup operations like scaling, zooming and rotation.
Although within margin of error (DH Photoshop Test is timed by the system not stopwatch), we can't ignore that high clocked Intel Graphics (1.25GHz core) is typical half a second faster in each test, which in total adds up to a 5 second advantage over the GTX460 equipped test.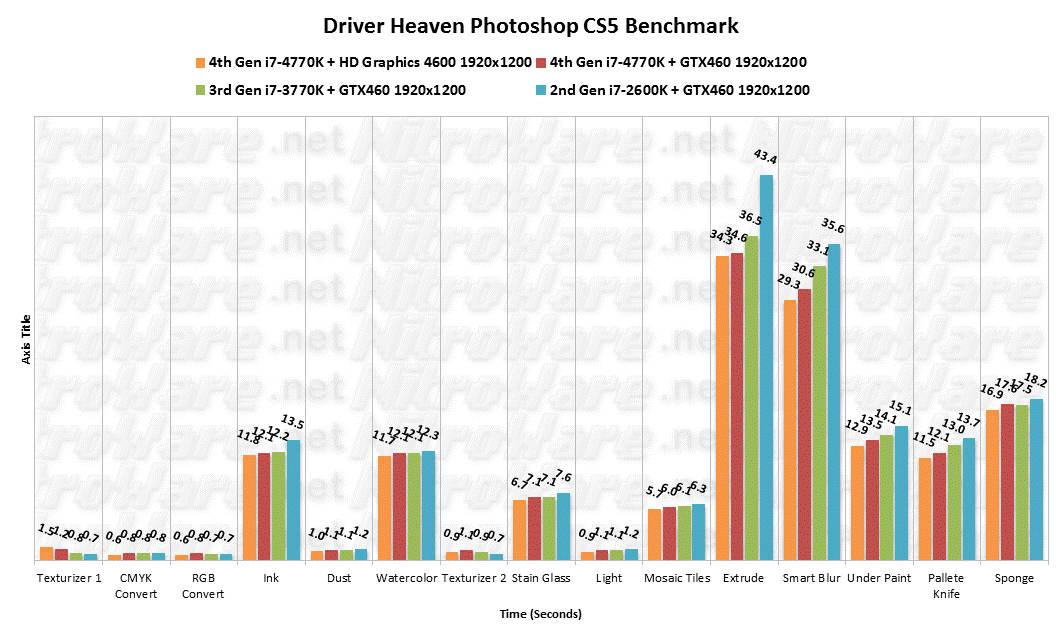 Retouch Artists gives us an impressive 8.5 seconds. When we tested the i7-3960X that system only achieved 10.4 seconds with either SLI GTX460 or HD7970. The fastest time we have seen in this benchmark. 10.1 seconds using the iGPU is equally impressive.
A new addition is GPU accelerated Blender. We run the community BMW M1 Cycles benchmark with and without GPU acceleration. OpenCL support was not ready in time for our review but CUDA support is robust. Haswell delivers an excellent speedup when CPU rendering is used, but the nature of the Intel motherboard we used meant accelerated rendering is slower on Haswell than the ASUS motherboard we used for Ivy Bridge.
RatGPU is an OpenCL rendering benchmark, and as with other tests Intel delivers the typical result.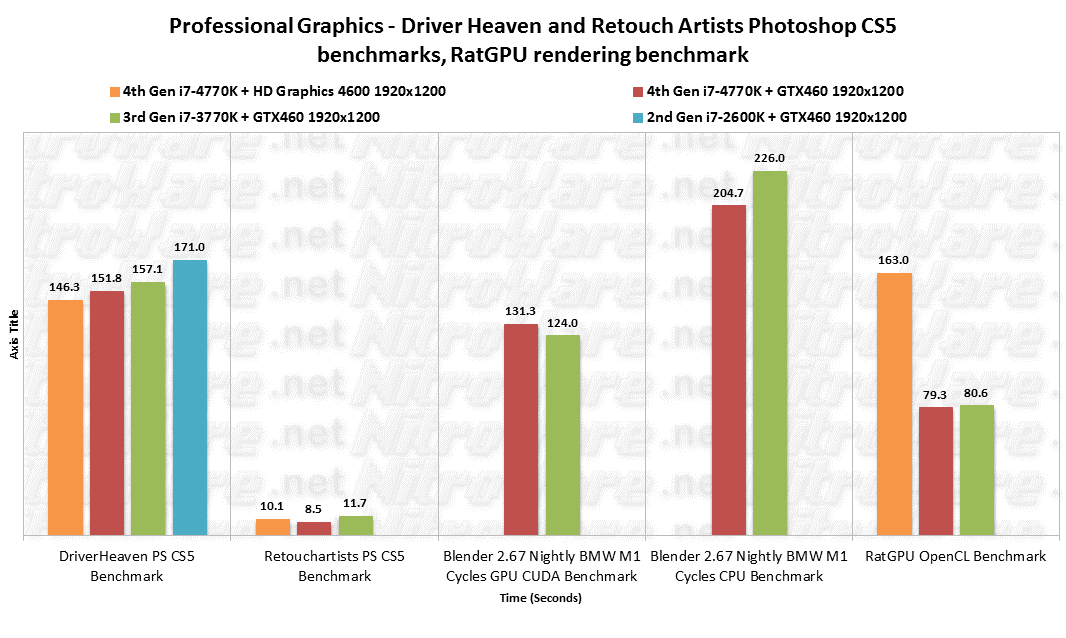 Cinebench 11.5 is an excellent example of single and multithreaded performance.
The multithreaded results have a large caveat. We ran 3770K and 4770K the recommended speed of 3.7 to 3.9GHz rather than the advertised box speed of 3.5GHz. The extra 200MHz for all-core turbo makes a difference in benchmarks like this and narrows the gap to sandy bridge if disabled, however we at least see a noticeable difference generation to generation. We see a smaller increase with single threaded performance.
GPU OpenGL rendering gets a large speedup on Haswell but again the Intel iGPU is only half the speed of the GeForce.