Page 4 of 20
Z87 Chipset and Intel DZ87KLT-75K Desktop Board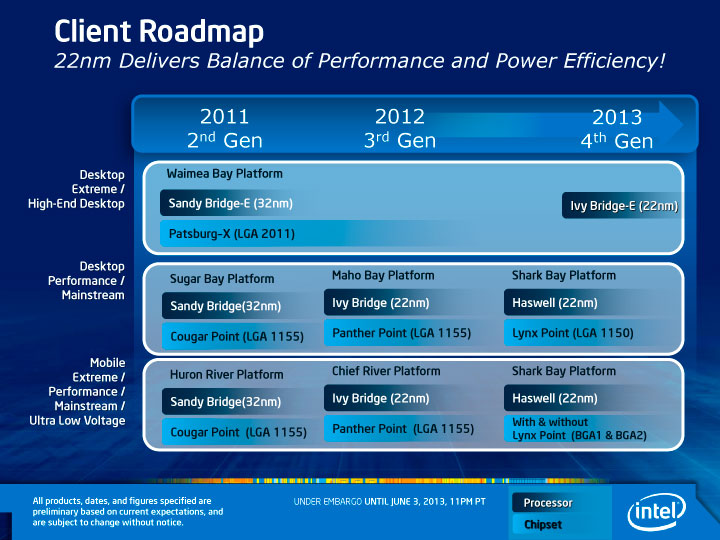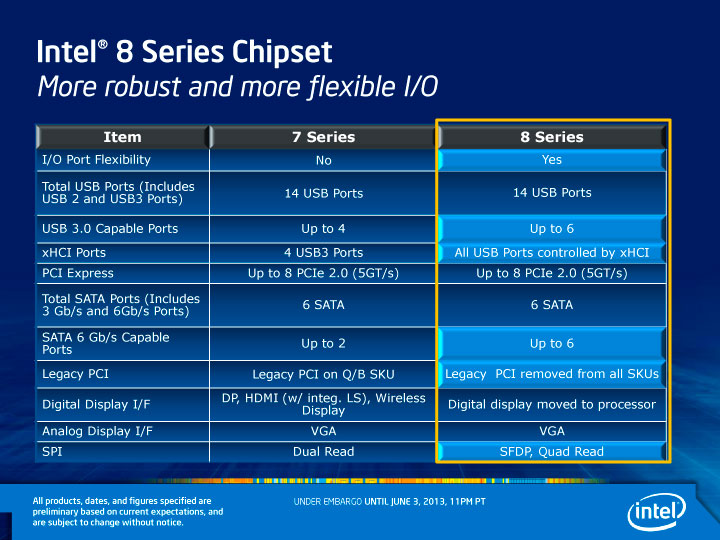 To test the 4770K CPU, the Intel review kit was bundled with a pre-production sample of Intel's "Kinsley" motherboard. This board exposes all of the features of the Z87 "Lynx Point" chipset but Kinsley is not that revolutionary compared to the black and blue Z77 examples from 2012.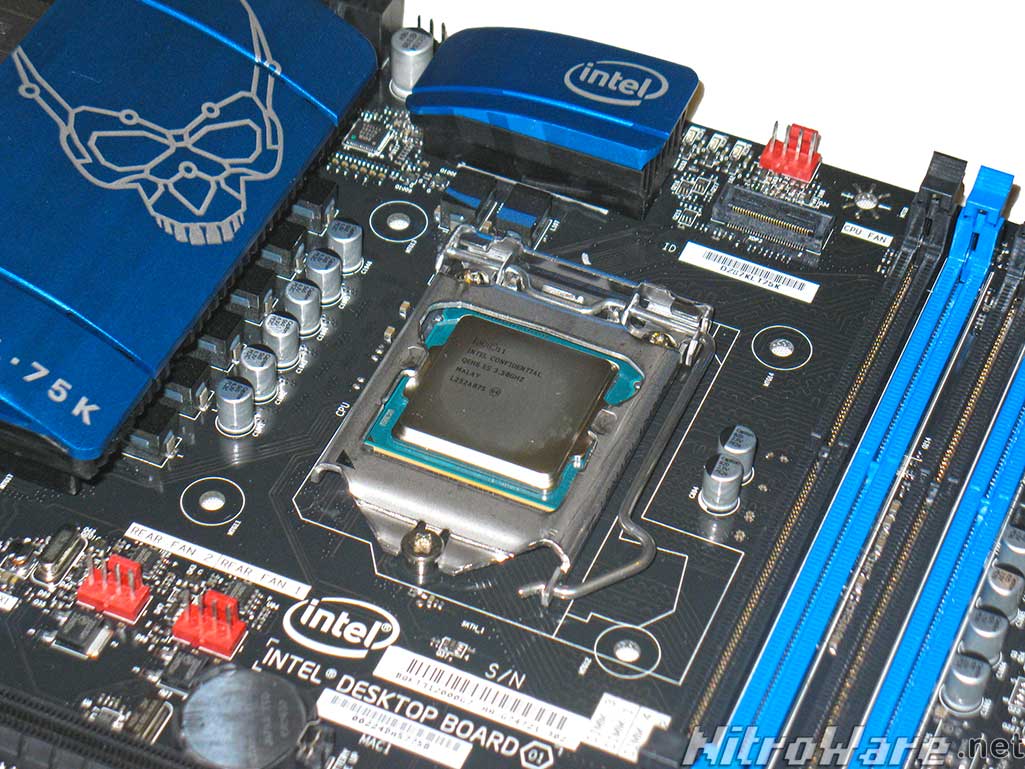 There are four high current charge ports (2 back panel, 2 header) which supply 1A if the data lines of the ports are shutoff completely or only in standby/power off using a BIOS switch
The Z87 provides six USB 3 total plus USB2, all powered by xHCI. On the rear panel, six USB3 ports are provided via two 3-port Genesys USB HUBs. The use of hubs provides flexibility but means total bandwidth is limited.
The Six SATA 6Gbps ports now supported by the chipset like prior chipsets only support one mode, AHCI, RAID or IDE.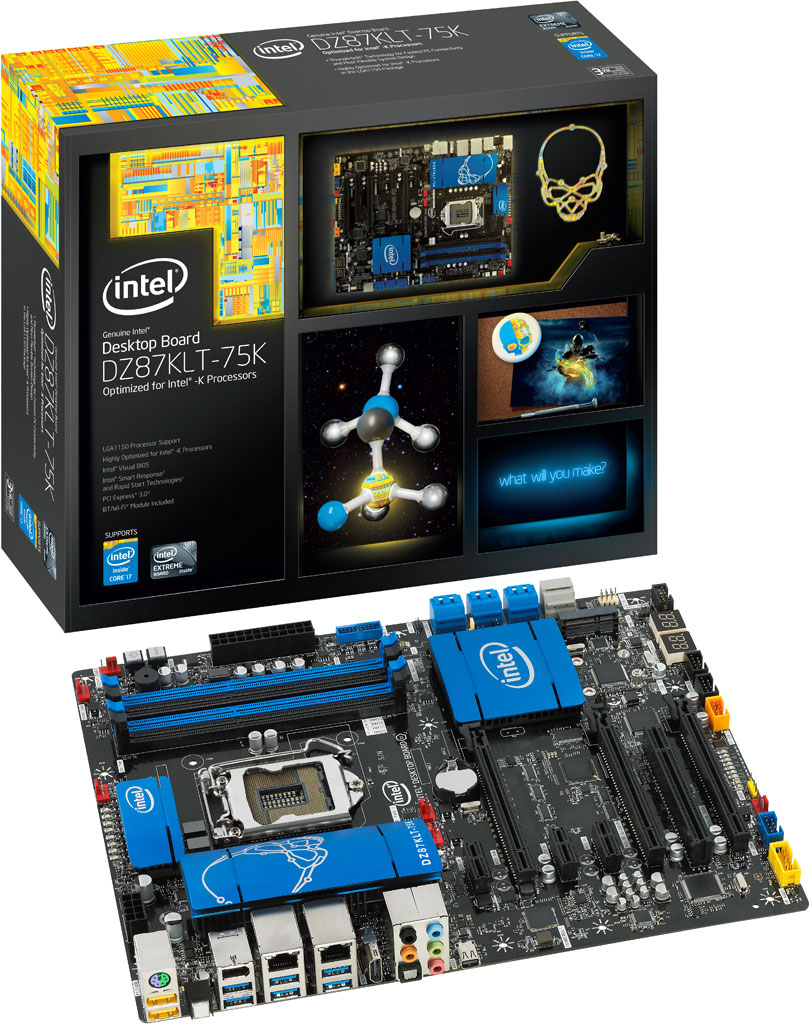 Two further ports with a separate mode selection powered by Marvel make up the 8 ports.
An ASMedia ASM1061 powers the combo mSATA/mPCIE slot. USB 2.0 is supported so 3G, TV Tuner or Bluetooth can be used. Next Generation Form Factor AKA M.2 cards are not supported on Intel's best board yet ASUS support it on select models of their Z87 boards.
Since this an enthusiast oriented motherboard, the only on-board displays out are HDMI and Display Port/Thunderbolt and we expected nothing different.
On-board Thunderbolt is via the older Redwood chipset, meaning the board is Thunderbolt 1.0 only.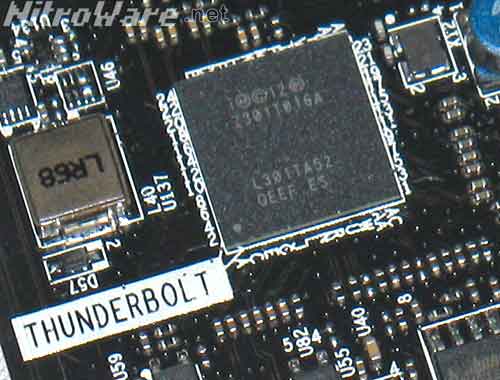 Audio is nothing fancy here, Realtek ALC898 with an ordinary audio layout on the PCB. DTS audio is not supported.
Interestingly a PLX PEX8606 PCI Express switch is provided to provide six additional PCIE 2.0 lanes, all of which are populated. http://www.plxtech.com/products/expresslane/pex8606 a power user can easily run into bottleneck with this motherboard.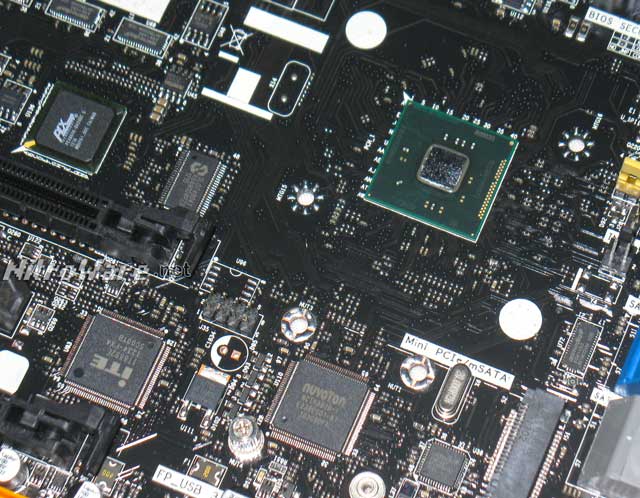 Kinsley's power delivery is quite conservative, as Intel thinks 8 power phases on the 75K board is sufficient for overclockers.