Page 8 of 10
Performance & Benchmarks
Test Specifications
Type
Single LAN
Dual LAN
Processor
Intel Core i7-3770K 3.5GHz (3.7 to 3.9GHz Turbo)
Intel Pentium Dual Core E6300
Motherboard
ASUS P8Z77-V Pro, BIOS 2104
Gigabyte EP45-DS3R
Memory
16 GB - 4x 4GB Corsair Vegenance DDR3-2400 C10
4GB DDR2-800 CL5
System Drive
Kingston HyperX 120GB SSD

Samsung Spinpoint 500GB RAID-0
Hitachi 5K160

Travelstar 2.5" 160GB SATA

Aux Drives
Seagate Barracuda ST3000DM001 3.5" 3TB SATA
Seagate Backup Plus 1TB 2.5" External USB 3.0
Operating System
Microsoft Windows 7 Ultimate 64bi
Microsoft Windows 8.1 Professional 64bit
Latest updates as of Feb 2013.
Microsoft Windows 7 Ultimate 64bit
Microsoft XP Professional SP3
Latest updates as of Feb 2013
Storage Driver
Intel Rapid Storage 12.9
Intel Rapid Storage 12.9
Network
Intel 579V Gigabit, PROset 18
2x Realtek 8111 with Teaming Driver
Intel Pro 1000 MT Dual Port PCI Adapter
Seagate Constellation ES.3
Before looking at multi drive RAID performance, we establish the performance of a single Seagate Constellation ES.3 Drive connected to the ASmedia ASM1061 drive SATA 6Gbps port in Our Intel Core i7 test system. We used AIDA64 to perform a read test only as we did not want to destroy the RAID array as it takes a long time to rebuild in the NAS.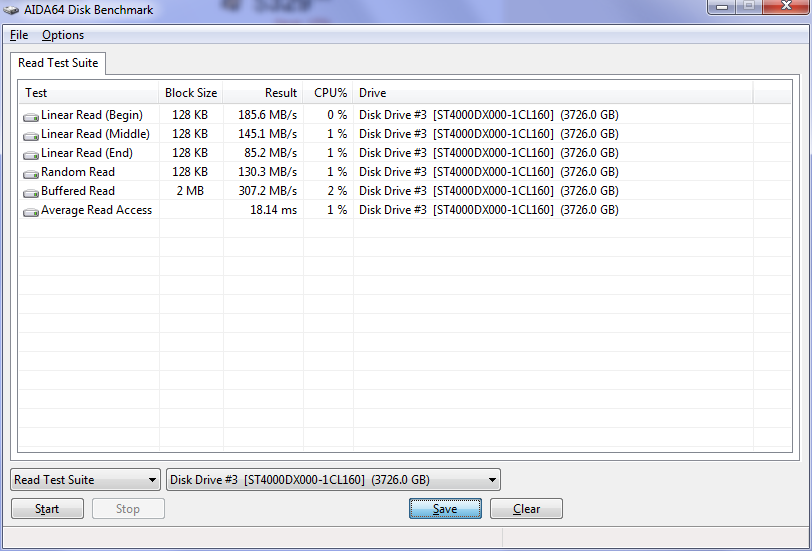 SPAN/JBOD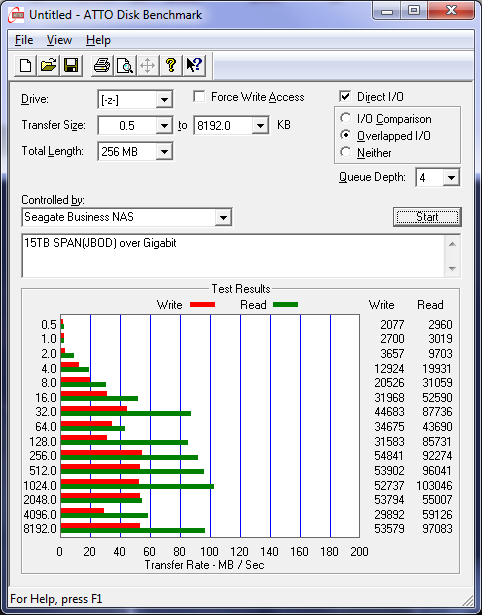 RAID-0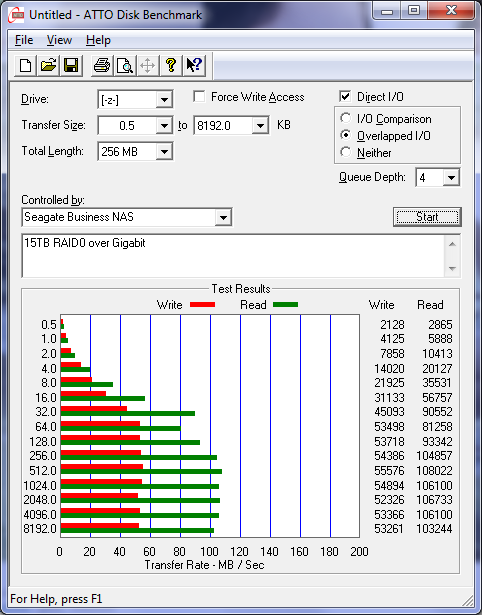 RAID-1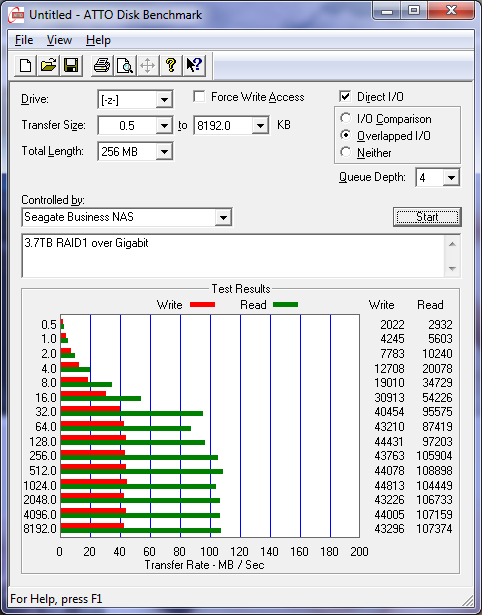 RAID-5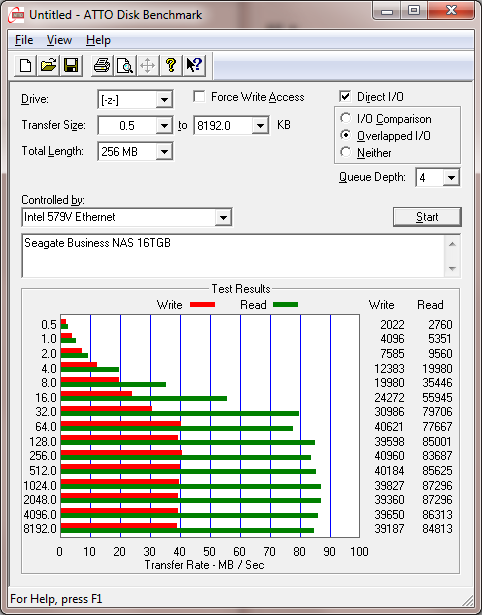 RAID-10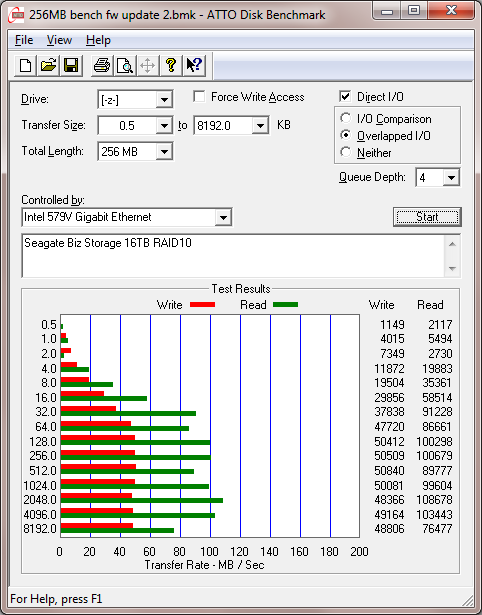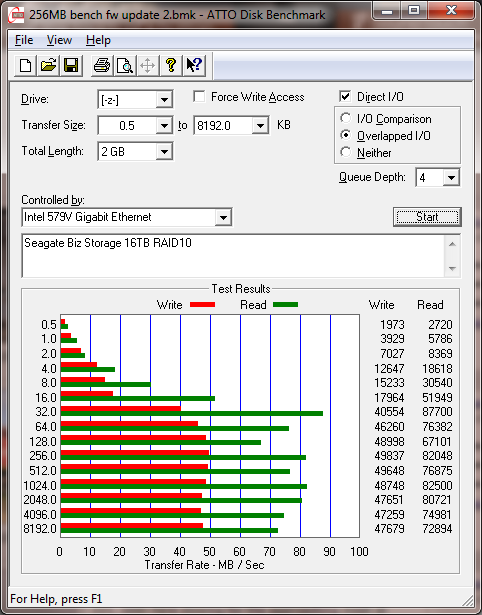 We also forced ATTO to Randomise it's test data, achieving half typical throughput of the Gigabit network connection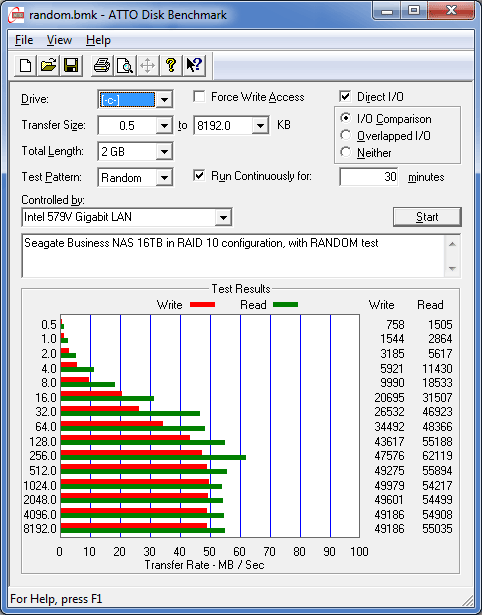 USM (eSATA)
There are two possible use cases here.
A) Backup entire NAS contents (12TB RAID-5) to External Disk B) Backup External Disk to NAS
We went with B as a user/business would want to backup contents of an already used external drive to the redundant array, to free up the external drive and protect its contents.
Also our test drive is known to be fast so any slowdowns will be down to processing power and bottlenecks not the disks themselves.
Our test case for testing the dock for the External USB drive was to take our 90% full, NTFS formatted Seagate Backup Plus 1TB 2.5" External drive and have the NAS copy its contents to its disk array automatically using the built in web ui feature.
On the NAS Dashboard we hit the 'Launch backup' Button, which launches the 'Protect job manager page'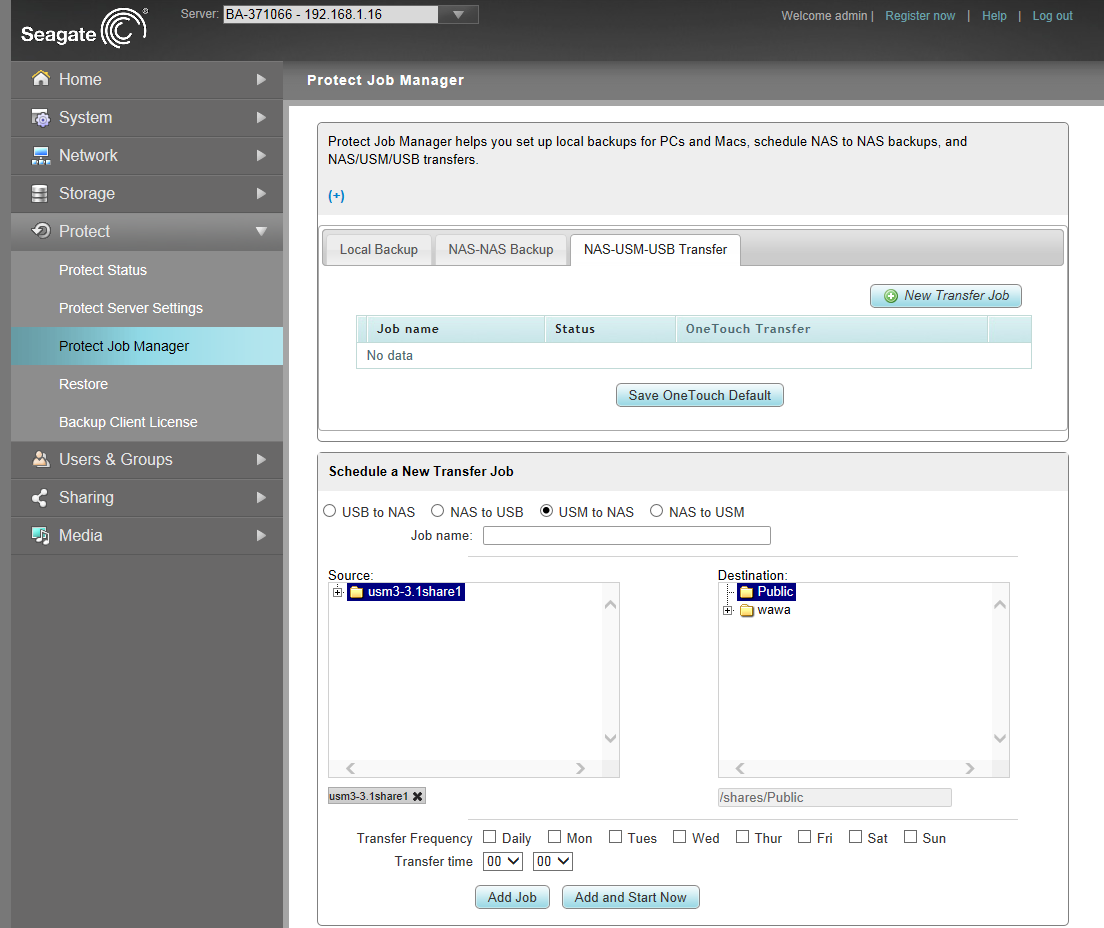 Proceed through the prompts, and you will get a status progress box where you can get further details on the backup job if needed . You can walk away now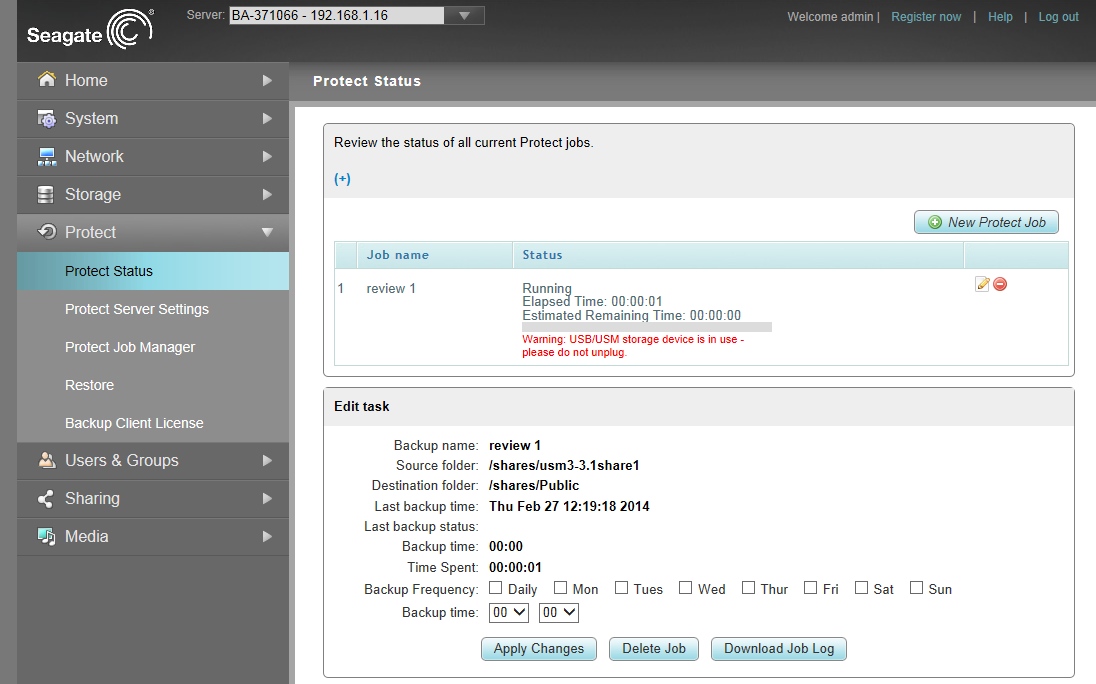 Near Fifteen minutes later we checked the progress
    Elapsed Time: 00:17:13

    Estimated Remaining Time: 24:17:54

Sometimes these counters are vague, so we checked the results of the actual transfer progress
8 Gigabytes was copied 12 minutes, or 667MB per minute and 11 MB/s
11 MB/s is a third of the speed of USB 2.0, let alone SATA-II interface and a drive that is known to perform at up to 100MB/s over SATA and USB 3.0.
Completely unacceptable given a late 2000s PC can backup up to 20MB/s
We gave the NAS benefit of the doubt and came back later but the progress was even worse:

I had enough at this point and stopped the backup.
If the system had maintained a rate 20MB/s over 1hr 15mins, we would have 90GB copied. If 100MB, would have copied 450GB.
But we only achieved 23.5GB copied total when the backup was stopped, 5.2 MB/s !
It had slowed down due to the high density of files to be backed up. being 17,600 files by the time the backup was stopped.
To add insult to injury, the following error when cleaning up the failed backup: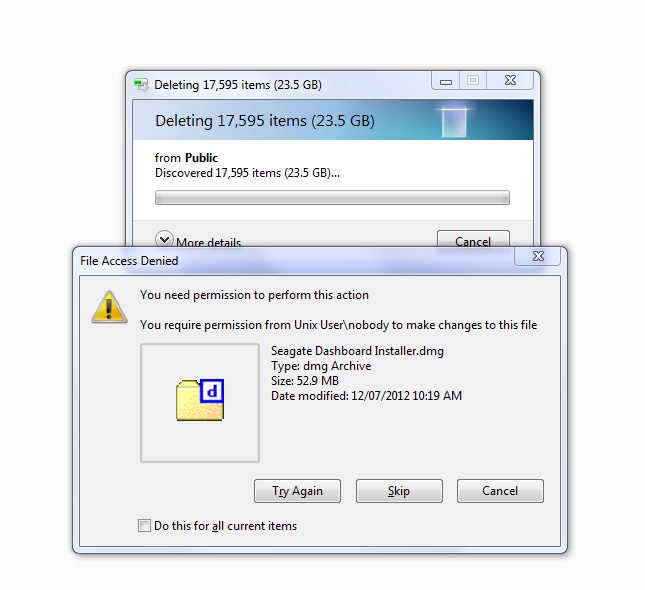 We have seen this with other routers and NAS, not only is the CPU not strong enough to maintain high throughput but the overload of NTFS is too much.
The popular cloning software Clonezilla as well as windows can max out connected drives even on 2007 era hardware, where as this 2012 NAS, selling at $1600 for the 16TB version cannot.
To prove it was a processing issue, we took our USM Seagate Backup drive and reconnected it to the USB 3.0 port on the NAS
USB 3.0
With USM(eSATA) now 'written off', we shared our USB 3.0 drive over the LAN and ran a read/write benchmark. While we could not max out USB 3.0 due to bottlenecks in the NAS's system board, we did achieve a healthy throughput worthy of USB 3.0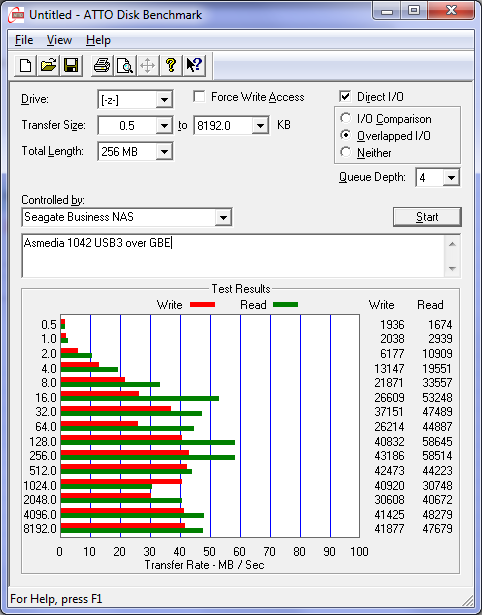 Now if only the NAS itself could achieve these rates internally.
Dual Gigabit Ethernet
The dual LAN feature in the NAS is not documented at all by Seagate and we could not get the correct performance using two LAN cables direct connection between a configured test PC and the NAS
For teaming Realtek Network Adapters, the driver is hard to find online and outdated, from the Windows Vista era. Achieving very poor read speeds using two Realtek LAN teamed together, in the single digit MB/s and driver instability we abandoned testing the Dual Realtek LAN on Win7 and switched to a Dual Port Intel Adapter. However, we needed to use XP for this older card to use the Adapter Teaming feature in Intel PROset drivers.
We saw the same performance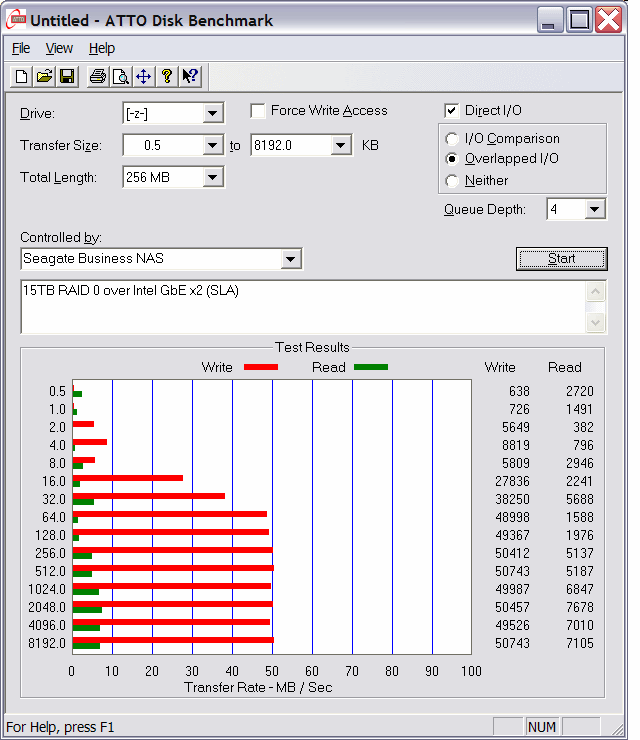 Despite Proset's teaming diagnostics seeing that the NAS was also set to team its Network Ports.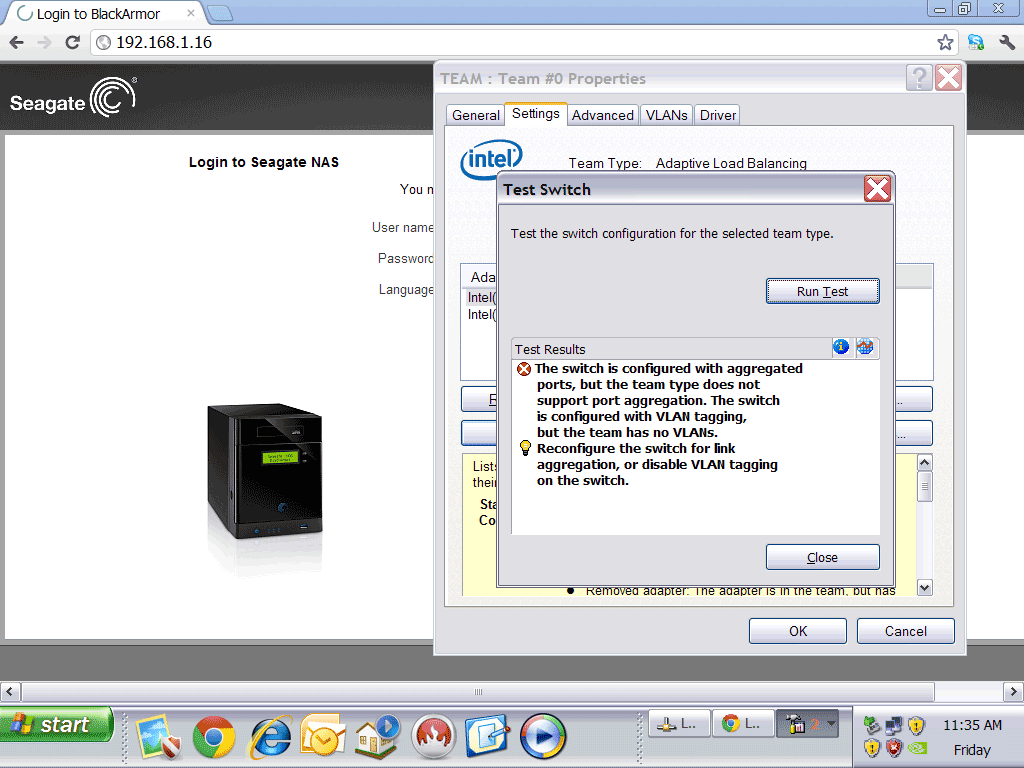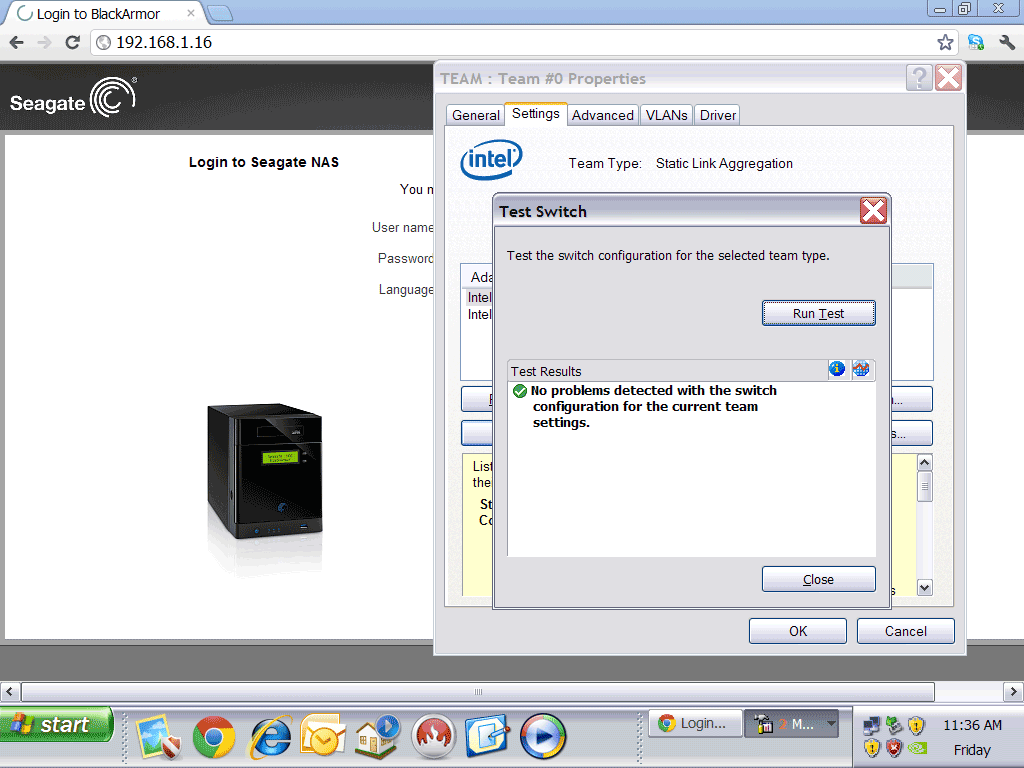 We presume that the correct documentation and configuration for the feature is in the developers kit for the main Cavium Processor, however our test setup was perhaps not optimal, lacking a suitable managed network switch.