Page 1 of 18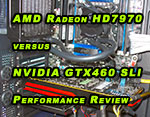 The AMD Radeon HD7970 is marketed as the 'World's fastest single-GPU graphics Card' and many reviews have compared it against the GTX580 which is its competitor. What about everyone else? Not everyone owns a GTX580 and many users have older cards, some in SLI or Crossfire who are quite happy with their setups. Not all gamers play at 2560x1600 or higher either.
When a user upgrades their CPU and Motherboard, they will likely keep their old cards especially if they support DirectX 11. To find out how the HD7970 fares against such older cards we compared it pair of NVIDIA GTX460s in SLI
This review combines the best gaming platform Intel has to offer - the i7-3690X CPU and DX79SI motherboard with the best graphics technology AMD has to offer, the Radeon HD7970 to create one of the fastest systems on the market. Can a single Radeon HD7970 from 2011-12 beat two mid end GeForce GTX 460 in SLI from 2010? The results we found were quite interesting.
If you are reading this review then it is likely you already know something about AMD's latest graphics card, their Radeon HD7970, NVIDIA's GeForce 400 and 500 series GPU or even Intel's latest extreme computing platform, their i7-3000 series and X79 chipset.
Many other review sites posted 'textbook' reviews of the HD7970, which have been very good reviews that highlighted how far graphics technology has come and how powerful PC gaming is in 2012.
We wanted to do something different to these other reviews. The aim of this review is simple. We compare the latest and fastest single GPU graphics card from 2011/2012 to two mid performance graphics cards from 2010/2011. To do this we used the best and latest CPU and Motherboard on the market from Intel giving us an extremely powerful computing and gaming platform.
Since the Intel i7-3960X CPU, Intel X79 chipset and Radeon HD7970 graphics card is aimed at users who want extreme performance, we will skip much of the history; product specs and technology background to as many of you just want the numbers or are trying to decide whether to buy this card.
Thanks to the support of both Intel Australia and AMD Australia, we have been able to make comparison happen prior to the HD7970 going on sale on January the 9th 2012 globally.
If you are not too familiar with the latest tech, the hardware we cover in this review is among the latest, best and fastest desktop computer components available on the market and for raw gaming performance, no gaming console can even come close.