Page 16 of 18
HTML5 and Visual Web Performance
Futuremark peacekeeper is a cross–browser, cross-platform web browser benchmark with an emphasis on HTML5 features such as canvas and video playback. All current, modern web browsers are able to leverage the acceleration capabilities that a GPU wether integrated or add-in can provide.
When we compare entry level or even some mid systems there is enough variance with both the CPU and or GPU systems that we can see some advantages for a particular system. However when looking at flagship high performance enthusiast class systems where both the CPU and GPU are the best available we may reach a performance ceiling.
Futuremark had completely overhauled their peacekeeper benchmark prior to our review to put more emphasis on HTML5 elements than its previous version. As such, the new version skips some tests that are unsupported on Internet Explorer 9.

Our numbers for the NVIDIA and AMD performance with Peacekeeper are within margin of error and can be considered the same. Typically, no two benchmark runs will ever give the same result, noting that we take average scores.

We are not sure why our overclocked Radeon score is slower. It is possible that the card/driver's power tune technology was throttling back performance when overclocked. Both graphics solutions are fast enough already that neither will give a significant advantage with Internet Explorer 9 on the graphics side and are more CPU oriented.

WebVizBench paints a different picture as it is extremely graphics and visually oriented. HD7970 beats GTX460 SLI comfortably. In graphics heavy rather than computation heavy HTML5/Web applications, 7970 will be an advantage.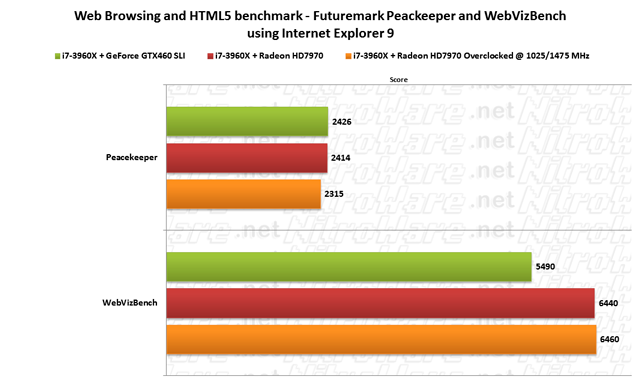 Starting with Intel 2nd generation Core and AMD A-series we started to include sample applications from Microsoft to demonstrate GPU acceleration with Internet Explorer 9 specifically. However as mentioned prior although on weaker hardware such tests are interesting on fast enthusiast hardware we hit a performance ceiling with particular software. Indeed these applications are mainly intended to be informal benchmarks and demos rather than formal performance evaluation tools.
The closest some of these come to being formal benchmarks would be FishMark or Paintball, which have been used in public demonstrations by hardware and software vendors. Since we reached a performance ceiling with our existing test tools, unless one goes to dual processors or more graphics cards which are ultra-extreme , more performance is likely not possible from IE 9.
We consulted with Microsoft Australia who gave us some feedback on our choice of test applications and the merits of each for evaluations the past however such access was not available to us for this review and we were on our own when trying to deal with the results achieved with the IE Test Suite. Perhaps some third party web/browser benchmarks will provide more meaningful results going forward especially for higher performance systems.
We are quite pleased with WebVizBench as a benchmark however, as it can make good use of a strong graphics system.