Page 17 of 18
Professional Graphics
We were conflicted as to whether we would include our standard Adobe Photoshop CS5 benchmarks in this review as we are focusing on graphics performance since these tests are CPU bound. Since Adobe CS5 is OpenGL hardware accelerated, we left the tests in but need to change this test suite going forward to better reflect the capabilities of the hardware. The two Photoshop benchmarks we focus on, Driver Heaven's and Retouch Artists are very common and widely used in web hardware reviews so we are not alone in this regard.

Parts of Photoshop are highly GPU accelerated such as image rotation, zooming and panning but image filtering and processing is still the domain of the CPU. Other members of Adobe's Creative Suite are more GPU oriented such as After Effects or Premiere.
The WebVizBench benchmark we use for HTML5 Web Visual performance is a good example of how effective offloading image manipulation to the GPU can be.
The RatGPU speed run, which uses OpenCL compute to render a number of scenes, shows us that further driver and GPU Compute SDK optimisation is required as even when overclocked; NVIDIA SLI is faster than the HD7970. The architecture is too new and many independent software developers have yet to support let alone test the new hardware.
Compute Performance on HD7970 is only early days.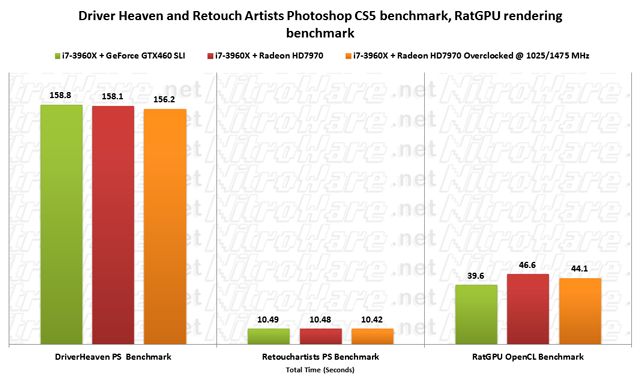 Maxon Cinebench R11.5 serves two main purposes in hardware reviews. To provide a fixed standard means to test CPU rendering of a graphical scene and to test GPU rendering of a different graphical scene using OpenGL. We are actually not interested in the CPU performance in the context of this review however; we achieved excellent OpenGL performance, a 1.5X speedup. Cinebench cannot make use of SLI even if manually overridden in the NVIDIA control panel so for users of this application in a professional setting are better off with a single fast GPU. Not a fair comparison, but a direct A-B comparison and we did try to speed up the NVIDIA test to no avail.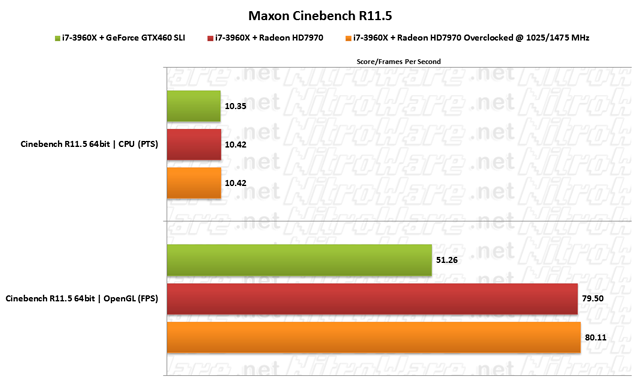 HD7970 delivers some of its best results in our test suite when it comes to professional CAD/CAM and this is not even the professional FireGL version. We can see performance gains of 1.5X to 3X in common professional titles, although we would have liked to see a better showing in CATIA. We need to put big disclaimer on our SPEC viewperf 11 results in that a typical user of these professional apps like likely either have a NVIDIA Quadro with a large frame buffer – up to 3GB with special professional Quadro graphics drivers or a FireGL card with also a large frame buffer and unique drivers. However, for the professional who needs a graphic design/engineering system the HD7970 offers very good performance in CAD/CAM without the price tag of a professional card. Like Maxon Cinebench, SLI support seems to be an issue here also but for some of the tests even if we could speed up the GTX460 SLI by 2X that would still not be enough.