Page 8 of 18
Video Acceleration
The i7-3960X as well both NVIDIA and AMD GPUs offer interesting capabilities for video encoding in their own rights. Because of its flagship stature, when encoding a single video using the i7 its six cores, high memory bandwidth and clock speeds can encode a video quicker than what a GPU can.
If we consider slower CPUs, such as those in our 2011 mainstream competing review, the GPU can accelerate video encoding faster than what the CPU can do.
We have two parallels here. A Very fast CPU can outperform a GPU in encoding but a very fast GPU can outperform a CPU in encoding also. All modern GPU AMD, INTEL and NVIDIA can now process digital video solely within their hardware allowing low utilisation and high fidelity playback.
Never the less, we present to you GPU acceleration numbers that are somewhat premature and meaningless in the context of the AMD Graphics card, as the results will change when both new device drivers and updated software are made ready to enable the feature. We will be publishing a separate update article on video encoding performance when ready.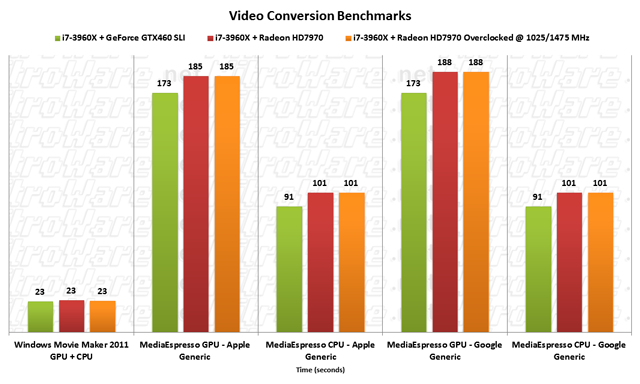 The lack of support at launch is in our opinion NOT a negative. Software support is evolutionary over the life of a product and with graphics cards, the software is as important as the hardware itself.
Since the video driver does not expose the new video functionality, Cyberlink MediaEspresso 6.5 struggles.

AMD had recommended Arcsoft Totalmedia Theatre 5.2 to use with HD79070 but at the time of our review, the software was not publically available.