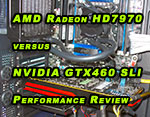 The AMD Radeon HD7970 is marketed as the 'World's fastest single-GPU graphics Card' and many reviews have compared it against the GTX580 which is its competitor. What about everyone else? Not everyone owns a GTX580 and many users have older cards, some in SLI or Crossfire who are quite happy with their setups. Not all gamers play at 2560x1600 or higher either.
When a user upgrades their CPU and Motherboard, they will likely keep their old cards especially if they support DirectX 11. To find out how the HD7970 fares against such older cards we compared it pair of NVIDIA GTX460s in SLI
This review combines the best gaming platform Intel has to offer - the i7-3690X CPU and DX79SI motherboard with the best graphics technology AMD has to offer, the Radeon HD7970 to create one of the fastest systems on the market. Can a single Radeon HD7970 from 2011-12 beat two mid end GeForce GTX 460 in SLI from 2010? The results we found were quite interesting.
If you are reading this review then it is likely you already know something about AMD's latest graphics card, their Radeon HD7970, NVIDIA's GeForce 400 and 500 series GPU or even Intel's latest extreme computing platform, their i7-3000 series and X79 chipset.
Many other review sites posted 'textbook' reviews of the HD7970, which have been very good reviews that highlighted how far graphics technology has come and how powerful PC gaming is in 2012.
We wanted to do something different to these other reviews. The aim of this review is simple. We compare the latest and fastest single GPU graphics card from 2011/2012 to two mid performance graphics cards from 2010/2011. To do this we used the best and latest CPU and Motherboard on the market from Intel giving us an extremely powerful computing and gaming platform.
Since the Intel i7-3960X CPU, Intel X79 chipset and Radeon HD7970 graphics card is aimed at users who want extreme performance, we will skip much of the history; product specs and technology background to as many of you just want the numbers or are trying to decide whether to buy this card.
Thanks to the support of both Intel Australia and AMD Australia, we have been able to make comparison happen prior to the HD7970 going on sale on January the 9th 2012 globally.
If you are not too familiar with the latest tech, the hardware we cover in this review is among the latest, best and fastest desktop computer components available on the market and for raw gaming performance, no gaming console can even come close.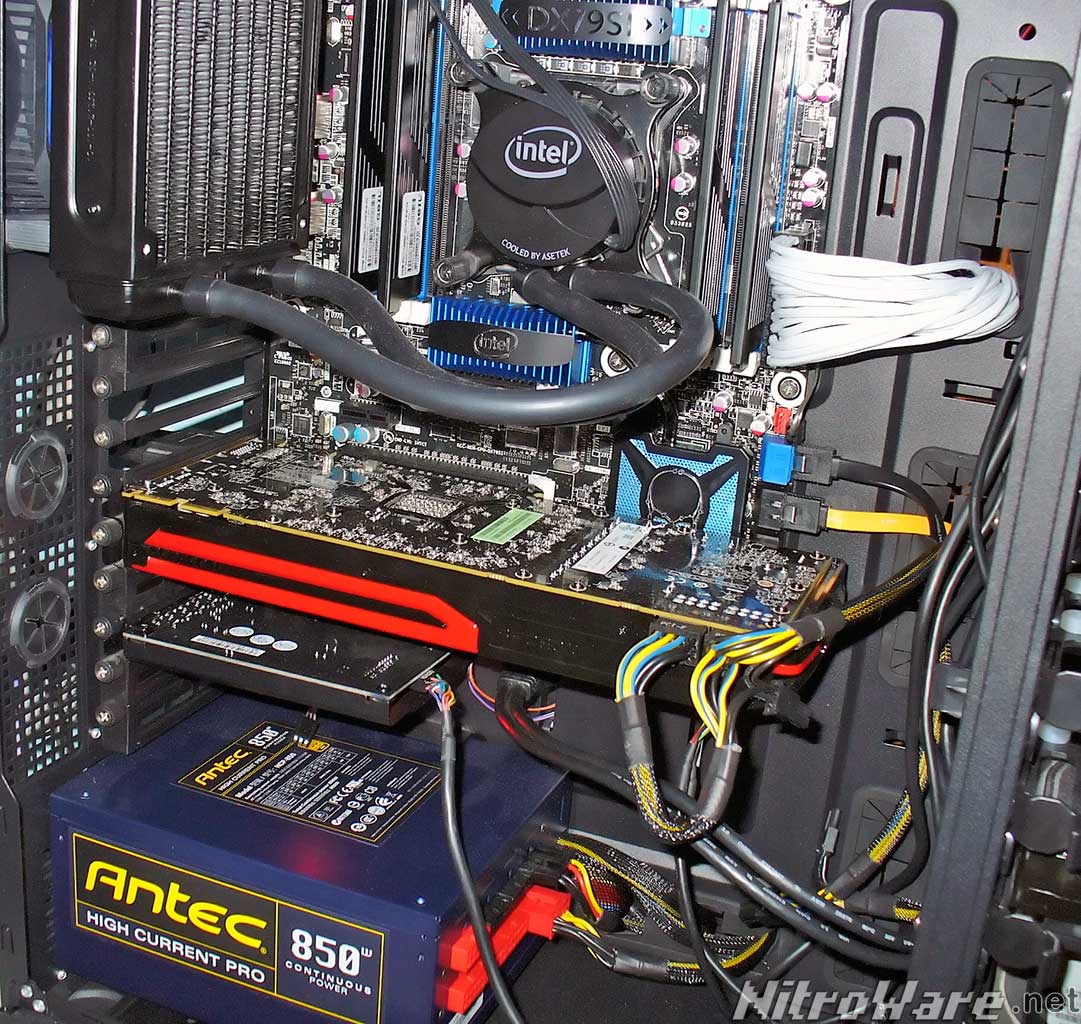 Tahiti – the destination for extreme graphics performance ?
We compare AMD's marketing claims to what we found during our limited initial evaluation of the AMD Radeon HD 7970, which was tested in Intel's DXX79SI motherboard fitted with their i7-3960X six-coreenthusiast class extreme CPU.
AMD's marketing statements are enclosed in quations with our analsysis of the claims based on our evaluation following each statement.
AMD has further enhanced its GPU design efficiency through the introduction of the 28nm process technology and Graphics Core Next Architecture, realizing an improvement of over 150% in performance/sq mm over the prior generation.
Our testing found that one HD7970 uses less power and runs cooler in idle and under load than two mid-range NVIDIA GPUs and approached the numbers obtained by one NVIDIA GPU.
The performance per watt is excellent also compared to a pair of older cards. Users who only have a single monitor will not be able to fully max out the performance of a high-end system based on this card in standard setting scenarios.
AMD Power Tune technology: Designed with the most advanced power management features, the AMD Radeon HD 7970 is equipped with the intelligence to convert unused power headroom into extra performance by dynamically controlling clock speeds, allowing gamers advanced performance inside of the power envelope they specify
AMD Overdrive and Power tune specifically on the HD7970 allows some significantly high overclocking potential. We only tested a 100MHz overclock however such infamous overclockers such as 'Shamino' and 'Kingpin' have achieved near double the benchmark scores from super cooling and super over clocks.
AMD Zero Core Power technology found in the AMD Radeon HD 7970 ensures that no power is wasted when the graphics card is not in use, enabling lower idle power than any other currently available graphics card. With support for AMD Crossfire technology, AMD Zero Core Power eliminates wasted power, as well as additional heat and noise from extra cards when you are not using them.
For single cards, we are not sure of the merit of Zero Core which will turn off all of the graphics logic when the system enters long idle, that is screen saver or screen sleep. Zero Core only provides benefit when the graphics is asleep not when he desktop is drawn but idle. For multiple cards, this is a much sought after feature which can save up to hundreds of watts.
The AMD Radeon HD 7970 comes natively equipped with support for PCI Express 3.0.
AMD's own 900 series and A75 series chipset platforms do not support PCI Express 3.0 Intel 6 series motherboards are PCI-E 3.0 ready such as those from Asrock., however these will be superseded by 7 series once Intel's 3rd Generation Core CPU (codenamed Ivy Bridge) CPUs are launched.
We do not see a large number of users upgrading their 2011 6 series motherboards with PCI-E 3.0 CPU and Graphics cards combined. In such scenario user might as well upgrade motherboard for additional benefits of on-board features.
To make the best use of the faster models of the 7000 series one needs to pair the AMD cards with an Intel X79 platform. AMD even recommended testing using i7-3960X in its review documentation
Discrete Digital Multi-Point (DDM) Audio: DDM Audio provides multiple independent audio streams for audio-capable displays via DisplayPort or HDMI signals.
The audio system in Windows 7 only allows one default audio device but many enabled devices. To use all six audio outputs provided by the new Radeon GPU we need to run six applications, each set to a different audio output. A particular game or software cannot use all six connected monitor audio systems as a surround sound setup.
Users who have Eyefinity multi monitor and use monitor audio can direct audio to their preferred screen. Additionally a directional feature is supported which allows the audio device to follow applications that are moved between different displays.
AMD Crossfire technology, coupled with PCI Express 3.0, will allow for unprecedented bandwidth in TriFire and QuadFire configurations.
The only platform on sale that can support PCI-E 3.0 with TriFire and QuadFire is the Intel 2nd Generation Core i7 3000 series processor and certain motherboards based X79 chipset whose BIOS incorporates PCI-E 3.0 support.
AMD claim 2x Crossfire scaling when a second card is added, 15-20fps increase for Battlefield 3 at 19x12 and 25x16 for a single HD7970 versus HD6970 and GTX580 where two cards will double the frame rate. Although we did not test Battlefield 3, we confirmed the levels of performance with other reviews versus numbers provided by AMD.
AMD Eyefinity 2.0 features all-new support for stereo 3D, universal bezel compensation, brand new display configurations and an expanded and more immersive field of view. This allows users with 2560x1600 monitors in an AMD Eyefinity 5x1 landscape configuration to achieve a horizontal resolution of 12,800 pixels, driving more than 20 million pixels of screen real estate.
Eyefinity 2.0 gives us a means to use the AMD 7900's immense processing headroom. HD7970 AKA "Tahiti XT" is designed to drive multiple monitors at high fidelity at fair frame rates. The GPU's new architecture is highly scalable. AMD claim 40fps at 7680x1600 Ultra for Battlefield 3 when two HD7970 are in Crossfire.
We have seen no results so far from AMD or independent reviews indicating what performance is possible at 12,800 horizontal resolutions. The reference card only allows four outputs and we would need to daisy chain DisplayPort monitors to use additional screens.
DisplayPort 1.2 and HDMI 1.4a: With full support for 3GHz HDMI 1.4a and DisplayPort 1.2 HBR2, the AMD Radeon HD 7970 is set to drive next generation displays at up to 4K resolution.
The display industry is gearing up to transition to 4Kx2K and 4Kx4K high resolution displays so the support for High-Speed specifications of HDMI and DP is welcome. DisplayPort 3D monitors are now supported.
3D entertainment choices with AMD HD3D technology: With the arrival of the latest in stereo 3D technology, AMD continues to deliver an enhanced visual experience on stereo 3D-capable desktops and notebooks powered by AMD Radeon graphics. The AMD Radeon HD 7970 is backed by AMD's open 3D initiative for stereo 3D gaming and Blu-ray 3D movies.
Stereoscopic 3D regardless of the vendors technology does have performance penalties involved in its display. With an AMD FX based system, AMD claim 47fps is achievable for 3D stereo gaming in Battlefield 3 at 1080p High settings with one HD7970.
The World's fastest desktop CPU paired with the world's fastest single GPU graphics card
CPU and GPU have come a long way in ten years. History repeats itself with recycled model numbers. Ten years ago the Radeon 7000 (ATI model RV100) was poised as ATI's entry level Radeon graphics card which would be paired with Intel's Pentium III, Pentium 4 or even AMD Athlon. Ten years later Radeon HD 7000 represents the latest innovative graphics technology that makes the ten-year-old Radeon 7000 look primitive.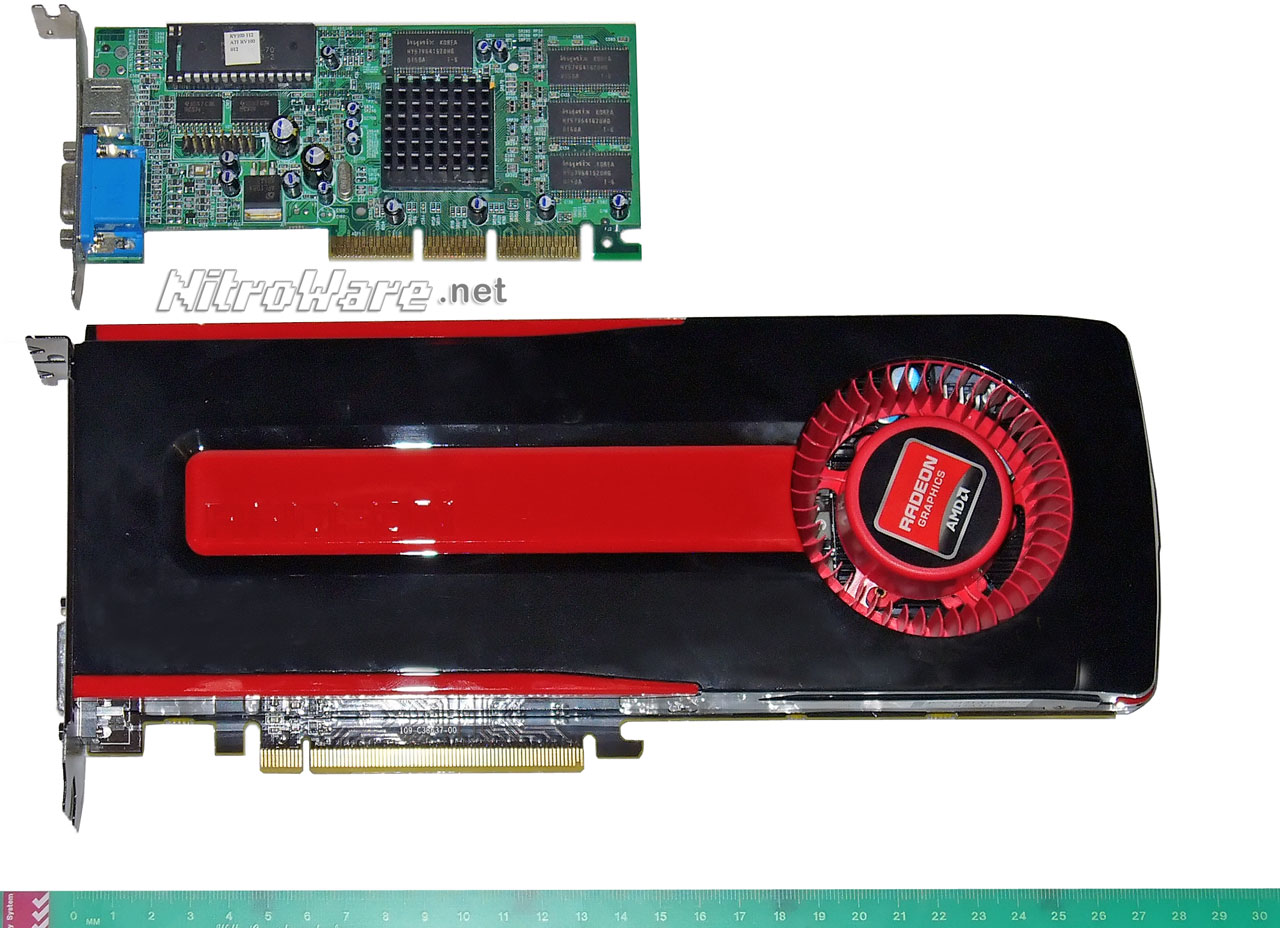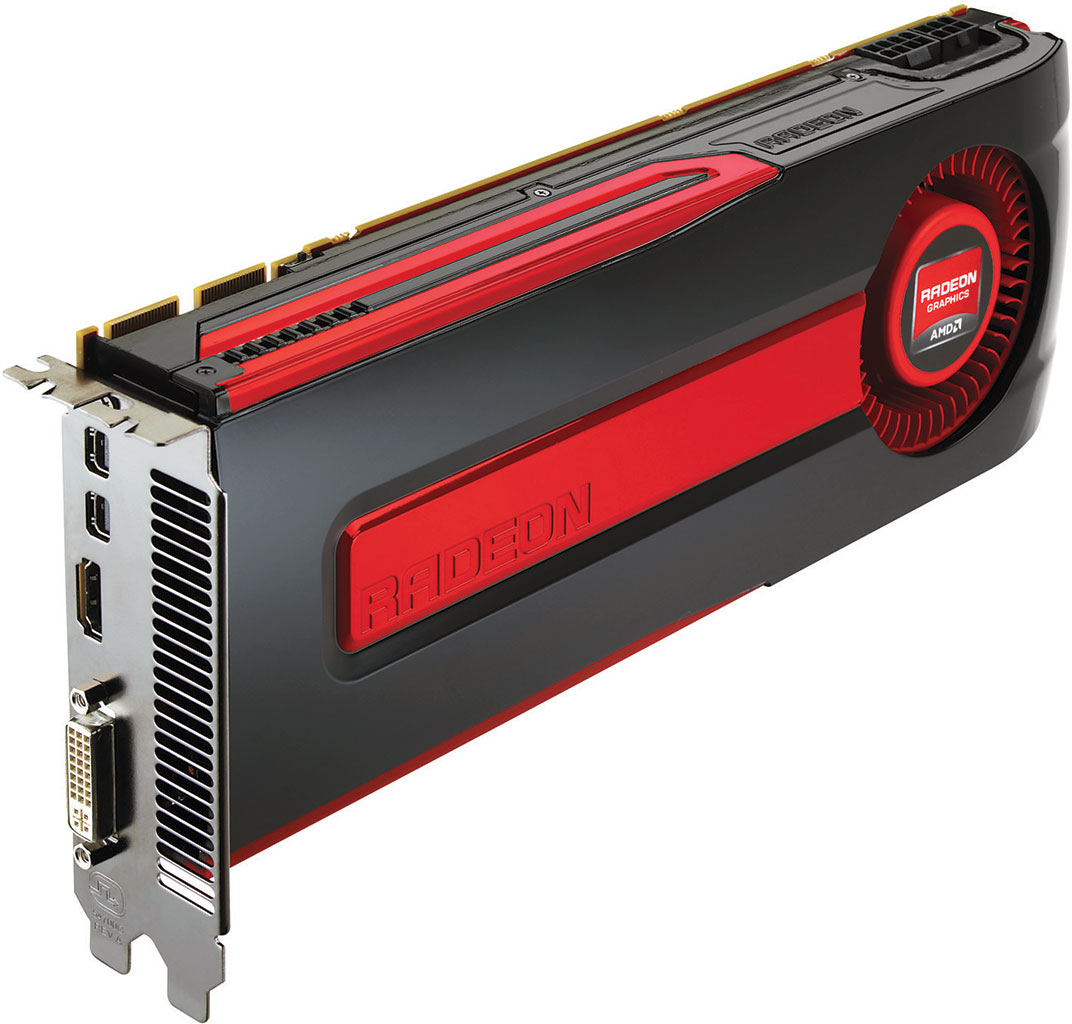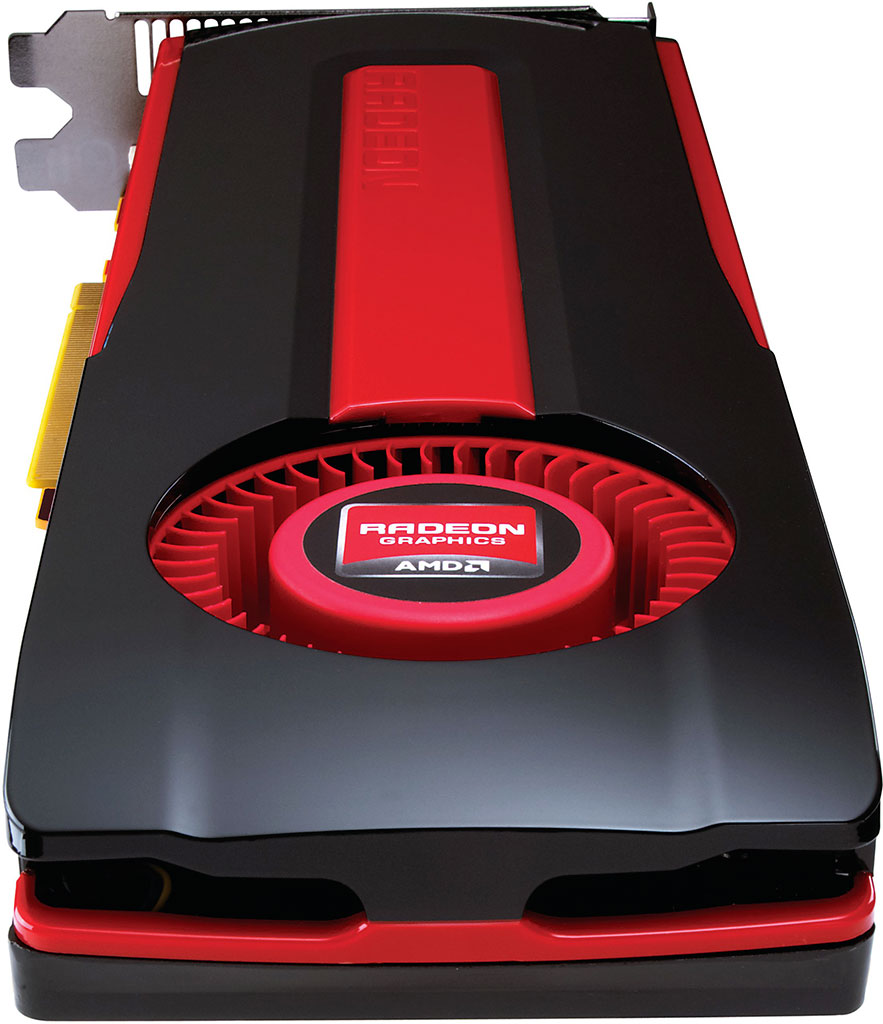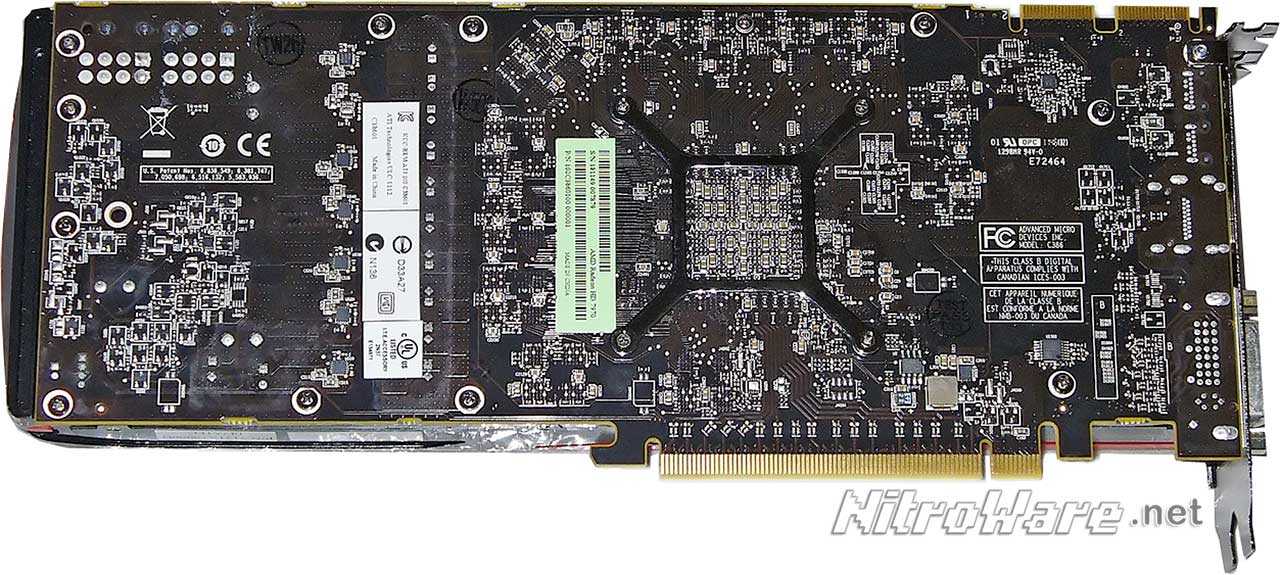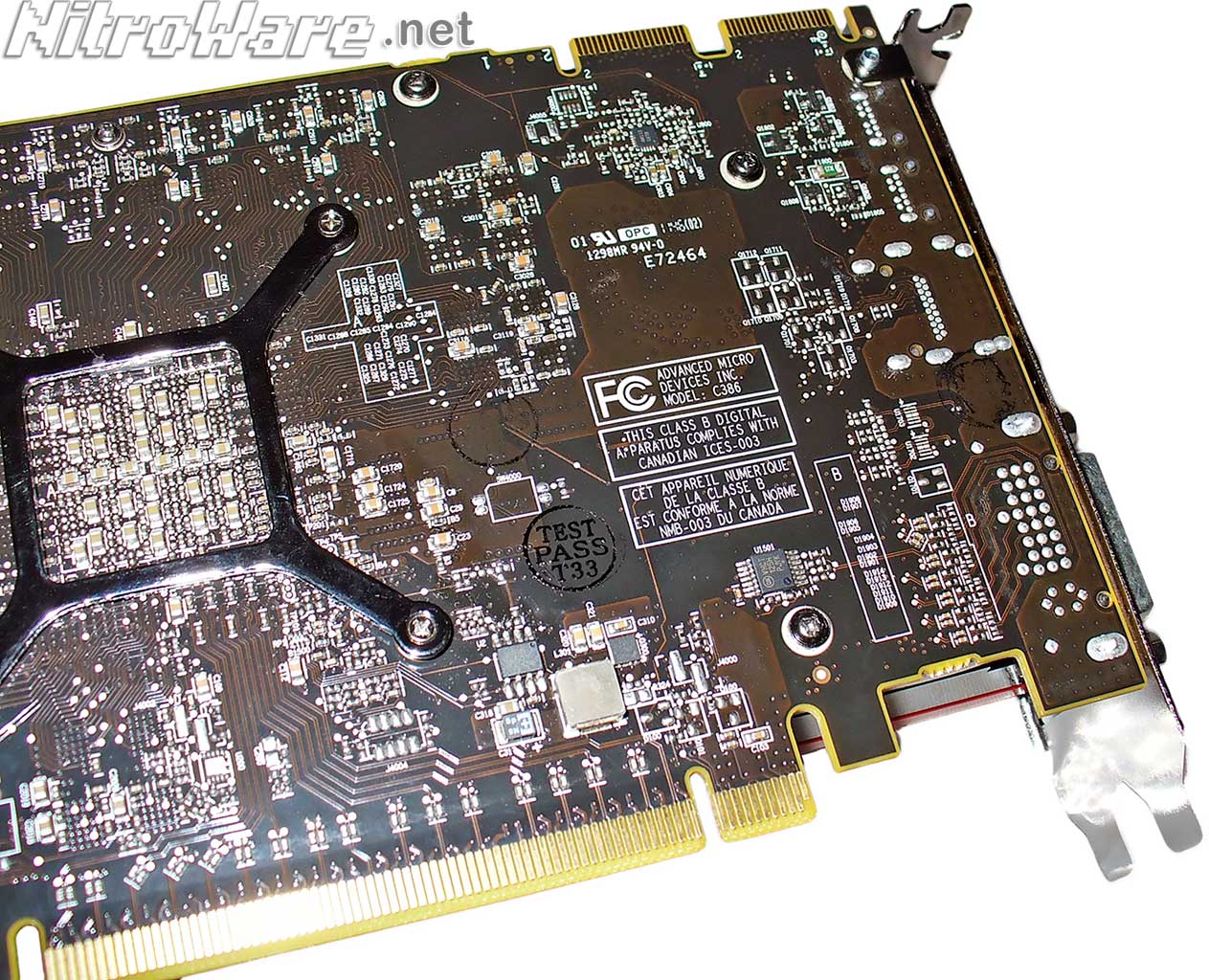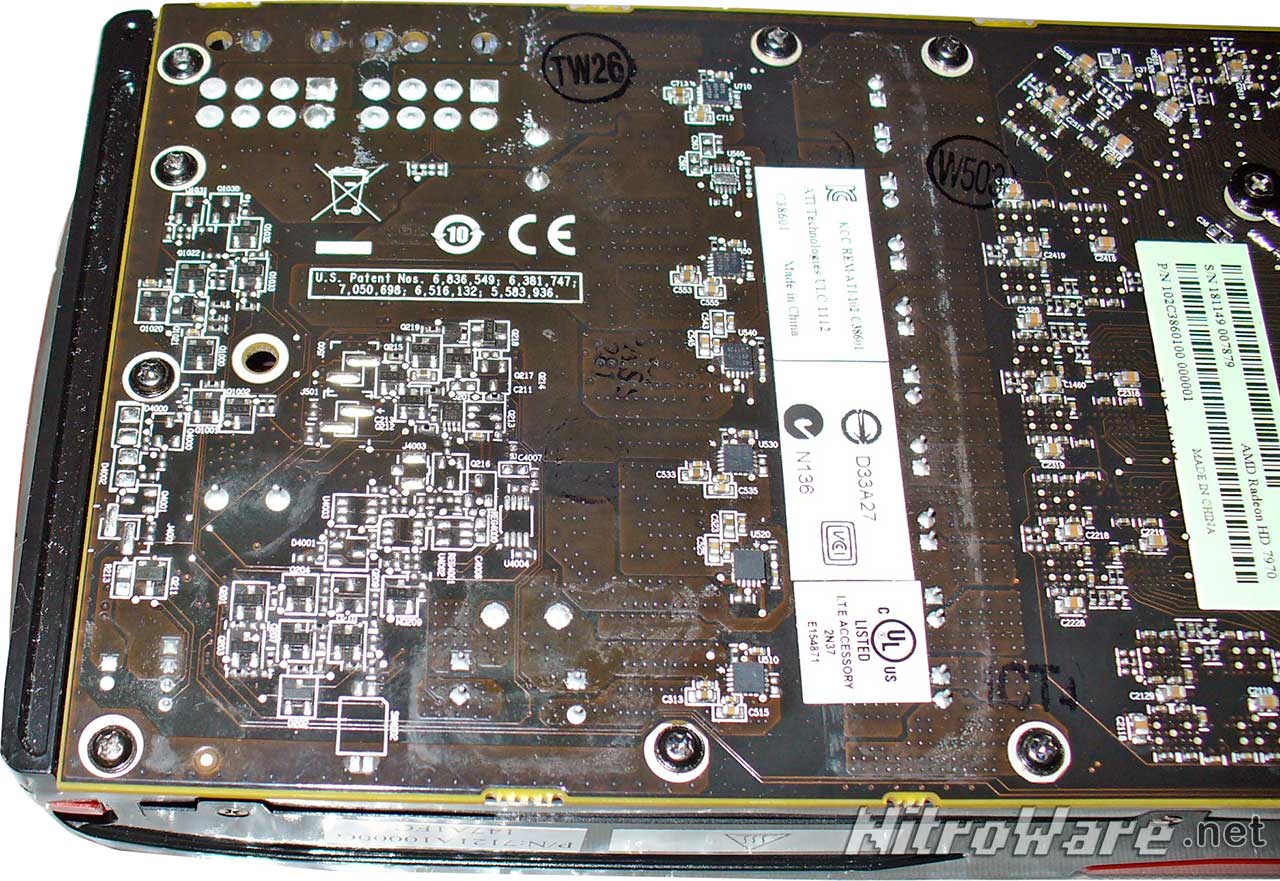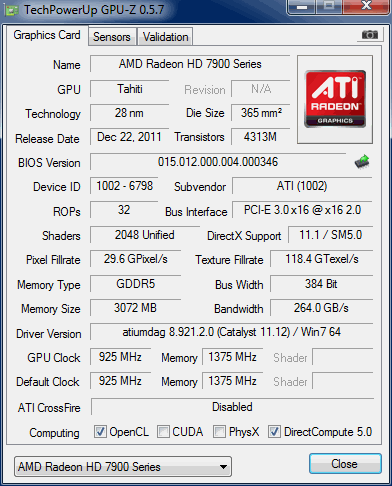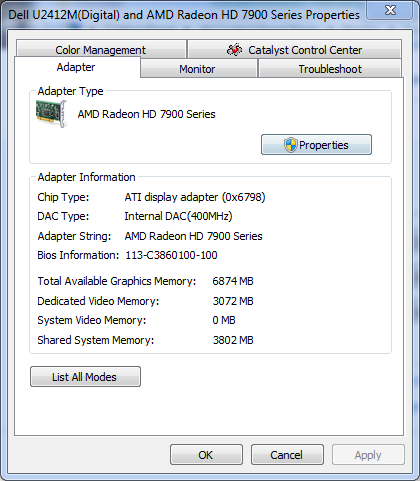 Test system specifications and Methodology
Our Core i7 test system was provided as a complete system by Intel, indicative of a typical high end enthusiast class system. We updated the BIOS and used our own Kingston SSD in lieu of the installed WDC 500GB Black HDD
Processor
Intel 2nd Generation Core i7-3960X 3.3GHz
Motherboard
INTEL Extreme Series Desktop Board DX79SI SIX7910J.86A.0380.2011.1128.1456 BIOS
Memory
8 GB - 4x 2GB GEIL Value RAM DDR3-1333 CL9
Cooling

CPU: INTEL RTS2011LC Liquid Cooling Solution

Chassis: Two front intake fans and two top exhaust fans

Graphics

AMD HD7970 3GB - AMD Radeon HD7970 Reference Card @ 925/1375MHz. Video Bios Version 015.12.000.004

NVIDIA GTX460 768MB - 2x Gigabyte 460OC-768GI @ 715/1804MHz Video BIOS Version 70.04.1B.00.01

Disk Drive
KINGSTON HyperX SH100S3120G 120GB SATA 6Gbit/s Solid State Drive
Optical Drive
None
Chassis
ANTEC P280 Performance Medium Tower
Power
ANTEC HCP-850 High Current Pro 850 Watts Power Supply
Display
DELL Ultrasharp U2412M 24" LED backlit LCD Monitor
Operating System
MICROSOFT Windows 7 Ultimate Service Pack 1 64bit. Latest updates as of Dec 2011
Graphics Driver

AMD HD7970 Press Driver [Based on Catalyst 11.12]

NVIDIA GeForce 290.53 Beta Driver

Storage Driver
INTEL Rapid Storage Technology Enterprise 3.0.0.3020
We were unable to enable PCI Express 3.0 in our Intel i7/X79 Platform as it not supported by the most recent public BIOS for the Intel DX79SI motherboard.
All software was patched to their latest builds. For games, we list our settings below.
All game, web and professional graphics benchmarks conducted at 1920x1200 resolutions. V-sync was disabled where possible.
Software
Version
Test Settings @ 1920x1200 resolution.
Cyberlink MediaEspresso
6.5.2119_41281

Hardware Encoding and Decoding Enabled for GPU, disabled for CPU.

Test Video: big_buck_bunny_1080p_h264.mov

Dirt2 / Dirt 3
1.1 / 1.2
Ultra Pre-set, 4x MSAA
Trackmania Nations Forever
2.11.26
VHQ Pre-set, 4x AA, 16x AF
HAWX 2
Benchmark v1.04
Maximum details, 4x AA With Tessellation. DirectX 11
Grand Theft Auto IV
Title Update 7

Maximum details, 16x AF, Detail distances 50,50,100

Settings Override switch used to launch game

Just Cause 2
Demo 1.0.0.2

Maximum details on NVIDIA, Maximum Details on AMD

4x AA, 16x AF.

Deus Ex Human Revolution
1.3.643.1

MLAA, 16x AF, Soft Shadows, High SSAO, High DOF

Triple Buffering, Post Processing, Tessellation

Alien V Predator Bench
Benchmark V1.03

Texture Quality 3, Shadow Quality 3, Anisotropic 16, SSAO 1

Tessellation 1, Advanced Shadows 1, MSAA 4. DirectX 11

Lost Planet 2
Benchmark
Maximum details Including Motion Blur, 4x AA. DirectX 11
Resident Evil 5
Benchmark 1.0.0.29
Maximum details Including Motion Blur, 4x AA. DirectX 10
Street Fighter IV
Benchmark 1.0.0.1
Maximum details except Ink,4x AA, 16x AF
World In Conflict
Demo 1.0
Maximum details, 4x AA, 16x AF. DirectX 10
SPEC viewperf
11
4x AA
Overall System Performance
PCMark and PerformanceTest take into account the entire system performance. For graphics cards 3D/Gaming, 2D, Video and Compute are considered. The usage scenarios especially in PC Mark are supposed to be indicative of typical use of a PC from a consumer standpoint especially with web and video. We would have liked to see a bigger lead from the Radeon in all three tests but we must wait for updated drivers and software.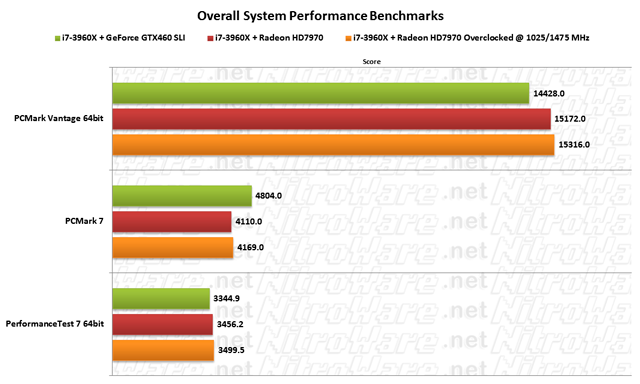 As for the significant difference in PC Mark 7, analysis of the complete data sets for the benchmark confirmed to us that Video Conversion is the issue here causing the lower score. In the DirectX9 gaming portion of PC Mark 7, the HD7970 was approximately 10 FPS faster than GTX460 SLI. Once AMD enable their Video Conversion Engine then perhaps we can get a real taste of the true capability of the HD7970.
| PC Mark 7 Video transcoding – downscaling | NVIDIA GeForce GTX460 OC 768MB in SLI | AMD Radeon HD7970 3GB |
| --- | --- | --- |
| Video transcoding - downscaling iteration 1 | 6329.09 kB/s | 1619.23 kB/s |
| Video transcoding - downscaling iteration 2 | 6753.16 kB/s | 1620.15 kB/s |
| Video transcoding - downscaling iteration 3 | 6711.08 kB/s | 1628.00 kB/s |
Power Consumption
These results speak for themselves. In different idle and load scenarios the single GPU HD7970 uses less power yet provides more performance than two NVDIA GTX460s.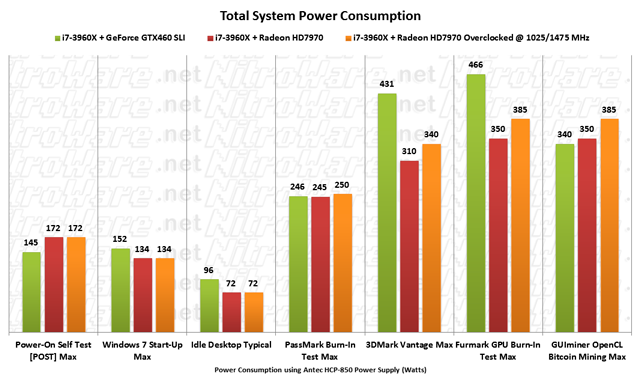 In addition, we verified the functionality of the new 'Zero Core' feature. The GPU fan did turn off after a significant period during which the monitor had gone to sleep and subsequently so did the graphics card.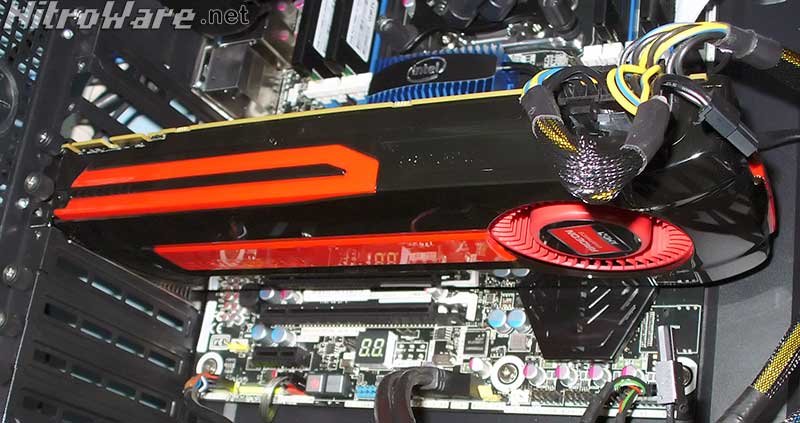 Thermal Dissipation
A common myth is that a CPU or GPU built on a newer, smaller die manufacturing process will run cooler overall. This is not entirely true.
For an unchanged microprocessor or logic, a smaller die process will run cooler yes but when we consider yearly or bi-yearly updates of performance oriented PC hardware vendors often use the added thermal headroom to increase performance. This is achieved via either boosting clock rates or increasing the number of processing cores, which also increases transistor count.
What we end up with is a faster product with a similar power envelope to its processor and better performance per watt. Now you might think this is pointless as we are still generating heat and burning power, not always the case. We can idle the chip at lower power states and use very little power, especially with the newer die processes or architecture changes.
With the HD7970, AMD have selected default clock speeds to ensure that the thermal dissipation is within acceptable parameters.
Although these cards have immense headroom for overclocking it must be strongly emphasised that when we boost the cards clock speeds and power control we not only increase power consumption but also we increase the thermals.

Cooling considerations with other graphics cards are still required for this. At idle the HD7970 can achieve mid-30 to 40 degrees when idle at which it will operate at 300/150MHz with a low voltage.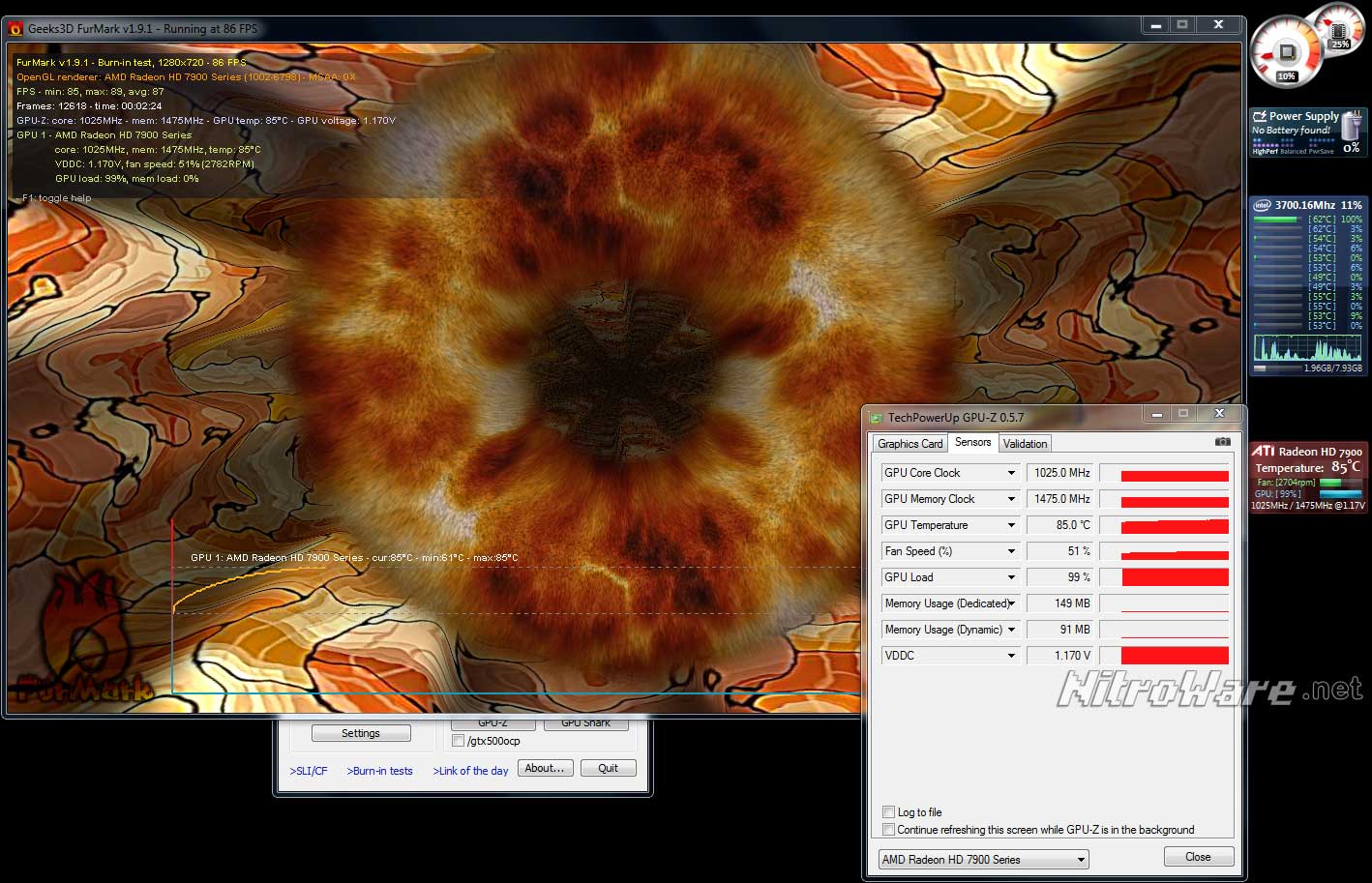 In real world use, you should not be seeing over 50% fan use at least in a single GPU configuration. Furmark is not a real world application. Usage with 24x7 operation for something like Bitcoin mining, folding@home or video conversion are considered edge cases and sufficient cooling is required. The default reference cooler is fine and uses an improved design, AMD claiming their '6th generation vapour chamber' however at 100% fan setting (5300 RPM) it is deafening and reminded us of the acoustic profile of rack mount servers. Users who have many fans installed in their system will perceive the graphics card's fan noise differently.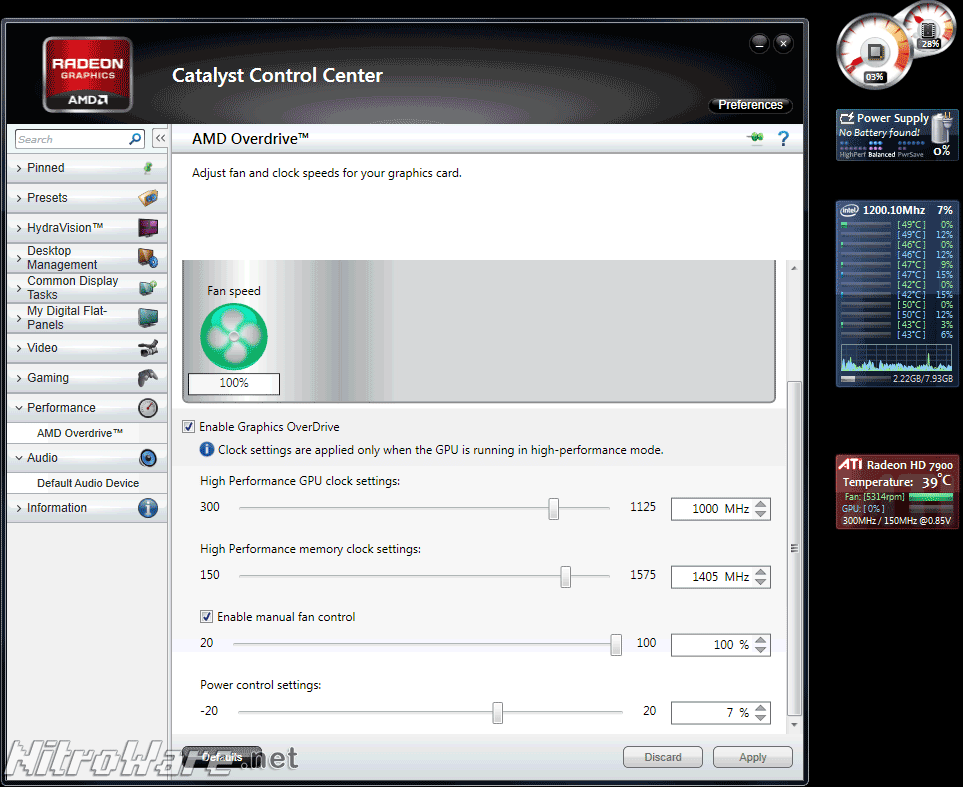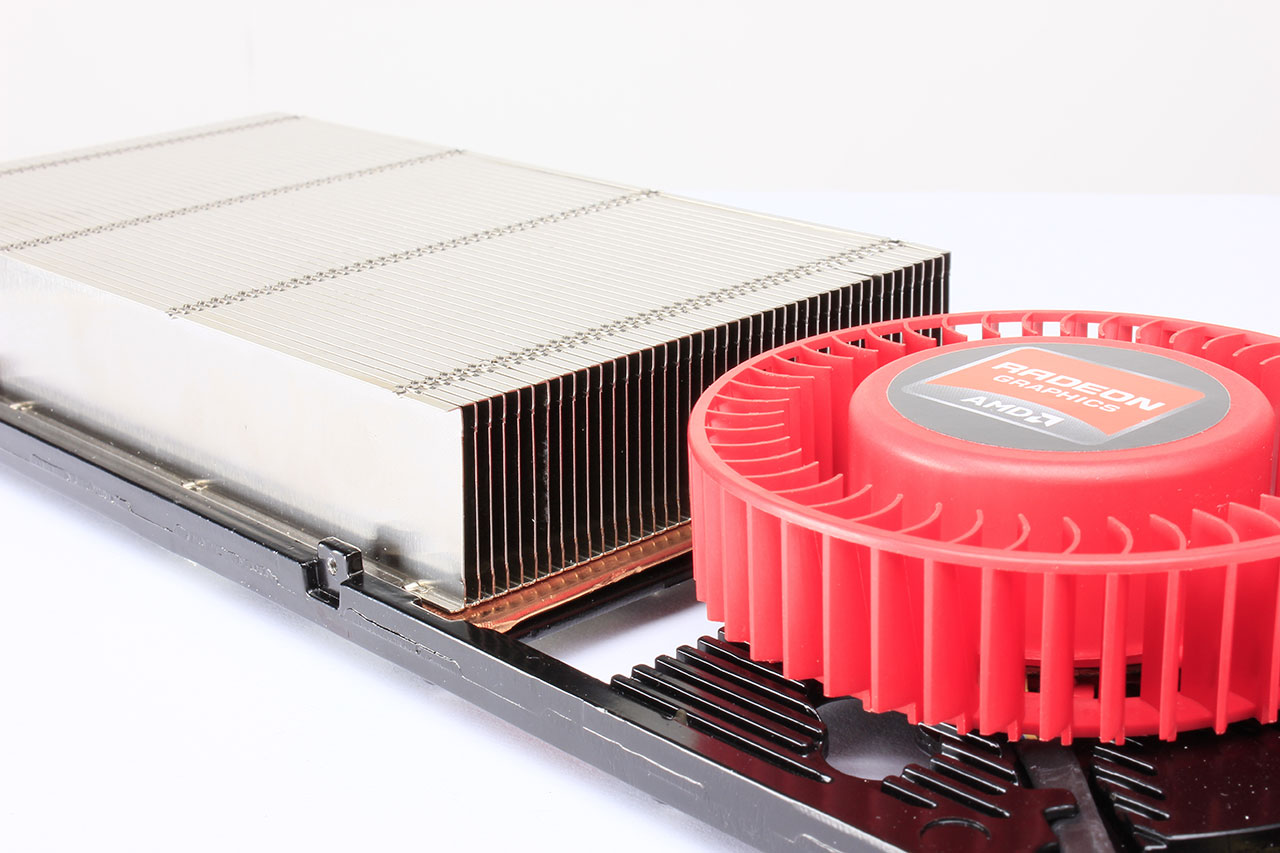 In contrast the pair of GeForce GTX460 in SLI run hotter at stock speed under maximum load in Furmark despite the fact that their manufacturer, Gigabyte has gone to great lengths to market the advantages of their own cooling solution. Gigabyte do not use the NVIDIA reference cooler.
Video Acceleration
The i7-3960X as well both NVIDIA and AMD GPUs offer interesting capabilities for video encoding in their own rights. Because of its flagship stature, when encoding a single video using the i7 its six cores, high memory bandwidth and clock speeds can encode a video quicker than what a GPU can.
If we consider slower CPUs, such as those in our 2011 mainstream competing review, the GPU can accelerate video encoding faster than what the CPU can do.
We have two parallels here. A Very fast CPU can outperform a GPU in encoding but a very fast GPU can outperform a CPU in encoding also. All modern GPU AMD, INTEL and NVIDIA can now process digital video solely within their hardware allowing low utilisation and high fidelity playback.
Never the less, we present to you GPU acceleration numbers that are somewhat premature and meaningless in the context of the AMD Graphics card, as the results will change when both new device drivers and updated software are made ready to enable the feature. We will be publishing a separate update article on video encoding performance when ready.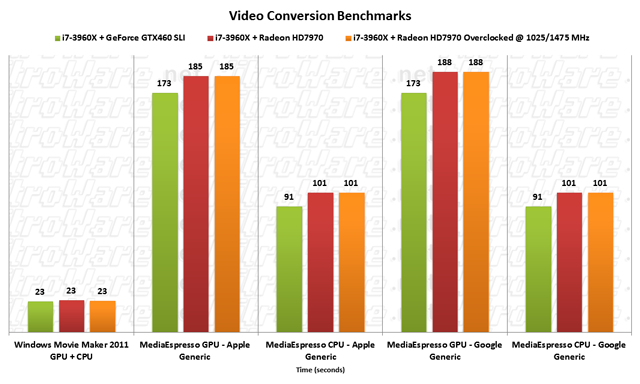 The lack of support at launch is in our opinion NOT a negative. Software support is evolutionary over the life of a product and with graphics cards, the software is as important as the hardware itself.
Since the video driver does not expose the new video functionality, Cyberlink MediaEspresso 6.5 struggles.

AMD had recommended Arcsoft Totalmedia Theatre 5.2 to use with HD79070 but at the time of our review, the software was not publically available.
GPU Computing
The Graphics Core Next architecture is supposed to provide significant GPU computing performance compared to previous and current GPU designs. We can test this using synthetic testing tools that use DirectCompute or OpenCL to perform math or graphics operations and our results do indicate a significance performance gains over two GTX460 cards, however real world applications are important.

Although this is progressively changing with newer applications appearing, such as Corel WinZip 16.5 which will support OpenCL, most applications that utilise GPU Compute capabilities are multimedia oriented.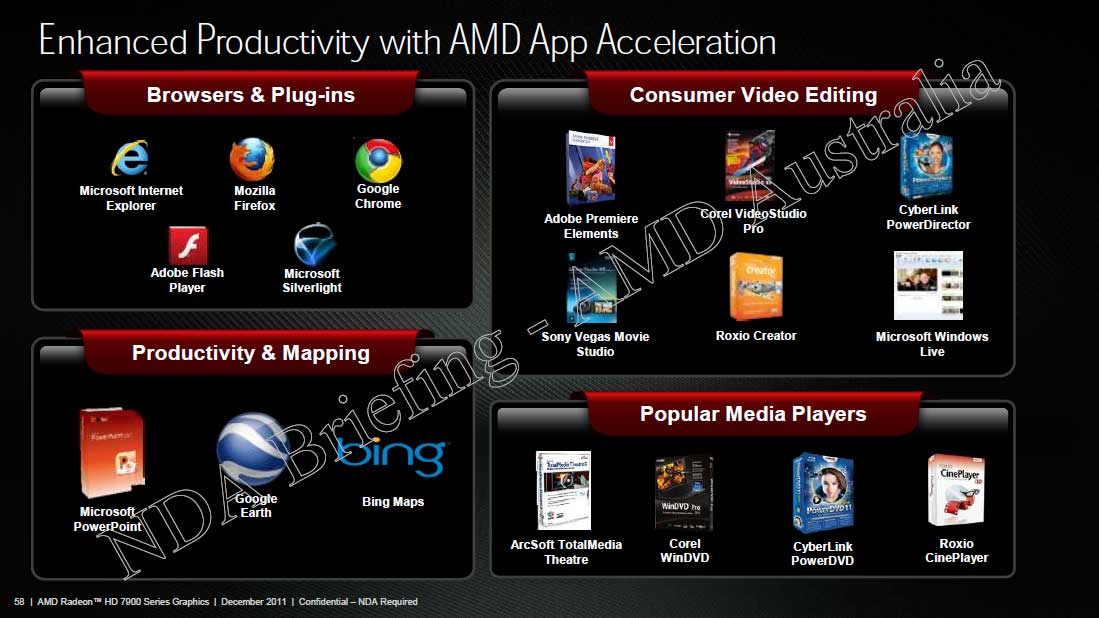 One of the more popular uses for AMD Radeon's GPU computing in the enthusiast community is Bitcoin Mining. For those who have not heard of Bitcoin in a broad sense it is a virtual currency and some users 'mine' for Bitcoins in the way that a prospector or miner may search for gold.
In order to measure the performance we tested Bitcoin using the common Guiminer mining tool but we were unable to engage mining for only 15 seconds at a time before the process failing due to errors in the calculations.
We tested the Phoenix and cgminer tools and had the same result with several variations of settings, invalid hashes for the computations. Once a mining tool supports the GCN architecture, we will be able to get a real world intensive indication of GPU compute performance for consumer use in a non-graphics or video application.
In addition to the invalid hashes, we could not exceed 400 Mhash/s throughput on the mining operations. This is equal to current technology and should be much higher for the HD7970. Fans of Bitcoin Mining we spoke to had predicted the architecture and specifically a HD7970 should theoretically be able to achieve 800Mhash/s with the right software
Due to the low performance and invalid hashes with all three mining tools, we left out Bitcoin from our formal results and will revisit when we publish our first update once new drivers and software are available. Due to their architecture as consumer graphics cards, current NVIDIA GeForce is not suitable for the task of Bitcoin mining.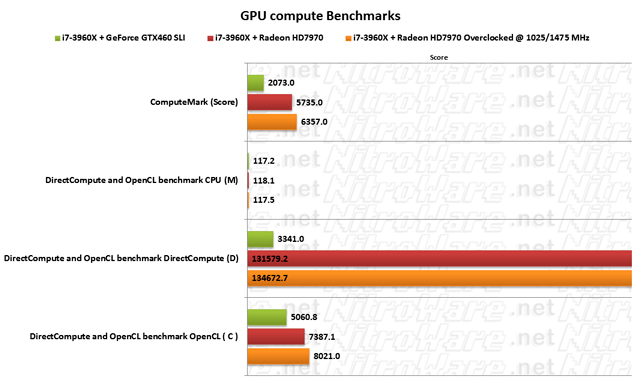 3D Performance
When looking at the various 3Dmark results we must remember that only a single HD7970 is compared to two mid performance but powerful NVIDIA GPU in SLI. Although the pricing and overall performance is comparable, the power consumption, size and processing capabilities are not comparable.
Both AMD and NVIDIA position their flagship single GPU graphics cards to be competitive against other single GPU graphics cards at the same price point and infrequency are comparisons made with different products.

The NVIDIA GTX460 GPUs have 7 processors (336 cores) out of 15 processors (480 cores)enabled, when combined, assuming assume that the two GPUS linked together using SLI technology offers 2x boost or scaling provides a very potent and powerful gaming solution.
Unfortunately SLI technology for multiple GPUs means that we do not increase the total amount of video memory, critical for high detail and high resolution gaming.
We are stuck with the 'low' 768MB video memory for the pair of NVIDIA cards.
In the 3DMark benchmark, the Radeon HD7970 starts to stretch its legs once the newer graphics technologies such as DirectX 10 and 11 (in 3D Mark Vantage and 3D Mark 11) are utilised. AMD offer a much superior performance per watt (efficiency) over the pair of older cards.
Driving and Racing Games
We have some strange results with Dirt 2. We ran the test more times than usual to verify the findings and the best we can speculate that NVIDIA have optimised their driver for Codemaster's EGO 1.0 game engine or Dirt 2 specifically. This is ironic as Dirt 2 was the flagship title for AMD with their 2010 Radeon 5800 series GPU codenamed 'Cypress' .

We see the expected linearity with Dirt3, which uses the newer EGO 2.0 engine. Note that both Dirt2 and dirt 3 can utilise DirectX11 features properly. A tech demo video is available on various file mirrors and games for windows live showing the various implemented DirectX 11 visual features in Dirt 2.
Additionally we only have the initial press launch drivers for HD7970, performance will improve in future.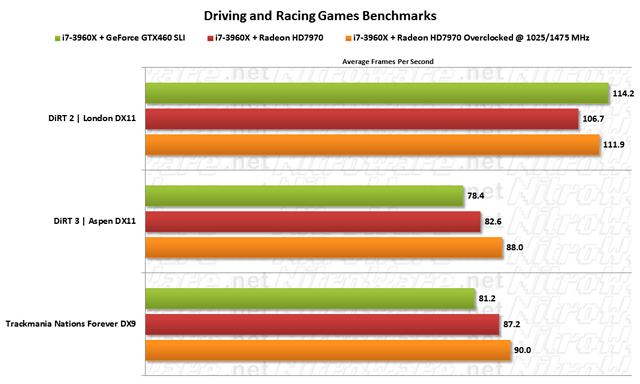 Flight and Open World Games
We have several types of titles in this category.
HAWX2 was one of the initial DirectX11 titles to offer Tessellation and we use the popular standalone benchmark tool. It was a AMD endorsed title for some time but we see here that older NVIDIA SLI can even beat the new HD7970, at least at the 1920x1200 resolution. We tested with graphical settings maxed out with no overrides. This shows how competitive older gaming class hardware can be. We verified our results by running additional passes.

Grand Theft Auto IV uses a cross platform, console oriented DirectX 9 Game engine which is known to be resource heavy on the PC. The game and the game engine itself cannot make full use of the graphics hardware available and is CPU heavy. According to patches, support for SLI is available but not Crossfire. Since GTAIV is video memory dependant can use as much as 1.6-1.7GB at 25x16 with all options maxed out we were looking forward to seeing what the results with GTAIV were considering 7970 ships with 3GB but we were disappointed at the result.

We tested the HD7970 over the Christmas/New Year Holiday period pre-launch so limited support was available to us.

Just Cause 2 is an NVIDIA endorsed title featuring optional graphical features for DirectX10 that are only available on NVIDIA cards. We tested with these on as owners of strong graphics and CPU such as the i7-3960X would want to max out all options available to them. At the maximum settings available to both the NVIDIA and AMD graphics, we have a significant lead for the Radeon, with another 10fps added for a meagre 100 MHz overclock.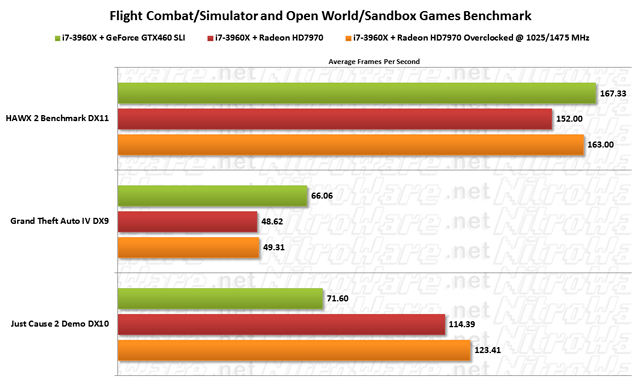 First Person Games
Deus Ex: Human Revolution is one of the newer titles on the market and since it is AMD endorsed it is no surprise that when using MLAA antialiasing, the single HD7970 has a significant lead over two GTX460s. This is the kind of performance that upgraders would like to see as justification for their investment.
Again, our 'minor' overclock netted us another 10 FPS.
For Crossfire users, expect a 1.45x improvement in FPS when a second card is added. Deus Ex does support Stereo 3D and AMD have advised that at 1080p Maximum settings 52fps is achievable

The Alien Versus Predator benchmark is another AMD endorsed title dating back several years and again here the single GPU beats out the two mid GPUs.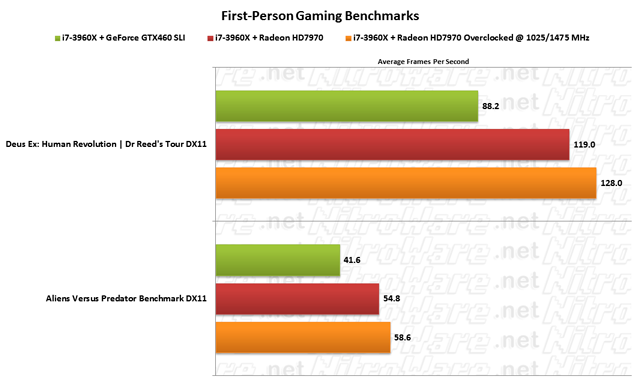 We had meant to include Call of Duty: Black Ops in our collection of first person shooters but we could not validate our test data within our limited evaluation time for the Radeon HD7970. Since Black Ops is a 'on rails' shooter and a cross platform game it runs too fast on flagship enthusiast hardware. By default, Black Ops has a frame rate limiter set to limit the frame rate to 85-90fps. However since we want to measure the maximum performance achievable removing the frame rate limiter netted us 130-170fps average with high variance in between test passes

we tested using the Initial Cuba level as well as the S.O.G Level. Future updates for Graphics Core Next/Southern Islands and future NVIDIA GPUs will be using different test software for First person shooter category.
Third Person Games
Capcom titles are based on the same family of game engine, called the MT Framework, which has been progressively updated to support newer technologies.
Lost Planet 2 is heavy on DirectX11 features, which we set to maximum. We net a 15 FPS increase over the SLI pair on Test B on the average frame rate. Whereas the Resident Evil 5 fixed benchmark reflects speed capability over processing power.
Additionally we can see a linear increase in performance for three out of the four tests with our minor overclock. Although we would have liked to see 10 FPS increase minimum on all tests for overclocked performance we got close to this.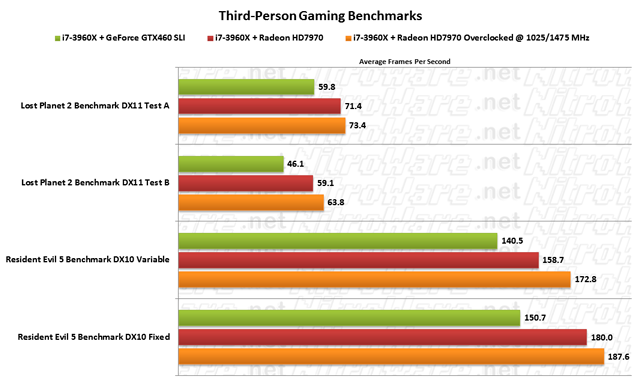 Arcade and Strategy Games
The third Capcom title we used is one of the older ones being designed and intended for dual core class hardware, with driver optimisations and the bias of SLI the GeForce pair comes out on top. Since this is a speed oriented test using DirectX 9 (which hardware can render the test the fastest in the least time) we cannot leverage the architecture as it was designed and optimised to work best with the latest graphics and multi monitor Eyefinity., however giving the card more bandwidth with our overclock does give us an impressive increase.

World In conflict is also NVIDIA endorsed one of the first games to support DirectX10 and gives us plenty of features and options to test out detailed yet fast gameplay. Those who have played World in Conflict would be aware of the ability to zoom and that heavy battle scenes can be taxing on hardware, the benchmark in the game is indicative of actual game play.
We achieve 80, 90 and 93 FPS average respectively. When we consider the hardware involved to reach this level of performance, Intel's flagship $999 CPU and motherboard of 2011/12 as well as AMD's flagship graphics for 2012 considering the age of the game this is not that high of a result.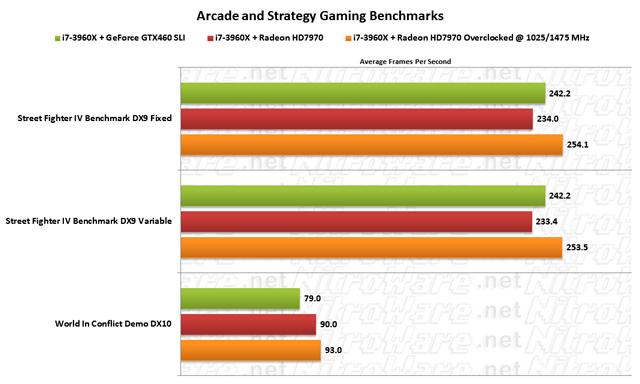 HTML5 and Visual Web Performance
Futuremark peacekeeper is a cross–browser, cross-platform web browser benchmark with an emphasis on HTML5 features such as canvas and video playback. All current, modern web browsers are able to leverage the acceleration capabilities that a GPU wether integrated or add-in can provide.
When we compare entry level or even some mid systems there is enough variance with both the CPU and or GPU systems that we can see some advantages for a particular system. However when looking at flagship high performance enthusiast class systems where both the CPU and GPU are the best available we may reach a performance ceiling.
Futuremark had completely overhauled their peacekeeper benchmark prior to our review to put more emphasis on HTML5 elements than its previous version. As such, the new version skips some tests that are unsupported on Internet Explorer 9.

Our numbers for the NVIDIA and AMD performance with Peacekeeper are within margin of error and can be considered the same. Typically, no two benchmark runs will ever give the same result, noting that we take average scores.

We are not sure why our overclocked Radeon score is slower. It is possible that the card/driver's power tune technology was throttling back performance when overclocked. Both graphics solutions are fast enough already that neither will give a significant advantage with Internet Explorer 9 on the graphics side and are more CPU oriented.

WebVizBench paints a different picture as it is extremely graphics and visually oriented. HD7970 beats GTX460 SLI comfortably. In graphics heavy rather than computation heavy HTML5/Web applications, 7970 will be an advantage.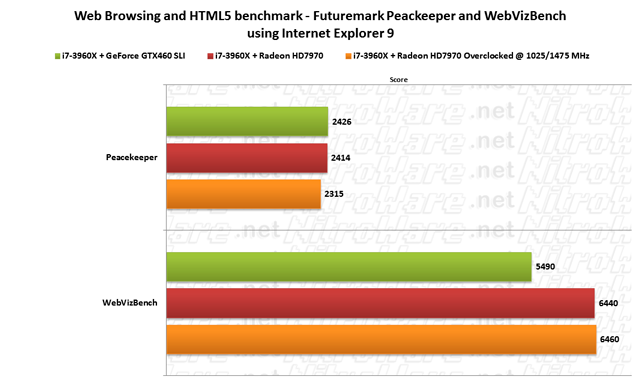 Starting with Intel 2nd generation Core and AMD A-series we started to include sample applications from Microsoft to demonstrate GPU acceleration with Internet Explorer 9 specifically. However as mentioned prior although on weaker hardware such tests are interesting on fast enthusiast hardware we hit a performance ceiling with particular software. Indeed these applications are mainly intended to be informal benchmarks and demos rather than formal performance evaluation tools.
The closest some of these come to being formal benchmarks would be FishMark or Paintball, which have been used in public demonstrations by hardware and software vendors. Since we reached a performance ceiling with our existing test tools, unless one goes to dual processors or more graphics cards which are ultra-extreme , more performance is likely not possible from IE 9.
We consulted with Microsoft Australia who gave us some feedback on our choice of test applications and the merits of each for evaluations the past however such access was not available to us for this review and we were on our own when trying to deal with the results achieved with the IE Test Suite. Perhaps some third party web/browser benchmarks will provide more meaningful results going forward especially for higher performance systems.
We are quite pleased with WebVizBench as a benchmark however, as it can make good use of a strong graphics system.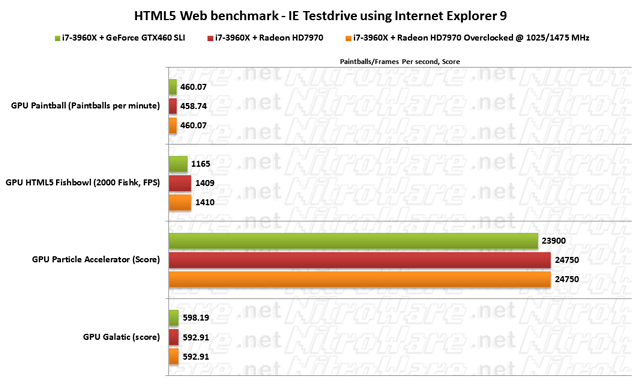 Professional Graphics
We were conflicted as to whether we would include our standard Adobe Photoshop CS5 benchmarks in this review as we are focusing on graphics performance since these tests are CPU bound. Since Adobe CS5 is OpenGL hardware accelerated, we left the tests in but need to change this test suite going forward to better reflect the capabilities of the hardware. The two Photoshop benchmarks we focus on, Driver Heaven's and Retouch Artists are very common and widely used in web hardware reviews so we are not alone in this regard.

Parts of Photoshop are highly GPU accelerated such as image rotation, zooming and panning but image filtering and processing is still the domain of the CPU. Other members of Adobe's Creative Suite are more GPU oriented such as After Effects or Premiere.
The WebVizBench benchmark we use for HTML5 Web Visual performance is a good example of how effective offloading image manipulation to the GPU can be.
The RatGPU speed run, which uses OpenCL compute to render a number of scenes, shows us that further driver and GPU Compute SDK optimisation is required as even when overclocked; NVIDIA SLI is faster than the HD7970. The architecture is too new and many independent software developers have yet to support let alone test the new hardware.
Compute Performance on HD7970 is only early days.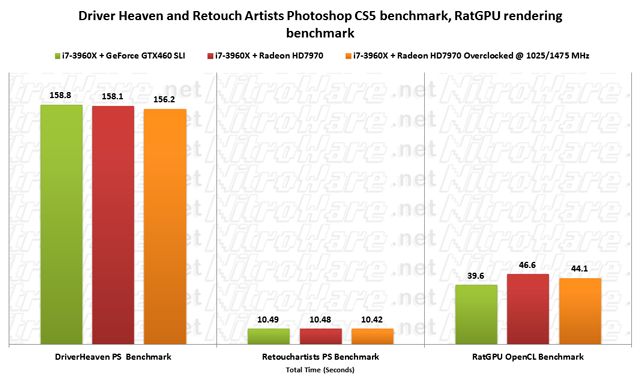 Maxon Cinebench R11.5 serves two main purposes in hardware reviews. To provide a fixed standard means to test CPU rendering of a graphical scene and to test GPU rendering of a different graphical scene using OpenGL. We are actually not interested in the CPU performance in the context of this review however; we achieved excellent OpenGL performance, a 1.5X speedup. Cinebench cannot make use of SLI even if manually overridden in the NVIDIA control panel so for users of this application in a professional setting are better off with a single fast GPU. Not a fair comparison, but a direct A-B comparison and we did try to speed up the NVIDIA test to no avail.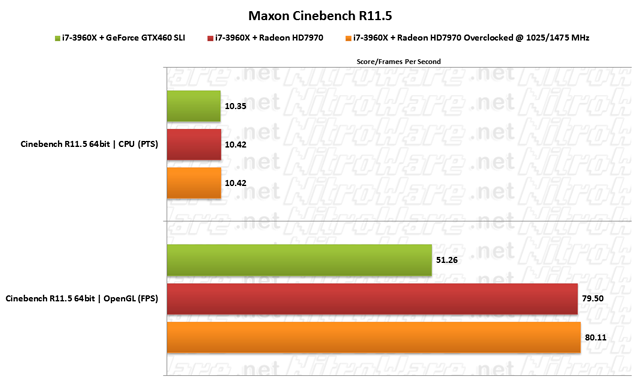 HD7970 delivers some of its best results in our test suite when it comes to professional CAD/CAM and this is not even the professional FireGL version. We can see performance gains of 1.5X to 3X in common professional titles, although we would have liked to see a better showing in CATIA. We need to put big disclaimer on our SPEC viewperf 11 results in that a typical user of these professional apps like likely either have a NVIDIA Quadro with a large frame buffer – up to 3GB with special professional Quadro graphics drivers or a FireGL card with also a large frame buffer and unique drivers. However, for the professional who needs a graphic design/engineering system the HD7970 offers very good performance in CAD/CAM without the price tag of a professional card. Like Maxon Cinebench, SLI support seems to be an issue here also but for some of the tests even if we could speed up the GTX460 SLI by 2X that would still not be enough.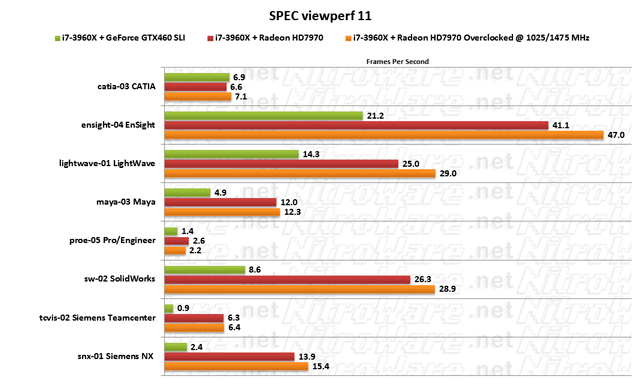 Verdict
HD7970 is supposed to deliver in the areas of 3D performance, power/thermal efficiency, multi display, video encoding and GPU computing. While we see good results for 3D Performance and excellent power consumption, it does not yet deliver its full potential of the video encoding and GPU computing performance requires updated drivers and software, which will likely not be available until late February if not later.
Fast Processors such as the Intel i7-2700K and Intel i7-3820, 3930K and 3960X deliver fast video encoding performance in the meantime. The i7- 3000 series offers PCI-Express 3.0 support now combined with X79 chipset however only particular X79 motherboards have BIOS support for PCI-Express 3.0
The retail price, MSRP $550 is somewhat high considering users can purchase two older cards and receive competitive performance, such as two overclocked edition GTX560. At current prices two 6950 or 6970 would come out the same or higher than a single HD7970.
The performance of this card and of the Intel i7-3960X is somewhat wasted in a typical 1920x1200 scenario. This combination can shine in 2560x1600 resolutions or higher.
We had no problems with the card or driver stability. The only glitches we experienced where when we were attempting to overclock the card. At times during high overclock the card would lose display synchronisation resulting in interlace lines. Putting the system to sleep and resuming would clear the anomaly.
If you want a fast single GPU/single graphics card which has headroom for overclocking, cranking up antialiasing settings, 3D Stereoscopic gaming , Eyefinity yet runs relatively cool this is the card for you.
Would I buy this card?
Yes. If $550 RRP is a problem, hang on for the 7950, which should be significantly cheaper yet still deliver comparable levels of performance.
Should you upgrade to a single HD7970 if you have two GeForce 460 cards in SLI or higher NVIDIA setups?
Not just yet. We need to see the performance of the rest of AMD's Southern Islands GPU line-up for 2012 as well as NVIDIAs 2012 next gen GPU architecture codenamed 'Kepler'. However, replacing two older cards whether they be NVIDIA or AMD with one AMD HD7950/7970 allows us to upgrade to a second AMD Radeon in the future for Crossfire with 1.8-2.x scaling over one card with the two cards installed, doubling performance.

The CPU we used for this review – the Intel Core i7-3960X retails for $999 RRP. For those on a budget the i7-3930K ($599 RRP ) and i7-3820 (~$300 RRP) provide the same platform and CPU architecture at a much more affordable price.
Motherboards such as the SAPPHIRE Pure Black X79N ship with a PCI-E 3.0 BIOS out of the box.

More than five years ago, high frame rates excess of 30 FPS at 1920x1200 let alone 2560x1600 were challenging yet now this is all a cakewalk. PC Gaming is far from dead. Bring on PC gaming.
Further Reading
NitroWare.net Mainstream Computing Showdown - AMD A6 APU v Intel 2nd Gen Core i3 CPU
NitroWare.net Intel Desktop Board DX79TO Preview | Sandy Bridge-E performance on a budget
eTeknix.com AMD Radeon HD 7970 3GB Graphics Card Review
motherboards.org Sapphire HD Radeon 7970 Video Card Review
motherboards.org XFX R7970 3 Gig Black Edition Double Dissipation Video Card Review
Tweak Town AMD Radeon HD 7970 3GB Reference Video Card Review
Tweak Town XFX HD 7970 Black Edition Double Dissipation 3GB Video Card Review
Disclosure
Intel 2nd Generation Core i7 Extreme review system supplied by Intel Australia
AMD HD7970 Graphics card supplied by AMD Australia
Dell U2412 Monitor supplied by Dell Australia